Bitforex is a cryptocurrency exchange that aims to provide a safe, professional, and convenient platform for users to trade and invest in digital assets. Spot trading, margin trading, derivatives, the NFT marketplace, staking, lending, and copy trading are just a few of the trading products and services that Bitforex provides. More than 300 trading pairs are supported by Bitforex, including prominent cryptocurrencies like BTC, ETH, XRP, LTC, SOL, SAND, and more.
BitForex History and Background
With more than 3.5 million users from 200 countries, BitForex, a renowned cryptocurrency exchange, was formed in 2017. Former OKCoin executive Jason Luo created the exchange, which has offices in Singapore, Germany, Estonia, the Philippines, Malaysia, and Hong Kong.
The exchange has a native BF token, which offers advantages including fee exemptions, dividends, and voting rights, BitForex promotes the exchange ecosystem. The platform offers a variety of services, including BitForex MT5, CApp Town, BF sector, EazySwap, and others. These features facilitate the exchange of tokens between users and investors, highlight new coins and tokens, and link blockchain initiatives with users and investors.
BitForex Signup and KYC
Users can register with BitForex using their email or phone number without entering any personal information, which speeds up and simplifies the registration procedure. Users can access the platform using the website or a mobile application, filling out the safety and email/SMS verification forms, reading the terms, and entering their data.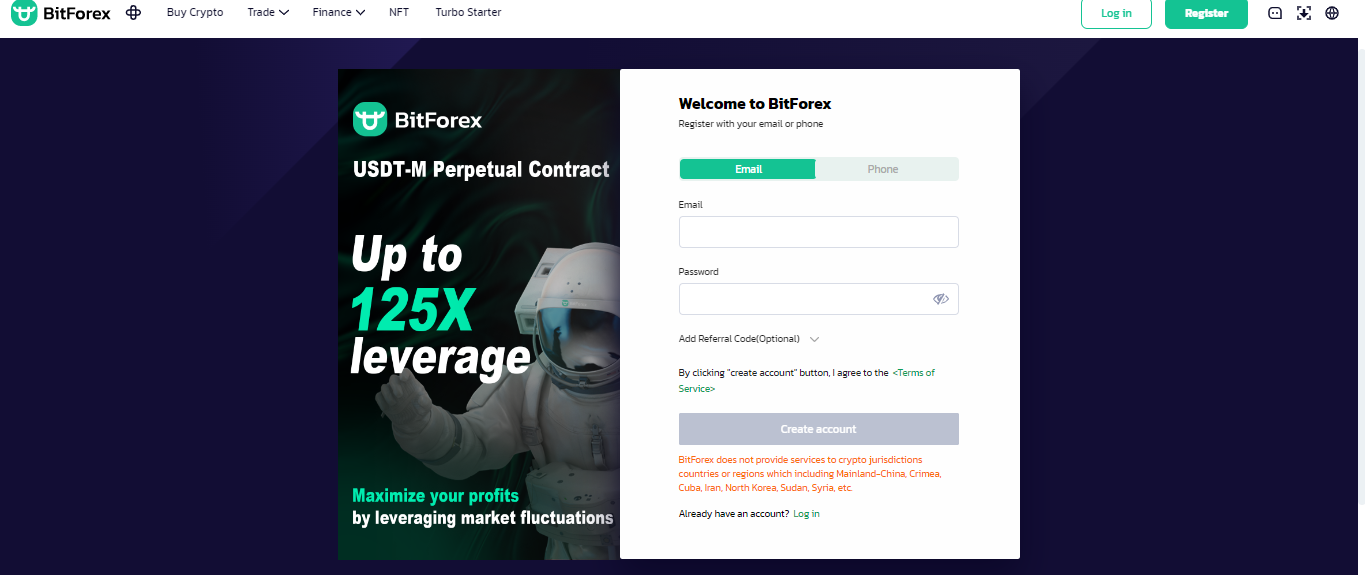 Features and Products of BitForex
BitForex is a crypto exchange offering various features and products for its users.
Spot trading
On spot markets, BitForex supports over 300 trading pairs, including major coins such as BTC, ETH, USDT, and EOS, as well as new tokens. On spot trading, BitForex charges a fee of 0.1% to both makers and takers.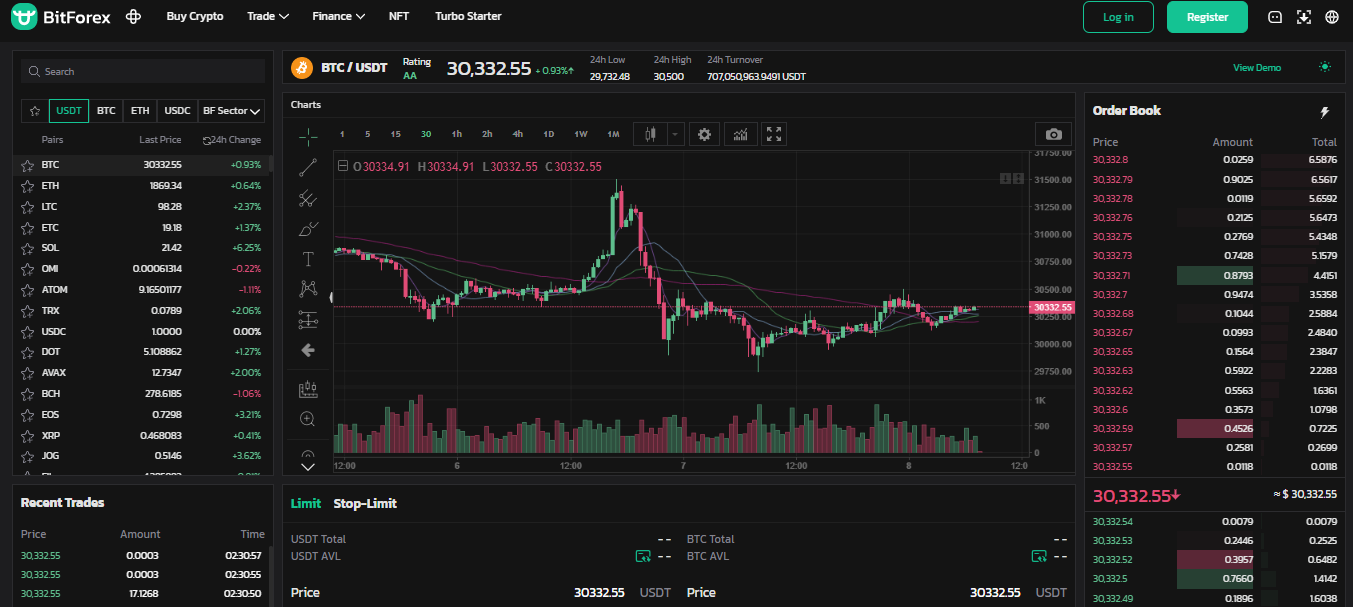 Perpetual trading
Perpetual contracts are offered by the for a variety of digital currencies, including BTC, ETH, XRP, and LTC. Users can trade with leverage of up to 100x with perpetual contracts because they have no expiration date. For everlasting trading, BitForex levies separate trading fees—between 0.04% and 0.06%—for makers and takers respectively.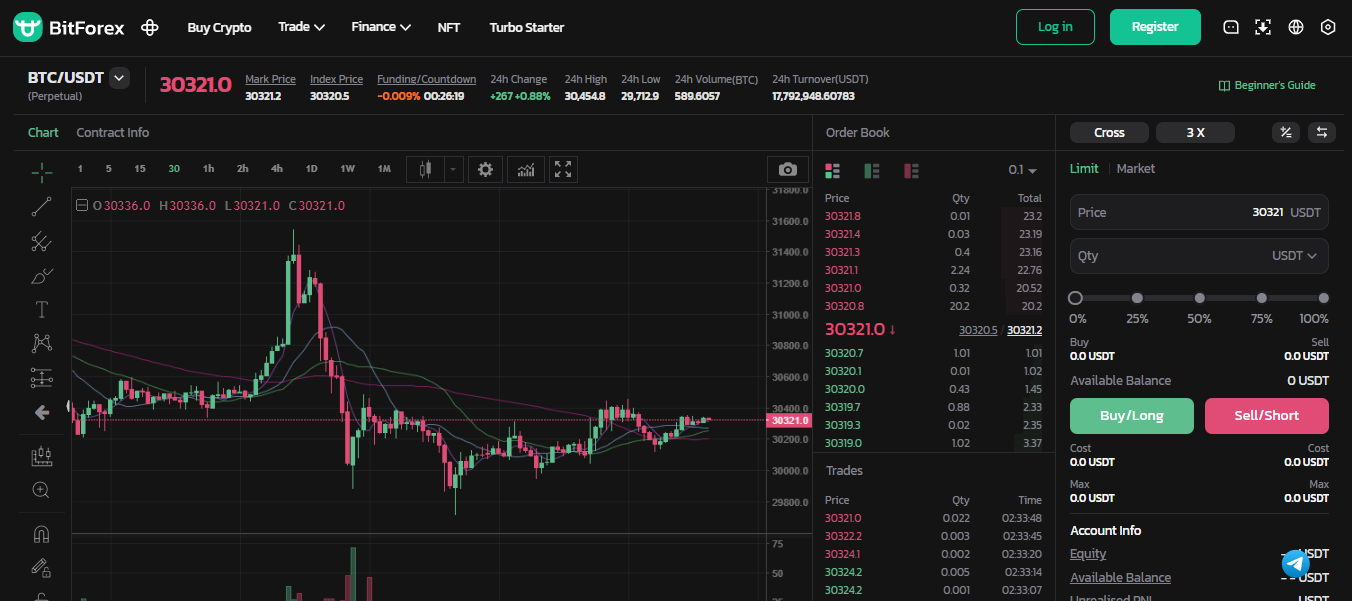 BF token
In order to sustain its exchange ecosystem, BitForex features a native ERC20 token called Bitforex Token (BF) that offers rewards to its owners. Holders of BF are eligible for a range of benefits, including reduced fees, dividends on platform income, and the ability to vote on crucial issues. A variety of BitForex promos and activities can be participated in using BF.
CApp Town
CApp Town, a platform developed by BitForex, connects blockchain projects with customers and investors. Users can utilize CApp Town to find new and innovative projects, gain exclusive information and perks, and invest in potential prospects. CApp Town also assists projects in raising finances, increasing visibility, and growing their communities.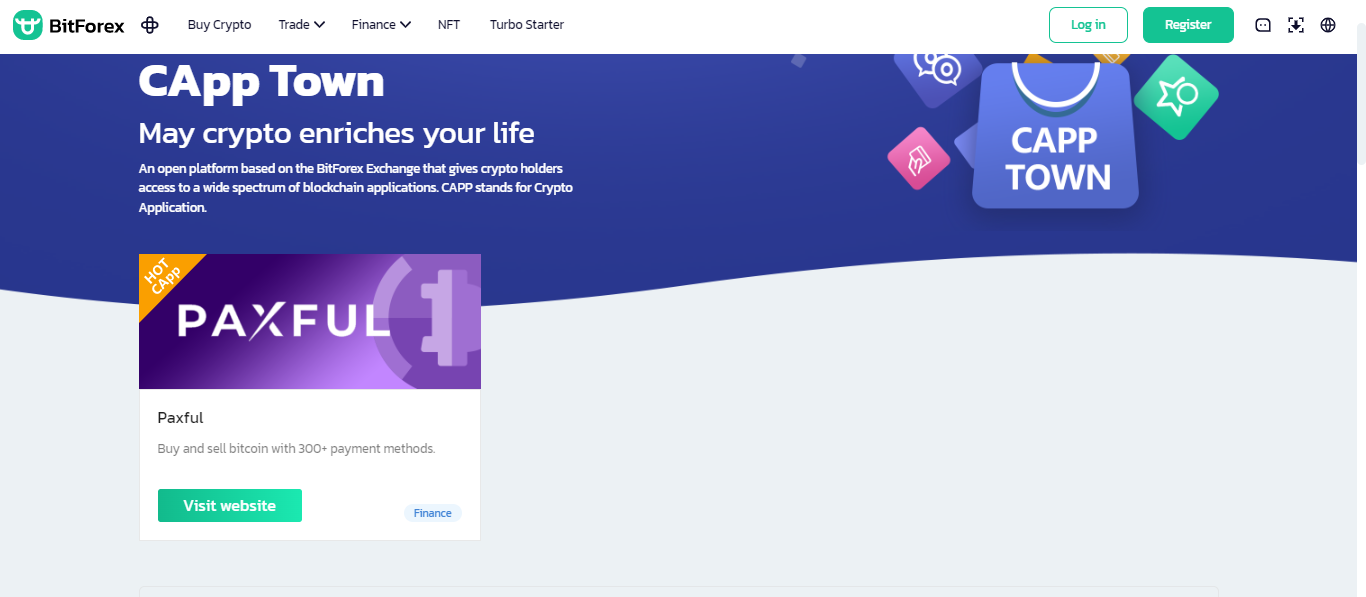 BF sector
The BF sector on BitForex features the newest and most well-liked coins and tokens available on the exchange. Users can investigate various subcategories of crypto assets in the BF sector, including DeFi, NFTs, gaming, metaverse, etc. Using the BF sector, traders can find the best trading partners and prices for their preferred coins and tokens.
EazySwap
EazySwap, a decentralized exchange offered by BitForex, enables users to trade tokens directly. Over 100 tokens are supported by EazySwap on the Ethereum and Binance Smart Chain networks. Transactions on EazySwap cost zero gas fees.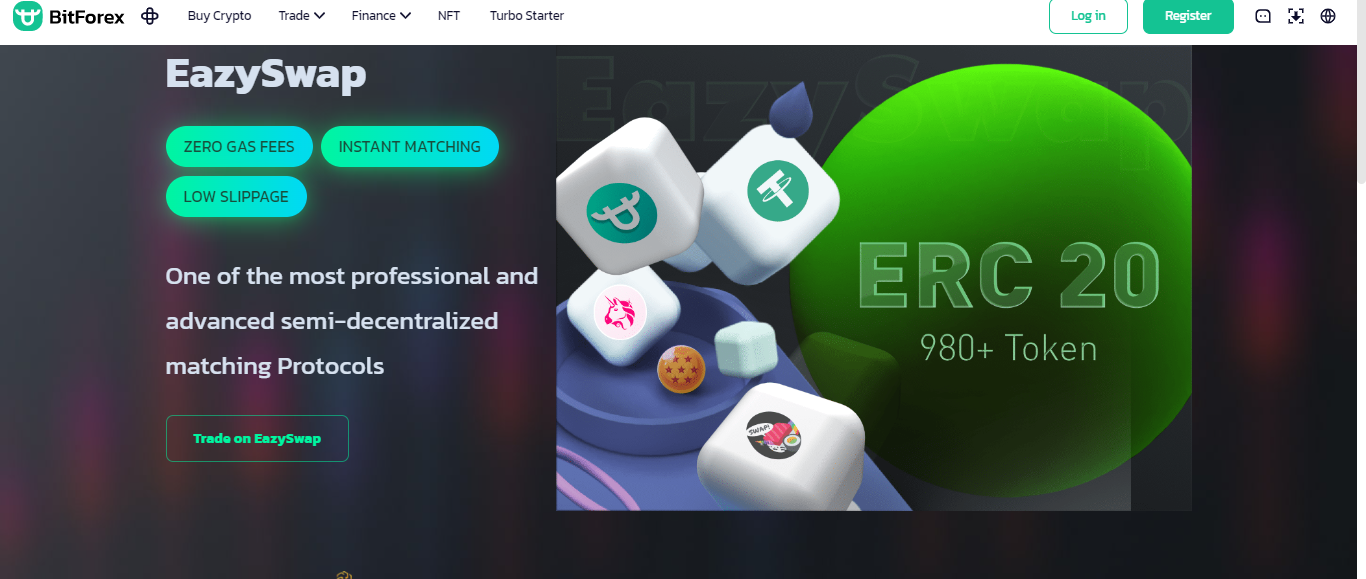 BitForex MT5
The trading platform BitForex MT5 offered by BitForex, supports a variety of instruments and resources. Users of BitForex MT5 can trade conventional financial products like forex, stocks, and commodities and digital assets like spot, perpetual, options, and so forth. Additionally, BitForex MT5 offers sophisticated features like technical analysis, indicators, charts, etc.
BitForex Earn
The BitForex Earn service enables users to generate steady, high-yield revenues with little initial commitment. Mining pools, staking, financing, and other businesses are supported by BitForex Earn. The terms and conditions offered by BitForex Earn for various products are also variable.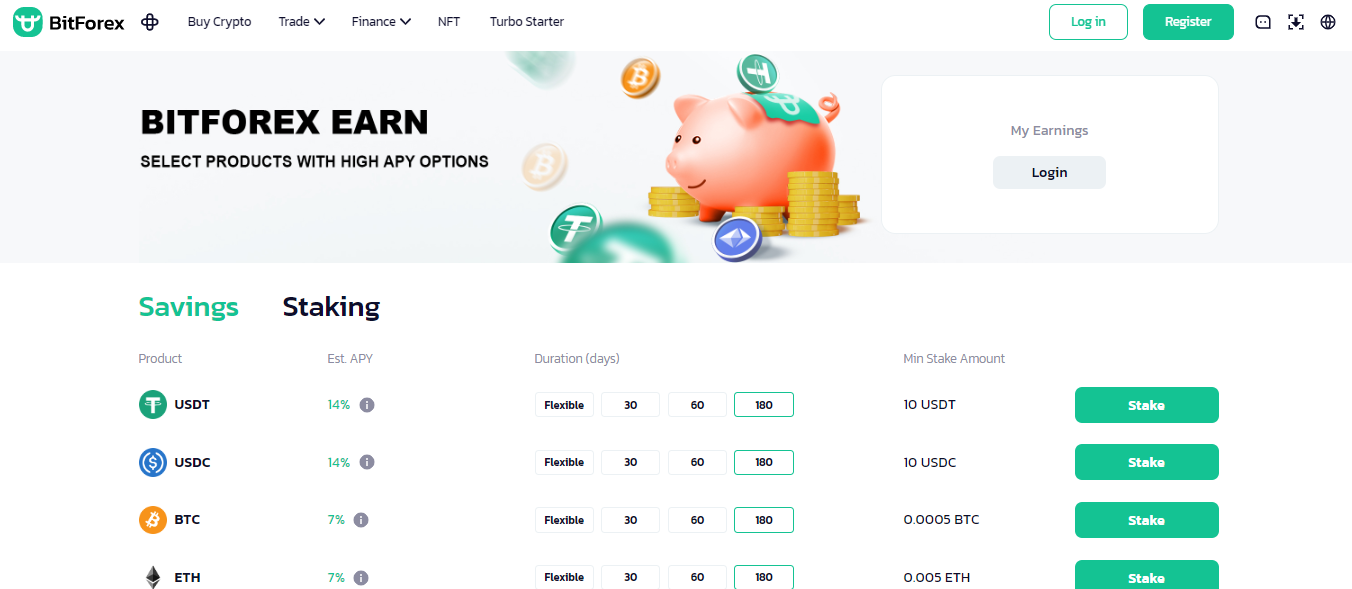 Fees and Limits of BitForex
For its users, BitForex offers a straightforward and affordable fee structure. However, there are some restrictions based on the level of verification and the network circumstances.
Trading fees
On spot markets, BitForex charges a flat fee of 0.1% for both makers and takers, which aligns with the industry average. Depending on the asset, BitForex charges different fees for makers and takers of perpetual contracts. The maker fee for BTC and ETH contracts is 0.04%, while the taker fee is 0.06%. The maker and taker fees for other contracts are both 0.06%. BitForex also offers market makers and level 2 accounts discounted rates, which can be obtained by contacting vip@BitForex.com.
Deposit & Withdrawal fees
In contrast to other cryptocurrency exchanges, BitForex does not impose fees for adding or removing cryptocurrency assets from the platform. Users that move money from their wallets or other platforms to BitForex may, however, be charged network fees.
However BitForex charges variable fees for withdrawing crypto assets from the platform, depending on the network cost of each asset. The specific withdrawal fees for each coin or token can be checked on the withdrawal page of BitForex. The withdrawal fees are generally reasonable and competitive compared to other crypto exchanges.
Withdrawal limits
BitForex has different withdrawal limits for coins or tokens, depending on their value and liquidity. The minimum and maximum withdrawal amounts for each coin or token can be checked on the withdrawal page of BitForex. The withdrawal limits may also vary depending on the verification level of the user. Users who complete KYC verification can increase their withdrawal limits or access certain features or services.
BitForex Customer Support
To help users, BitForex provides a customer support team that is available round-the-clock. Users can make a request on the BitForex website or send an email to the customer service department at support@BitForex.com. On the BitForex website, users may also access the FAQ area, the beginner's guide, and the most recent news. Additionally, users can interact with the BitForex community on a number of social media sites, including Twitter, Facebook, Telegram, and Discord.
BitForex: Security Features
BitForex offers robust security measures for its platform and users, including an offline cold wallet with 4 out of 7 hardware security modules (HSMs) and a hot wallet with only 0.5% of funds. The platform has undergone a comprehensive audit, ensuring security and reliability. DDoS protection is implemented through intelligent load balancing, failover routing, real-time malicious traffic detection, and encrypted connections. Two-factor authentication (2FA) is enabled for users, and an anti-phishing code is provided for verification in official emails. These measures help protect users' funds and prevent potential attacks.
BitForex Mobile App
Clients can trade cryptocurrency whenever and wherever they want thanks to BitForex's mobile application for iOS and Android devices. With a user-friendly design, users may access different markets, items, and manage their accounts. The app has gotten good reviews for its performance, functionality, and design. It requires Android 5.0 or later.
BitForex Deposit Methods
Users have access to a number of deposit options, such as cryptocurrency transfers, wire transfers, and coin purchases. Using the offered deposit address, users can make deposits of digital assets from wallets or other platforms, selecting from blockchain networks like BTC, ETH, and USDT. Wire transfers take up to 3 business days to process, require bank account details, and must be done according to instructions. Users can also immediately purchase cryptocurrency assets using credit or debit cards. They can still be subject to restrictions and charges, depending on the card issuer.
BitForex Withdrawal Methods
Customers can withdraw funds from BitForex using a variety of methods, including cryptocurrencies such as BTC, ETH, and USDT. Users can select compatible blockchain networks for transfers. Wire transfers, on the other hand, allow users to withdraw fiat currency (USD) to bank accounts. Wire transfers might take up to three business days and entail costs. Users can also sell crypto assets straight to credit or debit cards, with restrictions and fees varying based on the card provider.
BitForex Pros and Cons
| Pros | Cons |
| --- | --- |
| Charges a flat fee of 0.1% for both makers and takers on spot markets, which aligns with the industry average. | Supports fiat currency (USD) deposits and withdrawals via wire transfer or credit/debit card. However, depending on the bank or card provider, these options may have some limits and fees. |
| Offers a variety of features and products for its users, such as CApp Town, BF sector, EazySwap, BitForex MT5 and BitForex Earn. | Some users have reported challenges with response times or the quality of customer support from BitForex |
| Has a native token called BF, an ERC20 token that supports the exchange ecosystem and benefits holders. | |
Conclusion
BitForex is a popular and versatile crypto exchange offering high liquidity, volume, low fees, various features, and no KYC verification required for signing up. It supports over 300 trading pairs and offers different derivatives products. Users can also benefit from the BF token, which provides discounts, dividends, voting rights, and event participation.