Keplr Wallet is a top open-source and non-custodial wallet. It allows users to switch between multiple chains effortlessly. As a leading wallet in the Cosmos and IBC ecosystem, Keplr was established 2021 by the software development company Chainapsis. The company plays a significant role in contributing to the Osmosis DEX. The co-founders of Keplr are Tony Yun, a two-time HackAtom winner and the author of Interchain Standards 27, and Josh Lee, better known as Dogemos, who enjoys a strong reputation within the Cosmos community.
Keplr Wallet stands out for its intuitive design that appeals to novice and seasoned cryptocurrency users. In this post, we will delve into Keplr's main features to comprehensively understand how it compares to alternative wallets.
How Keplr Wallet Works
Keplr Wallet draws inspiration from MetaMask. With Keplr, users no longer need separate wallets for each Cosmos ecosystem, as it allows for seamless asset swapping between chains. This feature makes it exceptionally accessible for newcomers to the world of cryptocurrencies.
To get on the Keplr ride, users can download the wallet extension from browsers like Google Chrome. Once installed, the wallet enables users to stake their Cosmos-compatible cryptocurrencies directly from the wallet interface.
One of the key advantages of Keplr being a non-custodial wallet is that it grants users complete control over their cryptocurrencies. Unlike centralized exchange wallets like Coinbase, where the exchange retains ownership of the funds, Keplr ensures that individuals have full authority over their assets. Through Keplr, users can participate in airdrops and earn stake rewards from projects such as Cosmos, Kava, and Osmosis.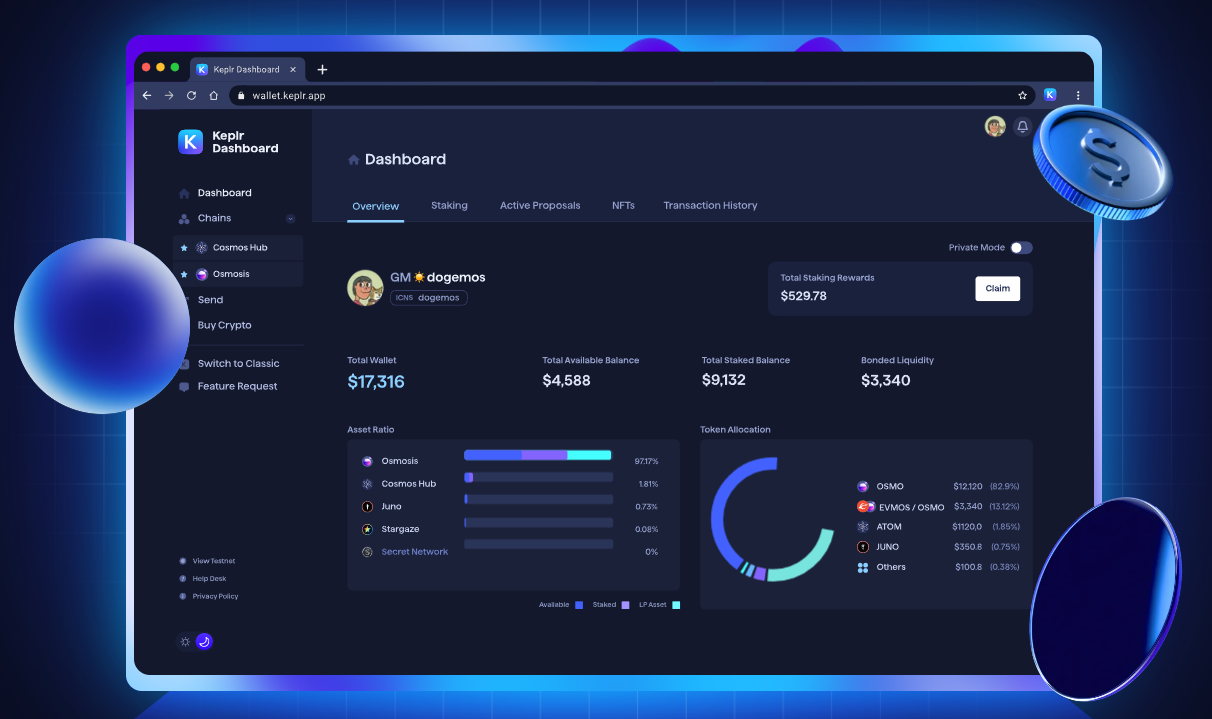 Keplr Wallet Pros & Cons
Pros
Keplr supports all IBC assets.
Keplr allows users to stake on various blockchains such as Cosmos Hub, Osmosis (OSMO), Secret Network (SCRT), and Crypto.org (CRO).
Users can use hardware wallets with Keplr to enhance security further. This offers a robust level of protection for their digital assets.
Cons
Keplr has limited support for Non-Fungible Tokens (NFTs). This makes it unsuitable for NFT holders.
Keplr is only available as a wallet extension for Chrome and Brave browsers. It does not support alternative browsers such as Firefox or Safari.
There is no desktop version of the Keplr wallet.
Features of Keplr Wallet
The Keplr wallet's Inter-Blockchain Communication (IBC) feature is one of its most recognized and potent features. Keplr stands out because of this feature as a formidable rival to other well-known wallets like MetaMask. Keplr makes managing digital assets spread across many blockchain networks easier by facilitating frictionless crypto transactions.
Keplr's integrated approach within the Cosmos ecosystem helps it stand out even more. Keplr's integration enables users to execute transactions involving tokens from several chains without needing numerous wallets, unlike many wallets that need downloading separate programs for each blockchain.
Additionally, Keplr acknowledges the rising significance of staking in the cryptocurrency industry. Hence, the wallet offers a user-friendly method for staking cryptocurrency. This helps users to profit passively from their crypto holdings.

Keplr Wallet Cryptocurrencies
The Keplr wallet exclusively supports coins and tokens associated with the Cosmos ecosystem, encompassing various blockchains such as Cosmos Hub, Osmosis, Akash, Secret Network, Juno, Stargaze, etc.
Also, Keplr supports and allows users to stake additional cryptocurrencies from platforms not part of the Cosmos ecosystem. Users can download extensions for their preferred non-native tokens within the Keplr wallet to achieve this. These extensions enable seamless integration and management of non-native tokens alongside the native Cosmos ecosystem tokens.
Among the most popular cryptocurrencies currently available on Keplr are Cosmos (ATOM), Akash (AKT), Evmos (EVMOS), Agoric (BLD), Osmosis (OSMO), Secret Network (SCRT), Stargaze (STARS), etc.,
With Keplr's support for such a wide variety of cryptocurrencies, users may efficiently manage their holdings and take part in staking activities inside the Cosmos ecosystem while also having the option to include additional non-native tokens from other platforms.
Keplr Wallet Customer Support
The Keplr wallet team is known for providing excellent customer support through their comprehensive help desk, which addresses frequently asked questions and common issues. Keplr offers a live chat feature for users seeking personalized assistance on their website. Additionally, users can reach out to team members through Telegram.
Keplr-Friendly Operating Systems
Keplr Wallet is designed as a browser extension. This makes it work excellently on various operating systems such as Windows, MacOS, Linux, Andriod, and iOS. Users can easily use Keplr on any platform by adding the extension to their preferred browser, Google Chrome or Brave.
However, it's important to note that while Keplr is compatible with Brave, some features may not function as well as they would in Google Chrome. As a result, for the best functionality and access to all features, it is best to use Keplr on Google Chrome.

Is Keplr Wallet Safe?
Keplr is considered one of the most secure wallets available. Nonetheless, you must take responsibility for keeping your wallet safe. To access your Keplr account, anyone would need your complete seed phrase, which is like the master key to your wallet.
As with other non-custodial wallets, users must set a strong login password and securely store their 12-word seed phrase (mnemonic phrase). You should store the seed phrase offline, for example, in a physical notepad, to enhance its security. Even if you lose your account details, you can regain access to your account using the seed phrase. However, it is essential to keep the seed phrase safe and accessible only to you, as losing it may result in permanent loss of access to your funds, making a recovery impossible.
Keplr wallet is 100% open-source. This means anyone can see the wallet's source code. Hence, users and developers can easily inspect the code for security and reliability.
Moreover, for users seeking an additional layer of security, Keplr introduced support for linking Ledger hardware wallets. This further provides more security as hardware wallets offer an added level of security by storing private keys offline.

Keplr Wallet Conclusion
Despite being a relatively new player in the crypto wallet space, Keplr has rapidly gained popularity. This happened within a short frame because of its impressive features, high level of security, and support for different digital assets. The wallet provides users an easy and safe way to manage their digital assets.