Know Your Customer (KYC) verification is essential for any trading platform or crypto exchange to ensure security and integrity. Although it restricts criminal and illegal activities, the process can be quite frustrating and time-consuming.
However, if you prefer to maintain your anonymity and avoid the hassle of KYC verification, there are some non-KYC crypto exchanges available. Although these exchanges may have daily limitations, they offer the ease of trading or withdrawing without KYC requirements.
Below, we will discuss 5 amazing non-KYC crypto exchanges, highlighting their pros and cons, fee structures, and overall customer service. So, let's dive in and learn where to trade crypto anonymously.
1. MEXC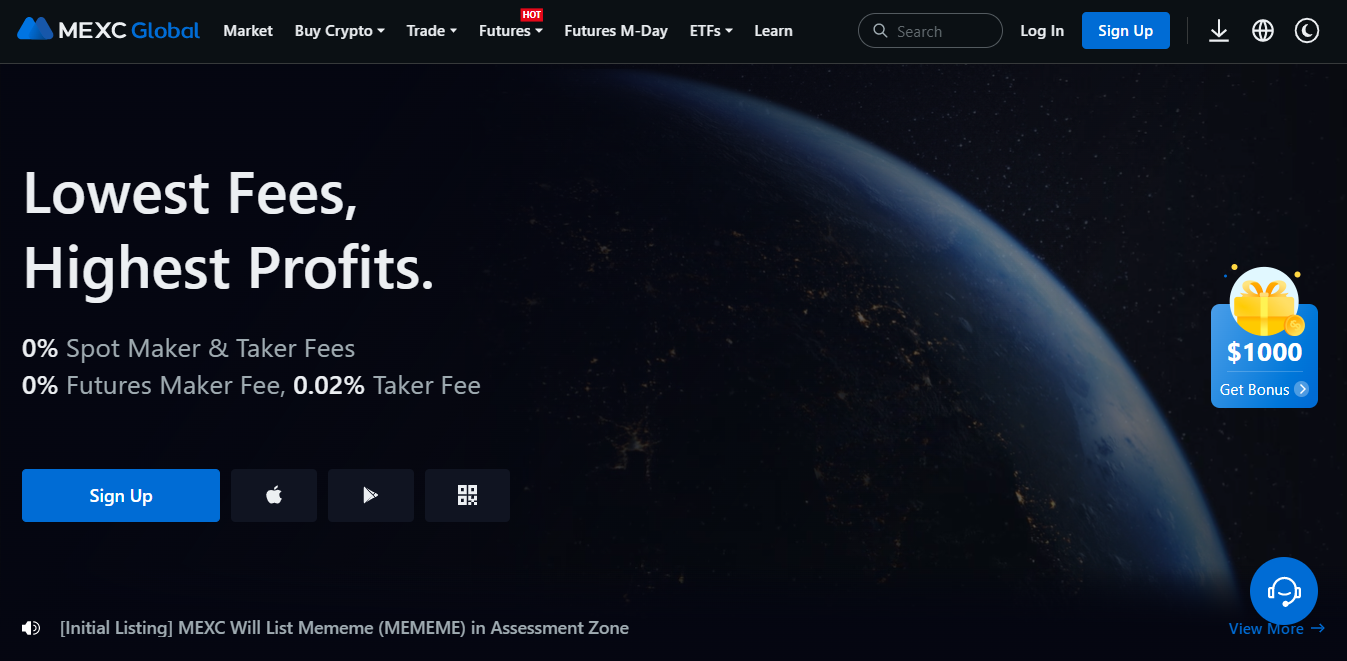 MEXC Global is a well-known crypto exchange founded in April 2018. It is operating in over 170 countries with 10+ million active users. The platform lets you trade and withdraw crypto without KYC, but the withdrawal limit is 20 Bitcoins (significant enough). However, verification will allow you to enjoy other various benefits that are not accessible to unverified users.
Reasons to Choose MEXC
Best for US Residents:
Since many crypto exchanges don't operate freely in the United States, MEXC has become an excellent solution for US citizens. Although they have Binance.US, too, KYC is mandatory on the platform. It leaves MEXC as a top pick for people who want to keep their identity anonymous in America.
Supports 2000+ Crypto Assets:
Another reason is the huge crypto coins collection supported on MEXC. The exchange has more than 2000 crypto assets, giving you a diversified range of options to invest, trade, or even stake. It also has above 180 trading pairs based on common coins like BTC, LTC, ETH, XRP, DOGE, ADA, etc.
Numerous Payment Methods:
MEXC has multiple payment methods, allowing you to purchase crypto or deposit fiat funds in your account for later use. You can use your VISA or MasterCard Credit/Debit cards, Apple Pay, Google Pay, or bank transfers. Additionally, you can trade via P2P transactions or use third parties.
Fantastic Copy Trading:
The exchange also allows you to mimic professionals' trading patterns and styles through copy trading. It imitates experts' strategies to increase the chances of getting successful trades. The feature makes MEXC an excellent choice for beginners to get potential profit by following the traders' strategies they think are most successful on the platform.
Limitations
Lacks Fiat Withdrawals:
Although you can buy crypto from fiat using multiple options, you cannot withdraw fiat at all. You must transfer crypto to another exchange supporting fiat withdrawals to cash out the balance. So, if you are fine with this transaction fee, MEXC will be a great pick.
Limited Quick Buy Assets:
Another feature that MEXC users demand the most is more Quick Buy options. Currently, you can only quick buy eight crypto assets, which are BTC, ETH, USDC, USDT, XRP, TRX, TUSD, and EOS. Although these eight may be enough to support your quick crypto needs, it will be better if the platform offers some more.
Fees
MEXC is among the most affordable crypto exchanges, charging no deposit fee. Spot trading is also free of charge on the platform for both makers and takers. In futures trading, the maker fee is 0%, while the taker fee is 0.02%. On the other hand, MEXC has different withdrawal fees for different cryptocurrencies.
Customer Services
The exchange offers numerous channels for its customers to reach a representative. It has 24/7 customer care with live agents and chatbots. Particularly speaking of reaching out, the team also provides multilingual assistance for people from different regions. They also have a ticket system for queries or complaints, but sometimes, the response time can get delayed.
2. Bitget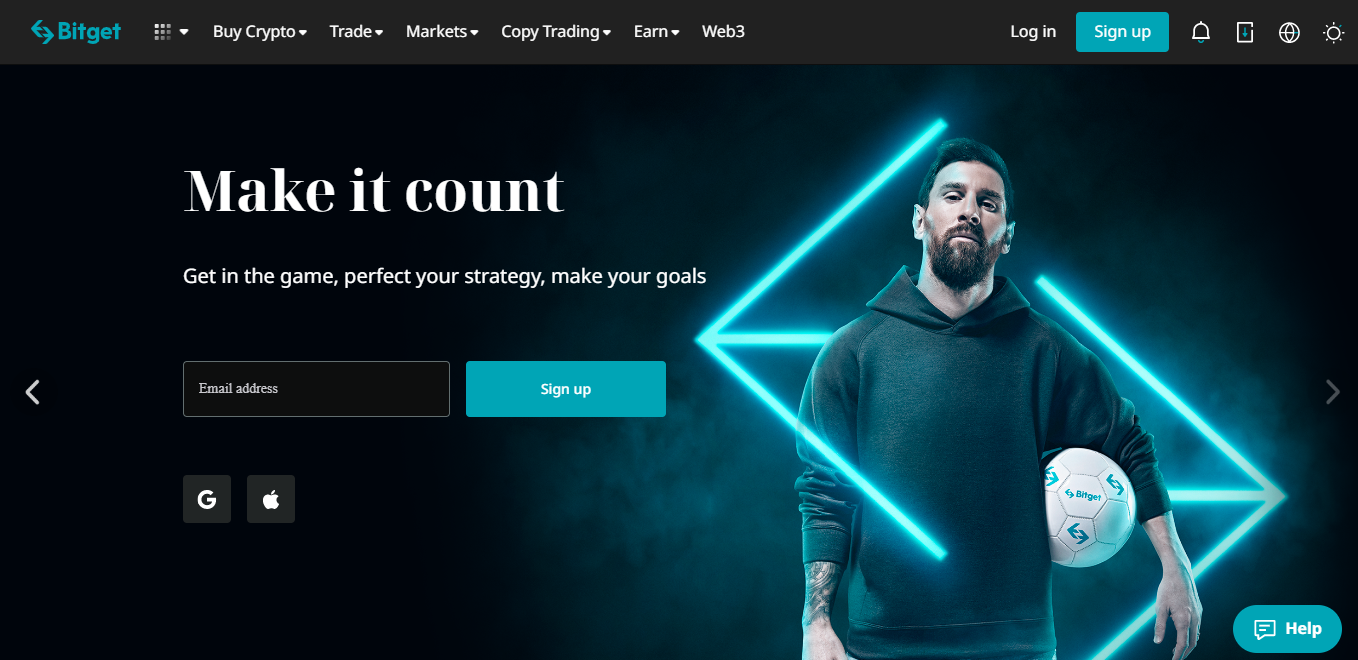 Bitget is another fantastic non-KYC crypto exchange that was founded in July 2018. With over 8 million registered customers, Bitget experiences a daily trading volume of 10 billion USDT. Without KYC, you can withdraw assets up to 50,000 USD daily and a maximum of 100,000 USD monthly. However, the daily limit can increase up to 3 million USD if you are verified.
Reasons to Choose Bitget
Multiple Trading Options:
Bitget offers numerous trading styles and opportunities suitable for beginners and experts. It provides spot, futures, margined futures, spot margined, and strategy trading. Beginners can also benefit from copy trading in the same spot, futures, and strategy styles.
Numerous Side Applications:
Bitget also offers different side applications and services to improve your trading or earn a passive income. It includes their Proof of Reserves (PoX), Reward Center, Referral, and Affiliate Program. You can also benefit from API trading or becoming a Star Trader or Influencer Incubator.
Secured Trading:
The platform takes security seriously and has implemented industry-standard technology. US, Canadian, and Australian regulatory authorities license Bitget to operate worldwide, which gives it 12 A+ scores from the SSL Labs. It also ensures the best security practices from the user end by providing two-factor authentication.
Limitations
Not Beginners Friendly: Although Bitget has numerous trading and other quality applications for traders, it can be slightly overwhelming for beginners. The charts and graphs in trading have too many metrics and tools for newbies to understand.
Limited Fiat Withdrawals: It is fascinating that you can withdraw hundreds of crypto coins from the platform, but it's only limited to three fiat currencies. You can only withdraw European Euros, Great Britain Pounds, and Brazillian Reals. Unfortunately, US Dollars are not included.
Fees
Bitget charges you differently for withdrawing different cryptos. However, it is quite competitive in terms of trading fees. The exchange charges 0.1% maker/taker fees in spot trading. But if you use Bitget Token (BGB), the fees will reduce to 0.08%. In futures trading, the maker fee is 0.02%, and the taker fee is 0.06%.
Customer Services
The platform offers numerous means to contact their representative or customer support team. You can reach out to them via email or their social media channels. Users enrolled in the VIP program can also have a one-to-one live chat with an agent. However, despite many contact methods, customers complain their support service should be quicker and improved.
3. Phemex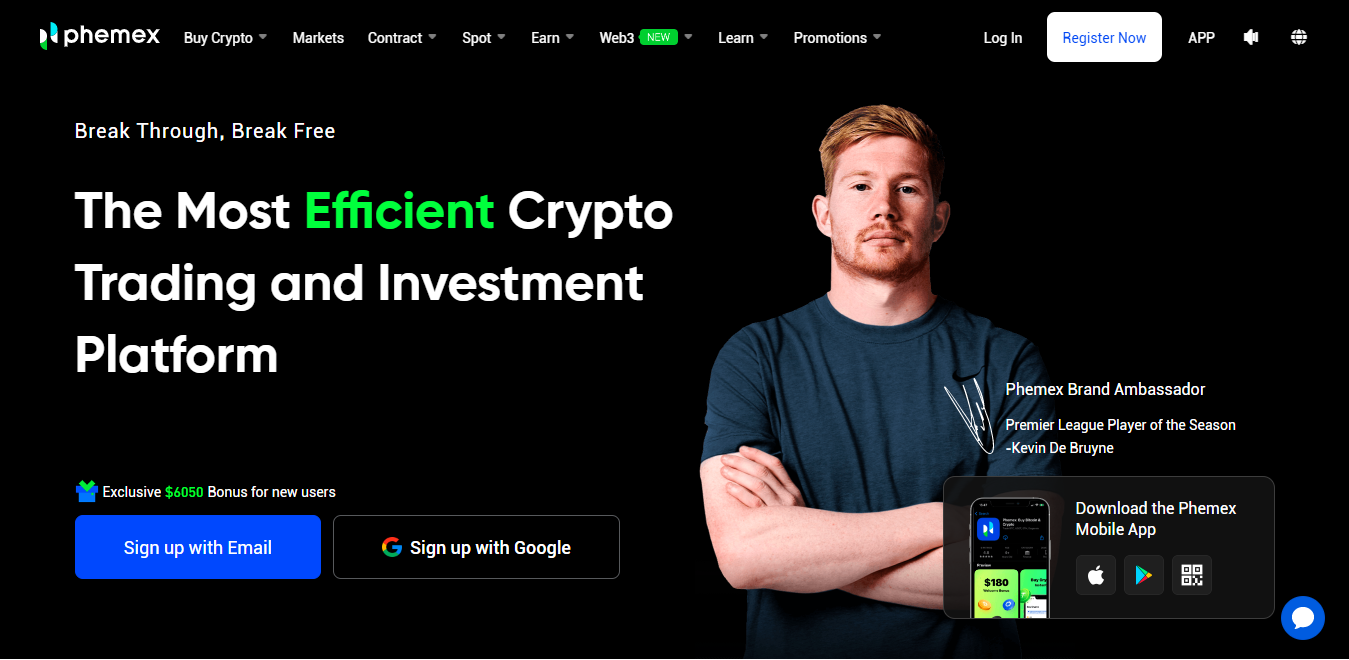 Phemex is also a versatile and amazing exchange for crypto traders who don't want to indulge in KYC verification. It went live globally in November 2019 and has grown rapidly. The platform has a $10 billion trading volume, where 300,000 transactions are processed each second. Without KYC, you can withdraw 2 BTC per day, but it becomes unlimited when verified.
Reasons to Choose Phemex
Allows Staking:
Unlike many platforms that only offer to trade and withdraw without KYC, you can also stake coins at Phemex if unverified. It means you can also earn tokens and rewards by staking coins while retaining anonymity. The platform offers a 10% APY on fixed and a 7% on flexible staking.
Excellent Mobile Application:
Almost all crypto platforms provide a mobile application for ease of use and better accessibility. Phemex, in particular, has its application well-optimized and user-oriented. On Google Play, its user rating is 4.6 stars, while iOS users have rated it 4.5 on App Store.
High-Security Level:
Rather than storing customers' crypto assets in cold wallets, Phemex utilizes Deterministic Cold Wallet System, which distributes users' data at various addresses. It also allows only 3 withdrawals per day through offline signatures. On the user's end, it protects their assets through four levels, i.e., passwords, codes, 2-factor authentication, and anti-phishing.
Limitations
High Third-Party Fees:
The platform has low trading fees, but if you purchase crypto assets via third parties, like MoonPay, Simplex, Banxa, Mercuryo, and others, you will be charged as high as 8%. So, using the platform's means to purchase crypto at affordable rates will be recommended.
Less Launchpad Events:
Although Phemex Launchpad organizes events with high APYs of up to 459%, they occasionally happen, making it difficult for users to earn through their interests. It would be beneficial for the platform to host these events more frequently.
Fees
Phemex is also included among the crypto exchanges with the most competitive fees. The platform will charge a 0.1% maker/taker fee for spot trading on a standard account. In contrast, you will be charged a 0.01% maker and 0.06% taker fee for contract trading. However, these fees can reduce up to 0% by enrolling in the VIP program and increasing the account level.
Customer Services
Phemex is well known for its fabulous customer care service and multiple options to reach an agent. You can email them, talk to a representative in a live chat, or get help center support in no time. Moreover, their education center has many detailed guides to assist people seeking help for common issues.
4. PrimeXBT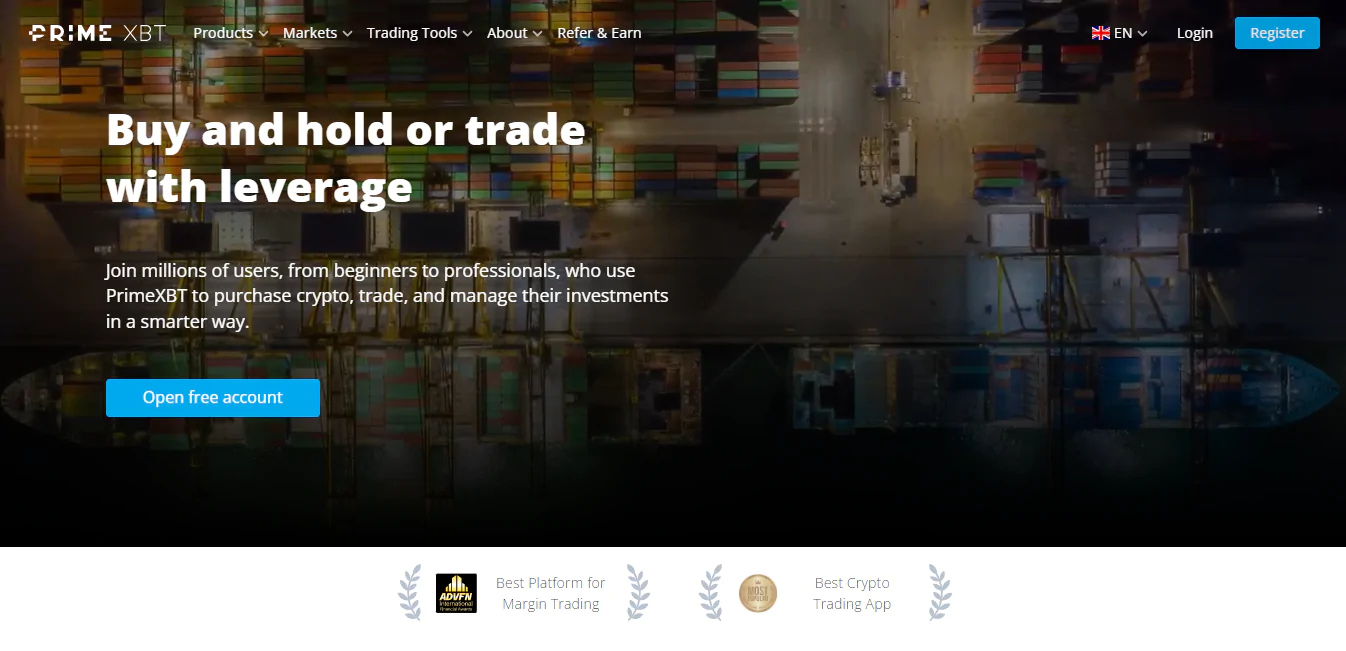 PrimeXBT was launched in November 2018 and soon became popular due to its fast trading. The platform operates in 150 countries, where above 1 million users trade assets worth $1+ billion. Moreover, it is also ideal for unverified users due to no trading limits. However, verified users get other perks.
Reasons to Choose PrimeXBT
Diversified Market:
PrimeXBT is not just a crypto exchange, but it is also a great platform to trade forex, stocks, and indices. You can trade more than 50 forex pairs and 11 stock indices. Plus, you can also trade 5 commodities: gold, silver, natural gas, crude, and Brent oil.
Unlimited Trading & Deposit:
Normally, crypto platforms have limitations for non-KYC users, so people verify their identity for better trades and withdrawals. But PrimeXBT offers you unlimited trading and deposits without KYC. Moreover, you can even withdraw up to $50,000 daily when unverified, which is too high to bother.
Excellent CFD Trading:
PrimeXBT is better known for its Contract for Difference (CFD) trading. Instead of owning the underlying asset, the seller gets revenue from the buyer in CFD, according to the price change. PrimeXBT offers these contracts at affordable fees. You can either hold the position for a day without charges or overnight(s) at a minimal price.
Limitations
Lacks Spot Trading:
One of the major limitations is the unavailability of spot trading. PrimeXBT offers you contract, leverage, and futures trading. But those looking for a more common trade market, spots, will need to consider a different platform.
No Fiat Support:
Another huge limitation is that the exchange doesn't deal in fiat currencies, which means you can neither deposit nor withdraw fiat. You can only deposit Bitcoin, Ethereum, and stable coins like USDT or USDC. It is possible to purchase crypto via fiat using third-party platforms, but they charge a huge fee.
Fees
PrimeXBT is quite affordable, charging a 0.05% maker/taker fee on margin and copy trading for crypto only. Forex, indices, and commodities trading is 0%. On the other hand, trading fees for CFDs range from 0.0001% to 0.05%. However, its withdrawal fees depend on the crypto coin you are taking out.
Customer Services
You can reach out to the team via email, ticketing system, live chat, or through their social media channels like Twitter or Telegram. Unfortunately, they don't have a phone number, but all the above-described means can sort out your issues. The agents respond quickly and effectively listen to solve your problem.
5. ApeX Pro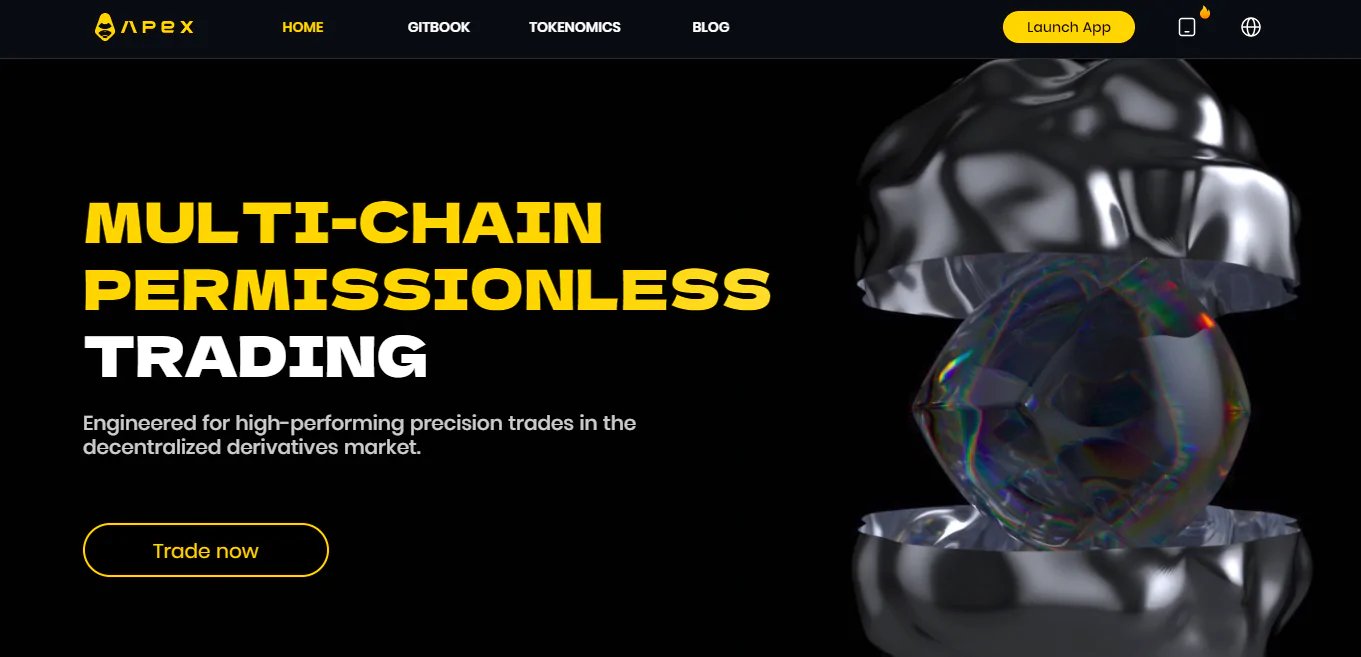 ApeX Pro is a non-custodial decentralized exchange (DeX), recently launched in November 2022. Since the platform is relatively new, it doesn't have much trading volume and liquidity. However, it also doesn't require KYC, which means you can trade without ID verification. The platform allows you contract trading at a leverage of up to 30x without KYC.
Reasons to Choose ApeX Pro
Built by ByBit:
ApeX Pro is built and backed by ByBit, a leading centralized crypto exchange (CeX). With the surging popularity of DeX and to solidify its presence, ByBit integrated ApeX Pro, which indicates it is a legit platform with better fees, anonymity, and transparency.
Trade to Earn:
The platform has different mechanisms, but a highlighted one is Trade-to-Earn (T2E). By trading on the platform, you can earn BANA tokens and enjoy additional perks as a token holder. These benefits are immediately accessible to successful traders.
No Minimum Deposit Limit:
Another significant reason to switch to ApeX Pro is the no deposit limits. You can deposit any amount anytime from either an Ethereum or non-Ethereum wallet. Currently, your deposited asset will automatically convert to USDC through 1inch's API. Hence, you can deposit as little as 1 USDC (which is usually $1).
Limitations
Low Liquidity: Since the platform is relatively new, it doesn't have much user base. Although ByBit backs the De-exchange, people are unfamiliar with the platform. Hence, the exchange has low liquidity (for now), which means trading can be a little time-consuming. Even a single withdrawal these days can take up to four hours.
Low Trading Options: Another limitation of this new platform is its few trading options. Currently, 8 cryptocurrencies and 14 trading pairs are supported on the platform. You can also stake coins, but that's pretty much all. More coins and trading methods are likely to be introduced soon.
Fees
Since it is a decentralized exchange, the trading fees are comparatively low. ApeX Pro charges you a 0.02% maker and 0.05% taker fee. It also charges only 0.1% trading commission, which is quite low compared to other competitors. However, withdrawal fees are fixed, which is $1 for normal, slow withdrawals and $5 for faster ones.
Customer Services
You can contact the support team via the email address or through their social media channels. The social contacts include Twitter, Telegram, Discord, Medium, and GitHub. But since the platform is relatively new, not much user satisfaction data is available. However, people are comfortable enough with the services by far.
Wrapping Up
Undergoing KYC verification may seem lengthy and irritating, but the process is made necessary to limit fraud and criminal activities. So, verifying your identity for safer trading and better features is always recommended. However, if you want to remain anonymous, many exchanges do offer crypto trading and withdrawing funds without KYC.
We've listed the five best non-KYC crypto exchanges above, each with unique features and limitations. So, choose a platform from MEXC, Bitget, Phemex, PrimeXBT, or ApeX Pro, and start trading crypto without any hassle.
FAQs
Is it Safe to Use Non-KYC Exchanges?
While it is possible to trade on some reputable and secure crypto exchanges without KYC verification, it is important to note that these platforms are not entirely risk-free. Without identity verification, you can be susceptible to scams and hacks. Therefore, it is recommended to exercise caution and use these platforms at your own risk.
Are Non-KYC Exchanges Legally Allowed?
If legal authorities regulate the exchange, you can use non-KYC exchanges legally. However, it is important to report any trade or income generated to the government because, as such, you will be committing tax evasion (which may cause you serious trouble in the future).
Can You Buy Crypto from a Non-KYC Exchange?
Yes, you can buy, sell, trade, and even stake crypto from a non-KYC exchange. However, it is important to note that unverified accounts may experience limitations while buying, withdrawing, or trading. If the exchange is regulated by a reputable and trusted organization or legal body, the risks may be lower.