Zoomex is a crypto exchange platform that offers a variety of cryptocurrencies and trading tools for both beginner and advanced users. Zoomex offers customized campaigns, such as deposit and trade tasks, in the Reward Hub, where users can claim bonuses and coupons. The platform also provides various tools, indicators, and chart styles to enhance advanced users' trading experience. Additionally, Zoomex has high liquidity, ensuring smooth trading without significant slippage, and offers 24/7 customer support in multiple languages.
Zoomex Exchange
Zoomex is a Singapore-based cryptocurrency trading platform that was founded in 2021. The exchange offers;
inverse perpetual contracts,
USDT perpetual contracts,
up to 150x leverage options,
And 24-hour deposit and withdrawal,
asset protection, and customer-oriented service.
It also employs an innovative structure in which users can select between a decentralized and centralized exchange based on their preferences. Zoomex offers its customers consistent pricing, real-time trading, and security.
Regulation and License
Even though there isn't a formal regulatory framework in place for cryptocurrencies yet, Zoomex has the following licenses that allow them to operate as a financial dealer:
The Financial Crimes Enforcement Network (FinCEN), part of the U.S. Department of the Treasury, is the regulatory body for US MSB licenses.
Financial Transactions and Reports Analysis Centre of Canada is the regulatory body that oversees Canada MSB licenses.
And the US National Futures Association (NFA) license.
Zoomex Signup & KYC
Zoomex does not require KYC verification, as it is a non-KYC crypto exchange. Setting up a Zoomex trading account is pretty straightforward. You must first visit Zoomex.com, the company's website, and register your account. You can register with a mobile number, email address, and a strong password.
After creating your account, you can access most of Zoomex's features and functionalities. However, you'll need to provide more KYC information, such as your name, nationality, ID number, and face verification, if you want full access.
Zoomex Features and Services
Inverse Perpetual Contracts
Currency pairs in the inverse perpetual category share one distinguishing feature: the base cryptocurrency will be utilized as the trading margin, with the coin itself as collateral. BTCUSD, ETHUSD, and EOSUSD are among the most popular pairs on this list. Because these assets are perpetual, they have no expiration date and can be held indefinitely without the requirement to roll over contracts as they approach expiration.
USDT perpetual Contracts
This category features currency pairs with a USDT (Tether) margin. Unlike inverse perpetual contracts, USDT determines the trading margin and is the collateral asset in USDT perpetual contracts. Currency pairs such as BTCUSDT, ETHUSDT, and MANAUSDT are all linked to this stablecoin. These are perpetual contracts with no expiry date, similar to the Inverse Perpetual options. The vast majority of instruments available on Zoomex are USDT perpetual pairings.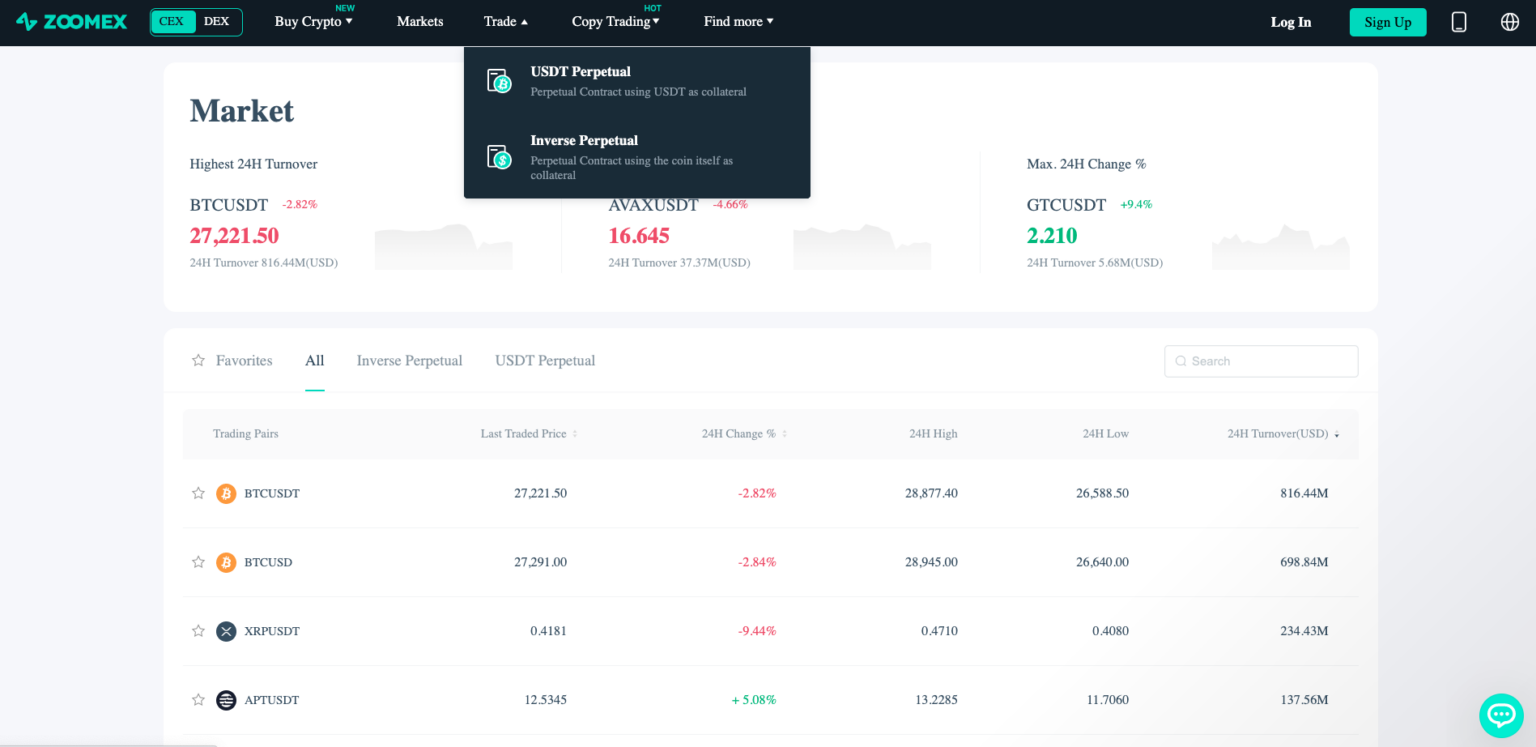 Availability of Over 100+ Crypto Assets
Users can trade more than 100 cryptocurrencies on Zoomex in various trading pairings. With so many choices, there are many chances to make money through trading. Zoomex offers popular cryptocurrencies like; BTC, ETH, SOL, GMT, SAND, MATIC, APE, ARP, and ATOM.
Copy Trading
Copy trading is a service that allows users to follow and copy the trading strategies of experienced traders on Zoomex, who share their performance and insights with the community. Users can also share their own strategies and earn commissions from their followers. Copy trading is a more relaxed and profitable model that maximizes profitability and a win-win opportunity for both traders and followers.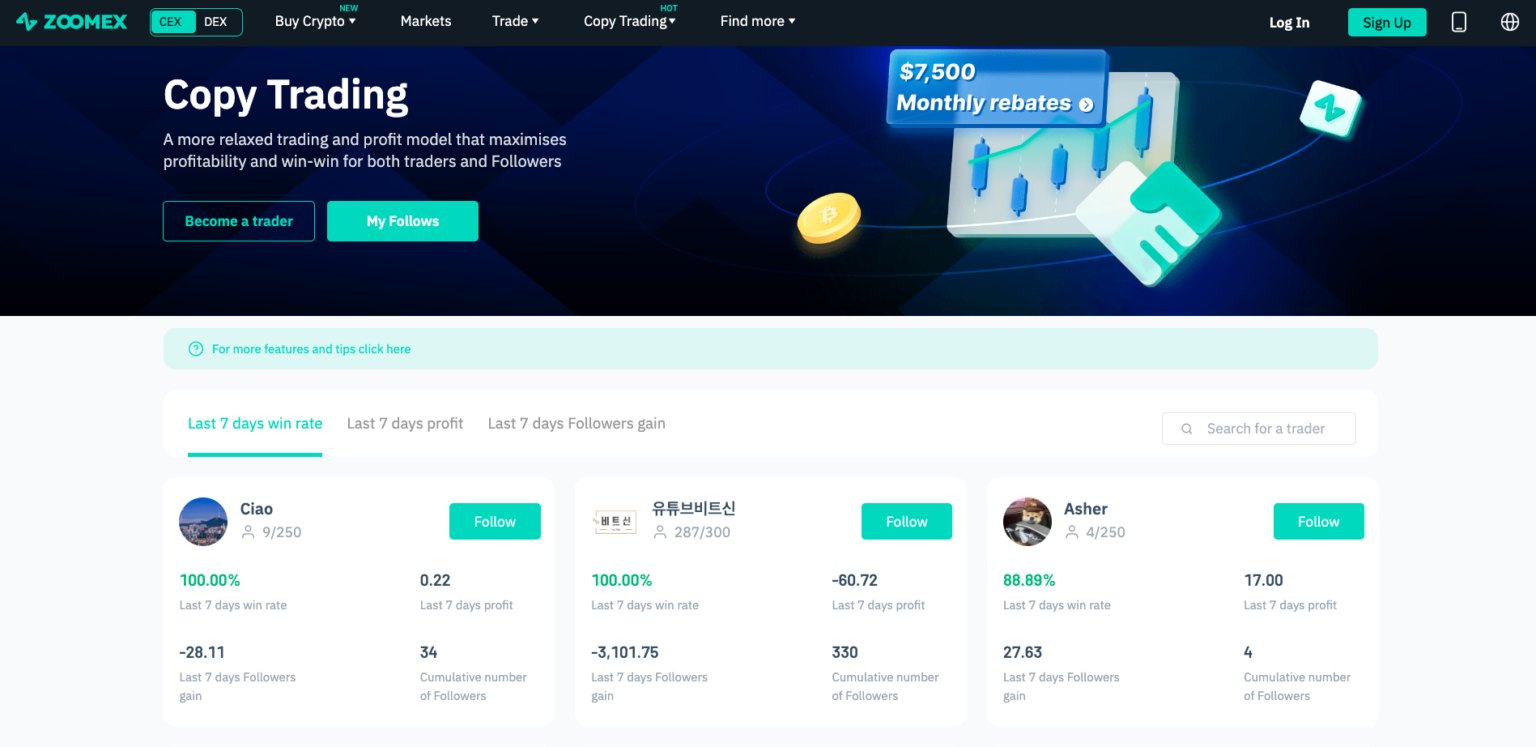 CEX and DEX Exchange
Users can use Zoomex's centralised or decentralised exchange. With the decentralised version, your trading experience is uninterrupted and comes with top-notch security. You can immediately begin trading without giving any ID by connecting your cryptocurrency wallet (such as Metamask) to the exchange.
On the other hand, the centralised exchange has a user-friendly design run by Zoomex. To use all the features available on the platform's centralised version, you must register with your personal information.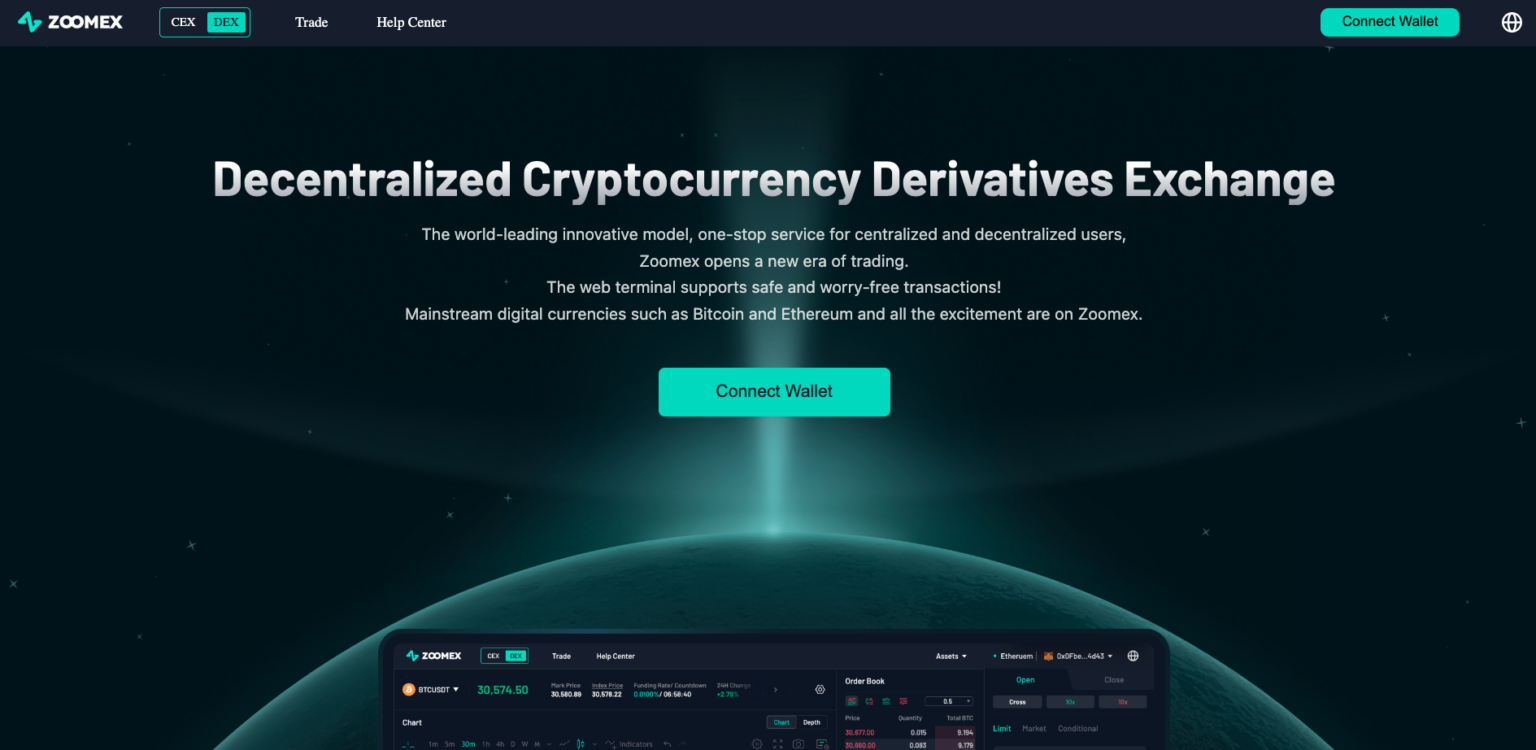 Buy Cryptocurrency Using a Range of Fiat Currencies
You can use PayPal, bank transfers, credit/debit cards, e-wallets, and other payment methods on Zoomex to buy BTC and USDT with fiat money. Fiat transactions usually take less than a minute to complete. You can quickly obtain USDT or BTC and begin trading using the fiat gateway. If you still need to get cryptocurrencies to start your trading career, this is the most straightforward approach to acquiring them.
Reward Hub
Users can carry out easy tasks and obtain special prizes on the site using the Zoomex Reward Hub feature. Users can get bonuses of up to $30 for depositing coins, $100 for trading pairs, and up to $50 for inviting friends. They can also get incentives of $10 for signing up and validating their accounts. Additionally, users can use coupons to defray the cost of trading perpetual contracts. Users must register for an account, explore tasks and rewards, and check their status before using the Reward Hub. There are terms and conditions for Zoomex bonuses.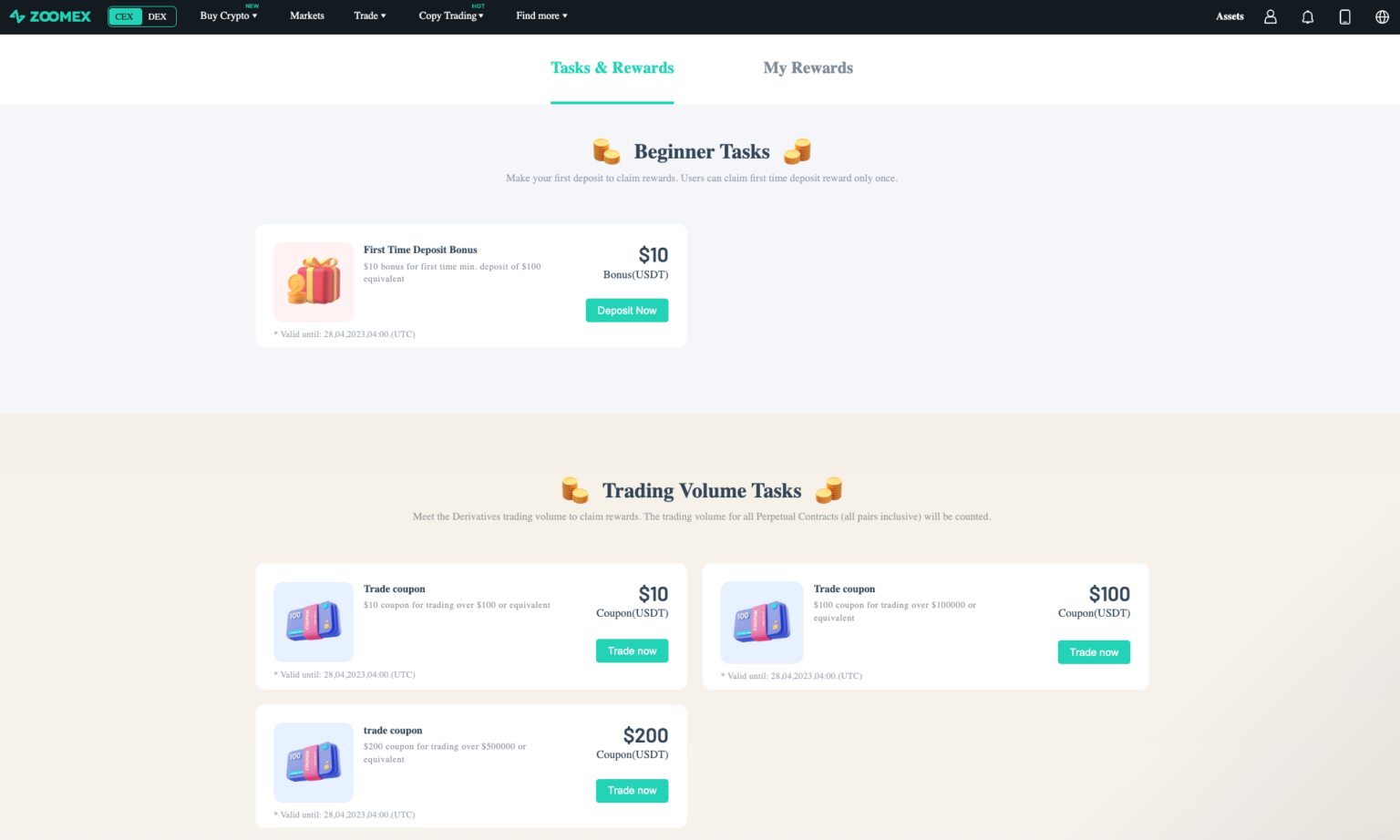 Zoomex Mobile App
On Android and iOS devices, Zoomex offers free mobile apps that have been expertly built. The tools, capabilities, and features available on the desktop website are also available on the app. Using the mobile-friendly interface, you can use the fiat gateway to purchase and trade USDT or BTC.
Zoomex Referral Program
You receive payment from Zoomex if you refer new customers to their service. The fundamental referral program is intended for cryptocurrency traders who occasionally refer friends to Zoomex.
The incentives increase as you refer more people. However, at the time of writing, you get a 5 USDT voucher just for signing up one person. For instance, you will receive a $100 USDT coupon for referring ten friends.
In addition to trading, the affiliate network enables you to create a second passive revenue stream that will be a pleasant addition to your income.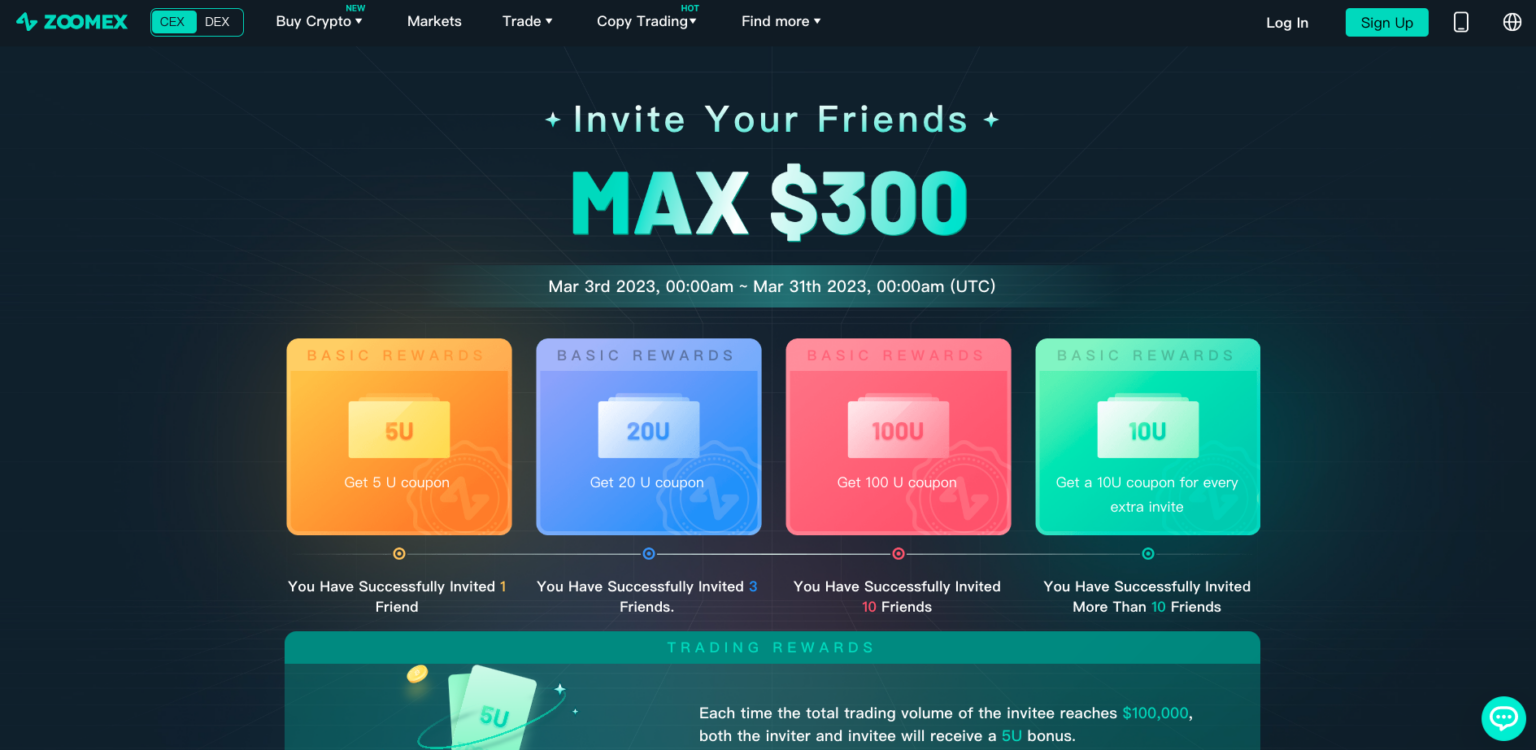 Zoomex Customer Support
Zoomex provides live chat help for customers experiencing issues with the platform. The chat option is located in the bottom right corner of the website. On opening the chat menu, you'll be greeted by a bot that will help you with your complaint. It will redirect you to a live chat agent if it cannot resolve the issue.
Zoomex Help Center
To assist users in learning more about cryptocurrencies and the ideas behind trading, web 3.0, and investing, Zoomex has created a Help Center. Several sections are available, giving consumers access to crucial knowledge and information. Simply select the subject you want to learn more about, and thorough instructions will be supplied.
Zoomex can assist you in getting started on their platform, even if you are new to the cryptocurrency sector. Without any prior expertise, you can begin your crypto journey and hone your skills with the information in the Help Center.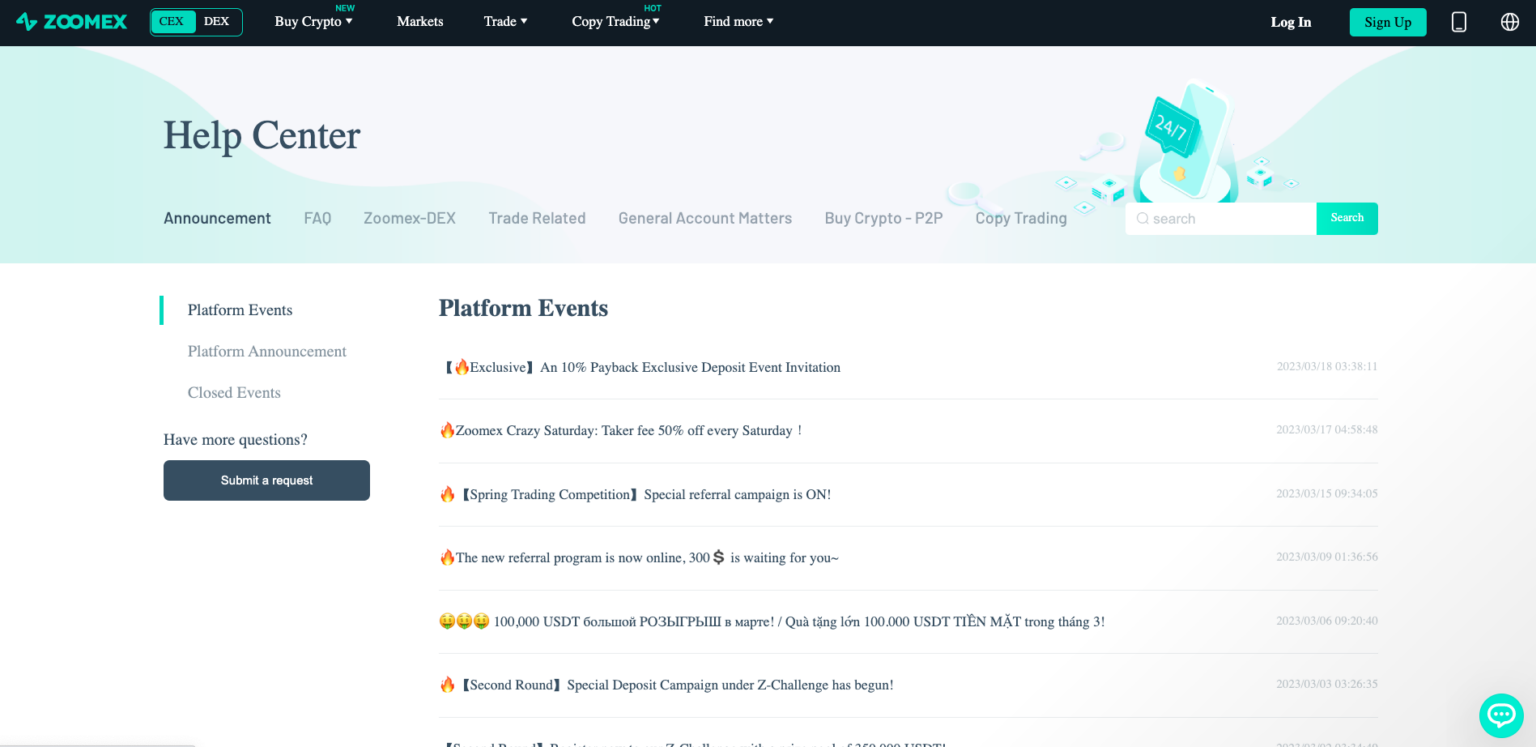 Multiple Language Support
To give its international clientele a better experience, Zoomex offers multilingual support. Zoomex users can contact the company directly by email or contact form. German, Mandarin, Korean, and Japanese are among the supported languages.
Zoomex Fees
Zoomex charges are reasonable. Indeed, the corporation takes satisfaction in offering the market's lowest trading expenses. They have zero withdrawal and deposit fees and charge some of the lowest trading fees in the market.
Trading Fees
USDT and inverse perpetual contracts attract the same transaction costs at Zoomex. Both makers and takers pay a fee of 0.02% and 0.06%, respectively.
Deposit Fees
When a user deposits cryptocurrency on the site, Zoomex doesn't impose any fees. While the platform doesn't charge transaction fees, users may incur charges when buying BTC or USDT from a third-party merchant using fiat currency. This additional cost varies depending on the third-party merchant you choose.
Withdrawal Fees
Depending on the network of cryptocurrency you wish to withdraw, the fees involved with pulling out funds from Zoomex may vary. You can check the charge at the time of withdrawal.
Zoomex Deposit Methods
For users who want to fund their accounts and trade on the site, Zoomex offers several deposit options. On Zoomex, users may deposit both cryptocurrencies and fiat money. Users can deposit any cryptocurrency that Zoomex supports, including BTC, ETH, USDT, XRP, LTC, and more. Fiat currencies, including USD, EUR, GBP, and CAD, can also be deposited by users via various payment methods, including bank transfers, credit cards, debit cards, and e-wallets. Zoomex does not charge any fees for cryptocurrency platform deposits.
Zoomex Withdrawal Methods
For Consumers who want to withdraw their money and assets from the site, Zoomex offers several withdrawal methods. Users can withdraw any cryptocurrency supported by Zoomex, including BTC, ETH, USDT, XRP, and LTC. Zoomex does not support the withdrawal of fiat currencies.
User Interface
Zoomex is a suitable platform for beginners, with a simple layout and user interface that even a novice can readily understand. Simply provide your email address or phone number during registration, choose a password, and you'll be given full access to all the features.
The platform's UI/UX is optimised to enable users to navigate its web app and find menus easily. Everything from buying cryptocurrency to trading to copying other traders is accessible.
Zoomex Security Features
To protect customer assets from attacks, Zoomex uses a top-notch multi-signature security system. Zoomex offers a combination of cold and hot wallet solutions and a multi-signature security system for an extra layer of protection for its customers' assets.
Pros and Cons of Zoomex
| Pros | Cons |
| --- | --- |
| Purchasing cryptocurrencies with fiat assets | No FIAT on and offramp |
| Supports copy trading | More complicated to use |
| Live chat for resolving user complaints | |
| Low trading fees | |
Conclusion
Zoomex is an excellent cryptocurrency trading platform for derivatives traders, having access to inverse perpetual contracts as well as USDT perpetual contracts, and more than 100 coins on sale. It also offers the unusual capacity to provide both a centralised and decentralised version of the exchange, which many users find appealing.
The minimal costs and comprehensive trading tools provide a professional experience, providing customers with the most recent features, functions, and tools in one location. The only drawback of Zoomex is that it does not offer spot trading. Traders seeking spot trading options will have to look at other trading platforms.
FAQs
Is Zoomex safe?
Yes, Zoomex is a legitimate cryptocurrency exchange founded in 2021 and headquartered in Singapore. It has a license issued by multiple regulatory bodies in the United States and Canada.
Is Zoomex supported in the US?
Yes, Zoomex has a US MSB license and is controlled by FinCEN. Thus, US residents can participate in the exchange.
What cryptocurrencies are available for trading on Zoomex?
Zoomex provides its customers with over 100 crypto assets to trade. While trading, you may also select between inverse perpetual contracts and USDT perpetual contracts.