In the rapidly evolving landscape of cryptocurrency, one crucial bridge stands between traditional finance and the crypto revolution: Fiat to crypto exchanges. These exchanges are your gateway to purchase cryptos with your local currency such as USD or EUR.
For those of you who have been on the fence about diving into the world of digital currencies or for those seasoned crypto enthusiasts looking for the best platforms to expand their portfolios, this article is your compass in the sea of options.
We've researched to bring you the ultimate guide to the best fiat-to-crypto exchanges. Below, you'll find a sneak peek of what's to come:
In this article, we'll cover:
The top fiat to crypto exchanges for beginners.
Platforms with the lowest fees to supercharge your investments.
Security measures that will keep your assets safe.
How to choose the right fiat to crypto exchange for your specific needs.
Expert tips and tricks to optimize your fiat to crypto trading experience.
Top Five Exchanges For Withdrawing Fiat Reviewed
Below, you will find the top 5 crypto exchanges for fiat-to-crypto transactions. Not only do these crypto platforms support direct fiat-crypto trading, but they also allow fiat payments, deposits, and withdrawals with cards or bank accounts. All of these exchanges are licensed and abide by local AML laws and regulations.
1. Binance
Binance is the most popular global cryptocurrency exchange, with a presence in over 100 countries. It supports deposits in multiple currencies and offers a wide range of cryptocurrencies for trading.
The platform requires KYC verification as it is licensed in various jurisdictions, ensuring compliance with regulations. Its fiat withdrawal process is straightforward and user-friendly. Binance supports multiple fiat currencies, including USD, EUR, JPY, CAD, AUD, and GBP.
The availability of fiat currencies may vary depending on your geographical location, and Binance continuously expands its list of supported fiat currencies to cater to a global user base.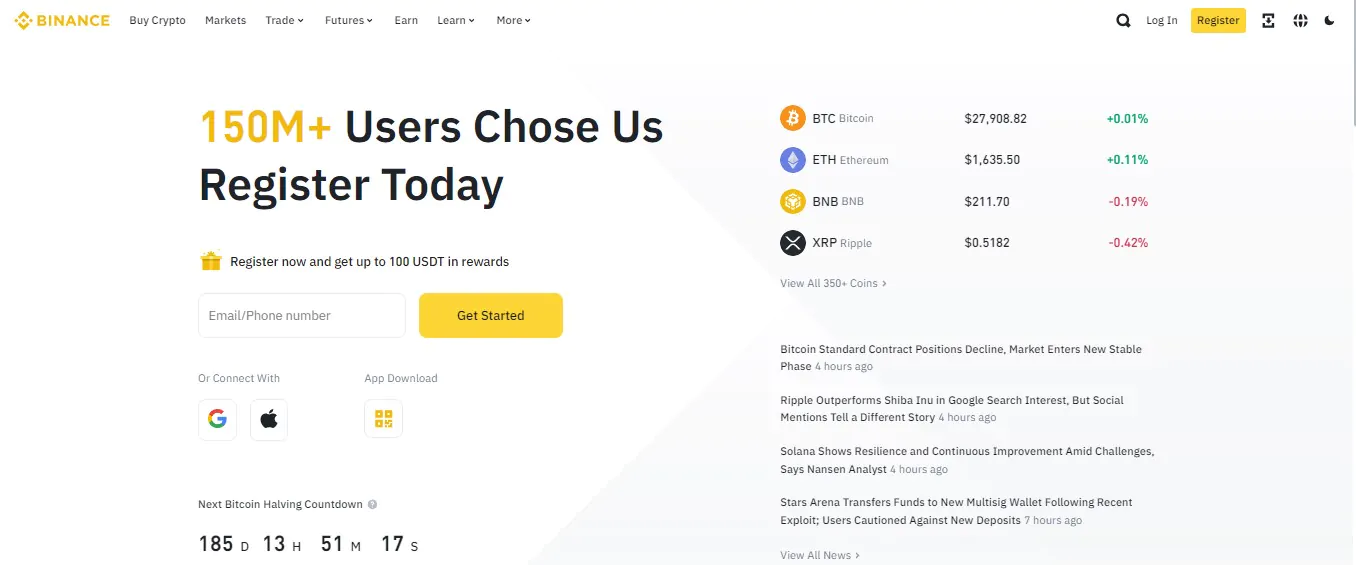 On its spot trading platform, Binance lets you directly trade fiat-to-cryptocurrency and cryptocurrency-to-cryptocurrency pairs.
For example, you can trade BTC/USD or ETH/EUR pairs. This allows traders to buy and sell cryptocurrencies at real-time market prices. It also offers a P2P trading platform enabling users to buy and sell cryptocurrencies directly using various payment methods.
Based on the user's trading volume, Binance offers a tiered fee structure for futures trading, ranging from 0.02% to 0.04%. Binance also offers discounts when using BNB, its native cryptocurrency, to pay for fees.
Additionally, the platform provides multiple withdrawal methods, such as collaborations with third-party payment providers, bank transfers and credit/debit cards, catering to the diverse needs of its global user base.
2. KuCoin
KuCoin allows unrestricted exchange between fiat and cryptocurrencies. The platform supports over 50 fiat currencies through P2P and card channels, enabling users to trade their preferred fiat currencies for cryptocurrencies and vice versa.
Some of the prominent fiat currencies supported on the platform include USD, EUR, GBP, CAD, AUD, and HKD.
It's important to note that some services may be unavailable in certain countries or regions due to local laws, regulations, or policies. If you are in an unsupported country or region, it is advised to access the platform from a supported location for KYC verification.

Kucoin allows users to directly trade supported fiat currencies on the spot market. The platform provides a seamless and user-friendly interface that enables traders to execute trades with ease. By selecting the desired fiat currency pair, users can buy or sell cryptocurrencies directly in exchange for fiat currency.
Security is of paramount importance at KuCoin. The platform implements robust security measures to safeguard user funds and personal information. This includes features such as multi-factor authentication, SSL encryption, and cold storage for user funds.
To ensure transparency and trust in the platform, KuCoin utilizes Proof of Reserves (PoR). This means that KuCoin can demonstrate the custody of user assets on the blockchain, providing a transparent and reliable exchange experience.
The platform supports traditional payment methods such as bank transfers, credit/debit cards, and third-party payment processors. Additionally, Kucoin has partnered with various payment service providers to offer users alternative options and ensure a smooth fiat-to-crypto experience.
3. Bybit
Bybit is a cryptocurrency exchange platform that offers spot-buying and derivative trading with leverage. It supports a diverse range of assets and provides various trading options.
Crypto enthusiasts can trade various digital assets against each other, predominantly Bitcoin (BTC), Ethereum (ETH), Ripple (XRP), and EOS (EOS). It has a global presence, supports eight fiat currencies, and offers competitive fees for trading transactions.
Users can now make deposits and withdrawals using EUR, and they can check their EUR balance and explore the trading options on the platform.
These currencies are accepted through various payment methods, including wire transfers, credit cards, and third-party payment channels like Lvl and Banxa.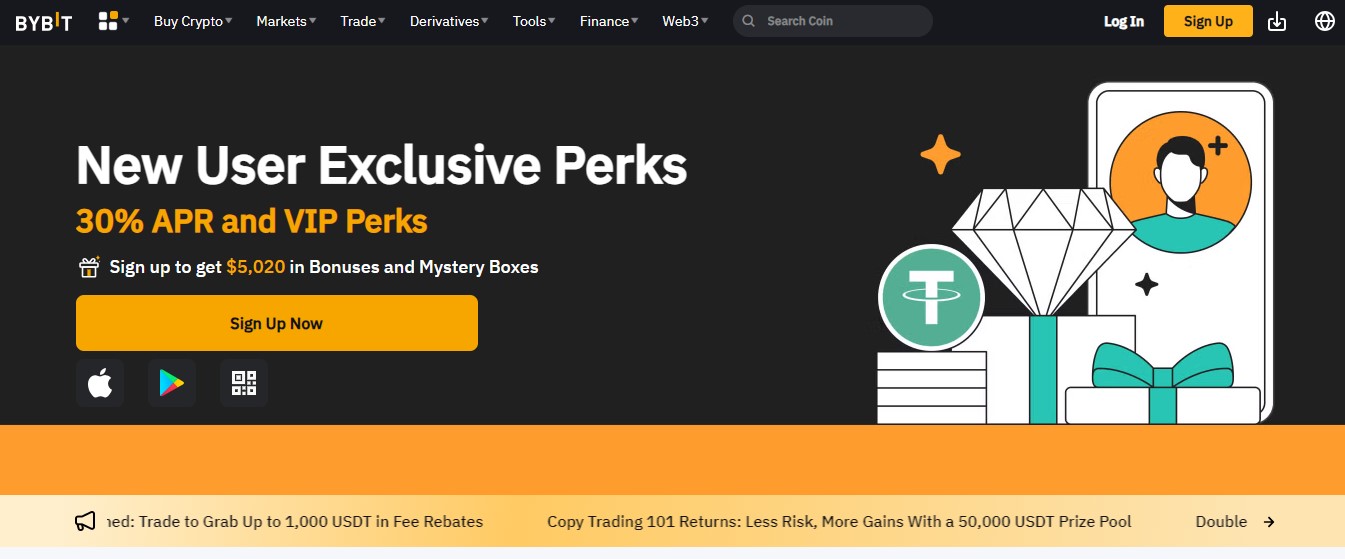 Bybit has traditionally focused on derivatives trading rather than spot trading. It allows traders to engage in spot trading, which involves buying and selling cryptocurrency assets at their current market price.
For trading, the maker fees range from 0.01% to 0.020%, and taker fees range from 0.030% to 0.055% for spot, derivatives, and options trading.
Bybit's trading fees vary depending on membership level and the type of trading. Membership levels are determined by asset balance and 30-day trading volume. The trading fees range from 0.1% to 1% or more per trade, depending on the type of asset and trading contracts.
Regarding withdrawal fees, Bybit charges 0.0005 BTC per BTC withdrawal, in line with the global industry average.
The on/off-ramp methods for fiat currencies on the Bybit platform are highly diversified, with multiple options for traders. For instance, users can deposit fiat currencies through wire transfer, one of the most widely accepted methods.
Overall, the process is seamless, and traders can expect to have their accounts credited within 24 hours after the deposit request has been confirmed.
Alternatively, they can use credit card services like Visa and Mastercard, which can be processed instantly, and traders are not subjected to deposit or withdrawal fees.
Additionally, Bybit has an extensive NFT marketplace that provides early access to metaverse products and zero transaction fees. The platform also offers mobile support, allowing users to trade.
4. Bitget
Bitget is the 4th largest cryptocurrency trading platform that is suitable for buying crypto with fiat currencies. It provides a user-friendly interface and supports a wide range of cryptocurrencies and fiat currencies.
With Bitget, users can trade 562 different cryptocurrencies and 59 fiat currencies, including USD, EUR, GBP, and AUD. This makes it accessible to investors worldwide, especially in the UK and Europe.
Bitget, like other exchanges, requires users to complete KYC verification before buying crypto. Once verification is complete, users can make deposits using various payment methods such as credit/debit cards, bank transfers, and Google Pay.

Bitget also offers a peer-to-peer (P2P) market, allowing users to buy and sell cryptocurrencies directly from each other. This can often result in better deals and more competitive prices.
In terms of fees, Bitget charges 0.1% for spot trading, which is in line with the industry average. Bank deposits in GBP, EUR, and BRL are free of charge, but card purchases come with high fees.
One notable feature of Bitget is its support for staking products. This makes it a suitable platform for long-term investors who are looking to earn passive income through staking their cryptocurrencies.
5. Kraken
Kraken is a well-established exchange known for its trustworthiness. It supports altcoins and major fiat currencies.
Withdrawal limits on Kraken depend on the user's tier level in the verification process. It has been operating since 2011 and conducts proof-of-reserve audits to assure users of fund security.
Users can easily buy, sell, and exchange cryptocurrencies through Kraken's spot trading platform. You can trade a wide variety of cryptocurrencies against fiat currencies, as well as crypto-to-crypto pairs. This platform offers a user-friendly interface, advanced charting tools, and various order types to accommodate traders of all levels.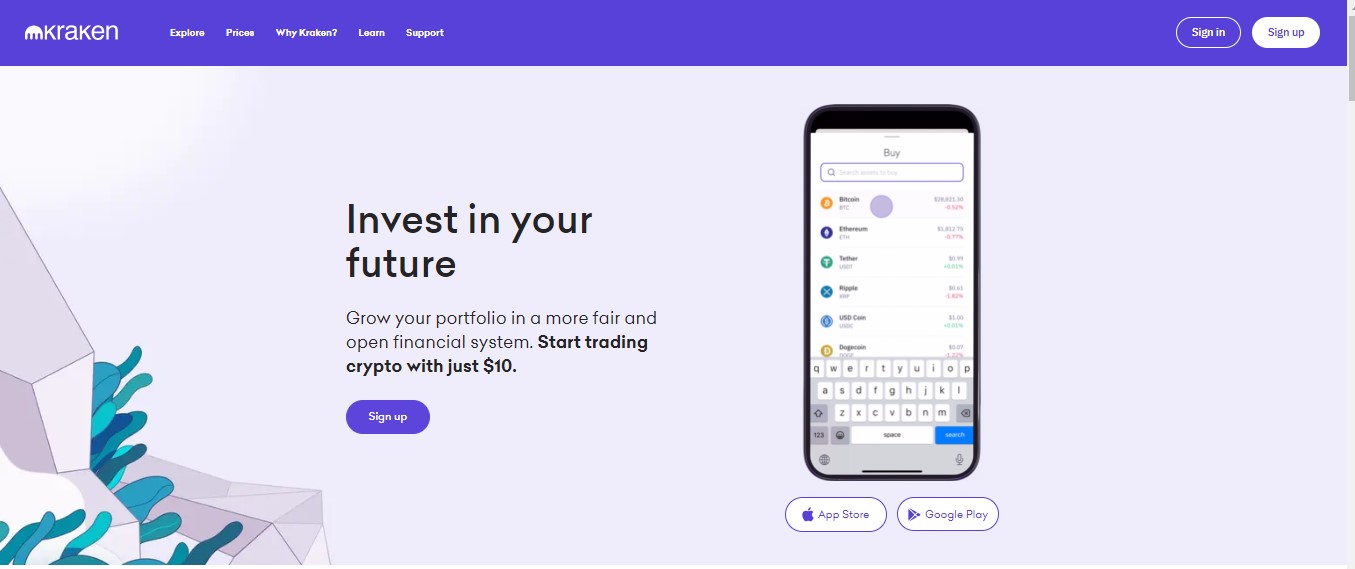 While Kraken primarily focuses on spot trading, it does not offer a dedicated peer-to-peer (P2P) trading platform like other exchanges.
It provides diverse on-ramp and off-ramp options for fiat deposits and withdrawals, varying by location and supported fiat currencies. These include bank transfers, cryptocurrency deposits, Kraken Pay, stablecoins, and crypto ATMs.
Kraken has four user tiers based on verification documents, with each tier unlocking higher withdrawal amounts and deposit limits. Tier two can be opened by providing basic details and allows a daily withdrawal limit of $2,500 and a monthly limit of $10,000.
With tier three unlocked and verified identity documents, clients can withdraw up to $25,000 daily and $100,000 monthly. Kraken supports a variety of altcoins and major fiat currencies, including USD, EUR, GBP, AUD, CHF, JPY, and CAD.
What is Fiat Currency?
Fiat currency is a type of currency that is issued and regulated by a government, but a physical commodity like gold or silver does not back it. Instead, the value of fiat currency is based on the trust and confidence of the people who use it as a medium of exchange.
In other words, fiat currency has value because the government declares its legal tender, and people accept it as such in everyday transactions.
Key Characteristics of Fiat Currency Include
Legal Tender: Fiat currency is recognized by the government as the official medium of exchange within a country, and it must be accepted for payment of debts, taxes, and other financial obligations.
No Intrinsic Value: Unlike commodities like gold or silver, fiat currency has no intrinsic value. Its value is not derived from any physical asset but represents trust in the government and the economy.
Centralized Control: Governments and central banks have the authority to issue, regulate, and manage the supply of fiat currency. They can control factors like money supply, interest rates, and inflation to influence the currency's stability and value.
Widespread Use: Fiat currencies are widely used for all transactions, from buying goods and services to investing and saving. They are also used as a unit of account, making measuring and comparing prices and values easier.
Exchange Rates: On the foreign exchange market, fiat currencies are convertible into other fiat currencies, and their relative values can fluctuate depending on supply and demand, economic conditions, and other factors.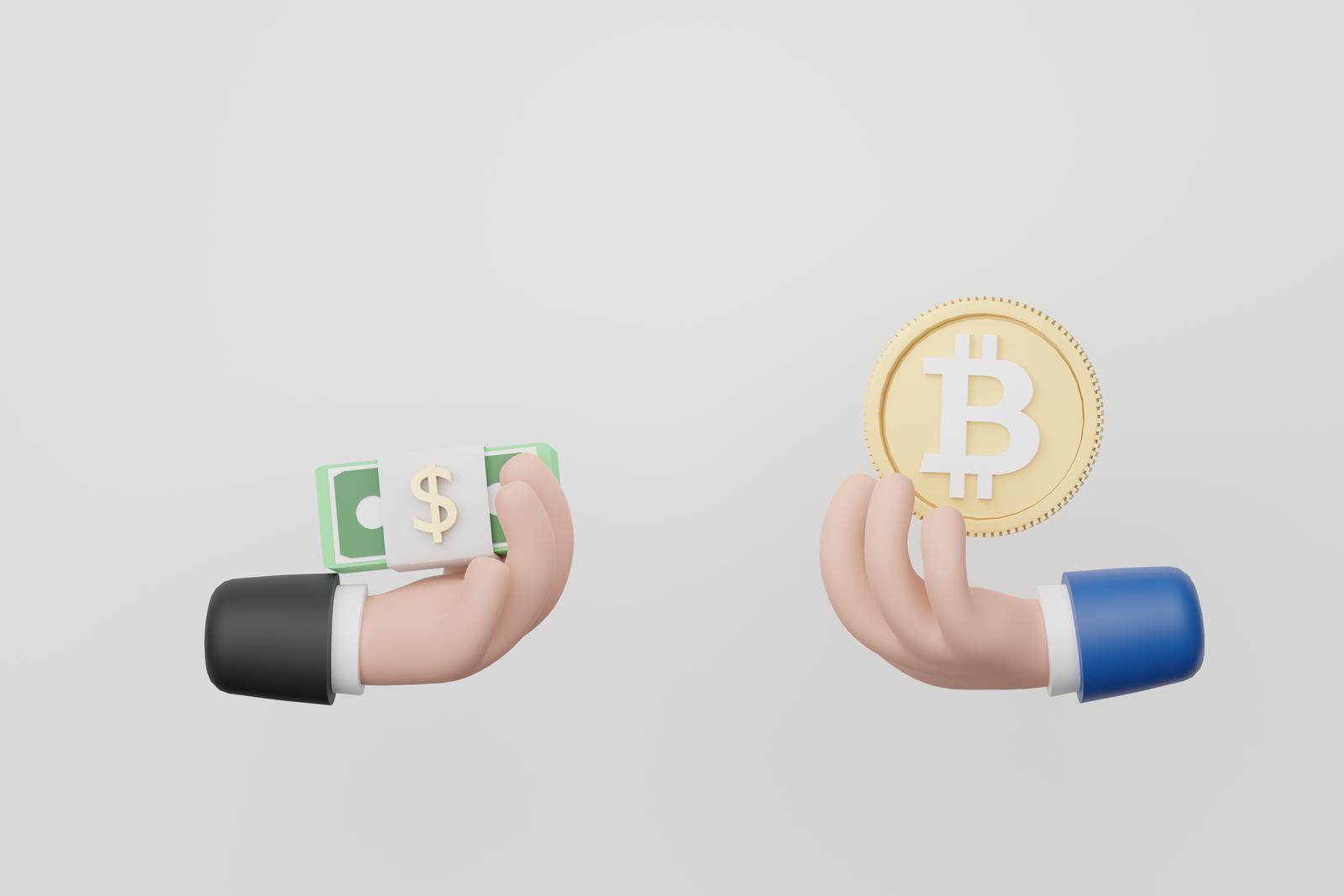 Difference Between Fiat and Crypto Currencies
Fiat currencies and cryptocurrencies are both forms of currency, but they have several key differences:
Centralization and Decentralization
Fiat currencies are issued and regulated by a centralized authority, typically a government and its central bank. These authorities control the supply and can make decisions like printing money or implementing monetary policies.
Cryptocurrencies are decentralized digital currencies that operate on a technology called blockchain. Any central authority does not control them, and transactions are verified by a distributed network of computers (nodes).
Physical vs. Digital
Fiat currencies can exist in both physical (cash) and digital forms. Most transactions today occur digitally through banks and online payment systems.
Cryptocurrencies exist purely in digital form. They have no physical representation and are stored in digital wallets.
Supply Control
Central authorities can adjust the supply of fiat currencies by printing more money (inflation) or reducing it (deflation) based on economic conditions and policy goals.
Most cryptocurrencies have a predetermined supply cap. For example, Bitcoin has a maximum supply of 21 million algorithmically controlled coins. This contrasts with fiat currencies, which can be printed in unlimited quantities.
Transaction Speed and Cost:
Transactions with fiat currencies, especially digital transactions, are typically fast and have low fees, especially for local and national transactions.
Cryptocurrency transactions can vary widely in terms of speed and cost. Some cryptocurrencies, like Bitcoin, may have slower transaction times and higher fees during periods of high demand. Others, like Ethereum, are working on scalability solutions to improve this.
Anonymity and Transparency:
Fiat transactions can vary in privacy, but they are generally less anonymous than cryptocurrency transactions. Banks and financial institutions often have access to transaction details.
Cryptocurrency transactions can offer more anonymity, although this varies depending on the cryptocurrency used. The blockchain ledger is transparent and publicly accessible, allowing anyone to view all transactions.
Legal Status
Governments recognize Fiat currencies as legal tender, and their use is mandated by law within the respective jurisdictions.
The legal status of cryptocurrencies varies from country to country. Cryptocurrencies have been adopted by some nations and regulated and taxed, but others ban them or restrict their usage.
Volatility
Fiat currencies are generally stable, fluctuating their value within a controlled range. Inflation and deflation can occur but are usually managed by central banks.
Cryptocurrencies are known for their price volatility, with values that can change significantly over short periods. This volatility can make them attractive for investment but challenging for day-to-day transactions.
What to Look for in a Fiat Exchange?
Several important factors must be considered when looking for a fiat exchange to buy or trade cryptocurrencies to ensure a safe and efficient trading experience. Here are some key things to look for:
Security Measures
Security is a paramount concern in the realm of financial transactions, especially in the digital age where everything from personal information to hard-earned assets is increasingly stored and managed online. Whether you're trading, investing, or simply storing cryptocurrencies, it's imperative to ensure that the exchange you choose prioritizes security above all else.
One of the key elements of a secure cryptocurrency exchange is two-factor authentication (2FA). This additional layer of protection requires users to provide two different forms of verification before accessing their accounts.
Typically, this involves something they know (like a password) and something they have (such as a temporary code sent to their mobile device). This deters unauthorized access, significantly bolstering the security of your account.
Encryption is another fundamental aspect of secure exchanges. Robust encryption mechanisms protect your data from unauthorized access and ensure that your transactions and personal information remain confidential.
End-to-end encryption, in particular, is highly effective in safeguarding the content of your communications and financial data.
Furthermore, the use of cold storage for cryptocurrencies is a crucial security measure. Cold storage means that the private keys used to access your cryptocurrency holdings are stored offline, making them impervious to online hacking attempts.
This is in stark contrast to hot wallets, which are connected to the internet and are more susceptible to breaches.
Ensure relevant authorities regulate the exchange in your country or region. Regulatory oversight provides a level of security and accountability. Look for exchanges that comply with anti-money laundering (AML) and know your customer (KYC) requirements.
Deposit Methods for Fiat
Bank Transfers (ACH, SEPA, Wire Transfers)
Most exchanges support bank transfers as a deposit method. These transfers typically have low or no deposit fees. However, they can take a few business days to process. Deposit limits vary depending on your exchange and account verification level, but they can be quite high for fully verified users.
Credit/Debit Cards
Some exchanges allow you to deposit fiat using credit or debit cards. This method is usually fast but may have higher deposit fees than bank transfers. Deposit limits are often lower for card payments, especially for new users.
Third-Party Payment Processors
A few exchanges partner with third-party payment processors like PayPal or Skrill to facilitate fiat deposits. These methods are convenient but may come with higher fees. Deposit limits can vary.
Cryptocurrency-to-Fiat Pairs
Ensure that the exchange offers a wide variety of cryptocurrency trading pairs, including the ones you are interested in. Liquidity in the markets is also crucial, as it can affect the ease of executing trades and the prices you get.
Fiat-to-Crypto Trading Fees
A maker-taker fee structure is typically used by exchanges to charge trading fees. There are a variety of fees charged by exchanges, including withdrawal fees, deposit fees, and trade fees.
Compare fee structures among different exchanges to find one that suits your trading style and budget. Keep an eye out for hidden fees.
Makers provide liquidity to the order book, while takers remove liquidity. Maker fees are usually lower than taker fees. Fees vary widely but often range from 0.1% to 0.2% per trade.
Fiat Deposit/Withdrawal Fees
Some exchanges charge fees for depositing or withdrawing fiat currency. These fees can vary depending on the method you choose and your location. Bank transfers are often free or have low fees, while credit card deposits may have higher fees.
The withdrawal fees are subject to change based on various factors, such as network congestion. Blockchain networks often experience varying levels of congestion, which can affect the transaction fees required to process transactions promptly.
Therefore, the withdrawal fees may fluctuate based on the current conditions of the blockchain network.
Fiat/Crypto Trading Limits
Many exchanges offer real limit order book trading for fiat-to-crypto pairs, just like for crypto-to-crypto pairs. You can set buy or sell orders at specific price levels. The order book depth and liquidity may vary depending on the exchange and trading pair.
Deposit and withdrawal limits depend on your exchange and your account verification level. Exchanges usually have different verification tiers (e.g., basic, intermediate, advanced), and higher verification levels have higher limits.
For fiat-to-crypto trading, there may be daily or monthly limits on the amount you can trade, which can vary widely between exchanges.
Your geographic location and regulatory requirements can also influence limits.
It's essential to check the specific exchange's website or contact their customer support for the most up-to-date information on deposit methods, withdrawal methods, fees, and limits, as these can change over time and may be subject to regional variations and regulations.
FAQs
Is it Legal in My Area?
Cryptocurrency is legal in the majority of countries. However, laws and governmental attitudes toward cryptocurrency can vary. Researching and understanding the local rules before engaging in cryptocurrency transactions is essential.
How do Crypto Exchanges Work?
Crypto exchanges work by connecting buyers and sellers in a marketplace. Users can place buy or sell orders for specific cryptocurrencies, and the exchange matches these orders to facilitate the transactions.
Once the transaction is completed, the assets are transferred to the buyer's wallet or stored in the exchange's custodial wallets.
Are Fiat to Crypto Exchanges safe?
The safety of Fiat to Crypto Exchanges varies from one platform to another.
The best exchanges implement robust security measures, including cold storage of funds, two-factor authentication (2FA), and encryption to protect users' assets and data.
Always research an exchange's security measures and track record before using it.
How do I Get Started on a Fiat to Crypto Exchange?
To start a Fiat to Crypto Exchange, follow these general steps:
Sign up for an account on the exchange of your choice.
Complete the required identity verification (KYC) process.
Deposit fiat currency into your exchange wallet.
Browse the available cryptocurrencies and place orders as desired.
Use the exchange's trading tools and features to manage your portfolio.
Wrapping Up
Cryptocurrency trading offers exciting opportunities but comes with risks. Finding the right fiat to crypto exchange is the first step on your journey to the digital financial future.
Whether you're a beginner or an experienced trader, selecting the right exchange, understanding security measures, and adopting expert strategies are essential for success in the crypto market.
Start your crypto journey today, and remember to stay informed, be cautious, and enjoy the ride.