Skrill is an online wallet and money transfer service that allows users to store funds and quickly send money around the world. With its fast transfers and secure storage, Skrill can also be a convenient option for funding crypto purchases on exchanges.
In this detailed guide, we'll walk through the process of buying cryptocurrencies using Skrill deposits step-by-step. We'll cover the top exchanges that support Skrill purchases, what to look out for, and tips for avoiding fees.
Best Exchanges To Purchase Cryptos With Skrill
Skrill is a popular online payment service that allows you to store funds and make fast transfers. It can be a convenient way to fund your crypto purchases on exchanges that accept Skrill deposits. Here are three major crypto exchanges that support buying crypto with Skrill:
Bybit P2P – Bybit's peer-to-peer platform allows you to buy crypto directly from other users. The process is quick and easy with low fees.
Paybis – This cryptocurrency exchange offers easy Skrill purchases for a wide range of coins. However, fees are on the higher side.
Bitpanda – An Austrian exchange that provides a simple way to buy crypto with Skrill. Limited coin selection but low fees.
How to Buy Cryptos with Skrill (Step-by-Step Instructions)
When using Skrill for crypto, be sure to cover all Skrill fees to avoid transaction issues. Also pay attention to which fiat currencies are supported on each platform. This guide provides step-by-step instructions for buying crypto on Bybit P2P with Skrill, along with an overview of Paybis and Bitpanda. You can watch our YouTube video below, or read the guide on our website.
1. Bybit P2P
Bybit P2P allows you to buy and sell crypto directly to other users. It's one of the few exchanges that offers Skrill as a payment method. Here's how to buy crypto with Skrill on Bybit P2P:
Step 1: Create a Bybit Account
First Go to www.bybit.com and click "Register" in the top right corner. Then Enter your email and password to create your account. Go to Your email and Verify your email address to complete the signup process.
Step 2: Complete KYC Verification
After registering, you'll need to complete Bybit's KYC (Know Your Customer) verification to access all features.Click your profile icon and select "Verification".Provide your basic personal information and upload ID documents.Verification usually takes 15 minutes.
Step 3: Deposit Skrill Funds
Once verified, click "Buy Crypto" at the top and select "P2P Trading".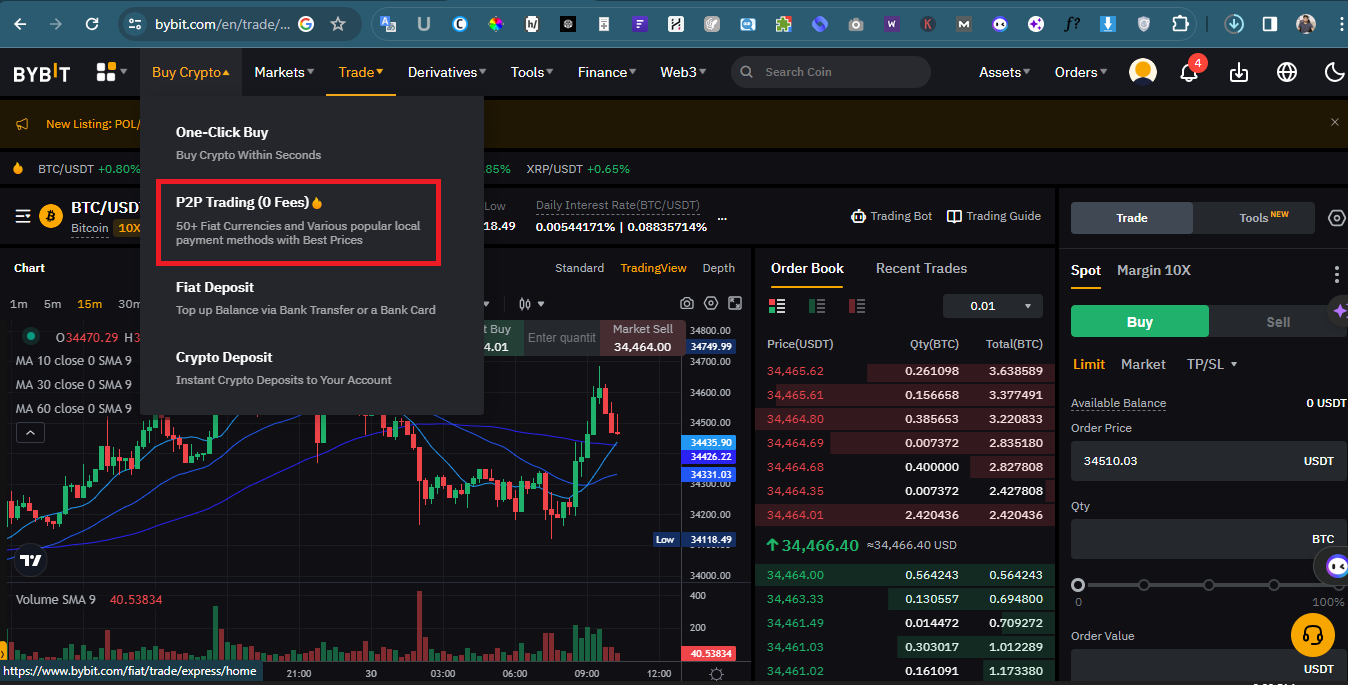 Choose Skrill as the payment method.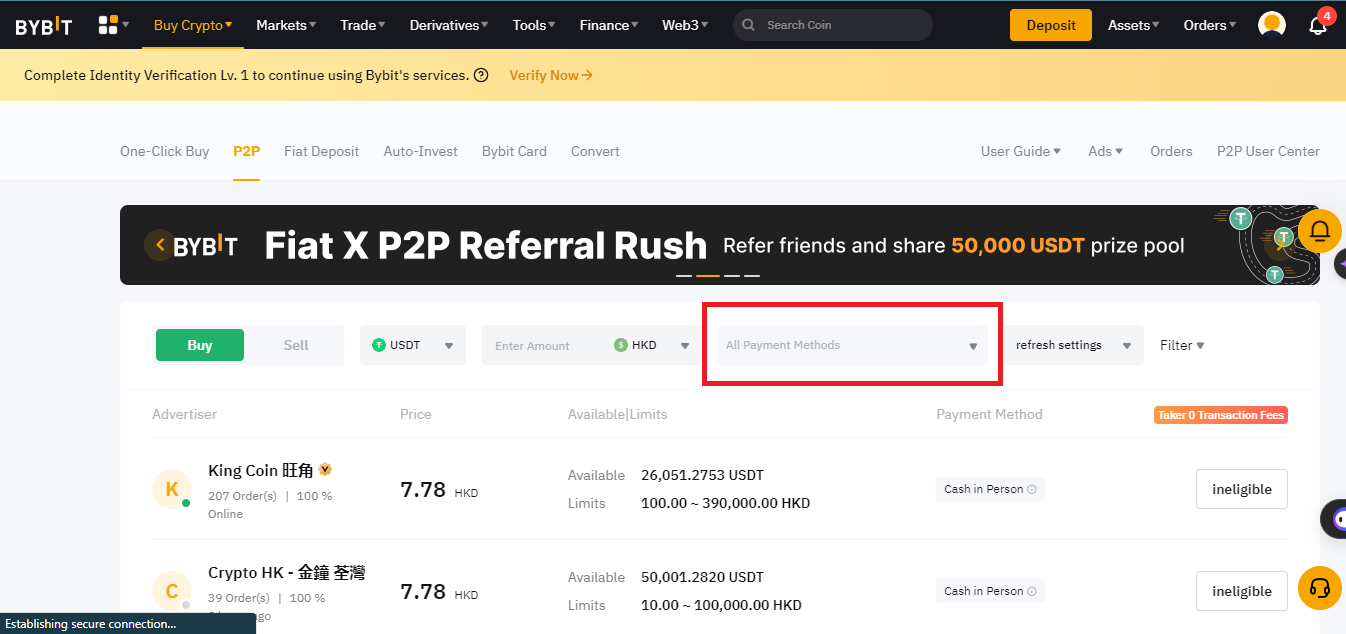 Then search for Skrill and click on confirm.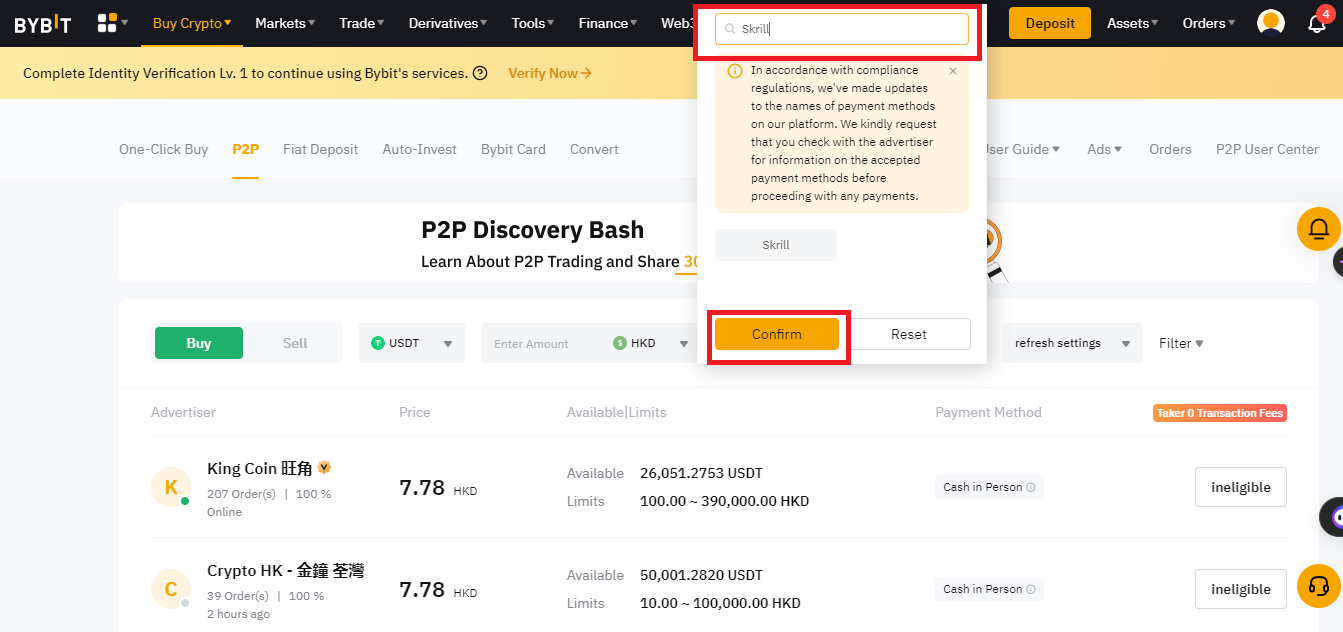 Enter the amount in USD/EUR/GBP you want to deposit. The minimum is 50 USD/EUR/GBP.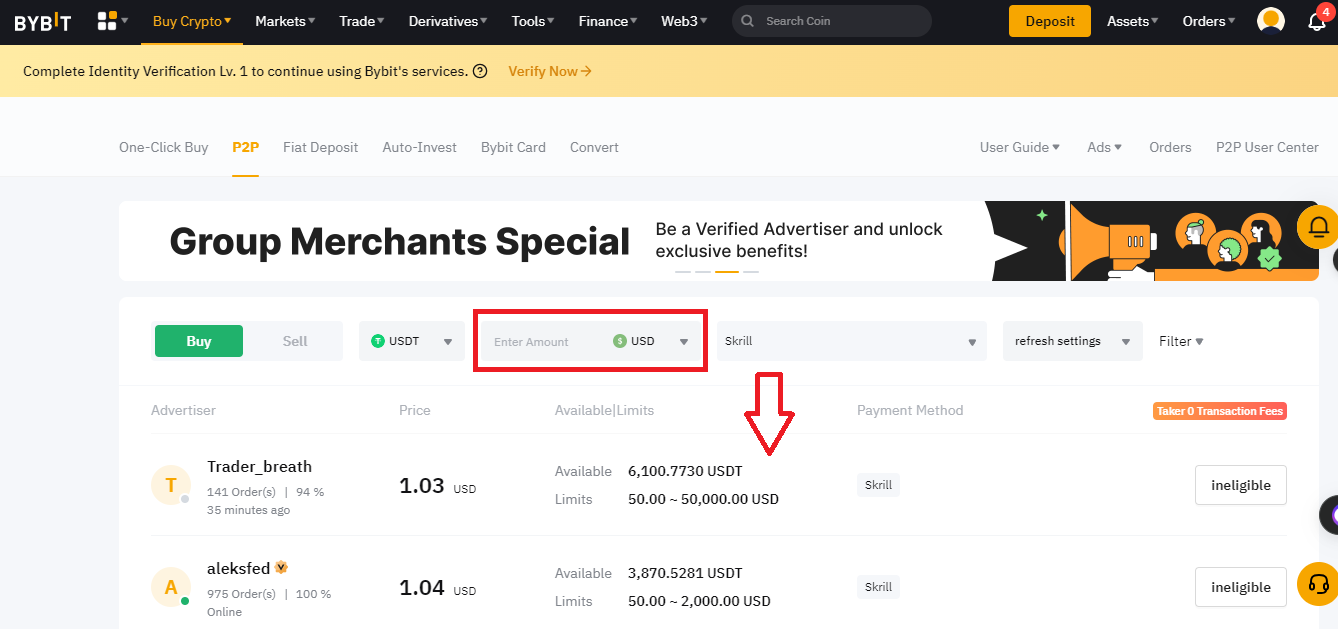 You'll be shown Skrill deposit instructions. Follow them to send your Skrill funds to Bybit.
Make sure to cover all Skrill fees to avoid transaction issues.
Step 4: Buy Crypto
Select a seller you want to purchase cryptos from using Skrill. Make sure to select a reputable seller with a high success rate and click on "Buy" on the right hand side.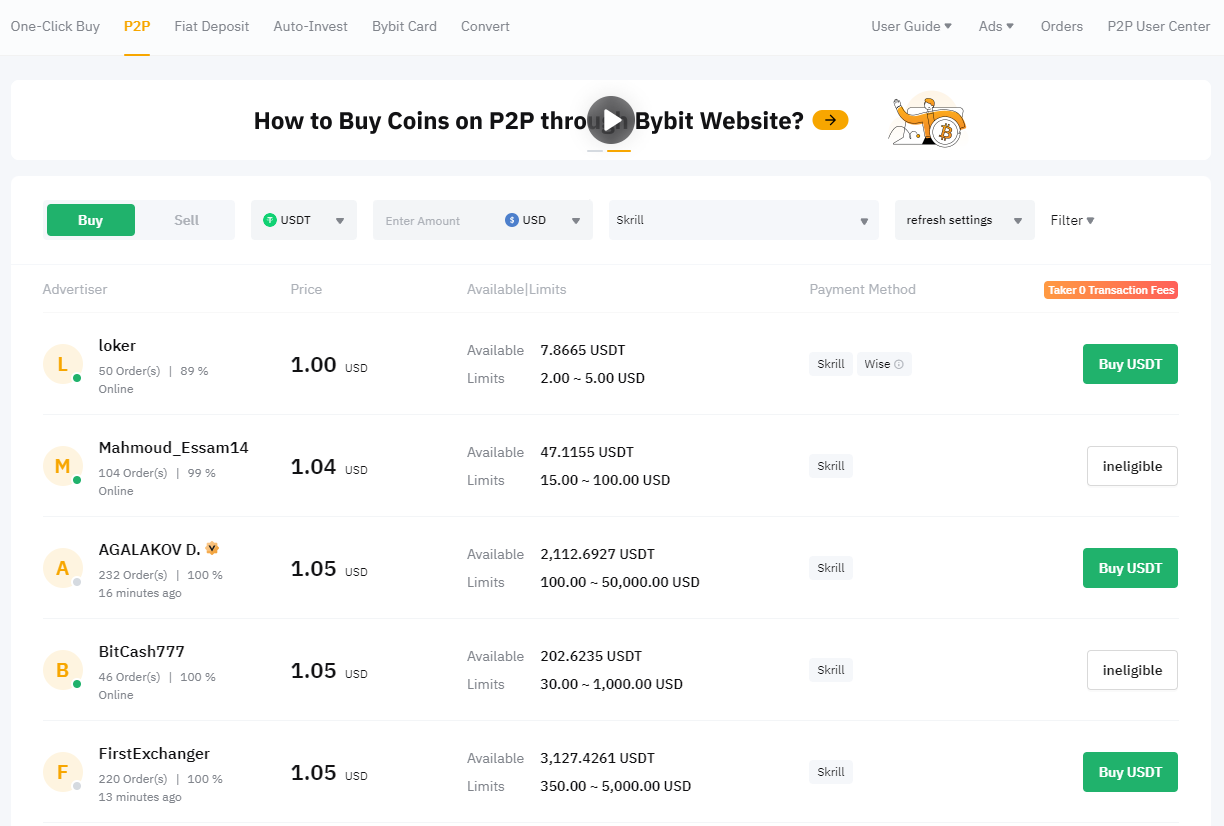 Step 5: Choose Your Desired Amount
In the next step you can choose how much you want to pay or how many cryptos you want to receive. Note that there are individual buy limits for each seller.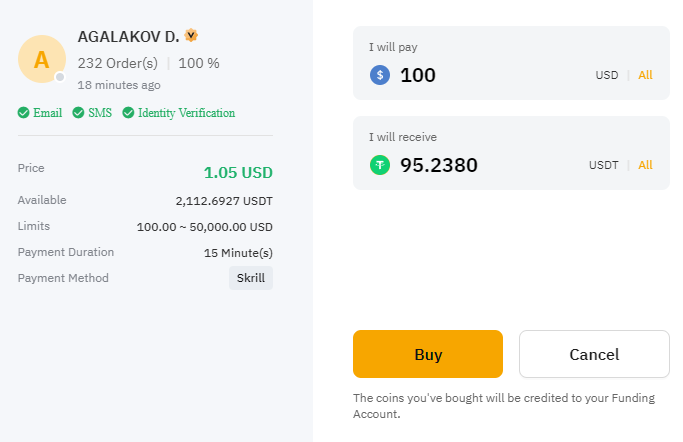 Step 6: Finalize The Skrill Transaction
Lastly, you have to send the funds to the seller. Make sure that your Skrill name matches the name of your Bybit account. Also, you must send the exact amount after fees. The transaction must be made within 15 minutes.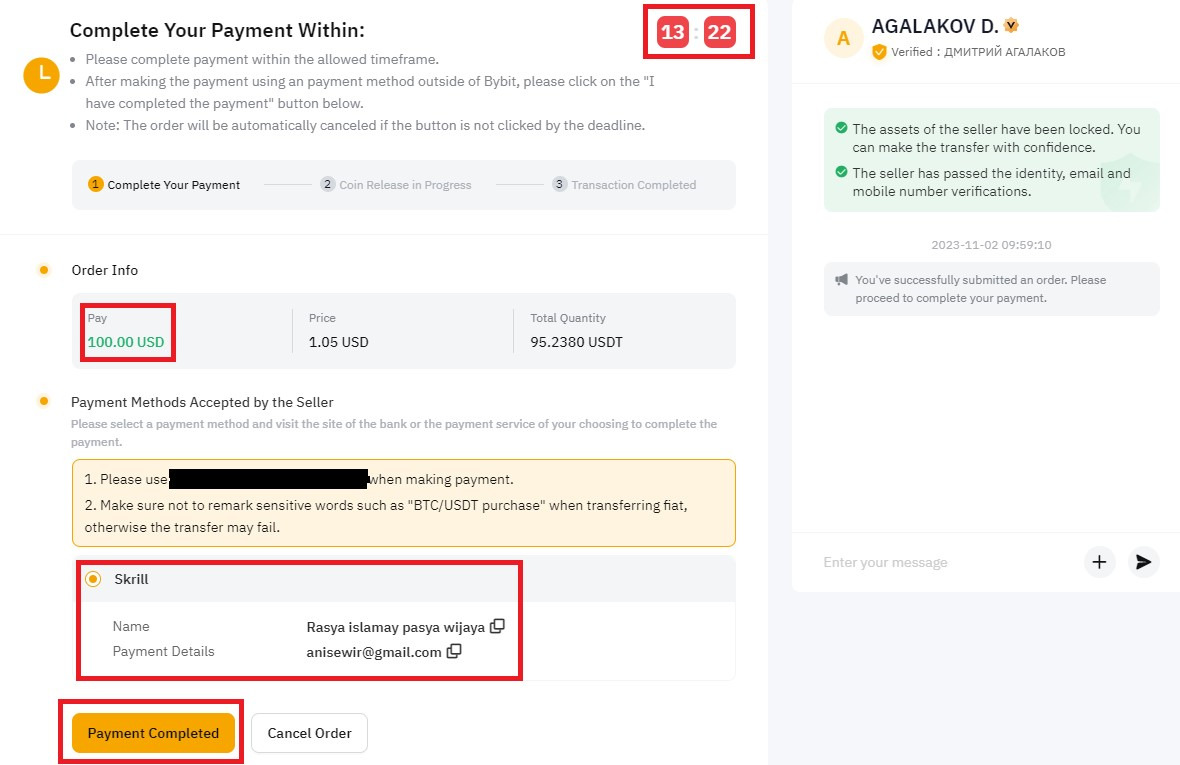 2. Paybis
In addition to Bybit, Paybis is another popular crypto exchange that offers Skrill as a payment method. Here's an overview:
Accepts Skrill deposits in USD, EUR, and GBP
Allows buying over 50 major cryptocurrencies
Intuitive quick buy interface for simple purchases
Requires ID verification for purchases over $150
Paybis provides a straightforward way to buy many different cryptos with Skrill, with a focus on user-friendliness. However, their fees are significantly higher compared to other platforms:
5% fee for purchases made via credit/debit cards
7% fee for buying crypto with Skrill
So while Paybis does offer an easy user experience, the high fees can eat into your crypto purchase amount.
Here is the Paybis purchase page showing Skrill selected with EUR currency: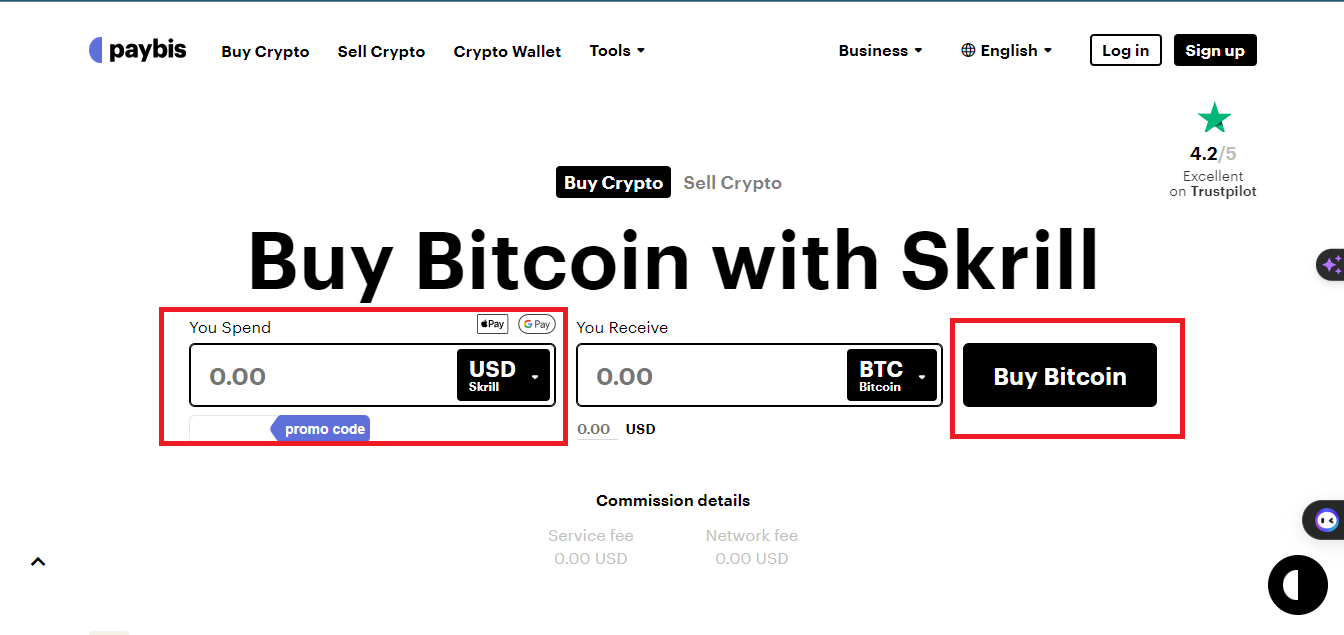 3. Bitpanda
Bitpanda is an Austrian crypto exchange that allows European users to easily buy cryptocurrencies with Skrill. Here are some of its key attributes:
Supports Skrill deposits in EUR
Low 1.49% fee for purchases under €25,000
Beginner friendly interface
Allows buying Bitcoin, Ethereum, and other major coins
A great feature of Bitpanda is that fees are very reasonable for smaller Skrill deposits under €25,000.
However, there are a couple limitations to note:
Only accepts Skrill deposits in EUR, not USD or GBP
Smaller selection of coins compared to other exchanges
Overall though, Bitpanda can be a great on-ramp for European users to buy top cryptos like Bitcoin and Ethereum using EUR Skrill funds.
Final Thoughts
Bybit P2P provides the best overall experience for buying crypto with Skrill – low fees, variety of coins, and a quick peer-to-peer process.Paybis offers more coin options but charges higher fees on Skrill purchases.Bitpanda is best for euro users who want to buy top cryptos like Bitcoin and Ethereum.Always make sure to cover Skrill deposit fees when sending funds to an exchange wallet.Take advantage of Skrill's fast transfers and security to easily turn your stored funds into crypto assets.
So in summary, Bybit P2P is likely the best choice for most users wanting to buy crypto with Skrill due to the low fees and smooth purchasing process. But also consider Paybis and Bitpanda depending on your specific needs.
Tips for Avoiding Skrill Fees
When sending Skrill deposits to crypto exchanges, you can avoid surprise fees by following these tips:
Always cover the Skrill transfer fee – Exchanges don't reimburse deposit fees so you need to overpay the full amount.
Use major fiat currencies – Stick to USD, EUR, or GBP transfers which have the fewest issues.
Triple check the deposit address – It's easy to accidentally send funds to the wrong wallet, which can't be reversed.
Use Skrill's fee calculator – Estimate the exact fee for your transfer amount and country using Skrill's calculator.
Following these simple guidelines will help ensure your Skrill deposit goes through with no costly fees deducted.
Frequently Asked Questions
What fees does Skrill charge?
Skrill charges a dynamic fee based on the transfer amount and destination. Fees are typically 1-2% but can be estimated using Skrill's fee calculator. It's crucial to fully fund the fee so the full deposit amount arrives.
Can I withdraw crypto back to my Skrill account?
Unfortunately, most exchanges do not allow withdrawing crypto assets back to Skrill wallets at this time. So it's primarily useful as a fast on-ramp for crypto purchases.
Is buying crypto with Skrill safe?
Using a reputable regulated exchange like those covered above, buying crypto with Skrill is generally very safe. Skrill also uses 2FA and multi-signature security for added protection.
What currencies does Skrill support?
Skrill supports deposits in over 40 fiat currencies which are converted to USD, EUR, or GBP. But exchanges tend to accept only USD, EUR, and GBP so it's best to stick to those major currencies.
Is verification required on each platform?
Most exchanges require identity verification in order to access trading and purchase features. This includes submitting ID documents and personal details. Some exchanges like Bitpanda have tiered verification levels.