Summary
Paysera is a Lithuanian-based fintech company that provides various financial services, primarily focused on online payment processing and digital banking solutions. Unfortunately, Paysera is an anti-crypto platform and forbids any crypto-related transactions.
The only way to make use of Paysera to buy cryptos such as Bitcoin is by using P2P trading platforms. However, you must note that this is against Paysera's terms of service and can lead to account restrictions.
Disclaimer: Paysera does not allow to buy cryptocurrencies through their platform. The only way to purchase cryptos using Paysera is with P2P trading which is still agains their guidelines. Proceed at your own risk!
How to Buy Crypto with Paysera on Bybit
We recommend Bybit as the best platform to buy Bitcoin and other cryptocurrencies with Paysera. Bybit is a comprehensive crypto exchange that offers the best trading conditions for users. With access to over 400 cryptos, fees as low as 0.1% for both makers and takers on the spot market, and a 0.02%/0.055% maker/taker fee for futures trading, Bybit stands out as one of the best crypto exchanges for active trading.
Additionally, Bybit is the best crypto exchange to buy Bitcoin and other digital assets with Paysera as it supports over 50 fiat currencies for payments and offers low fees. However, it is important to note that KYC verification is required to buy crypto or deposit fiat on Bybit. You can follow the step-by-step guidelines below on how to buy cryptos with Paysera on Bybit.
Step 1: Create and verify your Bybit Account
Sign up on Bybit using your email address or phone number, verify your email address, and complete the KYC verification.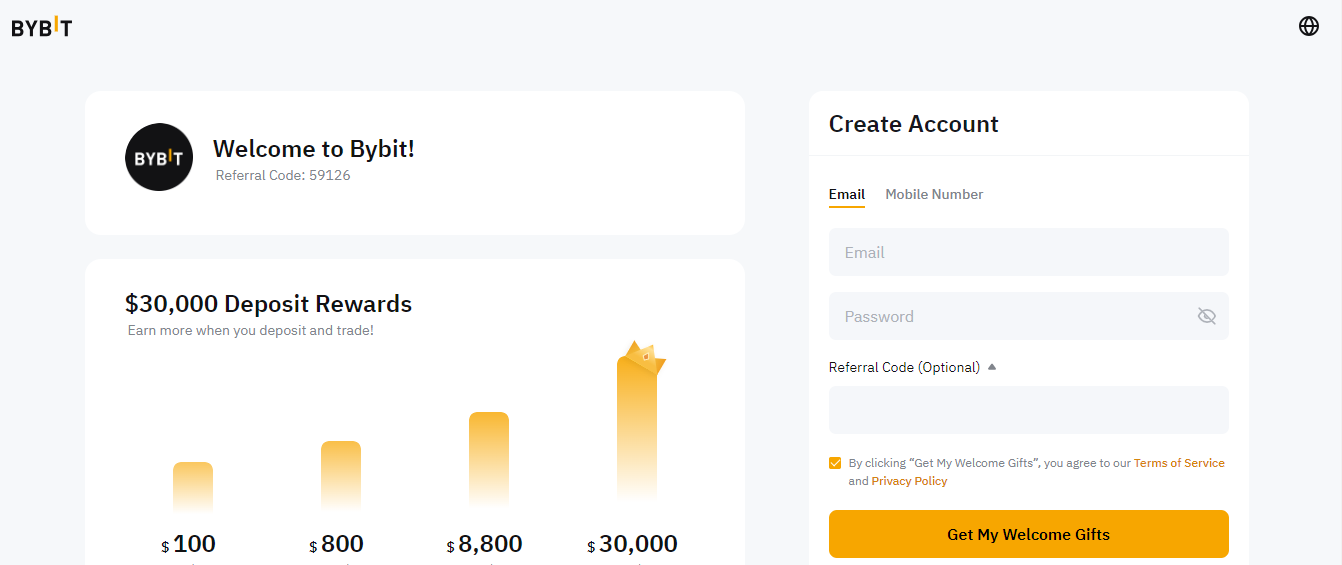 Step 2: Click on "Buy Crypto"
Click on the "Buy Crypto" tab and select "P2P trading" in the top left corner.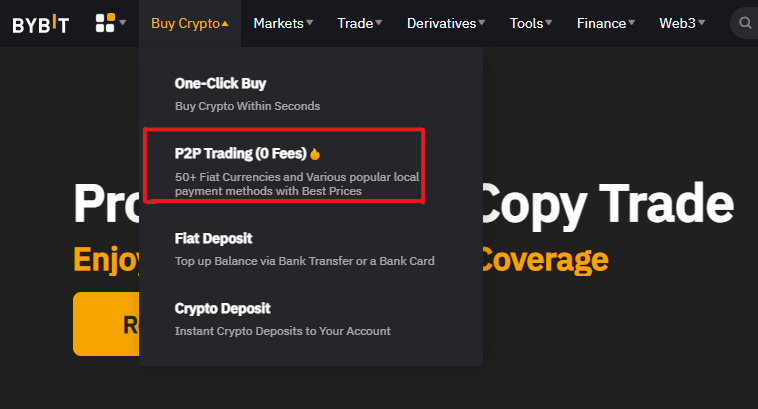 Step 3: Choose your Preferred Advertiser
On the Bybit P2P trading window, select your desired crypto and currency to be used for payment. In this case, we'll be buying USDT with € EUR. Then proceed to select among any of the eligible advertisers to make payments to.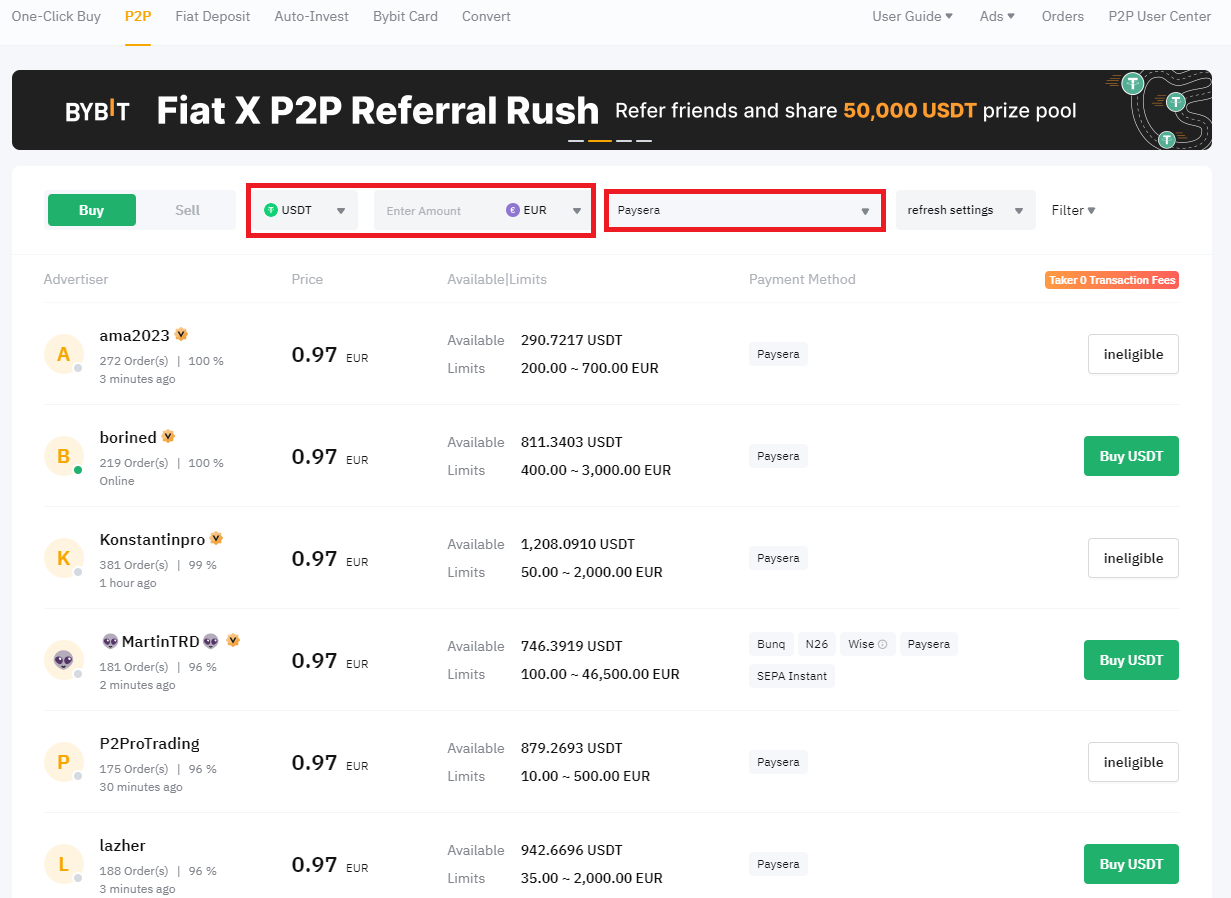 They are all Bybit users and you can see the available assets and limits for each advertiser. After choosing the desired advertiser, click "Buy USDT"
Step 4: Confirm the details and proceed to payment
A new window pops up for you to confirm the transaction details. Make sure to read the notes. In this case, you are not allowed to write anything related cryptocurrencies when purchasing cryptos through Paysera, as the Bank is anti-crypto. Then, Input your desired amount again and click "BUY".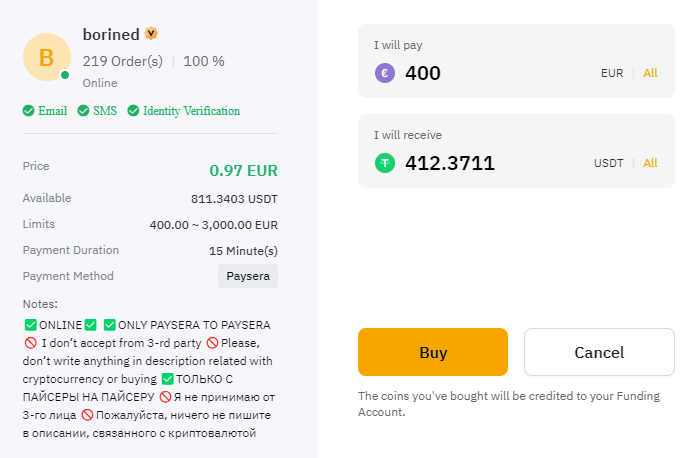 Then, another window pops up with the details of the merchant you would be transferring the funds and the medium of transfer before the coins are credited to your account. Note that your Paysera account must have the same name as your Bybit account. You will have 15 minutes to finalize the transaction.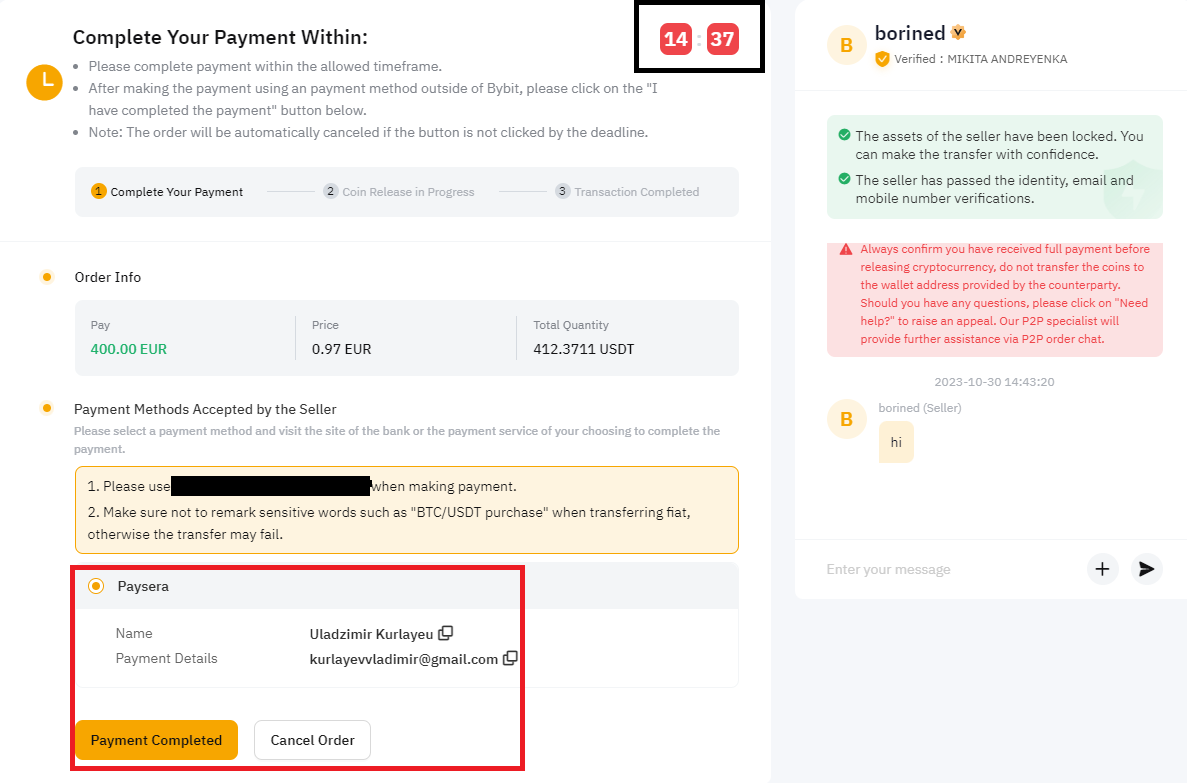 Step 5: Copy the Merchant details and proceed to make payment with Paysera
Copy the merchant details and proceed to your Paysera account. Login and make the transfer of the 200 EUR to the Advertiser. If you're from a European country, the fee is 0.29 EUR per transfer while for non-European countries, the fee is 0.5 EUR per transfer on Paysera.
After you've made the transfer, Go back to Bybit and click on "Payment Completed". The confirmation should take no more than 15 minutes and the coins will be added to your Bybit account.

Final thoughts
Paysera is regarded as one of the cheapest and most reliable methods for making transfers to anywhere in the world. You can buy cryptos with Paysera on Bybit by following the comprehensive step-by-step guidelines provided above.