Everybody loves cryptos, but what's even better than just cryptos? Free crypto bonuses. Luckily, in the cryptocurrency industry, there are many generous platforms with massive sign up bonuses for free cryptos.
Some bonuses are very simple to claim, while others are more complicated to claim. Some crypto sign up bonuses may be $5, while others can be as high as $50,000. Yes, you got that right. Some crypto exchange bonuses are this big.
In this free crypto sign up bonus guide, we will present you with the best ways to earn cryptos completely for free.
What is a Crypto Bonus?
Crypto bonuses are offers and promotions from platforms such as exchanges or wallets where new users can receive rewards for simply signing up or doing some easy tasks. There are several bonus types, including sign up bonuses, deposit bonuses, no-deposit bonuses, referral bonuses, task bonuses, mystery box bonuses, and more.
Best Crypto Bonus Offers (2023)
Now, let's get right into it so you can start receiving free Bitcoin or other crypto bonuses. Below, you find a quick list of the best crypto bonuses to receive free crypto.
Disclaimer: Be careful and pay very close attention! Some bonuses require a referral or promo code. In some cases, you even must use a specific signup link to unlock the bonus.
Bybit – $30,000
Bybit is a premier crypto exchange for bonuses. Over 25 million crypto traders trust the exchange, which generates over $10 billion in daily futures trading volume. Bybit offers advanced trading options, deep liquidity, low fees, and a user-friendly platform. On top of that, Bybit has some sweet promotions going on where new users will get free cryptos.
A whopping bonus of $30,000 can be claimed by new users when signing up with a referral code or referral link. Luckily, we have secured a referral link for Bybit that grants you the maximum signup bonus of 30,000.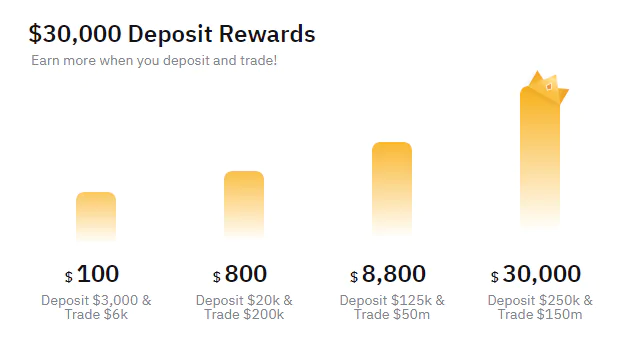 The best thing about bonuses on Bybit is the fact that you can receive $10 for free after just doing some simple tasks. This is a no-deposit crypto bonus, which means there is no risk involved.
For crypto enthusiasts seeking the best value for money, Bybit also offers deposit bonus and trading reward, which is a maximum bonus of $30,000.
You can learn more about the promotion in our official Bybit bonus guide.
MEXC $20,000
MEXC is one of the largest crypto exchanges from Singapore. With 15 million users, over 1700 supported cryptos, and record low fees of 0%, MEXC is a top contender for the best crypto exchanges in the world.
Aside from being an excellent crypto exchange, MEXC also offers generous bonuses and rewards to its users. With the MEXC referral code "mexc-CryptoWR" and a specific sign up link, new users can access a crypto bonus worth up to 20,000.

After registering with the exclusive MEXC bonus link, you can go to the reward center to see all available tasks for your bonuses. Most bonuses on MEXC are based on deposits and trading volume. The more you trade, the more you earn!
With a bonus of $20,000, we consider MEXC to be one of the best platforms for free crypto sign up bonuses.

If you want to learn more about MEXC bonuses and promotions, make sure you check out our full MEXC bonus guide.
OKX – $10,000
OKX has one of the best crypto sign up bonuses with a mystery box worth up to $10,000. On top of that, OKX offers a 10% lifetime fee cashback for new users through the referral code bonus.
The best thing about the OKX sign up crypto bonus is that all you have to do is sign up with the OKX referral code 1cwbr. Additionally, you can receive a second mystery box bonus after verifying your account and depositing $50. That means you get a no-deposit bonus mystery box, and afterward, you can unlock another mystery box after KYC and depositing.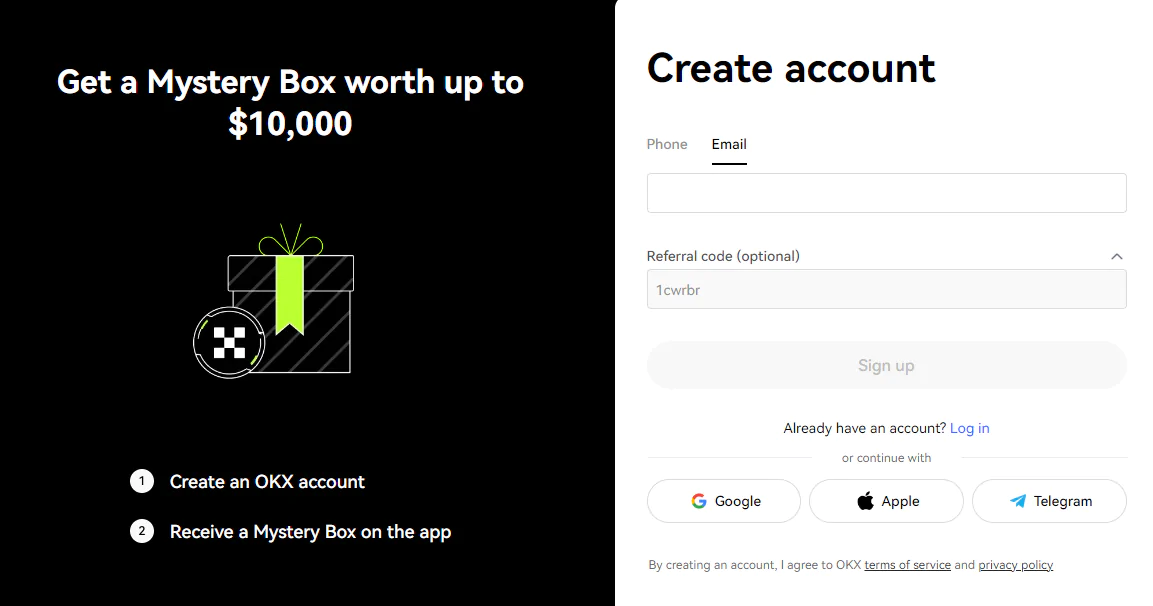 Overall, OKX is a brilliant crypto exchange for futures trading with low fees, high liquidity, and a well-designed platform. It is definitely worth trying your luck with the OKX mystery box. Who knows, maybe you will be the winner of the grand prize of $10,000!
Bitget – $13,000
With a signup bonus of 13,000, Bitget secures the number three spot as one of the best crypto sign up bonuses. With a new user reward of $8,000 and additional tasks for over $5,000, Bitget surely has one of the most generous crypto reward systems in place.
It is important to note that in order to get the signup bonus of $8,000, you must use an exclusive Bitget signup link. Luckily, we reached out to Bitget to secure such a link. By using the referral link, you will automatically be redirected to the promotion page, where the referral code "smfu8609" will be applied.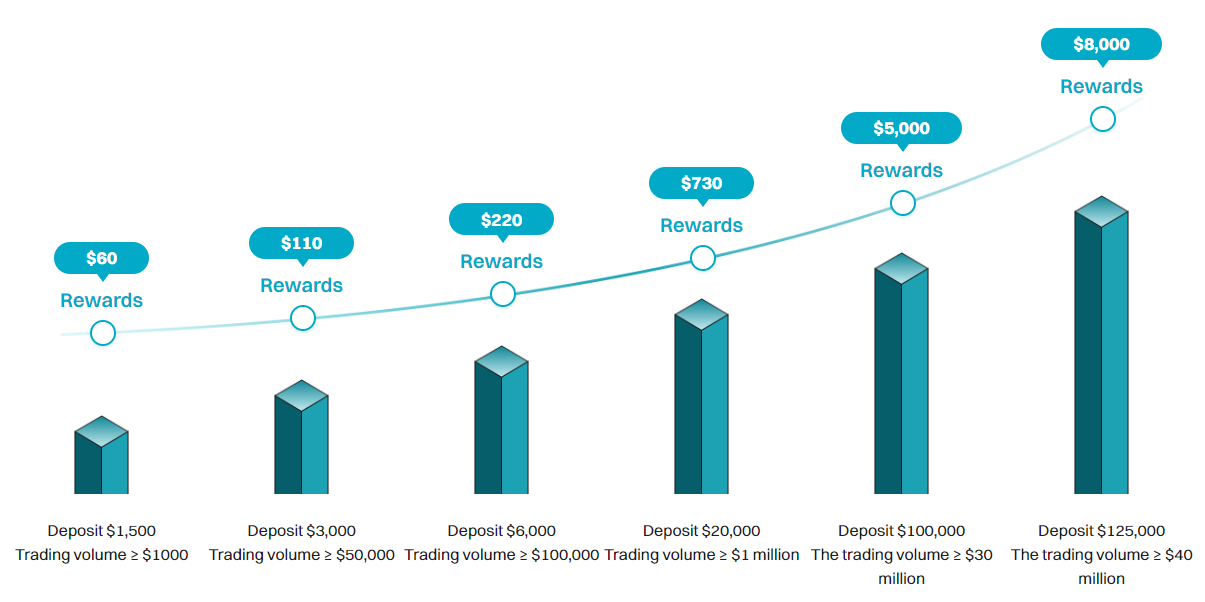 The $8,000 bonus is a deposit and trading bonus, while the additional $5,000 can be claimed in the reward center upon finishing small tasks. The Bitget bonus is perfect for crypto enthusiasts and serious traders.
If you want to learn more about the Bitget signup bonus promotion, make sure to check out our official Bitget bonus guide.
Kucoin – 3,200
Kucoin is one of the best altcoin exchanges, with over 700 crypto assets. Over 25 million users trust in the crypt platform, making Kucoin a reliable and trustworthy option.
What's best about Kucoin is their bonus program, where new users can grab crypto prizes worth up to $3,200.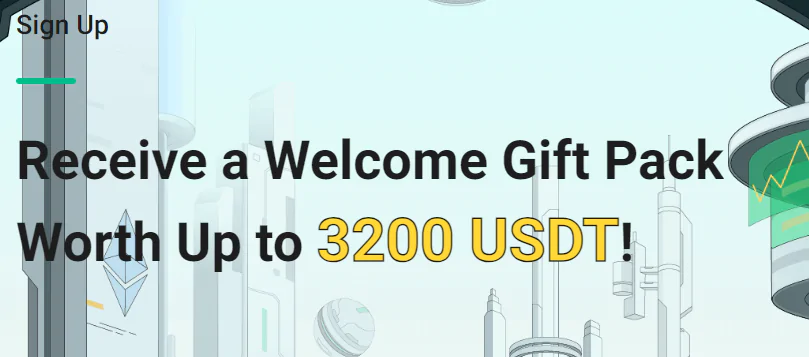 For the maximum Kucoin bonus, you require an exclusive Kucoin referral code such as QBSDDQ23. This code will grant you a crypto gift pack of $3,200. However, there are also additional Kucoin bonuses upon finishing tasks, including verifying your identity, depositing, and trading.
If you want to learn more about the Kucoin crypto bonus, make sure to read our full Kucoin crypto bonus guide.
Pionex $1,288
Pionex is popular for automating trades through trading bots. If you want to create your own trading bot and get a little headstart, you should check out the Pionex sign up bonus of $1,288 and a 10% fee discount.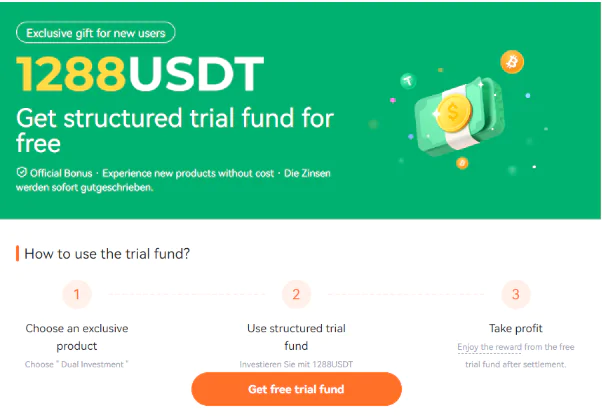 Similar to other offers, you need a Pionex referral code and link to unlock the bonus. The Pionex referral code to unlock the sign up bonus is 0SfGFsHumCF and this code will be applied automatically when using the link below.
If you want to learn more about the Pionex signup bonus and fee discount, make sure you read our Pionex bonus guide.
BTCC – $50,000
BTCC secures the spot as the crypto exchange with the highest sign up bonus of $50,000. It is important to note that this bonus is exclusively for users with a referral link or referral code. In other words, the BTCC crypto bonus is a referral bonus.

With the BTCC referral code 8AXOD3, you are eligible for a crypto trading bonus of $50,000. Additionally, you will receive a 40% fee discount upon depositing funds. Sign up on BTCC with the referral link now to get your signup bonuses.
If you want to learn more about the BTCC bonus, you can check out our full BTCC crypto bonus guide.
Coinspot – $10
Coinspot is one of the most user friendly crypto exchanges. However, it is important to note that this offer is exclusively for Australian crypto traders.

By using our exclusive Coinspot referral link, you will get $10 worth of free Bitcoin. This bonus can only be activated through our exclusive link or when you use the bonus code 6C9RKA when signing up.
This is a Bitcoin bonus that you can use in your Coinspot account.
Zoomex – $250
Zoomex is a relatively new non-KYC crypto exchange. New users on Zoomex can receive free crypto for signing up with the promo code ZX901784. This bonus code gives you access to a $250 welcome bonus.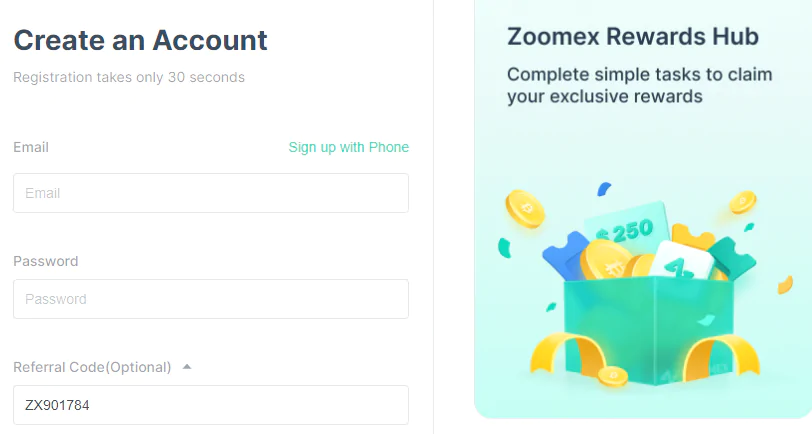 Additionally, crypto traders on Zoomex can get additional free crypto bonuses by doing tasks from the reward center. Some tasks are very simple to finalize, so we highly recommend checking out the Zoomex bonus offers.
Aside from a cash bonus, Zoomex offers a discount of 30% on trading fees.
Join Zoomex with the promotion link to secure your free crypto bonuses.
Bitunix $5,500
Bitunix is a crypto exchange with a focus on derivatives trading. New users are greeted with generous signup bonuses worth up to $5,500.

A default bonus of $300 is reserved for every new Bitunix user after doing some simple tasks. However, there is also a chance to win up to $5,500 with the exclusive Bitunix mystery boxes. In total, you get access to four mystery boxes, which will give you a free crypto bonus (BTC, ETH, or USDT).
Bitunix is a rapidly growing crypto exchange, and we think that crypto traders should definitely check out the platform for a generous sign up bonus.
BYDFi – $2,888
BYDFi is a real gem among many crypto exchanges. This is not only due to their low trading fees, advanced features, and user-friendly trading platform but also due to their amazing new user incentives.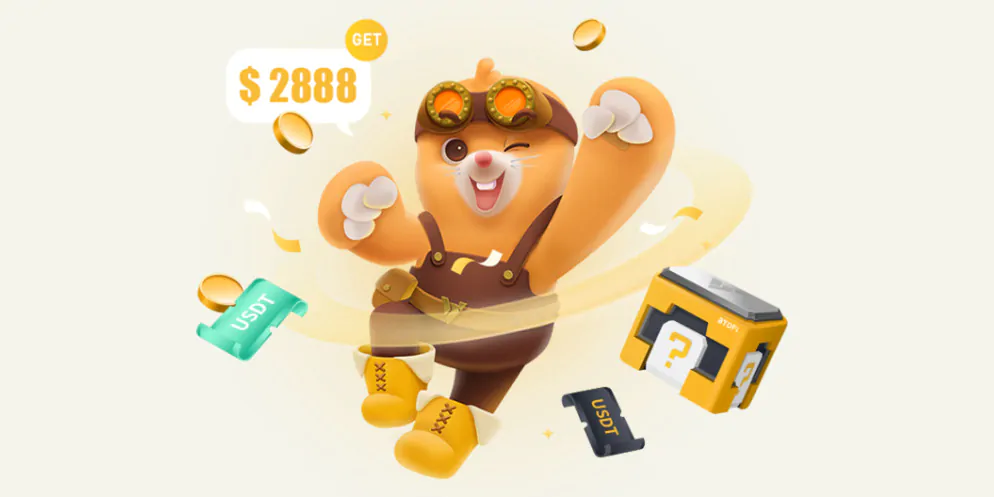 New customers on the BYDFi exchange can claim a minimum crypto bonus of $2,888, while the highest possible bonus is $12,000. With a comprehensive reward and task center for beginners and advanced traders, BYDFi has some of the best crypto bonuses.
If you want to learn more about the promotions on BYDFi, make sure you check out our full BYDFi bonus guide.
Fee Discount Bonuses
As not every crypto exchange is giving out free cryptos, we also wanted to share other bonuses that new users can get, such as fee discounts. Most of these can only be activated through a referral link or a promo code. As always, we will provide valid and verified bonus codes so you can get the most out of each platform.
Read on for the best bonus offers in the form of fee discounts and cashback.
Bitfinex – 6% Fees
Bitfinex offers a 6% fee discount for users signing up with our referral link. Only when using the exclusive link you are eligible for the fee reduction on Bitfinex. This offer lasts for six months. This is the perfect offer for traders looking to get the best value for money out of Bitfinex.
Deribit – 10% Fees
Deribit became popular due to its focus on crypto options and derivatives trading. Nowadays, Deribit is the largest crypto options exchange in the world. With our Deribit promo link, you will secure yourself a 10% lifetime rebate on trading fees, which means that you will get to keep more profits to yourself!
Final Thoughts
There are many types of promotions going on in the cryptocurrency industry. Some of the best offers will be found on crypto exchanges. Many crypto platforms offer a free crypto sign up bonus.
By signing up for the crypto exchanges from our list, you can get yourself some of the best deals in the crypto space, with massive bonuses ranging from cash bonuses, trading bonuses, and discounts on trading fees.
If you want to learn more about the best crypto trading platforms, we recommend you check out our list of the top 5 no KYC crypto exchanges.