If you are looking for an in-depth Kucoin review, you have come to the right place. We constantly update our crypto exchange reviews where we analyze all important factors such as features, services trading options, trading fees, deposit and withdrawal fees, security, customer support, and more.
Kucoin Exchange Company Overview
Kucoin was launched in 2017 with its headquarters in Seychelles. The cryptocurrency exchange has over 29 million users, operates in over 200 countries, and regularly reaches a daily trading volume of over $1.5 billion. Therefore, Kucoin is to be considered one of the Tier 1 major exchanges. Kucoin is popular for its wide range of supported cryptos.

With P2P trading, 10x margin trading on the spot market, and 125x derivatives trading on the futures market, Kucoin is a great exchange to trade cryptocurrencies. After the Kucoin rebranding in 2023, we consider Kucoin to be one of the most user-friendly crypto exchanges. The new interface is well-designed and very reliable, which means that even beginners will have an easy time navigating through Kucoin.
Aside from trading, Kucoun offers various ways to earn interest on your cryptos with staking, mining, and automated trading bots.
Kucoin Pros
Low trading fees
Wide selection of cryptos (700+)
User-friendly design
FIAT support (deposits & withdrawals)
Educational resources
Passive income products
Kucoin Cons
Not licensed in the U.S.
Less liquidity than other T1 exchanges
Suffered from a hacker attack
Kucoin Trading Experience
Kucoin offers a responsive website that you can access on your PC. Alternatively, you can use the iOS or Android mobile Kucoin app. The app has over 10 million downloads and a rating of 4.3/5 stars, ranking Kucoin as one of the best crypto exchange apps.
Traders can access 10x margin trading on the spot market where most coins are traded against USDT. If you want to learn more about Kucoin margin trading, you can check out the official Kucoin margin trading guide.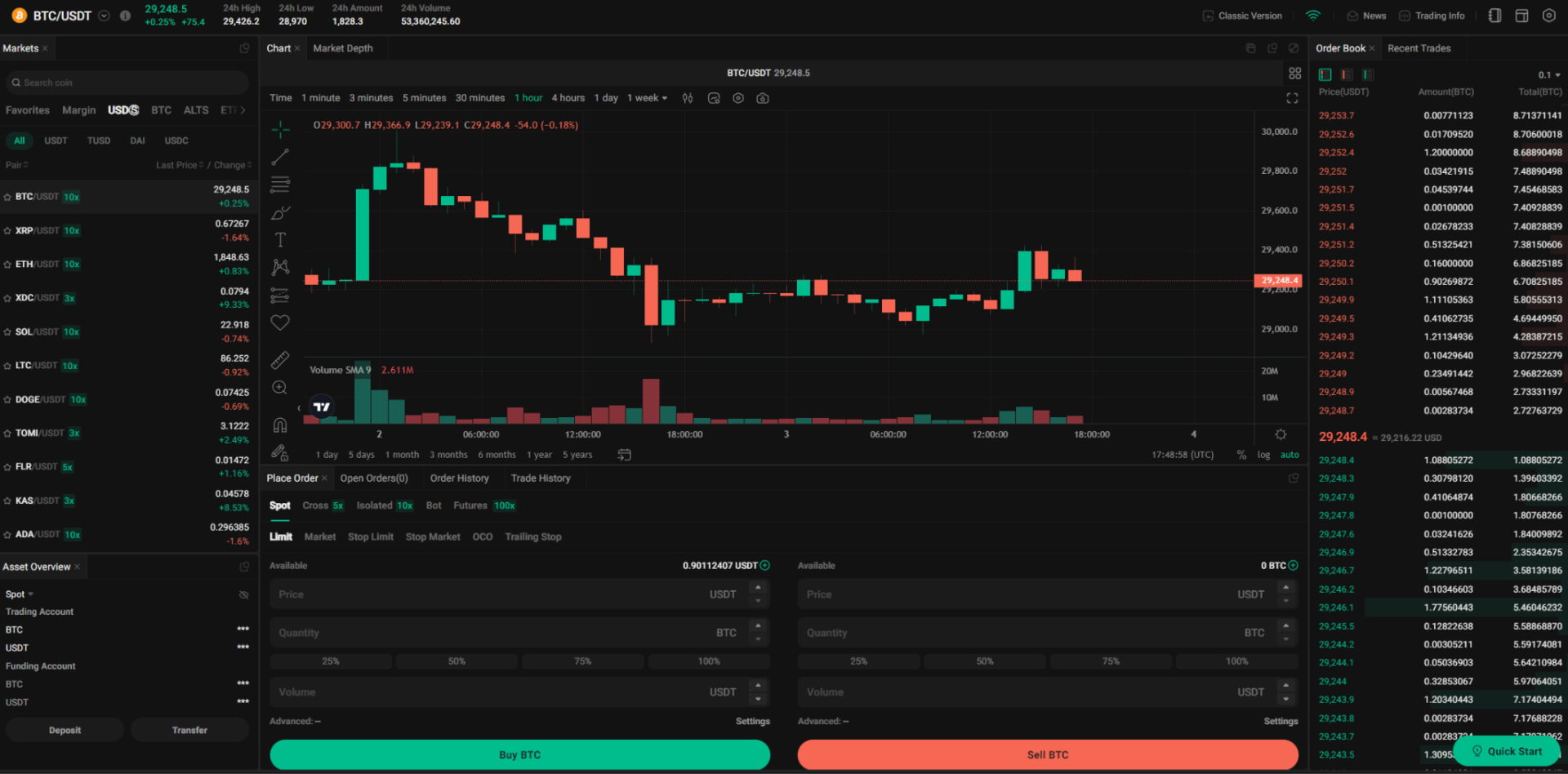 For traders seeking more leverage and lower fees, Kucoin offers derivatives trading with up to 125x leverage. That means if you have $1,000 in your trading account, you can open a $125,000 futures position. With decent liquidity and Bitcoin spreads of only $0.1, Kucoin ensures a smooth trading experience and low slippage.

What we like most about Kucoin is that the exchange rebranded and redesigned the whole website in June 2023. The new platform is very well-designed, fast, responsive, and easy to navigate.
Aside from typical spot and futures trading, Kucoin also offers a comprehensive crypto/FIAT P2P marketplace (Peer to peer trading). On the Kucoin P2P, you can directly buy and sell cryptos, to and from people on the exchange with several payment methods. You can pay with Skrill, Wise, Paypal, Zelle, Netteler, and more.

Lastly, Kucoin has integrated an NFT marketplace where you can buy fractional shares. This is a big deal, as NFTs can cost thousands of dollars. Now you can purchase fractions of NFTs which is similar to buying shares from a company rather than the whole company at once.
Cryptos Available
Kucoin offers over 850 crypto assets which is a lot more than other crypto exchanges. Not only can you trade major coins such as BTC, SOL, or ETH, but also cryptos with a low market cap such as VRA or TRIAS. However, for these smaller cryptos, the trading fees are usually higher as we will discover in the next section.

Kucoin even offers meme coins such as DOGE, SHIB, or LUNC for traders that are interested in trading silly narratives and cult mentalities.
Kucoin Trading Fees
Overall, Kucoin has generous fees and even offers trading fee discounts.
For spot trading, Kucoin differentiates between three classes, class A, B, and C tokens.
Class A tokens are generally more popular coins such as BTC, ETH, SOL, DAI, and more.
For class A tokens, the current fee rate is 0.1% maker and 0.1% taker fee. Furthermore, Kucoin offers discounts when holding the native token, called KCS. The discount is 20%, reducing your spot maker and taker fees to 0.08%.

Class B and Class C tokens are rather unknown cryptocurrencies with low trading volume. You have to pay higher commissions to trade them. For these tokens, the trading fees range between 0.2% maker/taker (Class B) and 0.3% maker/taker (Class C). If you want to check which class some specific cryptos are in, you can check out the official Kucoin fee schedule here.
Futures trading fees start at 0.02% maker fees and 0.06% taker fees. While Kucoin does not offer futures trading fee discounts for holding the KCS token, traders can still reduce their trading fees based on their monthly trading volume. So if you trade more, you will save more. The lowest available futures maker fee is -0.15% and the taker fee is 0.03%.

Kucoin Deposit & Withdrawals
Deposit Methods & Deposit Fees
Kucoin offers crypto deposits free of charge.
When it comes to FIAT deposits, Kucoin supports 20 different FIAT currencies, including EUR, GBP, AUD, CHF, USD, RUB, SEK, and more. With over 10 different methods to pay, you should find what you are looking for. Some of the available deposit methods are Bank and Wire Transfer, Advcash, and Visa/Master cards. Note that the payment methods are different for each location and currency.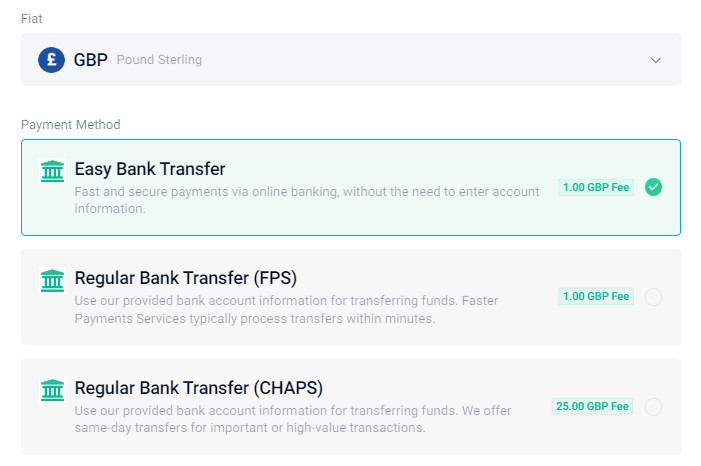 The minimum deposit on Kucoin is $5 and the fees range from 1€ to 4.5%.
If you can not deposit FIAT as your currency is not supported, you can try out the P2P marketplace or alternatively buy cryptos from Kucoin directly in the "Fast Trade" section. Here, Kucoin supports over 50 different FIAT currencies and the payment methods are wise, perfect money, Neteller, and credit cards. Alternative third-party providers are Banxa, Simplex, BTC direct, LegendTrading, CoinTR, and Treasura.

Withdrawal Methods & Withdrawal Fees
Crypto withdrawal fees are different for each crypto and network. If you withdraw Bitcoin with the BTC network, you will pay 0.005 BTC, while using the Kucoin Network (KCC) will only cost you 0.00002BTC which is a lot cheaper.
Kucoin users can withdraw 7 FIAT currencies EUR, GBP, BRL, RUB, TRY, UAH, and USD. The available FIAT withdrawal methods are Wire Transfer, Advcash, CHAPS, FasterPayment, PIX, and SEPA Bank Transfers. The fees range between 0% for Advcash, to 1€ SEPA transfers, and $80 for Wire Transfers.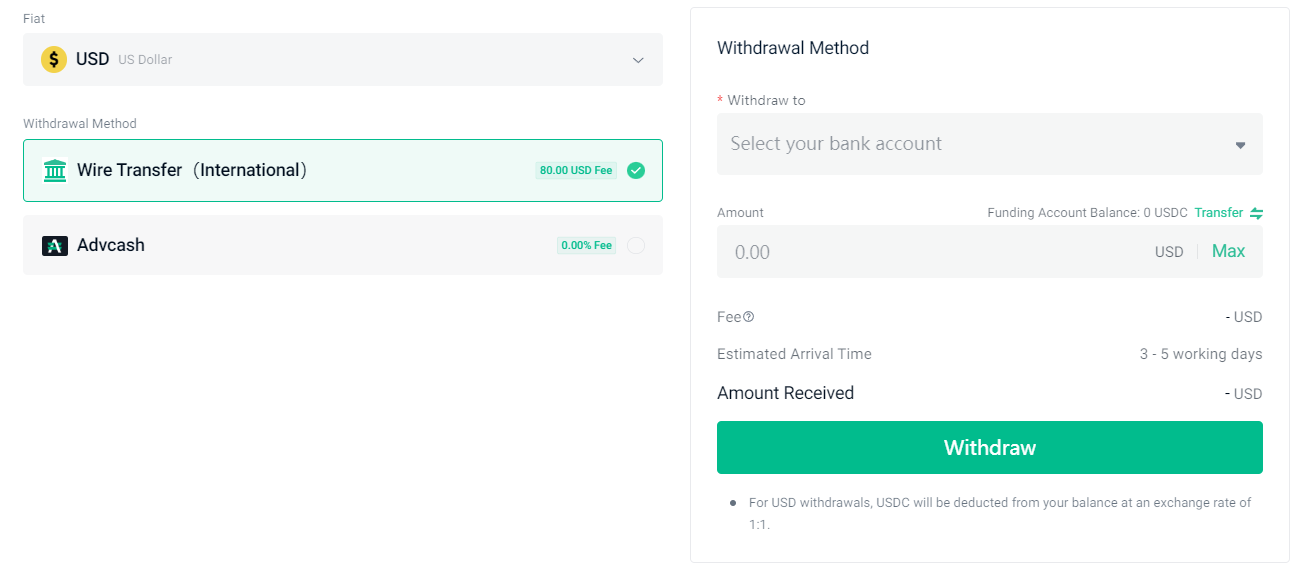 FIAT withdrawal fees vary based on your native currency as well as payment method. The overall cheapest option is Advcash, though it is not available for every currency.
Kucoin Safety & Security
While Kucoin is overall considered to be a safe and secure exchange, Kucoin has been hacked in 2020 and lost more than $280 million in customer funds. The majority of stolen funds was eventually recovered and customers were compensated through insurance. As Kucoin now holds over 90% of customer funds in multi-sig cold storage wallets, hacks are less likely as these wallets are not connected to the internet.
As crypto exchanges do not offer the same protections as banks, we never recommend storing any cryptos on exchanges but using a hard wallet instead.
After the FTX debacle, Kucoin stepped up to provide full proof of reserves to prove that Kucoin is backing up customer funds 1:1. The Kucoin proof of reserves is updated on a weekly basis and you can track Kucoin's proof of reserves live.

To secure your trading account, you also have to add a trading password which you must provide every time you go to the trading interface. Furthermore, you can protect your Kucoin account with 2FA (google and sms authentication), an email and log-in anti phishing code, and a withdrawal password. If you are done with trading on Kucoin, you can even fully delete your Kucoin account.

Kucoin Opening Account & KYC
Signing up for a Kucoin account is simple and just requires an email or phone number and of course a strong password.
It is important to keep in mind that Kucoin requires KYC. That means you must verify your identity on Kucoin with the KYC verification, to be eligible to use any of its products. Unverified users can not use the exchange.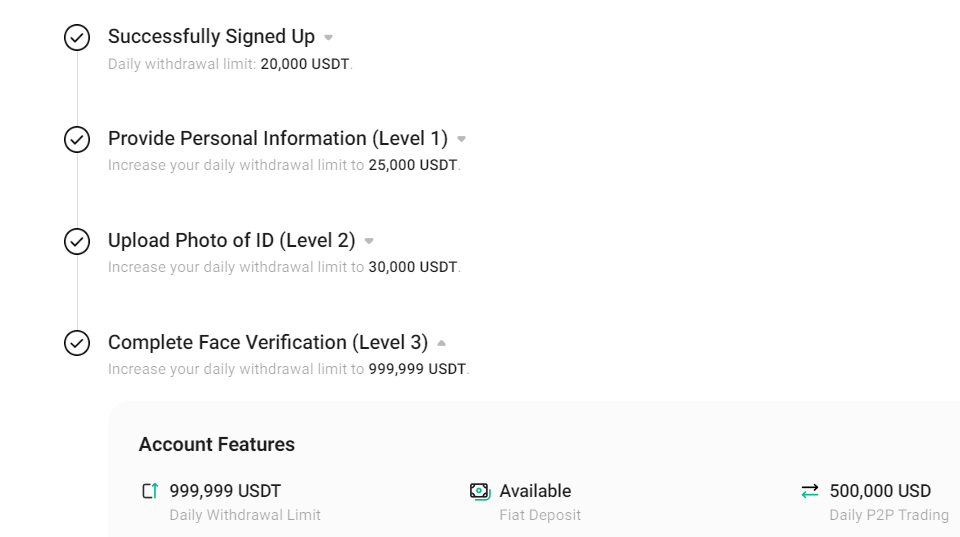 That means Kucoins restricted countries can not use the platform. This is due to overall regulations and anti-money laundering laws. Unfortunately, Kucoin is not licensed in the U.S., customers from the United States must use a Kucoin alternative.
The KYC verification process on Kucoin is relatively simple. You must submit a government-issued ID or Passport and a selfie.
Verifying your Kucoin account at higher levels will also unlock higher daily withdrawal limits. The KYC verification process on Kucoin usually takes just 15 minutes.
Kucoin Trading Bots
KuCoin provides traders with a trading bot that can save them the time and effort of continuously monitoring the market, all while making sure their trades remain profitable. The KuCoin trading bot offers four different trading strategies:
Spot Grid
Futures Grid
Dollar-Cost-Average (DCA)
Futures Grid
Smart Rebalance
The Classic Grid Trading bot, in particular, allows traders to create spot trading using AI parameters that take advantage of market volatility. Traders can also customize their own parameters by setting the minimum and maximum prices for buying a coin. The Spot trading bot stops trading when the price trends outside these ranges, ensuring that trades remain profitable.

Kucoin Passive Income Products
On Kucoin you can earn interest by staking cryptos with flexible or fixed terms. The APR can be as high as 27% for selected assets and start at 0.94%. Another passive income option is the Kucoin savings account where you can receive between 0.25% to 33% APR with flexible terms.
Furthermore, Kucoin offers lending and mining programs to leverage your cryptocurrencies to make even more passive income with the Kucoin Earn section.

Kucoin also has a referral program where you receive commissions for referring users to the platform. The Kucoin referral program allows you to receive 20% of the trading fees generated by the invited user, so Kucoin basically shares its profits with you.
Lastly, new users can receive generous bonuses from Kucoin for registering on the platform and doing a few simple tasks. Currently, Kucoin offers a welcome gift pack worth up to $3200 when you sign up on Kucoin.
Kucoin Customer Support Experience
If you need help you can reach out to the Kucoin live chat which is available 24/7. The average response time is 3 minutes which is decent. The support staff is always nice and knowledgeabe.Alternatively, you can browse through the Kucoin self-help center where dozens of frequently asked questions are covered.
Also, Kucoin has a lot of guides in the "learn" section which teach you basic crypto knowledge and even advanced skills.

Final Thoughts
Summary: Kucoin is a top-tier crypto exchange. With over 720 different cryptos, low trading fees, and a dedicated spot and futures market with 125x leverage, Kucoin offers an excellent trading experience. Furthermore, Kucoin offers passive income products such as mining, staking, lending, and algorithmic trading bots.
If you are looking for a reliable exchange to trade crypto, Kucoin is a good choice. Especially after the Kucoin rebranding in 2023, the exchange improved its customer experience significantly with a smooth, well-designed, and easy-to-use interface.
Lastly, if you are wondering how Kucoin compares to other exchanges, make sure you check out our comparison with Kucoin and Bybit, Binance, MEXC, Kraken, and Coinbase!
Kucoin FAQ
Is Kucoin safe, secure, and legit?
Yes, Kucoin is a safe and legit crypto exchange.
Does Kucoin require KYC verification?
Yes, Kucoin requires all users to verify their identity with KYC. Without KYC, you can not use Kucoin's services.
Is Kucoin legal in the U.S.?
No, Kucoin is not legal in the U.S. Kucoin does not have a license to operate in the United States.
Does Kucoin report to the IRS?
As Kucoin does not offer services in the United States, there is no reason for Kucoin to report to the IRS.
Is Kucoin legal in Canada?
No, Kucoin is not legal in Canada. Kucoin does not have a license to operate in Canada and is therefore not available in the country.
Does Kucoin have a native token?
Yes, Kucoin has the Kucoin Token (KCS) which grants holders perks like a 20% fee discount.
Is Kucoin good for newbies?
Yes, Kucoin is a very beginner-friendly crypto exchange with an easy-to-use interface.