In 2020, Vladimir Putin signed the Digital Financial Asset (DFA) regulation bill, making cryptocurrency legal tender for transactions. However, there are some things to consider when signing up for a crypto trading platform as a Russian citizen. So, the question arises: What is the best crypto exchange in Russia?
Crypto enthusiasts from Russia should make sure to use a crypto exchange that complies with local laws and regulations. That means that Russian crypto traders should register on exchanges that cooperate with the Russian Central Bank.
Top 5 Cryptocurrency Exchanges in Russia
We have thoroughly analyzed over 100 crypto exchanges. In this guide, we will present you with the best cryptocurrency exchanges in Russia based on all key factors, such as products & features, fees, regulations & licenses, customer support, and more. All exchanges listed on our website are licensed and reliable crypto exchanges that comply with the crypto regulations of Russia's central bank.
At the end of our guide for Russian crypto exchanges, you will know exactly which crypto exchange is best for you!
1. MEXC
Launched in 2018, MEXC stands out as the best crypto exchange in Russia. With a comprehensive spot and futures market, low trading fees, and up to 200x leverage, MEXC is a great choice for cryptocurrency traders from Russia.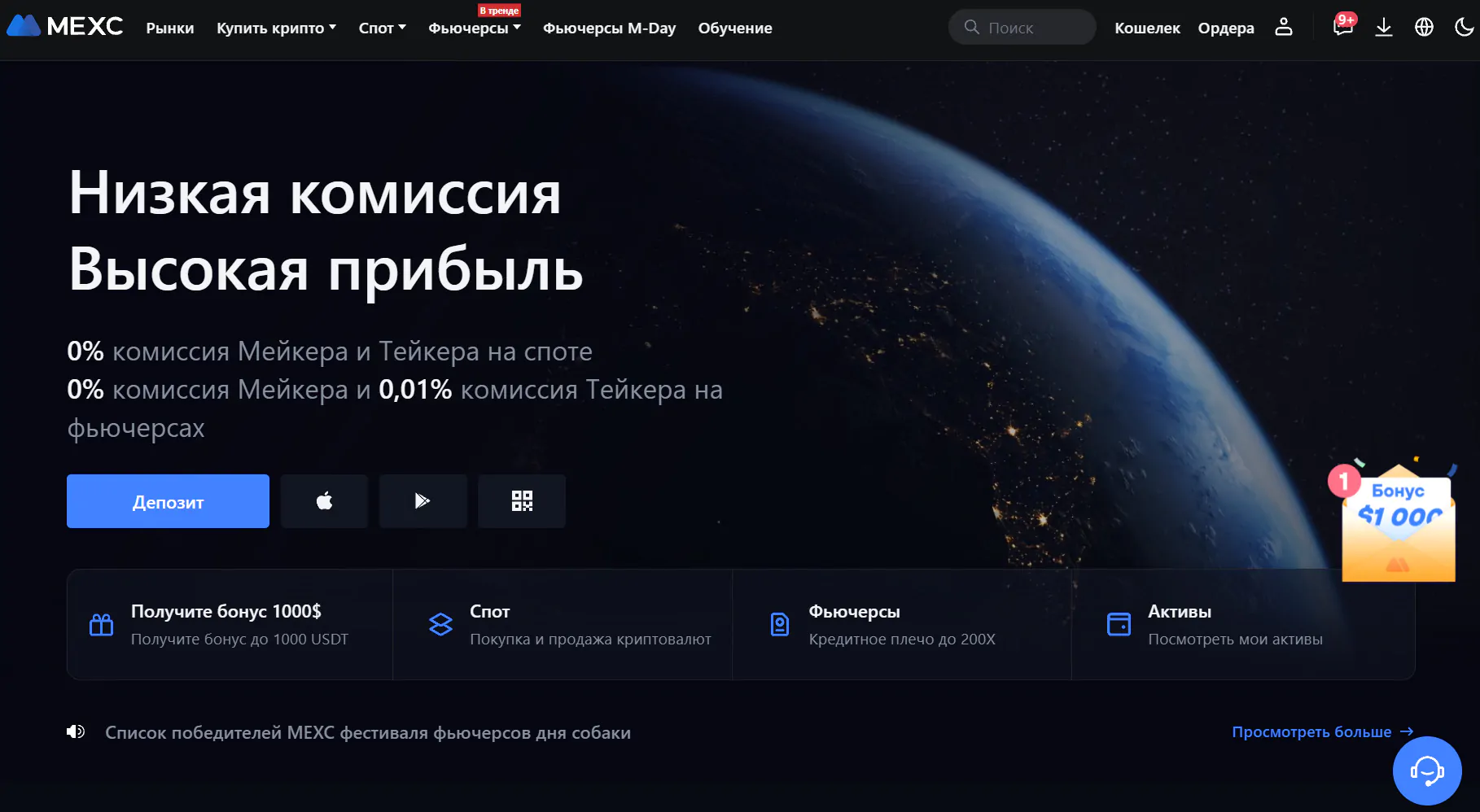 With full Russian language support, MEXC provides a user-friendly platform and makes it easy to navigate through the dashboard in your native language.
On MEXC, traders enjoy the lowest trading fees in the crypto market. With 0% spot fees, you can even trade without any fees. For futures traders, MEXC charges only 0.01% for takers and 0% for makers. This makes MEXC the best crypto exchange for professional crypto day traders from Russia.
Aside from having the lowest trading fees, MEXC offers over 1700 different cryptocurrencies for trading. This makes MEXC a very versatile choice for Russian crypto investors.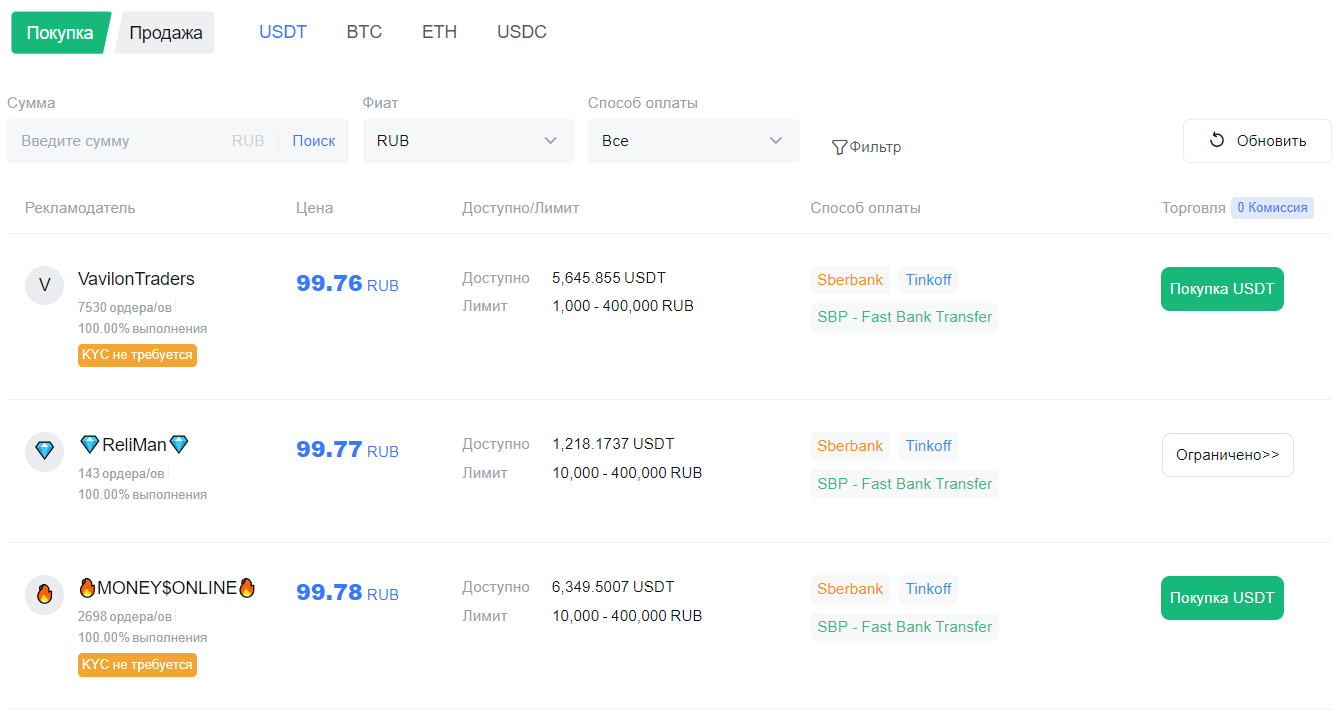 If you don't own any cryptos yet, you can buy them directly with RUB on the MEXC P2P market. The supported payment methods are Sberbank, Tinkoff, and SBP Fast Bank Transfers. You can also sell Bitcoin and other cryptos on the MEXC P2P market to get your profits on Russian bank accounts.
If you want to learn more about the exchange, you can read our full MEXC review.
2. Bybit
As the second-best crypto exchange in Russia, Bybit is an exceptional choice for derivatives traders from Russia on a trustworthy exchange.
With over 350 digital assets and one of the best futures markets with up to 100x leverage, Bybit caters to professional traders from all around the world.
The Bybit spot trading fees are 0.1%, while the futures fees start at 0.02% maker and 0.055 taker.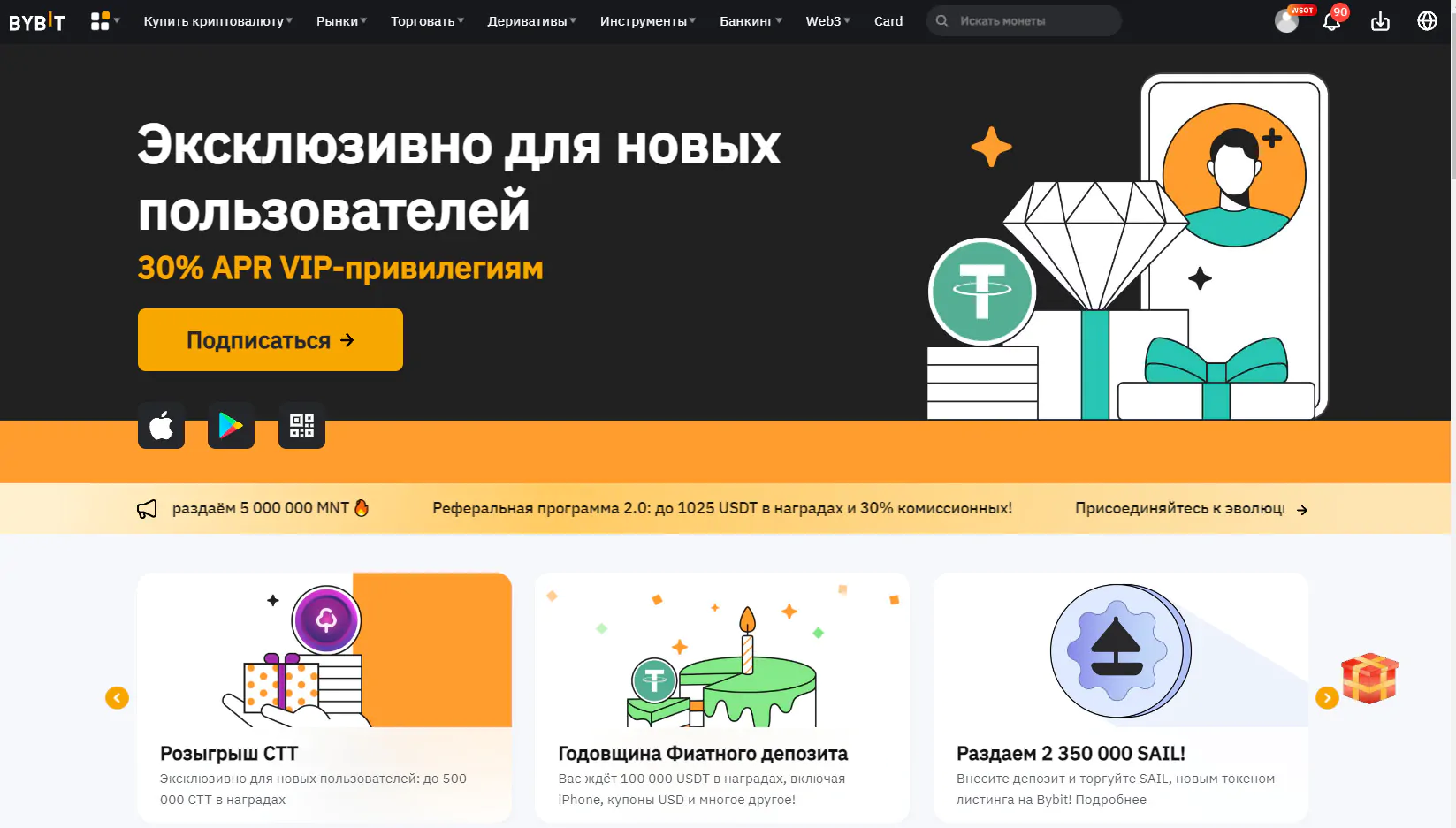 Bybit is popular for its deep liquidity and fast order execution. On top of spot and futures trading, Bybit even offers options trading and NFT trading.
With a simple and straightforward interface, Bybit is a great choice for beginners and advanced traders. What we love most about Bybit is the fiat support for RUB. You can easily deposit and withdraw RUB on Bybit via the Advcash Wallet with 0% fees. The withdrawal fees are also low, ranging from 0% to 1%.
Lastly, Bybit is popular for its great copy trading feature, where you can take the same trades that professional traders take. That way, you can make passive income on the side.
If you want to learn more about the exchange, you can read our full Bybit review.
3. Binance
Binance is one of the largest crypto exchanges in the Russian market. With over 100 million users and a daily trading volume of over $20 billion, Binance is not to be underestimated. The trading platform is fully compliant and a trustworthy crypto exchange option for Russian users.
With over 340 different cryptos, up to 125x leverage, and some of the lowest trading fees, Binance is a top choice for professional traders. The spot fees are 0.1%, while the futures fees are only 0.02% maker and 0.04% taker.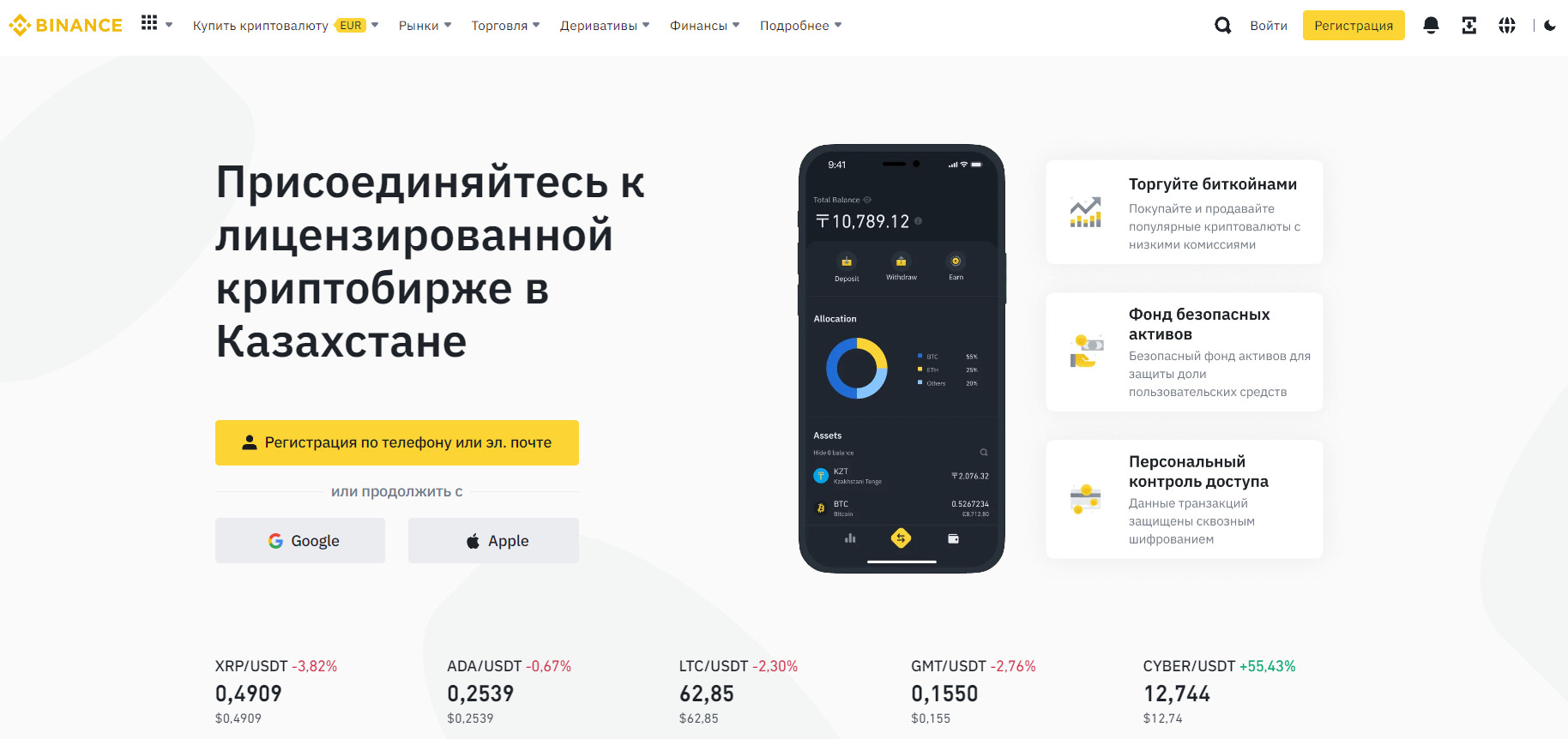 As Binance has by far the most products and features, we recommend Binance for advanced crypto traders who have a lot of experience. Beginners could struggle with the navigation through the platform.
One major downside with Binance is that they don't support fiat deposits or crypto purchases with RUB anymore. That means Russian users have to use a different platform like MEXC or Bybit to purchase crypto.
If you want to learn more about the exchange, you can read our full Binance review.
4. Kucoin
Kucoin is our number 4 for the top crypto exchanges in Russia. Kucoin is popular for its user-friendly trading platform with various crypto services. Especially the spot market with over 800 crypto coins and the algorithmic trading bot feature is what makes Kucoin a great choice for crypto enthusiasts from Russia.
With multilingual 24/7 live customer support and Russian language support, Russian traders will feel just like home on Kucoin.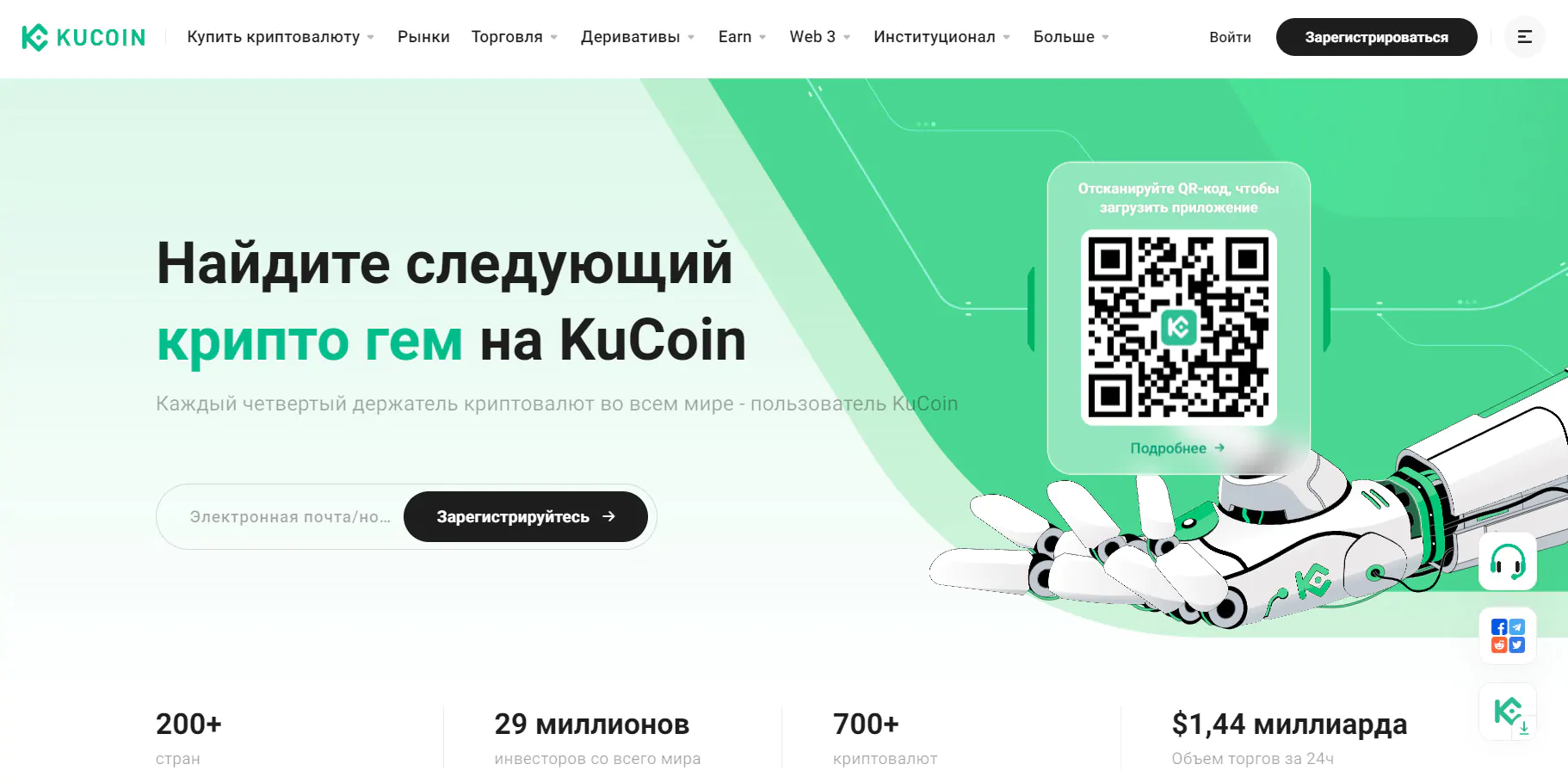 The Kucoin spot trading fees are 0.1%, but they can be reduced by 20% when holding the native Kucoin Token (KCS). For futures traders, Kucoin charges 0.02% maker and 0.06% taker fees, making Kucoin the most expensive exchange in this list.
While you can not deposit funds in RUB, you can purchase digital currencies on the Kucoin P2P market with RUB. The supported payment methods for the Russian ruble are Bank Transfer and SBP. Unfortunately, debit cards and credit cards are not supported.
If you want to learn more about the exchange, you can read our full Kucoin review.
5. OKX
Last but not least, OKX is a great option to start your crypto journey. The exchange is extremely well-designed and operates for over seven years, making it the oldest platform in this list. With 320 crypto assets, OKX is in the lower range in terms of supported cryptos. However, OKX excels with a great derivatives platform.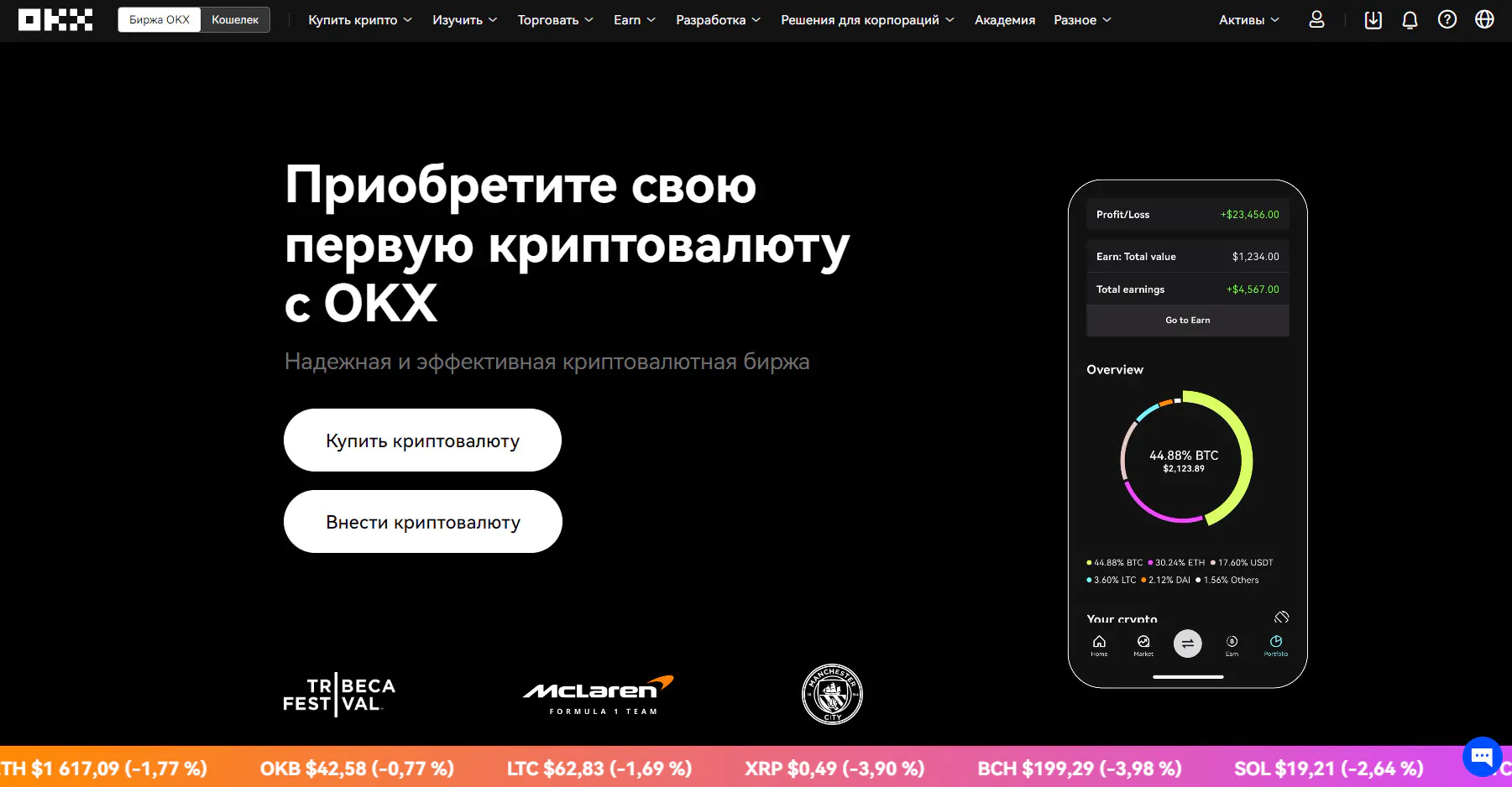 On the OKX futures market, traders can access futures contracts with up to 125x leverage. Out of all exchanges in this list of the best exchanges in Russia, OKX has the best liquidity. This makes OKX a perfect choice for traders with a lot of trading volume and big position-size orders.
Similar to Bybit, OKX has a great copy trading feature. We consider OKX to have the best copy trading feature where you can profit from experienced crypto traders to make passive income.
Unfortunately, buying Bitcoin on OKX with RUB is not possible, as no fiat or P2P options are available for RUB. This is a major downside for users from the Russian Federation.
If you want to learn more about the exchange, you can read our full OKX review.
Is Crypto Legal in Russia?
Yes, Cryptocurrencies are completely legal in Russia. The digital assets are regulated by the Russian central bank. Furthermore, Vladimir Putin signed a bill in 2020 that made the transfer of cryptocurrencies legal.
The Central Bank of Russia is managing crypto exchanges wanting to offer services in Russia. Some of the best exchanges available in Russia are MEXC, Bybit, Binance, Kucoin, and OKX. These are all legitimate crypto platforms with the right to operate in the Russian market.
How to Buy Bitcoin & Cryptos in Russia
If you want to buy Bitcoin or other cryptocurrencies in Russia, you should consider signing up with one of the top exchanges for Russian users, as mentioned in this guide. They comply with local authorities and offer a simple way to buy, sell, and trade digital assets.
Choose the right Exchange: Make sure you do your due diligence and select a safe and reliable crypto exchange that is available for Russian users. Also, make sure that the exchange supports payments in RUB like MEXC, Bybit, and Kucoin.
Register & Verify your account: After signing up for a crypto exchange that supports RUB payments, make sure that your account is verified if KYC is required.
Deposit Money: Now, select a payment method. On MEXC, you can purchase cryptos using RUB with the following payment methods: Sberbank, Tinkoff, SBP – Fast Bank Transfer.
Store Your Crypto: After successfully purchasing Bitcoin and other cryptocurrencies in Russia, you should consider storing your digital assets in a cold storage wallet. We never recommend storing cryptos on exchanges.
Monitor the Market: Make sure to monitor the market and take profits along the way according to your investment plan.
Final Thoughts
Buying and selling cryptocurrencies in Russia can be very simple when using some of the best crypto exchanges available in Russia. Based on our analysis, MEXC and Bybit are the top two exchanges for crypto enthusiasts from Russia. This is based on numerous factors such as features, trading fees, regulations, and RUB payments.
Our recommendation is MEXC due to the best value for money and the well-designed platform.
Furthermore, the exchanges presented in this article are reliable platforms with strong security measures. Lastly, they comply with local laws and cooperate with the Central Bank of Russia to provide a safe and secure environment for crypto traders.