In 2023 there is no way of working in the crypto space and not knowing about Binance. With millions of active users, Binance is the biggest cryptocurrency exchange, attracting users worldwide. But why is Binance such a big success, and is it reasonable? We thoroughly investigated Binance and will show you everything that you need to know in this review! We will cover everything about fees, payment methods, security, use cases, customer support, and more.
Buy many Cryptos on the Spot market with 0% commission
Most features, offers, and services
Invest and trade crypto with low fees
What we like about Binance
Supports 46 FIAT currencies for depositing Cryptos
Mobile App, Web-version, and Standalone Windows application
Trading Bonuses up to $500
What we don't like about Binance:
Very slow User Interface (UI) during high Volatility phases
Limited functions in many countries
Separate platform with fewer features for US citizens (Binance.us)
A Limited futures market in many European countries
Quick Overview of Binance.com
Founded in 2017 by Changpeng Zhao (also referred to as "CZ"), a Chinese-Canadian Entrepreneur, Binance is the most popular cryptocurrency exchange in the world. Here it might be important to note that Changpeng Zhao and Binance have "Zero ties to the Chinese government," as stated in an interview in November 2022. Some users raised this concern after competitor Sam-Bankman Fried (Former CEO of FTX) was pushing this claim out. CZ clarified that he had not been a Chinese citizen for 34 years. As China is anti-crypto, Binance was even banned from China.
Binance offers you an easy way to buy and sell hundreds of different cryptocurrencies on the spot and futures market with some of the lowest fees on the market. In terms of Volume, Binance is clearly the market leader, with a daily peak volume of $80 billion in the 2021 crypto bull run. Even during a bear market, Binance is still processing around $30-40 billion in trades every day. But Binance is more than just a typical cryptocurrency trading exchange. They offer P2P, OTC, and Loan services, saving accounts, payment systems, staking and even an NFT marketplace. Just recently, Christiano Ronalod launched his own NFT collection on Binance.
Also, Binance is considered one of the safest crypto exchanges for users. You might have heard about the term SAFU, which stands for "Secure Asset Fund for Users," which collects 10% of all transaction fees and puts it into a security fund in case of hacks or exploits where Binance users lose their money.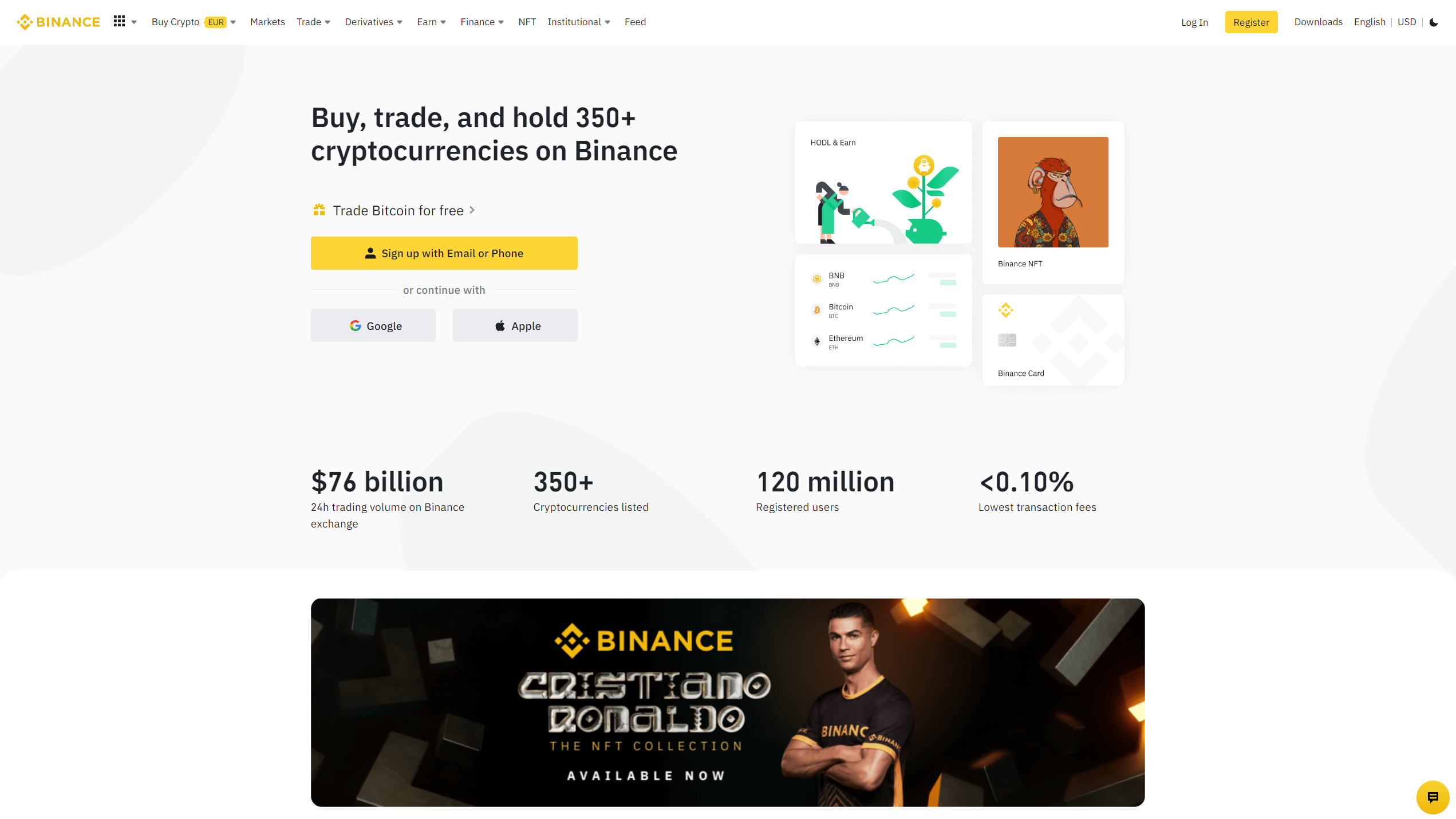 Binance is a cryptocurrency exchange that is known for its strong focus on security. The platform uses a variety of measures to protect user accounts and assets, including encryption, two-factor authentication, and hardware security keys. Binance also has a secure cold storage system for storing most of its users' funds offline, reducing the risk of hacking and other security incidents.
In terms of regulations, Binance is based in Malta and is subject to the laws and regulations of that country. Binance has also received regulatory approvals and licenses in other jurisdictions, including the United States and Japan. However, Binance is highly regulated and has faced scrutiny from regulators in some cases. It's important to note that regulations and compliance requirements can vary depending on where you are located (for example, the US), so it's always a good idea to consult with a financial professional or legal advisor to understand your rights and obligations.
On top of that, Binance has created a security fund called SAFU, surpassing over $1 billion. This fund is dedicated to bailing out partners in the crypto space and recovering customer funds in cases of a hack. So far, Binance has been hacked twice. While this might sound concerning, Binance refunded all lost funds to its users, which is a very important thing to do to keep the trust of its users. So even though Binance faced issues due to hacks, it is important to note that Binance is by far the biggest cryptocurrency exchange and, therefore, heavily targeted by attackers. In case of lost funds, Binance refunded its users.
Regarding your individual account security, there are a few steps you can take to ensure your Binance account is safe and secure. First, using a strong, unique password for your account is important; avoid sharing it with anyone else. You can also enable two-factor authentication (2FA) on your account, which adds an extra layer of security by requiring you to enter a one-time code in addition to your password when logging in. Binance also offers a security risk management feature, which allows you to set up alerts and controls for your account to help prevent unauthorized access. You can also protect your account by keeping your device and software up to date, avoiding phishing scams with Binance's anti-phishing code, and being cautious when clicking on links or providing personal information. We recommend typing binance.com manually in the search bar and never clicking any links in emails. Hackers and phishing scams have improved over the years and can easily mimic websites to steal your data.
Binance Transfers (0% Fees)
Binance offers its users a variety of ways to transfer and receive funds. You can send funds from your Binance wallet via Email, UID, Pay ID 0% fees, and instant transfers. This means that you don't have to wait hours or days for your transactions to be processed — they are completed within seconds. You can also transfer funds from your Binance account to other exchanges or wallets, giving you more flexibility and control over your cryptocurrency assets.
Derivates Trading on Binance (Perpetual Futures, Leverage)
Binance is a cryptocurrency exchange that offers a wide range of financial services, including a futures trading platform. Binance Futures is a derivative trading platform that allows users to speculate on the future price of various cryptocurrencies. The platform offers high leverage, low fees, and a user-friendly interface.
Binance Futures has a tiered fee structure that varies depending on the user's trading volume. For example, taker fees range from 0.02% to 0.04%, while maker fees range from 0% to 0.02%. These fees are lower than many other exchanges, making Binance Futures an attractive option for serious traders looking to maximize their profits. In addition to low fees, Binance Futures offers a number of other features that make it an appealing platform for traders. For example, the platform offers a range of trading tools and features, such as stop-loss and take-profit orders, as well as more advanced order types such as GTC, FOK, OCO, etc., to help users manage their positions and reduce risk.
The platform also offers some of the highest liquidity in the cryptocurrency market, which allows users to easily enter and exit trades. Overall, Binance Futures is a powerful and user-friendly platform that offers traders a wide range of features and services. Whether you're a beginner or an experienced trader, Binance Futures is a great option for anyone looking to trade cryptocurrency futures.
One thing that is important to note, is that Binance offers a different futures market based on your location. This is due to regulations. As Binance is heavily regulated, Binance.com does not operate in the US at all and many European countries vary in terms of the leverage offered to the users.
4. The fee structure on Binance (Spot and Futures)
Binance offers competitive fees for most types of trades and transactions. Spot trading fees start at 0.1% depending on the type of order, while deposits and withdrawals are free in most cases. Binance's spot market fees are based on a maker-taker model, with different fees applied to orders that provide liquidity (makers) and orders that take liquidity (takers). Currently, the maker fee is 0.1% and the taker fee is also 0.1%. This means that if you place an order that is immediately matched with an existing order on the order book, you will be charged a taker fee of 0.1%. On the other hand, if you place an order that is not immediately matched, it will be added to the order book and you will be considered a maker. Makers generally receive a slight discount on fees as a reward for providing liquidity to the market. While the 0.1% fee applies to most trading pairs such as USDT pairs, Binance even offers 0% Spot trading fees for all BUSD pairs to promote their native token. Binance also offers other ways to reduce fees such as a 25% deduction when covering fees with BNB. For this, you must hold BNB in your spot wallet. When you execute a trade, instead of deducting fees from your order, Binance will just use the BNB from your wallet equal to the value of the fees.

In addition to spot trading, Binance also offers futures trading on a range of cryptocurrency pairs. Like the spot market, the futures market uses a maker-taker fee model, but the fees are slightly different. Currently, the maker fee is 0.02% and the taker fee is 0.04%. This means that if you place an order that is immediately matched with an existing order on the order book, you will be charged a taker fee of 0.04%. If you place an order that is not immediately matched, you will be considered a maker and will be charged a fee of 0.02%.

Besides Spot and Futures fees, there are also some services on Binance that incur additional fees, such as margin trading or staking rewards (Margin Fee: Binance – Margin Data). Binance also charges a flat fee for certain types of withdrawals, such as those in fiat currencies. Binance also offers a number of discounts for users who use BNB (Binance Coin) to pay their fees. The amount of the discount increases depending on how much BNB is held and used for fee payments. This provides an incentive for users to hold onto their BNB tokens and use them to pay their fees. Overall, Binance offers competitive fees and discounts that can help users reduce their trading costs. Additionally, the range of services available and the multiple currencies supported make Binance a great choice for traders who want to access the global cryptocurrency markets. See the fee structure of Binance (Fee Structure on Binance | Binance, fees, BNB, Trading Fee).
Binance supports a wide range of cryptocurrencies and tokens, allowing you to easily access the global markets. Some of the most popular coins supported by Binance include Bitcoin (BTC), Ethereum (ETH), Solana (SOL), Cardano, and many more. You can also find a variety of altcoins on Binance, such as Litecoin (LTC), NEO (NEO), Binance Coin (BNB), and more. Not only that, but Binance also supports a variety of stablecoins, such as USDT (Tether), USDC, and PAX. This allows you to easily convert your assets into a more stable currency without going through a third-party exchange.
To facilitate the customer, Binance also has a dedicated customer support team that is available 24/7 to answer any questions or issues you might have. The customer service team can be reached via email, live chat, and Bot. They are also active on social media platforms such as Twitter, Reddit, and Instagram.
Binance's customer support team is known for its fast response times and helpful customer service agents. They also have a comprehensive knowledge base that covers all the topics related to Binance and its services. This makes it easy for users to find answers to their questions without having to wait for an answer from the customer support team. All in all, Binance has excellent customer support, making it one of the best cryptocurrency exchanges.
In a hypercompetitive marketplace, Binance launched its mobile app for Android and iOS devices. The app is one of the best in the industry and provides users with all of Binance's features and services right on their smartphones. Users can easily buy/sell cryptocurrencies, trade futures, access customer support, manage portfolios, and much more. The interface is very user-friendly, however, the only issue with the app is the responsiveness as it can be slow for some users. Especially during high volatility phases, Binance is known to be slower than other exchanges. This is due to the massive traffic that Binance is driving to its platform every single day.
The app also allows users to easily track prices and market movements with its live price ticker. Overall, the Binance mobile app provides an excellent way for users to access all of Binance's features and services on the go.
Standalone Windows Application
Binance also offers a standalone Windows application that can be downloaded and installed on Windows PCs. The application provides all of the features and services available on the website, including buying/selling cryptocurrencies, trading futures, tracking prices, customer support, and more. The application also has several additional features, such as portfolio management tools, news feeds from various sources, and much more.
The application can be downloaded for free from the Binance website and is a great option for users who prefer to use Windows PCs. Overall, Binance is one of the best cryptocurrency exchanges out there with its wide range of financial services, low fees, user-friendly interface, excellent customer support, and mobile app. Whether you're a beginner or an experienced trader, Binance is the perfect choice for anyone looking to buy/sell cryptocurrencies or trade futures.
Binance Pay (Credit/Debit Card)
Recently, Binance launched a Binance Card that allows users to pay with their Binance accounts for goods and services. The Binance card is supported by Google Pay and Samsung pay and can be used online or in-store. This makes it easier than ever before to buy goods and services with your cryptocurrency funds. Furthermore, the Binance Card will be offering cash-back rewards for purchases made, which can accumulate quickly over time. You can get up to 8% cash back at every eligible purchase. In addition, the Binance card has no ATM withdrawal fee and is free to use (Third-party fees may still be applicable).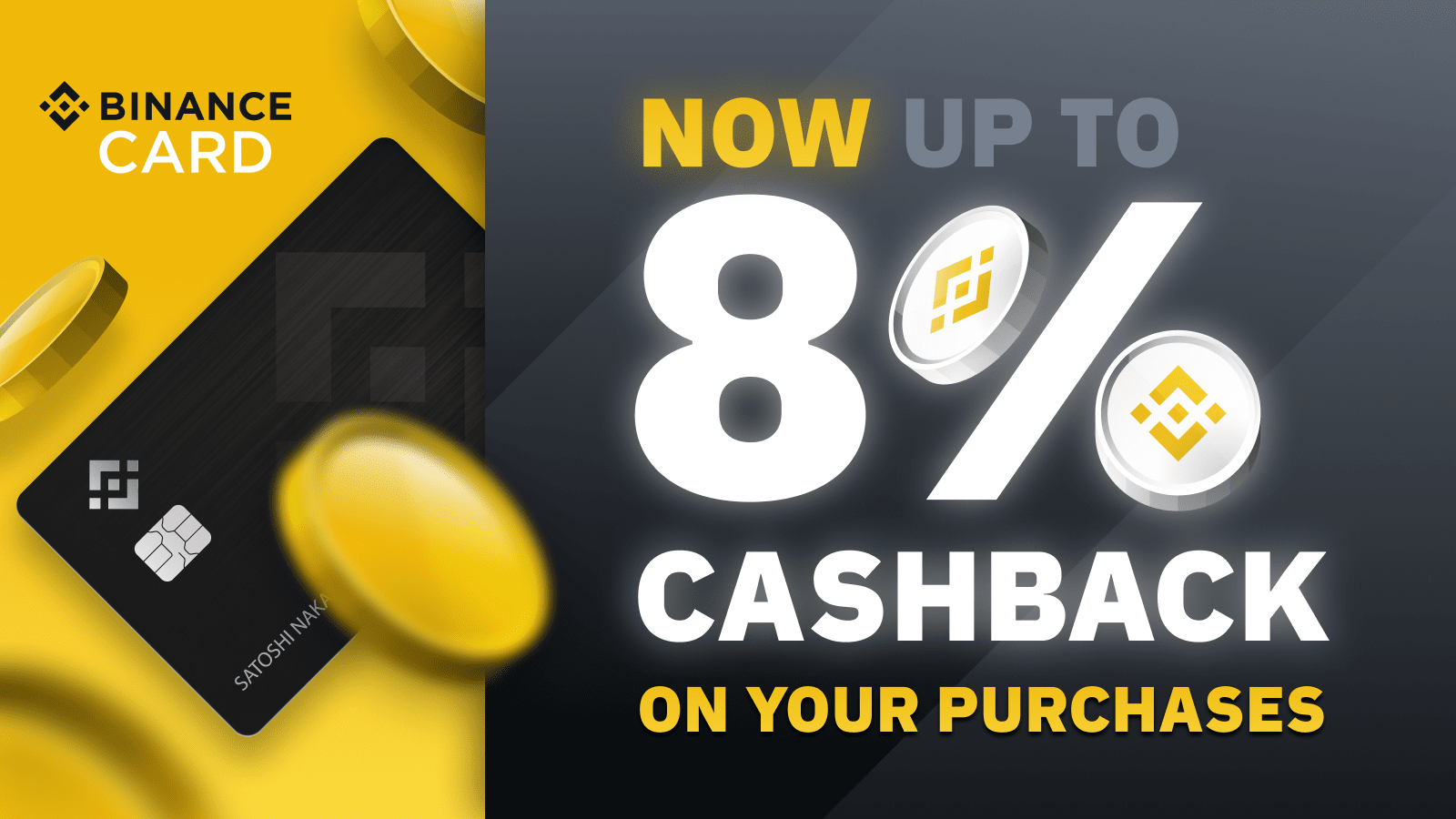 How to sign up for Binance
Signing up for Binance is quite simple and can be done in a few steps. Here is the step-by-step process to register for a Binance account:
First, you will need to visit the Binance website and click on "Create Account." Here, you will be asked to enter your email address and create a password. Once you have done this, simply hit the "Register" button to continue.
On Binance you can create an account with your email or phone number.
2. Verify your Binance account
Next, you will need to verify your account by providing basic information such as your name and proof of identity (if you use Binance's advanced verification). You will also need to provide a valid phone number in order to activate two-factor authentication. Additionally, KYC verification may be required in certain countries.
After your account is verified, you can deposit money into your Binance account or buy cryptocurrencies directly on the platform. You will be able to choose from a wide range of payment methods, including credit cards, bank transfers, and more.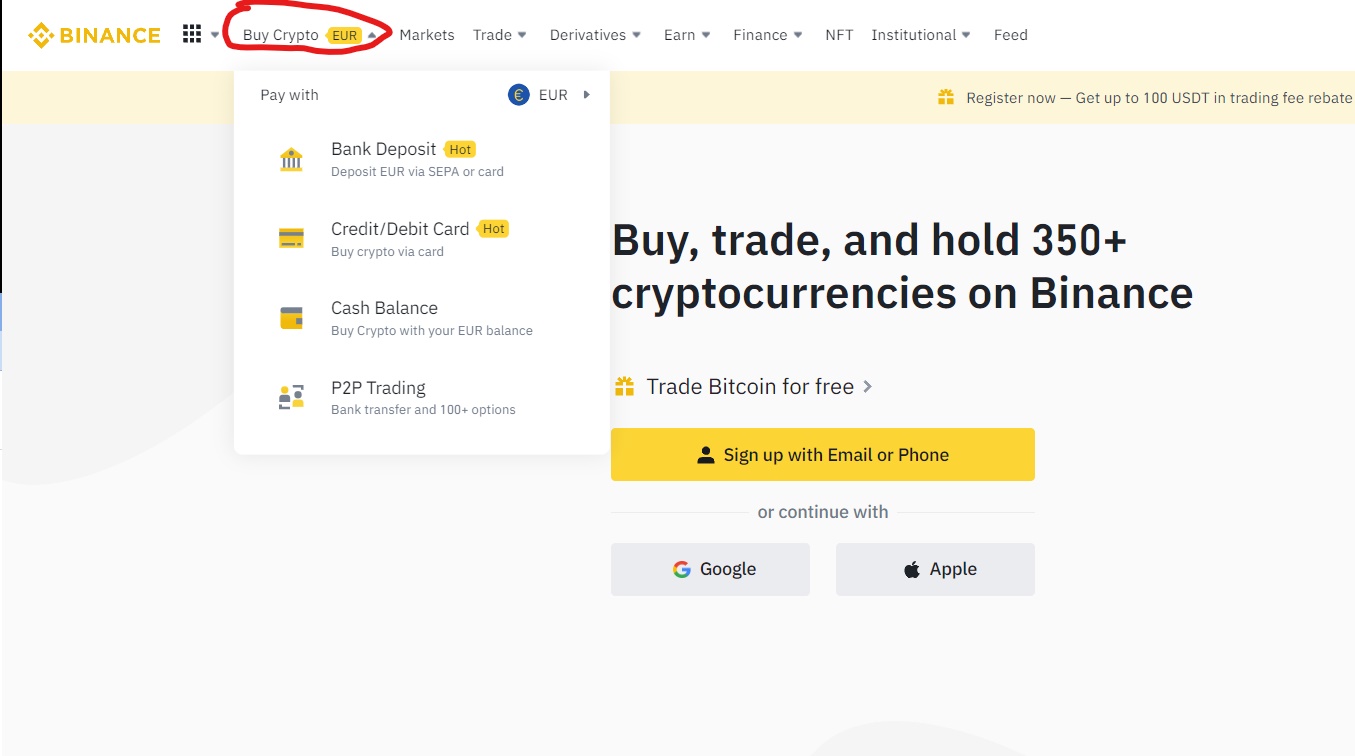 Once your account is funded, you can start trading cryptocurrencies on Binance. The platform has a variety of features, including spot trading, margin trading, futures trading, and more.
Is Investing in Binance Beneficial?
Investing and trading on Binance can be beneficial if you are looking to buy/sell cryptocurrencies or trade futures. Binance offers a wide range of financial services, such as spot trading, margin trading, futures trading and more. Additionally, the platform has low fees compared to other exchanges and provides excellent customer support. Moreover, there are many additional features, such as a mobile app, portfolio management tools, and news feeds. Overall, Binance is a great option for anyone looking to invest in cryptocurrencies.
In conclusion, Binance is one of the best cryptocurrency exchanges available today. It offers a wide range of features and services such as spot trading, margin trading, futures trading, cash back rewards, and more. In addition to its low fees and excellent customer support, Binance also provides a mobile app for users who prefer to use their smartphones.
All in all, Binance is a great option for anyone interested in buying/selling cryptocurrencies or trading futures. It's important to remember that before investing, you should always research the market and understand how it works. Investing carries risks, and you should never invest more than you can afford to lose. With these things said, Binance is an excellent option if you are looking to buy/sell cryptocurrencies or trade futures.
For more information about the crypto world, please visit our website CryptoWinrate.com. CryptoWinrate strives to bring you the very best trading platforms. We provide the best services to help traders maximize their profits while reducing risks in the crypto market. You can also follow us on Twitter (@CryptoWinrate) or subscribe to our YouTube channel to learn about the crypto industry. Thank you for your time! Have a great day!
What is Binance?
Binance is a cryptocurrency exchange that allows users to buy, sell, and trade a range of digital assets, including Bitcoin, Ethereum, and various altcoins. The platform also offers a range of trading options, including spot trading, margin trading, and futures trading.
Is Binance safe to use?
Binance takes the security of its platform and its users' assets very seriously. The exchange uses a range of security measures, including two-factor authentication, encrypted wallets, and secure offline storage for the majority of its assets. Despite these measures, it is important to remember that cryptocurrency trading carries inherent risks and it is important to carefully manage your own security.
How do I create an account on Binance?
To create an account on Binance, visit the official website here and click on the "Create Account" button. Follow the prompts to enter your email address, create a password, and complete the captcha. You will then be sent an email with a link to verify your account. Once your account is verified, you can begin trading on the platform.
Does Binance allow customers from the US?
Unfortunately, Binance does not allow US customers on their site. If you want to use a great exchange that allows US citizens, we recommend MEXC Global.
How do I deposit funds into my Binance Account?
To deposit funds into your Binance account, log in to your account and click on the "Funds" tab. Select the "Deposits" option and choose the asset you want to deposit. You will be provided with a deposit address and instructions on how to complete the transaction. It's important to make sure you are sending the correct asset to the correct address to avoid any issues.
If I don't have cryptocurrencies yet, can I buy them from Binance directly?
Yes. Binance offers you a "One-Click Buy" option to buy cryptocurrencies with FIAT. Supported payment gateways are Credit Cards, Google Pay, Bank Transfer, SEPA, Wise, Revolut, iDeal and more. Binance also supports most FIAT currencies including, but not limited to, USD, EUR, GBP, AED, CHF, RUB, and more.
Alternatively, you can onramp FIAT via deposits and then buy the cryptos you desire on the spot market. Supported currencies for this are USD, EUR, GBP, RUB, ARS, BRL and TRY. The payment methods vary depending on your currency so we recommend you see what works for you here. From experience, Euro onramps via bank transfers are very quick and cheap and cost around 1€.