In 2023 there is no way of working in the crypto space and not knowing about Binance. With over 100 users, Binance is the biggest cryptocurrency exchange, attracting users worldwide. But why is Binance such a big success, and is it reasonable? We thoroughly investigated Binance and will show you everything that you need to know in this Binance review! We will cover everything about fees, payment methods, security, use cases, customer support, and more. At the end of our Binance review, you will know exactly if the exchange is right for you or not.
Binance Overview
Founded in 2017 by Changpeng Zhao, Binance is the most popular cryptocurrency exchange in the world. The crypto centralized exchange has over 100 million users, an average daily trading volume of over $20 billion (even reaching up to $80 billion) , and over 350 available cryptos for trading.

Binance offers an easy way to buy and sell hundreds of different cryptocurrencies on the spot and futures markets with some of the lowest fees on the market. Aside from traditional spot and futures trading, Binance offers P2P (Peer to peer trading), OTC, and Loan services, passive income products, saving accounts, payment systems, staking, and even an NFT marketplace.
The Binance interface is extremely comprehensive, designed for experienced traders. Therefore, Binance is considered to be rather hard to navigate for beginners. For traders seeking to trade on the phone, we recommend the Binance app for iOS and Android with over 50 million downloads and a 4.6/5 star rating.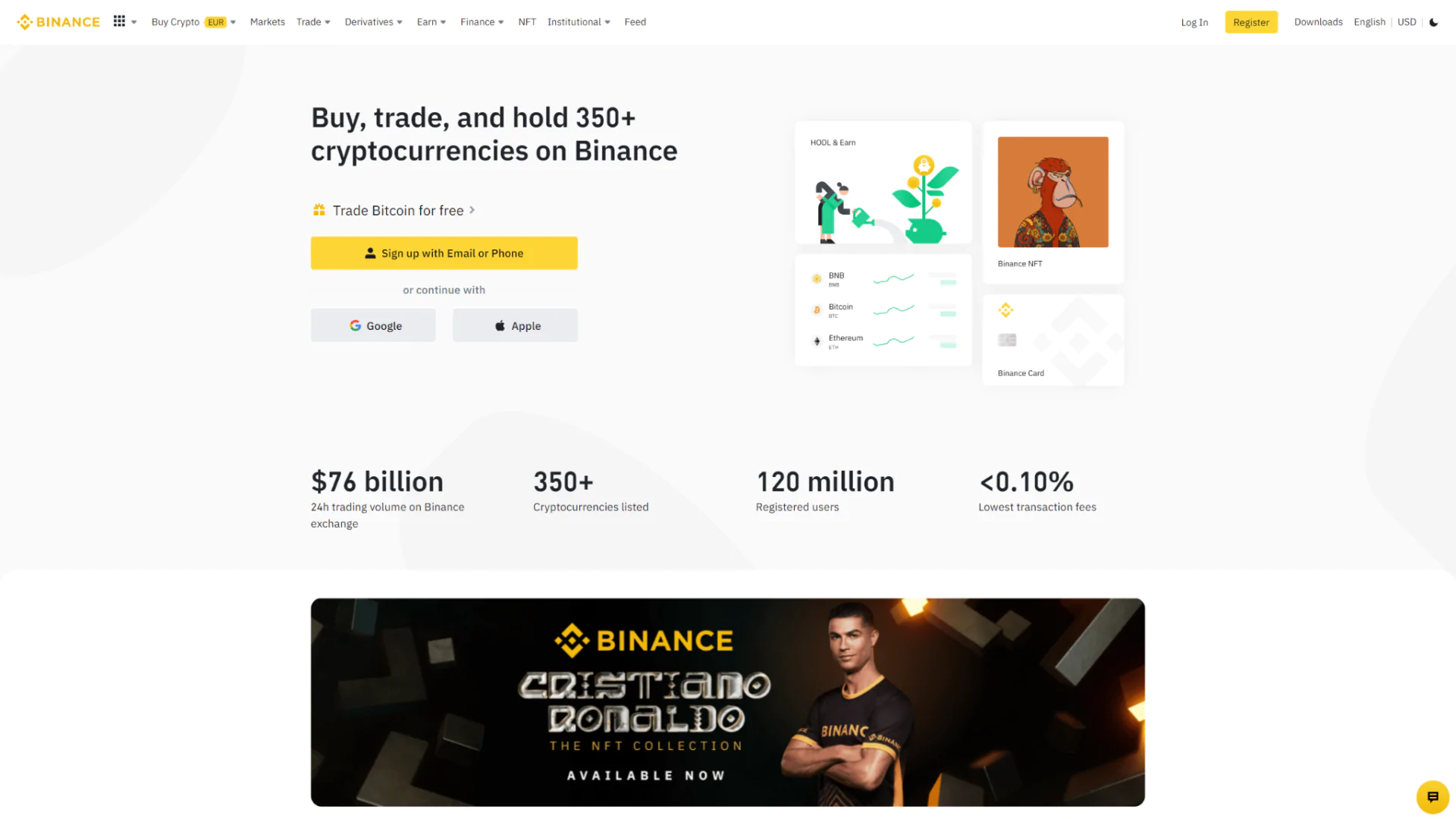 For advanced trading, Binance even has a standalone Windows and iOS application that can be downloaded and installed on your PC or laptop. The application provides all of the features and services available on the website while being more stable and reliable.
Binance also great has fiat support to offer dollar deposits and withdrawals. Aside from USD support, Binance supports over 40 different fiat currencies including EUR, GBP, AUD, TRY, RUB, and more.
Binance Pros & Cons
Pros
Low fees
350+ coins & 1700+ trading pairs
Best liquidity
Passive income products
Most advanced exchange
Fiat support for 40+ currencies ($, €, £, etc.)
$1 billion security fund
Cons
Regulatory uncertainty
Not available in US and Canada
Extremely complex exchange (hard for beginners)
Requires full KYC
Binance Security & Regulation
The Binance platform uses a variety of measures to protect user accounts and assets, including encryption, two-factor authentication, and hardware security keys. Binance also has a secure cold storage crypto wallet for storing most of its users' funds offline, reducing the risk of hacking and other security incidents.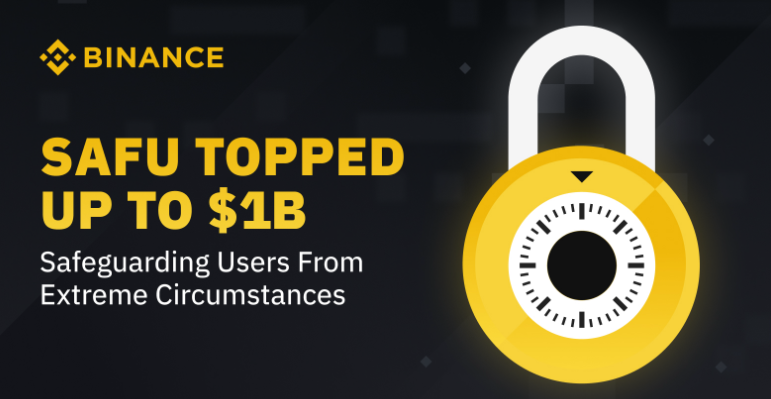 On top of that, Binance has created a security fund called SAFU, surpassing over $1 billion. This fund is dedicated to protecting and recovering customer funds in cases of a hack. After the FTX crash due to mismanaging customer assets, Binance released its proof of reserves. The Binance proof of reserves displays the current ratio of customer assets on the exchange which are backed 1:1.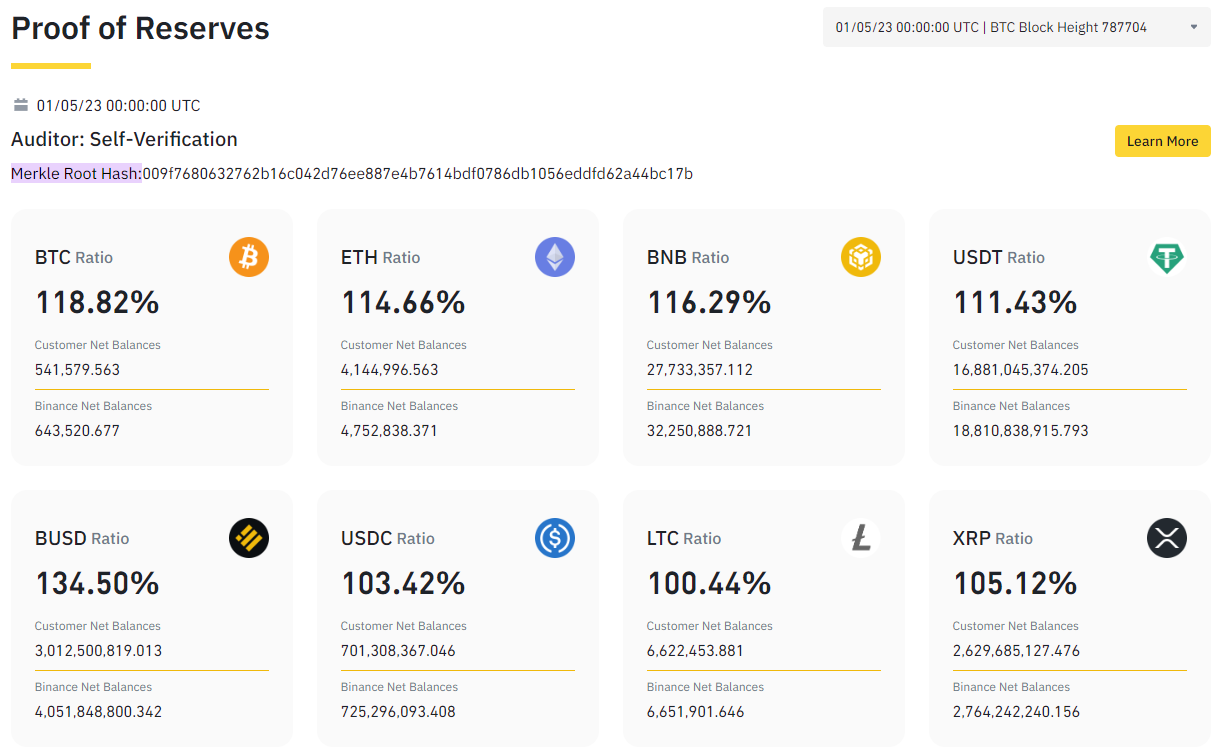 Regarding your individual account security features, there are a few steps you can take to ensure your Binance account is safe and secure. First, using a strong, unique password for your account is important; avoid sharing it with anyone else. You can also enable two-factor authentication (2FA) on your account, which adds an extra layer of security by requiring you to enter a one-time code in addition to your password when logging in.
Binance Signup & KYC
YOu can register on Binance within a few seconds with an email or phone number, and a strong password. However, in order to unlock all features like trading and withdrawing, you must verify your identity with the Binance KYC verification. Binance requires KYC.
For level 1 KYC verification, Binance accepts government-issued IDs, Passports, and in some cases driver's licenses. Furthermore, you must have a device to take a selfie. This can be your phone or webcam.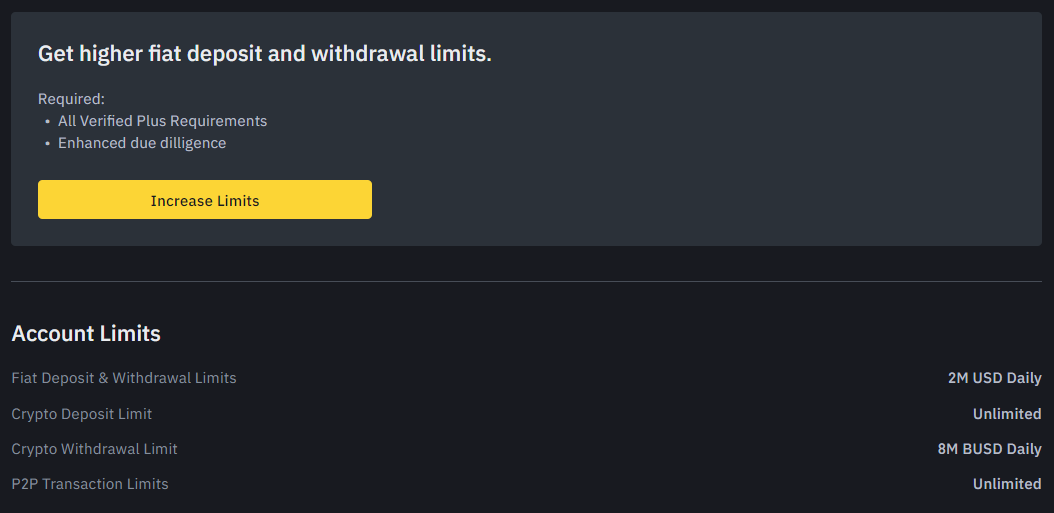 If you need higher withdrawal limits, you must complete level 2 KYC, which requires proof of address.
The level 1 KYC process on Binance usually just takes 15 minutes, while level 2 KYC can take several days.
Binance Trading Platform
Spot Trading
For spot trading, Binance features over 350 cryptos and 1700 different crypto pairs. Not only can you trade cryptocurrencies against USDT, but also with BUSD, TUSD, USDC, and even fiat currencies such as EUR, GBP, TRY, and more. If you want to trade with borrowed money, Binance offers margin of up to 10x on the spot market.
The Binance spot market is perfect for cryptocurrency investing. You can purchase most cryptos on the platform and then send them to your personal digital wallets such as Trust Wallet or Ledger to securely store your funds.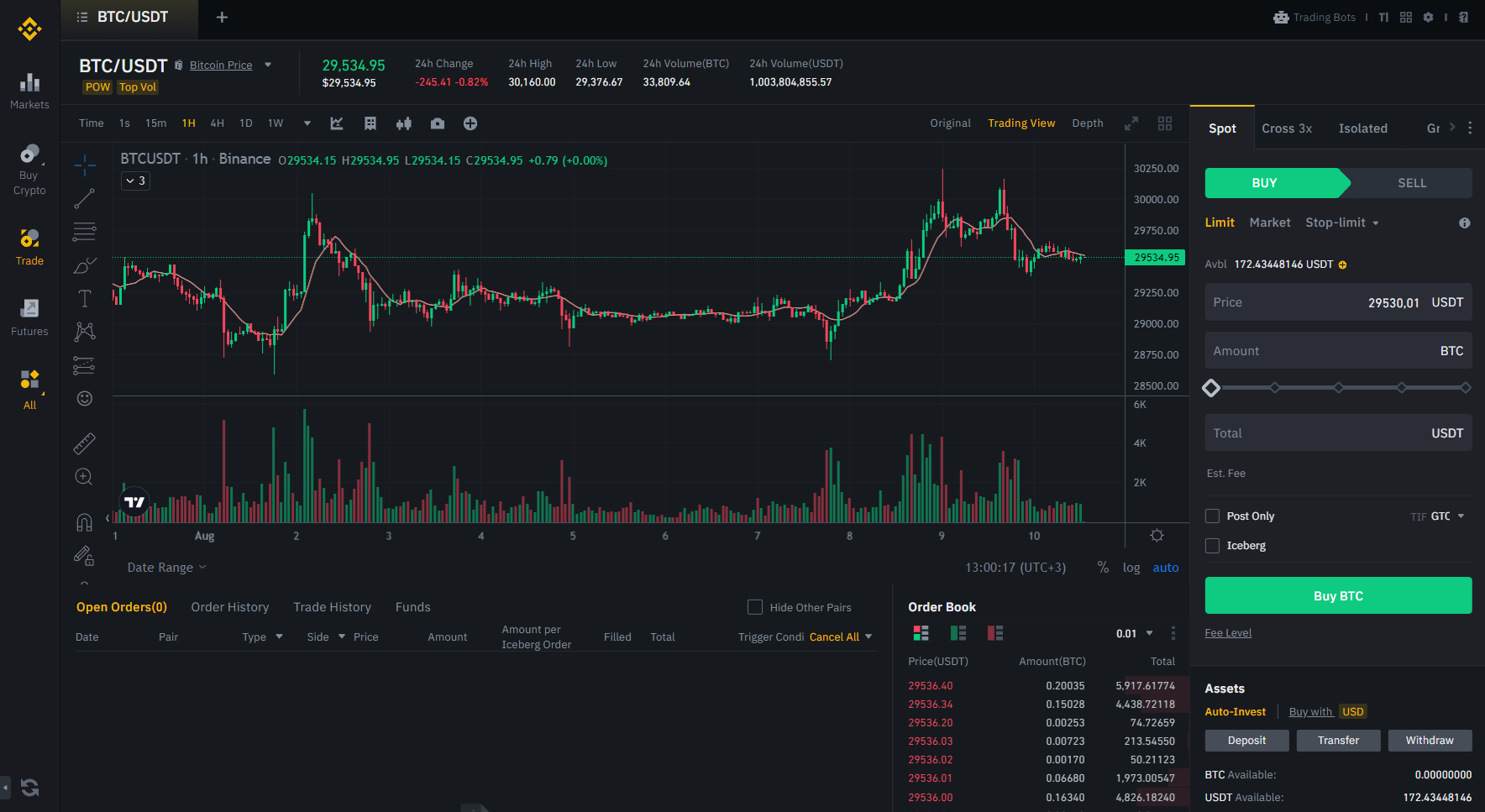 Derivates Trading
Binance Futures is a derivative trading platform that allows users to trade while using leverage of up to 125x. That means with $1000 in your futures account, you can open a $125,000 position. The Binance platform offers high leverage, low fees, and a comprehensive interface.
Binance Futures offers a number of other features that make it an appealing platform for crypto traders. For example, the platform all basic order types, such as limit orders, stop-loss, and take-profit orders, as well as more advanced order types such as trailing stop-loss, GTC, FOK, OCO, etc., to help users manage their positions and reduce risk. Binance even offers TWAP (Time-weighted average price) and Iceberg orders.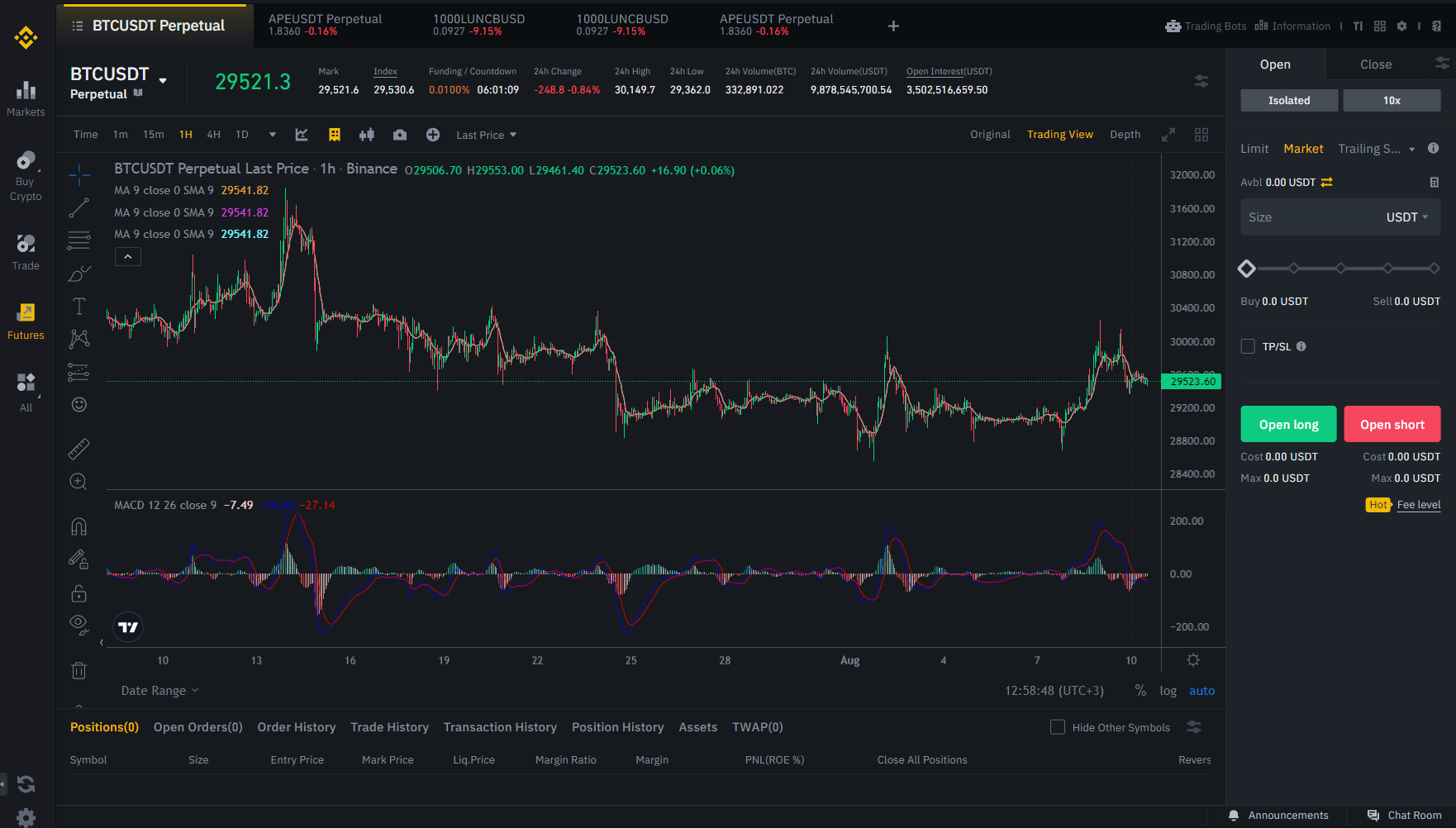 Furthermore, Binance has some of the best liquidity in the cryptocurrency market, which allows users to easily enter and exit trades without impacting the price too much. Overall, Binance Futures is a powerful and relatively user-friendly platform that offers traders a wide range of features and services.
Whether you're a beginner or an experienced trader, Binance Futures is a great option for anyone looking to trade cryptocurrency futures.
In your futures account dashboard, you can also analyze your past trades with a graph. This helps in understanding your performance and PNL over a long period of time.
Binance Trading Fees
The crypto exchange offers low and competitive trading fees for most types of trades and transactions.
Binance spot trading fees start at 0.1% (maker and taker). Binance also offers other ways to reduce fees such as a 25% deduction when covering fees with BNB. For this, you must hold BNB (Binance Coin) in your spot wallet. When you execute a trade, instead of deducting fees from your order, Binance will just use the BNB from your wallet equal to the value of the fees. Furthermore, Binance offers 0% fees for BTC/TUSD.

On the Binance futures market, the maker fee is 0.02% and the taker fee is 0.04%. Yet again, when holding the Binance coin, you receive a discount. The BNB fee deduction for futures trading is 10%.

Overall, Binance has low fees. This is perfect for crypto traders with a lot of trading volume, as Binance offers them generous discounts and lower fees.
Other fees include deposit, withdrawal, and transfer fees which we cover in separate sections later in this Binance review.
Binance Customer Support
Binance has a dedicated customer support team that is available 24/7 to answer any questions or issues you might have. The customer service team can be reached via email and 24/7 live chat. Binance does not offer phone support. The average response time is 5 minutes. Overall, Binance has a helpful and knowledgeable support team.
If you want to figure things out on your own, you can also check out the Binance help and learn center with a lot of educational resources.
Binance Deposit Methods
When sending cryptos to Binance, you don't pay any deposit fees.
However, when you want to send fiat currencies such as EUR, USD, or GBP to Binance, you pay between 1€ – 5% in fees. Binance supports over 40 different fiat currencies and the fees differ for each currency. Some of the cheapest fiat onramp methods are EUR and GBP with bank transfers which only cost 1€ /1£.
Additional fiat deposit and payment methods include credit and debit cards, Advcash, and Apple and Google Pay.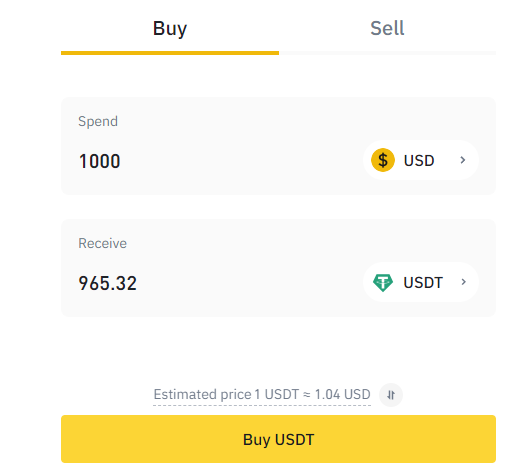 Binance Withdrawal Methods
There are over 300 cryptos available to withdraw from Binance. The fees differ for each crypto and also vary based on the network as well as network capacity. Some options with low fees include USDT or BUSD with the TRC20 or BEP20 network, which both cost less than $1.
In terms of fiat withdrawals, Binance supports 40 different currencies. The withdrawal methods are similar to the deposit methods. Again, Binance supports major fiat currencies such as EUR, GBP, USD, AUD, CAD, and more. The fiat withdrawal fees are different for each currency and payment method. Some cheap options are EUR and GBP with SEPA bank transfers. You can send your money to your bank account with fixed fees of only 1€ /£.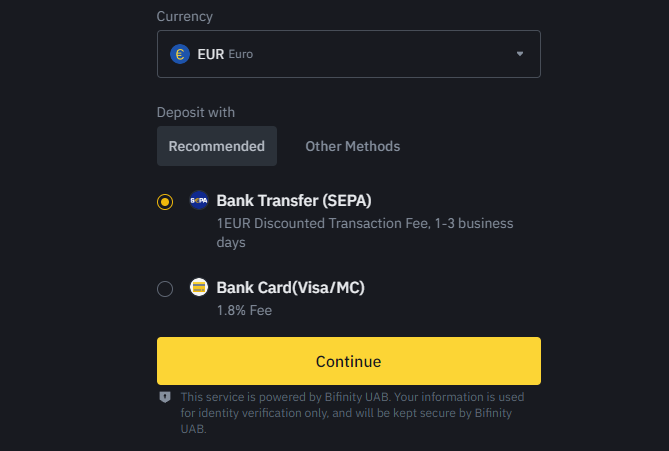 If you want to send money to another Binance account, you can use Binance transfers. You can send funds from your Binance crypto wallet to other Binance wallets via Email, UID, or Pay ID. This option has no fees and also transfers the funds instantly. Not many cryptocurrency exchanges have this feature.
Binance Alternatives
If you feel like Binance is not the right choice for you, maybe due to regulatory issues or concerns regarding user-friendliness, do not worry. There are great options that you can rely on.
One of the best alternatives for Binance is the Bitget crypto exchange. With low fees, over 540 different coins, no KYC, and and extremely user-friendly interface, Bitget has quickly become one of the most popular cryptocurrency exchanges in the world. What we like most about Bitget is the fact that you can trade while staying anonymous and the overall design of the platform. Bitget is a great exchange for beginners and advanced traders from all around the world.
You can check out our full Bitget review here. Additionally, you can check out our Binance vs Bitget comparison to see how the two exchanges compare side-by-side.
If you are a complete newbie and you just want to buy and hold rather than actively trading, we recommend you check out Coinbase. The crypto exchange is highly regulated in the US. While Coinbase has really high fees, it is still a good choice for newbies that seek security and simplicity. Check out our Binance vs Coinbase comparison to learn more.
Bottom Line
In conclusion, Binance is one of the best and most popular exchanges in the crypto world today. With over 350 cryptos and 1700 trading pairs and the most advanced order types, Binance is perfect for experienced investors.
Aside from making money from crypto trading on Binance, you can also earn passive income with staking, mining, liquidity providing, and much more.
In addition to its low fees and excellent customer support, the exchange also provides a comprehensive mobile app for users who prefer using smartphones.
All in all, Binance is a great option for anyone interested in buying/selling cryptocurrencies or trading futures with many features.
It's important to remember that Binance is not available in several countries such as the US and Canada due to regulatory issues.
FAQ
Does Binance require KYC?
Yes, Binance requires KYC verification. Without KYC, you can not trade on the platform. To verify your Binance account, you must submit your ID or Passport and a selfie.
What are Binance fees?
Binance spot fees are 0.1% for makers and taker orders. On the futures market, Binance only charges 0.02% maker and 0.04% taker fees. Overall, Binance has some of the lowest fees in terms of crypto trading platforms. When holding the Binance coin, you can even receive further discounts.
Is Binance safe to use?
Binance is a safe cryptocurrency platform. The exchange uses a range of security measures, including two-factor authentication, encrypted wallets, and secure offline storage for the majority of its assets.
Does Binance allow customers from the US?
Unfortunately, Binance does not allow US customers on their site. If you want to use a great exchange that allows US citizens, we recommend MEXC Global.
If I don't have cryptocurrencies yet, can I buy them from Binance directly?
Yes. Binance offers you a "One-Click Buy" option to buy cryptocurrencies with FIAT. Supported payment gateways are Credit Cards, Google Pay, Bank Transfer, SEPA, Wise, Revolut, iDeal, and more. Binance also supports most FIAT currencies including, but not limited to, USD, EUR, GBP, AED, CHF, RUB, and more.