Giropay is one of the most popular payment methods in Germany due to the simple payment process and quick processing time. While Giropay does not directly offer crypto payments in its app, there are licensed and regulated platforms that support Giropay to fund your crypto account. If you are a Euro (EUR) user with a German bank account and you wish to buy cryptocurrencies such as Bitcoin, Ethereum, USDT, or more with Giropay, you have come to the right place.
We have analyzed 27 crypto exchanges to find the best platforms with support for Giropay payments. The overall best crypto exchange offering crypto purchases with Giropay is Bitvavo. This is due to the low fees and its extensive range of supported cryptocurrencies. Additionally, Bitvavo is the largest registered and licensed crypto exchange in Europe, with 10% of its customer base coming from Germany.
Is Buying Crypto With Giropay Legal?
Yes, buying cryptocurrencies using Giropay is totally legal, secure, and a very simple process. By using the best regulated European crypto platforms, buying cryptocurrencies with Giropay is as easy as walking. What we love most about buying cryptos with Giropay is that the transactions are processed instantly, which means that you can get started in the world of crypto right away with low fees.
How to buy Bitcoin & Cryptos with Giropay on Bitvavo
The best crypto exchange to buy Bitcoin, Ethereum, USDT, or other digital assets with Giropay is, without a doubt, Bitvavo. The Dutch crypto exchange is known for its reliability and emphasis on customer protection. Giropay users will be pleased to hear that Giropay is directly integrated into the Bitvavo platform.
To get started with your crypto journey using Giropay, follow our simple step-by-step guide below:
Register and Verify your Bitvavo account. The verification process usually just takes a few minutes.
After successful verification, go to your home dashboard and click on "Deposit".
Select Giropay as your payment method.
Choose how much you want to deposit and click on "Confirm and deposit."
Bitvavo will redirect you to the Giropay dashboard, where you have to select your Bank. Make sure to select the correct Bank as well as the correct branch.
After selecting your Bank and Bank branch, you have to add your personal bank account details, including your IBAN. Finalize the process, confirm the transaction with your banking app, and go back to Bitvavo once the payment is made.
Now, your Bitvavo account will be funded with your Euro deposit. Go to the Bitvavo trading market and buy your desired cryptocurrency with your Euro balance.
Alternative Giropay Option
Another crypto exchange that supports payments with Giropay is Bitpanda. Bitpanda is a popular European crypto exchange from Germany. What's special about Bitpanda is the fact that you can not only trade digital assets such as Bitcoin, Ethereum, Ripple, or more but also traditional finance instruments such as Stocks, ETFs, Commodities, or Metals.
As Bitpanda is a licensed platform regulated by the German Federal Financial Supervisory Authority (BaFin), thousands of Germans trust in the crypto exchange.
If you want to purchase cryptos on Bitpanda using Giropay, follow these simple steps:
Register and verify your Bitpanda account
Click on "Deposit" in the top right corner
Select "Giropay" as the payment option
Complete the Giropay transfer with your personal bank account details
Exchange your Euros for cryptos on the Bitpanda crypto trading market.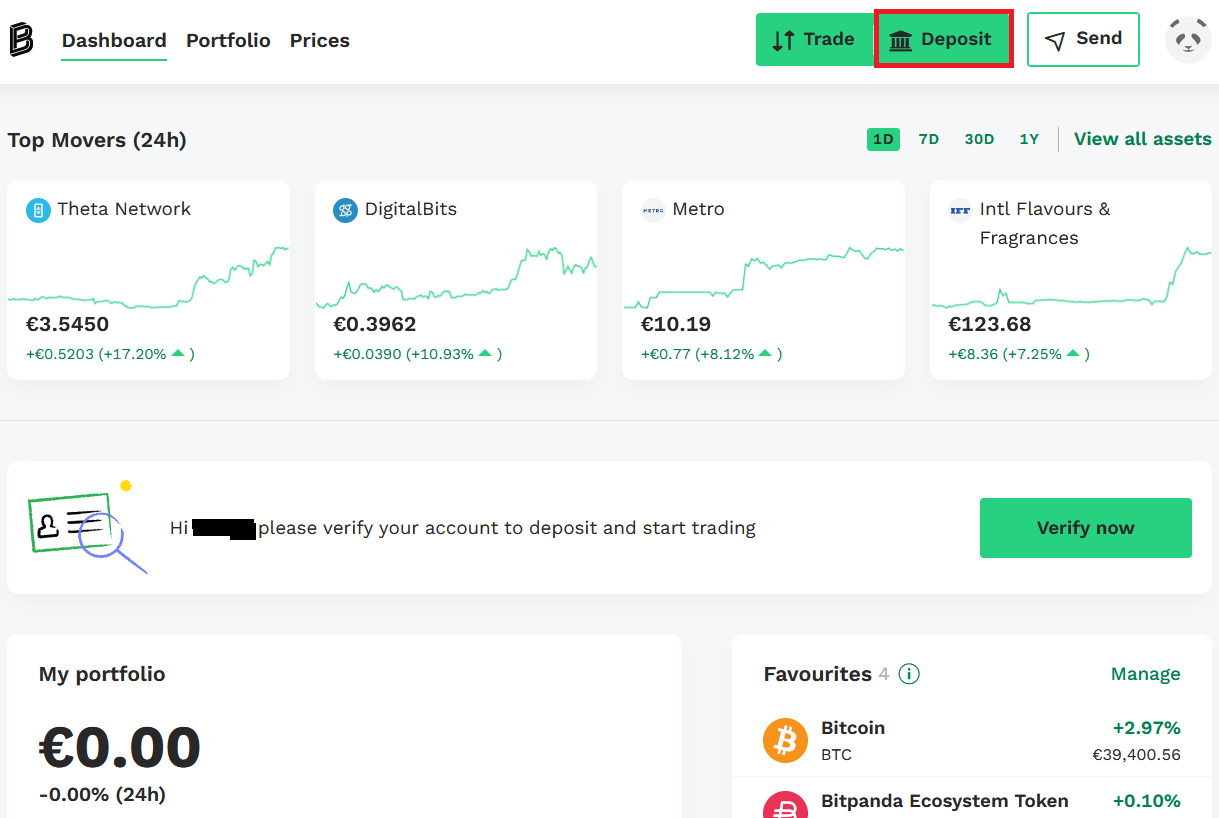 What are the Giropay Fees?
Buying cryptos with Giropay comes with a fee of at least 1.75%. When comparing different platforms offering Giropay for funding accounts, Bitvavo had the lowest deposit fees for Giropay. Other exchanges charge up to 3% for deposits. Additionally, you must factor in the spot trading fees where you exchange your Euro balance for digital assets.
The best thing about Bitvavo is that the first 10,000 Euros that you invest are completely free of charge. That means you can buy cryptos worth 10,000€ on Bitvavo without paying any fees. After reaching the 10,000€ limit, you will enjoy low fees of 0.25% for taker orders (market orders) and 0.15% for maker orders (limit orders). Based on your trading activities, you can reduce your Bitvavo fees to 0.04% taker and 0.03% maker.
Bottom Line
Crypto enthusiasts seeking a simple and secure way to purchase digital assets can always rely on Giropay. With fees ranging between 1.75% to 3%, Giropay is a relatively cheap deposit method. The German payment method is a very prominent way to fund crypto accounts. However, it is important to purchase cryptos on regulated and licensed crypto exchanges such as Bitvavo.
Bitvavo offers multiple payment options, including PayPal, SEPA transfers, and, of course Giropay. The best thing about buying cryptos on Bitvavo with Giropay is that the funds arrive instantly, so there are no annoying waiting times. To top it all off, Bitvavo offers free crypto purchases (no fees) for your first 10,000€.