Best Crypto Exchanges in Canada
The ever-expanding cryptocurrency landscape and the growing awareness of digital assets have given birth to numerous expert-driven exchanges. With an array of choices available, the dilemma of selecting the perfect one arises.
In sync with global market trends, Canada has witnessed a surge in the number of top-tier crypto exchanges, each offering a standalone cryptocurrency trading platform.
Narrowing down the ideal cryptocurrency exchange can be perplexing, particularly for newcomers whose primary focus is buying Bitcoin. The niche user base across the country has paved the way for a select few gems – the best crypto exchanges in Canada.
In this blog post, we delve into the world of Canadian crypto exchanges, unraveling their unique features, user-friendly interfaces, and robust security measures. Join us as we navigate the crypto realm to uncover the top contenders gracing the Canadian market in 2023!
1. Bitget
In the ever-evolving world of cryptocurrency, Bitget shines as the leading crypto exchange in Canada. Designed for skilled users, this global platform boasts a vast selection of altcoins, making it a dream come true for Canadian crypto traders eager to explore new investment opportunities.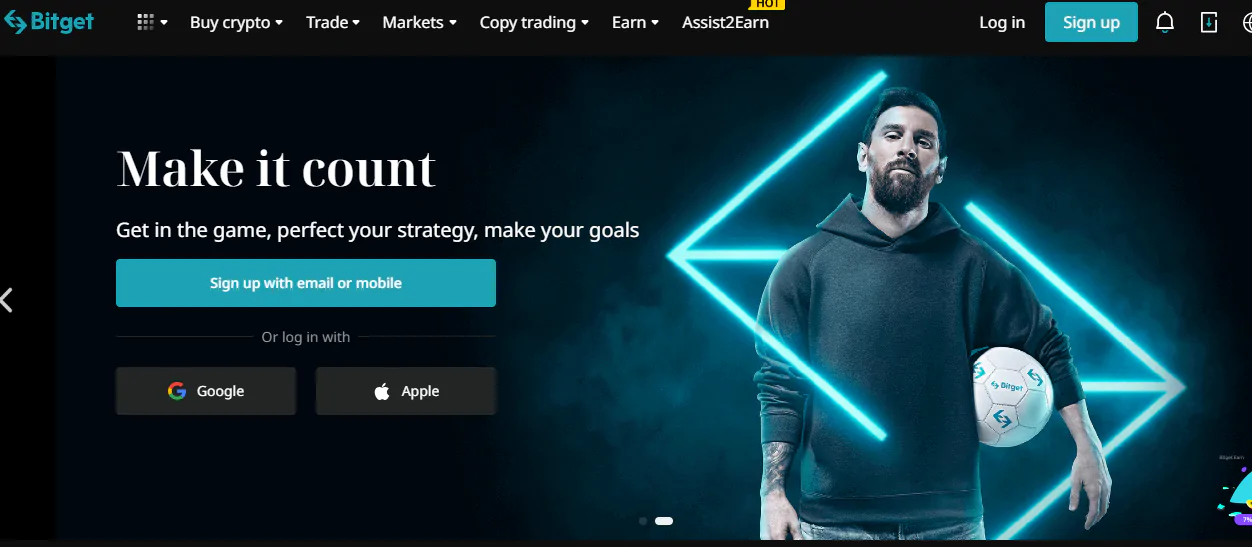 What sets Bitget apart from the competition are its impressively low spot trading fees of just 0.1%, which can be further reduced by utilizing their native token, BGB. With a daily trade volume surpassing $482 million, Bitget ensures ample liquidity, resulting in competitive fees and narrow spreads that won't break the bank.
Key Features Of Bitget
Deposit methods: Credit/debit, SWIFT bank transfer with USD, Interac e-transfer via P2P
Ease of use: Medium/Advanced
Coin selection: 1000+ including BTC, ETH, XRP, DOGE
Fees: 0.1% to 0.02%
App: Available for iOS and Android
Customer support: Email
Security: Two-factor authentication (2FA), crypto address whitelisting
When it comes to accessibility, Bitget welcomes cryptocurrency deposits free of charge. However, for CAD purchases, a debit card or a third-party bank transfer service like Banxa comes into play.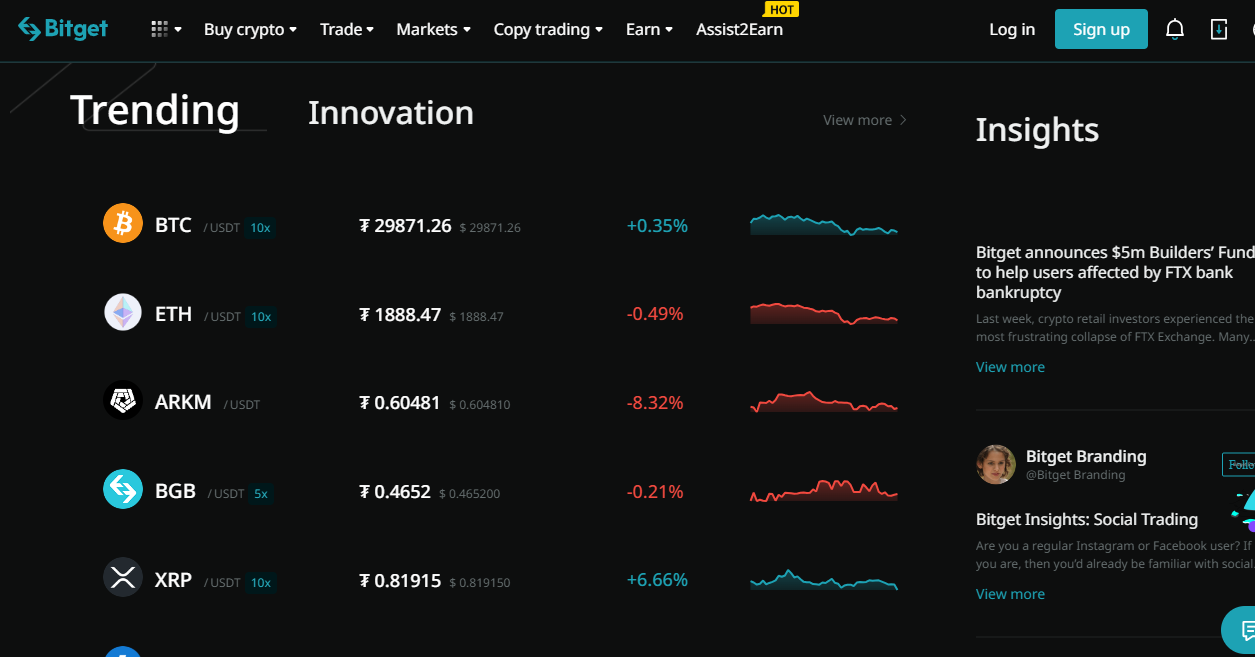 To save on fees, we highly recommend utilizing Bitget's P2P marketplace, where you can seamlessly buy USDT with an Interac e-transfer commission-free and use it for trading on the platform.
Bitget doesn't stop at affordability; it prides itself on prioritizing security for its users. While not FINTRAC-regulated, the exchange goes above and beyond to safeguard accounts.
With two-factor authentication and email notifications for logins and withdrawals, you can rest assured that your funds are in good hands. To add an extra layer of protection, an anti-phishing code can be set up, ensuring that you receive genuine communications from Bitget.
Additionally, Bitget takes the safety of customer funds seriously, offering emergency insurance coverage of up to a staggering $300 million. In the rare event of asset loss through no fault of your own, you can make a claim for added peace of mind. However, as the saying goes, "not your keys, not your coins."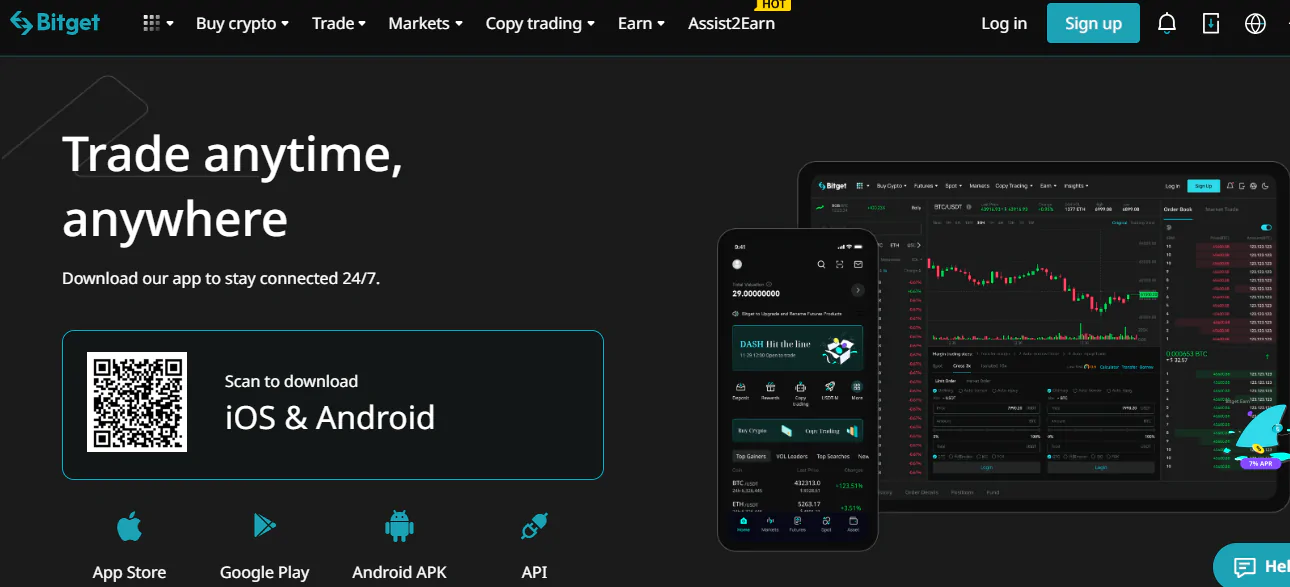 For maximum safety, we recommend transferring major crypto funds to your own hardware crypto wallet.
The Bitget app receives rave reviews for its user-friendly features on both iOS and Android, catering to traders on the go. Furthermore, their top-notch customer support team promptly resolves any issues that may arise, ensuring a smooth and satisfactory trading experience.
While Bitget's platform may not be the ideal starting point for beginners, the recent revamp of its user interface has made it more user-friendly. Once you get the hang of its advanced features, Bitget offers a world of opportunities that might make you never look back at another exchange again.
So, if you're an experienced trader with a passion for altcoins and desire competitive fees, Bitget is the go-to destination for your crypto adventures.
Pros
Lowest trading fees offered by the platform
No fees for buying cryptocurrency on Bitget
Bitget copy trading feature available
Spot Taker fee: 0.10%, Maker fee: 0.10%
Futures Taker fees: 0.06%, Maker fee: 0.02%
Supports a wide range of tokens and coins
Complete 24×7 customer support provided
Negligible transaction fees
Regulated with licenses from Australia, Singapore, and Canada
Offers FIAT withdrawals
Cons
Very advanced trading platform
Not available in US
2. Phemex

Founded in Singapore on November 25th, 2019, Phemex aims to be the most trustworthy trading platform while prioritizing user satisfaction. With its offshore registration in the British Virgin Islands, the company enjoys business-friendly regulations and lower tax rates, allowing it to soar in popularity.
Joining the Phemex community is a breeze, but first, you'll need to complete a Know Your Customer (KYC) process. Don't fret; it's a straightforward process. Simply log in or register on the website, click on your profile icon, and head to the Overview section, where you'll find all your profile information.
To get access to the identity verification process, visit your Phemex account's Overview page and click the ID & Face Verification button. Just follow the simple instructions, and you're good to go! Make sure to have your government-issued photo ID handy, and you're all set to explore Phemex's 250+ coins, including Bitcoin, Ethereum, Ripple, and more!
With leveraged trading of up to 100x, Phemex offers a playground for both seasoned traders and curious beginners. Worried about fees? Fear not! Phemex's spot trading fees are impressively low, and premium members enjoy feeless trading.
Are you eager to earn interest on your crypto holdings? Phemex Earn allows you to do just that! You can earn up to 8.8% APY on popular coins like USDC, USDT, BTC, and ETH. The platform's flexibility lets you choose investment periods and maximize returns.
Phemex caters to various deposit methods, including credit and debit cards, through its trusted third-party partners. While it is available in the US, some state restrictions may apply due to regulations.
Exciting advanced trading orders, a dynamic Phemex Launchpool, and the allure of premium membership benefits await! Experience the joy of trading without fees, faster withdrawals, and higher trading limits as a Phemex Premium member.
Phemex is more than just a cryptocurrency trading platform—it's a vibrant community that puts users first. With its ever-growing popularity and dedication to providing a user-friendly experience, Phemex is undoubtedly a gem in the world of crypto exchanges.
Key Features Of Phemex
Highly user-friendly platform suitable for both experienced and inexperienced traders.
Spot trading available for over 250 pairs, including popular cryptocurrencies, altcoins, and DeFi assets.
Copy trading feature enables users to mirror successful trades of advanced traders.
Demo account offered for risk-free trading experience for new users.
Mobile applications available for convenient trading on-the-go.
24/7 customer support ensures user satisfaction.
No mandatory KYC verification for easy onboarding.
Leverage trading option with up to 100x leverage.
Multiple payment options, including credit card, debit card, bank account, and Apple Pay, for buying cryptocurrencies.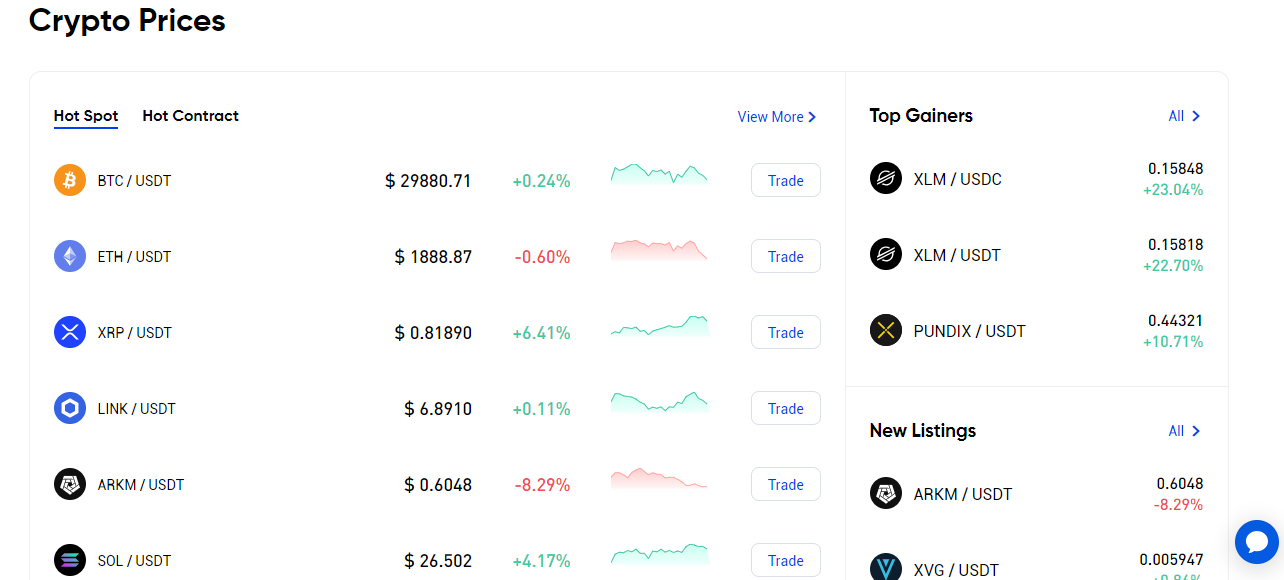 Pros
Low fees
There's a solid mobile app
Supports a wide range of crypto deposits
Spot and contact trading
Great customer support
Lets you earn through staking
Leverage trading (100X)
Cons
Not enough clearly laid out information on regulation and licensing
No lending services
3. Virgocx
VirgoCX, born in Toronto, Canada, back in 2018, has since emerged as a stellar crypto exchange, captivating the hearts of Canadians. What sets this platform apart from the rest is its remarkable 0% trading fees on all trades!
That's right – no commission, no hidden costs when buying or selling cryptocurrency, and not a single deposit fee in sight. Say goodbye to those pesky extra charges that often leave investors feeling drained.
Key Features of Virgocx:
iOS, Android, and Web app
Offers 70 cryptocurrencies for trading
Instant Buy and Sell functionality
Advanced Trade options for experienced users
OTC (Over $30,000) trading services
VirgoCX Wealth for institutional clients
NFT Brokerage services
Foreign Exchange capabilities
Affiliate/Referral Program for users to earn rewards and incentives.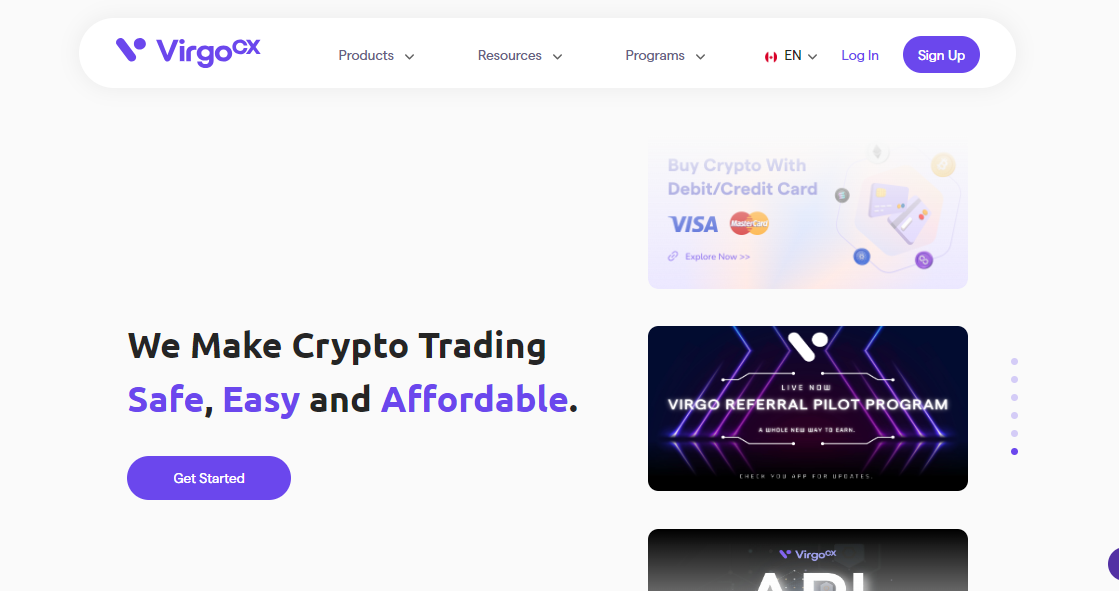 But the magic doesn't stop there. VirgoCX prides itself on simplicity, boasting a modern interface that's as user-friendly as it gets. This makes it the perfect choice for newcomers looking to dip their toes into the mesmerizing world of crypto.
With 23 of the most sought-after coins on offer, VirgoCX provides ample options for budding investors keen to embark on their crypto journey. The platform welcomes fiat deposits and withdrawals in both CAD and USD, with Interac e-Transfer and wire transfer as your trusty companions.
Beyond its enticing features, VirgoCX is a guardian of security. Backed by the formidable Ledger Vault, you can rest easy knowing your assets are in safe hands.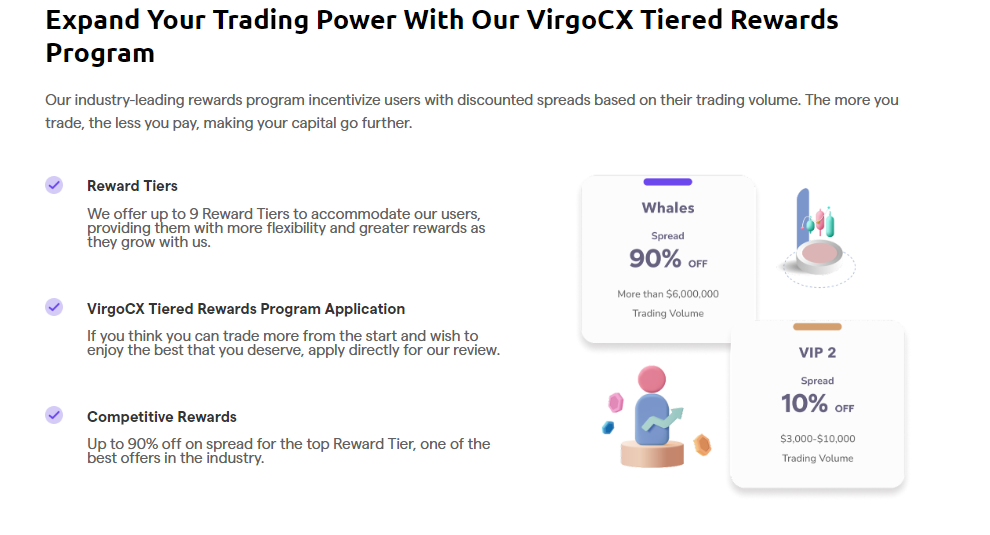 And did we mention the icing on the cake? Mobile apps for both iOS and Android users are available, making it even more convenient to keep an eye on your crypto ventures on the go.
To top it all off, the platform offers round-the-clock customer support through Live Chat or email, ensuring you're never alone in your crypto endeavors.
In a world where fees can often take the wind out of your sails, VirgoCX swoops in like a hero, offering a refreshing experience where fees vanish and convenience reigns supreme.
Pros
Quick registration and verification process
Offers advanced trading tools
80% of digital assets held in cold storage
Educational materials available via the platform's learn center
Registered with FINTRAC and available in all of Canada
Offers Recurring Buys and Grid Trading Features
Cons
Spread fees can be as high as 2.5%
Only OTC clients have access to VirgoCX's NFT marketplace
4. BYDFI
BYDFi, formerly known as Bityard, is an exchange hailing from Singapore that captivated the cryptocurrency world when it launched back in 2020. Now, under its new identity, BYDFi stands for "BUIDL Your Dream Finance," with "BUIDL" being the cool, catchy term for "build" among crypto enthusiasts.
The "F" in BYDFi represents Finance, and the "i" stands for each individual, making it a platform that embraces and empowers every user.
This vibrant exchange specializes in crypto derivatives and offers its services in both English and Traditional Chinese, catering to a diverse global audience. With over 500,000 users from 150 countries, BYDFi has swiftly become a household name in the crypto realm.
Key Features of BYDFi
Over 60 fiat currencies supported by BANXA, Transak, Mercuryo, and Coinify.
The platform offers trading of over 400 cryptocurrencies.
Seamless deposit and withdrawal options for supported cryptos, with additional choices like credit/debit cards and bank transfers.
Spot and derivatives trading, along with the option for copy trading.
Access to advanced trading features, including charts with a full array of indicators for technical analysis.
Global presence, catering to over 150 countries and serving more than 500,000 users.
Strong emphasis on security, offering advanced account security settings for user protection.
So, what sets BYDFi apart and makes it a top choice for traders worldwide? For starters, it boasts reliability and regulation, giving users the peace of mind they deserve. But that's not all! BYDFi is a one-stop trading platform, allowing you to access everything you need in one convenient spot.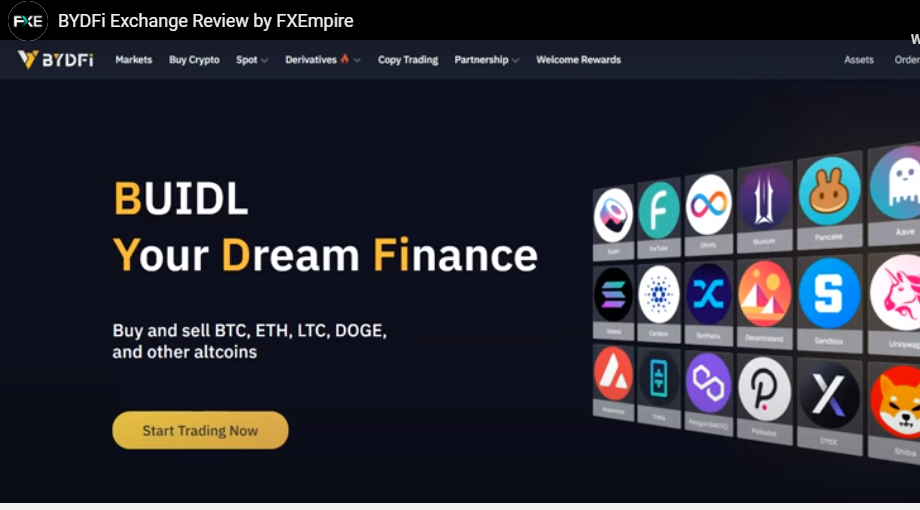 Plus, they offer the exciting option of copy trading, allowing you to follow the strategies of successful traders and potentially boost your own gains.
But wait, there's more! BYDFi's user-friendly interface takes the complexity out of trading, making it an ideal platform for both seasoned traders and newcomers alike. And if you're looking to grow your earnings, the BYDFi affiliate program is your golden ticket.
Earn up to a whopping 40% of the trading fees generated by your referrals, with no expiry date on their trades. That's right, a long-lasting commission that keeps on giving.
And let's not forget about the thrill of leveraged trading! With up to 100x leverage available on BYDFi, you can amplify your exposure to crypto price movements without holding a vast reserve of assets. It's like turbocharging your trades, making the excitement of the crypto market even more exhilarating.
Pros
Huge trading variety
Copy trading functionality
Regulation-compliant around the globe
Fair trading fees
Available in the US
Beginner-friendly tools
Cons
No NFT services
No staking capability
5. MEXC
MEXC is a dream come true for active traders, offering a vast array of markets and over 1,520+ cryptocurrencies, along with an impressive 2,110+ trading pairs. Best of all, the trading fees are enticingly low, with 0% for spot trading and a meager 0.01% for takers in futures trading.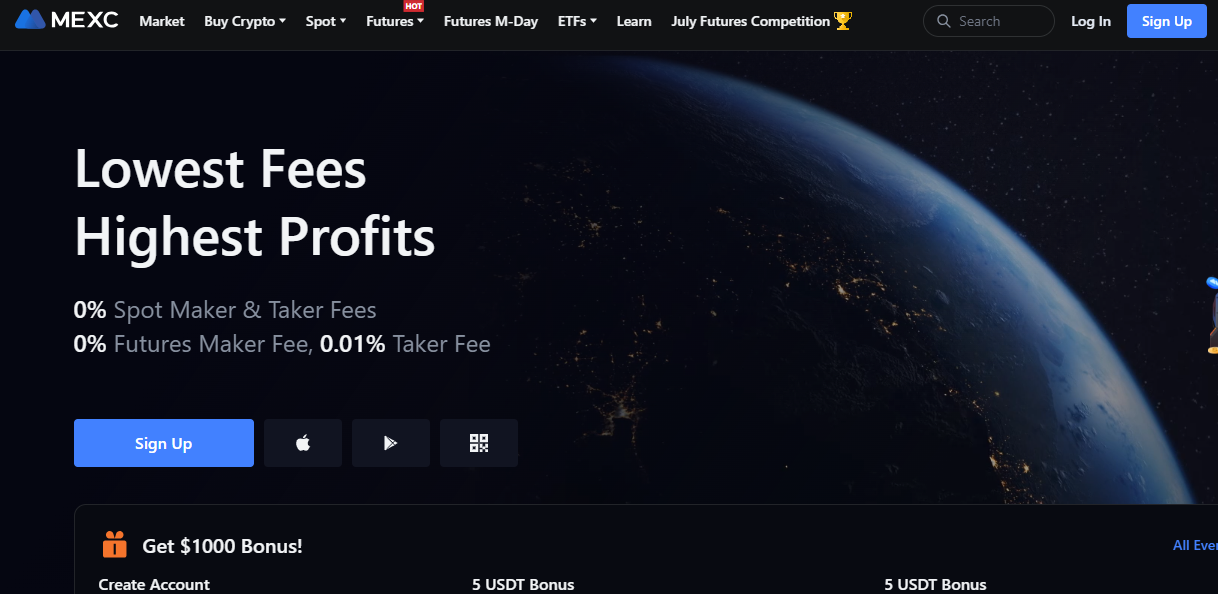 Key Features of MEXC
Borrow funds and leverage positions to potentially increase profits or hedge risks.
Speculate on future price movements of cryptocurrencies with up to 200x leverage.
Earn rewards by staking various cryptocurrencies, including stablecoins.
Participate in IEOs through the "Launchpad" platform to acquire tokens of new projects before they hit the open market.
Native token (MX) offering unique privileges and bonuses on the platform.
Access trading and asset management features on iOS and Android devices.
Multi-language support to assist with trading and account-related queries.
But that's not all! MEXC takes pride in having the deepest liquidity among all crypto trading platforms. Even the giants like Bybit, Binance, KuCoin, and Huobi can't compete. The graphs speak for themselves, showcasing the significant difference in liquidity for BTC/UST and ETH/USDT pairs between MEXC and its competitors.
Speaking of variety, MEXC offers a range of trading options to suit every investor's preference. From spot and derivatives trading to P2P markets and margin trading with leverage of up to 125x, the possibilities are endless.
If automation is your game, MEXC has you covered with free trading bots that execute profitable trades even when you're away. And if you'd rather follow the footsteps of successful investors, their copy trading feature allows you to mimic the moves of seasoned pros instantly.
But wait, there's more! For a limited time, you can claim a fantastic 10% off on all trading fees and receive a generous $30 in FREE USDT. So, why wait? Join MEXC today and dive into a world of exciting possibilities in the realm of cryptocurrency trading!
Pros:
Wide range of supported crypto assets
User-friendly trading interface
Fully functional mobile app
Diverse trading products, earning program, and order types
Provides exchange-traded funds, a rare feature among exchanges
Holds compliance certificates for Australia, Canada, Estonia, and the U.S.
Responsive 24/7 customer support with live agents
Offers highly educational articles and guides for crypto enthusiasts
Cons:
Lack of support for fiat withdrawals
Limited availability of assets for quick buy
6. Kraken
When it comes to crypto exchanges in Canada, one name stands out from the crowd is Kraken. Founded in San Francisco in 2011, Kraken has cemented its position as the top choice for Canadian crypto enthusiasts, and for all the right reasons.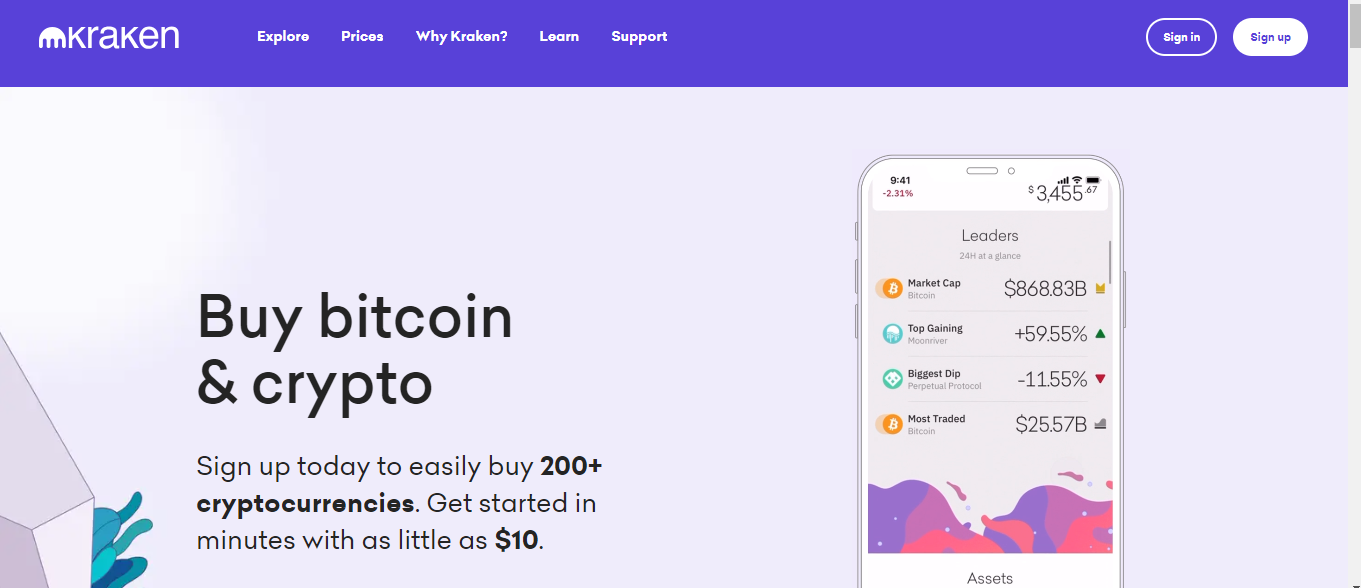 First and foremost, Kraken offers a trading experience like no other, thanks to its remarkably low fees. With transaction fees as low as 0.16% (and even down to 0% for high-volume traders), Kraken leaves other Canadian exchanges in the dust.
And let's talk about spreads – a minuscule $0.10 per Bitcoin, a mere 0.0003%. In contrast, its competitors routinely charge hefty commissions of up to 2%, along with additional spreads exceeding 2% – not exactly wallet-friendly, is it?
Features of Kraken
Extremely low trading commissions (0.16%)
Extremely low spreads (0.0003%)
Trade 100+ cryptocurrencies
Stake 100+ cryptocurrencies
Simple, intuitive user interface
Kraken Crypto Watch allows you to keep track of the crypto market
NFT trading inside the Kraken app
24/7 customer support via phone, email and live chat
Plenty of free educational resources available to users
95% cold storage policy
Regulated by FINTRAC
But that's just the beginning! Kraken's customer support is second to none. Setting itself apart from the rest, it's the only Canadian exchange offering telephone support, and that too in English, French, and Spanish. Now, that's how you show you care about your customers.
Ready for more? Kraken boasts a whopping 100+ cryptocurrencies, a world-class trading platform, and a mobile app that's as powerful as it is user-friendly. Plus, it doesn't stop there – Kraken is your gateway to the world of NFT trading, staking, and supports a variety of fiat currencies, including CAD, USD, EUR, and more.
Regulated by FINTRAC in Canada, Kraken embodies trustworthiness, security, and a commitment to excellence. So, if you're looking for a crypto exchange that brings unparalleled advantages, Kraken is undoubtedly your best bet in Canada.
Pros
Secure and reliable
Low fees
High deposit and withdrawal limits
Accepts some fiat currency
Cons
Long verification times
Possibly challenging user interface
7. Gemini
When it comes to holding, buying, and selling cryptocurrencies, Gemini crypto exchange shines as one of the most secure and reliable platforms in the US. A haven for both beginners and experienced traders, Gemini boasts industry-leading trading and security features, making it a top choice in the market.
Though it may have a relatively small number of tradable assets, Gemini's range of trading tools and products, coupled with its robust security measures, sets it apart from other Canadian crypto exchanges.
The platform's proprietary hot wallet, responsive user-friendly support center, and regular cybersecurity audits by the New York Department of Financial Services ensure peace of mind for every user.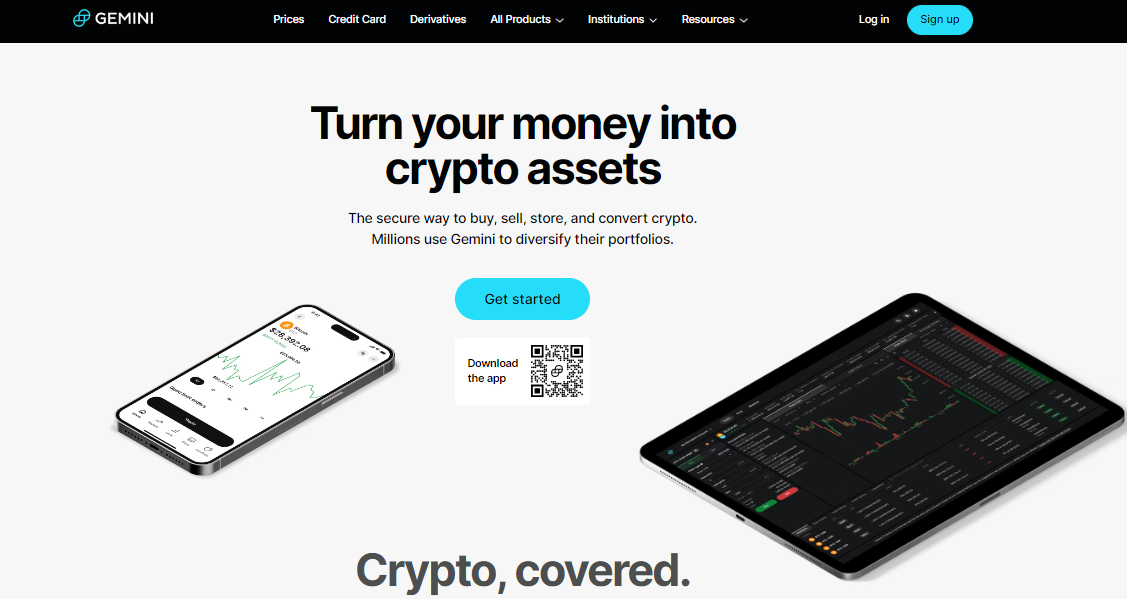 Features of Gemini:
Fixed fee for trades under $200
1.49% fee for trades over $200
3.49% fee for debit or credit card purchases
75 Cryptocurrencies supported
USD balances up to $250,000 are insured by the FDIC
Gemini Wallet digital insurance
Hardware-based U2F security
What's more, Gemini welcomes its new users with a generous offer – $7 worth of Ethereum to get them started on their crypto journey. With SOC certification, insurance coverage, and hardware security keys, Gemini leaves no stone unturned in safeguarding its clients' assets.
Unlike some of its competitors, Gemini provides its services in all 50 US states and various other parts of the world, making it a global player in the crypto market. Moreover, it takes pride in being the first crypto exchange to achieve SOC 1 Type 2 and SOC 2 Type 2 compliance, further solidifying its reputation as a secure and trustworthy platform.
The Gemini credit card is another standout feature, rewarding users with up to 3% cashback on every spending, making it even more appealing to crypto enthusiasts.
With over 75 cryptocurrencies available and a hot wallet equipped with insurance, Gemini stands tall as a top-tier crypto exchange that effortlessly balances security, innovation, and user experience. So, if you're looking to embark on a crypto journey with utmost confidence, look no further than Gemini to lead the way.
Pros:
Intuitive application interface
Opportunity to earn interest on stored cryptocurrency
Insurance available for the Gemini Wallet
Cons:
High fees
Fewer trading pairs supported
8. Coinbase
Next up in the crypto universe is Coinbase, a beloved platform that warmly welcomes newcomers with its user-friendly interface. No wonder most people dipping their toes into the world of crypto choose to start their journey here, lured in by tempting sign-up offers like the irresistible £5 free Bitcoin.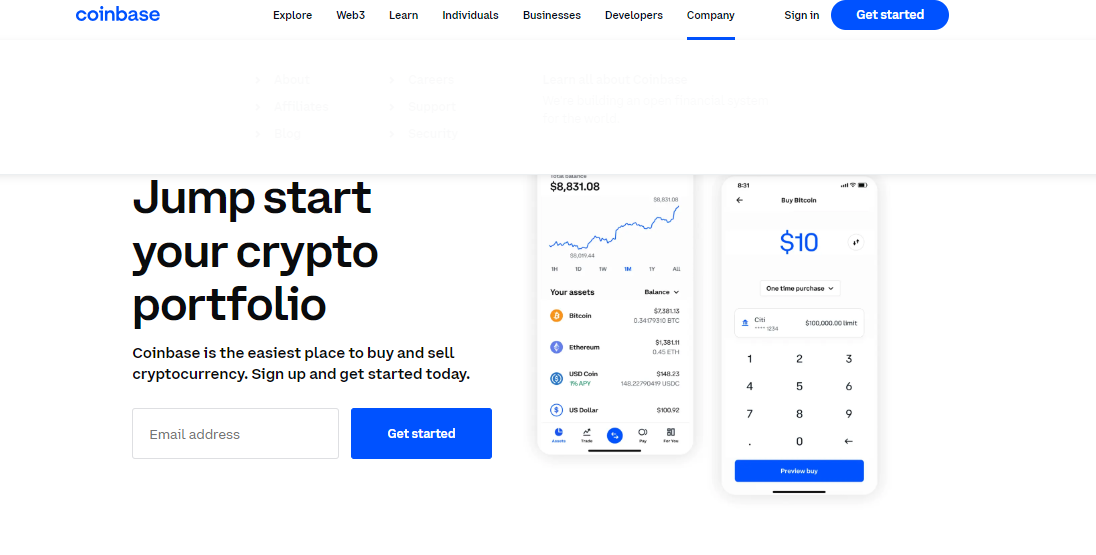 For those new to the game, Coinbase is a dream come true with its straightforward buying process and intuitive layout. But, as they say, every rose has its thorns. Soon, these newcomers will notice that Coinbase comes with some of the highest trading fees among crypto exchanges.
Trading digital assets here can cost you anywhere from 1.49 to 3.99%, while the more seasoned traders exploring Advanced Trade pay a lower 0.5% fee but get access to a broader range of tokens.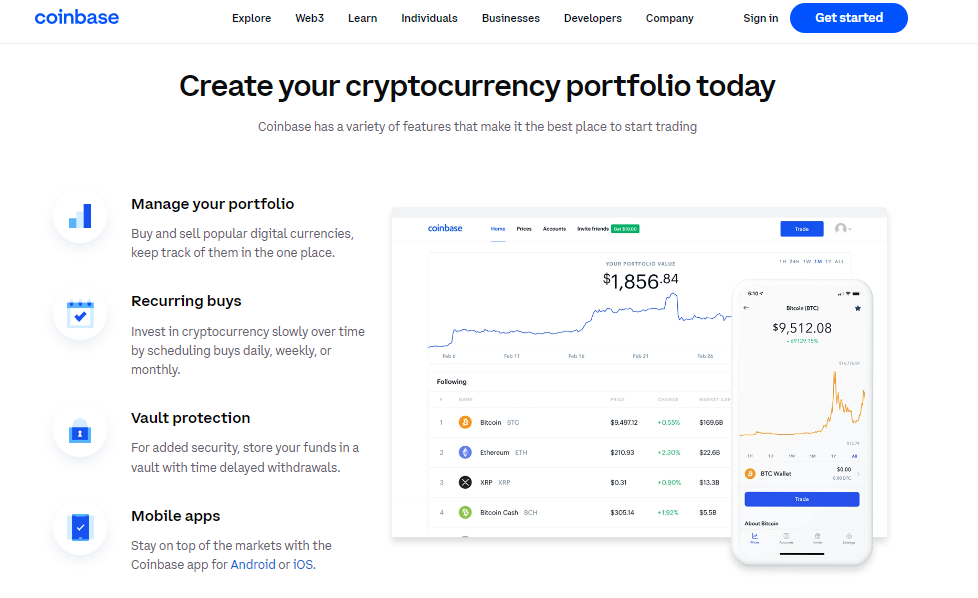 Fear not, though, because Coinbase has a global embrace, supporting customers from over 30 countries. United States, Europe, Singapore, Canada, Australia – you name it. The high volume and liquidity add to its charm, making it a go-to destination for many.
Features of Coinbase:
Beginner-friendly and easy to use
Ability to withdraw or sell using PayPal
0.50% per trade maker-taker
3.99% for credit card purchases
1.49% for Coinbase USD wallet or bank account purchases
Two-step verification for added account security
Biometric fingerprint logins for convenient access
Insurance coverage in the event of a Coinbase breach
FDIC-insured USD balances for additional protection
AES-256 encryption for secure digital wallets
Daily maximum deposit and withdrawal limit of $25,000 via ACH (Automated Clearing House)
But hold on, that's not all. Coinbase is more than just a trading platform. With a user-friendly interface, it offers an array of trading pairs and supports FIAT to crypto exchanges.
For the pros, there's Advanced Trade with advanced order types and charting. Plus, you can make your crypto work for you with Coinbase Earn or try your luck with quizzes for free crypto rewards.
Did we mention security? Coinbase takes it seriously. Despite several attempts, it has managed to keep the hacks at bay, storing a whopping 97% of bitcoins offline.
Pros
Beginner Friendly
High Liquidity
Supports FIAT Payments
FDIC Insured
AdvancedTrade
Wide range of products
Cons
Poor Customer Support
Unclear Fee Structure
How To Select A Crypto Exchange In Canada
In the fast-evolving world of cryptocurrency, choosing the right exchange is crucial to ensure a smooth and profitable trading experience. With a plethora of options available, it can be overwhelming to know where to begin.
To simplify your decision-making process, consider the following factors when selecting a crypto exchange in Canada.
Fees
Fees can significantly impact your trading profits if not carefully assessed. Before signing up with an exchange, carefully review the trading, deposit and withdrawal fees associated with funding your account. Additionally, understand how trading fees are charged (e.g. maker and taker fee model).
Some exchanges employ a flat fee for all trade sizes, while others use a percentage-based model. Beware of platforms that claim "free trading," as the fee is often hidden in the spread, the difference between the buy and sell price.
Customer Reviews
Customer reviews are invaluable in gauging an exchange's reputation and reliability. They offer insights into both the drawbacks and benefits of a platform that may not be evident on its website.
Opt for exchanges with strong positive feedback from customers, as it is a good indicator of a more favorable user experience. Additionally, positive reviews can indicate that other crypto traders trust certain platforms.
Accessibility and coin selection
If you have specific cryptocurrencies in mind, ensure the exchange offers them before proceeding with registration. Not all platforms provide the same selection of coins, and it's crucial to choose one that simplifies the purchase of your desired cryptocurrencies.
Evaluate the funding options available as well. Some exchanges support credit or debit card purchases, while others may only offer eTransfer or bank wire options.
If convenience is a priority, check whether the exchange allows direct bank account connections or even funding with cash through Canada Post.
Keep in mind that when cashing out your profits and transferring them back to your bank, flexible withdrawal methods are essential. Take note of any potential deposit or withdrawal amount limits imposed by the exchange.
Custody options
The manner in which an exchange handles custody of your crypto holdings is a vital consideration. Confirm whether the exchange permits you to transfer coins off-platform.
Some exchanges allow the transfer of all purchased coins, while others restrict certain coins or prohibit any transfers altogether.
Cryptocurrency exchanges that don't allow users to store their own crypto are known as custodial exchanges, whereas non-custodial exchanges offer users the option of off-platform storage.
Many Canadian exchanges give you the option to either store your holdings in their custody or secure them in your private wallet, providing you with greater control over your assets.
Security
The crypto market has become a prime target for hackers, leading to significant losses on some of the most prominent exchanges. While platforms often reimburse users for stolen coins, prevention is always preferable.
To minimize risk, consider diversifying your crypto purchases across multiple exchanges. By doing so, you reduce the potential impact of a single breach on your entire portfolio.
Additionally, storing your digital assets in an exchange's default wallet exposes you to security risks. Instead, opt for a "cold" wallet—a secure offline storage solution that substantially reduces the likelihood of hacking attempts.
Remember to keep a record of your passcode securely, as losing access to your cold wallet could mean losing your crypto forever.
Trading Volume
The availability of various cryptocurrencies on an exchange is significant, but it's equally essential to check the trading volume of your target coins. Ample trading volume ensures liquidity, allowing you to buy or sell your coins swiftly without significant price fluctuations.
Low-volume markets may result in slippage, where you end up buying at a higher price or selling at a lower price than desired. Avoid such situations by opting for exchanges with robust trading volumes for your chosen cryptocurrencies.
For advanced traders, exploring trading types offered by the exchange is essential. Features like limit orders can prevent slippage by setting specific prices for buying or selling. Additionally, if you're interested in margin trading, verify whether the exchange offers this option, as regulations and offerings may vary among different platforms.
Summing Up
In the ever-evolving landscape of cryptocurrency, choosing the best exchange in Canada in 2023 demands careful consideration. As individuals venture into this digital realm, it's essential to traverse with caution, exploring the exchanges and specific cryptocurrencies they wish to manage, trade, and store securely in their wallets.
A robust analysis center, seamless integration of digital currencies, and an advanced app for secure margins become indispensable. Beginners must be vigilant, for even a single article can impact their investment.
To make an informed decision, dive into the respective websites, conduct thorough research, and embrace the unique offerings each brand has to offer.
FAQs
Is Cryptocurrency Trading Legal in Canada?
Yes, cryptocurrency trading is legal in Canada.
How Can I Safeguard Myself from Scams on Cryptocurrency Exchanges?
To avoid scams, always opt for government-regulated exchanges in your region. Some platforms offer trade limit features to minimize the risk of substantial losses.
Is Coinbase a Safe Option for Canadians?
Coinbase offers a secure and user-friendly platform for buying and selling cryptocurrencies in Canada and globally. With a presence in over 100 countries, it provides a reliable option for managing your crypto assets.
Which Crypto Exchanges are Authorized in Canada?
To ensure compliance and security, it is recommended to choose a crypto exchange that is approved by relevant regulatory bodies in Canada.