Gemini, a premier cryptocurrency exchange, empowers traders with all the essential tools to succeed in the world of digital investments. With Gemini's user-friendly website, beginners can easily access and navigate the world of cryptocurrencies, visualizing their holdings and tracking their progress with ease.
Meanwhile, the ActiveTrader platform caters to the needs of professional crypto traders, offering a comprehensive suite of tools and features. But Gemini doesn't stop at just trading. Through Gemini Staking, users can earn up to 4.25% APY on their crypto holdings, similar to parking fiat currency in a savings account.
Join us as we explore the features, benefits, and unique offerings that make Gemini a standout choice for cryptocurrency enthusiasts and traders alike.
Overall Thoughts on Gemini
Gemini, legally known as Gemini Trust Company, LLC, is a crypto exchange that offers individuals and institutions trading and storage options. Founded in 2014 by the Winklevoss twins, Cameron and Tyler, Gemini prides itself on a "security-first" mentality and the belief that permission, not forgiveness, should be sought.
One commendable aspect of Gemini is its dedication to educating new traders in the world of cryptocurrencies. With the inherent risks involved in crypto trading, providing educational resources is crucial.
When it comes to trading options, Gemini offers a wide range of over 100 different coins to choose from. Additionally, Gemini doesn't charge deposit fees on wire transfers, making it more accessible and cost-effective for users.
However, it's important to note that Gemini has faced some criticism. The Gemini Earn program, which allowed customers to loan their crypto assets to Genesis Global for interest payments, came under scrutiny.
Pros
Beginner-friendly trading
Opportunity to earn interest on cryptocurrency holdings
Highly-rated mobile application
Available to residents in all U.S. states
7.4% APY on crypto holdings at Gemini Earn
Cryptocurrency payments with Gemini Pay
Trust company licensed in New York
Enhance security with hardware keys
Cons
Default platform fees are high
Popular cryptocurrencies missing
Services Offered on Gemini
Supported Assets
When Gemini, the popular cryptocurrency exchange, first burst onto the scene, it was known as the Gemini Bitcoin exchange. At that time, Bitcoin was the sole asset available for trading. However, as the cryptocurrency landscape expanded, so did Gemini's offerings. Ethereum was introduced as a supported second cryptocurrency network, broadening the exchange's capabilities.
Currently, Gemini supports a selection of cryptocurrencies, although it may be slightly smaller compared to other leading exchanges. With approximately 100 assets available, it provides a diverse range of options for traders and investors.
Nonetheless, Gemini caters to a wide range of traders with its 33 trading pairs. Among the available options are well-known cryptocurrencies such as Bitcoin and Ethereum, along with other popular choices like Chainlink, Basic Attention Token, Orchid, Litecoin, Bitcoin Cash, Zcash, and Dai. These trading pairs enable users to explore different combinations and take advantage of various market opportunities.
Gemini Wallet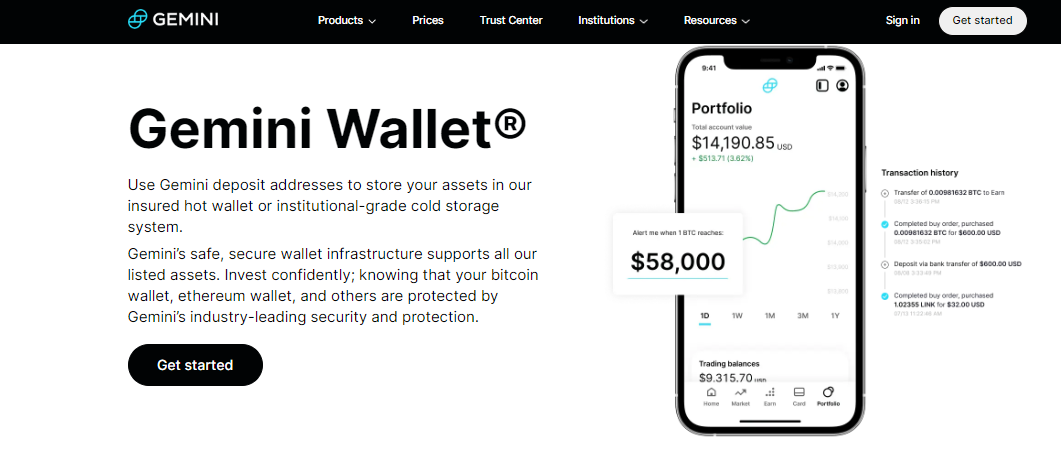 If you're diving into the exciting world of cryptocurrency, you know how crucial it is to keep your digital assets safe and secure. That's where Gemini Wallet comes into play. What sets Gemini Wallet apart from other popular wallets like Coinbase Wallet is its emphasis on security.
With Gemini Wallet, you can have peace of mind knowing that your crypto credentials are stored on an underwriter-insured online storage system. This means that in the unlikely event of a security breach, fraudulent transfer, or even employee theft, Gemini may reimburse affected users.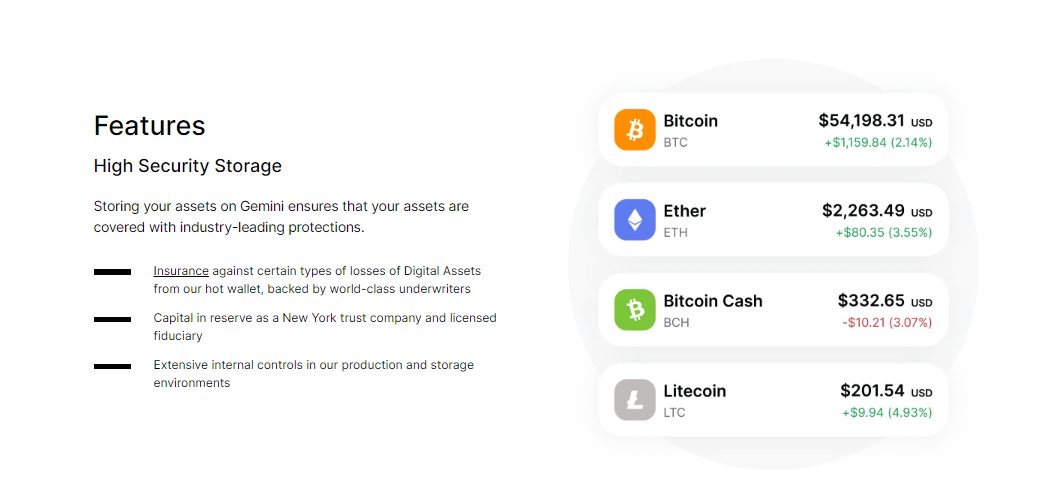 While there are other options out there, Gemini Wallet's commitment to security sets it apart. It's like having a digital insurance policy for your cryptocurrency. Of course, if you're an investor with a substantial amount of cryptocurrency, you might prefer to store your keys offline for an extra layer of protection.
Gemini Earn
Gemini Earn offers you an exciting opportunity to maximize the earning potential of your crypto holdings. With an annual percentage yield (APY) of up to 8.05%, you can watch your digital assets grow while you sit back and relax.
However, it's important to stay informed about the latest developments in the industry. In November of 2022, Gemini made headlines when it temporarily postponed withdrawals from its Earn program due to the unfortunate demise of a rival exchange. Rest assured, Gemini reassured its users that their other assets remained secure.
As with any centralized business, especially those operating in the crypto space, regulatory scrutiny is a reality. Some exchanges have faced accusations of offering unregistered securities through their staking programs.
Gemini Pay
Gemini Pay is the ultimate game-changer that allows you to use your favorite cryptocurrencies to shop at approximately 30,000 retailers across the United States. No more fumbling for your credit card or counting coins.
To get started, simply whip out your smartphone and open the Gemini mobile app. You'll find the magical button that says "Gemini Pay" right at your fingertips. Go ahead, click it!
Browse through the exciting array of items available, select the ones that speak to your soul, and add them to your virtual cart. Once you've satisfied your shopping cravings, it's time to proceed to the checkout page. This is where you'll witness the seamless fusion of crypto and traditional shopping.
Mobile App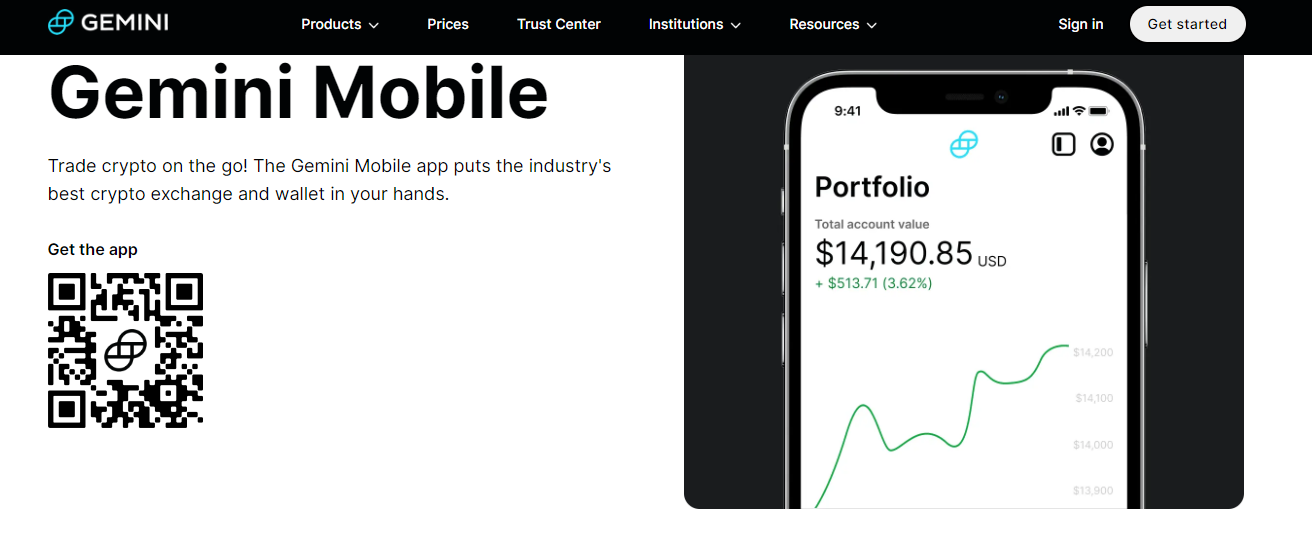 Gemini understands the need for convenience and accessibility in today's fast-paced world. That's why they provide a mobile application version of their web platform, available for download on both iOS and Android devices. This nifty app has garnered impressive ratings, with 4.8 stars on the Apple App Store and 4.5 stars on the Google Play Store.
Users rave about the Gemini mobile app's user-friendly interface, making it a breeze to monitor multiple currencies, execute transactions, and even set price alerts on the go. It's like having your own crypto companion right in the palm of your hand.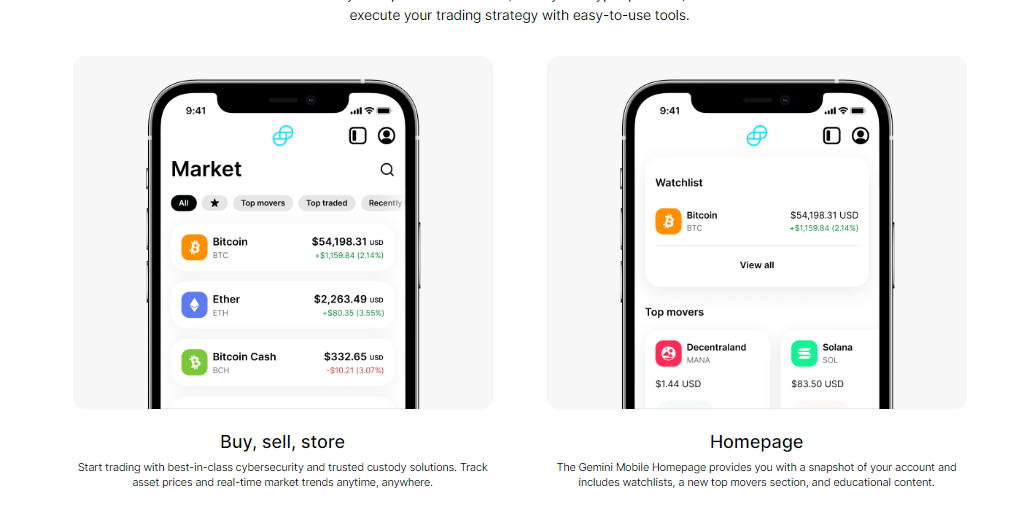 Educational Material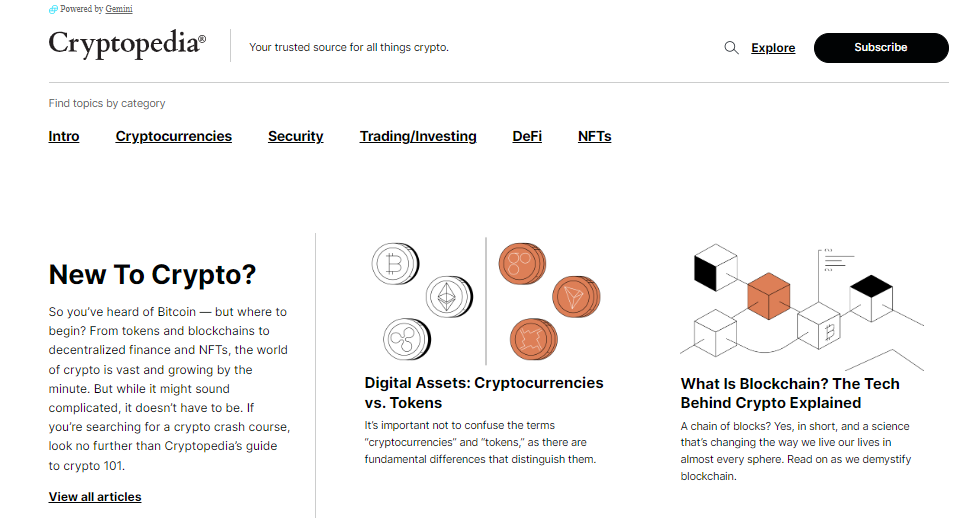 In the vast and sometimes complex world of cryptocurrencies, having access to reliable educational material can make all the difference. That's where Gemini's Cryptopedia comes into play.
Cryptopedia is Gemini's dedicated educational site, designed to address the questions and concerns of both novice and experienced cryptocurrency traders. Recognizing the lack of comprehensive education available as a barrier to wider crypto adoption, Gemini has taken the initiative to bridge this gap.
Whether you're looking for answers to basic questions or seeking in-depth knowledge about specific topics, Cryptopedia has you covered. From cryptocurrency trading and security to the decentralized finance ecosystem and even the intriguing world of NFTs, you'll find a wealth of information to expand your understanding.
What sets Cryptopedia apart is not just the breadth of topics covered but also the user-friendly approach it adopts. The educational material is presented in a clear, engaging, and conversational tone, making it accessible to users of all levels. Gemini understands that educational resources need not be dull and dry; they can be informative and entertaining at the same time.
Account Verification
Here is a step-by-step process of account creation and verification.
Step 1: Register on Gemini.com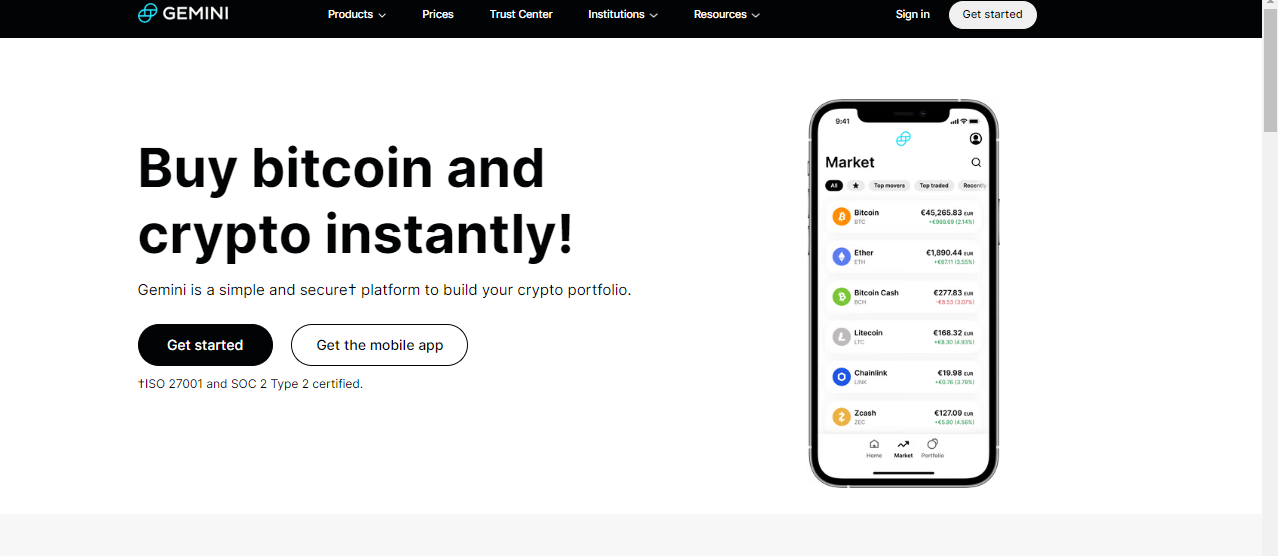 Head over to Gemini.com and click on "Get Started" at the top of the page. This will create a new account for you.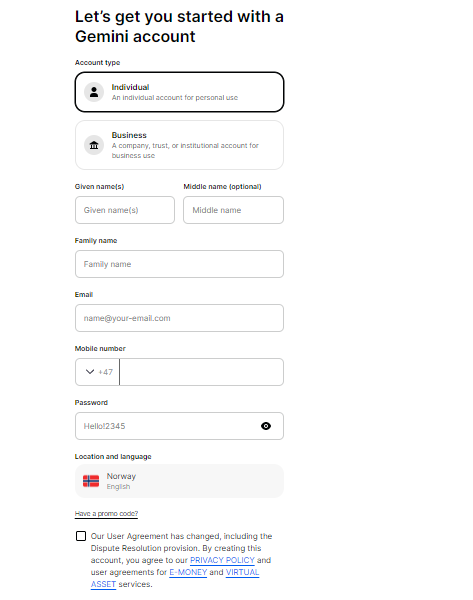 Fill in your full name, email address, and password on the next page. Take a moment to read the "User Agreement" and "Privacy Policy" to familiarize yourself with Gemini's terms.If you're happy with the terms, click on the link "Create my account."
Step 2: Create Your Account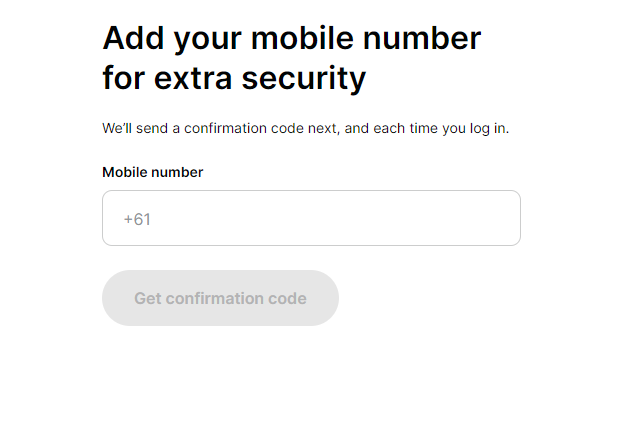 Next, provide your phone number. Make sure it's your correct number as it's part of the verification process. You'll receive a code on your phone for two-factor authentication. Enter the code in the corresponding box to verify your phone number.
Step 3: Link Your Bank Account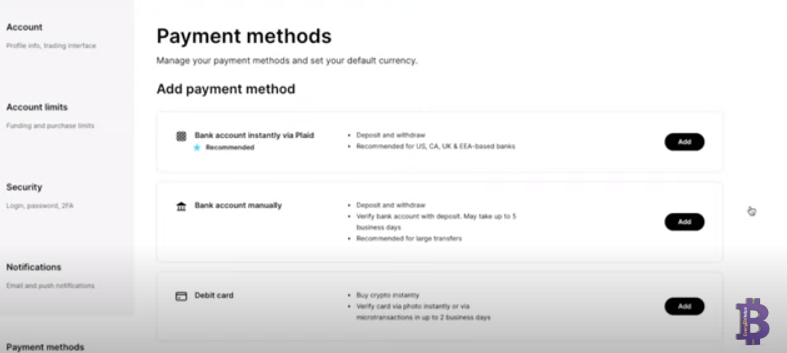 Now, it's time to link your bank's savings account details to your Gemini exchange account. This will allow you to add US dollars and make future transactions smooth and hassle-free. Simply answer the questions and provide the necessary information as prompted.
Step 4: Identity Verification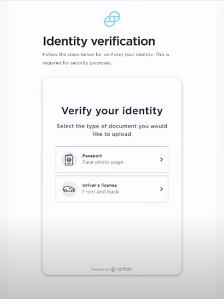 Gemini requires identity verification for compliance and security purposes. They ask for both a photo ID and proof of address. You can use your passport as a photo ID.
As for proof of address, you can provide a full-page scan of a utility bill, bank statement, cable bill, driver's license, or mobile phone or internet bill. Follow the instructions to submit the required documentation.
Step 5: Wait for Verification
After submitting your documents, the verification process will take one to three days. Rest assured, Gemini is diligently reviewing your information to ensure a secure trading environment.
Trading Features
If you are looking for advanced trading experience, Gemini ActiveTrader is for you. This robust platform is tailored for professional crypto traders who want to take their trading to the next level.
One of the most enticing perks of using Gemini ActiveTrader is the lightning-fast trade execution. In mere microseconds, your trades are executed, allowing you to seize opportunities in real time. And that's not all! ActiveTrader offers a plethora of order types and execution options, empowering you to customize your trading strategy to fit your needs.
But wait, there's more! Gemini ActiveTrader provides access to advanced charting features that let you leverage technical indicators. Spot trends, analyze patterns, and make informed trading decisions with confidence. Gemini's ActiveTrader platform uses maker-and-taker fees. ActiveTrader's fee schedule is as follows:
Gemini ActiveTrader Fees
30-Day Trading Volume
Maker Fee
Taker Fee
$0 to $9,999
0.20%
0.40%
$10,000 to $49,999
0.10%
0.30%
$50,000 to $99,999
0.10%
0.25%
$100,000 to $999,999
0.08%
0.20%
$1,000,000 to $4,999,999
0.05%
0.15%
$5,000,000 to $9,999,999
0.03%
0.10%
Exchange fees
Spot Trading Fees
For spot market trading, Gemini uses a maker-taker fee structure. There is a separate fee of 0.03-0.4% for instant purchases. A spread is also charged by Gemini, which is not always displayed when purchasing.
Type
Fee
Maker
AdvancedTrader fee: 0-0.2%

Stablecoin trading fee: 0%

Taker
AdvancedTrader fee: 0.03-0.4%

Stablecoin trading fee: 0.01%

Spread
Web Order: 0.5%
Withdrawal Fees (FIAT)
Free (for maximum 10 withdrawals per month)
Withdrawal Fees (Crypto)
Depending on the cryptocurrency, cryptocurrency withdrawals are charged a flat fee or a dynamic fee. The Ethereum blockchain and ERC20 tokens have dynamic fees that change based on the current network fees for that blockchain.
There is a flat fee for other cryptocurrencies. The exchange's stablecoin, Gemini Dollar (GUSD), has no withdrawal fees.
Security
Gemini stores a small portion of your cryptocurrencies in an online hot wallet that is not only easily accessible but also insured. Two-factor authentication (2FA) adds an extra layer of security, requiring authentication for logins and withdrawals, keeping your account secure.
Gemini supports web authentication with hardware security credentials, making it even more robust. To prevent attacks, certain operations are limited, ensuring the safety of your assets. Encryption is employed to safeguard sensitive data, keeping it out of the hands of unauthorized individuals.
But what truly sets Gemini apart is its commitment to security. As an authorized New York trust company, Gemini undergoes regular cybersecurity audits by the New York Department of Financial Services. It proudly holds certifications such as SOC 1 Type 2, SOC 2 Type 2, and ISO 27001, making it a trusted and reliable platform.
Customer Support
When it comes to customer support, Gemini takes the lead in providing an exceptional experience. Their dedicated team is always ready to assist you on your cryptocurrency journey. Gemini ensures a prompt response to your email inquiries, typically within the same day during American business hours.
Gemini offers two convenient channels to reach its support personnel. First, you can easily send a message by filling out a request form on their website. Remember to include the email address associated with your Gemini account for a swift and comprehensive response.
Alternatively, if you prefer the immediacy of a conversation, just pick up the phone and dial their number. A friendly representative from Gemini will be there to assist you.
Conclusion
If you're a US citizen looking for a highly secure and regulated cryptocurrency exchange, then Gemini should be at the top of your list. With its strong compliance with the NYSDFS regulations, Gemini offers a safe and reliable platform for Bitcoin and Ethereum trading services.
Not only does Gemini provide a trustworthy environment, but it also boasts low trading fees, making it an attractive choice for both seasoned traders and newcomers.
Crypto enthusiasts have been singing praises for Gemini, applauding its market-leading features and the multitude of protection measures in place for clients. With positive reviews and a reputation for reliability, Gemini stands out as one of the best crypto exchange trading platforms available.
Whether you're a new investor or an experienced trader, Gemini offers a user-friendly experience that caters to a wide variety of crypto enthusiasts.
FAQ
How does Gemini Earn impact its other services and products?
Gemini Earn has no impact on other services or products offered by Gemini. Customers' assets are held securely and are accessible for withdrawal at any time on the Gemini Exchange and in Gemini Custody.
Is Gemini a Reliable Platform?
Gemini has established a strong reputation for reliability. This platform is highly advanced, equipped with robust security features designed to safeguard your cryptocurrencies.
Is Gemini a Scam?
Not. Gemini is a fully legitimate exchange and is not involved in any fraudulent activities.