PayPal is one of the best ways to purchase cryptocurrencies. However, buying cryptos from the PayPal app directly can be tricky as this feature is only available in the United States. Users from other areas can use reputable crypto exchanges to buy digital assets using PayPal.
Our recommendation to purchase cryptocurrencies with PayPal is Bybit. The Bybit Exchange is one of the largest crypto trading platforms with low fees and hundreds of supported cryptos. In the P2P section, users can purchase various cryptos using PayPal.
Can I Buy Cryptos with PayPal?
Yes, buying cryptos with PayPal is possible. Purchasing cryptos such as Bitcoin or USDT with PayPal is not only fast and secure but also very convenient. Paypal is known as one of the most reliable payment providers worldwide, so buying cryptos with it sounds like a no-brainer.
In this guide, we will share the three cheapest and most reliable places where you can securely buy Bitcoin and other cryptos with PayPal.
Bybit – Lowest Fees PayPal transactions
Bitvavo – Best PayPal purchases in Europe
Paxful – Reputable P2P alternative
Buy Cryptos with PayPal (Step-by-Step)
You can watch our YouTube video below, or read the full guide on our website on how to purchase cryptocurrencies with PayPal.
1. Buy Cryptos With PayPal on Bybit
The best and easiest way to buy cryptocurrencies using PayPal is Bybit. With over 400 supported cryptos, 30 supported fiat currencies, low fees, and a comprehensive trading market, Bybit excels as the best crypto exchange that supports PayPal to buy cryptos with 0% P2P transaction fees. The process is simple and straightforward. Follow our step-by-step guide to easily buy any crypto with PayPal.
1. Register & Verify on Bybit
If you don't have a Bybit account yet, go to the official Bybit website to register an account. As Bybit is a legitimate crypto exchange, you must verify your identity with the KYC process. This requires personal details, including a government-issued ID or Passport.
2. Go to the P2P Section
After your Bybit account is verified, head over to the P2P trading section. In the top left corner, hover over "Buy Crypto" and then select "P2P Trading (0 Fees)" in the drop-down.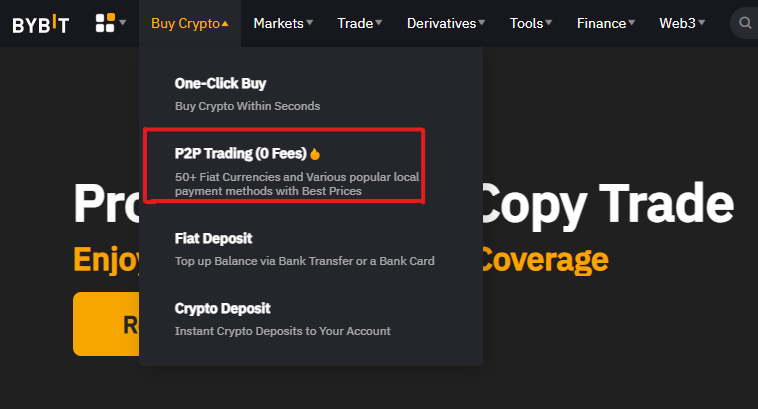 3. Choose your Currency and Payment Method
In the P2P section, you can filter for hundreds of metrics. Below, you will find all the important things to look at, including crypto, fiat, payment method, and initiating the transaction.
Select the crypto you wish to purchase. We recommend buying USDT, as you can use USDT to purchase any crypto on the Bybit spot market.
Set your local fiat currency. Bybit supports over 50 currencies, so yours will most likely be supported, too.
Choose PayPal as your payment method.
Click on "Buy USDT" to initiate the transaction.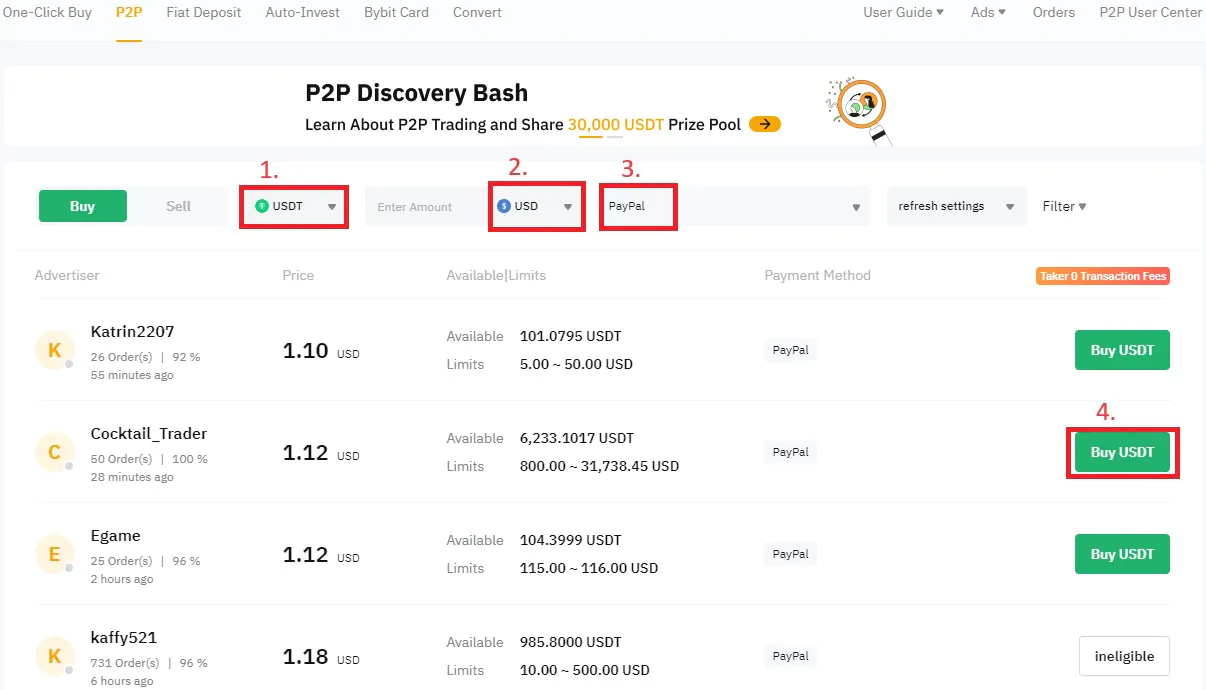 4. Choose How Many Cryptos You Want To Buy
Put in how many cryptos you wish to buy. Using PayPal. Note that every seller has different limits and requirements. Also, the payment duration is 15 minutes. After confirming that you are good to go, click on "Buy."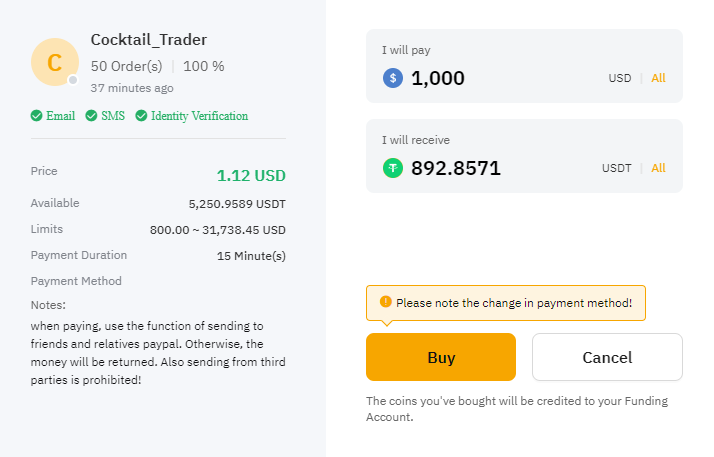 5. Finalize The Transaction
In the last step, you should verify that all details are correct. Also, read the message provided by the seller. In most cases, they request the payment to be done through the PayPal "Friends and Family" option. Also, your Bybit name must match your PayPal name. As mentioned earlier, the transaction must be done within 15 minutes.
If you can not use Bybit to purchase cryptocurrencies due to restrictions and regulations, you can try out the best alternatives to buy cryptos with PayPal.
Bitvavo is the best alternative to buy cryptos using PayPal, as the function is directly integrated. European users will have a great time using Bitvavo, as Bitvavo is one of the most reputable crypto exchanges in the European region. Alternatively, you can use Paxful to buy Bitcoin and other digital assets with PayPal.
2. Buy Cryptos With PayPal on Bitvavo
Bitvavo is a fully regulated and licensed crypto exchange in Europe. With a beginner-friendly interface, hundreds of supported cryptocurrencies, and great on- and offramp options for Euros, Bitvavo is one of the best ways to buy cryptos with PayPal. The process is very simple.
Sign up on Bitvavo
Verify your identity
Click on "Deposit €"
Select "PayPal" as your deposit method.
Choose your desired amount and preview the transaction.
Click on "Confirm and deposit" to initiate your crypto purchase using PayPal. You will then be redirected to the PayPal website, where you have to finalize the transaction with your PayPal account.
Once your deposit arrives, you can go back to the Bitvavo crypto trading market to purchase your cryptocurrencies.
3. Buy Cryptos With PayPal on Paxful
Paxful is one of the largest P2P crypto trading platforms in the world. With over 100 supported payment methods, PayPal is also supported. The buying process on Paxful is very simple. However, one key downside of buying cryptos on Paxful with PayPal is the high transaction fees or spread, which can be as high as 20%.
Go to the official Paxful website and register an account.
Select "PayPal" as your payment method and select your fiat currency.
Browse through the offers on Paxful and initiate the transaction by clicking on "Buy."
Finalize the transaction. Make sure to read the offer terms and the seller's message so that you comply with all requirements.
Bottom Line
Buying cryptos with PayPal is a simple process if you know the right platforms. The best and cheapest option to purchase cryptocurrencies, such as Bitcoin, Ethereum, USDT, and more, is Bybit. The Platform is an excellent crypto exchange that supports PayPal to buy digital assets. Not only is Bybit great for buying cryptos, but you can also trade cryptos with low fees on the spot and futures market with up to 100x leverage. With over 400 supported cryptos, it is safe to say that you will find your desired cryptocurrencies on the Bybit crypto exchange.