The Importance of Low Fees in Crypto Trading
Trading cryptocurrencies can be very profitable. However, one factor that is often overlooked is trading fees and commissions. They can range from anything between 1% to as low as 0% per trade. Even though it might not sound like a lot, a fee difference of only 0.01% can make a huge difference in the long run, especially when you are margin or leverage trading.
In this article, we will present to you the best cryptocurrency trading platforms with no fees. Yes, you got that right; The best 0% fee crypto exchanges!
Aside from having 0% fees, we also took things into consideration, such as liquidity, as these are both important factors that have a massive impact on your profitability.
MEXC
MEXC is one of the most popular centralized crypto exchanges. Over the last couple of years, MEXC has proven to be one of the most reliable crypto trading platforms and is now a top global player. With high liquidity, high leverage, and 0% fees, MEXC strives to offer the best environment for crypto traders from all around the world.

Spot fees
The spot fees on MEXC Global are 0% for both makers and takers. That means you can trade cryptocurrencies on the MEXC spot market without paying any fees.
In terms of spot trading volume as well as liquidity, they are ranking among the top 10 exchanges worldwide. This ensures that you get a good fill price for your orders, and you don't have to worry about impacting the price with your market orders.
Futures and Derivatives Fees
On the perpetual futures market, MEXC has a unique fee structure too. With 0% maker fees, you can even trade cryptos with 200x leverage on MEXCs derivatives market without paying any fees. As of 2023, no other centralized crypto exchange is offering this feature. The taker fees of 0.02% on MEXC are also beating the competition by a mile. The industry standard for taker fees is 0.06%, so it is safe to say that MEXC has the best leverage fees in the crypto space. And if you utilize maker orders, you can even trade with 0% fees on MEXC.
In terms of spread, MEXC has an average spread of $0.1 which is the industry standard. However, the liquidity is where MEXC shines. Compared to other crypto exchanges, MEXC offers up to 5 times more liquidity. That means price impacts will be minimal, even for big orders.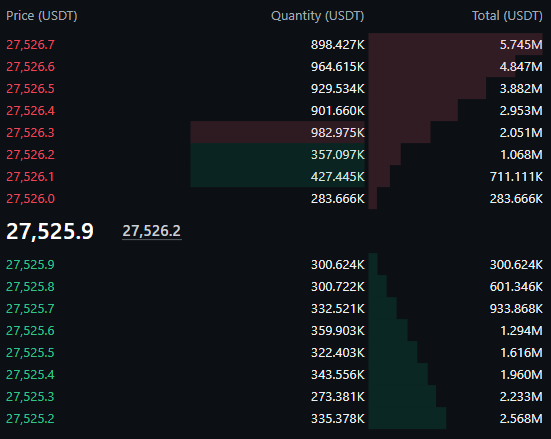 If you are interested in trading on MEXC Global, you can sign up here. If you want to learn more about MEXC, you can read our full review here.
Woo Exchange
Woo Exchange is a relatively new crypto trading platform. Woo is offering a perpetual futures CEX (centralized exchange) as well as a DEX (decentralized exchange). The centralized exchange is called WooX, which is the one we are covering in this section.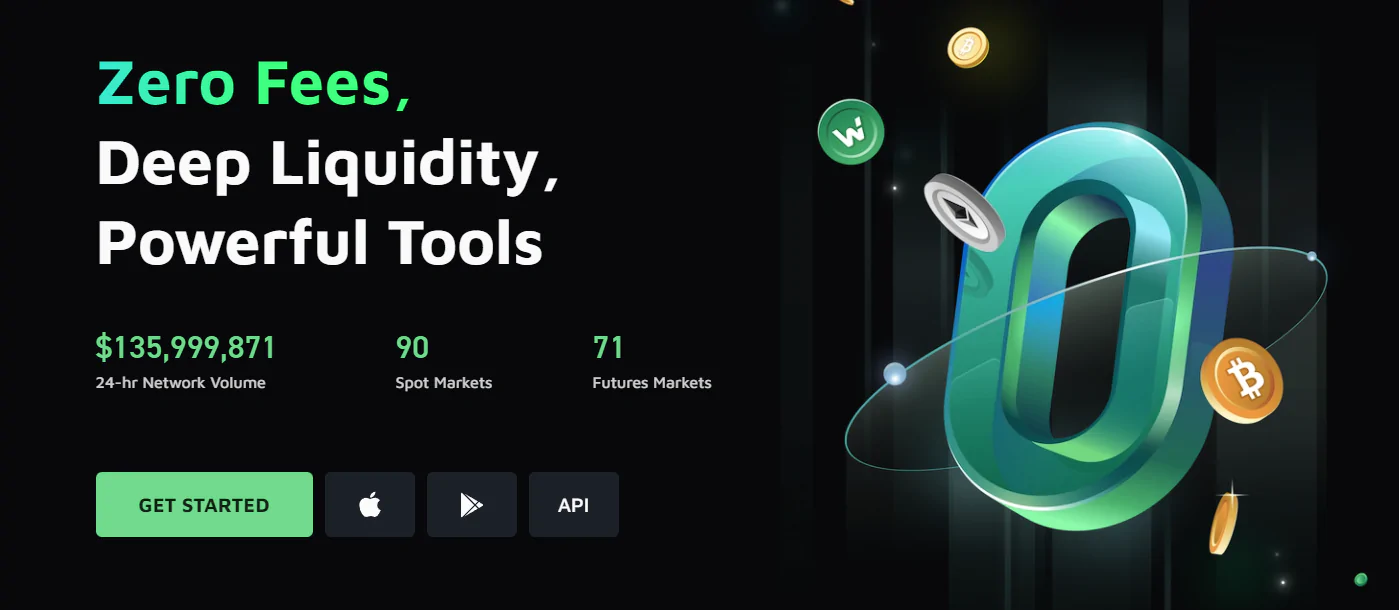 WooX is offering 0% fees for margin trading on their platform. However, this is only for users staking 1800 WOO Network tokens which is the native token of the Woo project. If you choose not to stake the required amount of Woo tokens, your fees will be set to 0.03% maker and 0.03% taker, which is still better than the industry standard.
Yet, it is important to note that these fees only apply to manual fees. That means that API trading will still cost you fees.
One downside of WooX is the spread and liquidity. As it is a relatively new project that was established at the end of 2020, WooX also has a relatively high spread of up to $5. This can be costly, especially for big orders with high margin. However, for small traders, WooX still seems like a great place to trade without having to pay fees.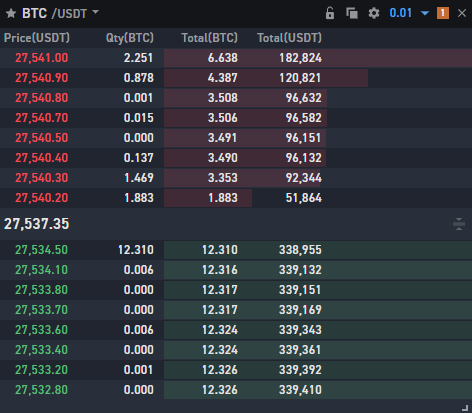 DYDX
DYDX is one of the biggest decentralized crypto exchanges, offering fees as low as 0% and leverage up to 20x. The big upside of decentralized exchanges is that you don't have to keep your money on the exchange. You simply connect your wallet, such as metamask or trust wallet, and you can start trading without having to worry about the exchange stealing your funds.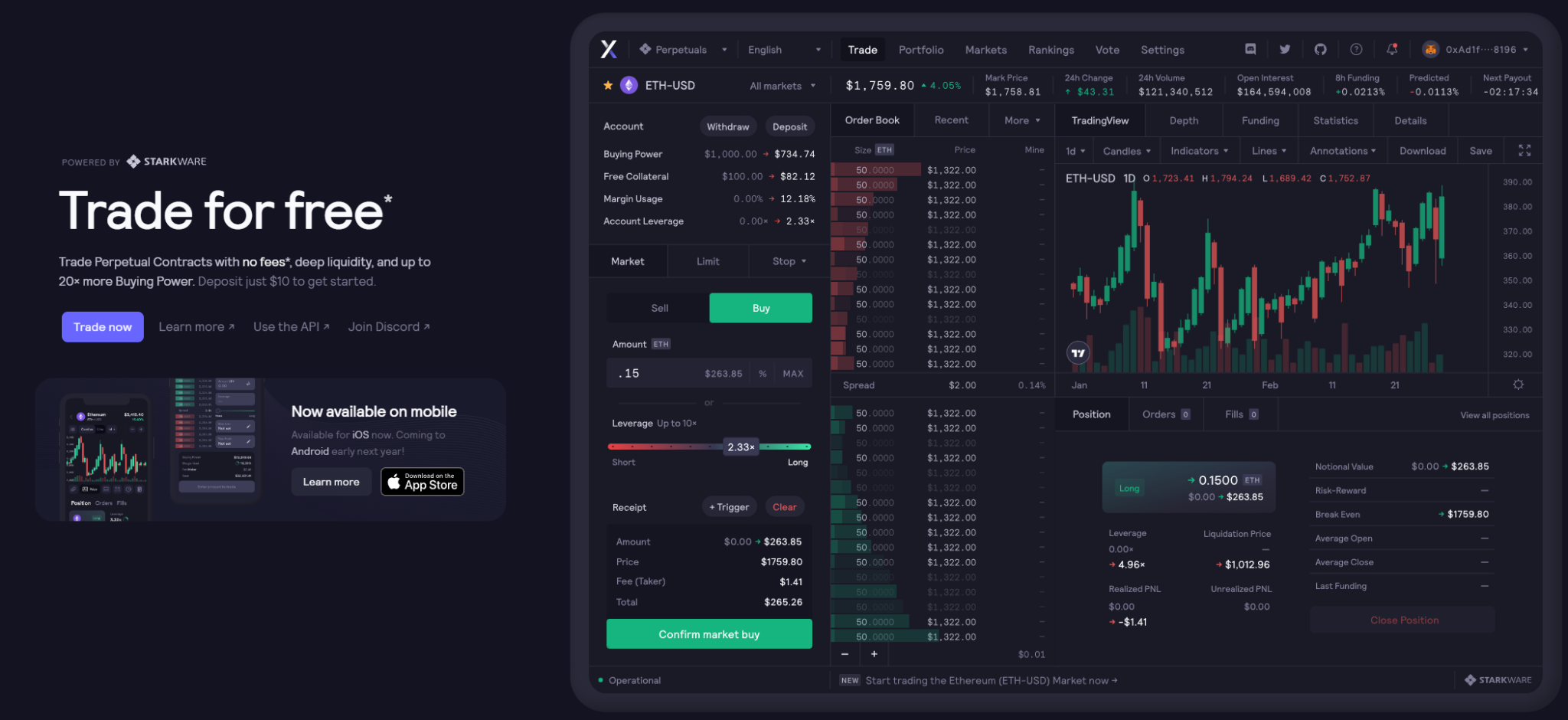 DYDX is ranking among the top exchanges in terms of trading volume and can even compete with some major centralized crypto exchanges.
When it comes to trading fees, DYDX offers free crypto trading for up to $100,000 in monthly trading volume. This is great, especially for the average retail trader that does not have massive funds for trading. DYDX is offering a fair environment for crypto traders that are new or just play with small position size on the side. Their motto is "We'd rather give free trading to average users and charge professional traders."
Once the threshold of $100,000 trading volume per month is met, the fees will be set to 0.02% maker and 0.05% maker, which is slightly better than the industry standard of 0.02/0.06.
Conclusion
As of 2023, it is pretty hard to find legit crypto exchanges with 0% fees. There are more crypto exchanges that offer 0% fees, but we decided not to include them due to security and legitimacy concerns. We only want to provide you with reliable information about safe and legit crypto exchanges.
In terms of centralized exchanges, MEXC is the only top-tier exchange (with proof of reserves and a clean track record) that offers 0% fee trading without any requirements.
If you want to trade on WooX, you must stake a certain amount of WOO network tokens to unlock the 0% fees.
DYDX is the best decentralized crypto exchange offering 0% fees until you reach a 30 day trading volume of $100,000.
At the end of the day, the most important thing is that you are happy with the exchange that you choose. We recommend you try the exchanges and see for yourself which one you like most!