Scalping cryptocurrencies is arguably the most profitable way of trading. However, there is one key aspect with a massive impact on profitability that is often overlooked.
Finding the best crypto exchanges for scalping is the most important factor to consider. It is important to look out for things such as low fees, tight spreads, deep liquidity, high leverage, and reliability. This ensures the best value for money and that you can get quickly in and out of your trades.
Our traders have tested over 50 tier-1 crypto exchanges for scalping cryptocurrencies. In this guide, we will share the top 6 crypto exchanges for scalping.
Below, you will find the list of the top 5 crypto exchanges for scalping strategies.
What is Crypto Scalping?
Crypto scalping is the fastest way of trading, where you get in and out of positions within a few minutes or even seconds. The goal is to capitalize on slight market inefficiencies and mispricings based on technical analysis.
This trading approach requires deep focus and an excellent understanding of micro market structure and behavior. While scalping strategies are the most profitable way to trade cryptocurrencies, they are also the riskiest.
You can quickly gain a lot of money but also lose a lot if the market goes against you. That's why it is important to practice before starting with futures trading on the live market.
Key aspects when looking for a crypto scalping exchange
There are some crucial things to consider before signing up on a crypto exchange for scalping. These factors will play an important role in your profitability.
Trading fees
As crypto scalping strategies have profit targets of less than 1%, one of the most important things to look out for is trading fees. When the fees are too high, the commissions for opening and closing trades will eat up all of your profits.
In terms of trading fees, MEXC is the best option for crypto trading, with 0% fees on the spot market and 0.01% taker fees on the futures market.
Liquidity
As crypto scalpers usually use market orders to get into positions, they are taking liquidity from the limit order book. Having a crypto exchange with deep liquidity, or in other words, a thick order book, is absolutely crucial for cryptocurrency scalp traders.
In terms of liquidity, OKX is the clear market leader. OKX has a 0.1% depth of over $100 million.
Spread
The spread is the difference between the bid and ask orders in the order book. It is technically a hidden fee that many traders overlook. This is where market markers earn their profits. If you are scalp trading, you want to trade on a crypto exchange with a low spread.
When comparing the spread, MEXC is the best crypto exchange for scalping, with a spread of $0.01
Volume
You need a decent trading volume on the crypto exchange to drive the market in your desired direction. If you are scalping on crypto exchanges with low trading volume, the market tends to be slower and not as reliable.
The highest volume crypto exchange is Binance. With a daily trading volume of over $20 billion, Binance is the number one exchange in terms of high trading volumes.
Top 5 Crypto Scalping Exchanges
1. MEXC – Best overall
Launched in 2018, MEXC is the premier crypto exchange for scalping strategies. This is due to its generous fee structure and advanced trading features. MEXC has over 10 million users and reaches a daily trading volume of over $5 billion.
With spot fees at 0%, spot scalpers can enjoy the best value for money. Additionally, the spot spread for Bitcoin is just $0.1.
However, crypto scalping is normally executed on the futures market with high leverage. Offering 200x leverage for cryptocurrencies such as Bitcoin, Ethereum, Ripple, Cardano, and more, MEXC is the best crypto scalping platform. The futures trading fees on MEXC are 0% maker and 0.01% taker. Maker fees apply to limit orders, while taker fees apply to market orders. These are the lowest trading fees that we have found after analyzing over 50 crypto exchanges for scalping.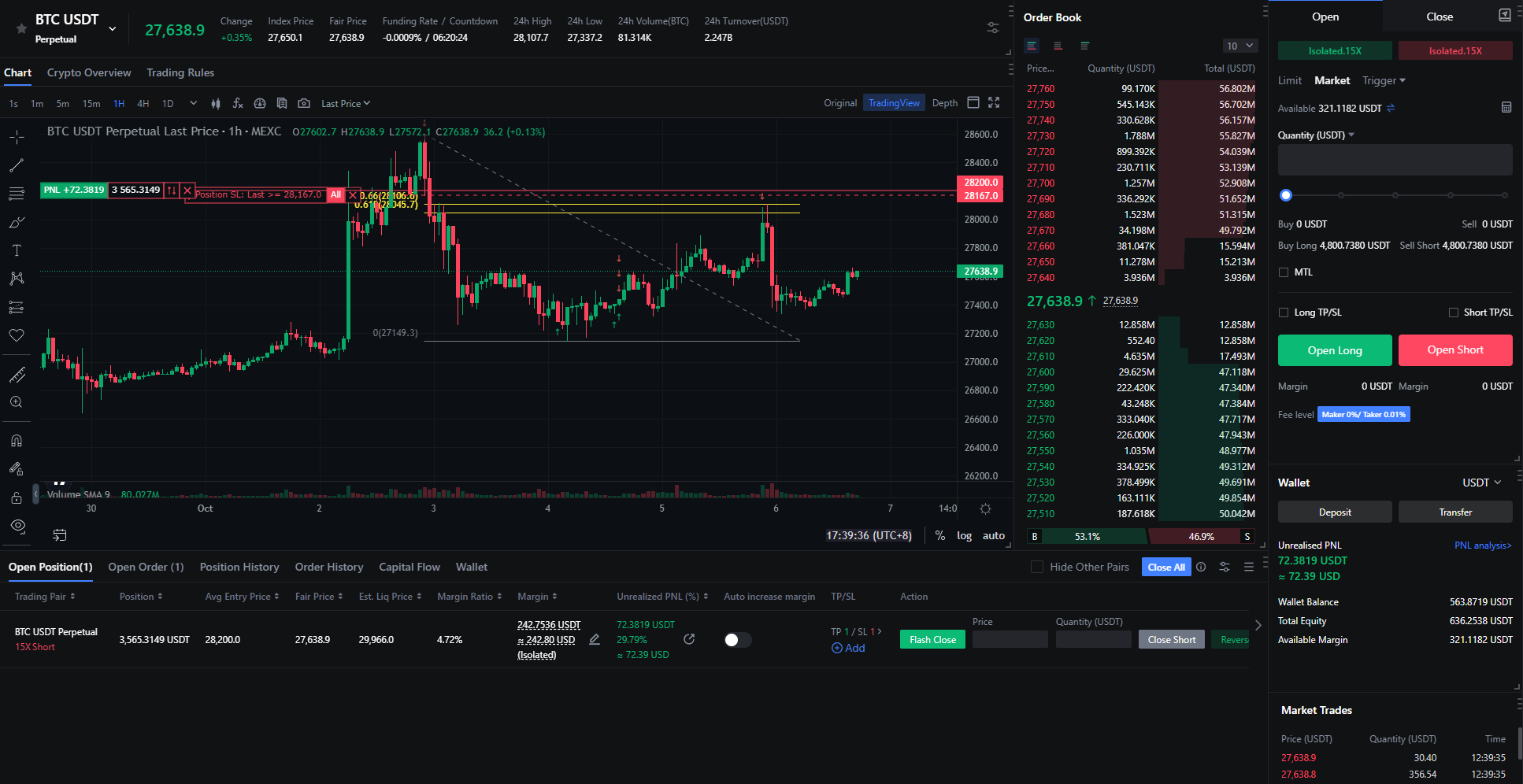 Just like on the spot market, the Bitcoin spread on the MEXC futures trading platform is $0.1. In terms of liquidity, MEXC ranks second with a 0.1% depth of over $20 million. That means $20 million worth of market orders have to be executed to move the price by 0.1%. This amount of liquidity ensures the best entry prices.
Notably, one of MEXC's key selling points is its extensive number of supported cryptos. 1700+ digital assets can be traded on the MEXC exchange.
What we love most about MEXC is the fact that they offer trading bonuses worth up to $20,000. This is an exclusive bonus for advanced traders and serious scalpers with high trading volume.
With a massive incentive, 1700+ cryptos, the lowest fees, low spreads, 200x leverage, and deep liquidity, it is safe to say that crypto scalpers will have the time of their lives on MEXC.
Read our full MEXC review to learn more about the exchange.
2. BTCC – Best for US citizens
BTCC prides itself on being one of the oldest and most reliable crypto exchanges in the world. Launched in 2011, the crypto platform has a great track record and is trusted by millions of users, amassing a daily trading volume of $8 billion.
The focus of BTCC is delivering the best crypto futures trading exchange. With low trading fees, deep liquidity, and a robust and secure platform, BTCC excels as one of the best crypto scalping trading platforms.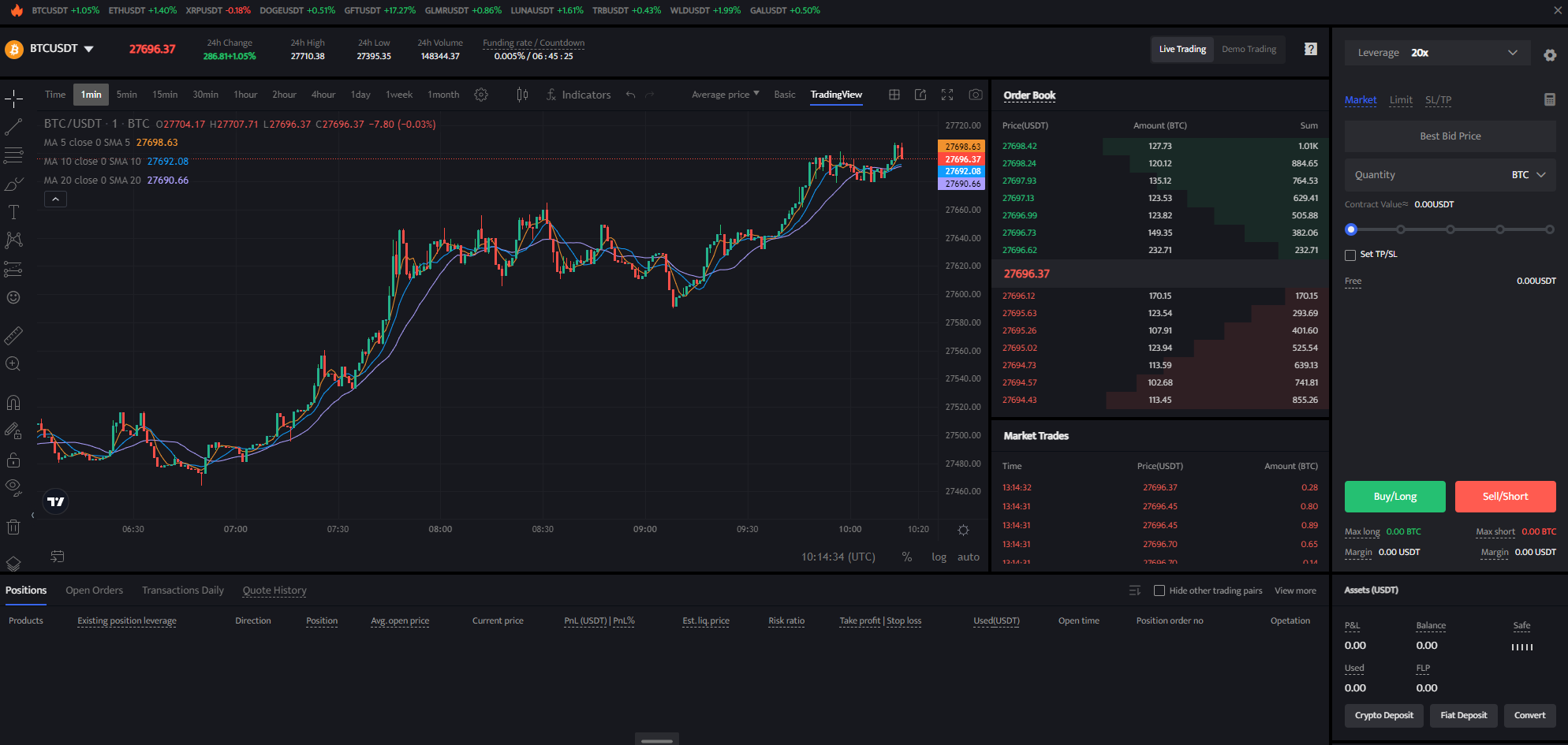 With trading fees starting at 0.045% for both makers and takers, BTCC offers some of the lowest commissions in the crypto market. Traders with a lot of capital will be pleased to hear that lower fees of 0.01% can be unlocked based on your 30-day trading volume.
The maximum leverage on BTCC is 225x, and the platform plans to expand the leverage to up to 250x.
BTCC also ensures low slippage with a 0.1% depth of $10 million. The spread on Bitcoin is $0.5.
A noble feature of BTCC is its free demo trading option. If you want to practice scalping on BTCC, the demo section is perfect for you, as you can practice crypto trading without having to risk your money.
For new traders, BTCC has a welcome bonus of $11,000. This bonus can be used for futures trading and executing your scalping strategy.
Read our full BTCC review to learn more about the exchange.
3. OKX – Deepest liquidity
OKX is one of the largest crypto derivatives trading platforms in the world, with an average daily trading volume of over $10 billion. The exchange caters mostly to experienced traders looking for the most advanced trading tools.
Crypto scalping on OKX can be done on the derivatives market with up to 125x leverage on over 300 digital assets.
Where OKX shines most is its liquidity. With a 0.1% depth of over $100 million, OKX is the number one crypto exchange for scalpers seeking deep liquidity.
In terms of trading fees, OKX is fairly average, with 0.02% maker and 0.05% taker fees. However, the more you trade, the more you will be safe. The lowest available fees on OKX are -0.005% maker (you are paid for limit orders) and 0.015% taker.
The spread on OKX is $1, which is slightly higher than the competition. However, the spread is still less than 0.00003% of the Bitcoin price.
With a well-designed trading interface, OKX offers a great trading exchange to execute your crypto scalping strategy.
Read our full OKX review to learn more about the exchange.
4. Bybit – Best reputation
Bybit is one of the most popular crypto exchanges among scalpers. This is due to its high security and robust trading platform. Over 20 million crypto traders trust the exchange for scalping, day trading, swing trading, and crypto investing.
What we love most about Bybit is its user-friendly trading platform, making it easy even for beginners to scalp the crypto market.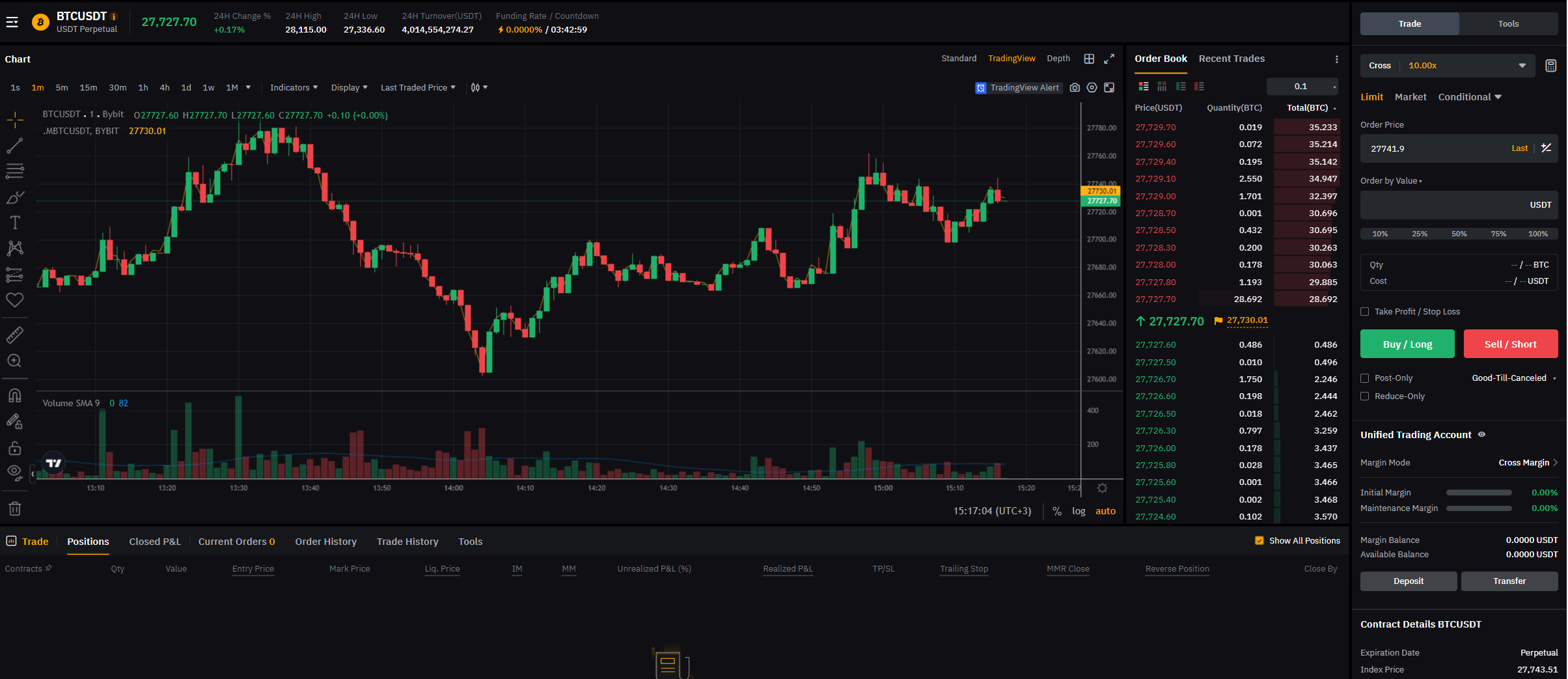 Aside from being very easy to use, Bybit has the most advanced trading tools, features, and order types.
Over 300 futures contracts can be accessed with up to 125x leverage, making Bybit a premier crypto scalping exchange.
Bybit ranks high in terms of liquidity, with an average 0.1% depth of over $15 million. This is more than sufficient to execute scalp trades.
In terms of trading fees, Bybit is fairly similar to OKX with average fees. The maker fees start at 0.02%, while taker fees start at 0.055%.
Where Bybit shines most is its new user bonus program. Up to $30,000 in trading bonuses can be claimed by new traders.
Read our full Bybit review to learn more about the exchange.
5. Binance – Largest exchange
Binance is the largest crypto exchange in the world, with over 100 million users. With a record-breaking daily trading volume of over $20 billion, Binance secures the number 1 spot in terms of activity.
What makes Binance an excellent crypto scalping exchange is its array of advanced trading features, order types, and low fees.
The trading interface on Binance is extremely comprehensive, making it the perfect choice for experienced and professional traders.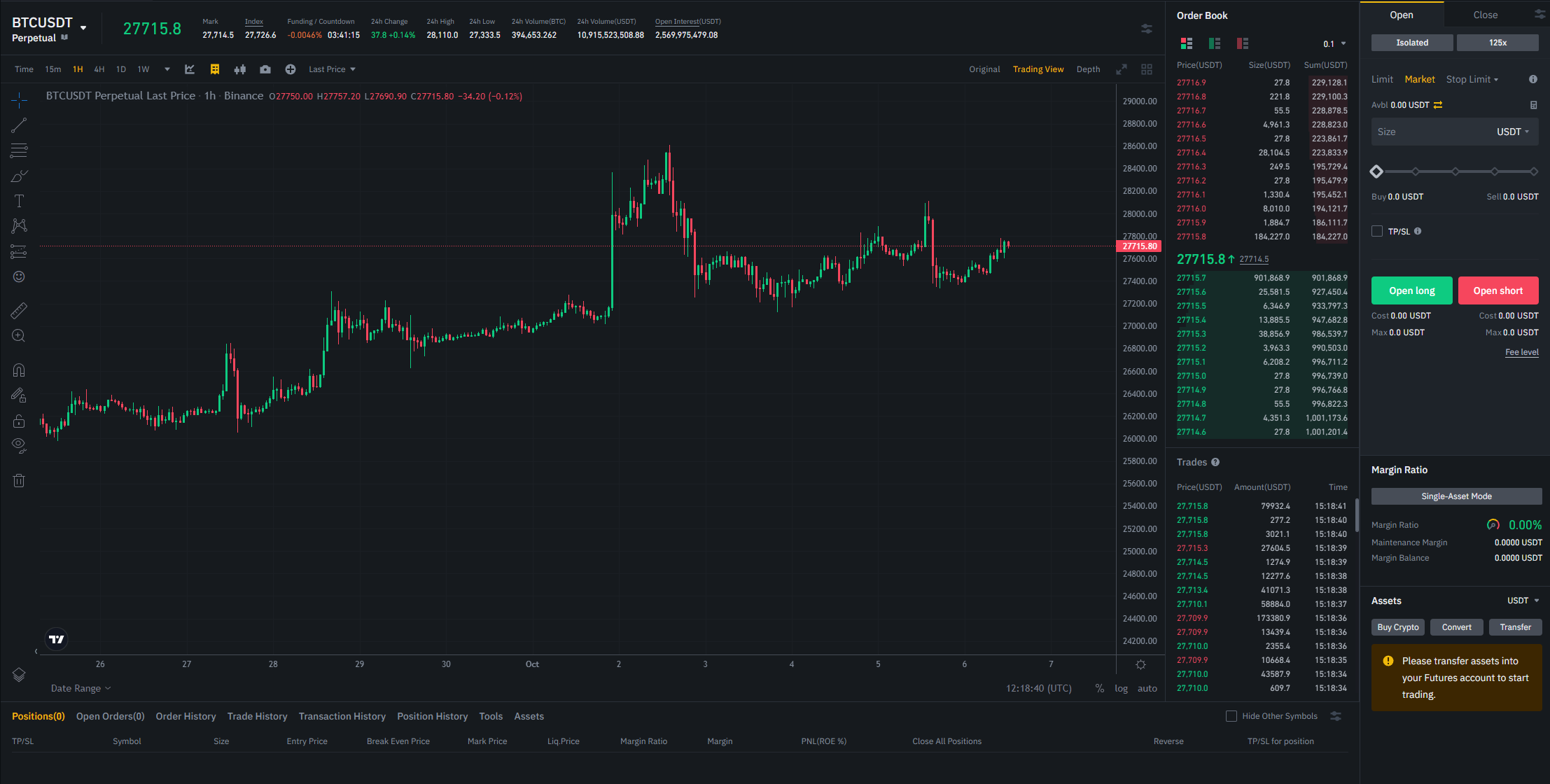 Binance offers great value for money with low futures trading fees starting at 0.02% maker and 0.04% taker. This fee structure ensures a smooth trading experience with low costs. Additionally, you can lower your fees based on your 30-day trading volume.
While Binance does not offer big bonuses and incentives like the other crypto exchanges do, we consider Binance to be a worthy contender of the best crypto exchange for scalping.
To learn more about the trading platform, you can read our full Binance review here.
Pros & Cons of Scalping Trading Cryptocurrencies
While making money quickly by scalping the crypto market sounds fantastic, there are also some downsides. Below, we will share the most important pros and cons of cryptocurrency scalping.
Make sure that you are well familiar with all the benefits and risks involved in crypto scalping.
| 👍 Scalping Pros | 👎 Scalping Cons |
| --- | --- |
| ✅ Most profitable strategy | ❌ Extremely risk |
| ✅ Many daily trading options | ❌ Hardest way of trading |
| ✅ Requires less capital | ❌ Requires most skill and discipline |
| ✅ Fastest way to make money | |
Best Tools for Crypto Scalping Strategies
If you want to do proper crypto scalping, there are some tools that we highly recommend. Below, we will share with you the best crypto tools for successful crypto scalping.
1. TradingView
TradingView is the most popular analysis tool for cryptos, stocks, forex, commodities, and more. The platform provides real-time market data from all crypto exchanges via API. Without TradingView, scalping cryptocurrencies seems pointless.
Joining TradingView is completely free and takes less than 30 seconds. For more advanced analysis features, TradingView offers paid plans starting at only $12.95. Right now, TradingView offers a 30-day free trial where you can test any plan completely risk-free.
2. ExoCharts
Exo Charts is the most popular order flow analysis tool for cryptocurrencies. The platform provides crypto traders with in-depth market data about order flow, footprint charts, open interest, cumulative volume delta, TPO charts, and much more. It is by far one of the most powerful tools to accelerate your scalping profitability. ExoCharts is a paid product, and the free version offers no value. However, a free trial is available, meaning that you can try ExoCharts free of charge!
3. TradingLite
TradingLite focuses on providing real-time market data about buy and sell limit orders. This will help you identify strong support and resistance levels. You can also spot potential spoofing going on in the order book with TradingLite. You can get started with TradingLite completely for free. For more advanced features, you can switch to a paid plan starting at $12.95.
4. CoinMarketMan
A key part of becoming a successful crypto scalping expert is tracking your performance. CoinMarketMan is the best tool to journal, track, and analyze your trades. The tool is completely automated and can be integrated into your crypto exchange via API.
Final Thoughts
Making money quickly is the dream of every crypto trader. Scalping is the perfect way to do exactly that. The largest gains can be made by learning scalping trading. It is the fastest way of trading but also the hardest way of trading.
Therefore, it is crucial to have laser focus while trading. On top of that, you must make sure to trade on a crypto exchange suitable for scalping. That means you need a trading platform with low fees, low spreads, low slippage, deep liquidity, and great reliability.
Overall, the best crypto scalping exchange is MEXC. This is due to their low trading fees of 0% maker and 0.01% taker fees, high leverage of 200x, record low spreads of $0.1, and reliable interface.
For users from the United States, we recommend checking out BTCC. BTCC is the best crypto scalping exchange for US citizens.