ByBit is a cryptocurrency derivatives exchange that was established in March 2018. It has since seen exponential growth and is now one of the most popular exchanges for cryptocurrency traders. In this post, we will take a look at some of the features that make ByBit stand out from the competition. ByBit is a leading cryptocurrency trading platform that's making waves in the crypto investment world. Offering fast, secure, and low-fee transactions, it allows users to trade Bitcoin, Ethereum, and other digital assets with ease. In this ByBit review, will go over all features, fees, and security to give readers an insight into its user experience.
Buy Cryptos on the Spot market with 0% commission
Invest and trade crypto with low fees
Quick Overview of ByBit.com
By Bit is a cryptocurrency exchange platform created to grant traders a safe, secure, and easy way to trade digital assets around the world. It has become one of the leading platforms due to its impressive user interface design, rich features, low fees, and a wide variety of trading pairs. Traders have praised By Bit for offering more than just spot exchange services; it also provides leverage trading opportunities with up to 125x leverage as well as derivatives products such as perpetual contracts backed by Bitcoin (BTC), Ethereum (ETH), EOS, XRP, and Tron (TRX).
Trading on By bit comes with various advantages that will keep any trader coming back:
• 24/7 Live customer support – Get help anytime you need from experienced customer service professionals who know their stuff about cryptocurrencies, allowing for efficient time management which is key in crypto markets;
• High Leverage – Execute trades quickly through high leverage options available on Bybit ranging between 1-125x leverages depending on the type of asset traded;
• Easily Scalable Interface – Responsive web UI specially designed for all desktop and mobile devices offers an intuitive experience while allowing access anywhere at your own pace, whether you're a novice or professional trader;
• Comprehensive Security Protocols – With multi-level security protocols including advanced encryption algorithm data transfer process, keeps your details completely private while personal accounts are kept secured away from hackers via a 2FA authentication system;
• Low Transaction Fees – All transactions appear super fast but most importantly cost very little compared to other exchanges!
• Over 4 billion USD volume traded every day
• Over 1 million users worldwide
• Highly rated reviews across popular review sites
• Fully compliant institutional-grade processing
• Growing list of unrestricted countries use supported
• Never hacked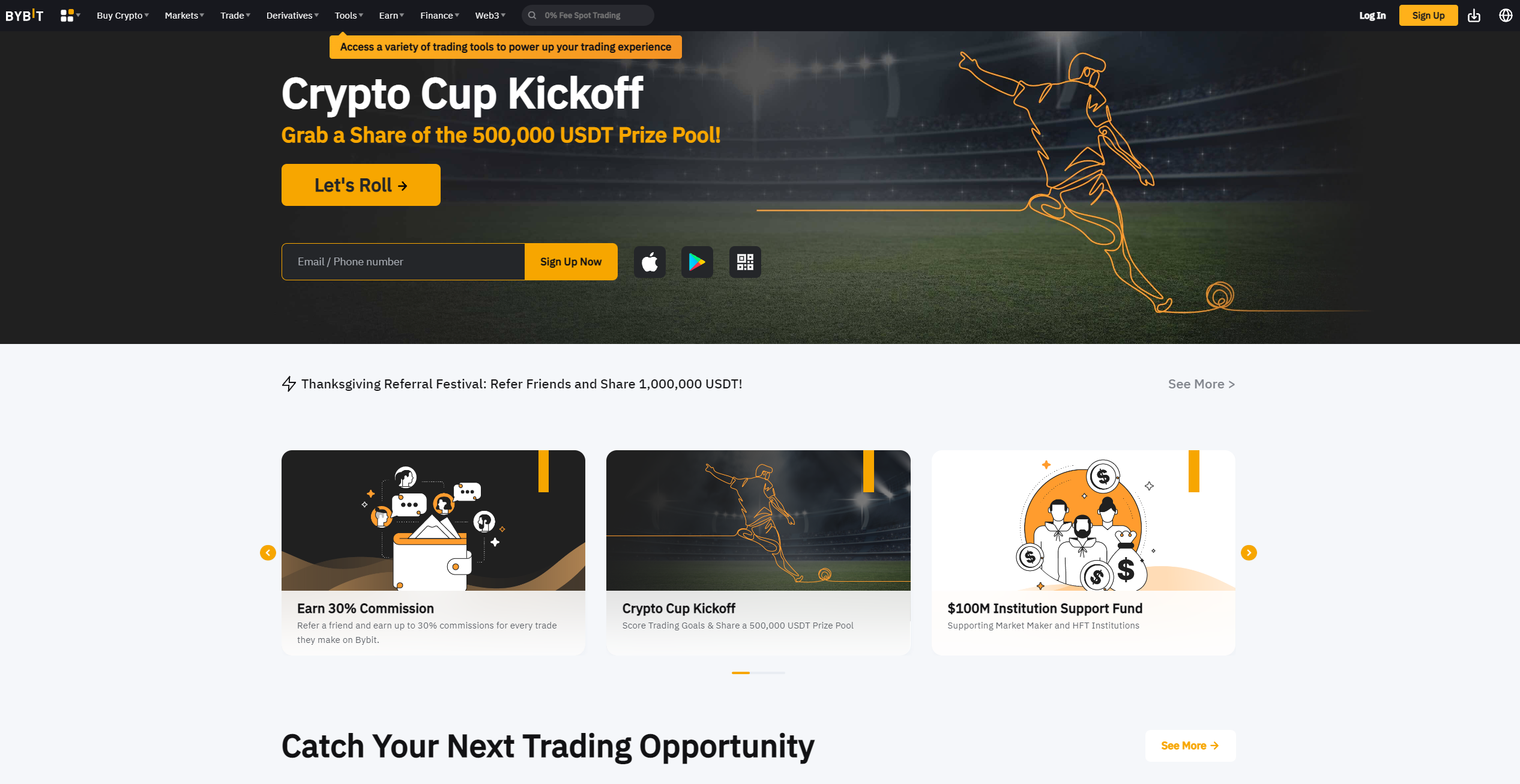 Bybit is one of the top cryptocurrency trading platforms in the world, with a total daily volume of over $4 billion and more than 1 million active users from around 150 countries. It is considered to be both secure and reliable – perfect for traders looking for an efficient way to trade digital assets like Bitcoin (BTC), Ethereum (ETH), and Ripple (XRP). Here we'll take a closer look at what makes this platform special, giving you an overview of its features and benefits.
One of the main features that sets ByBit apart from other exchanges is its advanced order types. On ByBit, traders can take advantage of Limit, Market, Stop Limit, Trailing Stop Loss and Take Profit orders. These order types allow for much greater flexibility in trading strategies and help users stay on top of their positions by setting risk thresholds automatically.
ByBit offers several trading options for its users including perpetual contracts, futures contracts, and margin trading with up to 100x leverage. The perpetual contracts offer up to $100 million in insurance fund coverage while the futures contracts include market orders, limit orders and stop orders with no expiration date or time limits. Finally, margin trading allows traders to increase their profits by leveraging their positions while limiting potential losses through various methods such as stop-limit orders and cross-margin trades.
Another notable feature is ByBit's lightning-fast speed. The exchange is powered by advanced technologies such as WebSocket technology which enables real-time data streaming and low latency execution. This means that users can easily maintain control over their positions even when market conditions change quickly. The web-based platform runs on HTML5 and includes an intuitive user interface with advanced charting tools as well as order forms. The mobile app also offers all the features available on the web-based platform, allowing users to trade on the go.
With high user engagement levels and security protocols in place, By Bit provides a reliable platform for those looking to trade digital currencies with confidence. ByBit also offers great security measures to protect user funds. All accounts are protected by two-factor authentication (2FA) which provides an extra layer of protection against hackers or unauthorized access attempts. Furthermore, all deposits are held in multi-signature wallets with several layers of encryption for maximum security.
Trading crypto on the spot market has become increasingly popular over the past few years. This is due to continually evolving technology and platforms that make it easier and more secure for traders to transact in crypto. ByBit is one of those platforms, offering a wide range of spot trading services, from basic trading functions to more advanced features for experienced traders. Let's take a look at some of the features ByBit offers its users. The most important thing about the spot market is that you actually own the coins that you buy there. That means you can withdraw them to other exchanges to transfer them to a wallet to store and hold them as a long-term investment.

3. Derivates Trading on ByBit (Perpetual Futures, Leverage)
Perpetual futures are derivative contracts that allow traders to speculate on price movements in an asset without having to own it. Unlike traditional futures contracts, perpetual futures do not expire—hence the term "perpetual"—making them an attractive option for traders looking for long-term hedging strategies or short-term price speculation. With low fees and high liquidity, they can also provide excellent opportunities for day traders looking to capitalize on market volatility. One of the main points about futures trading is that you can long and short. That means you can earn when the market goes up and also when the market goes down which is a big benefit and a reason why everybody should learn how to utilize all features of the perpetual futures market.
ByBit provides many advantages that make it one of the top platforms for traders interested in perpetual futures trading. First off, its fees are very competitive compared to other platforms; as a result, its users have access to more liquidity when entering and exiting positions quickly. Additionally, ByBit offers up to 100x leverage on some assets which allows users to maximize their potential profits or losses from trades.ByBit's platform makes it easy and secure for users to trade perpetual futures contracts with confidence. The platform supports all major cryptocurrencies including Bitcoin (BTC), Ethereum (ETH), Litecoin (LTC), XRP (XRP), EOS (EOS), and more! This allows traders to diversify their portfolios by taking advantage of price movements across different assets while minimizing their risk exposure. Furthermore, ByBit also offers advanced charting tools and order types including limit orders which allow users to create automated strategies tailored specifically to their goals and objectives.
If you're looking for a reliable platform for perpetual futures trading then ByBit is a good choice for you. The platform offers many advantages over its competitors—including low fees, high liquidity, and 24/7 customer support—and is perfect for both experienced investors as well as newcomers who want an easy way into crypto derivatives trading. Plus with its advanced charting tools and order types available at your fingertips you can easily execute sophisticated strategies customized just for you! Futures contracts on ByBit include market orders, limit orders and stop orders with no expiration date or time limits. Finally, margin trading allows traders to increase their profits by leveraging their positions while limiting potential losses through various methods such as stop-loss orders, trailing stops, and cross and isolated-margin trades.
Leverage trading on the futures market allows users to increase their profits significantly by taking larger positions than they would normally be able to do with regular spot trading. Furthermore, it also offers low fees starting at just a 0.01% maker fee and 0.06% taker fee per trade. Additionally, ByBit also provides users with 24/7 customer support via its live chat feature as well as its comprehensive educational resources. These resources help beginners understand how derivatives work before they start trading them.
As ByBit is an exchange built for professional traders, it also supports hedging. That means you can simultaneously be long and short. This is a rather advanced option but when utilized in the right way it can be very powerful. Traders use the hedging mode to protect themselves from price moves against their initial position. If you are in a long position and you expect the market to drop but you do not want to close your current position, you can open a short position. As this is a rather advanced feature, we have a full guide on hedging here.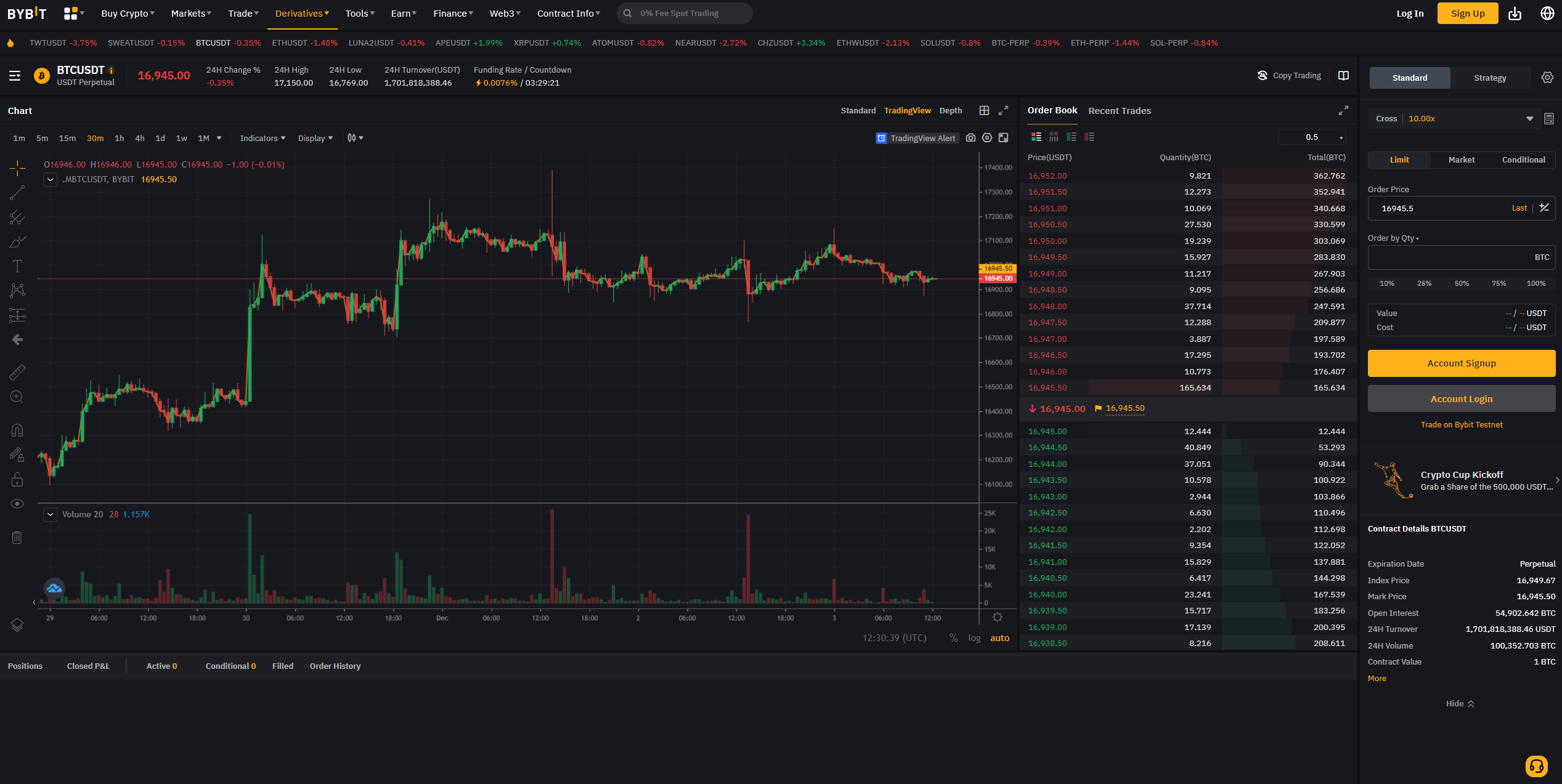 4. Fee structure on ByBit (Spot and Futures)
ByBit offers a very competitive fee structure. On the Spot market, the default fees start at 0.1% maker and 0.1% taker fees. Maker refers to limit orders and taker refers to market orders. If you are an active trader, you can lower your fees to 0.02% maker and 0% maker on the spot market. Also since September of 2022, ByBit introduced 0% fee trading until further notice for selected assets. This is an amazing feature as you can buy cryptos on the ByBit spot market without losing a single penny to fees.
On ByBits futures market, the fees are also some of the lowest in the industry. Starting at 0.01% maker and 0.06% taker fees, ByBit beats most of the competition. Only MEXC and Binance have lower fees. Depending on your trading volume, you can reach a higher VIP and Pro rank which results in even lower fees, as low as 0.01% maker and 0.01% taker fees. Below we attached the official fee spreadsheet of ByBit.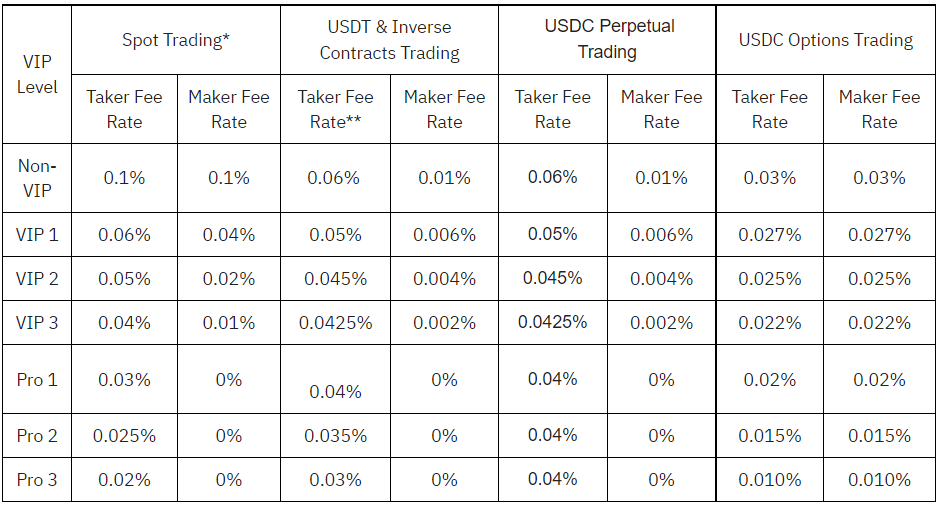 5. Grid Bot Trading on ByBit
ByBit Grid Bot trading is a fully automated trading system that allows users to take advantage of market volatility. This type of trading requires no manual intervention, and it can be used to strategically purchase and sell digital assets on the spot market. It is also an effective way to reduce your risk exposure and manage your portfolio for maximum gains. Let's take a look at what ByBit Grid Bot trading can do for you.
ByBit Grid Bot trading works by setting specific parameters in order to identify profitable entry points into the market. The bot will then automatically buy or sell digital assets when these conditions are met. This means that you don't have to manually monitor the markets, as the bot will execute trades on your behalf according to pre-defined rules. The bot also allows you to set up multiple grids with different parameters so that you can diversify your portfolio and reduce risk exposure while still maximizing profits.
There are several advantages to using a ByBit Grid Bot instead of manual trading. First, it eliminates the need for manual monitoring, which saves traders time and energy that can be better spent researching new strategies or relaxing after a busy day at work. Second, it provides more flexibility in terms of trade size since multiple grids can be created with different parameters for each one. Finally, it helps traders keep their emotions in check since all trades are executed automatically according to predetermined parameters instead of being based on feelings or hunches at the moment.
After doing thorough research on ByBit we concluded that it is a safe and secure exchange, despite being unregulated. ByBit is a top-tier exchange and ranks in the top 10 exchanges by trading volume daily. It is important to note that while ByBit does not require you to finalize your KYC, you still have the option to do so and also add other layers of security to your account including 2FA (2-factor authentication), email authentication, SMS authentication, and Anti-phishing code.
On top of that, ByBit is an exchange that has never been hacked which is another reason that many cryptocurrency traders trust ByBit and see it as a secure cryptocurrency trading platform. Hacker attacks are not unusual in the crypto space. Many other major exchanges like Binance, Coinbase, or Bitfinex have been hacked before which resulted in customers losing their funds.
In October 2022 ByBit launched a security fund worth $100 million to help users during challenging periods in the crypto market. Unfortunately, this fund is only accessible to institutional clients so far.
Special Events and Bonuses on ByBit
ByBit is doing an incredible job at attracting and keeping customers. That reflects well in the number of active users and new users that are signing up to ByBit. That is for a good reason. ByBit is regularly hosting events like competitions, fee discounts, and trading bonuses worth up to $30,000.
1. Trading Competitions (World Series of Trading)
Every year, ByBit is hosting the World Series of Trading (WSOT) with multi-million dollar prize pools and different types of competitions. You can compete as a team against other teams and the top teams share massive prize pools. In 2022, the squad race (team competition) prize pool was $6,000,000. For the solo race, the prize pool was $1,000,000 and then there was additional loot worth $1,000,000.
With the WSOT event, ByBit is attracting some of the best traders in the world. It is not just fun competing in this tournament but you can also prove to everyone how good of a trader you are. You can also use this tournament as a motivation to improve your trading skills while earning prizes.
During the FIFA World Cup in 2022, ByBit was hosting the "Crypto Cup Kickoff" event where traders could share an additional $500,000 prize pool.
It is safe to say that ByBit is the market leader when it comes to hosting exciting events with a serious chunk of money to be won in the prize pool.

2. Trading and Deposit Bonuses
For new traders, ByBit has a "deposit blast off" program. Based on your initial deposit and your trading volume you can get trading bonuses worth up to $30,000. You can use this bonus in your futures account, trade with it and all the profits are yours. This offer is for people that are serious about trading and to be eligible to receive bonuses, it requires a certain amount of $ deposited into your account and a certain amount of $ traded on the futures market.
The highest bonus ByBit ever offered was worth $30,000 in November 2022. And yes, the bonuses are real. However, you can not withdraw the bonuses. They are exclusively for trading in your futures account but of course, all the profits will be yours which you then can withdraw. Currently, the maximum bonus you can get on ByBit is worth $4000. You can check the requirements below.
Overall, we found that Bybit is an excellent choice for both beginner and experienced traders looking for an easy-to-use crypto exchange platform with robust security protocols and competitive fees. Whether you're just getting started with cryptocurrency or you're a seasoned pro looking for a reliable place to trade digital assets, Bybit could be worth considering as your go-to choice for crypto exchanges! On ByBit you get access to all major coins. You can buy cryptos with FIAT currencies, and you can trade the spot and futures markets with some of the lowest fees in the crypto space. With its advanced security measures, intuitive interface, low fees, and powerful features – it's no wonder why so many traders have chosen this platform! If you think ByBit is the right choice for diving into the cryptoverse, you can create your account here.
More than 330 coins to trade
User-friendly and responsive web UI and mobile app
Good customer support with 24/7 live chat
Trading competitions, bonuses, and fee discounts
What we don't like about ByBit
Restricted in some countries including the USA and UK
Where is ByBit located?
ByBit was established in March 2018 and has its headquarters in Singapore. ByBit also has offices in Taiwan and Hong Kong.
Does ByBit require KYC?
ByBit is known as a "Non-KYC" exchange. That means you do not have to perform KYC but you can still trade. Just note that some countries are restricted so you might have to use a VPN to access ByBit.
Does ByBit allow customers from the USA?
Unfortunately, ByBit does not allow USA customers on their site. You can work around the restrictions with a VPN but we do not recommend doing so. If you want to use a great exchange that allows USA citizens, we recommend MEXC Global.
Does ByBit allow customers from the UK?
Unfortunately, ByBit does not allow UK customers on their site. You can work around the restrictions with a VPN but we do not recommend doing so. If you want to use a great exchange that allows UK citizens, we recommend MEXC Global.
What are the Fees on ByBit?
ByBits Spot fees start at 0.1% maker and 0.1% taker. Based on your trading volume and VIP level you can lower your fees to 0.02% maker and 0% taker.
On ByBits futures market the fees are very competitive. With 0.06% maker and 0.01% taker fees, ByBit has some of the futures fees in the market.
If I don't have cryptocurrencies yet, can I buy them from ByBit directly?
Yes. ByBit offers you a "One-Click Buy" option to buy cryptocurrencies with FIAT. Supported payment gateways are Credit Cards, Google Pay, Bank Transfer, SEPA, Wise, Revolut, iDeal and more. ByBit also supports most FIAT currencies including, but not limited to, USD, EUR, GBP, AED, CHF, RUB, and more.
Alternatively, you can onramp FIAT via deposits and then buy the cryptos you desire on the spot market. Supported currencies for this are USD, EUR, GBP, RUB, ARS, BRL and TRY. The payment methods vary depending on your currency so we recommend you see what works for you here.