Bybit is a Dubai-based cryptocurrency derivatives exchange that was established in March 2018. It has since seen exponential growth and is now one of the most popular exchanges for cryptocurrency traders. In this Bybit review, we will take a look at some of the features that make ByBit stand out from the competition. ByBit is a leading cryptocurrency trading platform, but you might want to know more about it before registering for an account.
In this Bybit review, we not only want to uncover all of its features, but we also want to answer the question: Who owns Bybit and is Bybit safe and legit or is it a scam? After this Bybit review, you won't need to scrape through any more Bybit reviews as we cover absolutely everything that you need to know.
ByBit Quick Overview
ByBit is a legit cryptocurrency exchange that was launched in 2018 by Ben Zhou, who is also the CEO as of 2023.
With offices in the British virgin islands and Dubai, the Bybit team consists of 1100 employees which manage over 10 million users. With a 24-hour volume of over $10 billion, the Bybit trading platform is in the top 3 cryptocurrency exchanges sorted by trading volume globally.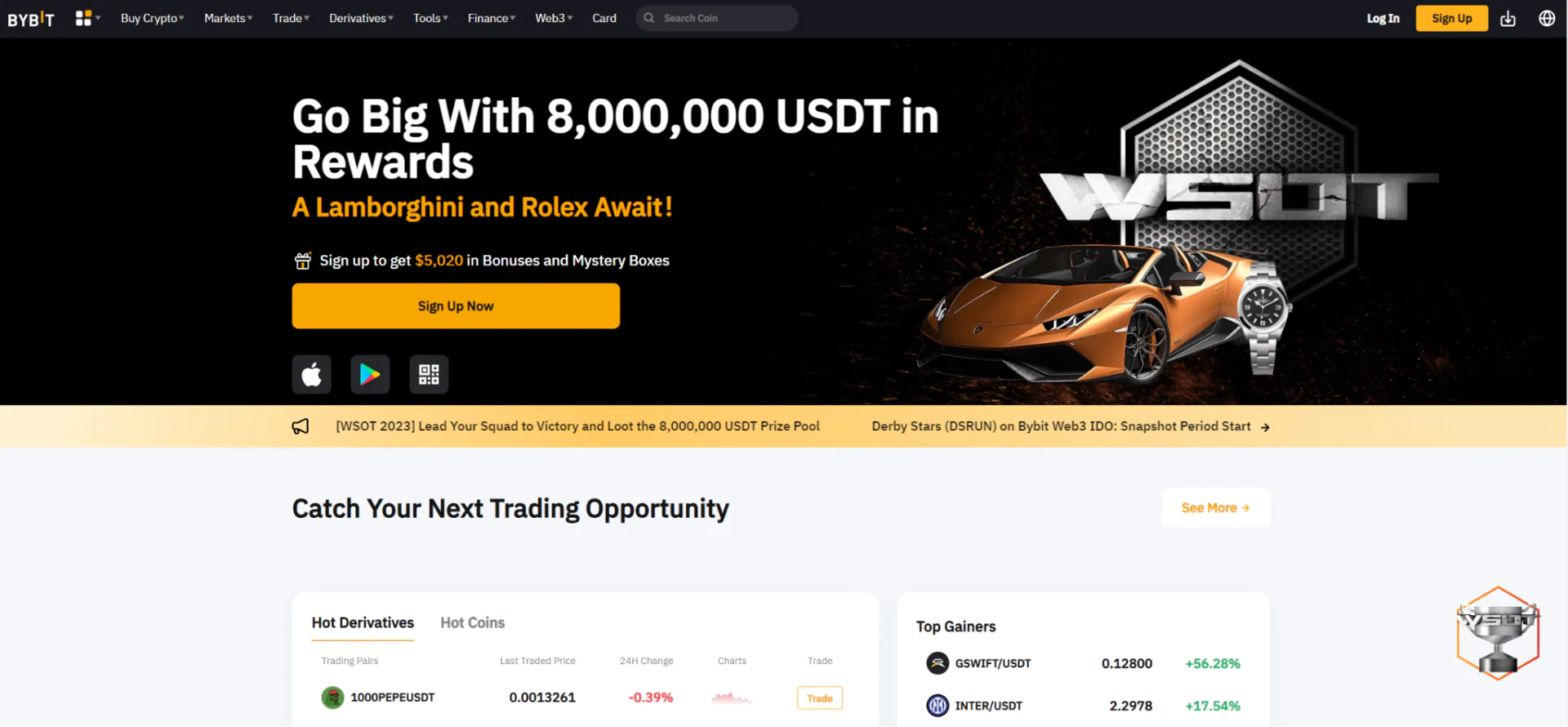 Bybit supports over 400 crypto assets and over 600 trading pairs, and bybit operates in 150 different countries. Though, as Bybit is regulated, the platform is restricted in some areas such as the USA and Canada. If you are looking for a great crypto trading platform that supports US and Canada customers, we highly recommend you check out other cryptocurrency exchanges like BingX or MEXC.
Bybit quickly became one of the largest crypto exchanges in the world due to its comprehensive derivatives trading feature where you can access futures contracts with up to 100x leverage with low trading fees.
Aside from offering a web crypto trading platform, Bybit also has a mobile app with over 20 million downloads. Just log into your trading account and practice crypto trading on the go. The Bybit app can be downloaded on iOS and Android devices.
In the next sections of our ByBit review, will go over trading, fees, features, customer support, and security to give readers an insight into its user experience.
Bybit Signup & KYC
As the platform is a legitimate crypto exchange, Bybit operates according to AML laws and regulations. Therefore, Bybit requires all users to verify their identity. Mandatory KYC was introduced to Bybit on the 8th of May 2023. That means users from restricted areas such as the USA or Canada can not access Bybit anymore, not even with a VPN.
Registering on the Bybit platform is simple and only requires an email or phone number and a strong password. After that, you should bind security measures to your Bybit account such as two email authentication, two factor authentication, an anti-phishing code, and a fund password.
For the Level 1 KYC process, you must submit a government-issued document such as an ID or Passport and a selfie. In order to lift your withdrawal limit and FIAT deposit limit, you must finish Level 2 KYC which also requires your proof of address. The accepted documents are utility bills, rental agreements, or bank statements, no older than 3 months.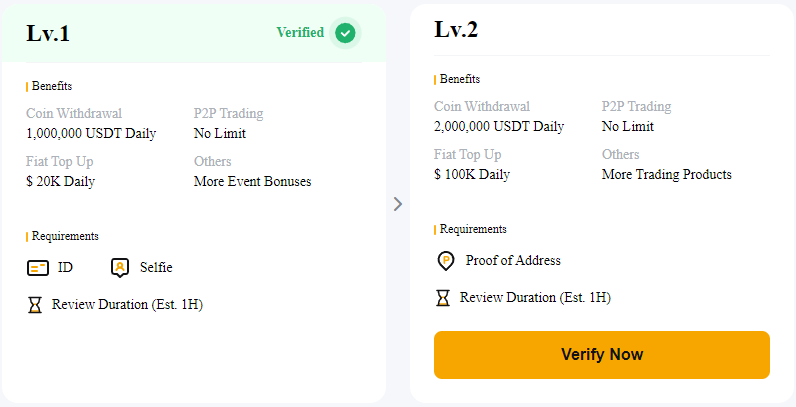 Bybit Spot and Futures Trading Platform
One of the main features is the Bybit trading platform for perpetual and futures contracts. Bybit was one of the first exchanges to heavily shift towards becoming a derivative trading platform where traders can long and short perpetual contracts with 100x leverage and advanced trading tools.
Bybit offers spot and leveraged trading on its futures platform. Let's dissect Bybits' most important trading products:
Bybit Spot Trading
On the spot market, Bybit offers 400 different crypto assets which are mostly settled in USDT. Bybit not only supports all major cryptos such as BTC, ETH, or XRP but also some controversial meme coins such as MiladyCoin or DogeCoin.
With spot trading fees at 0.1% for makers and takers, Bybit charges a relatively low rate.
The whole Bybit trading platform is well-designed and very stable. New users will have an easy time navigating through their Bybit account due to the user-friendly interface.
Bybit even offers margin trading on the spot market where you can borrow money with a factor of up to 10x. However, if you are an active trader, we recommend using Bybit derivatives trading rather than margin trading.

Bybit Derivatives Trading (Perpetual Futures, Leverage)
The flagship product of Bybit is its efficient futures trading platform and derivatives market. With low commissions of 0.01% maker fee and 0.05% taker fee, daily trading volume of over $10 billion, and high liquidity, Bybit is one of the best exchanges when it comes to trading futures contracts.
Bybit supports over 225 futures contracts and 400 different trading pairs which are mostly settled in USDT. Bybit offers 100x leverage on major cryptos such as BTC and ETH. Cryptos that are not as popular support leveraged trading with 10x-75x, based on popularity and trading volume. If you are new to trading, we highly recommend you stay away from using 100x leverage and practice on a crypto demo account first.
In the top right corner, you can switch from isolated to cross-margin mode. Bybit also supports hedging. That means you can simultaneously be long and short on the same futures contract. These are rather advanced options and we only recommend using the feature if you are an advanced trader.
Bybit Inverse perpetual contracts
Another special feature of Bybit is the inverse perpetual contract option where the underlying asset is not USDT but other cryptos such as BTC, ETH, SOL, etc. If you want to trade BTC/USD, you will use BTC as the underlying asset, if you want to trade ETH/USD, you must hold ETH as the underlying asset. In other words, your underlying asset must be the same as the corresponding trading pair.
This is an advanced feature for professional traders. As the liquidity is usually worse for inverse contracts, Bybit does only support 8 different trading pairs for inverse perpetual contracts.
Bybit Order Types
As Bybit is an advanced crypto derivatives exchange, order types such as Iceberg and TWAP as well as conditional orders such as FOK, IOC, and GTC are supported. Of course, Bybit also supports basic order types such as market and limit trigger price orders (Take profit / Stop loss) with partial order execution.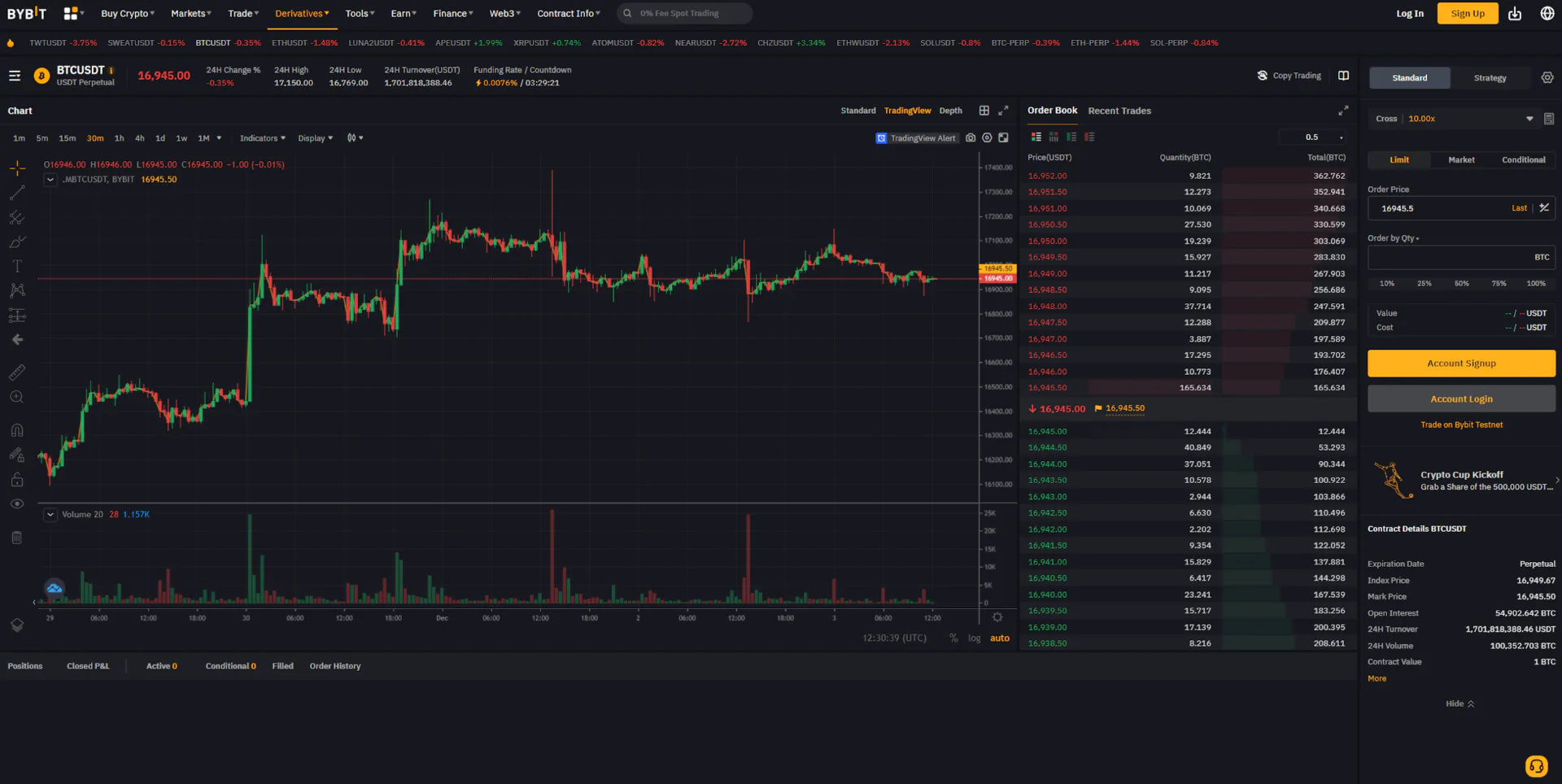 Bybit Grid Bot Trading
ByBit Grid Bot trading is a fully automated trading system that allows users to take advantage of market volatility. This type of trading requires no manual intervention, and it can be used to strategically purchase and sell crypto assets on the spot market. It is also an effective way to reduce your risk exposure and manage your portfolio for maximum gains.
ByBit grid trading bots work by setting specific parameters in order to identify profitable entry points into the market. The bot will then automatically buy or sell digital assets when these conditions are met. This means that you don't have to manually monitor the markets, as the bot will execute trades on your behalf according to pre-defined rules. You can also set up several trading bots to test which one performs best.
Bybit Options Trading
Aside from traditional spot and futures trading, Bybit even offers options trading for BTC, ETH, and SOL. The crypto options are settled in USDC, which is a stablecoin pegged to USD. The Bybit options trading platform is well-designed and userfriendly. As of 2023, Bybit is the second largest crypto options provider. Only Deribit has a larger market share for crypto options.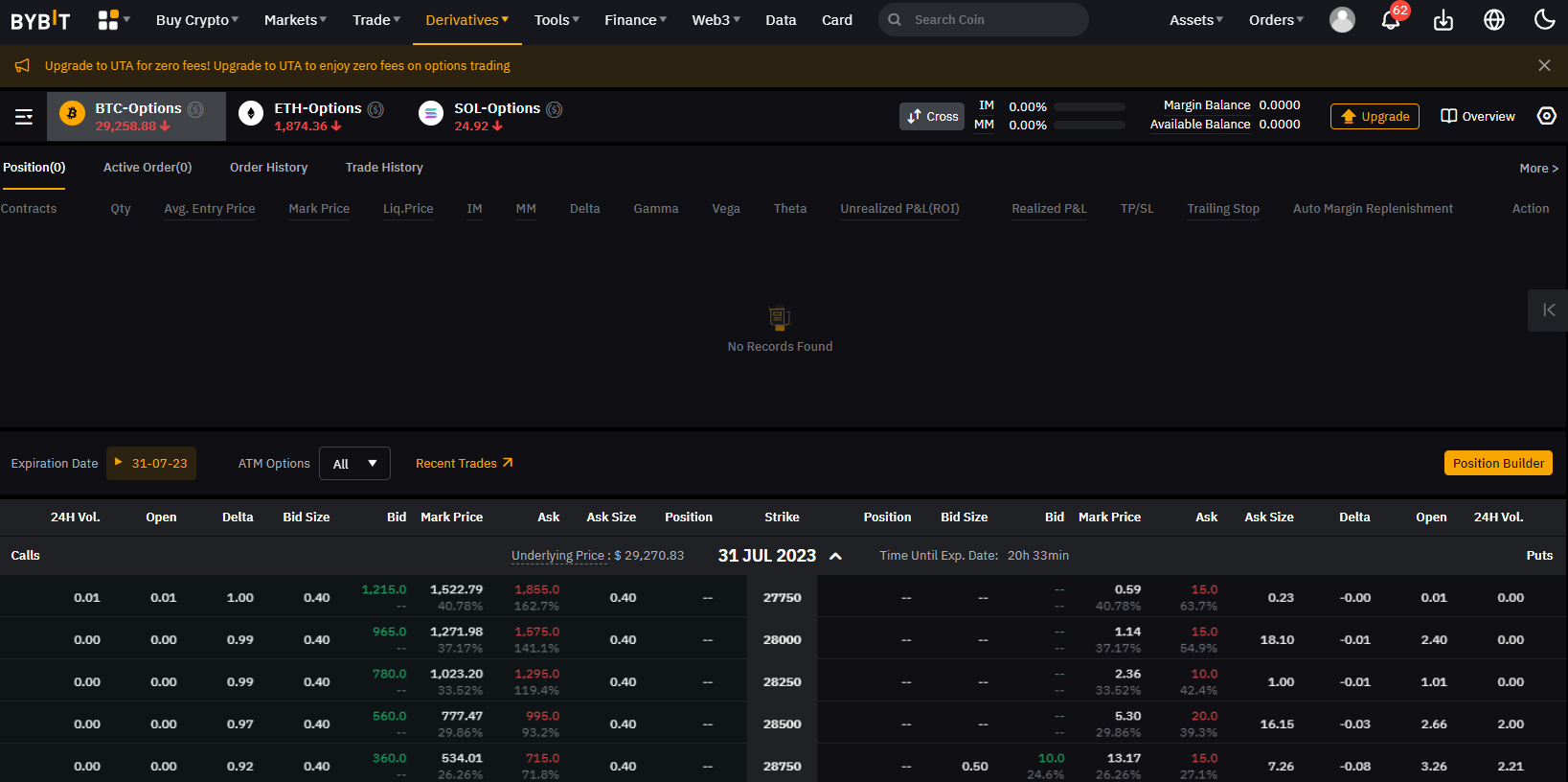 Bybit Fees and Costs
Overall, Bybit trading fees are low for crypto trading.
Bybit Spot Fees
On the spot market, the default trading fees start at 0.1% for both, maker fee and taker fee. Maker refers to limit orders and taker refers to market orders. If you are an active trader, you can lower your Bybit fees to 0.02% taker and 0% maker on the spot market based on your 30-day trading volume. Also since September of 2022, ByBit introduced 0% fee trading until further notice for selected assets.
Bybit Futures Fees
On ByBits futures market, the trading fees are also some of the lowest in the industry. Starting with a 0.02% maker fee and 0.055% taker fee on futures contracts, ByBit beats most of the competition in terms of derivatives trading. Only a few other exchanges like Binance have lower fees.
Bybit Fee Discounts
Depending on your trading volume, active traders can reach a higher VIP and Pro rank which will reduce your Bybit trading fees to as low as 0.01% maker and 0.01% taker fees. The trading fees can be discounted for spot and derivatives trading.
Below we attached the official Bybit fees spreadsheet. You can also check out the official fee schedule of Bybit here.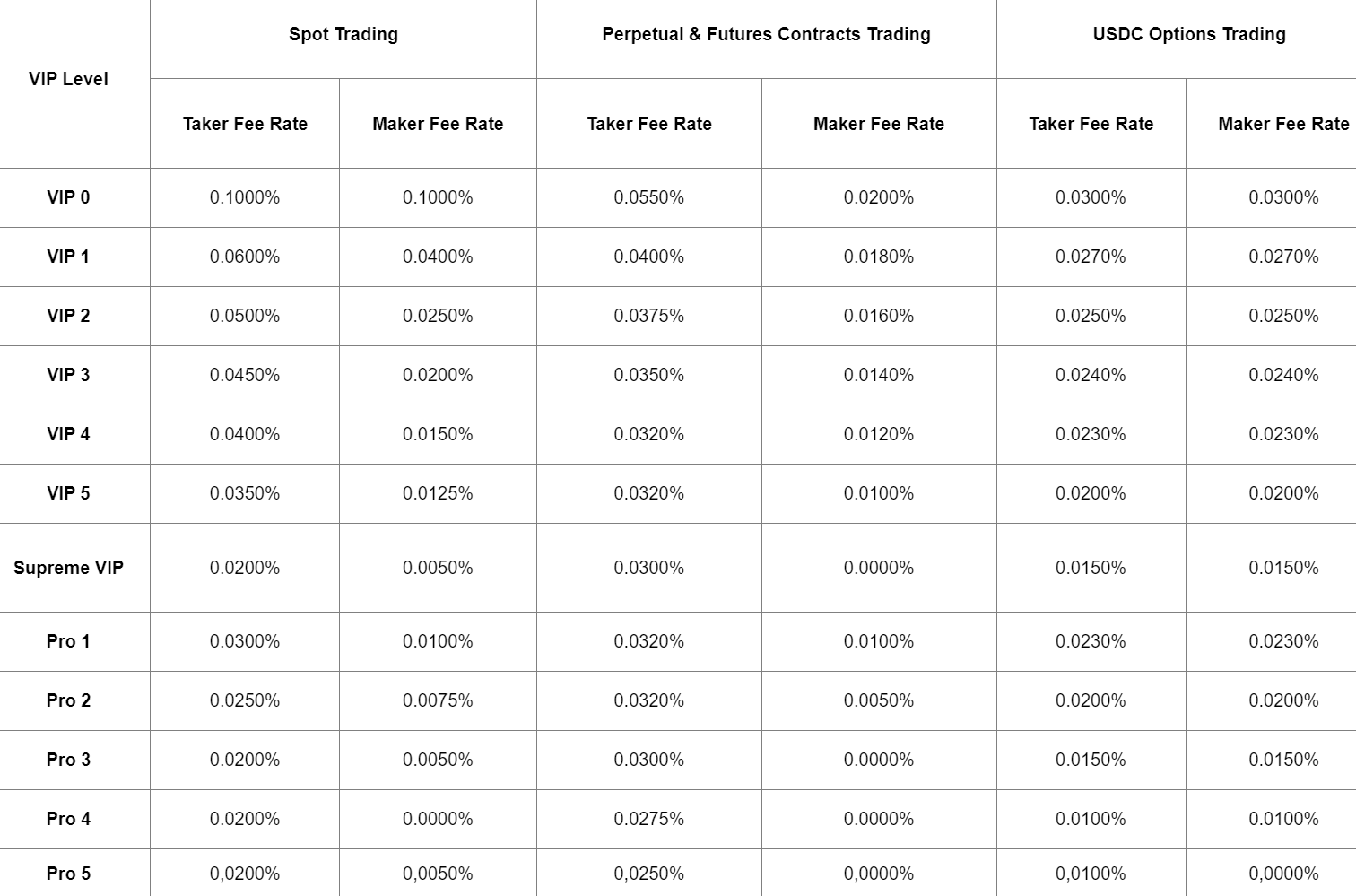 Bybit Interface and User-Friendliness
In terms of interface, Bybit has a well-designed platform and even beginners will have an easy time navigating through their Bybit account. The platform is responsive and works very smooth, also during times of high volatility.
If you want to monitor numerous markets at once, you can switch to the "Multi-Chart Mode" where you can look at 4 charts on one screen. Additionally, you can apply analysis tools to the chart such as price moving averages.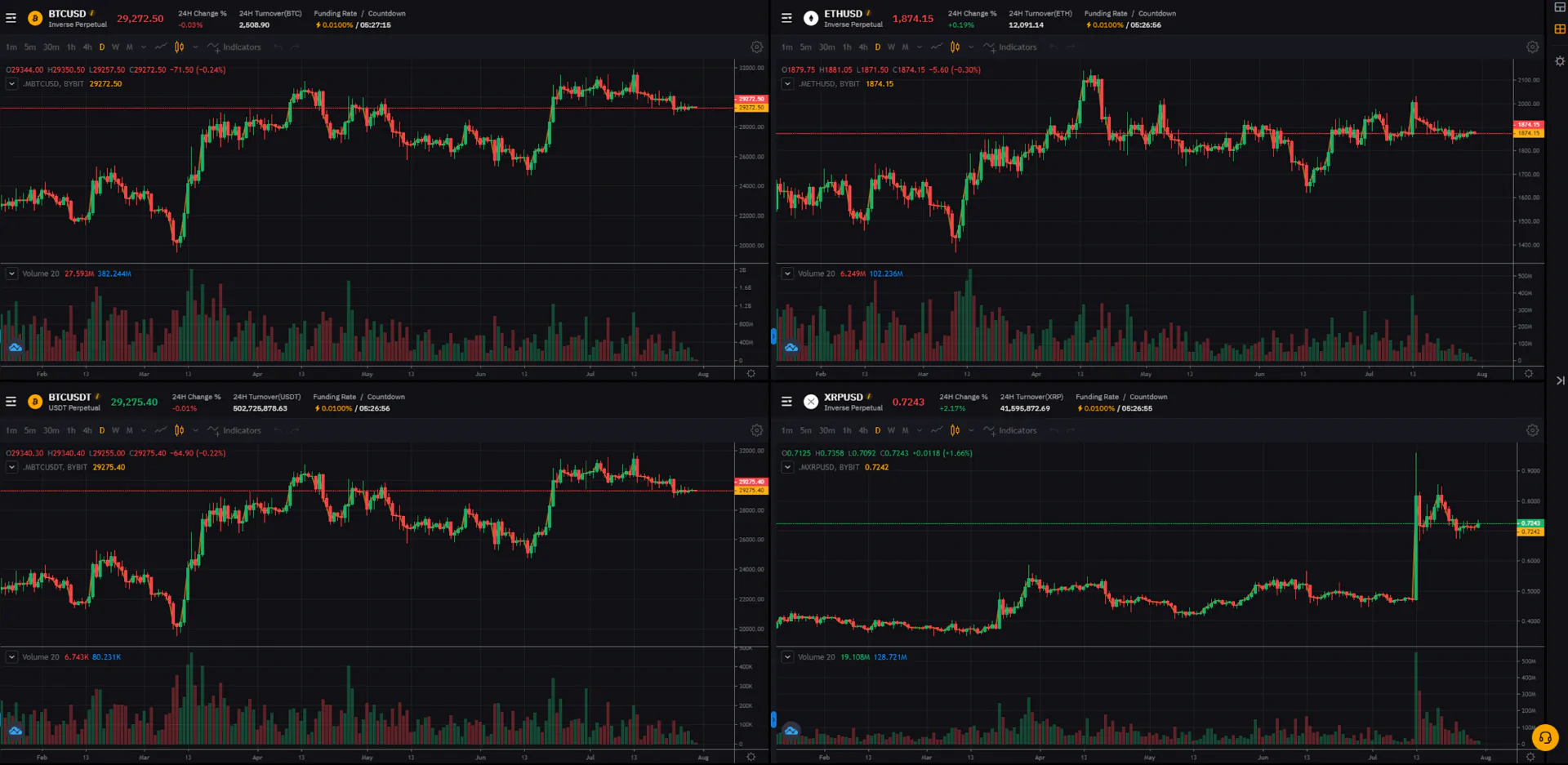 Bybit Deposits
Bybit accepts crypto deposits for over 300 different assets and all crypto deposits are free of charge. Fees are only applied for FIAT deposits and crypto direct purchases.
With over 15 supported FIAT currencies on Bybit, crypto traders can onramp their local currencies such as EUR, USD, TRY, GBP, RUB, and more. You can also hold FIAT in your Bybit wallet to reduce exposure to the crypto market.
The FIAT deposit methods on Bybit include Advcash, Credit Card, Paysera, Revolut, SEPA, and Bank transfer. The fees range between 0% and 4%, based on your currency and payment method. Some of the cheapest deposit methods are Advcash Wallet with 0% fees and 0 "Easy Bank Payment" with fixed fees of 0.30€.
Advcash transactions are also processed in real-time, while bank transfers can take 1-3 working days.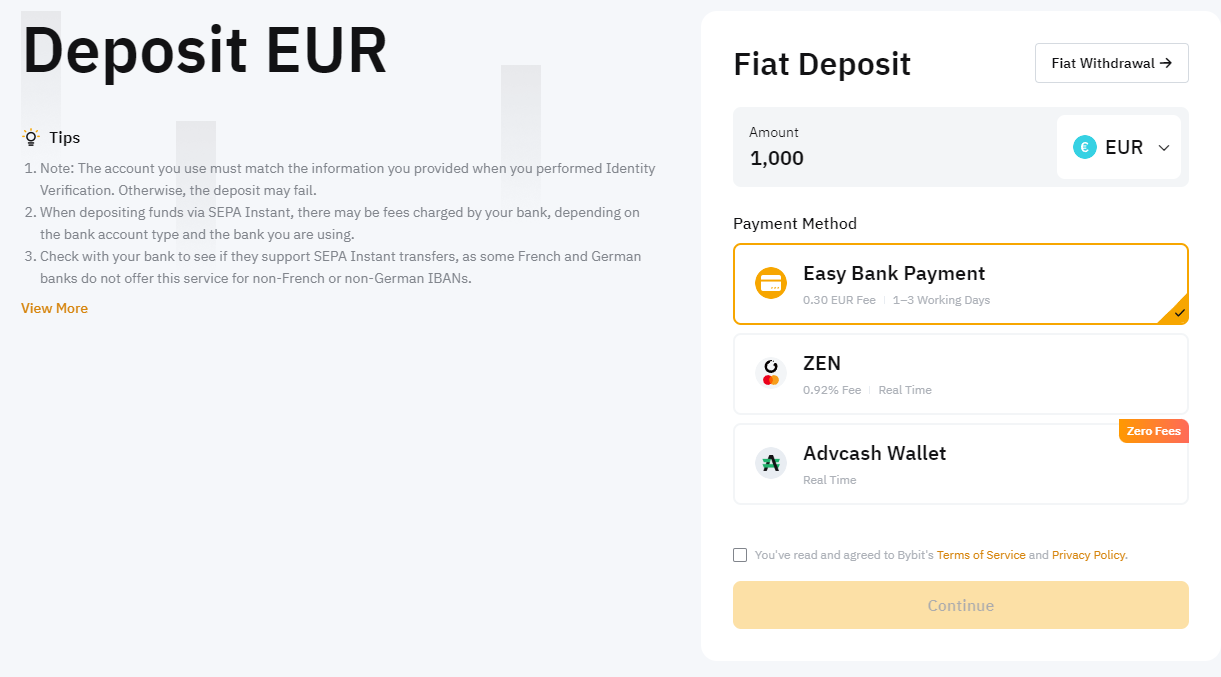 Bybit Withdrawals
The crypto withdrawal fees on Bybit vary, depending on the crypto and network you choose. Some networks like the Ethereum network (ERC20) have a relatively high withdrawal fee. Some of the cheap crypto withdrawal options are USDT or BUSD with the TRC20 or BEP20 network. The Bybit withdrawal fee for these two crypto assets ranges between $0.50 and $1.
If you want to withdraw FIAT, you can do that from your funding wallet in the FIAT section. As of 2023, you can withdraw over 10 different FIAT currencies. The withdrawal methods are Advcash Wallet and ZEN. Furthermore, Bybit offers instant FIAT offramps with no withdrawal fees.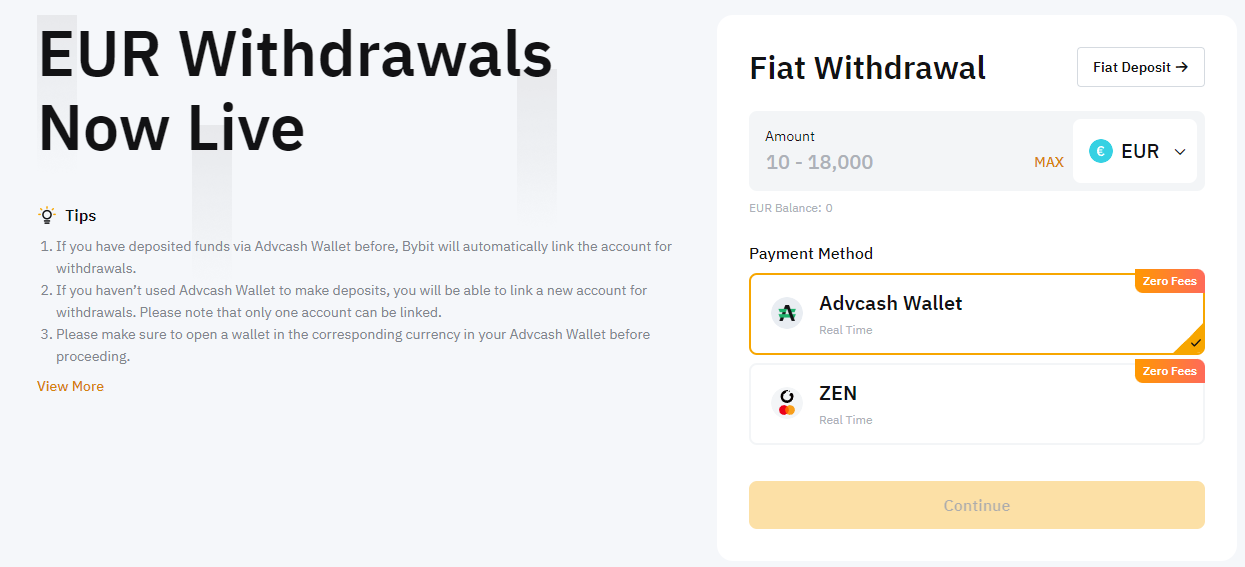 Bybit Mobile App
The Bybit mobile app is like a comprehensive crypto exchange right in your pocket. The Bybit app is well designed and very fast and responsive. With over 20 million downloads and an average rating of 4.6/5 stars out of 160k Bybit reviews, the mobile app has great ratings.
On the mobile app, Bybit offers spot trading and futures trading as well as staking and copy trading. Overall, the crypto exchange is easily accessible through the comprehensive Bybit app, making it a top crypto exchange for mobile users.
When comparing the Bybit mobile app to other exchanges, I noticed that it is actually one of the top performers. If you are looking for crypto trading platforms with a good mobile app, you should check out our guide of the best crypto exchange mobile apps. The Bybit platform is definitely a top contender.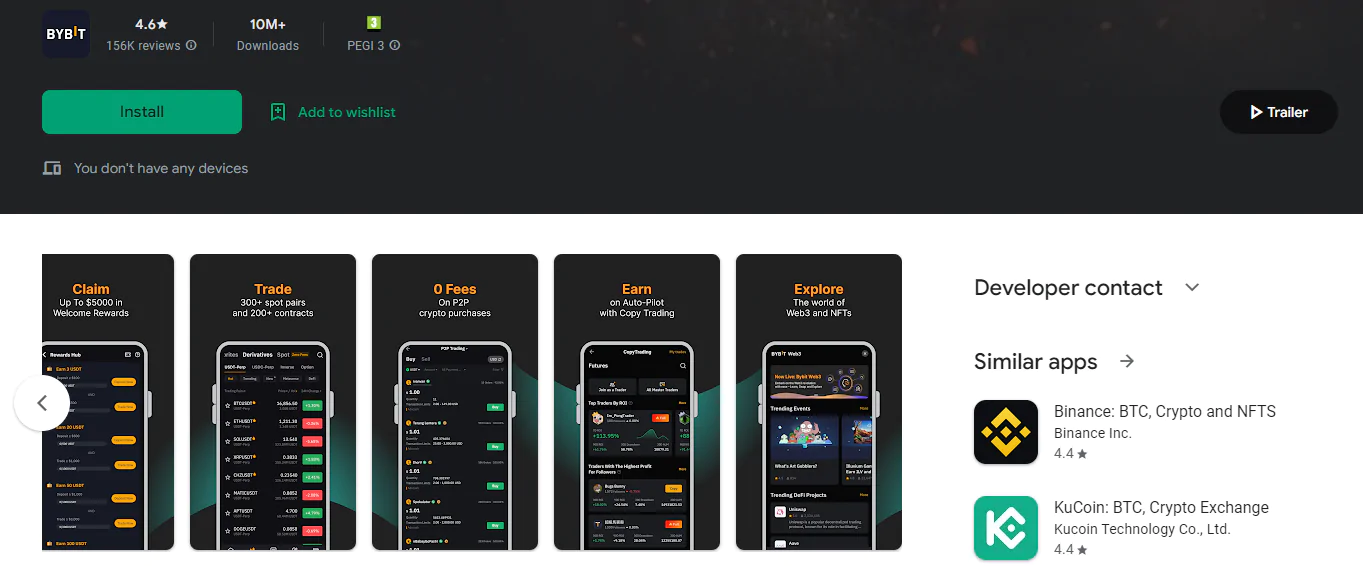 Bybit Security
Bybit appears to be a safe and secure exchange, despite being unregulated. Is Bybit regulated though?
Bybit Fintech Limited is currently registered in the British Virgin Islands and in the UAE. As Bybit is a legit exchange, it requires you to finalize your KYC verification.
You can also add other layers of security to your Bybit account including 2FA (two factor authentication), email authentication, SMS authentication, and Anti-phishing code.
On top of that, ByBit is an exchange that has never been hacked. In October 2022 the exchange launched the Bybit insurance fund worth $100 million to help users during challenging periods in the crypto market. Unfortunately, the Bybit insurance fund is only accessible to institutional clients so far.
Lastly, Bybit stores customer funds in multi-sig cold storage wallets. Cold storage refers to wallets that are not connected to the internet and therefore it is impossible to hack them online. Also, Bybit provides full proof of reserves, meaning that all customer funds are backed 1:1 by the exchange.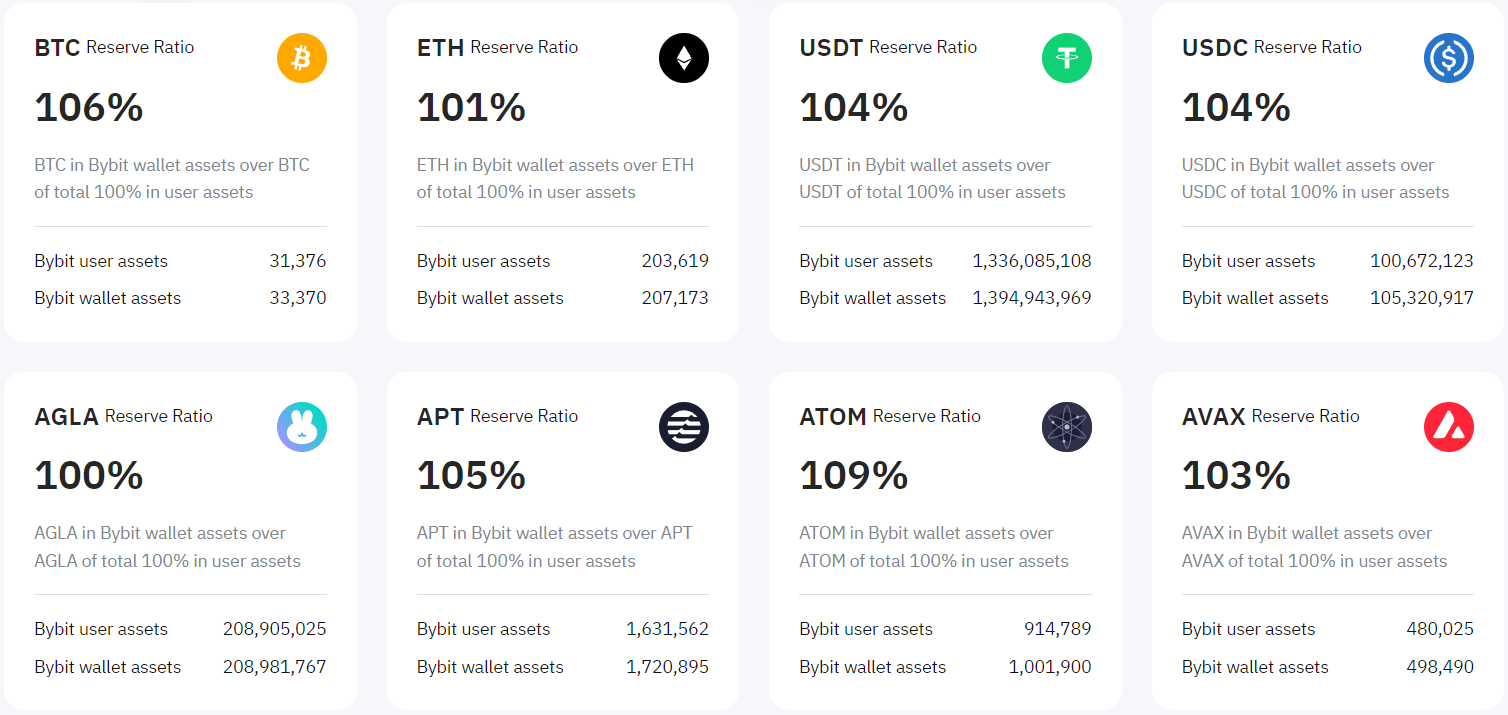 Bybit Customer Support
Let's review the Bybit support experience now.
The Bybit customer support can be contacted through the 24/7 live chat in the bottom right corner (click on the headset). By default, you will be first talking to a chatbot.
Simply ask to speak to a real human or support staff and the bot will direct you to the official Bybit customer support.
With an average response time of 1 minute, the bybit customer support service is excellent. Aside from being incredibly fast, the Bybit staff is also very knowledgeable and helpful. In order to receive the best possible help, make sure you are logged into your Bybit trading account.
The Bybit exchange also has a comprehensive FAQ and Learn center where you can research things on your own instead of having to contact the customer support.

Bybit Special Events and Bonuses
ByBit is doing an incredible job at attracting and keeping customers. That reflects well in the number of active users and new users that are signing up to ByBit. That is for a good reason. ByBit is regularly hosting events like competitions, fee discounts, and trading bonuses worth up to $30,000.
1. Trading Competitions (World Series of Trading)
Every year, ByBit is hosting the World Series of Trading (WSOT) with multi-million dollar prize pools and different types of trading competitions. You can compete as a team against other teams and the top teams share massive prize pools by trading perpetual contracts. Spot trading and trading bots are not supported for the competition.
In 2022, the squad race (team competition) prize pool was $6,000,000. For the solo race, the prize pool was $1,000,000 and then there was additional loot worth $1,000,000.
With the WSOT event, ByBit is attracting some of the best traders in the world. It is not just fun competing in trading competitions, but you can also prove to everyone how good of a trader you are. You can also use this tournament as a motivation to improve your trading skills while earning prizes.
During the FIFA World Cup in 2022, ByBit was hosting the "Crypto Cup Kickoff" event where traders could share an additional $500,000 prize pool.
It is safe to say that ByBit is the market leader when it comes to hosting exciting trading competitions with a serious chunk of money to be won in the prize pool. In terms of events, Bybit is superior to other exchanges.

2. Trading and Deposit Bonuses
For new traders that are invited through the Bybit affiliate program, the "deposit blast off" program is available. Based on your initial deposit and your trading volume you can get trading bonuses worth up to $30,000. You can use this bonus in your futures account, trade with it and all the profits are yours. This offer is for people that are serious about trading and to be eligible to receive bonuses, it requires a certain amount of $ deposited into your account and a certain amount of $ traded on the futures market.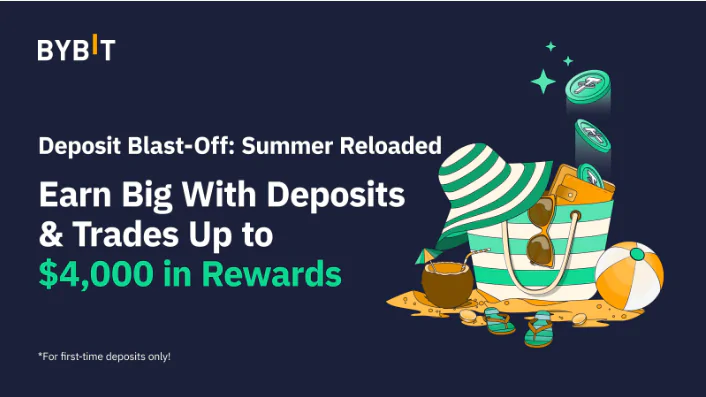 The highest bonus ByBit ever offered was worth $30,000 in November 2022. And yes, the bonuses are real. However, you can not withdraw the bonuses. They are exclusively for trading in your futures account but of course, all the profits will be yours which you then can withdraw. Usually, the maximum bonus you can get on ByBit is worth $4000. Every now and then, Bybit activates the $30,000 Bonus. You can check the availability of the bonus Bybit here.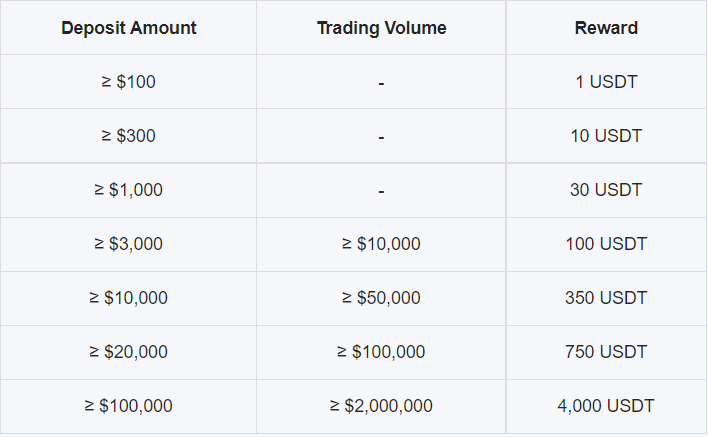 Bybit Exchange: Final Thoughts
Overall, we found that Bybit is an excellent choice for both beginner and experienced traders looking for an easy-to-use cryptocurrency futures exchange platform with robust security protocols and competitive fees.
Whether you're just getting started with cryptocurrency or you're a seasoned pro looking for a reliable place to trade digital assets, Bybit could be worth considering as your go-to choice for crypto exchanges.
Bybit offers all major coins with over 600 trading pairs. You can buy cryptos with over 15 FIAT currencies, and you can trade the spot and futures markets with some of the lowest fees in the crypto space and up to 100x leverage.
With its advanced security measures, intuitive interface, low fees, and powerful features – it's no wonder why so many traders consider it to be one of the best trading platforms. If you think ByBit is the right choice for diving into the cryptoverse, you can create your account here.
FAQs
Is Bybit exchange a legit crypto exchange?
Yes, Bybit is a legit crypto exchange. It has millions of customers and also complies with laws and regulations such as anti-money laundering laws.
Where is ByBit located?
ByBit was established in March 2018 and has its main offices in Dubai. ByBit also has offices in Singapore, Taiwan and Hong Kong.
Does ByBit require KYC?
Yes, Bybit requires KYC verification. All traders on Bybit must verify their identity in order to use the platform.
Does ByBit allow customers from the USA?
No, Bybit does not allow customers from the USA. For US crypto traders, we recommend BingX, MEXC, or BYDFi.
Does ByBit allow customers from Canada?
No, Bybit does not allow customers from Canada. For Canadian crypto traders, we recommend Bitget.
What are the Fees on ByBit?
The spot fees are 0.1% for makers and takers. Futures fees are 0.02% maker and 0.055% taker.
If I don't have cryptocurrencies yet, can I buy them from ByBit directly?
Yes, you can purchase cryptocurrencies on Bybit with a credit card or bank transfer.