Deribit is a well-known bitcoin derivatives exchange that serves traders looking for complex trading choices and an easy-to-use interface. Deribit stands out as a top choice for cryptocurrency options and derivatives trading due to its low fees, high-security standards, excellent customer service, and user-friendly interface. The exchange offers a wide range of trading options, including perpetual contracts, options, and futures, attracting both experienced and novice traders.
History and Reputation of Deribit Exchange
Deribit was founded in the Netherlands in 2016, although it is now headquartered in Panama. It was among the earliest Bitcoin options trading platforms and has since grown to become the largest Bitcoin options exchange in terms of volume and open interest. Deribit is a cryptocurrency futures and options market based in Panama City. Initially, Deribit began as a fully devoted BTC trading platform but later included ETH contracts. More digital currency contracts are on the way. As the cryptocurrency market continues to grow, Deribit has focused on maintaining high liquidity and reliable performance. The exchange has established itself as a go-to platform for professional traders and institutions seeking exposure to cryptocurrency derivatives.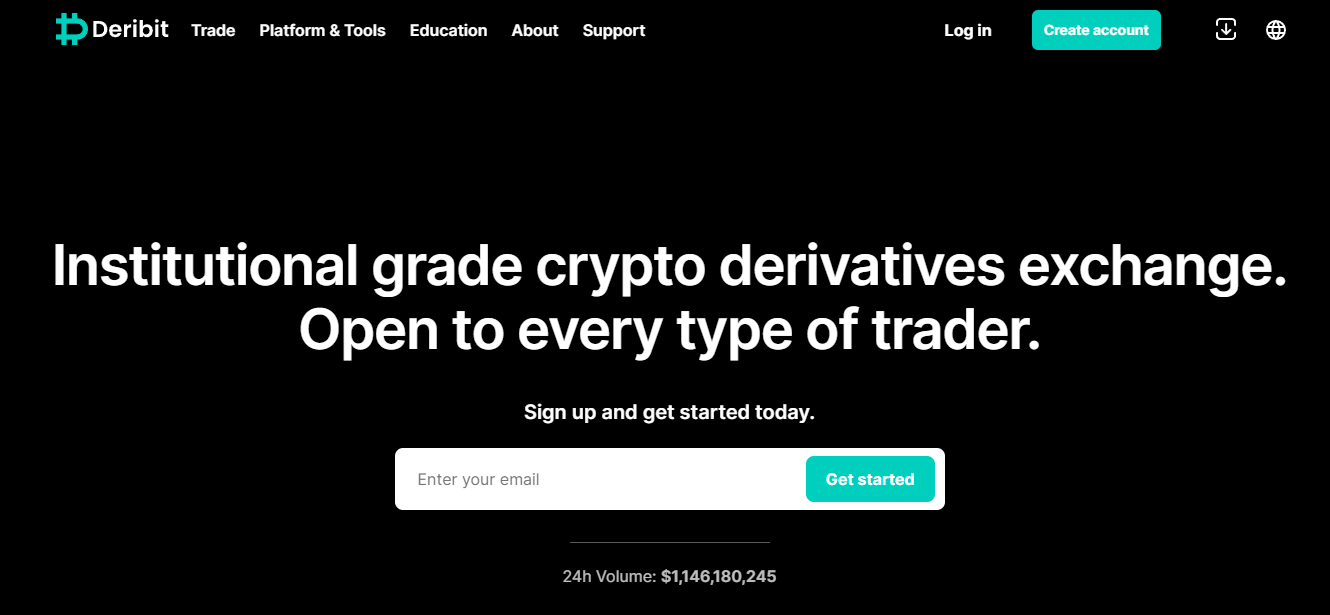 Account Creation on Deribit Exchange
Deribit provides both Individual and Corporate accounts. Individuals can register using a basic ID verification process that only needs a few minutes. With basic verification, users get full access to the features and products of the trading platform. To comply with the exchange's AML/KYC regulations, corporate account holders must go through a thorough KYC process. You'll need to provide your email address, username, password, and nation of residency while creating an account on Deribit. You can access the trading dashboard once your email address has been verified.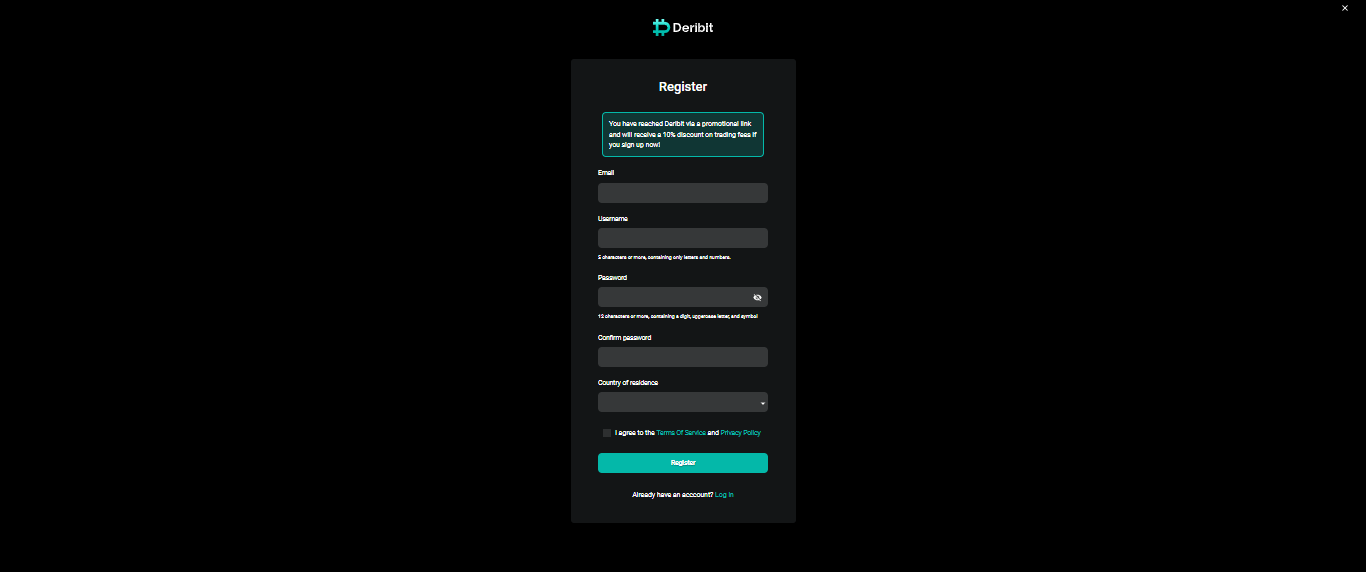 Deribit KYC Policy
Deribit's KYC process is fairly extensive, requiring personal information such as complete name, country of residence, address, nationality, financial profile, ID verification, and proof of domicile. Once all of the required documents and information have been uploaded, the Deribit staff will verify the account within 1-2 business days.
Trading Features
Users have access to both an options exchange, spot trading, and a futures exchange through Deribit, which offers a wide variety of trading choices. Deribit specializes in options and trading with leverage. It offers leverage of up to 50 times for Bitcoin and Ethereum futures. On the Deribit testnet, you can also engage in margin trading and hone your trading techniques.
Options Trading
Based on trading volume and open interest, Deribit is the biggest cryptocurrency options exchange in the world. Currently, the giant exchange is responsible for 91% of open interest trades globally. Deribit is well-known for its options trading services, which have been a core offering of the platform since its inception. Options trading on Deribit allows traders to speculate on the future price volatility of cryptocurrencies, specifically Bitcoin (BTC) and Ethereum (ETH), with the potential for high leverage and various trading strategies.
Initially, traders could only take options trade on Bitcoin and Ethereum, however, Deribit eventually extended support for other cryptocurrencies such as Litecoin (LTC), Solana (SOL), and Ripple (XRP). Deribit supports both call options and puts options. Call options give traders the right to buy the underlying asset at a specified price (strike price) before the expiration date, while put options give traders the right to sell the underlying asset at a specified price before expiration.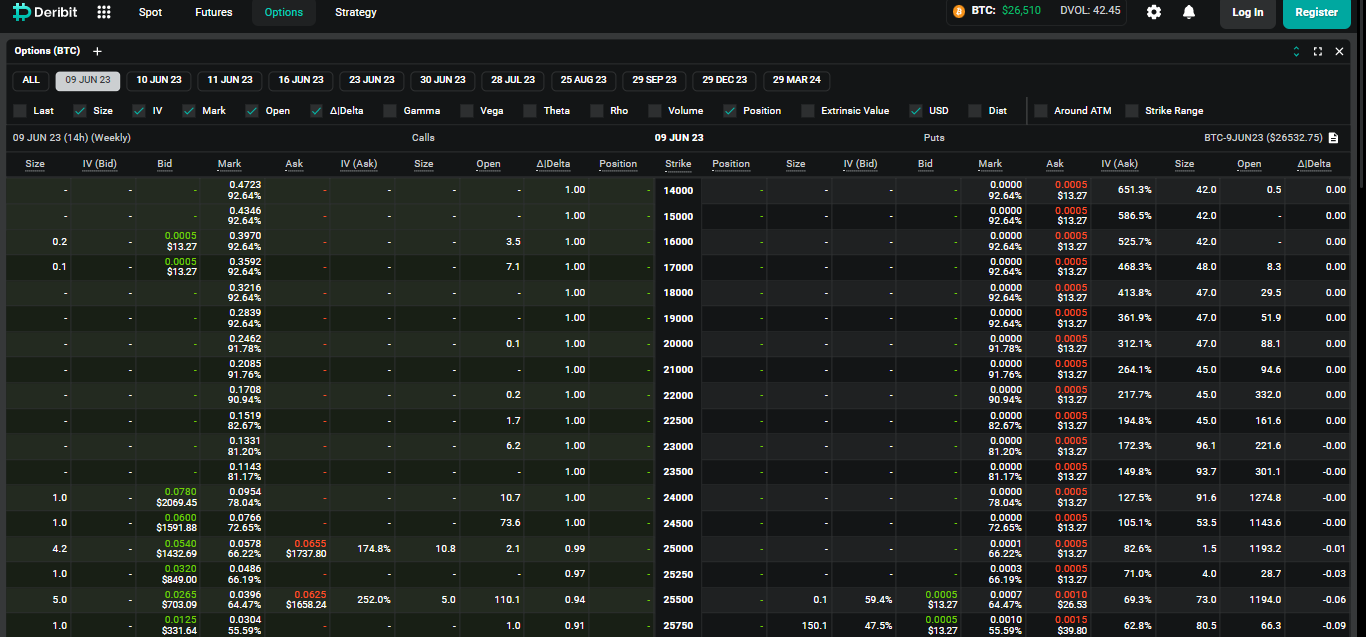 Options trading on Deribit allows traders to use leverage, which means they can control a larger position with a smaller amount of capital. The leverage ratios vary depending on the specific options contract and the trading account's margin requirements.
Deribit offers risk management tools to help traders manage their positions effectively. These tools include the ability to set stop-loss orders, take-profit orders, and the availability of options spread trading to create complex strategies involving multiple options contracts. Deribit's options market enjoys high liquidity. The platform's popularity among professional traders and institutions contributes to the depth of the options order book. Two order types are available in Options trading: Limit and Market.
Order Types
Limit: It has a fixed price. It can only be canceled after it has been executed or manually removed.
Market: These orders are carried out immediately. It would be at the offer to buy and the bid to sell.
Futures Trading
Deribit offers futures trading as part of its services, providing traders with an opportunity to speculate on the future price movements of cryptocurrencies. You can trade future contracts for up to 16 popular cryptocurrency pairs on Deribit. Futures contracts on Deribit allow traders to enter into agreements to buy or sell the underlying asset at a predetermined price and date in the future.
Deribit employs a funding rate mechanism to ensure the fair pricing of perpetual futures contracts. The funding rate is exchanged between long and short positions periodically to align the futures price with the underlying spot market price.
The mark price is the price at which a futures contract will be valued during trading hours according to calculations performed by Deribit's risk management system. It is the moving average of the best bid and best ask price. Deribit's futures trading operates 24 hours a day, seven days a week, allowing traders to take advantage of price movements and trading opportunities at any time.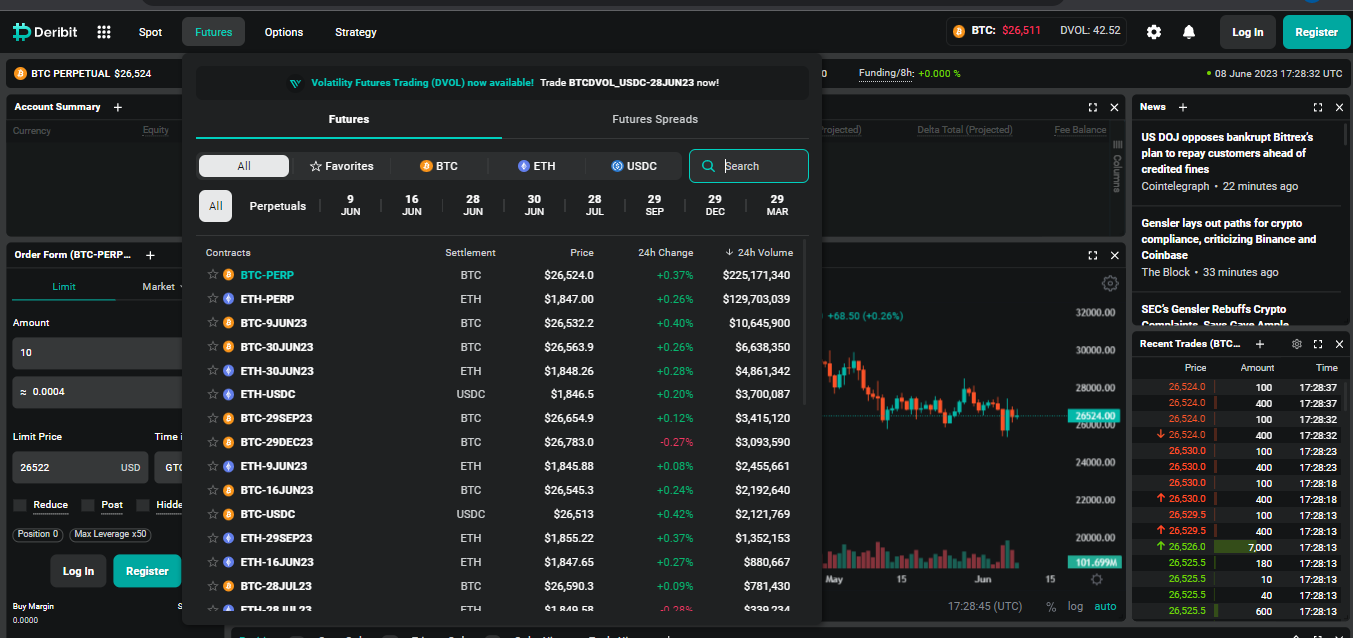 Spot Trading
The spot trading feature on Deribit is free of charge, meaning you can trade with 0% fees. Deribit Exchange now has a comprehensive portfolio of both futures and spot trading products, soothing the different needs of digital asset traders.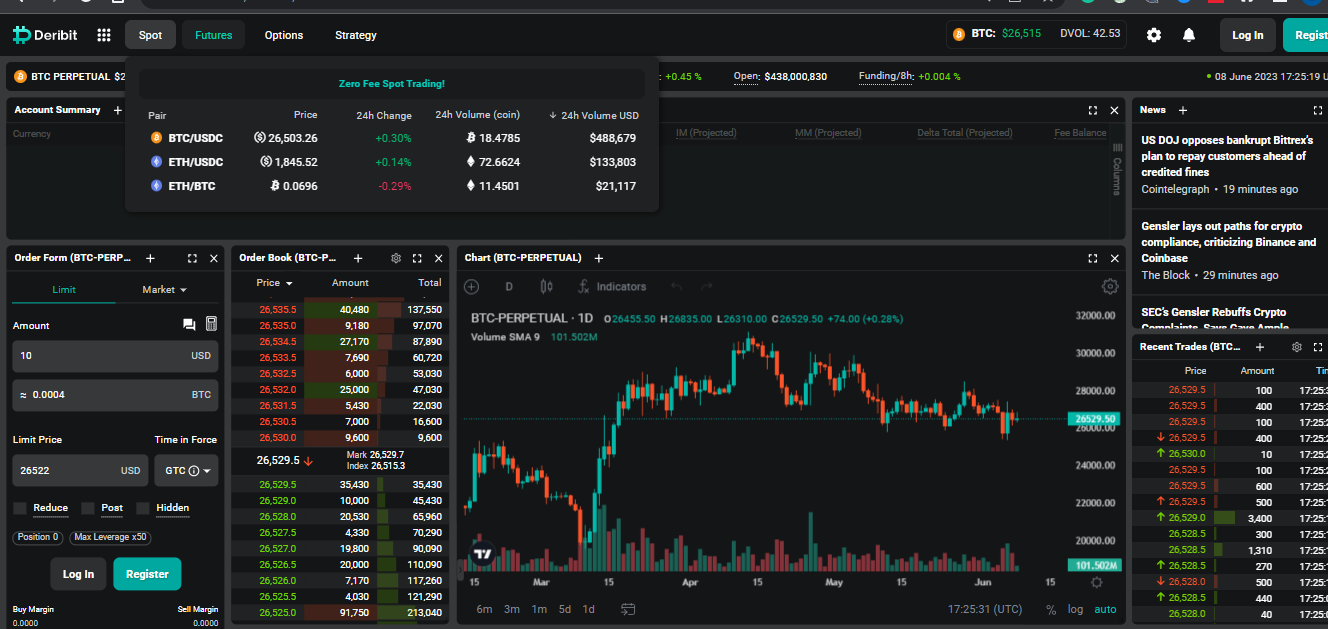 Supported Cryptocurrencies
Deribit accepts the following cryptocurrencies:
Ethereum
Bitcoin
Solana
USDC
To start trading spots, future perpetual contracts, or options, make deposits in the cryptocurrencies listed above.
Deribit Deposits and Withdrawals
Deribit accepts deposits in Bitcoin (BTC), Ethereum (ETH), Solana (SOL), and USD Coin (USDC). For withdrawals, you can use any of the four cryptocurrencies aforementioned including EthereumPOW (ETHW). Also, all withdrawals and deposits must be done using the supported cryptocurrencies' native blockchains (Bitcoin native blockchain and ERC20 tokens for ETH). Alternative blockchains are not supported.
KYC authentication is required to generate a deposit address. After successful verification, you can generate an address on the "Deposits" page. For withdrawals, you must establish a new wallet profile and attach your external wallet address. If your funds are in hot storage, your withdrawals will be handled quickly; otherwise, it will take time. The busy Bitcoin network accounts for any delayed withdrawals.
Trading Fees
Besides network costs accrued from the destination blockchain, Deribit does not collect any fees for deposits. However, the platform charges transaction costs. A maker-taker fee model exists for all trades. This applies to both Bitcoin and Ethereum futures and options trading. Deribit additionally charges a minor delivery fee for the order's execution at the expiry time.
A liquidation fee is also charged, which is automatically applied to the user's insurance fund. Withdrawal fees are assessed based on the state of the blockchain network. However, withdrawals are frequently delayed due to low hot wallet balances. Customers who have depleted their hot wallet assets get their hot wallets refreshed once daily. More information can be found by clicking here.
The table below gives an overview of all Deribit trading fees:
| | | |
| --- | --- | --- |
| Contracts | Maker Fee | Taker Fee |
| Weekly Future | -0.01% | 0.05% |
| Futures & Perpetuals | 0.00% | 0.05% |
| USDC Perpetuals | 0.00% | 0.05% |
| Options | 0.03% | 0.03% |
| Spot | 0% | 0% |
Deribit Mobile App
Deribit has a mobile app that allows Bitcoin trading to be done from any place and at any time. Deribit's mobile application is readily accessible on both iOS and Android devices. The user interface is developed with the user's convenience and security in mind. Deribit mobile app reviews in mobile app stores are usually positive.
Deribit Security Details
Two-factor authentication is used by Deribit. Users who choose two-factor authentication upon login can be confident that no one, even if in possession of their account password, would be able to access their Deribit account.
Deribit employs an IP pining mechanism. This means that if a user's IP address changes over the course of a session, the session is ended. This prevents hackers from accessing user accounts.
They also make use of session timeouts. All sessions are automatically logged out after a specific amount of time. This protects if the user's gadget is damaged or stolen.
Deribit keeps 99% of the user's digital assets in cold wallets that are not on the cloud, preventing digital thieves from accessing them.
Promotions and Bonuses
Through its "Deribit Affiliate" program, Deribit offers referral bonuses similar to many other cryptocurrency exchanges. For the first six months, all new users who sign up through the affiliate program receive a 10% discount. Users who refer other users get paid 20% for the first six months and 10% thereafter.
You must accept the terms and conditions to take part in this program. Deribit values ethical hackers. Ethical hackers who report potential security breaches in Deribit's operational infrastructure are rewarded handsomely through the Bug Bounty program.
Deribit Customer Support
Deribit has an excellent customer support system. Users must first open a ticket to notify customer service of their issue. Personnel from the support team will reply quickly and attempt to resolve the issue as soon as feasible. Deribit provides a dedicated email address that users can use to ask inquiries about the API or report any bugs. Deribit's customer care service can also be reached via Telegram.
Pros and Cons
| Pros | Cons |
| --- | --- |
| BTC futures trading with 50x leverage Trading 50x leveraged ETH futures. | Only Bitcoin and Ethereum options and futures trading are supported. |
| The platform prioritizes user security by employing robust measures, such as cold storage for the majority of funds and two-factor authentication (2FA). | Very limited amount of cryptos supported |
| The intuitive platform design enables users to navigate seamlessly, access essential information, and execute trades efficiently. | It does not support fiat currencies |
| Deribit provides reliable and responsive customer support through multiple channels, ensuring prompt resolution of user queries and concerns. | Not beginner friendly |
| Trading fees are competitive. | |
Conclusion
Deribit Exchange offers a robust platform for cryptocurrency derivatives trading, with competitive fees, high-security measures, and excellent customer support. While it focuses primarily on Bitcoin and Ethereum derivatives, the platform provides a comprehensive trading experience for users seeking advanced trading options. There is no doubt that Deribit is the best choice for crypto options trading.
Traders looking for spot trading or a wider range of cryptocurrencies may need to explore alternative exchanges. You can check out our top 10 exchanges for day trading. Overall, Deribit's commitment to user satisfaction and reliable performance solidifies its position as a trusted player in the cryptocurrency derivatives market.
FAQs
Is Deribit a regulated exchange?
Deribit is currently not regulated but has implemented strong security measures and operates with a focus on user safety and compliance with applicable laws and regulations.
Does Deribit offer demo accounts for practice trading?
Yes, Deribit provides demo accounts that allow users to practice trading with virtual funds before engaging in live trading.
Can I deposit and withdraw funds using fiat currency on Deribit?
Deribit primarily focuses on cryptocurrency trading and does not support direct deposits or withdrawals with fiat currency. Users can only transact with cryptocurrencies on the platform.
Can I trade on Deribit if I'm a resident of the United States?
As per the platform's policy, U.S. residents are not allowed to access or use Deribit for trading due to regulatory restrictions.
Does Deribit have a mobile app?
Yes, Deribit provides a mobile application for iOS and Android devices, allowing users to access their trading accounts and manage positions on the go.
What Are the Trading Fees Deribit Charges?
For all transactions, Deribit charges maker and taker trading fees. Fees for futures trades, perpetual trades, and options trading vary. However, the amount levied is minimal and in line with industry standards worldwide.