With the growing popularity of decentralized, secure, and flexible trading options, peer-to-peer (P2P) crypto exchanges are becoming increasingly sought after by both newcomers and experienced traders alike. This guide will delve into what makes these P2P platforms stand out from the competition while providing a list of the top seven best P2P crypto exchanges for 2023 to ensure safe and profitable transactions.
Key Takeaways
P2P crypto exchange transfers offer increased privacy, security, and flexibility for cryptocurrency traders.
The top 7 P2P crypto exchanges of 2023 are OKX, Binance P2P, Paxful, Huobi P2P LocalCoinSwap, KuCoin P2p and Bisq.
When selecting a platform, it is important to consider trading fees & security measures as well as supported currencies & payment methods in order to ensure the best user experience.
Understanding P2P Crypto Exchanges
P2P crypto exchanges are appealing for their decentralized and more confidential approach to trading cryptocurrencies. This is in contrast to the traditional centralized ones, which act as a third party that necessitates users entrusting funds to them. They give several advantages, like lower fees incurred during transactions, enhanced privacy, and wider access to flexible payment methods such as bank transfers, gift cards, or digital payments.
Decentralization and Privacy
P2P crypto exchanges offer a variety of benefits due to their decentralized nature. These platforms provide enhanced levels of security and privacy since user data and funds are not stored on any centralized servers, as is the case with traditional exchanges. These platforms employ measures such as triple-layer asset protection To escrow services for additional protections against potential malicious acts aimed at stealing users' digital assets or fraud-related payment methods. It should be noted that there can still be risks associated with using P2P cryptocurrency trading solutions, which one must take into account before investing in this space.
Direct Trading
P2P crypto exchanges facilitate direct trading between people, enabling them to take control over the whole process and negating any need for a middleman. Buyers can decide what they want in their trade: cryptocurrency type, amount, and preferred fiat currency payment method. Then, an exchange will list out offers that match these requirements exactly for quick execution of transactions at all times due to always-available vendors 24/7, no matter where one is located — such flexibility definitely has its advantages! Bypassing centralized authorities through this form of crypto trading provides users around the world with a workaround when it comes to countries having restrictions on digital asset trading.
Top 7 P2P Crypto Exchanges for 2023 Reviewed
Crypto exchanges have become increasingly popular, and in 2023, several platforms emerged as the top contenders. This guide will review which are currently regarded to be the best P2P crypto exchanges of that year: OKX, Binance P2P, Paxful, Huobi P2P, LocalCoinSwap, Kucoin p2p & Bisq.
OKX is a decentralized exchange offering users an easy way to buy and sell cryptocurrencies without needing any intermediaries or third parties involved.
1. OKX
OKX is a renowned P2P exchange that allows for global merchant trading competition as it supports over 100 fiat currencies and more than 900 payment methods, including local bank transfers, SEPA, SWIFT, Perfect Money, and TransferWise.
With over 6 supported digital assets, a wide range of cryptocurrencies, such as Bitcoin, Ethereum, USDT, USDC, TUSD, and DAI, can be traded on OKX P2P platform without any fee charged per transaction. In order to ensure user safety through trustworthiness in their dealings with one another, an escrow system holds users' cryptocurrencies while they are making trades – similar to eBay's rating systems used when purchasing items online. This process handles high-trading volumes securely.
Users can transact P2P crypto transfers via OKX from all around the world with ease and comfortability at every step of their transactions, which makes OKX perfect for large-scale digital asset swap deals due to its secure features.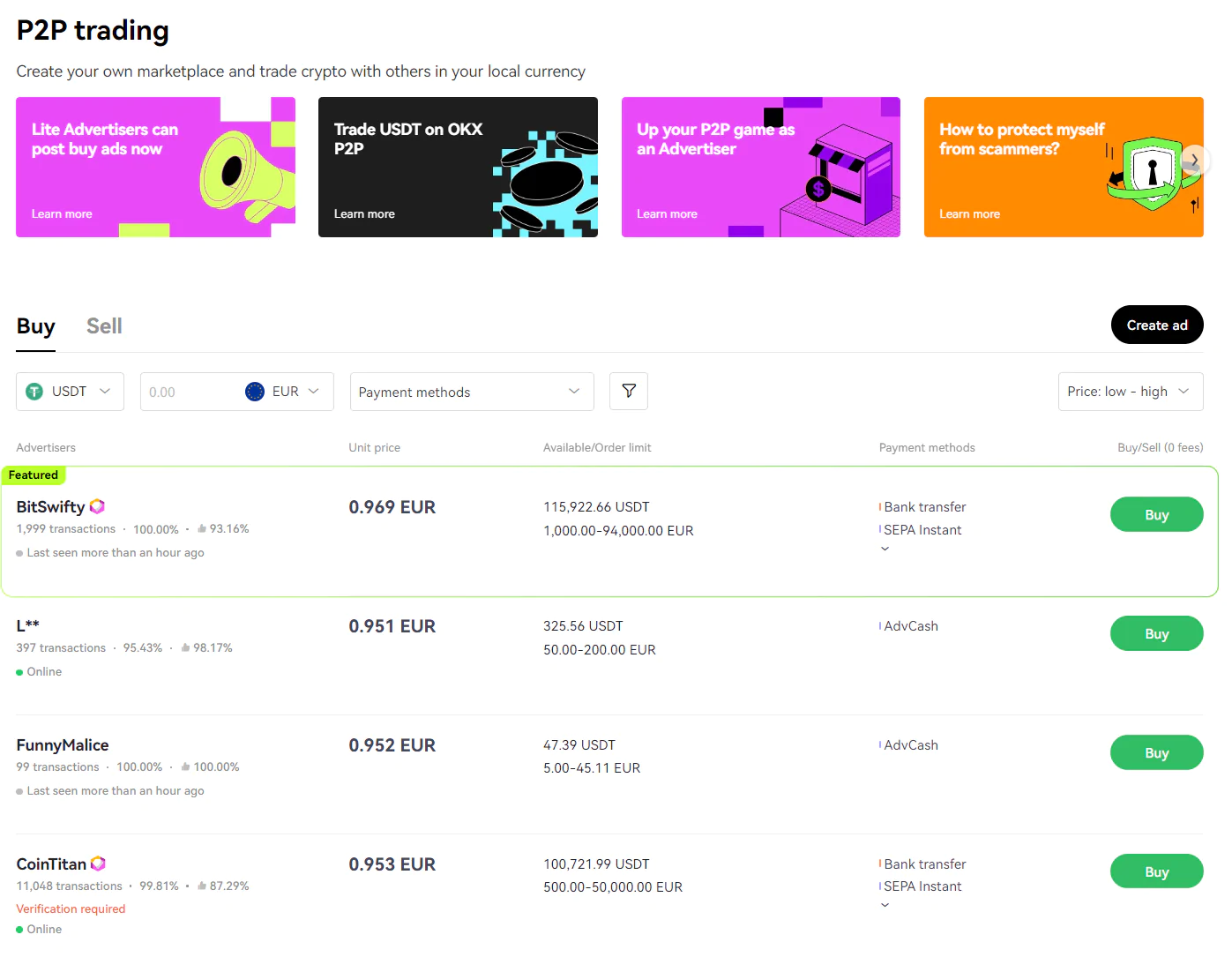 2. Binance
Binance P2Pmarket stands out from other names in the cryptocurrency industry, offering an array of features that make it a desirable choice for traders at any experience level. Their comprehensive marketplace is highly liquid and supports numerous payment methods, including Bitcoin (BTC), Ethereum (ETH), BNB Coin, BUSD, DAI, and USDT tokens, as well as advanced trading options.
Due to its user-friendly interface, security on this exchange has been given priority, with escrow services utilized to provide added assurance during transactions. All merchants who use the platform are held to high standards by Binance, ensuring all users can be confident they will receive quality service when using their P2P marketplaces.
For customers looking for secure exchanges supported by multiple payment methods, then look no Than Binances's P2P solutions – they offer unbeatable customer satisfaction through safety measures coupled with varied offerings, making them one of the top destinations amongst crypto professionals or newcomers alike!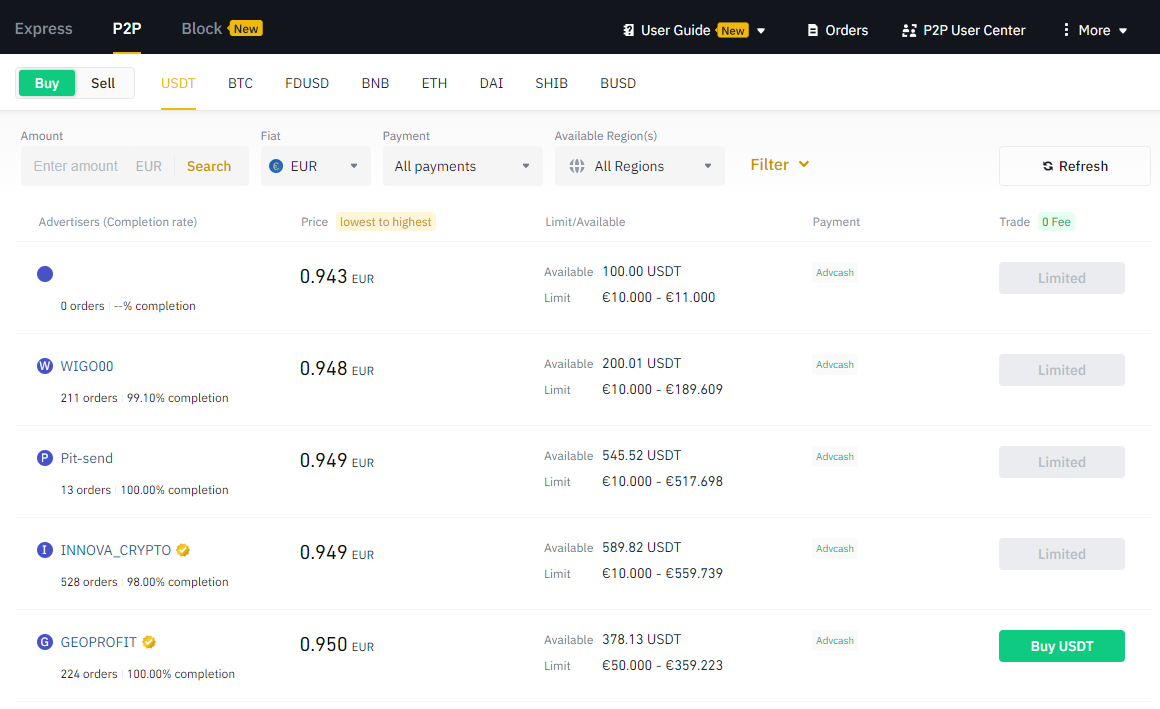 3. Paxful
Paxful, a renowned crypto trading platform that covers digital assets such as Bitcoin and Ethereum, is well-known for its large selection of payment methods To provide traders with an uncomplicated interface. Offering over 250 different ways to pay, including credit cards, PayPal, and wire transfers – the fees are also quite low. Sellers normally incur only a 1% commission on their sale, while buyers may find that there is no cost or up to 0.5%. This makes Paxful very attractive when looking for a competitively priced P2P trading experience without compromising quality.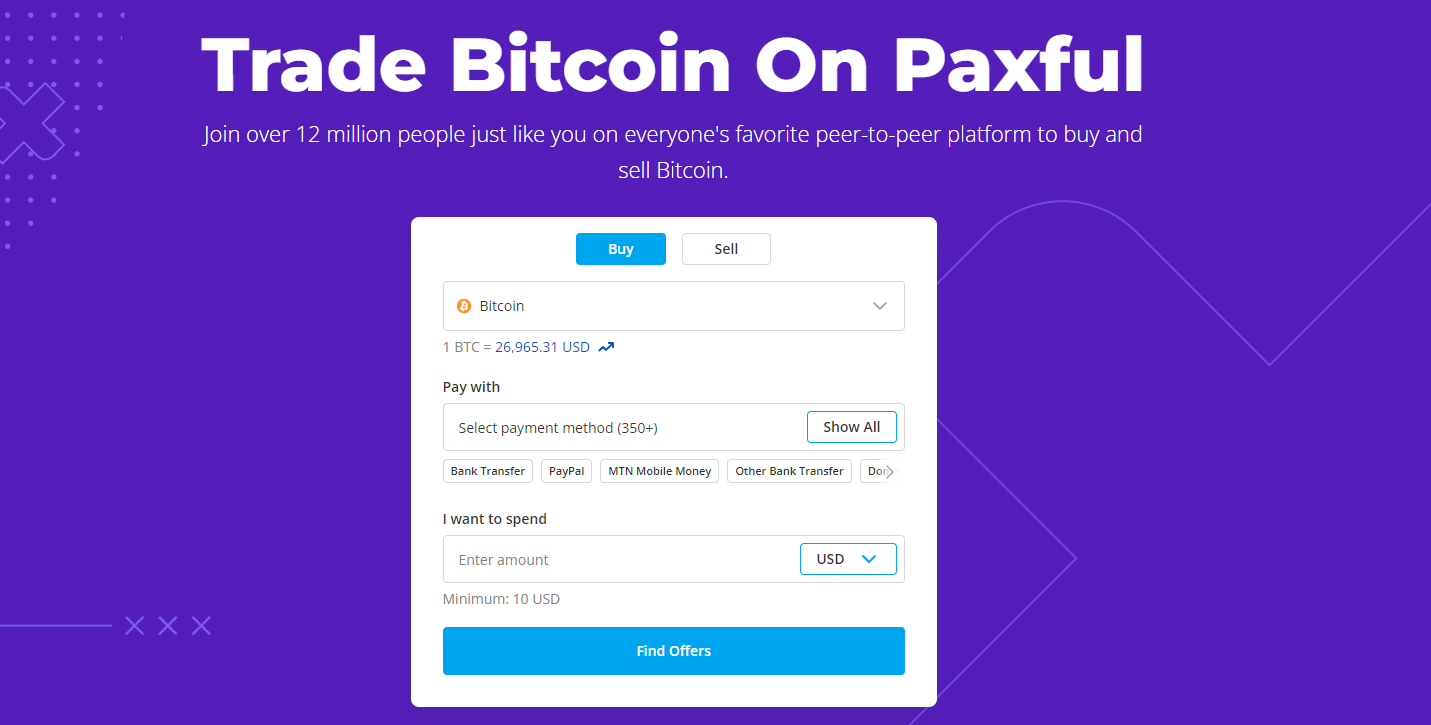 4. HTX (Huobi)
HTX, formerly Huobi, P2P aims to offer a superior user experience with its commission-free trading platform and round-the-clock customer service. The wide range of cryptocurrencies supported on HTX includes Tether, Bitcoin, USDD, HTX or Huobi Token, Tron, and Ethereum.
To give users more flexibility in their payment options. Bank transfers, as well as credit cards, are provided together with multiple digital wallet solutions, making it easier for them to select which method best suits their needs when conducting transactions without added cost. Ultimately, providing an effortless transaction journey through ensuring satisfaction is a key focus at all times.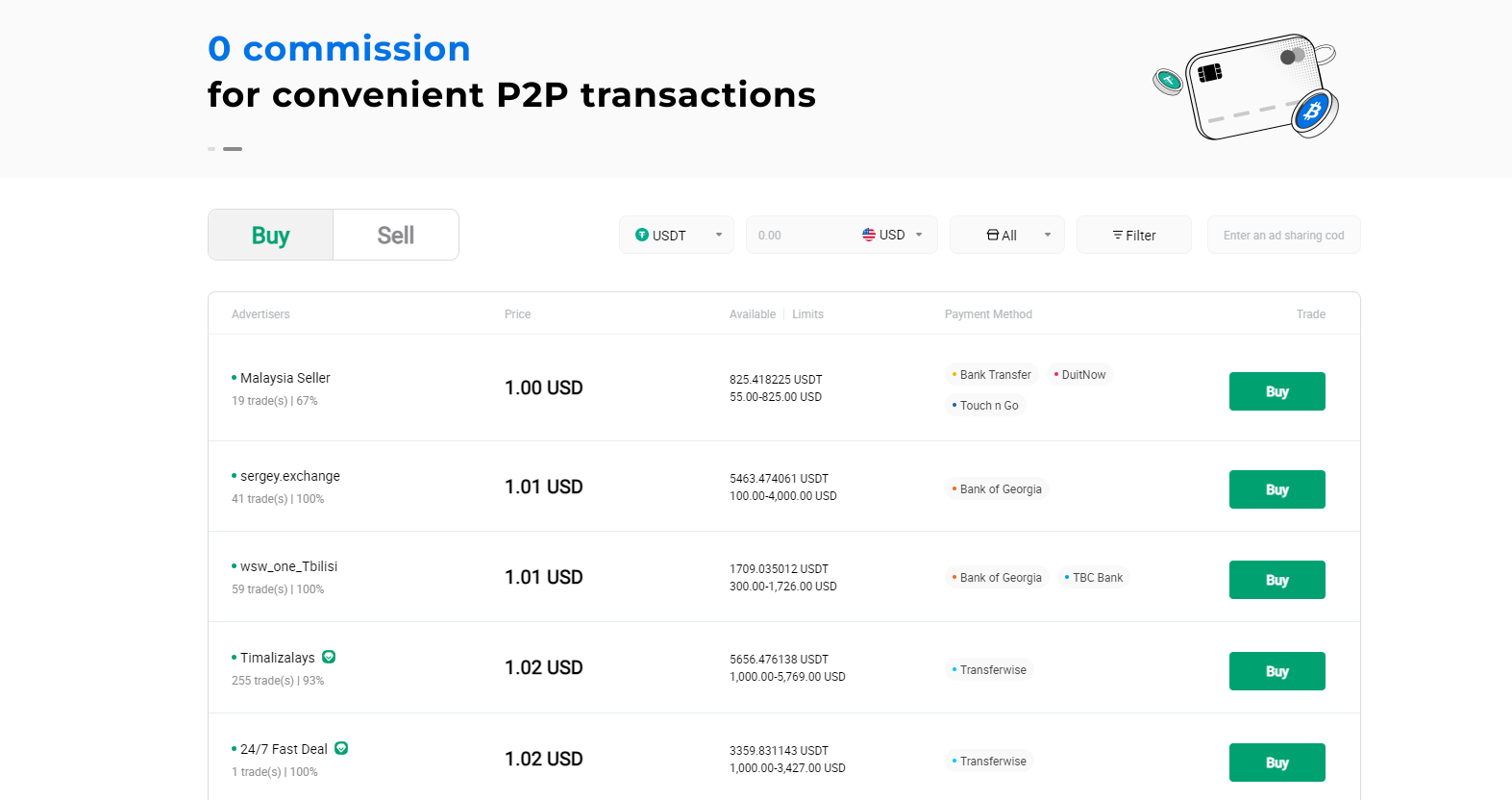 5. LocalCoinSwap
LocalCoinSwap is a convenient P2P exchange that allows people to trade in various cryptocurrencies, such as Bitcoin, Ethereum, Dash, and Tether. The platform also supports USDC, DAI, and its own loyalty token, LCS, along with Nexo. Users of all levels can easily navigate through the simple interface offered by LocalCoinSwap, making it an enjoyable trading experience for them. With this attractive feature, they will be charged only a 1% transaction fee when using this service – one of the most cost-effective options available on today's market!
LocalCoinSwap provides users with multiple payment methods, including cash person transfers, local bank transfers, PayPal Skrill PayID, etc., which makes it even more accessible for different customers' needs regarding cryptocurrency transactions. Everyone interested should consider checking out what's on offer from them at their earliest convenience – great rates combined with cutting-edge services make up an unbeatable combination!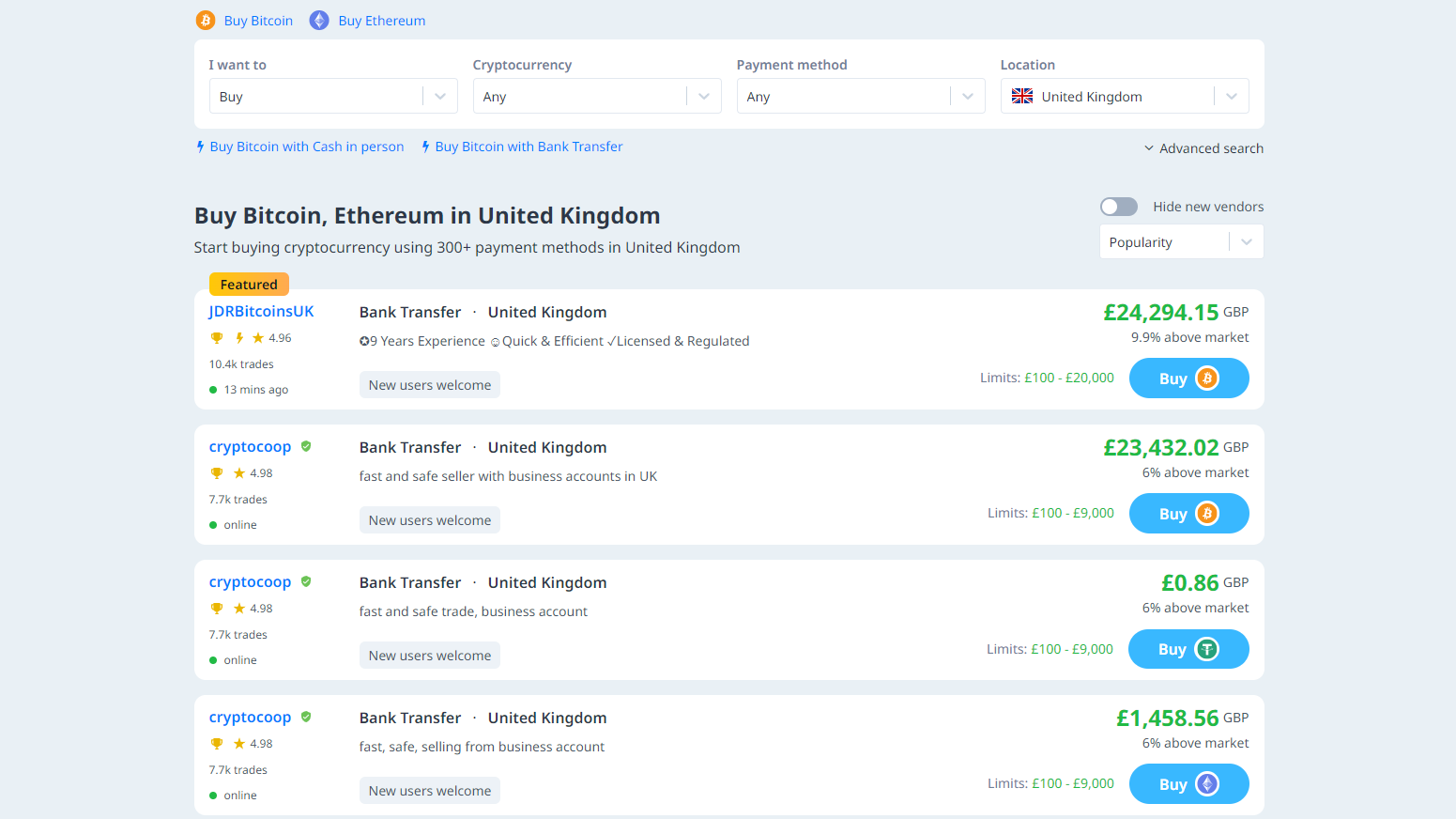 6. KuCoin
KuCoin P2P offers a fee-free service for traders when buying and selling cryptocurrency in certain emerging markets. This platform allows Tether, Bitcoin, Ethereum, USD Coin, and KuCoin Token to be exchanged with payment methods such as Momo PhonePe UPI IMPS or local bank transfers. The company places great emphasis on user security so that all trades are safe from any potential risks. As a bonus, access is also available for users of countries like Vietnam or India who can use specifically designated local banking options.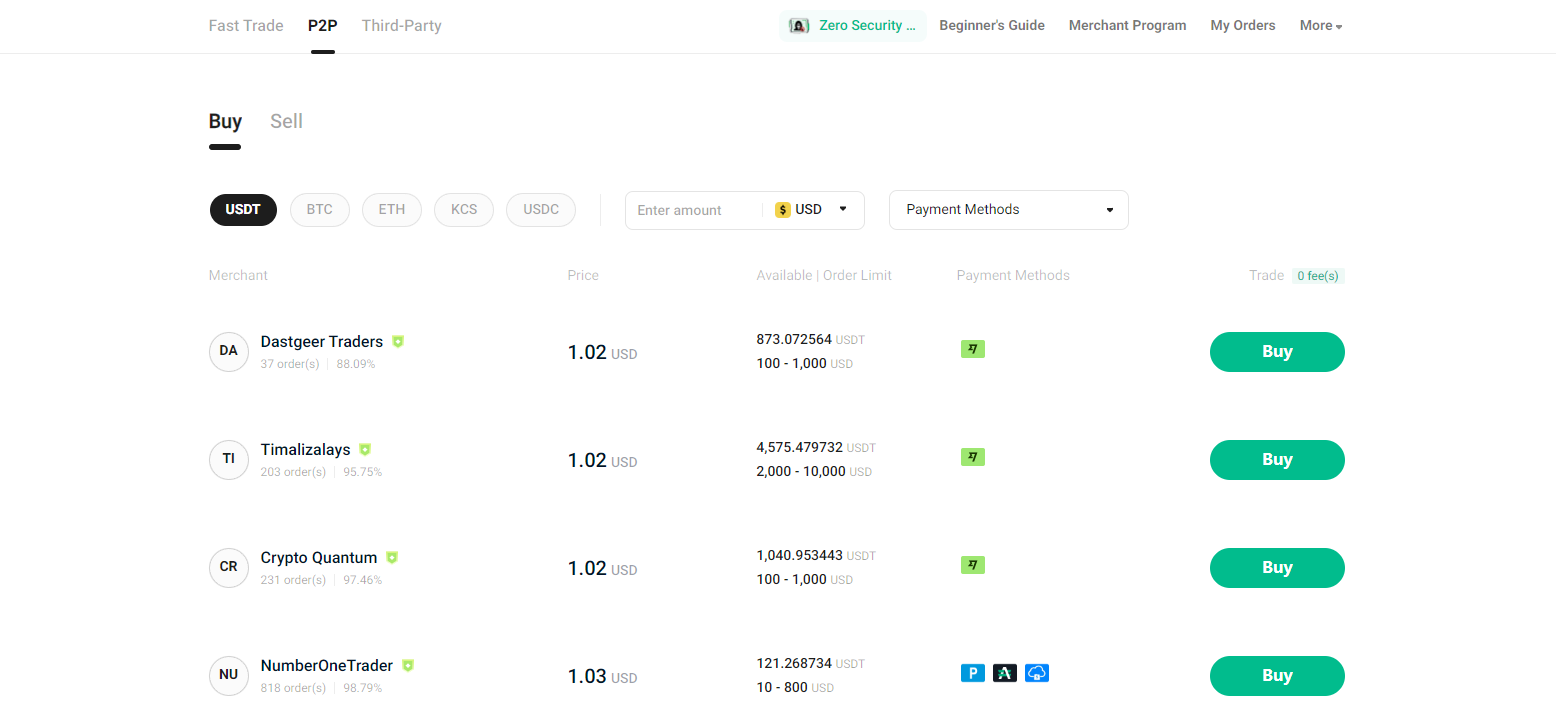 7. Bisq
Bisq is a decentralized and anonymous trading platform that supports various cryptocurrencies such as Bitcoin, BSQ, Monero, Ethereum, etc. It requires users to meet some identification requirements in order to trade on the exchange. The fees for sellers are 0.1%, while buyers can pay up to 0.7%. Also available are more than 20 payment options, which add flexibility when it comes to utilizing the system's features without compromising privacy or security of funds during transactions; its lack of resolution systems may mean disputes need extra attention if they arise.
Key Factors to Consider When Choosing a P2P Exchange
When choosing a P2P exchange, there are certain elements to bear in mind that can significantly affect whether the particular platform will meet your trading specifications. These factors include Trading fees, security protocols, supported currencies and payment options available, as well as user satisfaction with their experience. All these criteria must be taken into account when selecting an appropriate service that suits you best. It is essential to evaluate each of these components thoroughly before making any decisions regarding the right choice for one's needs.
Trading Fees
When selecting a P2P crypto exchange, it's essential to look at the trading fees, as they can make an impact on your overall expenditure. Fees charged by this kind of exchange commonly vary between 0.1% and 0.5%; some platforms even offer fee-free trading options. Make sure you study the expense structure of a particular P2P platform carefully so that it fits in with both your budget and approach to investing.
It should also be noted that several times, there could be additional charges imposed, such as withdrawal costs, which may result in increased expenses related to engaging with these types of marketplaces.
Security Measures
When evaluating a P2P exchange, it is essential to ensure that its security measures are up to par. Two-factor authentication, encryption, and escrow systems can all help keep your assets secure from potential scams or frauds. Before selecting an exchange platform, you should do some research into the reputation of the provider as well as any other user experiences which could give insight into how good their protective features really are. Keeping these two considerations in mind will help make sure your funds and personal information stay safe when using a P2P Exchange platform.
Supported Currencies and Payment Methods
To ensure that your trading experience is hassle-free, look closely at the payment methods and currencies accepted by a P2P exchange. Many of these platforms support different kinds of digital wallets as well as bank transfers and credit cards – so be sure to check which options are available before selecting an exchange. Double-check if the cryptocurrencies you intend to trade with can actually be traded on that particular platform in order to maximize potential profit opportunities.
User Experience
When selecting a P2P crypto exchange, it's important to prioritize user experience as this can make trading more enjoyable and accessible. Think about elements such as the interface of the platform, its ease of use, and any features like wallets for cryptocurrency storage or direct transactions between users. Review how responsive customer service is, along with resolution protocols. These are essential in ensuring your trades remain secure at all times. By considering the overall user experience when choosing a p2p crypto exchange, you'll be sure that it suits your requirements for an optimal trading journey.
How to Safely Trade on P2P Crypto Exchanges
P2P crypto trading can be quite lucrative when done right, so it's wise to take precautions in order to have a secure experience. Strategies like using an escrow service for transactions and double-checking users are helpful steps that should not be overlooked if you want to minimize risk while selling crypto on these exchanges. Always remain up-to-date with potential scams or threats, as knowledge is key to staying safe overall!
Escrow Systems
When trading on P2P exchanges, many users employ the use of escrow service systems to maintain a secure and safe experience for both buyers and sellers. This method involves the third party holding funds or assets until transactions are successfully completed in order to reduce potential fraud cases. To get maximum benefits from these safety features, it is important that parties understand all terms & conditions before commencing trade as well as verifying identities properly. In doing so, scams can be prevented, which will ultimately result in an enjoyable trading environment.
Verifying Users
To create a safe and secure trading environment, verifying the identity of users on P2P exchanges is crucial. This can help minimize scams and frauds while still adhering to legal requirements. When partaking in transactions through these platforms, it's essential to look into each party's reputation, as this will provide insight into their trustworthiness and dependability. You should expect to submit your personal documents for verification purposes, which not only enhances security but also guarantees protection for both buyers and sellers alike. In summing up, by putting user authentication first, there is a surety that potential risks associated with fraudulent activities are reduced so that one may have an enjoyable trading experience without any worries or uncertainties.
Staying Informed
In order to maximize your success in the crypto market and protect yourself from threats, it is essential to stay up-to-date on potential risks associated with P2P crypto exchanges. Doing thorough research, checking out reviews of the exchange platform, and staying informed about industry trends can go a long way toward avoiding scams or fraud when trading in this sphere.
Having an active approach toward risk management will help reduce any chances you might face such unfortunate situations while dealing with other users through P2P platforms. By taking these steps proactively into account before making investments within the cryptocurrency world, one's experience would be much safer as well as successful!
The Future of P2P Crypto Exchanges
The popularity of peer-to-peer (P2P) crypto exchanges is set to rise as the cryptocurrency market continues its development. Factors such as more widespread adoption, regulatory changes, and technological advances are expected to drive growth in this sector. P2P platforms offer distinct advantages over centralized exchanges – including greater security, privacy, and user flexibility. As a result, we can anticipate that they will play an increasingly important role in shaping the landscape for digital asset trading moving forward.
P2P cryptos have significant potential due to their capacity to deliver higher levels of control than traditional exchange setups provide, making them extremely attractive options for those who value these features highly when it comes to handling cryptocurrency transactions safely and securely.
Summary
As the need for decentralized, safe, and flexible trading opportunities increases, it is expected that P2P crypto exchanges will only continue to expand with more growth and innovation. When beginning your journey in this field of trades, you should remember to thoroughly consider each exchange's characteristics, such as fees applied when executing transactions or security protocols present before committing. Be sure to take into account any payment systems available on the platform, along with which cryptocurrencies are supported.
Being educated about these matters while also using caution when dealing with other users involved can ensure a secure experience within the world of peer-to-peer virtual currency exchanges, ensuring success throughout all your operations performed here!
Frequently Asked Questions
What is the best P2P crypto exchange?
The top P2P crypto exchanges of 2023 are OKX, Binance, KuCoin, Bybit, Huobi, and Gate.io, all providing a great choice of digital assets with low fees for traders to enjoy an easy experience as well as dependable customer service.
Is P2P crypto illegal?
P2P crypto trading is considered by the U.S. Treasury as a convertible decentralized virtual currency and regarded by the CFTC as an asset, which means it has been placed in its own category of property that must be taxed accordingly for investors who use this method to diversify their portfolios or gain from opportunities offered on the growing crypto market.
Those looking at adding a little extra volatility into their finances have legal access to P2P cryptocurrency exchanges with all forms of value transfer being recognized under U.S. law—making them safe-to-use investment avenues offering potential rewards too good to ignore!
What is the P2P crypto exchange for 2023?
By 2023, OKX has become renowned as a top-tier peer-to-peer cryptocurrency exchange with an impressive daily trading volume of $1 billion. It is well known for offering secure services powered by one of the world's leading exchanges.
Is Coinbase a P2P exchange?
Coinbase does not provide a P2P Bitcoin trading platform, but they do allow peer-to-peer transactions through their Coinbase Wallet app. Before being able to access these exchange services, all users are obliged to comply with the Know Your Customer procedures.
What are the benefits of using P2P crypto exchanges?
Crypto exchanges that are peer-to-peer (P2P) offer great advantages, including improved privacy, lower fees, and better access to global trading. These features make P2P crypto exchanges an alluring option.