If you want to buy cryptocurrencies with ZEN, make sure to read our full guide. We will show you the fastest and most secure ways to buy Bitcoin and other cryptos with ZEN. The best place to buy cryptocurrencies with ZEN is Bybit due to its low fees and over 400 supported cryptos.
ZEN is a popular online wallet and payment provider. Millions of users trust in ZEN payments due to its high security and reliability. If you want to buy cryptos with ZEN, we recommend using Bybit. The Bybit crypto exchange has a fully integrated gateway for ZEN users, making crypto purchases with ZEN as simple as breathing.
Is Buying Cryptos With ZEN Legal?
Yes, buying cryptos such as Bitcoin, Ethereum, USDT, or more is possible and completely legal with ZEN.
While ZEN offers crypto purchases within the ZEN app, the functionalities are limited, and the number of supported digital assets is low. That's where crypto trading platforms that support ZEN payments come into play. However, you must make sure to use a legitimate and regulated crypto exchange when making any purchase.
How To Buy Bitcoin & Crypto With ZEN
The best and fastest way to buy cryptocurrencies with ZEN is, without a doubt, Bybit. With over 20 million users, Bybit is one of the most trusted crypto exchanges in the world. ZEN users will be pleased to hear that Bybit has a directly integrated payment gateway for ZEN. This makes the money transfer extremely easy, enabling you to buy cryptos using ZEN within a few minutes.
Follow our simple step-by-step guide on how to buy cryptos such as Bitcoin with ZEN.
Step 1: Sign Up and Verify on Bybit
First, you need to sign up on Bybit. Using Bybit is the best way to purchase cryptocurrencies with ZEN in a safe and secure manner. As Bybit complies with local regulations and laws such as AML, you must verify your identity with personal details such as a government-issued ID or Passport. The verification usually just takes a few minutes.
Step 2: Go to the deposit section
After your Bybit account is successfully verified, hover over "Buy Crypto" in the top left corner and select "Fiat Deposit".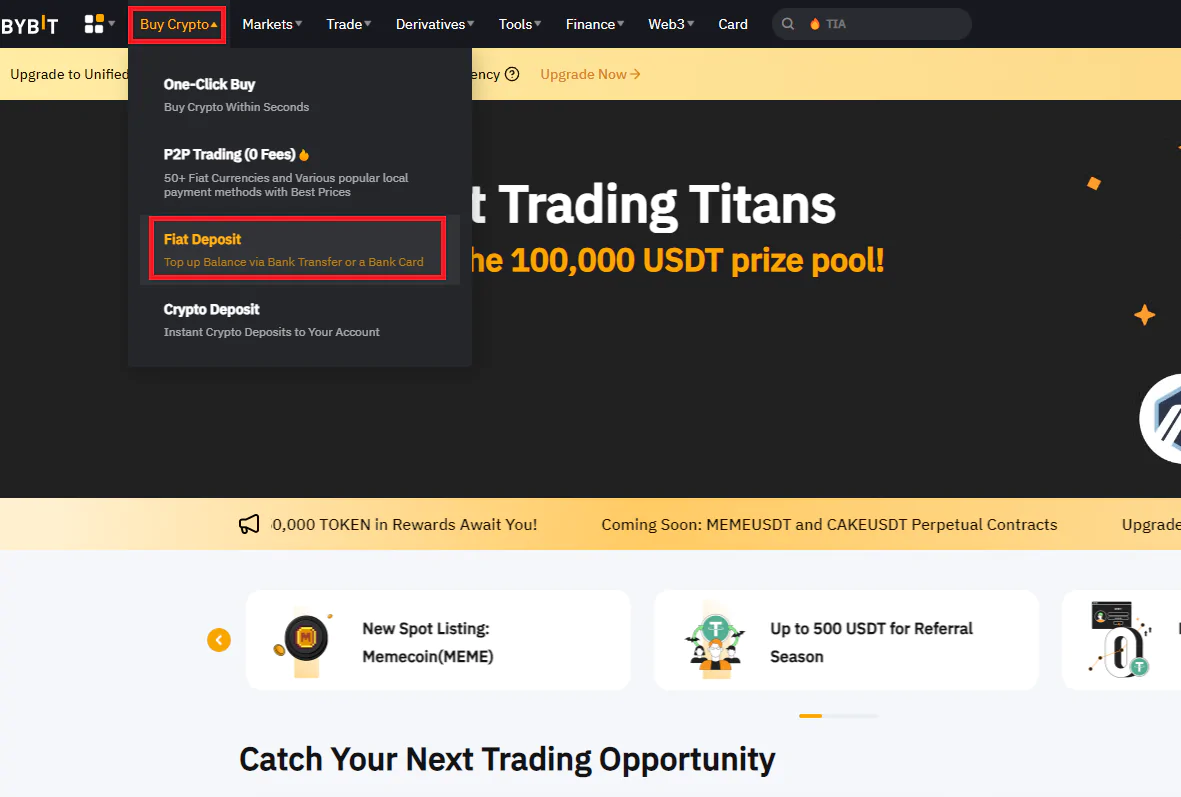 Step 3: Select Euros as the fiat currency
Choose € EUR as the currency in order to use ZEN payments. Hover over "More Payment Methods" and select "ZEN". Also, add the Euro amount you wish to deposit. Lastly, click on "Confirm".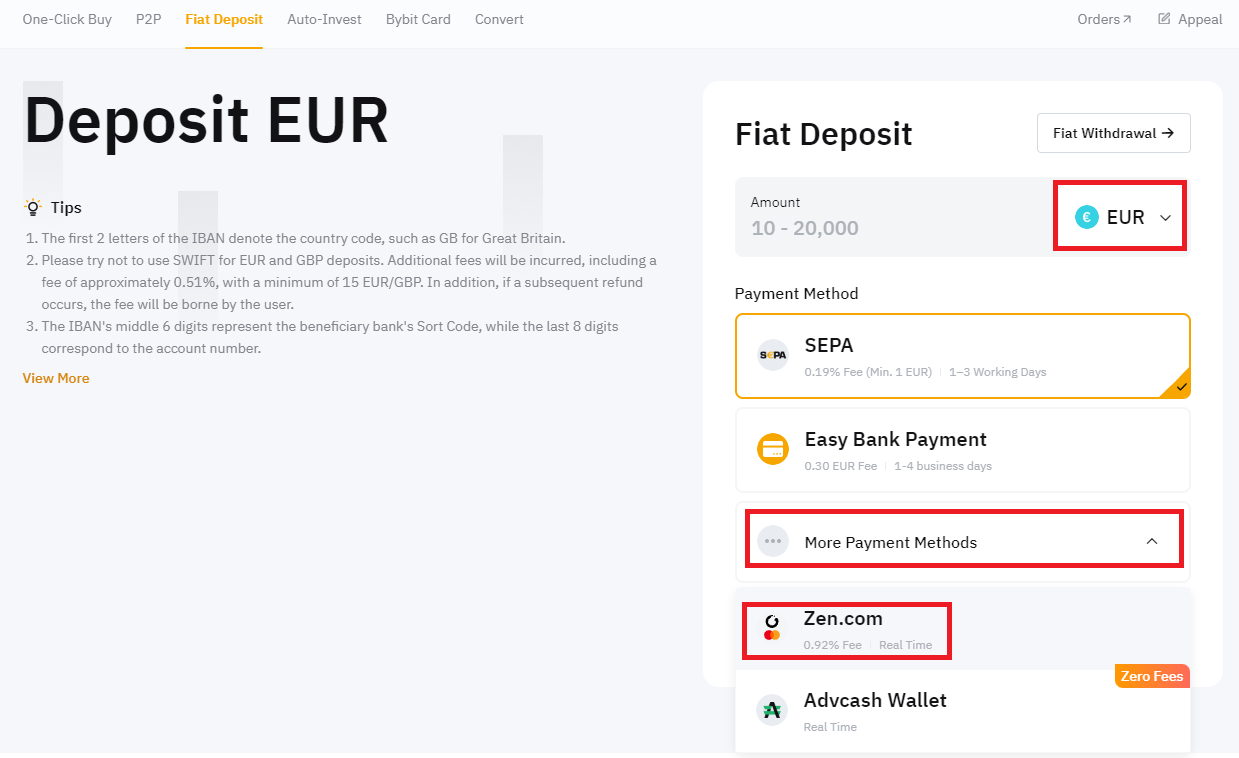 Step 4: Link your ZEN account
Add your ZEN account in order to finalize the transaction. Accept the terms of service and click on "Continue". Note that the mobile number must match the number registered on your ZEN account.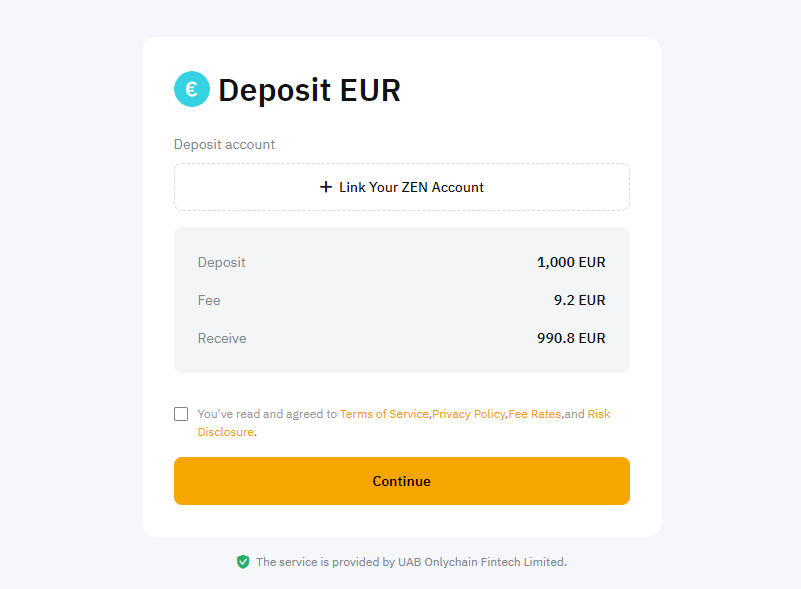 Step 5: Finalize the payment
After linking your ZEN account, you can finalize the transaction. The Euro balance will be credited to your Bybit account instantly.
Step 6: Exchange Euros for Cryptos
After successfully completing the ZEN deposit, you will receive the Euro balance in your Bybit funding wallet. Go to your funding account wallet and click on "convert". You can exchange your Euros for cryptos such as USDT. Then, you can use your USDT balance on the Bybit spot market to buy any crypto you desire.
Alternatives
If you can't use Bybit due to local restrictions, you can try out other crypto exchanges such as Binance.
Binance P2P – Buy Crypto With ZEN on Binance
The Binance crypto exchange is the largest platform with ZEN payments in its P2P trading platforms. When comparing the Binance P2P trading market, we noticed that there are a lot more offers for ZEN payments. Binance has over 100 sellers accepting ZEN payments through P2P trading.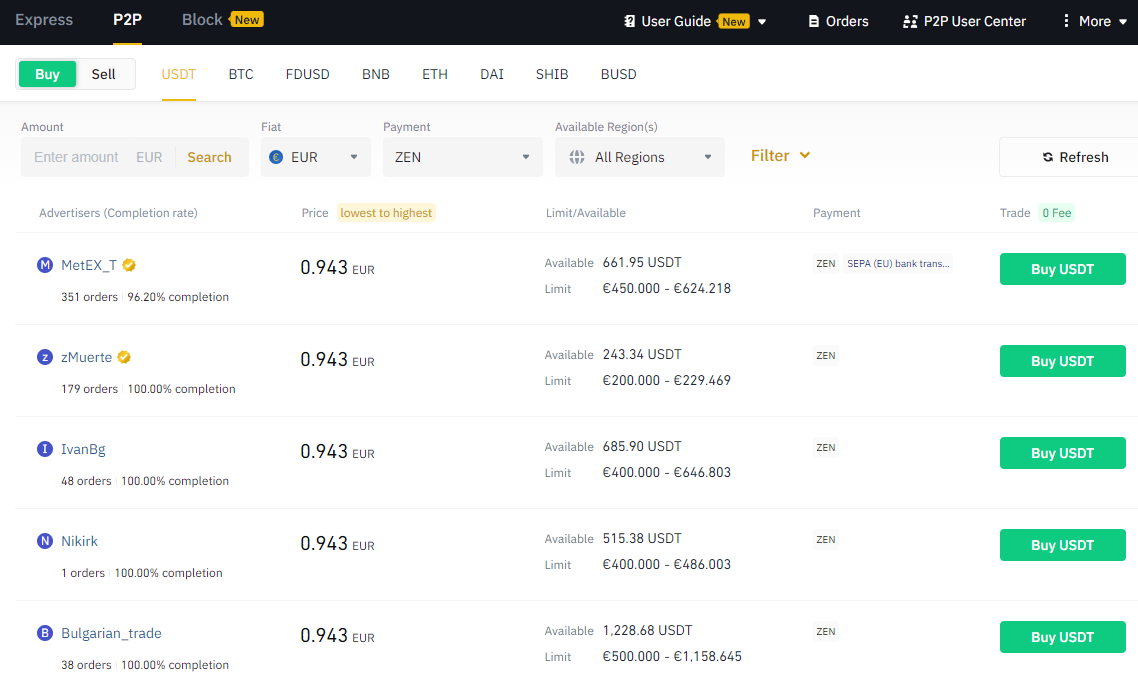 OKX P2P – Buy Crypto With ZEN on OKX
Alternatively, you can try out OKX, which also supports ZEN in its P2P market. However, one major downside of using the OKX P2P market is the low availability of ZEN offers. We could only find 20 sellers accepting P2P payments.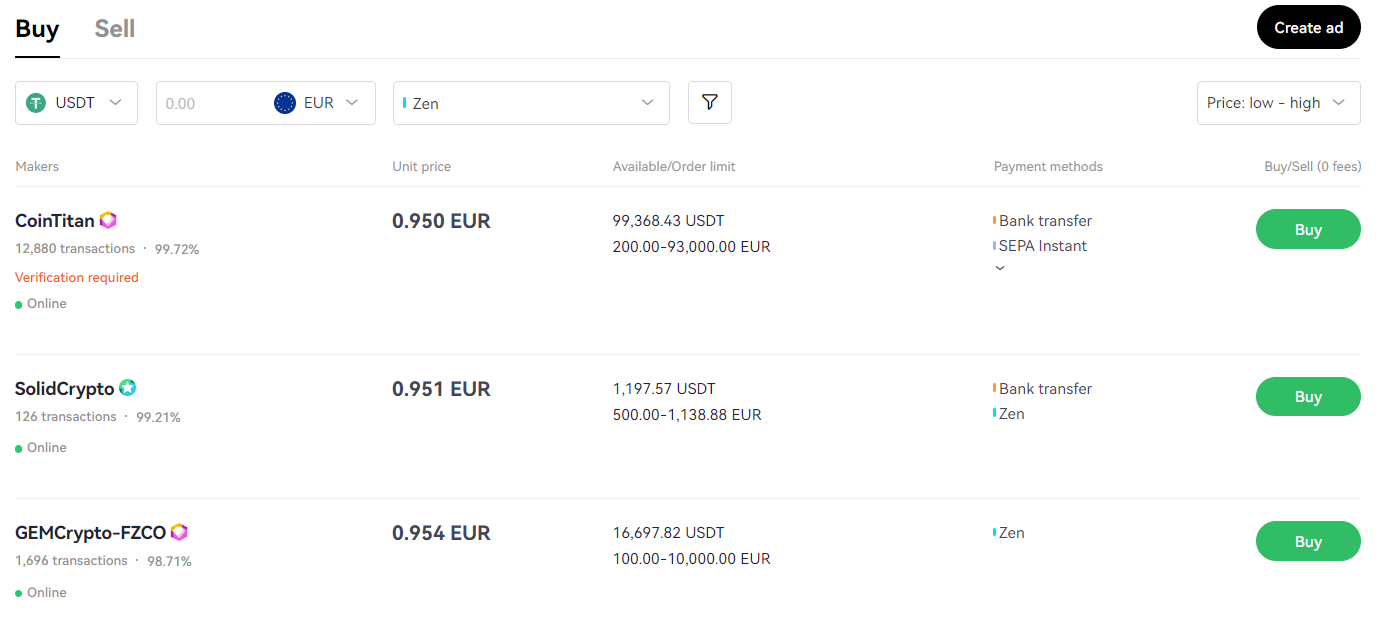 Bottom Line
Buying cryptos with ZEN is not only simple and cheap but also one of the most secure ways. The best way to buy cryptos with ZEN is by using the Bybit platform. What makes Bybit special for ZEN users is its direct integration with ZEN, ensuring seamless transactions with minimal fees and instant processing time. With over 400 supported cryptos on Bybit, you will surely find any digital asset you are looking for.
Other alternative options when it comes to buying cryptos with ZEN are crypto P2P trading markets such as Binance P2P and OKX P2P.