If you have ever tried buying cryptocurrencies with PaySafeCard, you might have noticed that only very few platforms support PaySafe cards. The worst thing is that many of these websites seem shady and unsafe. That's why we have researched to find the best way to purchase cryptocurrencies such as Bitcoin or Ethereum with PaySafe cards.
Is Buying Cryptos with PaySafeCard legal?
Yes, buying cryptos with PaySafe cards is possible and legal. PaySafeCard is a popular payment method of the parent company, Paysafe. With millions of users worldwide, Paysafe is a well-respected payment gateway. For crypto enthusiasts looking to buy digital assets with PaySafe Cards, the best options to go with are LocalCoinSwap and BTCBIT.
Read our full guide on how to buy crypto with PaySafe Cards and get your wallet funded today!
LocalCoinSwap – Best Crypto Platform with PaySafeCard Payments
BTCBIT – Best Alternative Crypto Exchange with PaySafeCards
1. Buy Cryptos with PaySafeCard on LocalCoinSwap
Buying cryptocurrencies with PaySafeCards on LocalCoinSwap is very simple and straightforward. LocalCoinSwap is a global Peer to Peer (P2P) crypto trading platform with a 4.6/5 star rating on Trustpilot; LocalCoinSwap appears to be a secure platform for crypto purchases. With an internal Escrow service, LocalCoinSwap aims to protect customers from fraudulent orders, ensuring a smooth buying process.
Follow the step-by-step guide below to buy cryptos with PaySafe cards today!
Step 1: Visit LocalCoinSwap
Register on the official LocalCoinSwap website. Identity verification is not required, so you can stay anonymous. All you need is an email and a strong password.
Step 2: Click on "Buy Crypto"
After registering on LocalCoinSwap, click on "Buy Crypto" in the top left section.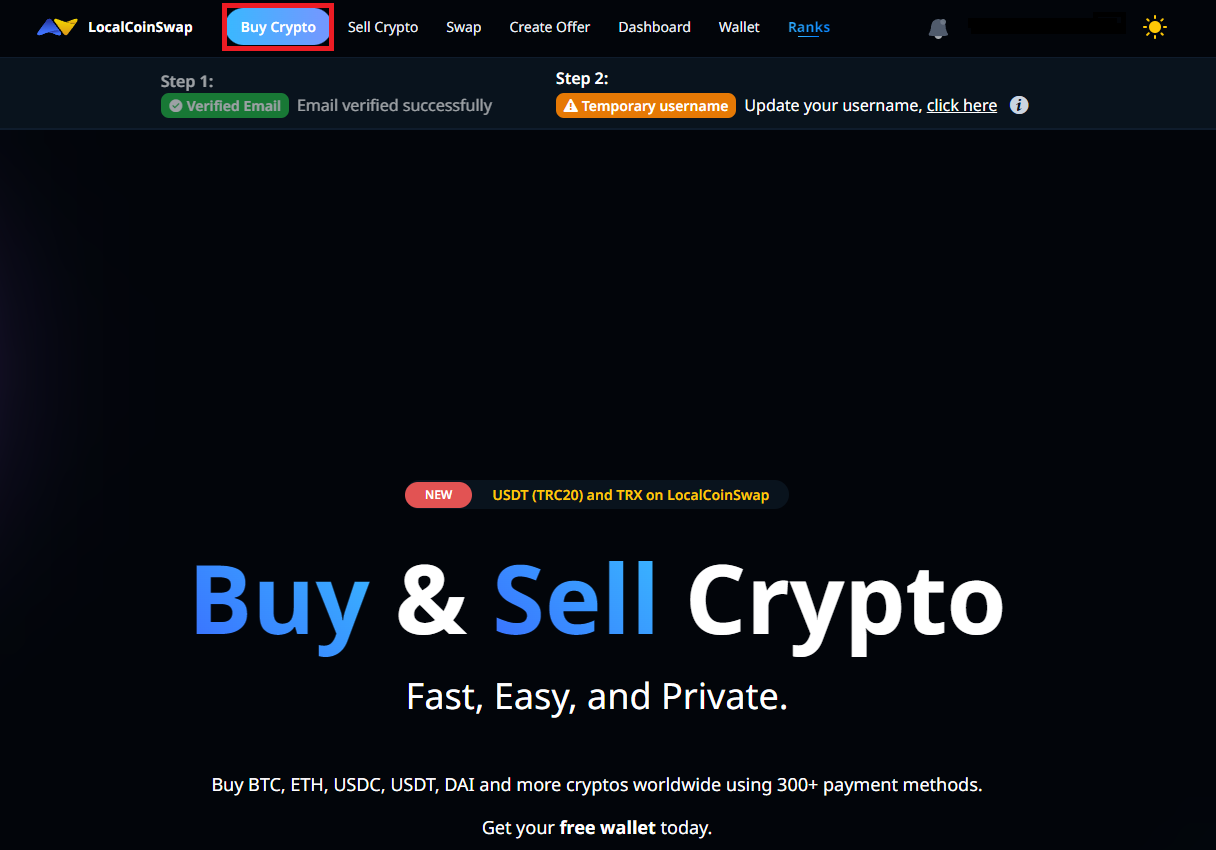 Step 3: Choose Crypto & Payment Method
In the next step, you have to specify your desired crypto and your payment method. Also, we recommend setting the location to "worldwide" as this will show you more offers. Just make sure your Paysafe card is compatible with the requirements of the seller (e.g., restricting specific countries).
Select the cryptocurrency you want to buy.
Select Paysafecard as the payment method.
Change the location to your liking.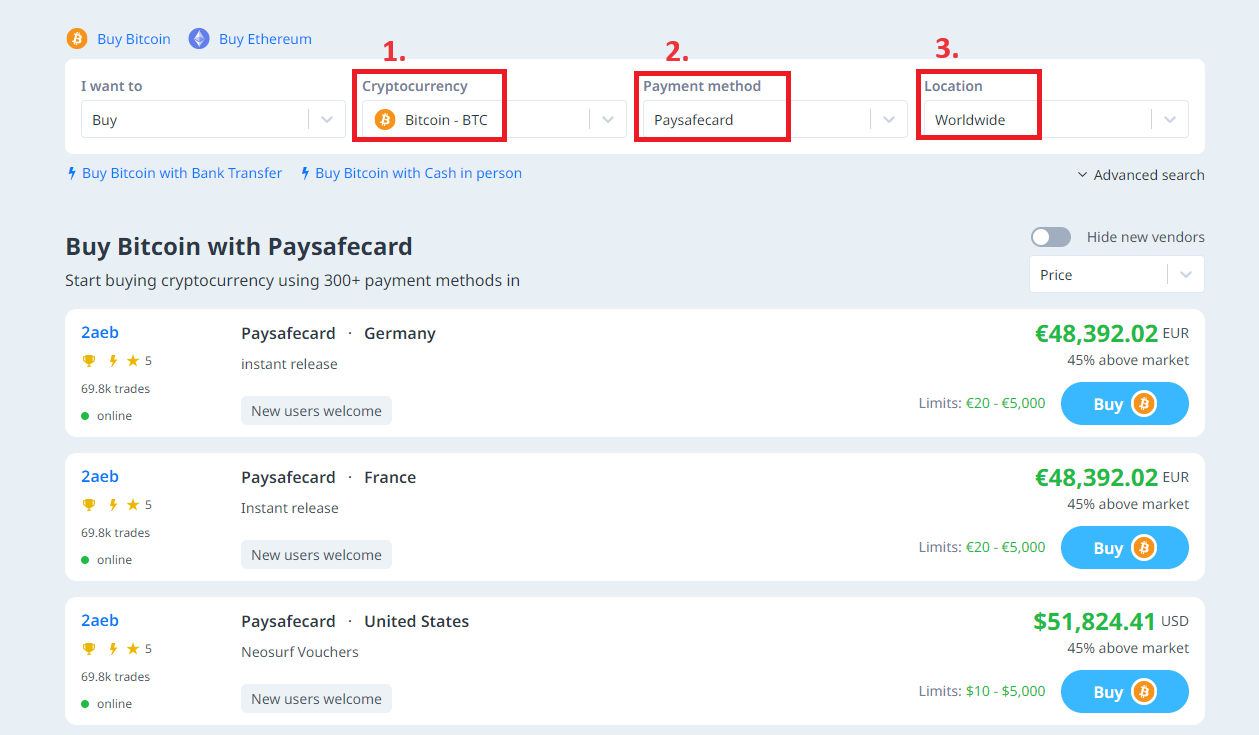 Step 4: Choose a listing
Browse through the listings on LocalCoinSwap that support Paysafecard payments for crypto purchases. We highly recommend you check out the ratings and number of trades of the sellers. Preferably, the seller should have a 5-star rating with hundreds or thousands of orders.
Once you have found a listing you like, click on "Buy."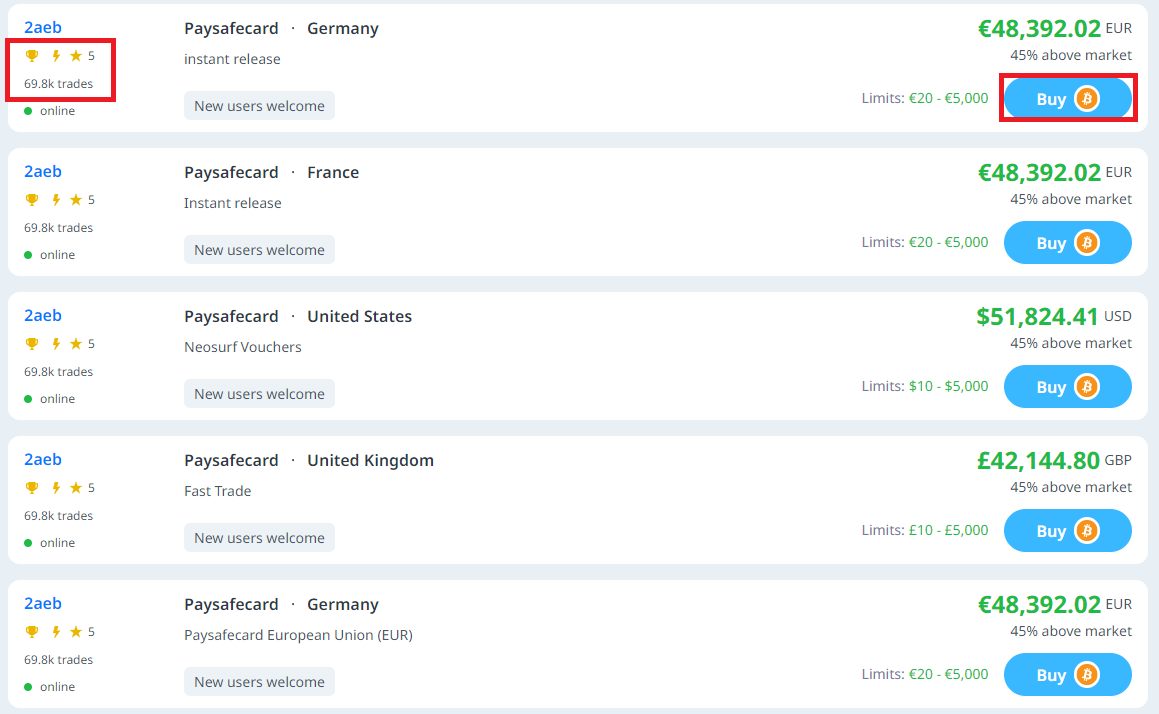 Step 5: Read Terms and conditions + Select Amount
Make sure to read the terms and conditions of the seller (right-hand side). In this case, the offer is for Paysafecards from the EU, yet Italy, Greece, and Portugal are excluded. After verifying all details, enter the number of cryptos you want to buy (equivalent to your Paysafecard balance) and click on "Buy Bitcoin."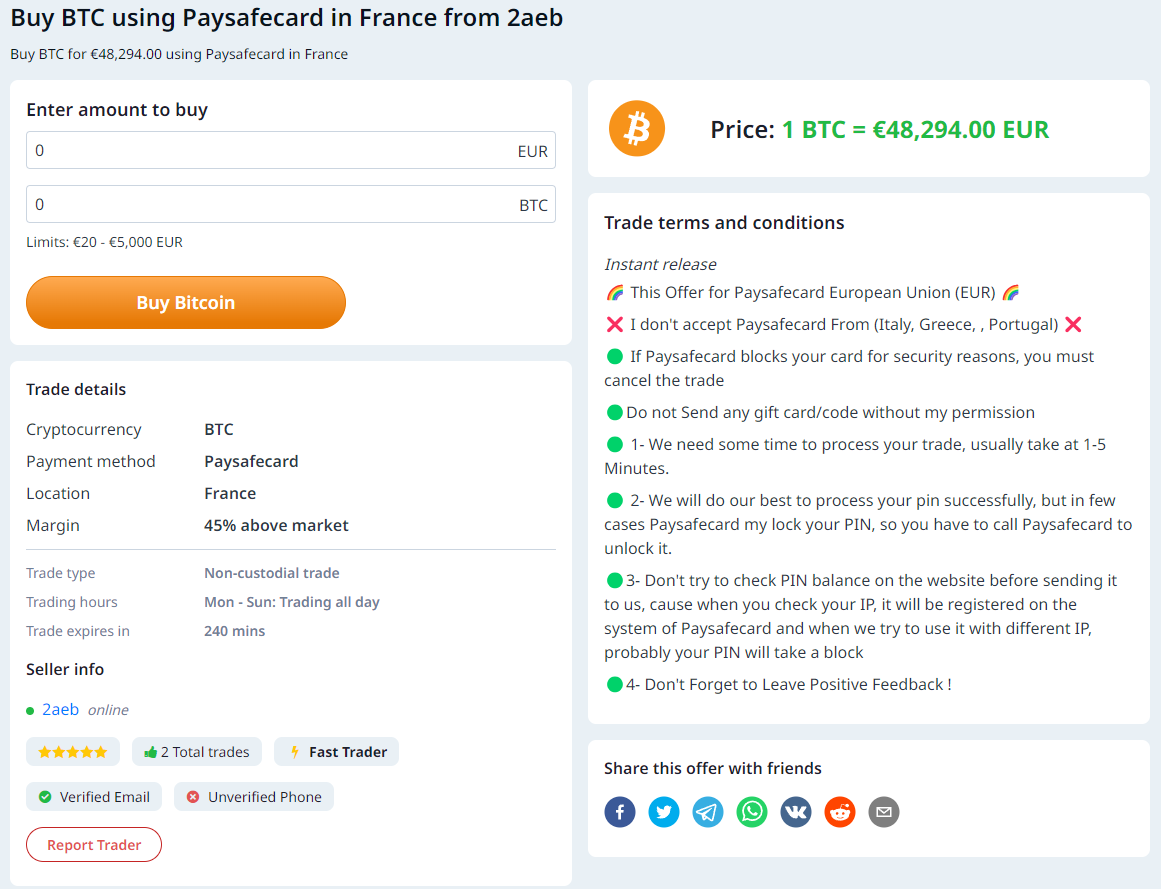 Step 6: Buy Cryptos with Paysafecard
Confirm the disclaimer from LocalCoinSwap and finalize the transaction. Note that you should wait for the seller to place the cryptos in Escrow. After that, you can proceed by sending the payment details in the chat. In this case, you must provide the Paysafecard code.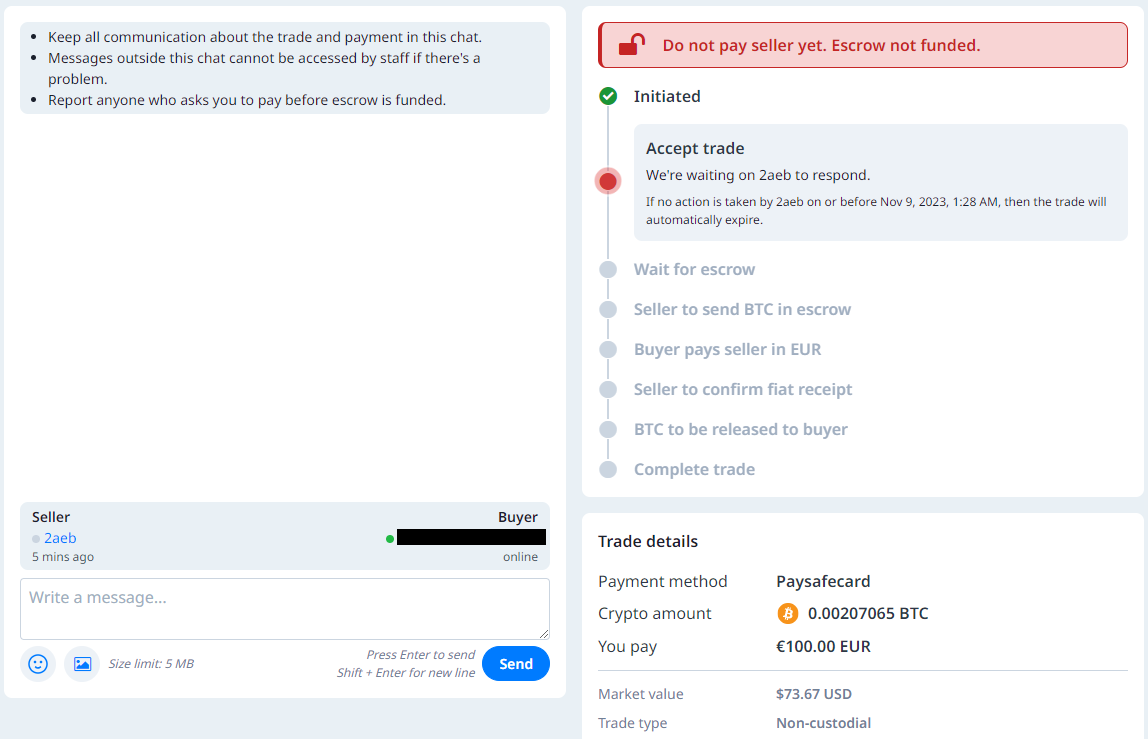 2. Buy Cryptos With PaySafeCard on BTCBIT.net
BTCBIT is another crypto platform that supports payments with Paysafecards. With a 4.5/5 star rating on Trustpilot, BTCBIT seems to be a reliable option to buy cryptos with Paysafecards. The process to buy cryptos on BTCBIT is fairly simple. However, please note that you may have to verify your identity due to laws and regulations such as AML laws. The United States is unfortunately not supported. Also, it is important to note that you must create a Paysafecard account and top up your online balance with the 16-digit Paysafecard pin.
Visit the official BTCBIT website and create an account
Verify your identity
Click on "Buy" in the top left corner
Select "Paysafecard" as the payment method
Choose how much you want to spend. Note that the minimum requirement is 12€.
Add your Bitcoin wallet address
Click on "Start Exchange."
Add your contact information and click on "Proceed".
Finalize the Payment with your Paysafecard account.
Bottom Line
Paysafecard is a simple and convenient way to buy things online. Also, cryptocurrencies can be purchased with paysafe cards. While buying crypots with Paysafecards can be tricky at first, there are some options that you can rely on. LocalCoinSwap and BTCBIT offer a safe and secure way to convert your Paysafecard balance into cryptos.