If you are looking to buy cryptocurrencies such as Bitcoin, Ethereum, USDT, or more with iDEAL, you have come to the right place. We have found the best, cheapest, and most reliable platforms that support crypto purchases using iDeal. Buying cryptos with iDeal is a simple and effective way to get your foot into the crypto space. The prominent Dutch payment provider facilitates payments for the Euro currency.
After testing dozens of websites that claim to offer seamless iDeal payments for crypto purchases, we have found Bitget to be the best option. Bitget is a popular crypto exchange with low fees, over 600 digital assets, and full support for the Euro (€) and iDeal payments. Read on to learn how to purchase cryptos using iDeal on Bitget.
Is Buying Cryptos With iDEAL Transfer Legal?
Yes, buying cryptos such as Bitcoin, Ethereum, Ripple, and other digital assets is completely legal. Not only is it legal, but also very simple and straightforward when using a secure and reliable crypto exchange. Below, you will find the top 3 crypto platforms where you can purchase cryptos using iDEAL.
It is important to note that all of these exchanges are legitimate companies that comply with local laws such as AML and other regulations. Therefore, you must verify your identity on these platforms to purchase cryptos with iDEAL.
Bitget – Global Crypto Exchange with iDEAL payments
Bitvavo – Best European Exchange with iDEAL payments
OKX – Advanced Derivatives Exchange with iDEAL
1. Bitget (Global iDEAL Alternative)
Bitget is the best crypto exchange offering simple and secure crypto purchases with iDEAL as the payment method. With over 15 million users, 700 supported cryptos, and a daily trading volume of over $5 billion, Bitget is one of the largest crypto exchanges in the world. What we love most about Bitget are the low fees and the support for various payment methods, including iDEAL.
Buying cryptos on Bitget using iDEAL is very simple. Follow our step-by-step guide to securely buy cryptocurrencies on Bitget with iDEAL.
Step 1: Register & Verify on Bitget
First and foremost, you must register on the Bitget crypto exchange. This requires an email or phone number and a strong password. As Bitget is a licensed exchange, you must verify your identity with personal details, including your name and a government-issued ID or Passport. The Bitget KYC process only takes a few minutes, and after that, you can access all features on the platform!
To verify your Bitget account, click on your profile icon in the top right corner and select "Identity Verification".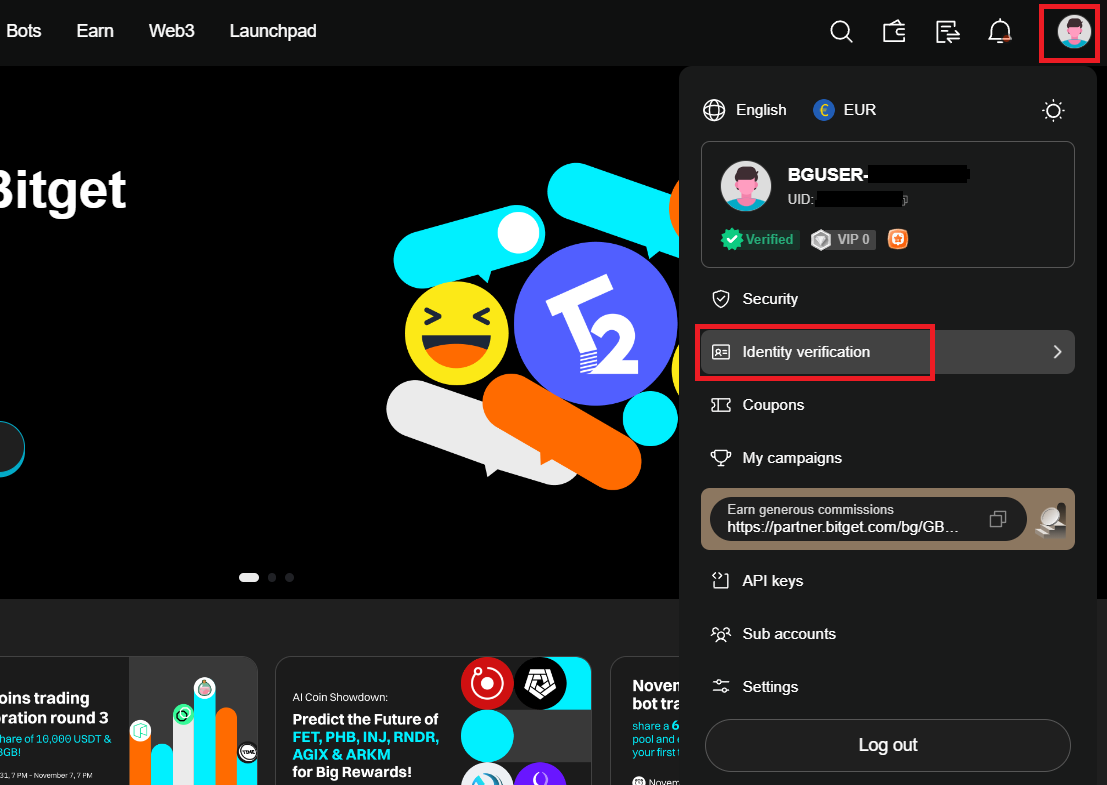 Step 2: Go to the "Buy Crypto" Section
After your Bitget account is successfully verified, click on "Buy Crypto" in the top left corner and select "Third Party".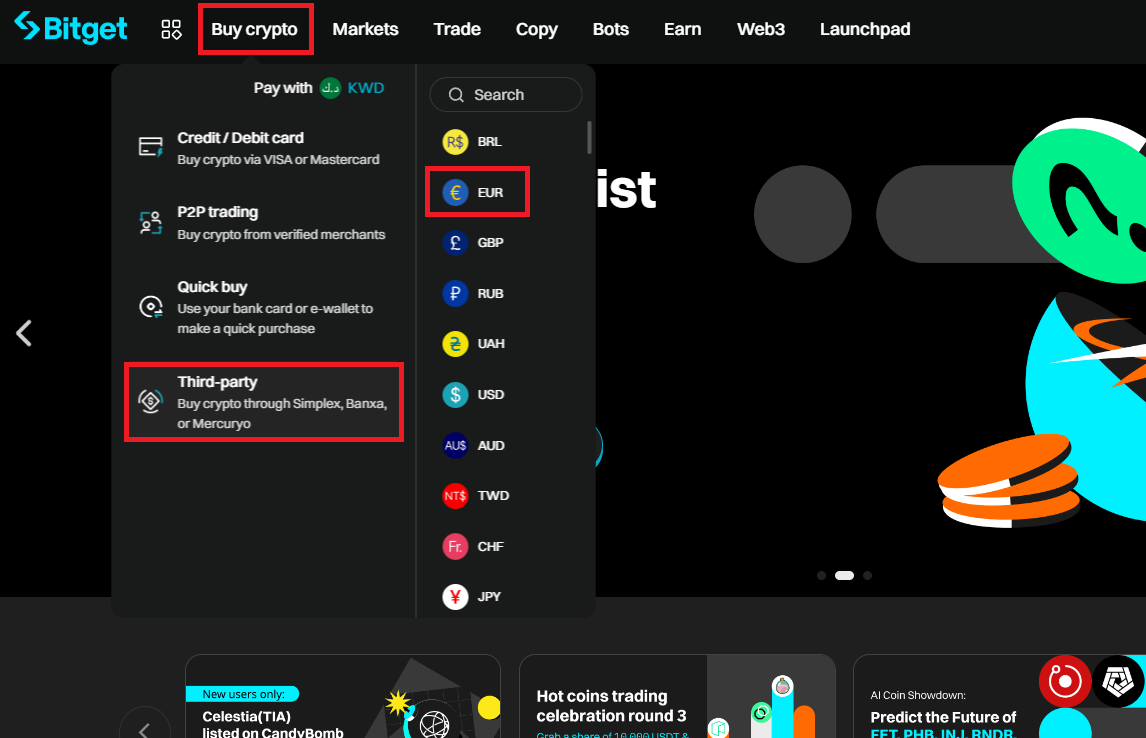 Step 3: Select EUR and iDEAL
Now, you can choose your currency and payment method. Make sure that EUR (€) is selected, as the payment methods differ based on the fiat currency. Also, choose how much you want to pay. Lastly, accept the terms and click on "Next".
Choose how much you want to pay
Select € "EUR" as the currency
Click on "iDEAL"
Agree to terms and click on "Next" (bottom right)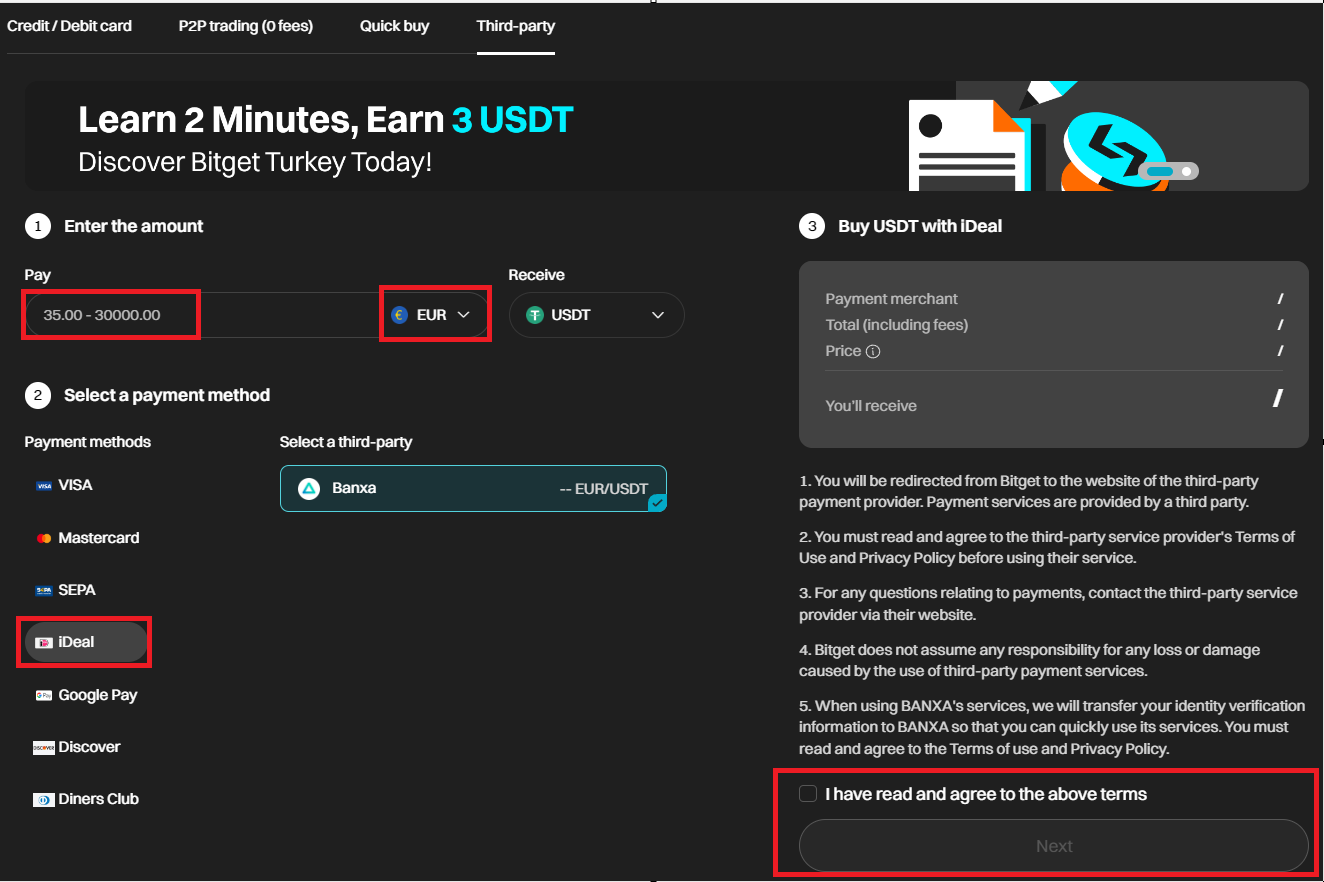 Step 4: Fill out the BANXA details
Bitget will now redirect you to BANXA, where the iDEAL payment will be processed. Choose the purpose of the transaction, verify your identity with your driver's license, ID, or Passport, and lastly, select your bank. The following banks are supported for iDEAL purchases:
ABN AMRO, Bunq, ING, Regibank, Tridos Bank, ASN Bank, Knab, Rabobank, SNS Bank, and Van Lanschot.
Step 5: Finalize the iDEAL Transaction
In the last step, you just have to complete your transaction. Based on your bank, you will be provided with details such as a QR code, which you scan with your banking app. Alternatively, you can fill out the numbers manually.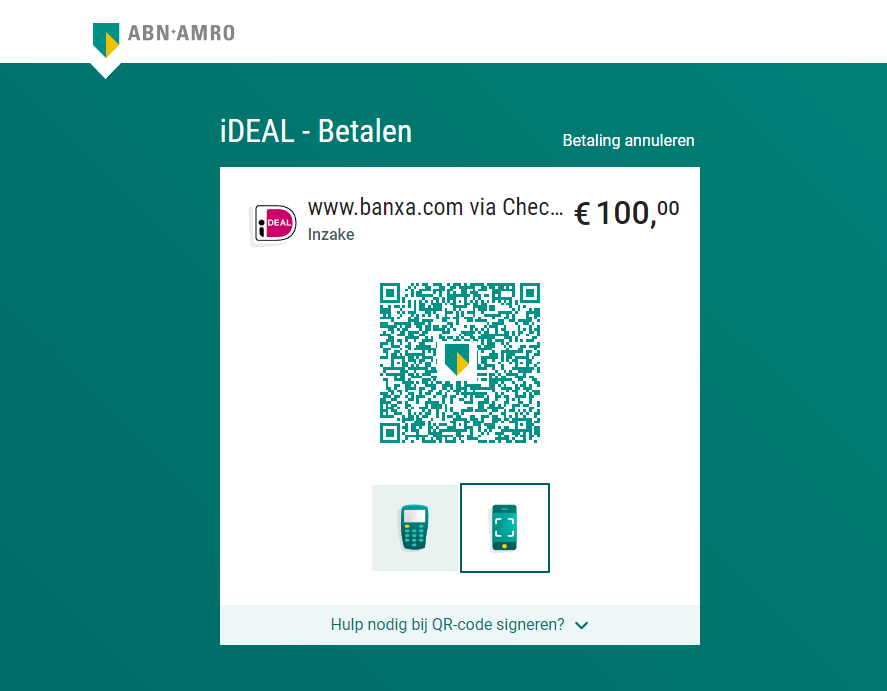 Step 6: Purchase Cryptos on Bitget
If you have bought USDT, you can now head over to the Bitget spot trading market, where you can access over 600 different cryptocurrencies. Simply buy the crypto you desire and put it into your wallet!
If your bank is not supported on Bitget and BANXA, you should check out some of the alternative crypto exchanges where you can buy cryptos with iDEAL. Bitvavo and OKX are great alternatives when it comes to iDEAL crypto purchases.
2. Bitvavo (Best iDEAL Alternative)
Another great crypto exchange that supports iDEAL payments is Bitvavo. The platform is one of the largest European crypto exchanges that has integrated iDEAL for buying cryptos. Follow our simple step-by-step guide to securely buy cryptocurrencies on Bitvavo with iDEAL.
Register on Bitvavo.
Verify your identity.
Click on "Deposit" in your dashboard.
Select "iDEAL" as the payment method.
Select your bank and make the payment.
Buy cryptos on the Bitvavo spot market.
3. OKX (iDEAL Alternative)
For enthusiastic crypto traders, OKX is one of the best platforms. OKX is known to be one of the most advanced crypto derivatives exchanges with low fees and deep liquidity. iDEAL is also supported as a payment method.
Register on OKX
Verify your identity
Click on "Buy Crypto" (top left corner) and select "Express buy".
Choose your desired crypto and EUR as the payment currency.
Click on "BANXA" to use iDEAL as a payment option.
Buy your cryptos using iDEAL and finalize the transaction.
Bottom Line
Buying cryptocurrencies with iDEAL is one of the most popular options in the Netherlands. The payment provider iDEAL is a safe and secure way to purchase digital assets, thanks to its crypto-friendly approach. With the support for multiple popular banks such as ING, N26, Revolut, and many more, iDEAL is the ideal payment processor for crypto purchases on reputable exchanges such as Bitget and Bitvavo.