Wise, formerly known as TransferWise, is a widely popular fintech platform boasting over 16 million users. It offers the flexibility to buy and sell a wide range of assets, excluding cryptocurrencies.
While Wise officially doesn't support crypto purchases, there are clever workarounds, i.e., buying Bitcoin with Wise through cryptocurrency exchanges. Using popular cryptocurrency exchange platforms, you can still buy cryptocurrencies with your Wise account.
What are these platforms? And why they're ideal for buying Bitcoin with Wise? Read on to find out.
Best Exchanges for Buying Crypto with Wise
Before we delve into how to buy cryptos with Wise on exchange platforms, let's explore the top three exchange platforms for purchasing Bitcoin with Wise.
1. BingX P2P
BingX P2P is undeniably one of the best crypto exchanges to buy Bitcoin and other digital assets with a Wise account. This platform excels as a versatile social trading cryptocurrency exchange, catering to traders of all skill levels, from novices to experts.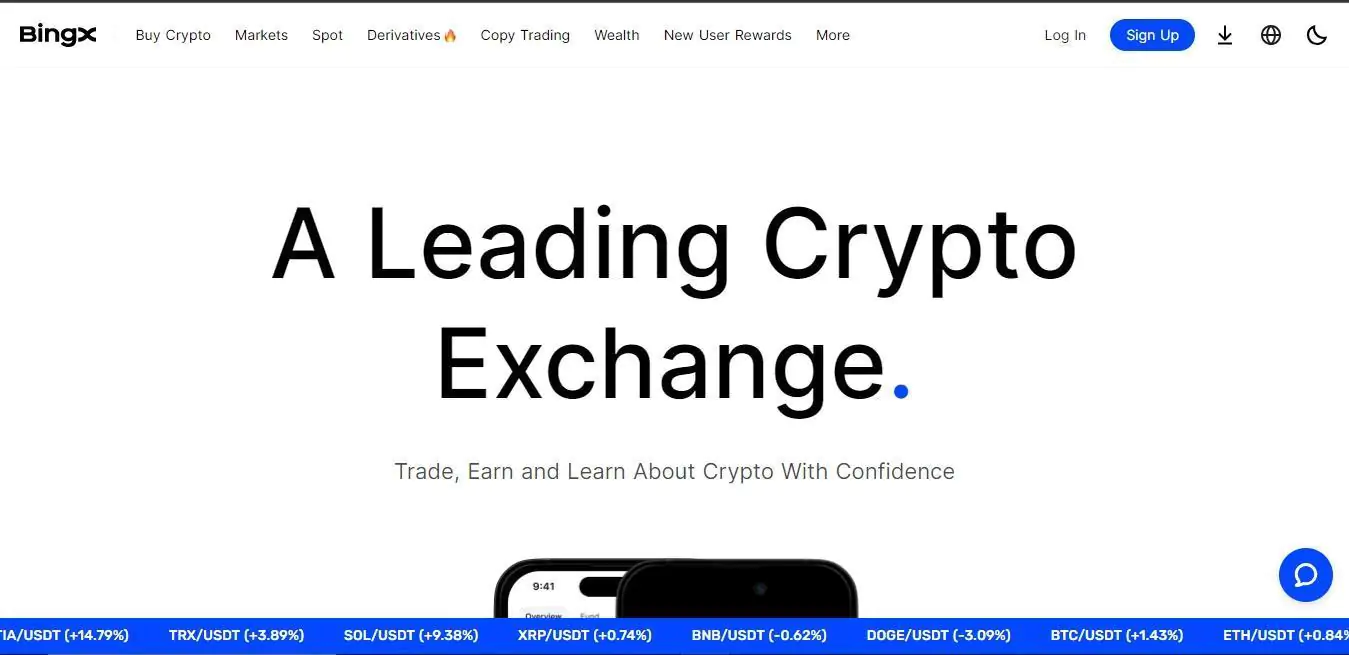 BingX supports 536 different cryptocurrencies for spot trading and places a strong emphasis on security, employing a robust system to counter both internal and external threats.
Regarding trading fees, BingX charges 0.1% for spot trading, with maker/taker fees potentially varying for specific spot trading pairs. For futures trading, the platform charges a 0.0200% maker fee and a 0.0500% taker fee. The good news is that there are no fees for buying cryptocurrencies with Wise on BingX.
Moreover, what's particularly convenient is that BingX accepts almost 100 fiat currencies like USD, EUR, GBP, AUD, TWD, and VND as payment options for acquiring cryptocurrencies using your Wise account.
But, it's important to note that while BingX doesn't mandate KYC verification during sign-up, providing personal details may be required when purchasing cryptocurrencies from certain sellers to meet their security requirements.
How to Buy Cryptos with Wise on BingX?
Step 1: Open Your BingX Account
Log in or sign up on BingX's official website. If you're new to the exchange, the registration process is simple. Just provide your:
Email or mobile number
Create a password
Verify your email or mobile number.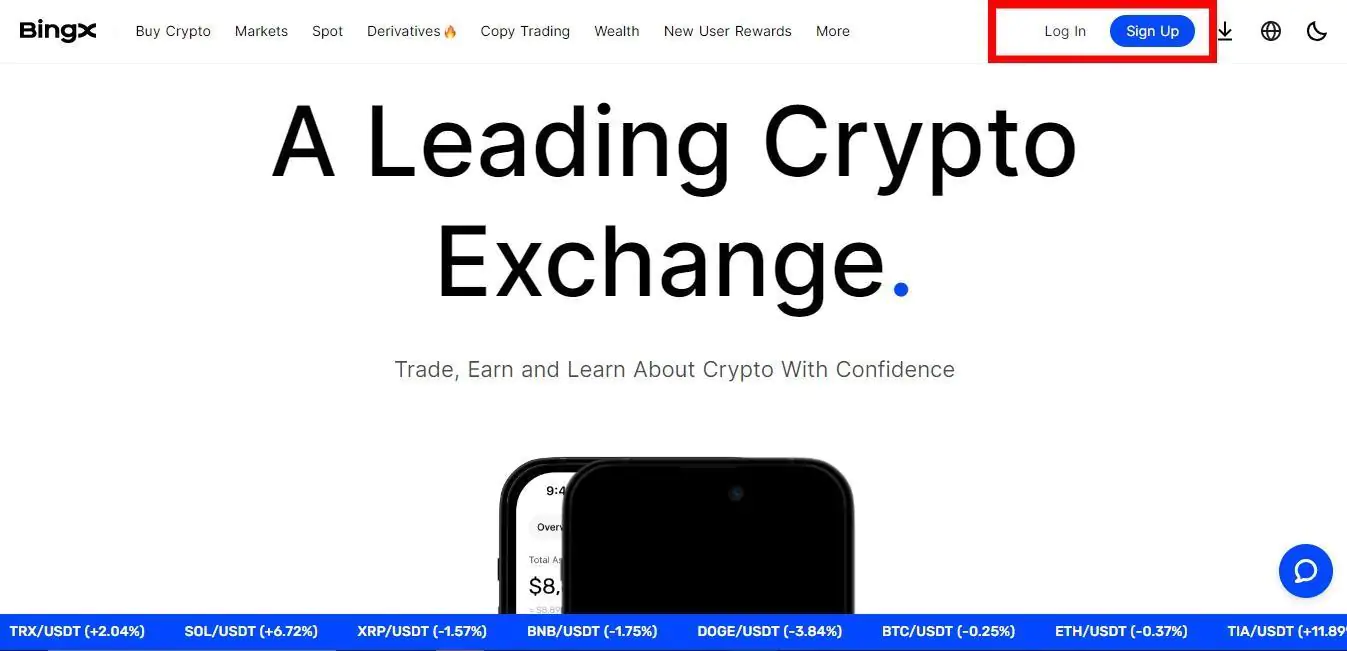 Step 2: Go to P2P Trading
Move your cursor to the 'Buy Crypto' option in the top bar, and then select 'P2P Trading' from the dropdown menu.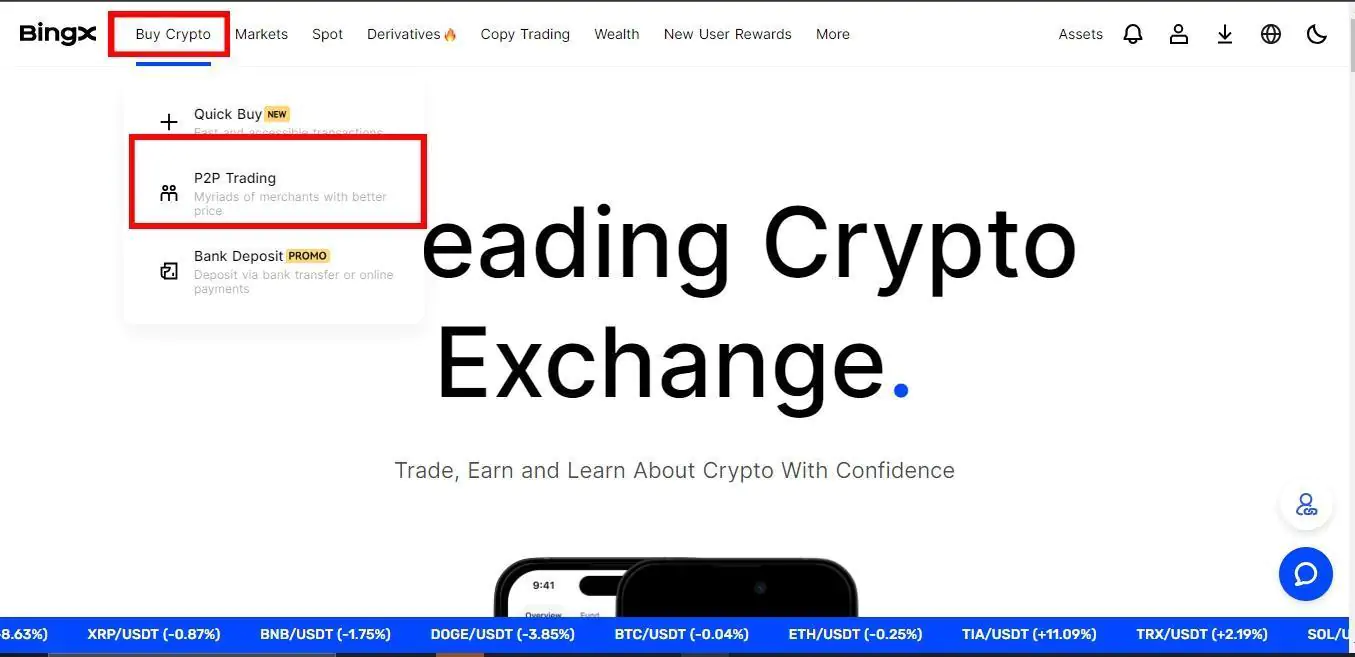 Step 3: Select Payment Option
Choose your preferred currency and payment method; in this case, select Wise. After entering the details, click "Search." Browse through the search results and pick a seller, then click "Buy USDT."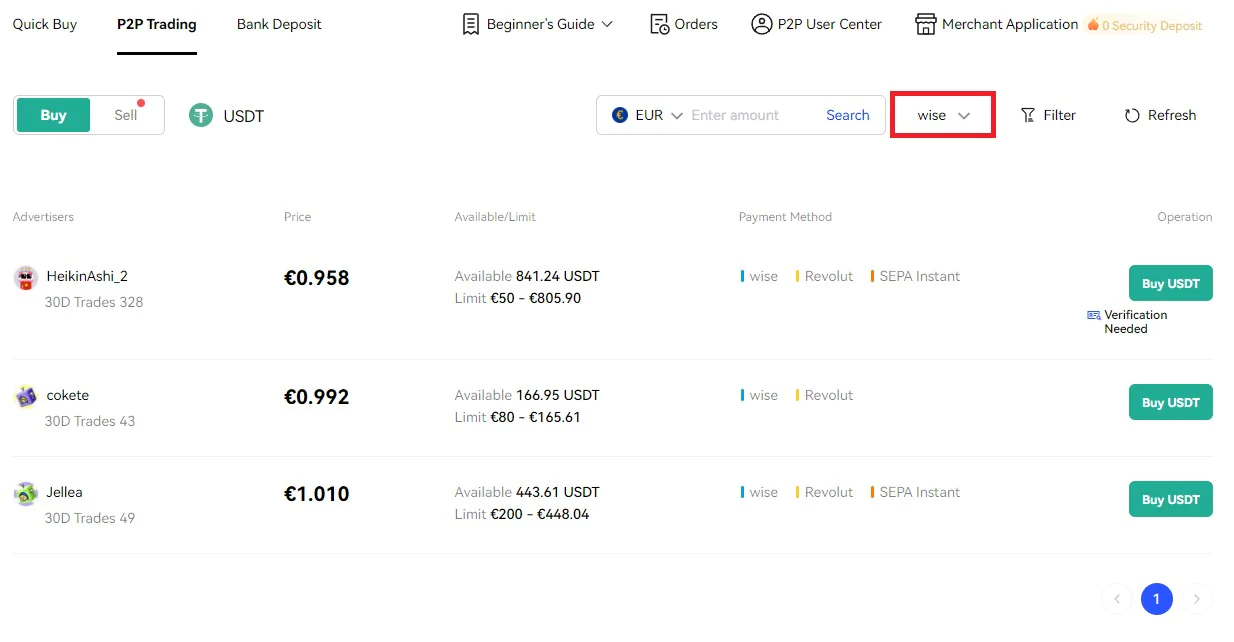 Step 4: Enter the Value and Complete the Purchase
Once you've clicked 'Buy USDT' on the seller's ad you want to proceed with a pop-up box will appear. Here, input the amount you wish to pay to purchase the cryptocurrency.
The platform will automatically calculate the amount of crypto you'll receive based on the current exchange rate. Click "Buy USDT". You can then contact the seller for payment information and complete the payment on the third-party platform.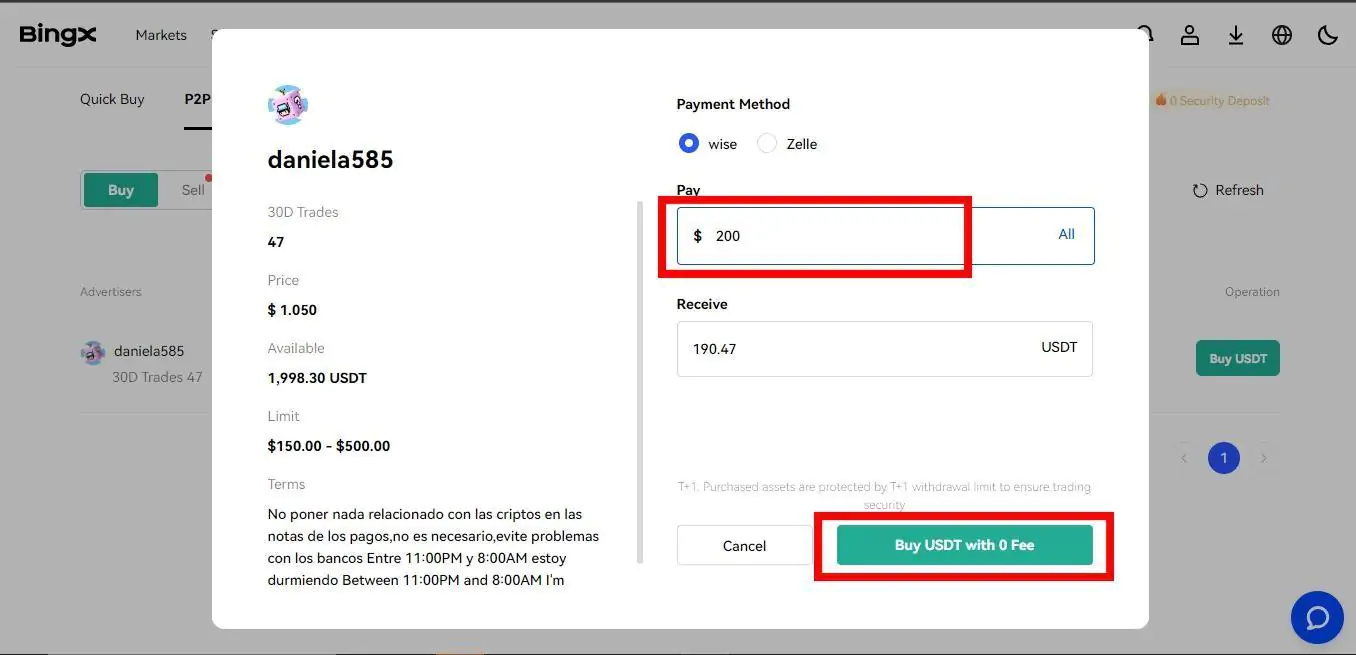 Note: After completing the payment, be sure to click "Transferred, notify seller" on the order page. Only after this will the seller confirm the receipt of your payment and release the crypto, finalizing the purchase. You can check your received assets by clicking "My Assets" on the BingX homepage.
To gain further insights into the platform, read our full BingX review.
2. Bybit P2P
Bybit, established in 2018 and headquartered in Dubai, is one of the best crypto exchanges to buy Bitcoin and other digital assets with Wise. It's earned the trust of 10 million traders worldwide and boasts support for 443 different cryptocurrencies.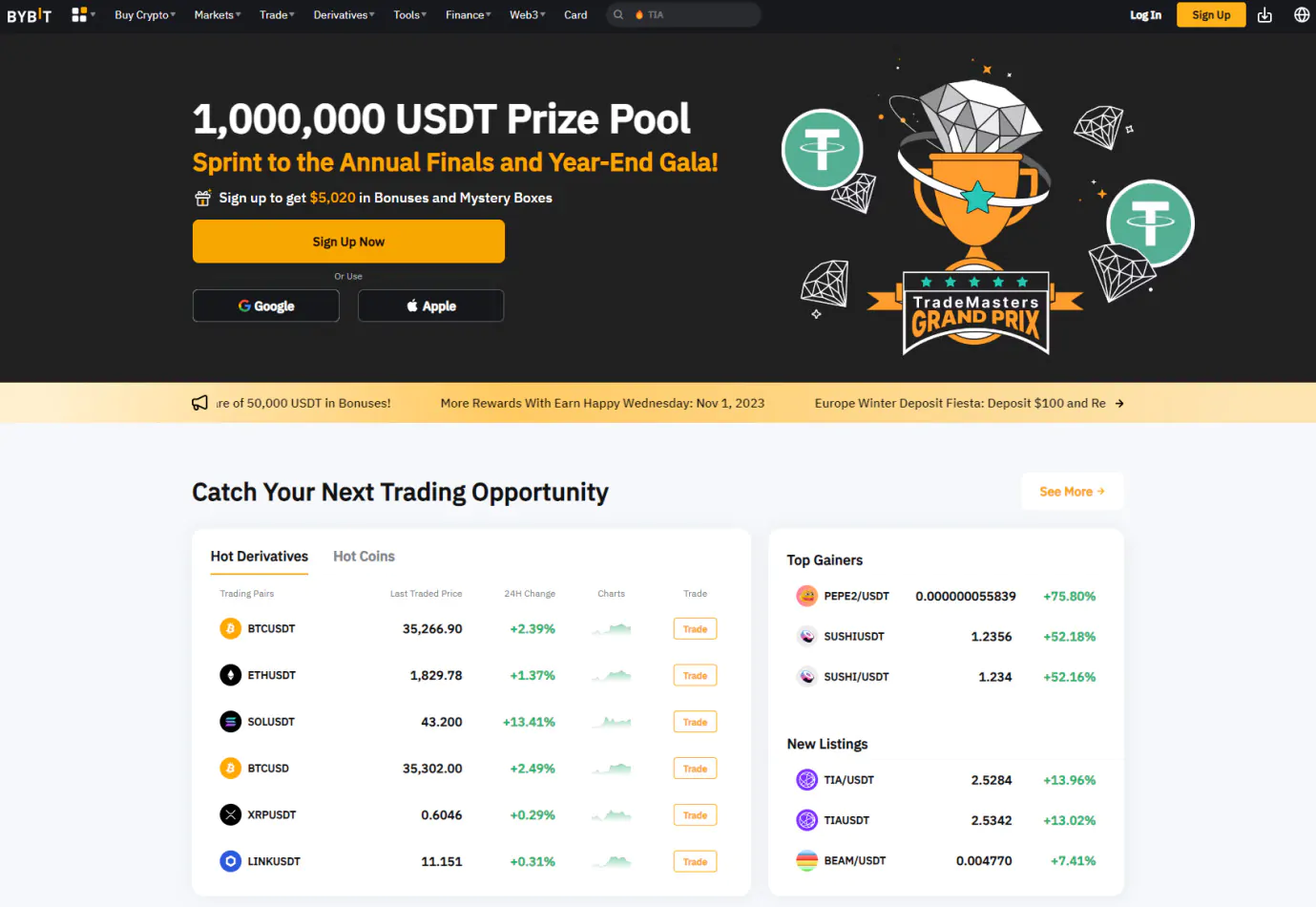 To get started on Bybit, you must complete a level-1 Know Your Customer (KYC) verification by providing identity details like a driver's license, ID card, or passport number. Once this verification is completed, you can buy cryptocurrencies with Wise on Bybit.
In terms of fees, Bybit charges a 0.1% spot trading fee for both maker and taker. The exchange's futures trading fee starts at 0.02% (maker) and 0.055% (taker). The exchange also supports payments via 50+ fiat currencies, such as USD, GBP, EUR, AUD, CAD, and more, without any extra transaction fees when paying through Wise.
Now, let's explore how to buy cryptocurrency with Wise on Bybit P2P: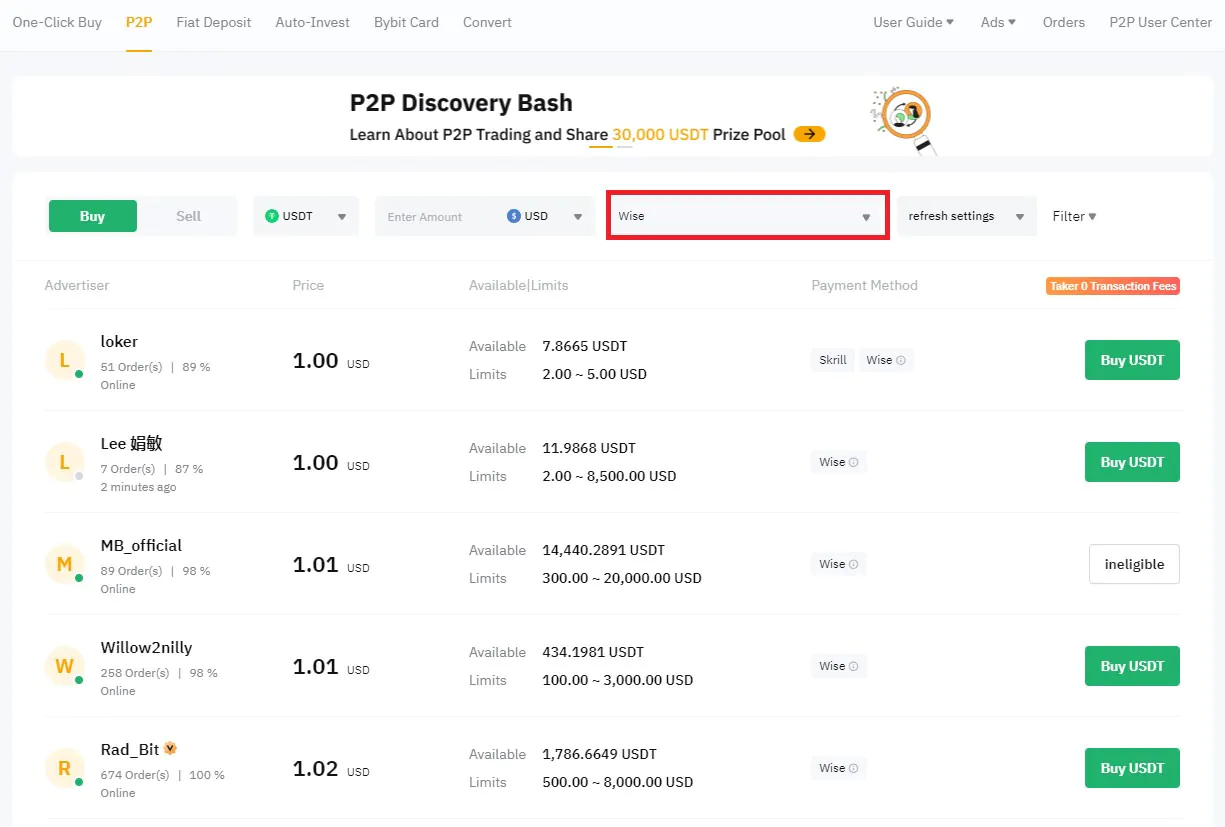 Start by signing up or logging into the Bybit platform by inputting your basic details, i.e., email, password, etc.
On the main page, click the "Buy Crypto" button, and from the dropdown menu, select "P2P trading."
On the next page, you'll find a list of sellers to choose from (as shown in the image above). To refine your options according to your payment preferences, specify the cryptocurrency you wish to buy, the fiat currency you want to use, and your preferred payment method, Wise.
Based on your payment criteria, choose a seller from the list and click the "Buy" button. If you've completed your level-1 KYC verification, you'll proceed to the purchase page. If not, you'll need to complete identity verification.
In the next field, enter the desired purchase amount in your currency. You'll also see the equivalent in USDT. Once you've set the amount, click "Buy."
Click "Pay Now" on the following page. Here, you'll find the seller's details and the bank card number for fund transfer. After transferring the required amount, click the confirmation button.
Verify your transaction once more.
You'll then be directed to a waiting page with a confirmation timer set by the seller. Typically, confirmation takes about 1 minute. In case of issues or a lack of confirmation, you can file an appeal by clicking the "Submit Appeal" button. Bybit will review your request and release the seller's funds.
If the seller confirms the transfer, you'll be directed to the transaction confirmation page. Your account will then be credited with USDT, which you can use to purchase any cryptocurrency on the exchange.
Learn more about Bybit exchange through our detailed review.
3. OKX P2P
OKX is a renowned cryptocurrency exchange with a vast array of 329 cryptocurrencies. What makes this exchange the best crypto exchange to buy Bitcoin and other digital assets with Wise is its competitive fee structure.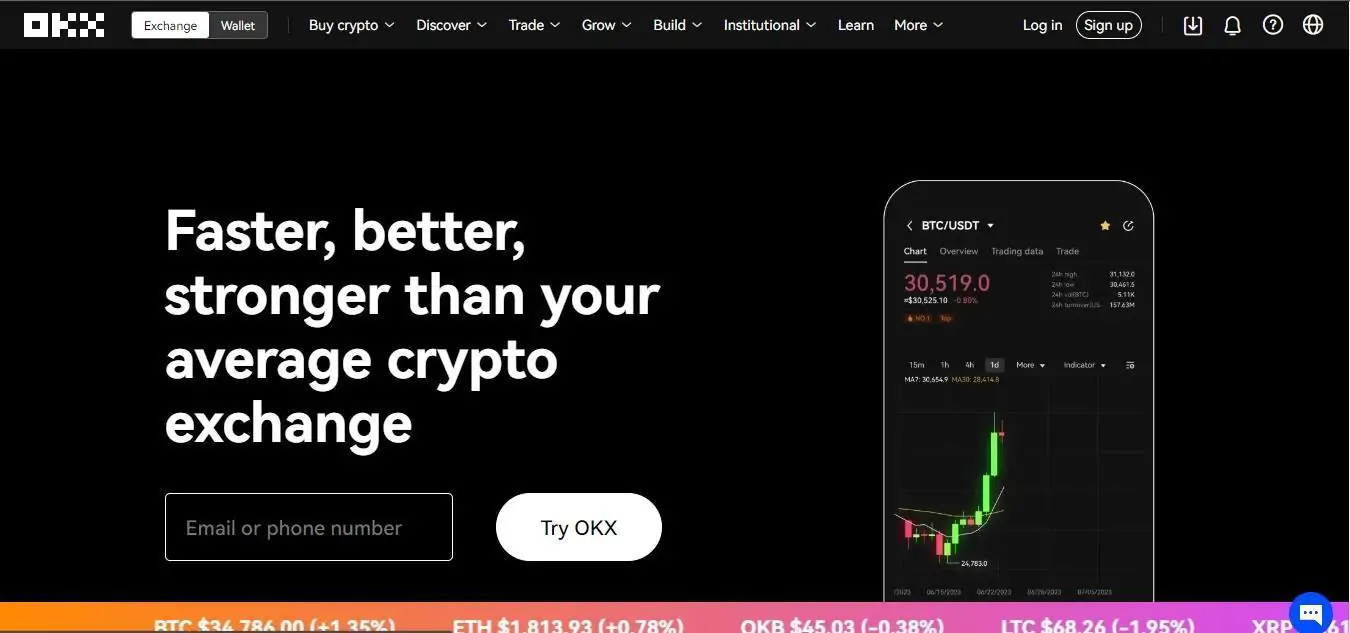 For spot trading, there's a 0.08% maker fee and a 0.1% taker fee, while futures trading offers fees of 0.02% for makers and 0.05% for takers, granting traders flexibility.
When utilizing Wise for cryptocurrency transactions on OKX's P2P platform, you can enjoy fee-free transactions, no matter your chosen fiat currency, which includes USD, EUR, GBP, AUD, CAD, and more.
However, it's important to note that buying cryptocurrencies on OKX require level-2 KYC verification, which entails confirming your identity by providing your ID, residential address, and a selfie.
For those still navigating the process of buying cryptocurrencies with Wise on OKX's P2P platform, this step-by-step guide can help: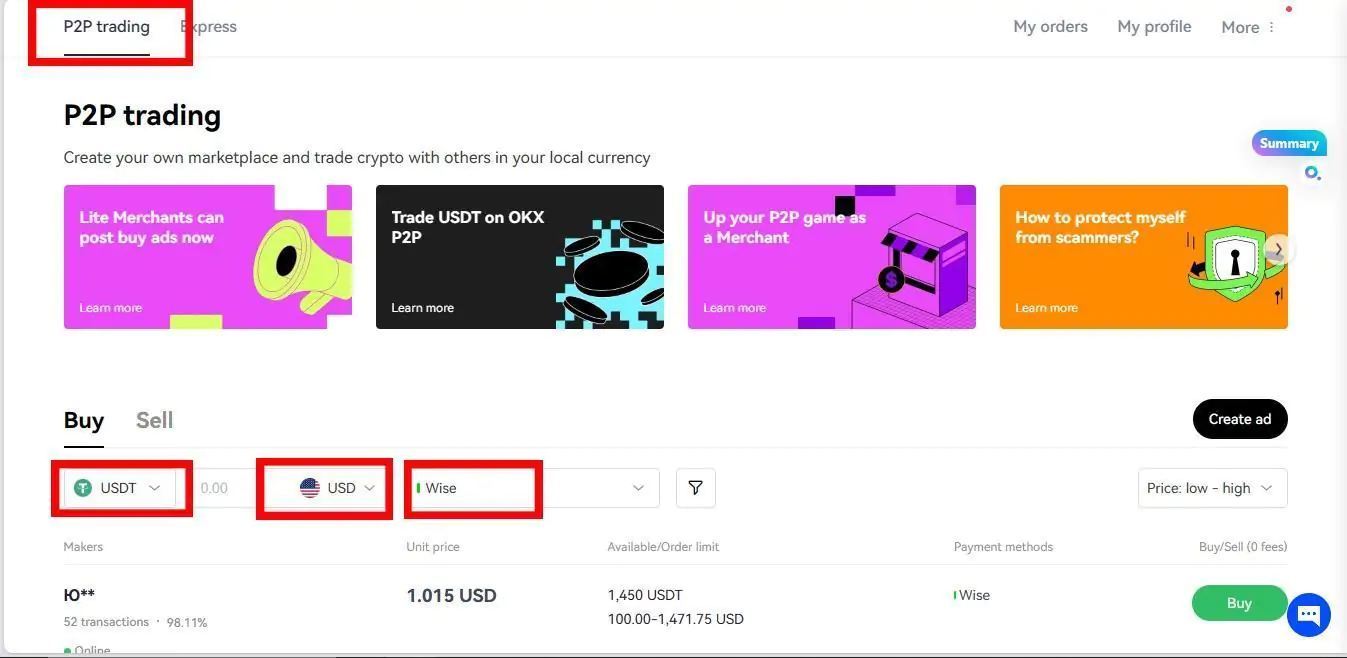 Click 'Buy Crypto' and select 'P2P Trading' from the menu.
Choose the 'Buy' tab.
Select your desired cryptocurrency from the first dropdown menu.
Specify the fiat currency you'll use for payment.
Opt for Wise as your preferred payment method (as shown in the image above).
Beneath, you'll find various users selling cryptocurrencies via Wise based on your criteria. Choose a user for the transaction.
Upon clicking on a specific user's ad for buying cryptocurrency, you'll be directed to the payment page. Here, you'll need to sign in to your Wise account to proceed with the payment.
Read our full OKX review to learn more.
Summing Up!
Wise users can transfer funds seamlessly to reputable exchanges such as BingX, Bybit, or OKX. This integration simplifies acquiring cryptocurrencies with Wise, effectively linking conventional banking with digital assets.
Nevertheless, it's essential to remember that there may be associated transfer fees and trading expenses. Hence, staying well-informed about fees imposed by Wise and your selected platform is vital for making informed decisions in your digital asset trading and investment journey.