Nigeria's weak currency, the naira, and failing economy have caused cryptocurrency to become a popular option in the country. This has made Nigeria the biggest Bitcoin market in Africa. That said, it can be difficult to find the best cryptocurrency exchange in Nigeria. After all, there are so many options to choose from.
When choosing an exchange, traders should keep in mind certain factors like security, regulation, supported payment methods, value for money, products and features, and so on. Fortunately, the exchanges mentioned in this article are regulated by the Nigerian Securities and Exchange Commission.
Top Crypto Exchanges in Nigeria Reviewed
We have analyzed more than 100 crypto exchanges in Nigeria to create this list of the top five in the country. At the end of this guide for Nigerian crypto exchanges, you will know exactly which platform is right for you.
1. Bitget
Bitget, established by Sandra Lou in 2018, caters to both advanced crypto enthusiasts as well as beginners. It will offer you access to more than 550 different cryptocurrencies and has an average daily trading volume of $2.8 billion. What makes Bitget the best crypto platform in Nigeria is its large number of features, like passive income products and low trading fees.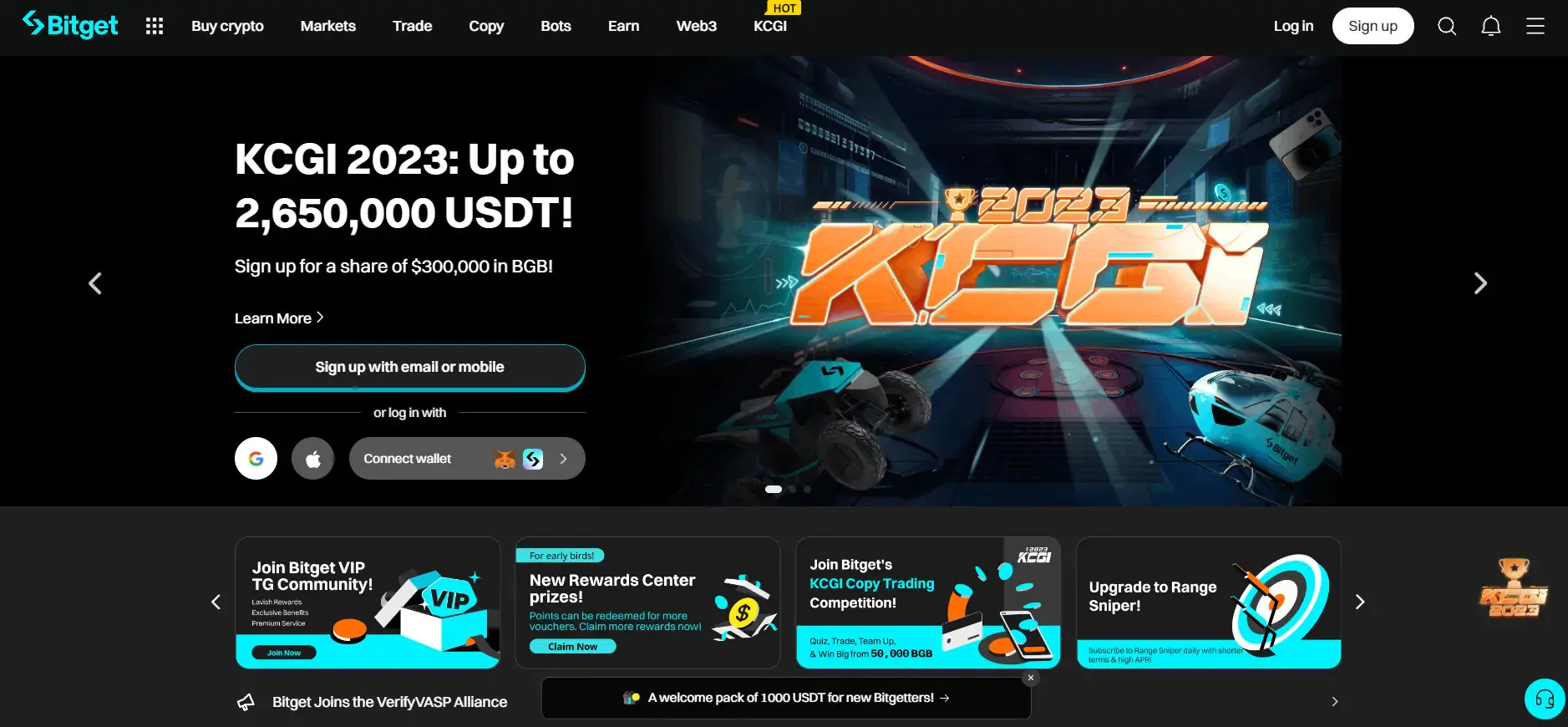 Bitget's copy trading feature allows you to replicate the trading strategies of seasoned and expert traders. Bitget also has a highly user-friendly mobile application.
Bitget allows users to deposit funds through seamless bank transfers, credit/debit cards, or cryptocurrency. You can also buy cryptos from the Bitget exchange using Credit/Debit cards, P2P trading, and third-party merchants like Simplex, Banxa, Mercuryo, and AlchemyPay. Crypto deposits are free of cost and the withdrawal fee depends on the coin you choose.
If you want to learn more about the platform, you can read our full Bitget review.
Supported Cryptos: 500+
Futures Contracts: 250+
Max. Leverage: 125x
Spot Trading Fees: 0.1% maker / 0.1% taker
Futures Trading Fees: 0.02% maker / 0.06% taker
Deposits & Withdrawals: Deposits can be done via bank transfers, credit/debit cards, or cryptocurrency, and withdrawals can be done via your spot account
Licensed & Regulated: Regulated by FinCEN with MSB license, FSA, and CySEC.
Bitget Pros
Top Choice for Crypto Exchange in Nigeria
User-Friendly features
Extensive selection of 500+ cryptos
Copy trading functionality
Round-the-clock live chat assistance
Bitget Cons
Limited Access to Educational Resources
May Pose a Learning Curve for Beginners
2. Binance
Binance is the second largest crypto exchange in Nigeria, and it hosts more than 100 million users in 130 countries. It has a lot of trading options, like margin trading and spot trading. Binance offers more than 350 cryptocurrencies and has low trading fees, which makes it popular among crypto traders in Nigeria.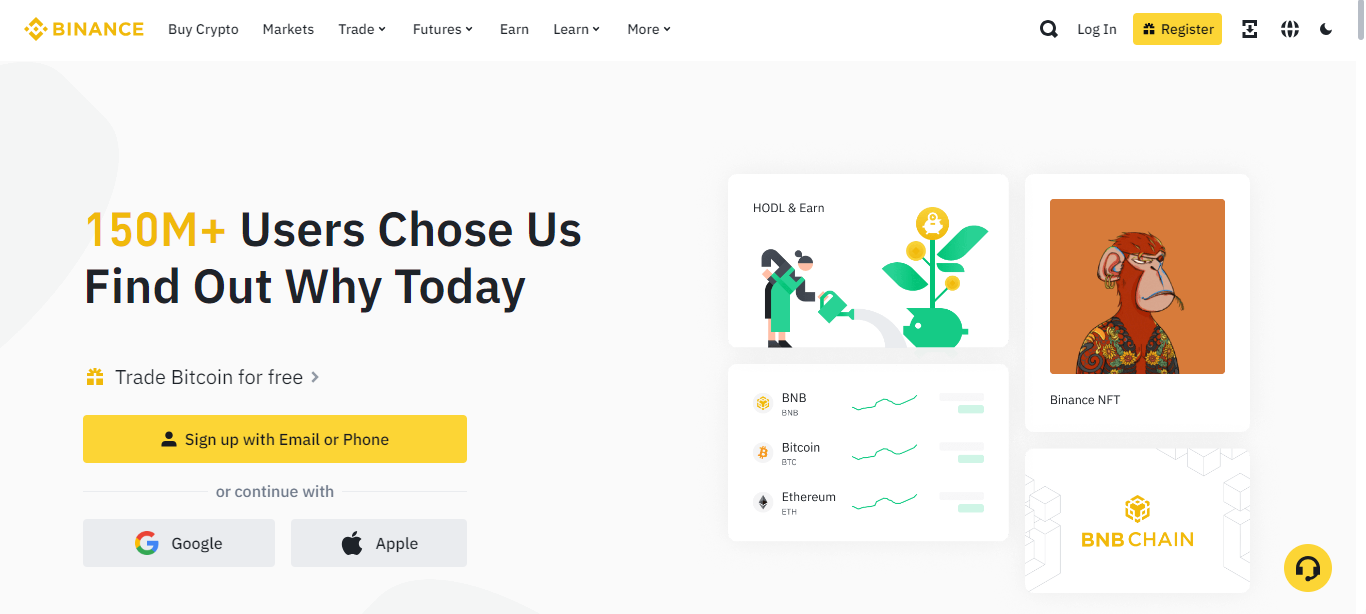 Binance is a top pick for a good reason, which is its great support in English. It is a reliable choice for both new and experienced Nigerian traders.
When using Binance, you get different Naira payment options like credit card, bank transfer, and e-wallets. The deposit and withdrawal fees are zero.
If you want to learn more about the exchange, you can read our full Binance review.
Supported Cryptos: 350+
Futures Contracts: 260+
Max. Leverage: 125x
Spot Trading Fees: 0.1% maker / 0.1% taker
Futures Trading Fees: 0.02% maker / 0.04% taker
Deposits & Withdrawals: No Naira ₦ deposits and withdrawal methods, only direct payments
Licensed & Regulated: Authorized for operation in Nigeria as well as 100+ other regions
Binance Pros
Low fees
350+ cryptos
User-friendly interface
Safe and secure
Binance Cons
Advanced features, complicated for beginners
No built-in digital wallet
3. Bybit
Bybit stands as one of the leading crypto derivatives platforms for users, with a user base of 15 million traders and a daily trading volume exceeding $10 billion. What sets Bybit apart is its array of features which makes it an attractive choice for both learned traders and newcomers alike. Bybit offers more than 400 crypto assets.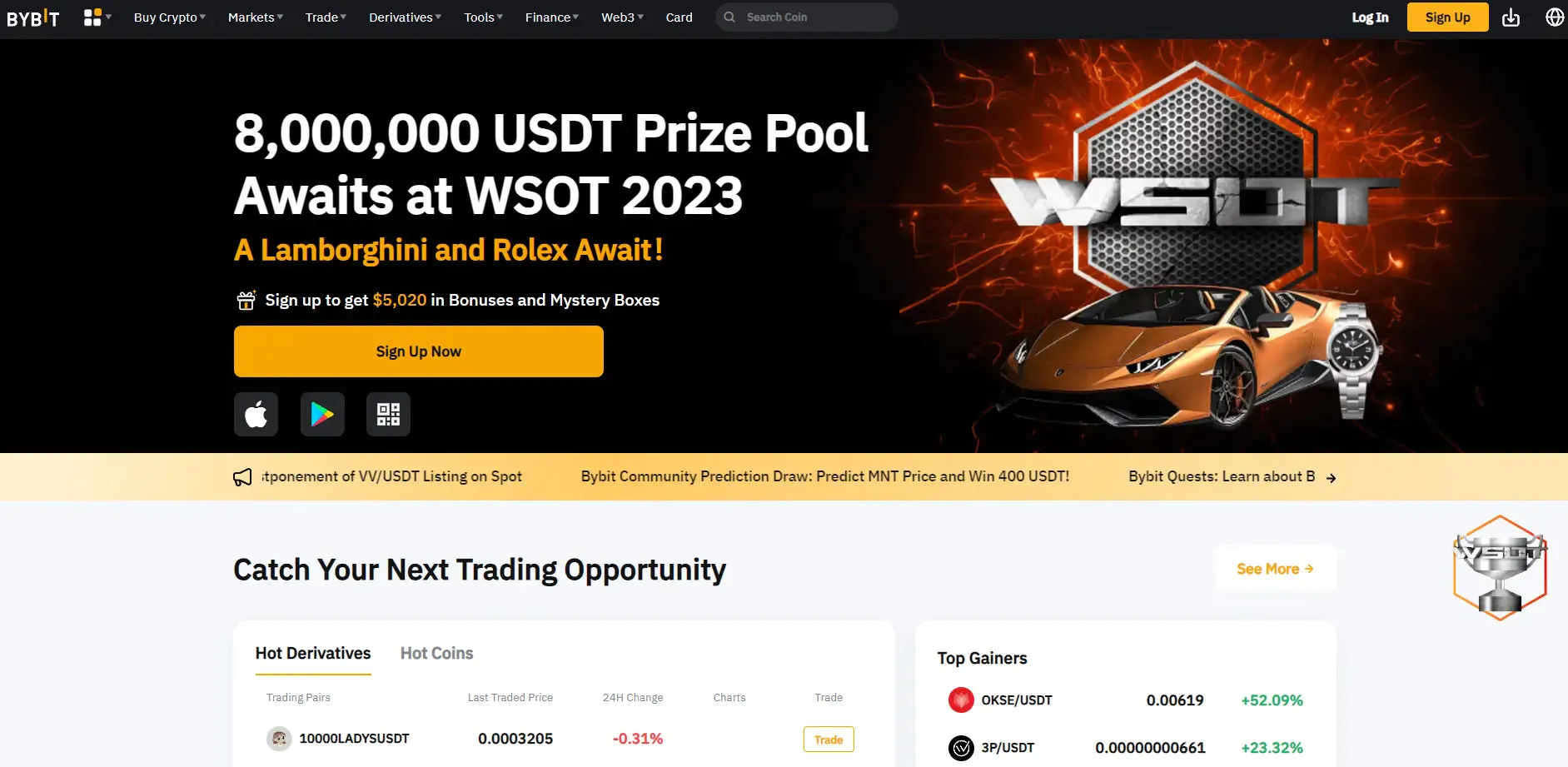 It has a user-friendly website interface. Bybit also has an application that has simple features. All this makes Bybit the preferred platform for crypto enthusiasts in Nigeria.
You can purchase cryptocurrencies directly using credit card or debit cards. Plus, you can make withdrawals to your Funding or Spot account and deposit funds using cryptocurrency. There are no deposit charges, but there are some withdrawal charges depending on the cryptocurrency you withdraw.
If you want to learn more about the platform, do not forget to read our full Bybit review.
Supported Cryptos: 400+
Futures Contracts: 240+
Max. Leverage: 100x
Spot Trading Fees: 0.1% maker / 0.1% taker
Futures Trading Fees: 0.2% maker / 0.55% taker
Deposits & Withdrawals: Deposits via crypto and withdrawals can be made to your Spot or Funding account
Licensed & Regulated: Regulated by Dubai's Virtual Assets Regulatory Authority (VARA) with MVP license
Bybit Pros
Affordable fees
Excellent mobile app
Wide range of cryptocurrencies
Passive income solutions and copy trading
Bybit Cons
Complex advanced features, may overwhelm beginners
Unavailable for users in the US
Limited fiat withdrawal options
4. Roqqu
Roqqu was founded in 2019 by Benjamin Eseoghene Onomor, an entrepreneur. Since its inception, the platform has gained recognition as a secure and reliable cryptocurrency exchange in Nigeria, with a user-friendly interface and instant buy/sell functionality. Currently, it has a user base of more than 1.6 million people, actively trading on the platform.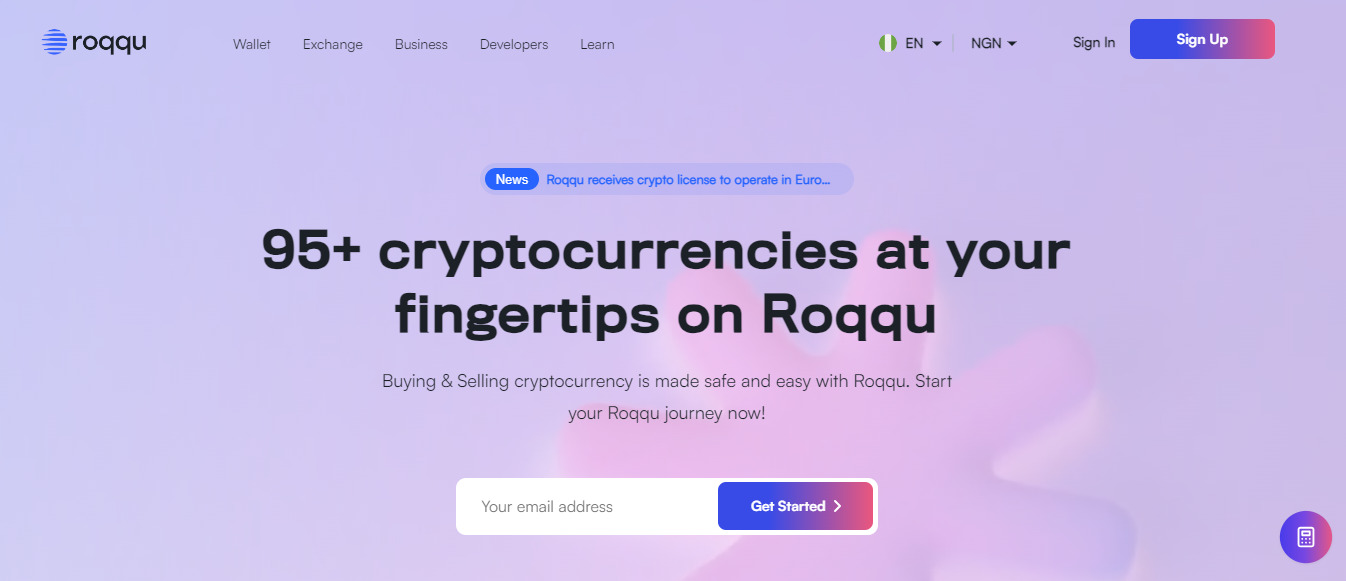 At Roqqu, users can enjoy a dependable environment for trading cryptocurrencies, including Bitcoin, Litecoin, and Ethereum. The platform also emphasizes education and financial inclusion by providing resources to help users gain a better understanding of cryptocurrencies.
When it comes to security, Roqqu has advanced measures like two-factor authentication, cold storage, and SSL encryption. All this ensures the safety of users' accounts. The website is user-friendly, making it easy to navigate. You can make Naira ₦ withdrawals and deposits using Bank Transfer or Visa and MasterCard. The great thing is that there are no deposit and withdrawal fees.
Supported Cryptos: 100+
Deposits & Withdrawals: Naira ₦ deposits and withdrawals via Bank Transfer, Visa, and MasterCard
Licensed & Regulated: Licensed in Lithuania by the Financial Investigation Unit (FIU) of Lithuania
Roqqu Pros
Low fees
Encrypted security
Advanced trade charts
Roqqu Cons
Limited selection of crypto assets
Unavailable for users in the US
Poor customer service
5. Kraken
Kraken has more than 9 million users as well as a daily trading volume of more than $100 million. With support for 200+ cryptocurrencies, Kraken offers an excellent platform for making your cryptocurrency portfolio. What makes it a hit is its ability to cater to both seasoned traders and newcomers.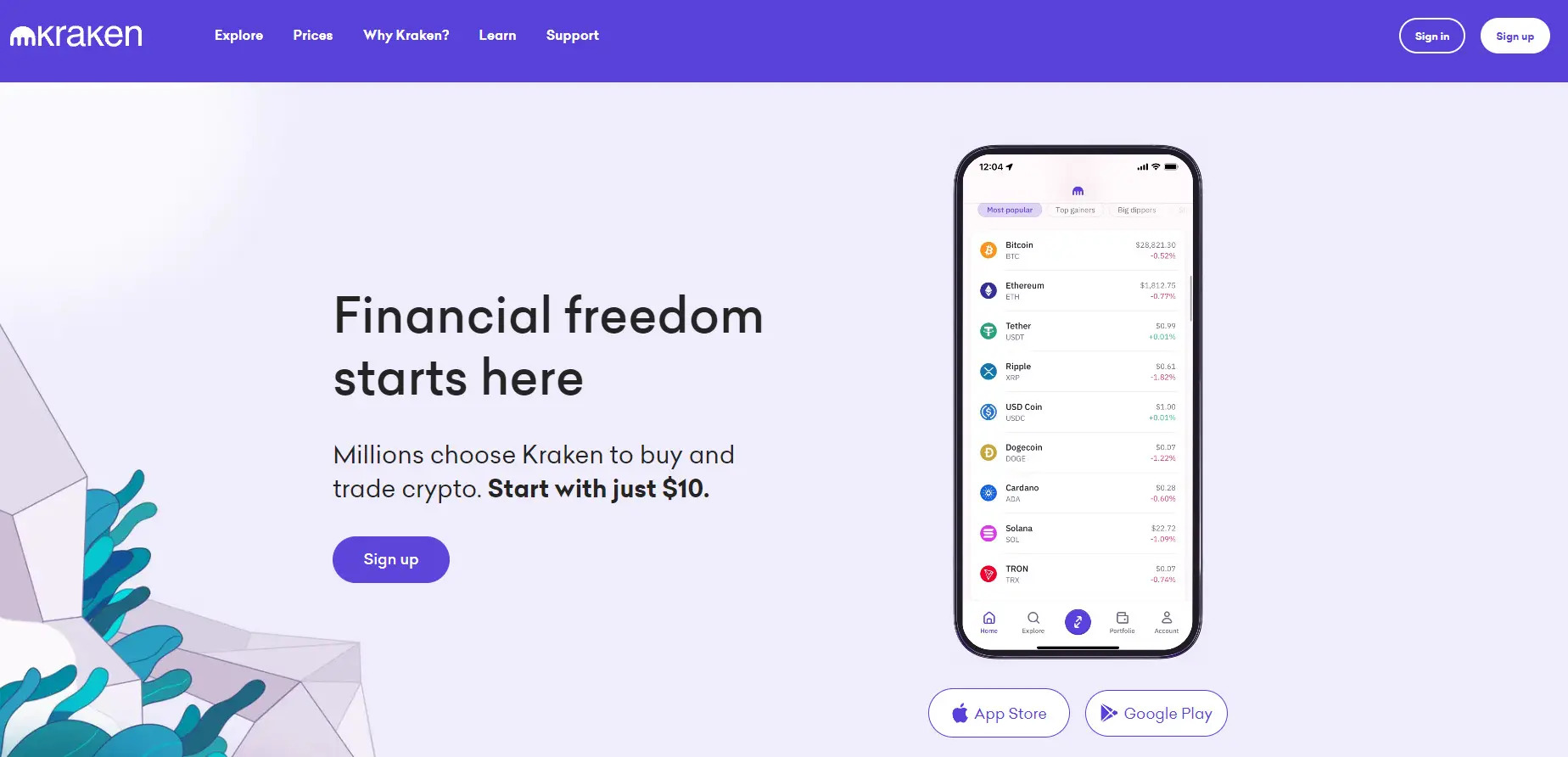 Kraken has a mobile app as well, which makes it easy for users to enjoy trading on the go. It also has a premium version called Kraken Pro, where you can access an advanced feature set. Kraken has many advanced trading tools and staking options. While newcomers might initially find the platform a bit overwhelming, its collection of guides can help them.
You can make withdrawals and deposits in Naira ₦ using bank transfers and debit or credit cards. There are no cryptocurrency deposit fees and the withdrawal fees depend on the cryptocurrency you select.
If you want to learn more about the platform, do not forget to read our full Kraken review.
Supported Cryptos: 200+
Futures Contracts: 95+
Max. Leverage: 50x
Spot Trading Fees: 0.16% maker / 0.26% taker
Futures Trading Fees: 0.02% maker / 0.05% taker
Deposits & Withdrawals: Naira ₦ deposits and withdrawals via Bank Transfer and Debit or Credit Card
Licensed & Regulated: Regulated by FinCEN and CySEC with MSB license
Kraken Pros
Affordable future fees
Excellent mobile app
Reliable and secure
Passive income solutions
Kraken Cons
Expensive spot fees
Poor liquidity
Lack of advanced features
Higher fees for credit card purchases
Is Crypto Legal in Nigeria?
Yes, crypto is legal in Nigeria. The Central Bank of Nigeria was cautious about cryptocurrencies in the beginning. But this did not lead to an outright ban of cryptocurrencies. The cryptocurrency space is regulated by Nigeria's Securities and Exchange Commission. Also, the institution supports the legal acquisition, sale, and trading of cryptocurrencies in the country.
That said, Nigeria's Central Bank clearly stated cryptos such as Bitcoin are not considered legal tender. Currently, there is no legislation in Nigeria regarding the taxation of cryptocurrencies. Nevertheless, the Federal Inland Revenue Service has indicated that if you earn money through cryptocurrency transactions, you may be required to pay taxes on those earnings.
The Nigerian government is considering implementing regulations for taxing cryptocurrencies and digital assets in the future. They are currently working on a proposal known as the Finance Bill, which if approved would potentially subject profits from assets, digital lotteries, and gaming businesses utilizing digital assets to taxation.
How to buy Crypto in Nigeria?
It is very easy and inexpensive to buy cryptocurrencies in Nigeria. Go through our step-by-step guide on how you can safely buy cryptos in Nigeria:
Select a crypto exchange: The first thing you have to do is choose an exchange platform that operates in Nigeria. The main factor that you cannot miss out on is value for money. To get that, Bitget is your best bet, thanks to its affordable trading fees.
Apply & Verify Your Identity: To get started on a cryptocurrency platform, you will need to go through a KYC verification. It is quite simple and only requires a government issued ID or Passport.
Buy Cryptos: Once you are verified, the next step is to buy cryptocurrencies. You can exchange your funds for options like BTC or USDT. Bitget offers a fee of 0.1% for your purchases.
Secure Assets: To keep your investments secure, it is advisable not to store them. Instead, consider transferring your assets to a cold storage service as it provides an added layer of security.
Final Thoughts
It is perfectly legal to buy, sell, or trade cryptocurrencies in Nigeria. Also, the process is straightforward when using platforms like Bitget and Bybit.
If you are looking for an exchange in Nigeria for buying cryptocurrencies, Bitget is the top choice. It provides value for your money. Plus, it offers low deposit and trading fees, which is always great. It also prioritizes security measures to safeguard your assets. The platform's user-friendly interface and great number of products & features make it appealing to all kinds of traders, be it experienced or beginners!