Bitget is a digital asset trading platform that provides users with an intuitive user interface, powerful trading tools, and an extensive range of digital assets. It allows users to easily buy and sell cryptocurrencies like Bitcoin, Ethereum and more, as well as other digital assets such as stocks, commodities, indices and more. Bitget makes it easy for beginner traders to get started in the world of cryptocurrency trading by providing them with all the features they need to succeed. This article will provide a comprehensive overview of all the features and functions that Bitget offers its users. We'll look at how to sign up on Bitget, its fee structure, customer support services, security measures and overall performance. So let's dive in!
Buy Cryptos on the Spot market with 0% commission
Invest and trade crypto with low fees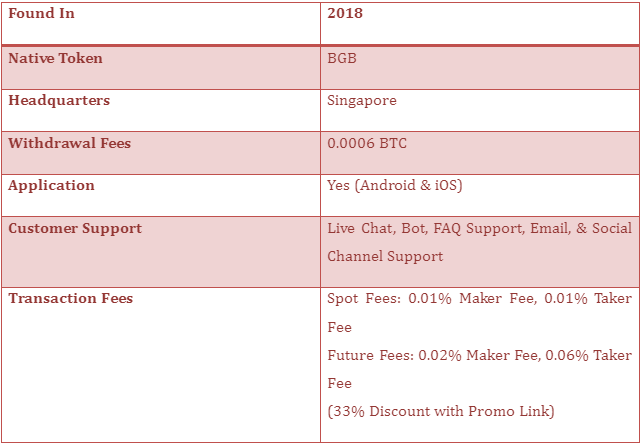 Bitget is a digital asset trading platform established in 2018 by Sandra Lou and headquartered in Singapore. It provides users with secure, reliable and professional digital asset investment services.
The cryptocurrency exchange offers several features for trading, including the ability to buy and sell cryptocurrencies such as Bitcoin, Ethereum and Litecoin. Bitget also provides advanced tools such as margin trading, futures trading and OTC trading.
The platform is accessible on both web browsers and mobile devices, allowing users to access their accounts and manage their funds on the go. Bitget also offers several security measures, such as two-factor authentication and real-time account monitoring, to protect users from malicious activities.
Bitget currently has more than 2 million registered users worldwide and has achieved a turnover of 24 hours a day and $5.6 billion. In January 2022, thanks to its flagship product, Coin Margin Futures, Bitget reached the top of the global Crypto exchange on a daily average of future transactions in trading volume, reaching an amount of $7.82 billion, achieving its highest trading volume ever. Bitgets platform offer low fees to customers for both spot and derivative transactions, but the main activity surely is derivatives trading. Derivatives are instruments that are based on the liquidation price of financial assets such as bonds.
Bitget exchange is licensed from the United States, Canada, Australia and Singapore. This means that crypto traders from the aforementioned countries can legally engage in transactions. Overall, Bitget is a comprehensive digital asset trading platform that provides users with the tools and security they need to make informed decisions when it comes to investing in cryptocurrencies.
2. Pros Cons about Bitget
Here are some pros and cons associated with Bitget:
What we like about Bitget
Low transaction fees: Bitget has among the lowest fees in the industry, with competitive maker and taker fees.
High leverage: Bitget offers up to 125x leverage on many of its trading pairs. This allows users to open larger trades with a lower capital investment.
Variety of order types: Bitget offers a variety of order types, including market, limit and stop orders. This gives traders the freedom to customize their trading strategies according to their needs.
Copy trading: Bitget's copy trading feature allows users to follow the trades of experienced traders with different risk levels.
Secure platform: Bitget is a secure and reliable platform with multi-factor authentication and other security measures to protect user funds from malicious activities.
Good customer support: Bitget has a dedicated customer service team to provide users with quick and efficient answers to their queries.
What we don't like about Bitget
Limited Payment Methods: Bitget offers only a few payment options, such as cryptocurrencies and bank transfers. This may be inconvenient for some users.
Limited Service: Bitget is a relatively new platform; its services are still limited.
A little complicated for beginners: Bitget's interface may be a little complicated and overwhelming for beginners, who might need some time to get used to it.
No standalone desktop version: Bitget offers a web and mobile application, but unfortunately no standalone application for PCs
Overall, Bitget is a secure and reliable platform for trading cryptocurrencies with competitive fees and a variety of order types. However, it still lacks some features that could be improved in the future.
3. Security and regulation – Is Bitget safe or a scam?
Bitget is a licensed and secure platform with multiple licenses and regulations worldwide that checks the most important boxes for many traders. Bitget uses both hot and cold wallet storage for user funds, but the exact percentage of each has not been published. He also stated that the website uses SSL and has gained an A+ rank with 12 SSL indicators, making the exchange itself safe even in the face of potential attacks. Moreover, the exchange is regulated under three different authorities, and there is no doubt that it is improving overall safety. Not only does it operate in many places around the world, but it is also guaranteed to receive the same customer protection practices that many other non-crypto financial services providers have to comply with.
The exchange also has a bug bounty program for undisclosed amounts, but customers who are facing or noticing security issues are encouraged to contact the exchange to let them know. Of course, the prize money depends on the security level of the threat. The threat information will be posted when it is fixed and no longer vulnerable, but the exchange has put a lot of effort into protecting the identity of the user who submits these reports.
On the customer side, users can set up a two-factor authentication (2FA) system using a Google Authenticator code. This simple and straightforward process allows you to add additional layers of security to your login, withdrawal, and subsequent changes to your other security settings. However, because withdrawals do not require a whitelisting of the payee's address, in theory, someone else who knows all of your login information can send your funds to your private wallet. Of course, this makes it all the more important to set up 2FA and keep your passwords safe and unique.
Bitget does not require KYC, however, Bitget offers KYC (Know Your Customer) in order to verify customer identity and prevent any money laundering activities. In the event of a dispute, the exchange can provide customer details to the authorities.
Overall, Bitget seems to be safe and secure to use. The exchange has taken all necessary measures to protect its users from any potential threats and is compliant with the regulations of different countries. This makes it a great option for users who are looking to get into cryptocurrency trading.
Before investing in crypto through Bitget, you must know about some of the restricted countries:
Apart from these, the services of Bitget have also been restricted to the people of The UN List of Al Qaida and Taliban as well. For users from other countries, Bitget is a secure and reliable platform for trading cryptocurrencies with competitive fees and a variety of order types.
4. Fee structure of Bitget
In terms of fees, Bitget is quite competitive. Bitget offers the lowest trading fees among exchanges around the world. Spot fees are 0%, while the industry average ranges from 0.1-0.8%.
The maker/taker fee is 0.02%/0.06%, which is the industry average, but Bitget does not charge any maker fee to VIP members. If you become a VIP member, you'll get a further discount on your taker fees, and that percentage will vary depending on your monthly trading volume can drop to 0.01%.
The withdrawal fee is automatically adjusted and depends on the coin and network you chose. For BTC, it is currently at 0.0006 BTC per withdrawal, but it could be higher or lower depending on the market situation.
For a detailed breakdown of the withdrawal fee, please see the Bitget Fee Schedule. See Fee schedule: https://www.bitget.com/en/rate?tab=1
Bitget offers a wide range of features to help users get the most out of their trading experience. These include:
Bitget offers a fairly decent selection of over 200 pairs available for spot trading. What is interesting is that Bitget does not offer margin trading for spot pairs but offers up to 100 times more leverage for futures trading.
The charting screen is powered by TradingView, chosen by many popular crypto traders, but there is a reason for this. TradingView is one of the world's most advanced and popular charting platforms, meeting the needs of almost every trader, from beginners to advanced. With TradingView, traders can do all the technical analysis and trade directly on one convenient screen on the platform, eliminating the need to switch from a trading platform to a chart platform.
For experienced traders, USDT-M Futures, USDT-M Demo, Coin M Futures, Coin M Futures Demo, USDC Futures, and Simulation USDC Futures are available.
Futures trading can leverage up to 100 times, and the range depends on the pair. The following position modes are available:
Cross: All available funds in the futures account can be used as margin and share risk, which is resistant to losses.
Isolated: The risk of each position is calculated independently.
As for the type of order, the trader can choose the following options:
Limit
Market
Trailing Stop
Trigger- via trigger or post only
As we discuss in the previous section, the charting screen of the futures also uses TradingView, so you don't have to worry about the lack of features and functions here. What I like about this trading platform is that margin rates, account information, futures information, analytics, etc., are clearly displayed at the side of the screen and are easily accessible. These are useful to put in place so that traders can find important information at a glance.
Overall, Bitget provides a comprehensive and competitive suite of trading features for its users. The exchange is suitable for both beginners and advanced traders, with easy-to-use interfaces and intuitive charts to help them make the most of their trades. Warning: Trading with leverage can be risky, so please trade responsibly. Be sure to understand the risks before placing a trade.
Bitget also offers copy trading, allowing traders to easily copy successful strategies from other, more experienced traders.
This feature is helpful for those new to the market and who want to learn from the best without spending hours researching and analyzing data. With Bitget's Copy Trading platform, users can simply select a trader they like, set the parameters and then watch as their trades are automatically copied.
Benefits of using copy trading include:
Efficient strategy execution
Learning from experienced
traders Reduced risk, as you are copying the trading decisions of an expert who has done the research and analysis.
Passive income oportunity
QC is an innovative margin trading feature by Bitget. Bitget's exclusive Quanto Swap Contract trading is an innovative way to trade crypto on margins. With Quanto, you can use various crypto assets as collateral and then trade them using a variety of cryptocurrency pairs with the option to leverage your trades up to 50x. This allows traders to enter into larger positions, increasing their potential profits. Additionally, you can retain the charges for the conversion of coins to coins and also be able to collect profits from the higher value of the coin.
Launchpad is a new platform by Bitget that allows users to win rewards by holding crypto assets or exchanging them. Users can earn rewards from featured launch projects. The most recent project was Karmaverse (KNOT), a metaverse gaming platform with built-in blockchain technology. By holding KNOT tokens, users are able to gain access to the platform early, receive airdrops and discounts on games, use the NFT marketplace, and more.
Overall, Bitget is an all-in-one trading platform with features to help both beginners and experienced traders maximize their profits. With its wide range of features, such as copy trading, futures trading, Quanto swap contracts, launchpad and more, traders can easily find the best feature. So if you're looking to trade crypto with leverage or are interested in earning rewards from featured launch projects, then Bitget is a great platform to check out!
6. Bitget's Customer support
Bitget is committed to providing customers with excellent customer service and offers several customer support options. The most popular method of contact is via Bitget's live chat feature, which is available on the website as well as through their mobile App. A customer service representative can assist with any queries or issues you may have by responding within minutes.
Moreover, customers can contact Bitget's customer support through Bot for fast and easy resolution. The Bot is available 24/7 and can help answer basic questions about the platform and more complex queries regarding trading fees and account setup. Customers can also contact us through Email for any assistance. Bitget is also available on multiple social media platforms, such as Facebook, Instagram, LinkedIn, Twitter, and many more, where customers can directly message them for support or advice. Lastly, customers can read the extensive FAQ section on their website for any general questions they may have about the platform. So, whether it's live chat, the Bot, Email or social media, Bitget provides customers with a range of options to get quick and effective customer support.
Bitget (@bitgetglobal) / Twitter
bitget (reddit.com)
Bitget | Facebook
Bitget (@bitget_official) • Instagram
Bitget has a mobile app for both Android and iOS devices. The App is designed to make trading quick, easy, and interactive. It provides access to all the features of the website, with a few added features, such as alerts and push notifications. Users can view real-time prices, track their positions and orders, and access research tools on the App. Additionally, the Bitget Mobile App is perfect for experienced or novice traders who want to stay on top of their trades.
With the Bitget mobile App, traders can stay connected to the markets at all times and take advantage of opportunities as soon as they arise. So, whether you're a professional or beginner trader, the Bitget App is a great tool to have in your arsenal.
8. How to Sign Up on Bitget
Signing up for Bitget is straightforward and simple. You will first need to register with your personal information, such as name, email address, and mobile number. After registering, you will need to verify your identity with a government-issued ID and submit documents for Know Your Customer (KYC) compliance. Once the KYC process is completed, you can then deposit funds or buy cryptocurrencies. Lastly, you're ready to start trading on Bitget! You can sign up by using an app and web browser to easily access the platform.
Once you've set up your account, you're ready to start trading. Bitget has an easy-to-use interface that makes it simple to navigate and access the different features of the platform. You can choose from a variety of market pairs, including Bitcoin (BTC), Ethereum (ETH), Litecoin (LTC), and more.
You can also access futures, margin trading, copy trading, and Quanto Swaps. Bitget also offers advanced features such as indicators and charting tools to help you make informed decisions. Additionally, the platform has a wide selection of educational resources, including tutorials, articles, and FAQs available to all users. So, whether you're a beginner or an experienced trader, Bitget has the tools and features you need to achieve your trading goals.
Bitget is a comprehensive digital asset trading platform that makes it easy for traders of all levels to buy, sell, and trade cryptocurrencies. With its intuitive and user-friendly interface, various features and tools, as well as an extensive customer support team available 24/7, Bitget is the perfect platform for any trader looking to take their trading to the next level. For more information about the crypto world, please visit our website CryptoWinrat.com.
CryptoWinrat strives to bring you the very best trading platforms. We provide the best services to help traders maximize their profits while reducing risks in the crypto market. You can also follow us on Twitter (@CryptoWinrate) or subscribe to our YouTube channel to learn about the crypto industry. Thank you for your time! Have a great day!
Is Bitget safe?
Yes, Bitget is a secure digital asset trading platform. It uses advanced encryption technologies to protect user accounts and data, as well as multiple security protocols to ensure all transactions are safe and secure. Additionally, the platform has passed numerous audits from third-party companies for its reliability and trustworthiness.
How do I deposit funds into Bitget?
You can deposit funds into Bitget by using a credit/debit card, bank transfer, or cryptocurrency. All deposits are processed quickly and securely, and your funds can be used to buy, sell, and trade cryptocurrencies.
Does BitGet require KYC?
BitGet is known as a "Non-KYC" exchange. That means you do not have to perform KYC but you can still trade. Just note that some countries are restricted so you might have to use a VPN to access Bitget.
Can I access Bitget from anywhere?
Yes, you can access the Bitget platform from anywhere in the world except restricted countries which is already mentioned in this article. The platform can be accessed from desktop and mobile devices, making it easy to trade.
Is there a tutorial on how to use Bitget?
Yes, Bitget offers an extensive library of educational resources, including tutorials and articles, which can help beginner traders understand the basics of digital asset trading. Additionally, there is also a Q&A section where users can ask questions and get help from experienced traders.
What are the fees on Bitget?
Bitgets spot fees are 0% which makes them the lowest spot trading fees in the industry. On the futures market, Bitgets fees are 0.02% maker and 0.06% taker which is fairly average.