Earning money from crypto affiliate programs is a great way to expand your income sources. One such affiliate program is Bitget. The Bitget affiliate program is a high-paying partner program of the Bitget crypto exchange.
With over 10 million users, Bitget is a globally trusted crypto trading exchange. What we love most about the Bitget affiliate program are the high commissions and the user-friendly platform.
In this Bitget affiliate program review, we will reveal everything that you need to know.
| Website: | Bitget.com |
| --- | --- |
| CEO: | Sandra Lou |
| Year Launched: | 2018 |
| Location: | Singapore |
| Users: | 10+ Million |
| Supported Cryptos: | 600+ |
| Leverage: | 125x |
| KYC? | Yes, Required |
| Spot Fees: | 0.1% |
| Futures Fees: | 0.02% Maker / 0.06% Taker |
| Type: | Revenue Share (Commissions) |
| Spot Commissions: | 100% |
| Futures Commissions: | 40% - 50% |
| Sub-Affiliate Commission: | 10% |
| Conversion Rate: | High |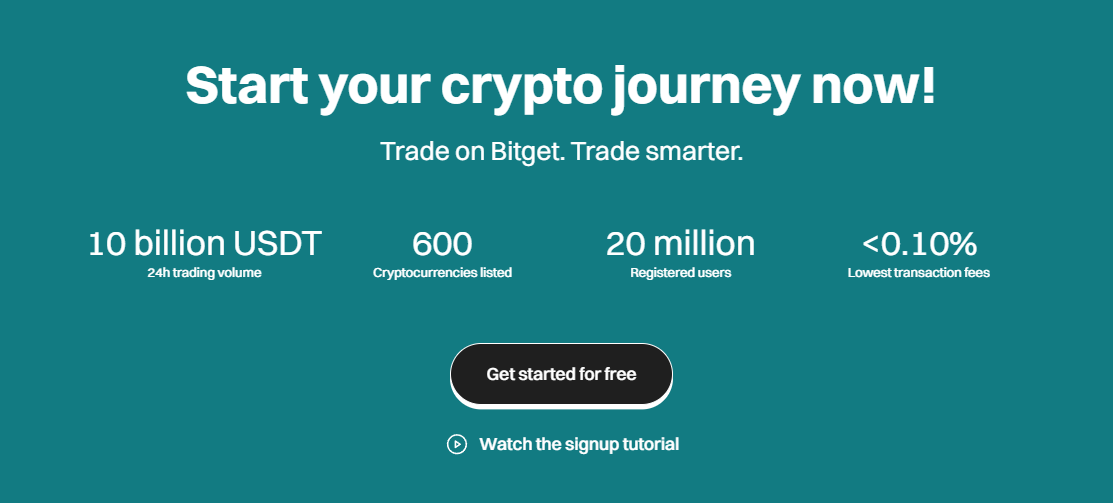 Bitget Affiliate Program Overview
Bitget was launched in 2018. Back then, they were not heavily promoting their affiliate program. However, since 2021 and 2022, Bitget started improving its affiliate program and onboarded more and more partners. With thousands of trusted influencers on YouTube or Twitter, Bitget has quickly become one of the largest crypto exchanges in the world. This is largely due to the high affiliate payouts. We even awarded Bitget as one of the best crypto partner programs.
When promoting crypto exchanges as an affiliate, you will earn most of your income from trading fees. Bitget charges a 0.1% fee for spot trading. Futures trading is charged at 0.02% maker and 0.06% taker, which is the industry standard. With up to 125x leverage, Bitget offers traders a way to open large positions. Therefore, they will also pay more fees.
The base commission in the Bitget affiliate program is 40% for futures trading and 100% for spot trading. That's right, you will receive 100% of the generated spot trading fees. The maximum futures commission is 50%. It is safe to say that Bitget has some of the highest commissions in the crypto industry.
With fair fees, over 600 supported coins, a dedicated spot and futures market with 125x leverage, and numerous passive income products, Bitget is a one-stop shop for every crypto enthusiast.
If you want to learn more about the crypto exchange, you should check out our full Bitget review.
How to Join the Bitget Affiliate Program
Joining the Bitget affiliate program is fairly simple. However, there are a few requirements. Overall, the Bitget affiliate program is generous when it comes to accepting new partners.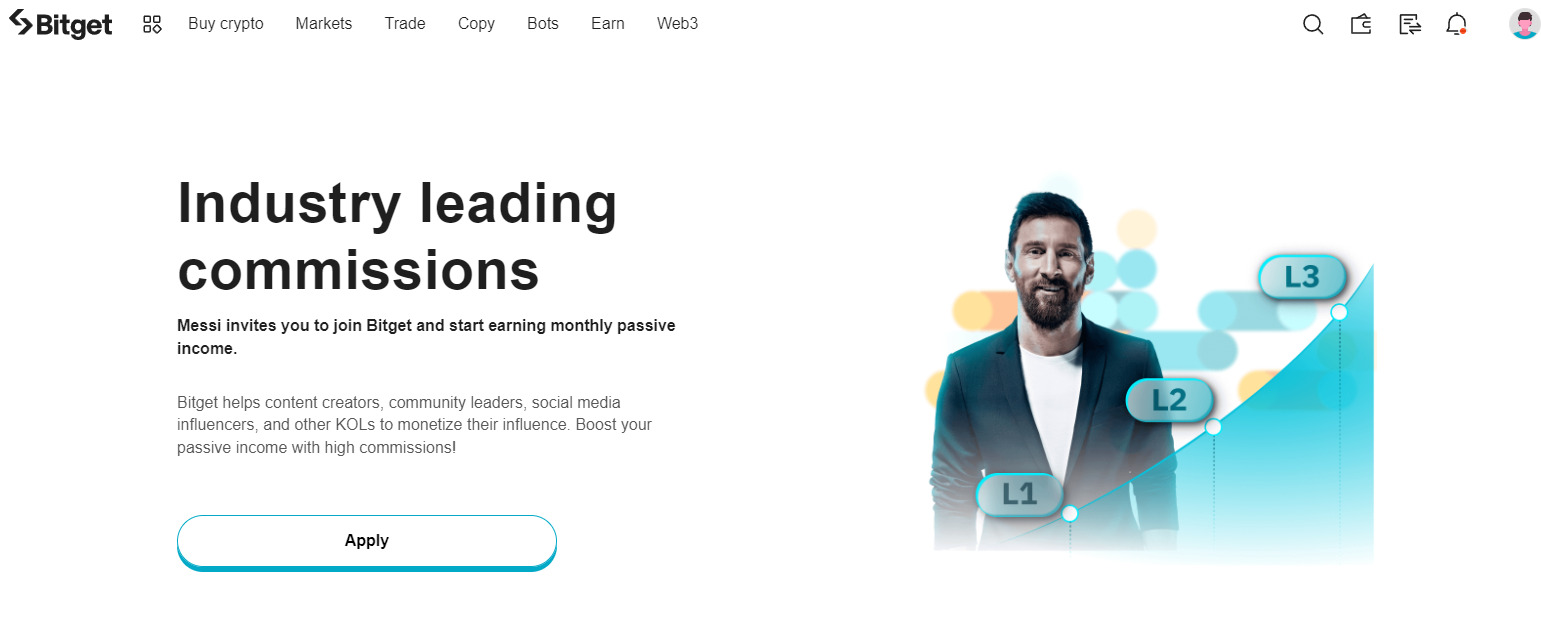 As long as you have some sort of audience where you can share your affiliate link, you are most likely to be accepted. The most popular way to join crypto affiliate programs is with YouTube channels or Twitter accounts where you post educational content. We recommend having 300+ subscribers on YouTube and 1000+ followers on Twitter to make sure that you will be accepted for the affiliate program.
Alternatively, you can create your own crypto website, upload some content, and then apply. This worked for many partners in our network, even when they didn't have website traffic yet.
First, you have to create a normal Bitget account. This account will later be connected to your affiliate account. To join the Bitget affiliate program, follow the step-by-step guide below:
Create your Bitget account on the official Bitget website.
Verify your identity in the KYC process.
Go to the Bitget affiliate application page and click on "apply".
Add your details and provide your proof of influence.
Add your affiliate email.
Wait for your application to be approved. This usually takes a few days.
Bitget Affiliate Commissions
The most important aspects of crypto exchange affiliate programs are the commissions and trading fees. Luckily, Bitget is one of the top crypto trading platforms with high commissions. The spot trading commissions are 100%, which is unheard of. But futures trading commissions are high, with base commissions of 40%, which can go up to 50% based on your performance.
In terms of trading fees, Bitget charges the industry standard rates. The spot fees are 0.1% for makers and takers. For futures trading, the fees are 0.02% maker and 0.06% taker.
If a trader opens a $10,000 position on the spot market, you will earn $10 when he opens the position and again around $10 when he closes the position. While the futures fees are lower, futures traders often pay more fees due to the use of high leverage. If your invitee has $1000 in his futures account, he can open a position with 125x leverage worth $125,000. The fees he will pay in this case are $60. Your share will be 40%, which leaves you at a $24 profit when he opens the trade. Note that you will again receive 40% when the trader closes his position.
Bitget Sub-Affiliate Commissions
Bitget not only offers commissions for your direct invitees (first level) but also for sub-affiliates (second level). That means if your invitee also invites other users to Bitget, you will get a sub-affiliate commission of 10%.
Bitget Affiliate Program Features
Aside from offering high commissions, the Bitget affiliate program has tons of advanced features. The Bitget partner dashboard is super comprehensive, so let's go through everything step-by-step.

Bitget Affiliate Dashboard
When logging into your Bitget affiliate dashboard, you are greeted with a lot of data. You can easily see new sign-ups, deposits, and traders. In the home dashboard, you can also create new invitation codes, add fee discounts, or add new referral links.

When scrolling down in the home dashboard. You can also visualize your affiliate data with graphs. This helps you understand your recent performance and progress over time.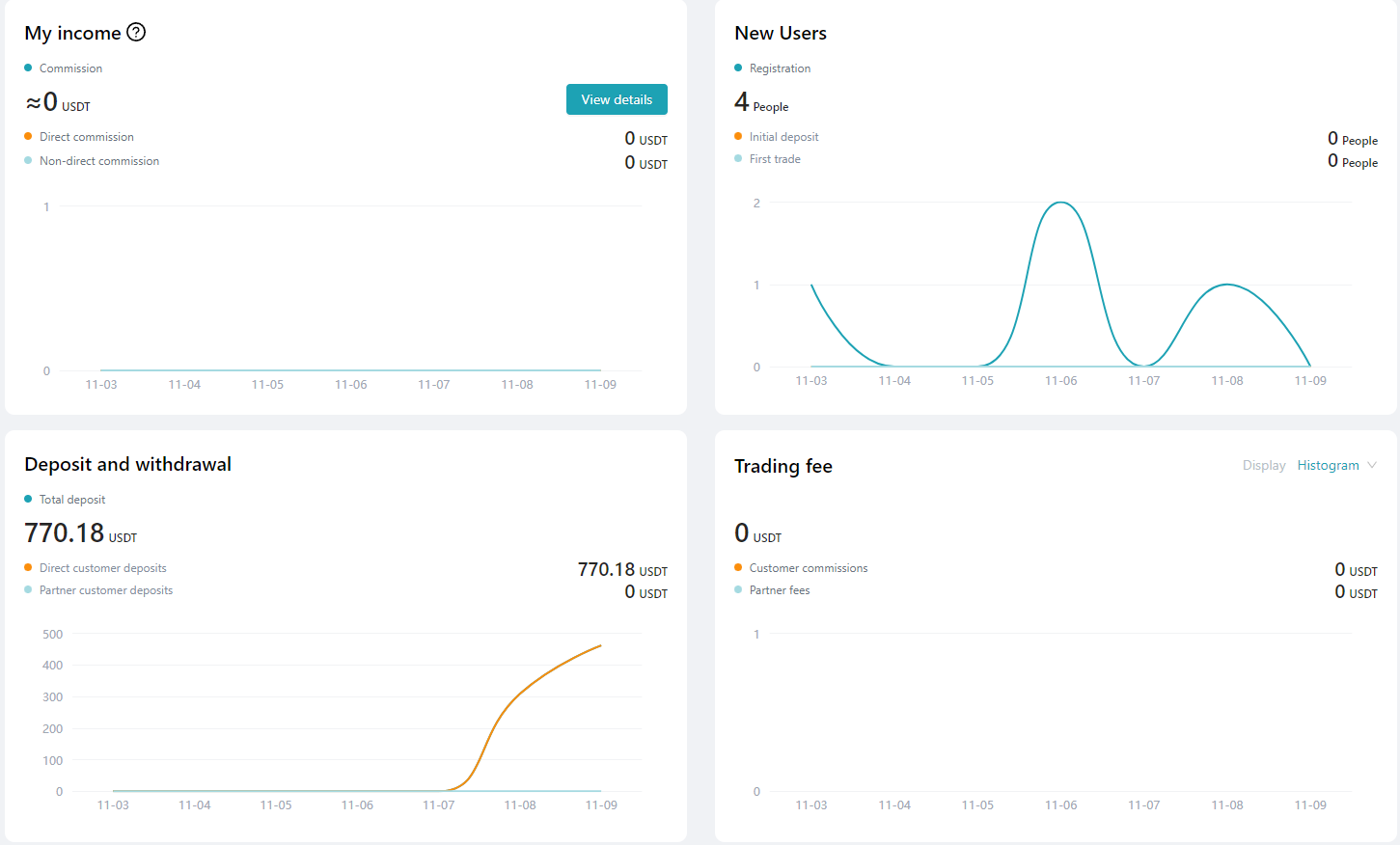 Bitget Referral Codes
On the left-hand side, you can go to the "Link management" section. This is where you can create new affiliate codes and links to properly track the performance of your traffic sources. This allows you to quickly analyze where most of your signups come from so that you can optimize your affiliate funnel. In the "Link management" section, you can also shorten your links and see short link statistics.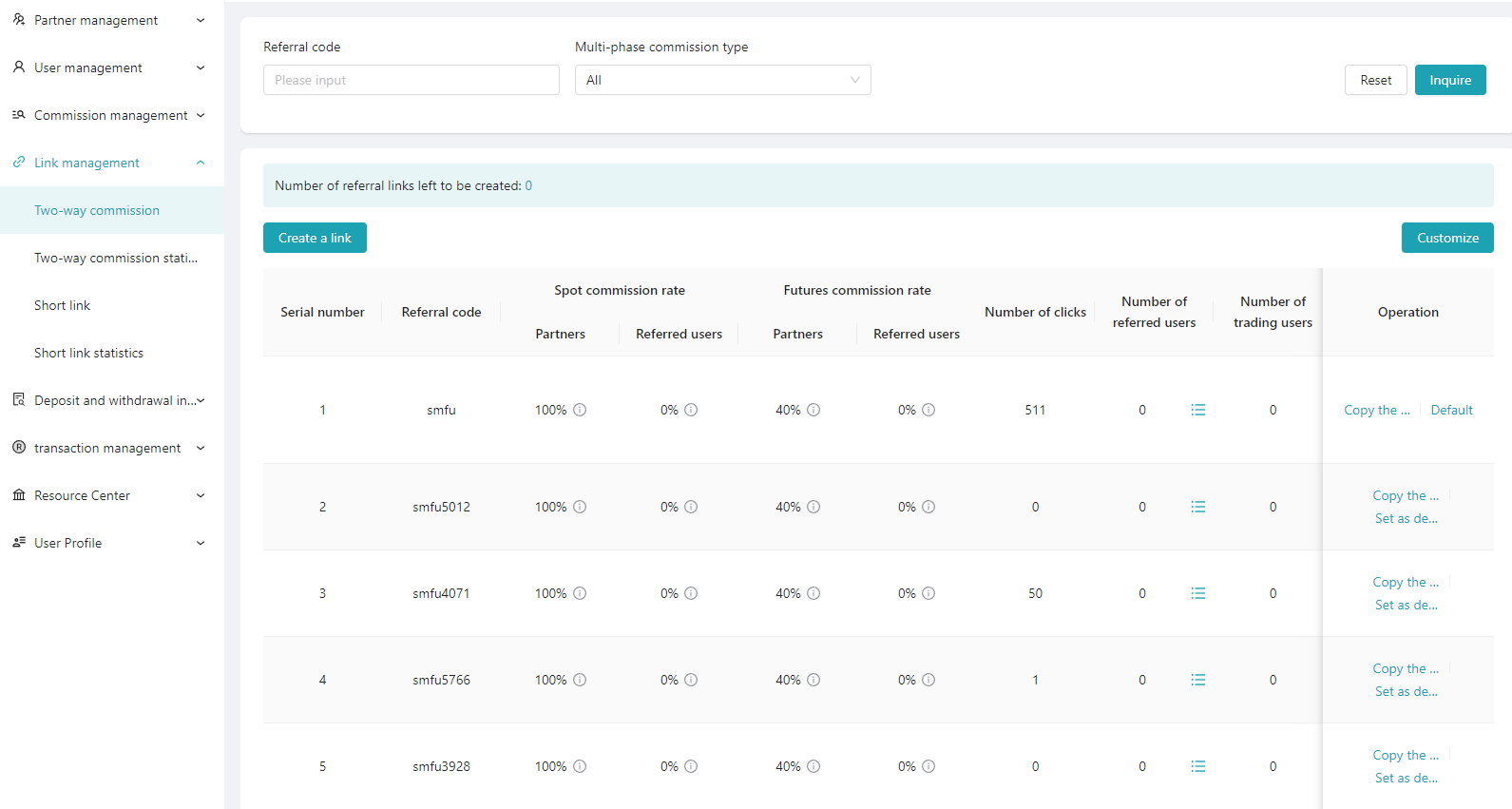 Bitget User Management
On top of that, you can even see the trading performance of your invitees. Bitget even distinct spot and futures trading as well as maker and taker orders. This feature lets you analyze fees, commissions, deposits, withdrawals, trades, and more. For even more insights, you can check out the "transaction management" section, where you can see the trades of your invitees.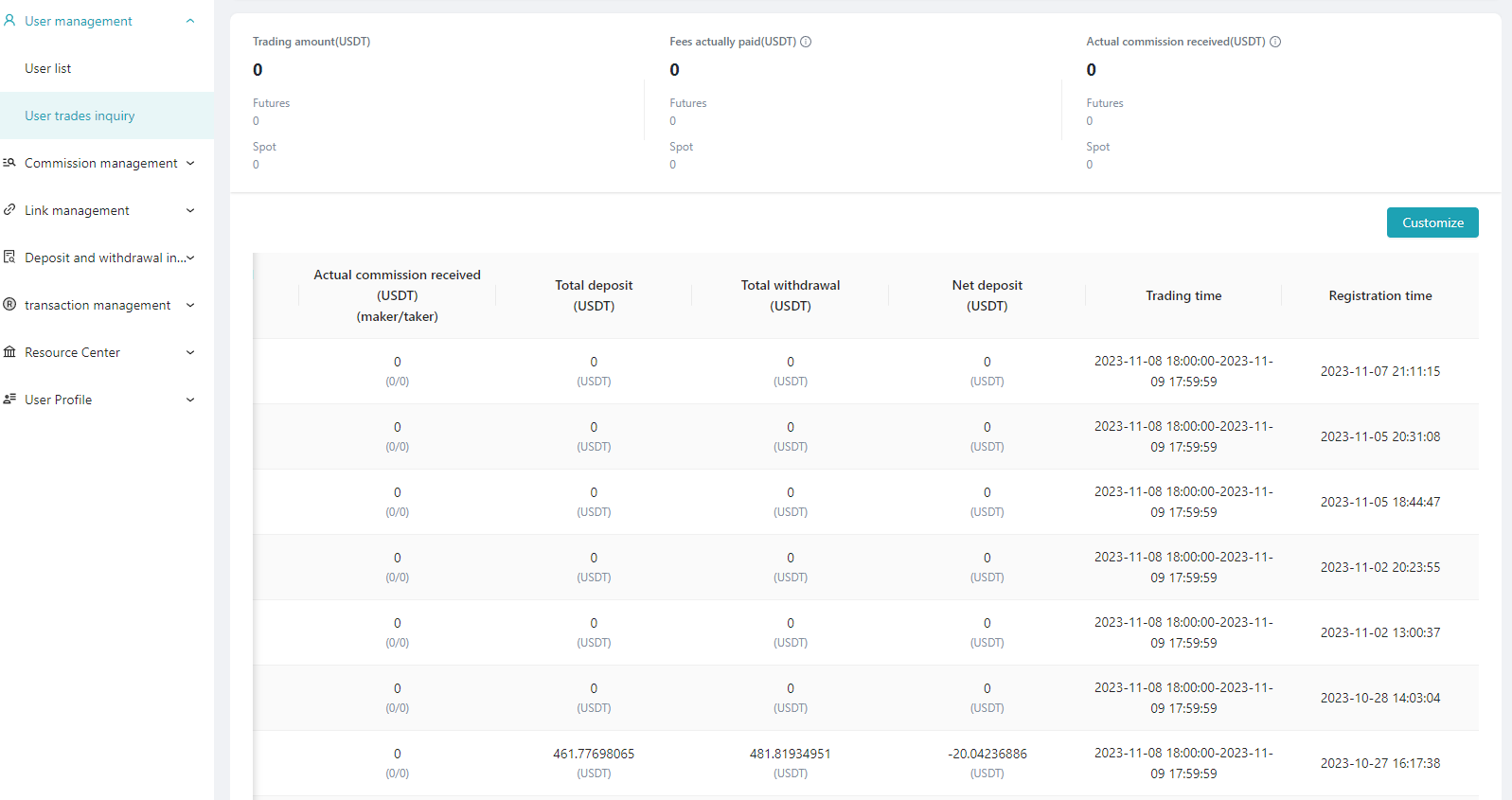 Bitget Affiliate Program Incentives
To increase the conversion rate of new users, Bitget has amazing incentives and bonuses, including fee discounts and trading rewards.
First and foremost, Bitget offers a $30,000 bonus for new users when visiting Bitget with an exclusive affiliate link. Note that this bonus can only be unlocked when registering on Bitget through an affiliate link. But not every affiliate link will unlock this bonus. Once you are an affiliate partner at the Bitget exchange, you can request to activate this bonus for new users.
We also have a full Bitget affiliate bonus guide where you can learn more about the incentives that Bitget offers.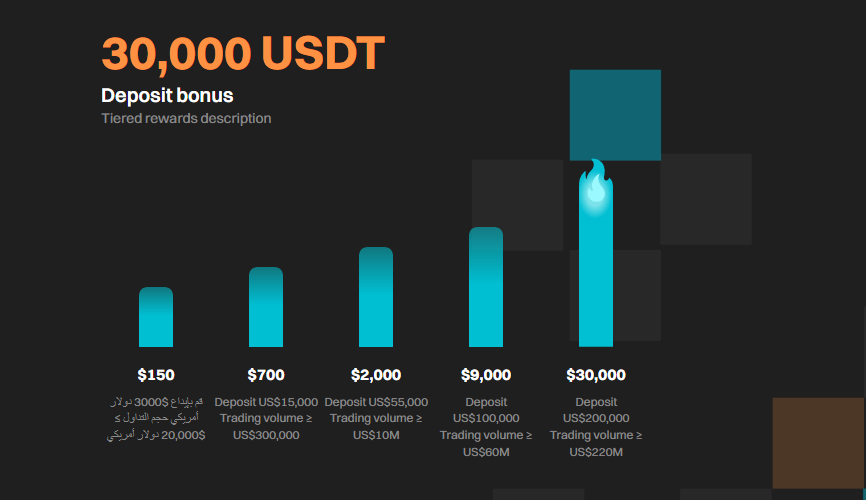 Additionally, Bitget offers the option to opt in for fee discounts. By giving up some of your commissions, you can activate fee discounts for your users. When your normal futures commission is 40%, you could activate a 20% fee discount for new users. However, your commission will then be reduced to 20%.
Lastly, you can request a 10% default fee discount from your Bitget affiliate manager. This fee discount will not be deducted from your affiliate commissions.
With these generous offers and opportunities, Bitget has amazing incentives for new users when signing up with exclusive affiliate links. This enhances the user experience on the Bitget exchange, and it boosts the earnings of affiliate partners through amazing conversion rates!
Bitget Affiliate vs. Referral Program
You might have seen that Bitget offers an affiliate program as well as a referral program. It is important to note that these programs are entirely different.
The Bitget referral program is available to every Bitget user and doesn't come with fee commissions. Instead, you will receive trading vouchers which can be used for futures trading. Also, your invitees can only receive up to $1,000 in bonuses, while affiliate invitees can earn up to $30,000 in bonuses. And most importantly, your voucher bonus is capped at $9,000 per invitee.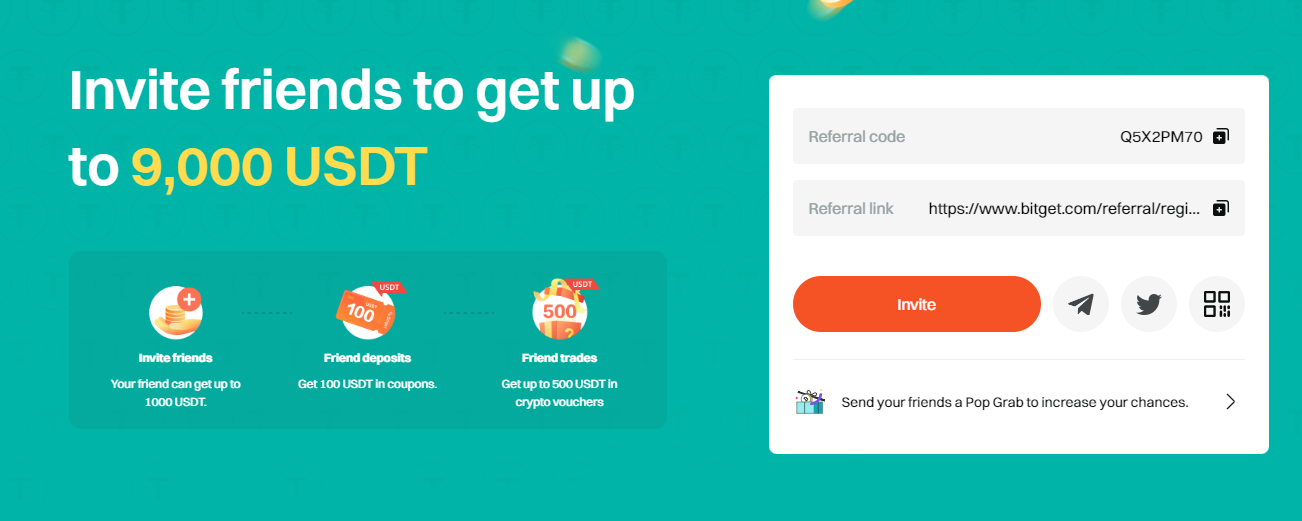 The affiliate program, on the other hand, offers massive commissions for spot and futures trades for your lifetime. That means there is no maximum amount of commissions you can receive.
If you want to earn passive income with crypto affiliate programs, we highly recommend joining the Bitget affiliate program.