Making money with cryptocurrencies has been easier than ever before. There is a lot of money to be made with crypto and the best thing is that you don't even have to put your money at risk with trading and investing! There are many ways to create wealth in the crypto space, and one of the best ways is through crypto affiliate programs.
We have tested over 100 crypto affiliate programs and finalized a list of the top 12 affiliate programs in the cryptocurrency industry!
Top 12 Crypto Affiliate Programs
Below, we will reveal to you the absolute best cryptocurrency affiliate programs that you can join to start making money today!
1. Bybit
Bybit is one of the largest crypto exchanges in the world. With low fees, a wide variety of coins, and an amazing user interface, Bybit has quickly become a top choice for crypto traders. The affiliate program of Bybit starts at 30% and can go up to 50%. That means whenever an invitee makes a trade, you receive at least 30% of the trading fees generated by him.
The best thing about crypto exchange affiliate programs is that once you refer to a user, you earn a commission on his trading fees for your lifetime. Therefore, the Bybit referral program is highly scalable. Additionally, your commissions go up the higher the trading volume of your invitees is. LThe commissions are released in real time and you can always withdraw them into your account. Furthermore, the traders you refer get access to exclusive bonuses and trading incentives up to $30,000 which might be one of the reasons that Bybit is considered to be the best crypto affiliate program.
Allegedly, one of the biggest affiliates of Bybit has single-handedly earned over $300 million from 2020 to 2022! Overall, Bybit has paid out well over $1 billion to its affiliate partners. Sign up for Bybit and join their affiliate program to start earning today.
Register on Bybit and Join the Affiliate Program!

2. Bitget
Bitget is a relatively new crypto exchange, but should not be underestimated. Within just a few years, it climbed into the top 10 trading platforms in terms of volume.
The best thing about Bitgets affiliate program is the high commission rate. Your spot commissions in Bitgets affiliate program are 100%, meaning you get every dollar generated by your invitees on the spot market. For futures trading, the Bitget commissions start at 40% and can go as high as 50% once your generated trading volume is high enough.


What we love about Bitgets affiliate program is the fact that you can activate fee discounts for your invitees by giving up a portion of your own income. For example, you can give your invitees a spot trading fee discount of 50%. This will lower your spot trading commissions by 50%, but it incentivizes users to use your Bitget affiliate link and it is also a great way to give back!
The Bitget affiliate program is certainly one you should consider joining.
Register on Bitget and Join the Affiliate Program!
3. Pionex
Pionex is another crypto exchange, but there is something special about this platform. Pionex specializes in automated bot trading. That means users can create their own algorithmic trading bot. The setup is very simple and Pionex is the market-leading exchange in terms of crypto bots.
Why is this important for a crypto affiliate program you might wonder? The answer is simple: Bots can trade all day long, 24/7 while humans need some time off. Due to higher trade execution frequency with Pionex trading bots, your Pionex affiliate income will be higher. More trades mean more fees, and more fees mean more commissions!
The crypto affiliate program of Pionex starts with a base commission of 15% but can increase to a whopping 50%, making it one of the highest-paying affiliate offers in the crypto space. Similar to Bitget, you can activate exclusive fee discounts (of course only if you want).
Register on Pionex and Join the Affiliate Program!

4. TradingView
Every crypto trader needs software to analyze charts. That's where TradingView comes in handy. It is the largest charting software in the world.
While TradingView is not directly a crypto affiliate program, it is still a crucial part for crypto traders. Every trader, no matter if crypto, commodities, stocks, or forex uses TradingView.
The TradingView affiliate and partner program is an amazing choice for scalability, as it uses a subscription model and you don't earn one-time commissions, but recurring commissions. TradingViews Premium Plan costs $59 per month which you would get a minimum commission of 30% of.
Furthermore, the lifetime customer value of TradingView is really high as it is the best charting software and traders stick to it. I have personally used my TradingView account since 2017 and have paid over $3594 for it. Commissions are paid out monthly through PayPal.
The power of subscription-based affiliate programs is incredible, so we highly recommend you give the TradingView affiliate program a try.
Register on TradingView and Join the Affiliate Program!

5. Phemex
Yet another crypto exchange! But for a good reason: Crypto exchanges are overall the most lucrative crypto affiliate programs. Similar to Pionex, there is something special with Phemex.
Not only is Phemex a brilliant crypto exchange, but its affiliate program has one key feature that you should not overlook. Phemex supports a unique sub-affiliate structure which has a downline that never ends. That means if you refer someone to Phemex, and he refers someone again, You not only earn a commission for your first invitee but also on the invitee of the invitee.
The first-level affiliate commissions range from 30-50%, while additional sub-affiliates will earn you 10%. That makes the Phemex affiliate program extremely scalable as your earnings increase when your invitees invite other users too.
Register on Phemex and Join the Affiliate Program!

6. NordVPN
Similar to TradingView, NordVPN is not directly a crypto affiliate program. However, many crypto traders use VPNs. Some use it for security and others use it to bypass geo-location restrictions on non-KYC exchanges.
NordVPN is one of the most popular VPNs and it is super easy to use and navigate. Supporting over 5600 and 70, NordVPN is one of the best VPNs for crypto traders.
The best thing about the NordVPN affiliate program is its subscription-based payment model where users have to pay monthly or yearly.
The NordVPN commissions are 100% for the first month of new users if they choose monthly payments or 40% if they choose the 6+ months package, 40% for the next 5 months, and then 30-40% for their lifetime. As many crypto enthusiasts use VPNs to hide locations or just increase security, we consider NordVPN one of the best affiliate programs for the crypto niche.
Register on NordVPN and Join the Affiliate Program!

7. Kucoin and MEXC
Kucoin and MEXC are crypto exchanges with generous crypto affiliate programs. What is special about them is the use case as both exchanges focus on offering as many cryptos on the spot market as possible. Kucoin features 900 cryptos and MEXC supports 1800 cryptos, making them top exchanges for altcoin traders.
The Kucoin commissions start at 30% and climb up to 50% based on the generated trading volume. MEXC on the other hand starts at 50% and can reach up to 70% based on the generated trading volume.
We think that Kucoin and MEXC are excellent crypto affiliate programs as you can market them towards altcoin traders that care about a wide selection of tradable assets.
8. Ledger
Everybody that is a crypto enthusiast must own a crypto hardware wallet where they can store their cryptocurrencies securely. Ledger is the largest hardware wallet company in the world and also has a great affiliate program to help you boost your income.
Whenever someone purchases a wallet with your affiliate link, you earn a commission of 10-15%. As the wallets cost between $200-$400, a few purchases per week can already make you a great income.
It is simple to apply and join the Ledger affiliate program, and for wallets, it is the best crypto affiliate program out there. You can even get paid in Bitcoin, so you can consider this a Bitcoin affiliate program!
Register on Ledger and Join the Affiliate Program!

9. Changelly
Changelly is one of the easiest-to-use crypto exchanges, focusing on swaps rather than real trading.
The user-friendly design makes it a popular choice for beginners, which you can market Changelly with its affiliate program towards. With commissions on fees of 50%, the Changelly affiliate program is very lucrative. Whenever one of your invitees makes a transaction you earn half of their paid fees. Lastly, Changelly offers not only percentage based commissions, but you can also select CPI, CPA, or Hybrid commission systems.
Register on Changelly and Join the Affiliate Program!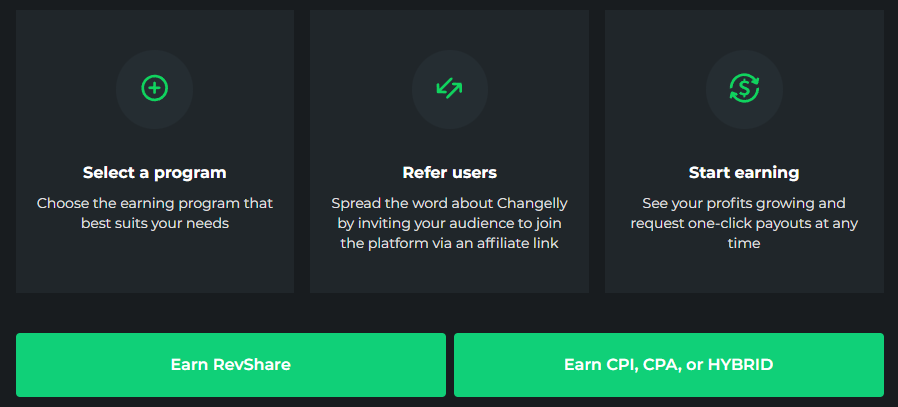 10. Bitcoin IRA
Did you know that holding Bitcoin in your retirement is possible through Bitcoin IRA? That's right! With Bitcoin IRA you can hold crypto assets in your IRA account.
The Bitcoin IRA affiliate program pays $75 for each new user that registered with your affiliate link. You can market this profitable crypto affiliate program to crypto enthusiasts that want to build long-term wealth through smart investments.
Register on Bitcoin IRA and Join the Affiliate Program!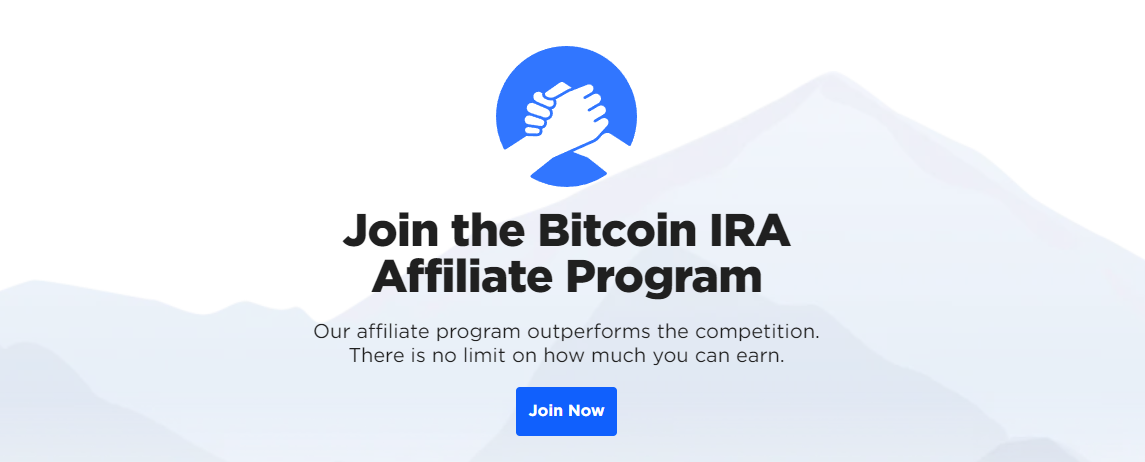 11. Bitvavo
The last crypto exchange on our list of the most lucrative crypto affiliate programs is Bitvavo. Especially users from Europe should pay attention to the platform, as that's the area where Bitvavo operates. Being a fully regulated crypto exchange in the EU, Bitvavo not only offers a great affiliate program but also a secure program with regulatory certainty.
Bitvavos crypto exchange affiliate program offers 15% commissions on trading fees and pays its users in €, which makes it a great affiliate program for users from Europe.
Register on Bitvavo and Join the Affiliate Program!

12. Trezor
Trezor is another hardware wallet provider and is the second largest crypto wallet company after Ledger, making it a popular name. Crypto enthusiasts can securely store their cryptos in the Trezor wallet and wallets are always in high demand.
The Trezor affiliate program offers a 15% commission on purchases through your link. Due to the low commissions, we placed Trezor lower on the list. However, we still consider Trezors affiliate program to be one of the best in the crypto space!
Register on Trezor and Join the Affiliate Program!

How to Choose the Right Crypto Affiliate Program?
There are a few things to consider when choosing a crypto affiliate program
What are you good at: Ask yourself what your expertise is. If you are a trader, promoting a crypto exchange as well as analysis softwares is only logical!
Reputation: Is the product or service legitimate and safe? Have you tried it yourself? Always make sure that you only promote legit crypto affiliate programs
Commission Rate: How much does the affiliate program pay? Look for the highest converting programs with high commission rates.
Scalability: Is the affiliate program scalable? The most scalable affiliate programs are the ones with lifetime or recurring commissions such as Bybit (exchange) or TradingView (analysis software).
Final Thoughts
There are endless opportunities to make money with crypto and it would be idiotic not to capitalize on them.
Crypto affiliate programs are one of the best ways to build a steady income. The most lucrative type of crypto affiliate program is crypto exchanges as the commissions are paid for a lifetime, whenever an invitee makes a trade. Some of the most profitable crypto exchange referral programs are Bybit, Bitget, Pionex, and Bitget.
After that, recurring payments through subscriptions are the best choice as one invitee can use the product for months or even years, and for each payment, you will get a cut! The best crypto affiliate programs with subscription models are TradingView and NordVPN.
Lastly, we have one-time affiliate programs such as Ledger, Trezor, and BitcoinIRA. The downside of these programs is that you have to work for every single commission and it is not as scalable as recurring commissions.
In this article, we have presented you with the best crypto affiliate programs. We carefully considered the reputation, commission rates, and scalability of the programs to conclude this list. Furthermore, we carefully choose crypto affiliate programs in different niches to diversify the offers.
Pick your favorite crypto affiliate program and start earning money today!