Phemex has gained a lot of popularity in recent years due to its affordable trading. The platform offers various earning opportunities to its users, but is it good for your career? You might have heard about it among the best non-KYC exchanges and want to learn more about the platform. Perhaps, you are curious about the legitimacy of trading on this platform without verification.
So, here we have reviewed Phemex for you. In this review, you will learn about the platform's history, features, pros & cons, legitimacy, security, and much more. We will also cover its fee structure and customer support, as well answer some essential questions. Let's waste no more time and get into our detailed review!
Phemex Overview
Phemex is a well-known cryptocurrency exchange and trading platform where you can trade spots and futures while also converting crypto coins. The platform is famous for its low fees and trading without KYC verification.
It is the reason why the platform's current assets are almost worth $96 million. And due to its powerful trading engines, the exchange handles over 300,000 transactions per second and has a trading volume worth $10 billion daily.
Phemex Brief History
The platform was built in 2019 when the ex-executives of Morgan Stanley decided to provide its users with a fast, professional, easy-to-use, and affordable crypto platform. This group of C-suit members observed that the crypto market lacks professionalism and flexibility.
The Phemex founder, Jack Tao, resigned from his senior developer position at Morgan Stanley and gathered 30 expert developers. Some of the members were his fellow executive developers, while others consisted of the enterprise application infrastructure teams.
They started working on the platform in 2017, which took two years to launch in 2019. The platform initially remained in Beta testing for many weeks but allowed trading on November 25.
Phemex General Information
| Website | |
| --- | --- |
| Founded | November 2019 |
| Founder | Jack Tao |
| Headquarter | Singapore |
| Crypto Coins | 360+ |
| Trading Pairs | 230+ |
| Staking | Allowed |
| Native Wallet | Yes |
| KYC Verification | Not Required |
Phemex Features
Phemex gained immense popularity and became one of the leading crypto exchanges in only two years. It indicates the platform has some next-level features that users find the most valuable. So below, we will discuss some of its fascinating features that you may also find helpful.
1. Wide Crypto Coins Range
Phemex supports a vast range of crypto coins, trading pairs, and other assets for an immersive and versatile experience. Although the number of cryptocurrencies is not much compared to exchanges like Binance, MEXC, or Bitget, they are enough to let you trade popular and rarer currencies.
Besides Bitcoin, you have more than 360 altcoins, meme, utility, stakable coins, and others according to your needs. Hence, the users can trade different cryptocurrencies like Ethereum, Tether, Cardano, Atomos, Ripple Chainlink, Dogecoin, and others.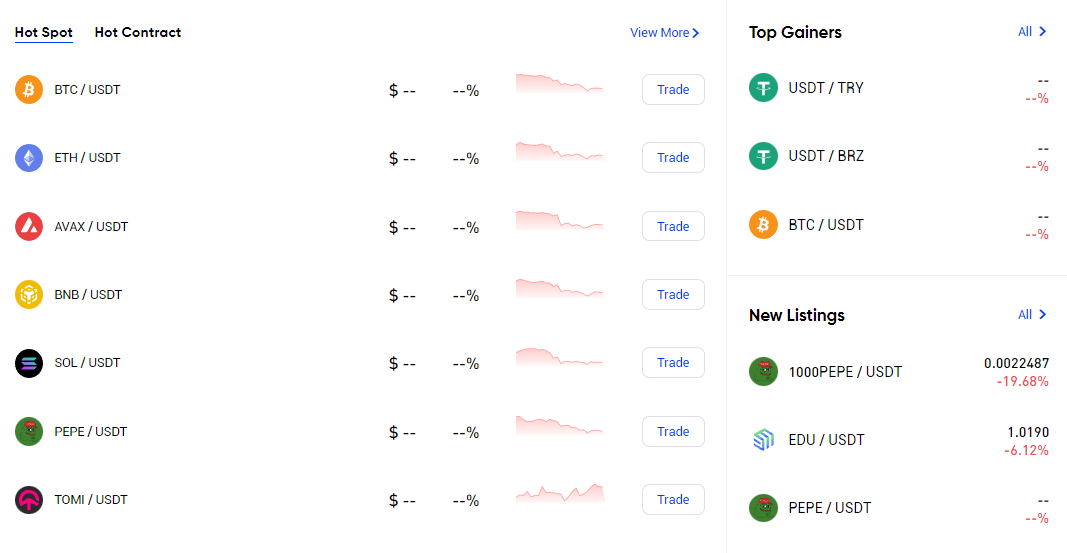 2. Free P2P Trading
Phemex features free Peer-to-Peer (P2P) trading, which means you can trade with other Phemex users without any cost. This feature has attracted many new customers and has a significant role in total trading volume. It allows users to easily purchase crypto or sell any coin in a wallet in exchange for the other, saving trading fees charged on normal converting.
Additionally, Phemex has more than 20 payment methods for P2P trading, which makes it a versatile and flexible option for everyone. Some honorable mentions are:
PayPal
Apple Pay
Google Pay
Skrill
Alipay
Moneygram
Western Union
Xoom
You can also pay via direct bank transfers, but it only supports payment in European Euros (EUR). Also, while trading via a P2P network, you will remain anonymous, and the platform won't disclose your personal contact so easily. So, you can control how much information you want to share with your trading partner.

3. High Leverage Perpetual Trading
Perpetual contract trading is a famous market that allows you to trade on assets and open positions on trading pairs above your buying capacity. Phemex provides convenience on these perpetual trading with leverage up to 100x times. Leverage acts as a multiplier on your assets, allowing you to open positions double, triple, ten, or times more than your buying power.
On Phemex, the USD-M Perpetual trading will involve USD as the margin, Coin-M will have BTC and ETH, while USDT-M will use Tether as the margin.
Additionally, you can also perform Spot-Margined Trading, where you can buy and sell spots with leverage up to 5x. The leverage here is low because spot trading deals with instant trading based on assets in hand. However, this amazing feature stands Phemex apart from many other exchanges.

4. Copy Trading
As the name suggests, you can imitate others' trading patterns and strategies in your trades to gain potential profit. Copy trading usually involves beginners following experts for trading, increasing their chances of making a profit while getting some experience.
On phemex, you can filter expert traders based on their total balance, profit/Loss (PnL), and monthly ROI and PnL. Also, only 100 users can follow a single trader at max. Remember, the traders have a minimum balance limit that their followers must have in their wallets. So, make sure you follow with enough assets.
On the other hand, you can generate a healthy passive income as an expert trader. Phemex allows professionals to get a commission from their followers' profit. So, if you can benefit others with your successful strategies, you will get a percentage of your followers' profit as a bonus.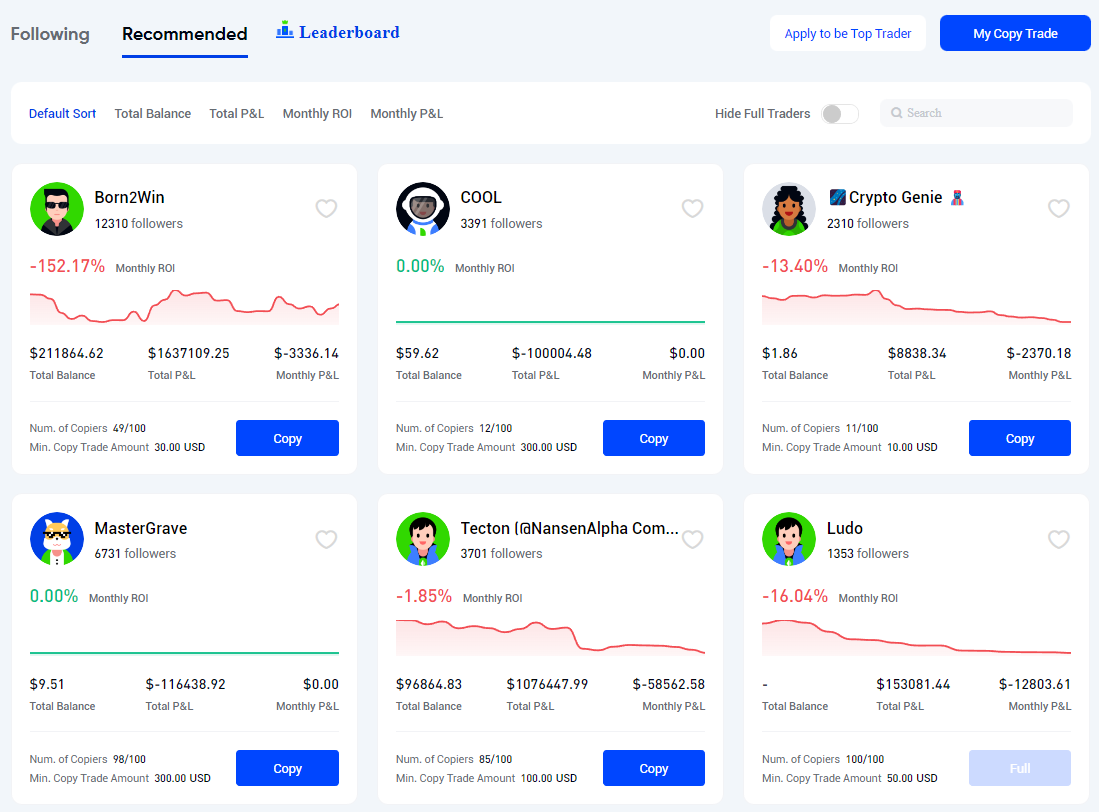 5. Great Mobile Application
Phemex also has separate mobile applications for both iOS and Android users. So, you can access your account and continue trading on the go from anywhere, anytime. Although their website is well-developed and offers a better trading experience, the mobile application will increase the usability, accessibility, and versatility of the platform.
The application has around 4.5 ratings on Apple App Store and requires an iOS version 12.0 or newer. You can also download the application on your Mac, where the required macOS version is 11.0 and with M1 Chip. The app's file size is also under 100 MB.
On Google Play Store, it has a rating of 4.6 stars, with over 1 million downloads. However, the app size is much smaller at only 34 MBs compared to its iOS counterpart. Anyways, you will need Android Lollipop (5.0) or higher for downloading.
6. Phemex Academy & Testnet
Phemex is not only a great trading and crypto exchange, but it is also a fantastic platform for beginners to learn about the industry, its terms, tips, and strategies. The exchange has a separate section, "Phemex Academy," solely dedicated to detailed and well-explained guides, articles, and tutorials.
But if you still think you require more in-depth experience, Phemex also offers a demo account to its customers, namely Testnet. It is a great opportunity for beginners to learn the trading complexities while newcomers can get acquainted with the platform's dynamics. Expert traders can also benefit from the Testnet to experiment with different strategies and techniques without the risk of loss.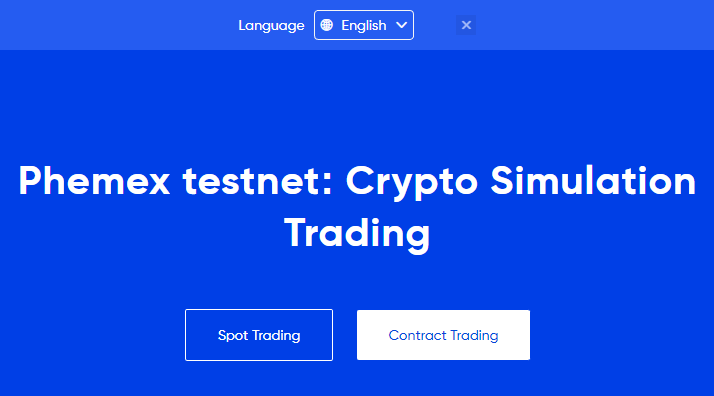 Why Choose Phemex?
Apart from its amazing features, Phemex has other benefits for its users that make it a great recommendation. Below are the significant reasons to choose Phemex over others.
Quick Crypto Purchases
While buying crypto, you don't have to wait for hours or minutes. The balanced will be added to your wallet instantly. It is evident from 300,000 transactions per second, which hints at the powerful trading servers. Besides P2P transactions (discussed earlier), Phemex also allows you to purchase crypto via credit or debit cards.
On the other hand, if you are from Britain, Brazil, or Europe, you can purchase via direct bank transfers. Otherwise, Phemex also supports numerous fiat deposits, so you can deposit your local currencies to buy crypto later. It is also partnered with many third-party platforms, like Simplex, MoonPay, and Mercuryo.
No KYC Required
Phemex is a great non-KYC exchange where you can deposit and withdraw crypto without verification. You can even trade anonymously. However, you must undergo the verification process to purchase crypto or withdraw fiat currencies.
In the case of buying crypto, Phemex required KYC verification due to third-party integration. Since these platforms won't allow you to get crypto coins if unverified, you will have to prove your identity on the platform. On the other hand, you can withdraw up to 2 BTC daily without KYC. But the verified users have limitless withdrawals.
Detailed Charts & Friendly UI
The platform is a great choice for its newcomers due to its friendly user interface (UI), as well as for the expert because of its detailed charts. It provides easy navigation and a simple yet pleasing design for its new users to keep them engaged. They can easily feel at home while exploring the website.
In contrast, expert traders have in-depth trading charts provided by TradingView. The platform is famous for its highly informative charts and provides Phemex users with pleasing graphics to understand market trends. Moreover, you can use different tools to enhance your analytics before placing an order or opening a position.
Crypto Staking
Staking provides an excellent opportunity to earn a passive income without doing anything. Phemex also supports many staking coins, like ADA, DOT, ATOM, and others. You can also stake crypto coins like BTC, ETH, USDT, XRP, and more via Phemex Launchpool. The process is simple but usually involves fixed staking, where you can't take out your assets until the period ends.
However, worry not since you can also enjoy flexible staking and take out your balance wherever you want. You can enjoy an APY of up to 19.0% on tokens like Ether, USD Coin, and Tether. Remember, these high APY are for fixed staking for up to 7 days, as APYs for flexible staking are lower.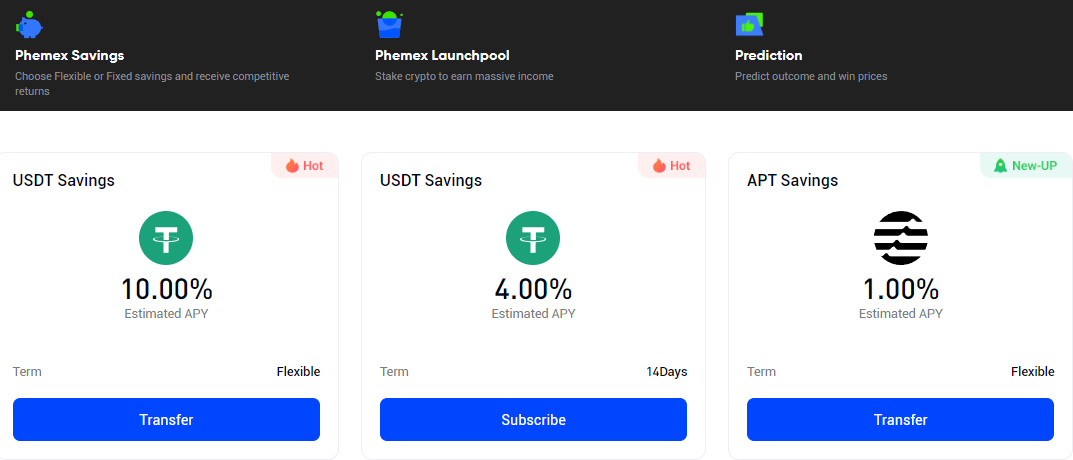 Frequent Campaigns
Phemex also runs a highly rewarding system where you can benefit from various promotional campaigns. Fortunately, you can enter these campaigns and get rewards without any cost. You can also organize these campaigns can earn a handsome commission of up to 50%, depending on your influence and the people joining the campaign.
These are accessible via the Launchpool page, where the APYs can shoot above 450%. On the other hand, you can also get various bonuses, like a welcome bonus. Newly registered users can claim a welcome bonus of $50 by completing a few tasks, and the price can increase on various events. Moreover, you can also get multiple airdrops if you are a VIP member.
Limitations
Like every other exchange, Phemex also has some limitations along with its advantages. Read down the most common drawbacks that users find the most frustrating. It doesn't make the platform bad at all, as your overall experience will be excellent. However, it will be best if the team addresses these limitations soon.
Lacks Fiat & Options Trading
Although you can trade crypto, spots, contracts, and can even enjoy copy trading, you cannot trade fiat currencies. All the trading pairs in these formats are crypto, while the platform settles trades in BTC, USDT, or USDC. The limitation reduces the flexibility since the traders must convert their fiat currencies into BTC or any stablecoin before undergoing trading.
Moreover, you cannot trade options, even not in crypto. It is understandable that options trading is for experts, but if you are a professional trader and want to trade options, you will have to consider other platforms.
Limited OTC Trading
Over-the-Counter (OTC) trading is becoming popular since it doesn't involve a third-party exchange and occurs directly between two parties. Many exchanges are connecting these two parties for OTC-Trading, without interfering in their trades actively.
Phemex also supports OTC-Trading after partnering with Legend Trading, but it is limited to a few major countries. If you are from US, UK, or China, you can perform OTC-Trades. However, if you are from another European or Asian country, you can perform them.
How to Register on Phemex?
Signing up on Phemex is quite easy and requires minimal steps. You can create a new account in less than 5 minutes and start trading as soon as you deposit the balance. Follow the steps below for registration:
Go to your browser and enter Phemex.com in the search bar.
Click Register Now at the top right corner.
Enter your Email Address and create a strong Password. Ensure your password is 8 characters long or more, containing an upper case letter, a number, and a special character.
Enter any Invitational Code if you are joining via a reference code for additional sign up bonuses. Otherwise, click Create Account.
You will receive a six-digit Verification Code via email. Enter the code in the next popup screen, and hit Submit.
That's it. You will be redirected to your newly created account.
Phemex Fees
The exchange is famous for its low trading fee. Verified or unverified, you will have the same trading fees but different withdrawals.
Trading fees depend on your VIP level, where VIP 7 is the highest. At level 0, you will have a 0.1% maker/taker fee for spot trading. But on increasing to the VIP 7, the taker fee reduces to 0.04% while the maker fee becomes 0%.
In contract trading, you can enjoy 0.01% maker and 0.06% taker fees at level 0. But at VIP 7, the taker fee reduces to 0.0325% while the maker fee becomes (again) 0%. You can upgrade your VIP level by trading more and more.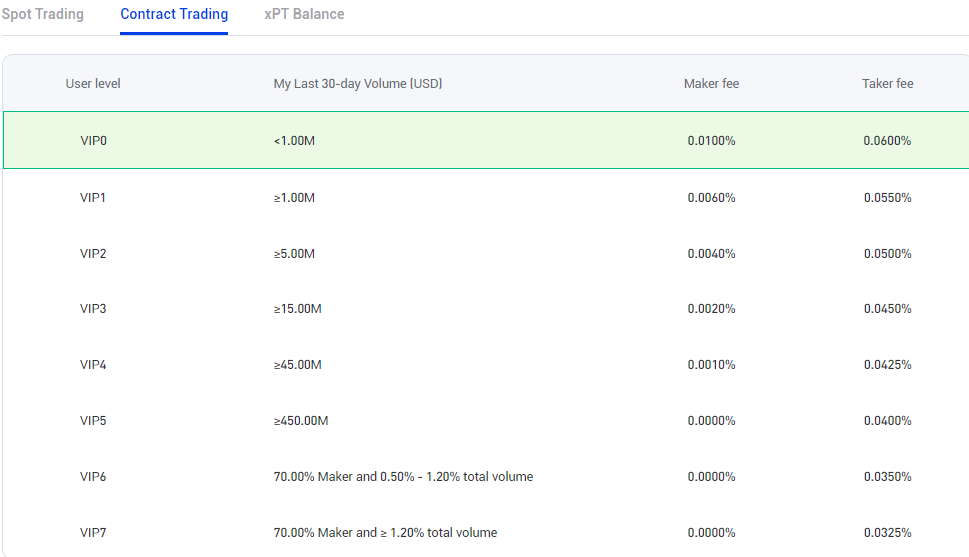 Withdrawal fees, however, depend on the crypto you are withdrawing, which is different for different coins. But you have a daily withdrawal limit of up to $50,000 worth of crypto if unverified, $1 million at KYC level 1, and $2 million at KYC level 2.
Phemex Security & Regulation
To protect your account, data, and information, the platform has many security layers and is regulated by an authoritative firm. Phemex uses the Deterministic Cold Wallet System for users' assets, which stores a single user's data in different cold wallet deposit addresses. Moreover, you can withdraw only thrice a day to minimize unnecessary withdrawals. Also, each withdrawal requires an advanced risk control process to limit malicious attempts.
But that's not all. The platform asks for offline signatures whenever you request a withdrawal, making the exchange extremely safe. All the personal information of verified users is secured in industry-standard encryption.
Additionally, the payment mechanism is backed by top-grade SSL certification to avoid digital penetration. On the user's end, you will experience numerous layers to secure your data. You can enable two-factor authentication and set passwords or application codes on your mobile devices.
Recently, FinCEN has also started regulating Phemex after their official MSB registration. Furthermore, Legend Trading, a leading crypto trading regulation firm, provides the platform's multiple state licenses. Briefly, the exchange is absolutely safe, secure, and well-regulated to trade on.
Phemex Customer Support
Phemex has quick and impressive customer support, where you can get in touch with an agent shortly. The platform doesn't have a ticket system. Instead, you can click on the chat bubble at the bottom right corner to activate a chatbot. It will ask you some general questions and then transfer you to an agent to answer your queries.
For normal and most common complaints, Phemex has a properly dedicated help center with all the guides and articles about navigating and using the exchange (besides the Phemex Academy). Other contact and support means include email and social media channels like Twitter, LinkedIn, Telegram, etc.
Is Phemex Legit?
Yes, Phemex is a legit company, operating since 2019, with over 5 million active users. The platform experiences millions worth of trade volume daily, while hundreds of thousands of transactions per second. Within two years, Phemex was included among the top 10 crypto exchanges in 2021, describing its success rate.
Moreover, the exchange is featured in many reputable journals and magazines, like Forbes, Business Insider, New York Post, and IBT. It shows users' trust in the platform and the legitimacy of the exchange due to its market cap. After all, FinCEN regulates the platform services, and it legally operates in all supported countries.
Is Phemex Good for Beginners?
Phemex is an excellent choice for beginners as they can learn and grow easily. First, its simple, pleasant, and friendly user interface will allow easy navigation. They can conveniently jump to their desired page. Then they get acquainted with the platform from their in-depth help center while learning a lot about the crypto and trading world from Phemex Academy.
The Testnet will provide a fantastic opportunity to test and understand trading as well as the working of the exchange. Although the demo account will teach much, Phemex copy trading will complete the learning process. Beginners can imitate the expert's trades and strategies to learn and get potential profit on their trades too.
Conclusion
Phemex is a fantastic crypto exchange and trading platform for beginners and experts. You can enjoy spot, contract, and copy trading at a low cost while also experiencing secured and rapid transactions every time you make a trade, all without KYC verification. Beginners have a huge Academy, demo account, and instant help to learn and grow.
Overall, Phemex is an excellent platform for anyone who wants to start crypto trading and staking. It has high security, great user experience, and fabulous customer support. It only lacks fiat and options trading, while OTC trading is restricted in some countries. Otherwise, you can give it a go.
Phemex FAQs
Is Phemex Safe?
Yes, Phemex is safe to buy, sell, trade, exchange, and stake crypto coins. FinCEN regulates the platform, and it is also legal in various major countries. Plus, it practices effective security measures to protect its customers' assets and data. That is why it has never suffered any hack or security breach till today.
Can I Withdraw Fiat on Phemex Without KYC?
No, you will require to complete KYC verification if you want to withdraw fiat from Phemex. If you have level 1 KYC verification, you can withdraw fiat in 7 currencies, including USD, GBP, EUR, CAD, AUD, CHF, and JPY. The fiat withdrawal is possible via wire transfer only, where the minimum limit is 30 of that particular currency.
Does Phemex Operate in the US?
Unfortunately, you cannot use Phemex in the USA. The platform is currently unavailable in all American states but will be available soon.
Does Phemex have a Digital Wallet?
Yes, Phemex has a native, built-in digital wallet to store your crypto coins and other digital assets. The wallet requires multiple offline signatures to access, making it impossible for irrelevant people to enter your assets. Moreover, you can protect your wallet on your mobile devices via passwords and app codes.