Phemex has emerged as a popular crypto platform since its launch in November 2019 for enthusiasts and investors alike.
However, there are times when users decide to part ways with their accounts, either due to personal reasons or a shift in investment strategies.
This guide will walk you through the necessary steps and considerations for deleting your Phemex account, ensuring a smooth and hassle-free process.
Let's start exploring.
What To Do Before Deleting Your Phemex Account?
Before deleting your Phemex account, make sure to follow these essential steps:
Cancel Open Orders or Complete Them: Cancel active orders to avoid unexpected trades or ensure pending orders are completed, preventing any trading discrepancies.
Withdraw Funds: The system audits your account assets automatically. Ensure to withdraw all funds from your Phemex account to your secure wallet, maintaining a zero balance for a seamless transition.
Delete all API Keys: For security, delete any API keys linked to your Phemex account to prevent unauthorized access, enhancing your account's safety measures.
How to Delete Your Phemex Account (Guide)
The process is simple and efficient if you've chosen to bid farewell to your Phemex account. Just follow these steps to conclude your association smoothly:
Step 1: Log in and Withdraw your Funds
To begin the account deletion process on Phemex, you must first log in to your account using your credentials. Accessing your account is the initial step to managing any settings related to your profile. Then, withdraw all your funds to your wallet or bank account.

Step 2: Access Your Profile Settings
Once logged in, navigate to your Phemex profile. Click the profile icon in the top right corner. This section allows you to change various aspects of your Phemex account, including security preferences and personal information. Thats also where we will delete the Phemex account.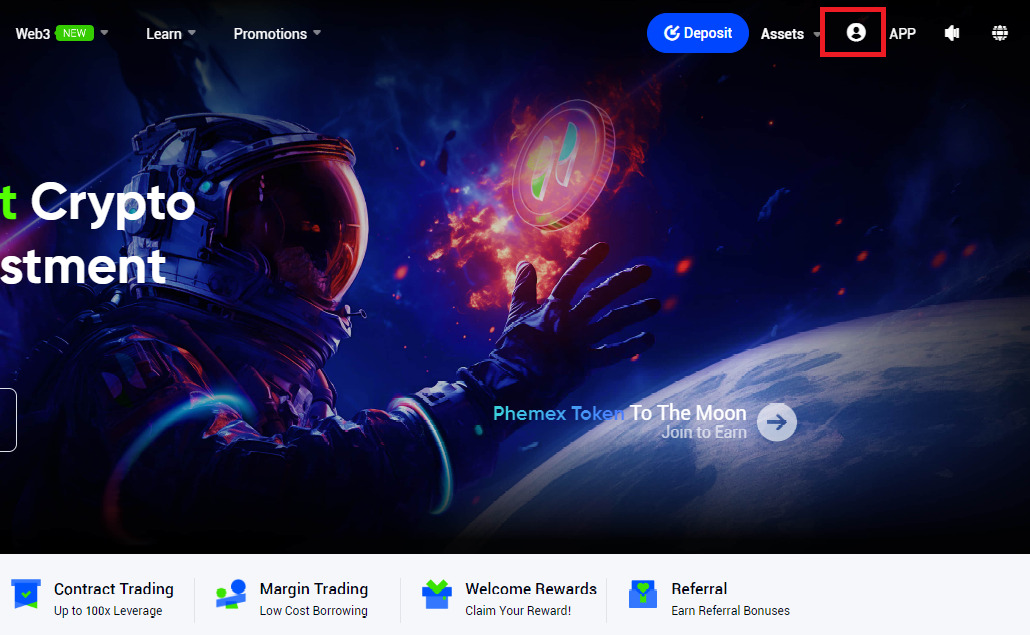 Step 3: Go to Phemex Security Settings
Inside the Settings menu, find the specific category labeled "Security Settings "(as shown in the picture). This section will take you to the deletion option of your account.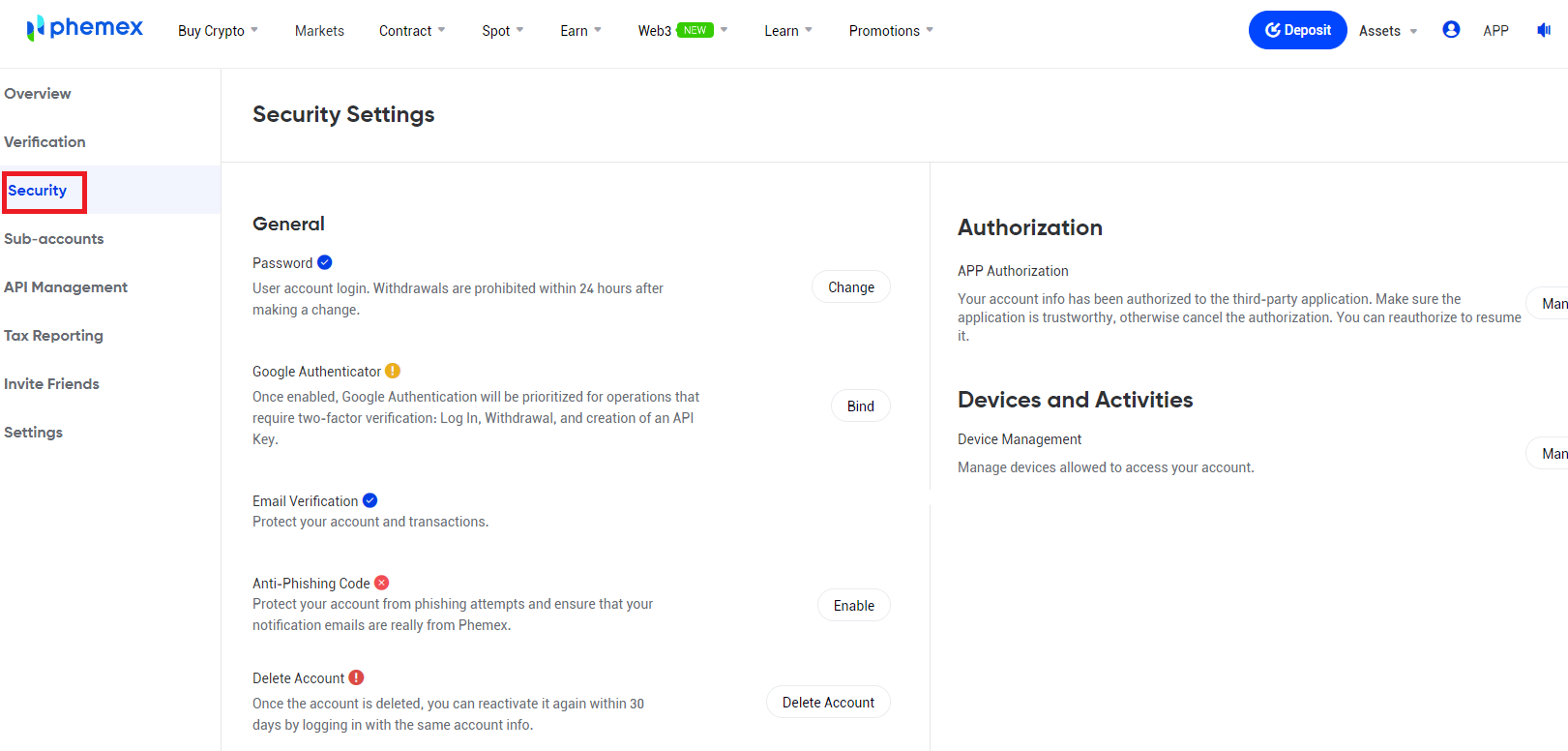 Step 4: Click on "Delete Account" Option
Within the Phemex Security Settings, look for the option related to "Account Deletion" at the bottom of the page. This option allows you to initiate the process of permanently removing your Phemex account from the platform.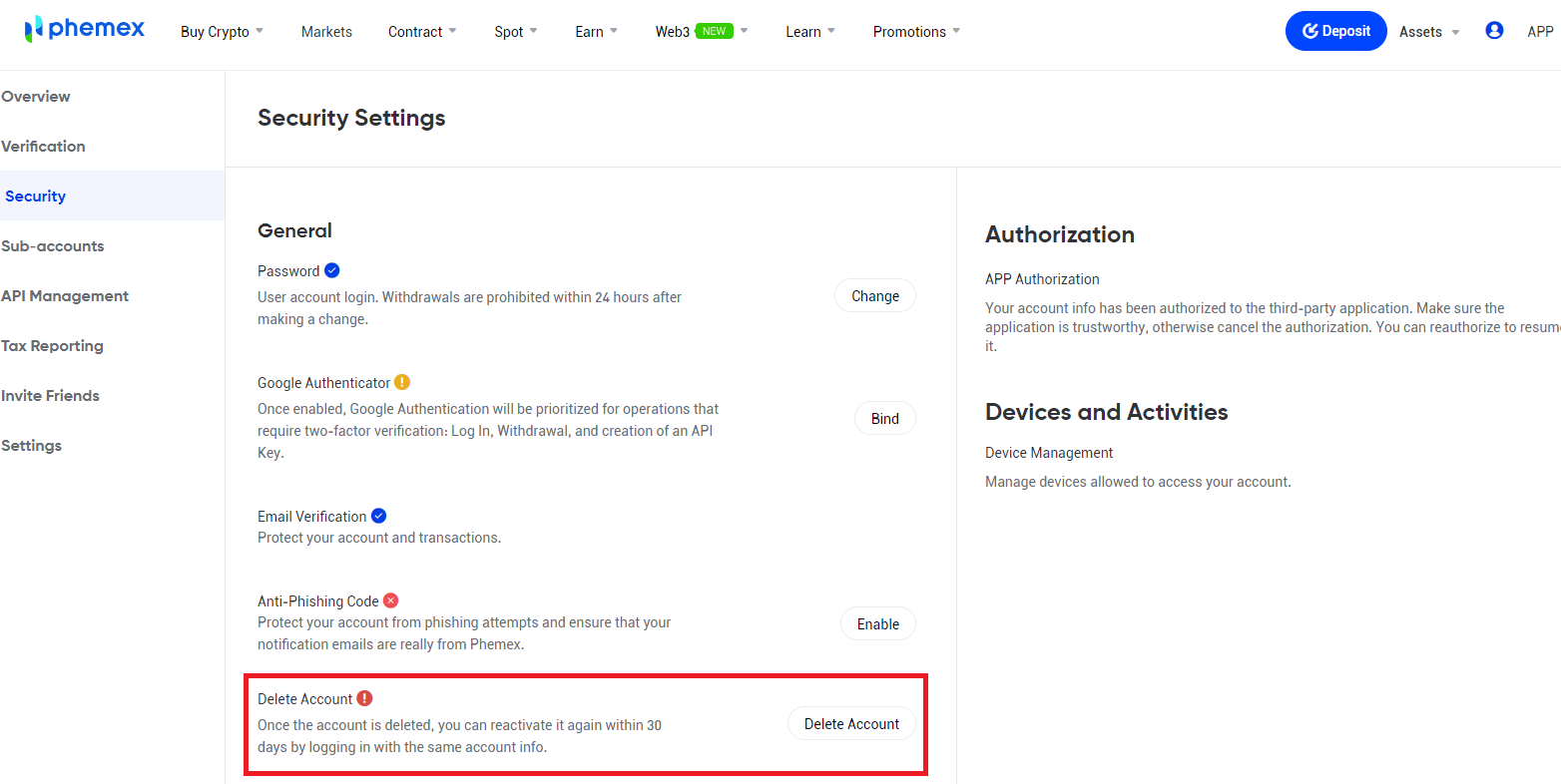 Step 5: Initiate Account Deletion
Upon locating the Account Deletion option, click on it to initiate the deletion process. You will find a page similar to that shown in the picture above. Make sure to click on the" I agree" option.
This step signifies your intent to close your Phemex account, setting the procedure in motion. After selecting the "I agree" option, click the "Delete Button'.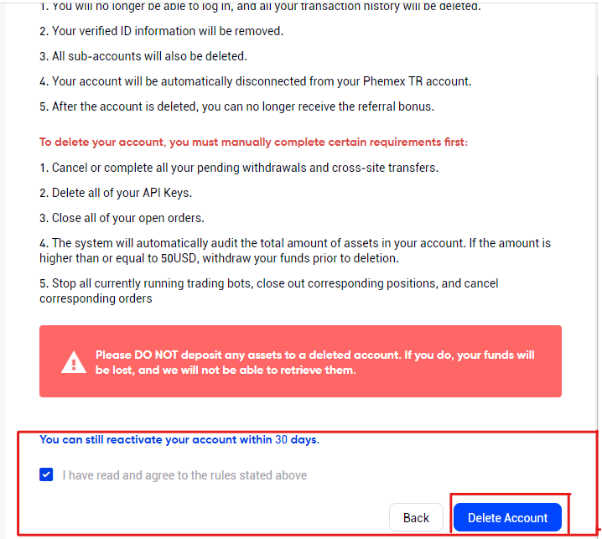 Step 6: Verification Process
Phemex will send a verification code to your registered email address during the account deletion process This step ensures that the account deletion request is legitimate and initiated by the account holder, enhancing security measures.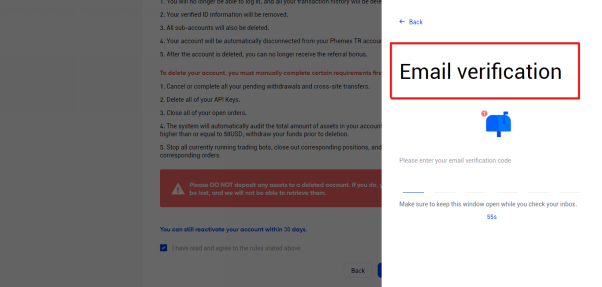 Step 7: Confirm Account Deletion
After receiving the verification code, enter it on the Phemex platform to confirm your account deletion request. Confirming the deletion finalizes the process, permanently removing your account and associated data from the Phemex crypto exchange platform.
Note: With your previous credentials, you can recover your Phemex account within 30 days of deletion.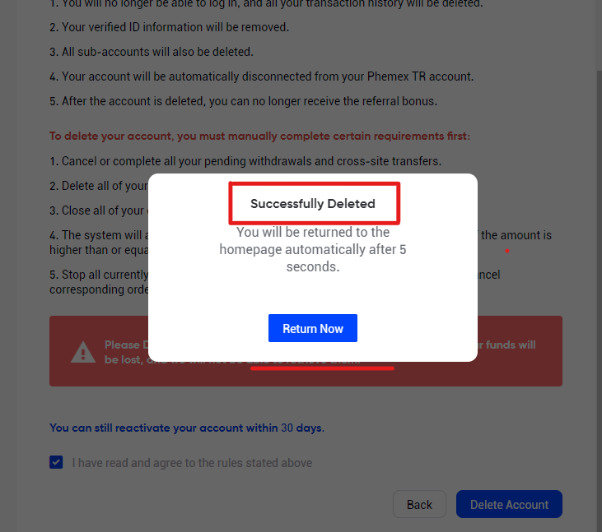 Best Phemex Alternatives
Choosing MEXC and Bybit as alternatives to Phemex depends on individual preferences and specific requirements.
MEXC, known for its user-friendly interface and a wide range of cryptocurrencies, appeals to traders seeking diverse investment options and a simple trading experience.
Its offerings include spot, margin, futures, perpetual contracts, copy trading, and trading bots with a secure Web 3 wallet as one of the largest crypto exchanges with low fees.
On the other hand, Bybit is renowned for its advanced trading features, including perpetual contracts and margin trading, making it suitable for more experienced traders looking for sophisticated trading tools.
Bybit's robust security measures and high liquidity attract professional traders, while MEXC caters to beginners and intermediate traders with ease of use.
Ultimately, make sure to consider your trading expertise, desired features, and the complexity of trades you plan to execute when choosing between MEXC and Bybit.
It's essential to assess your specific needs and compare the platforms' offerings to determine which aligns best with your trading goals and preferences.
Final Thoughts
Navigating bidding farewell to your Phemex account is like venturing on an exciting crypto adventure.
Following the outlined steps ensures a secure Phemex account closure, effectively protecting your assets and personal data.
As you set sail in the vast sea of alternatives, MERC beckons with its user-friendly simplicity, Bybit stands tall with its advanced features, promising an exciting journey tailored to every trader's desire. Choose wisely, according to your requirements.