Nothing can match the joy of earning a profit or growing your crypto holdings through staking. Especially when it comes to withdrawing that amount to your bank or other digital wallets, the feeling is unmatchable. So, if you have earned enough balance in your BitGet account and are now wondering how to withdraw it from BitGet; this guide will help you out.
Here, we will discuss how to withdraw crypto assets within and outside the platform to an external digital wallet. Moreover, we'll also uncover how to cash out the fiat currencies to your bank accounts. So, let's dive into the details!
How to Withdraw Crypto from BitGet
Withdrawing digital funds from BitGet is extremely easy and hassle-free. You can complete the process in four simple steps. However, if you haven't started yet, read our guide on How to deposit crypto on BitGet, and start trading to earn profits for withdrawal. But those who have already made a profit and are ready to take it out, follow the steps below:
Step #1: Go to the Withdrawal Page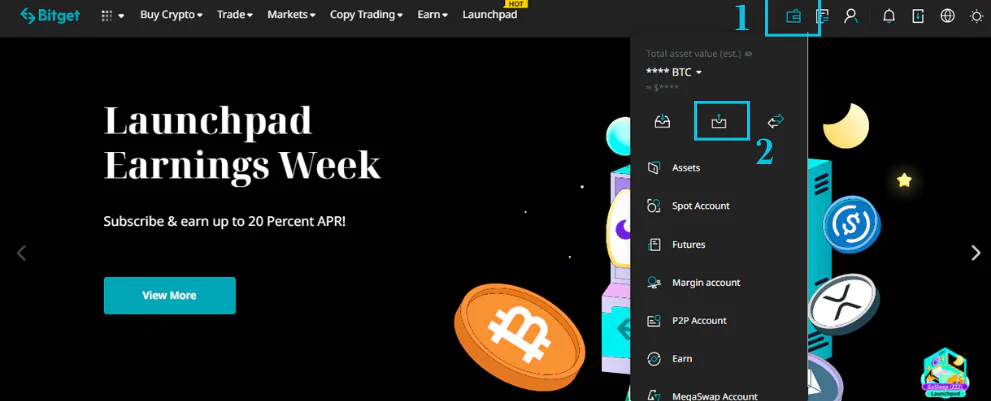 Login to your BitGet account. Hover over the Wallet Icon and click Withdraw to quickly jump to the selected page.

However, you can also click on the Assets to learn about your balance. Then click the Withdraw between Transfer and Buy Crypto in the Overview section.
Step #2: Select the Withdrawal Type
Now, select the type of withdrawal you want to perform. BitGet offers you two methods:
On-Chain Withdrawal: On-chain withdrawal is sending crypto to an external digital wallet. It will make the transaction on the cryptocurrency's blockchain network and may take some time.
Internal Withdrawal: Internal withdrawal is sending crypto from one account to another within the platform, so executed instantly. However, remember external transactions are made from your Spot Account. So, if you want to send crypto from your Futures Account outside BitGet, you must transfer the crypto to the spot account via internal withdrawal.
Step #3: Fill in the Details
When you have selected the withdrawal type, fill in the fields of that particular process.
On-Chain Withdrawal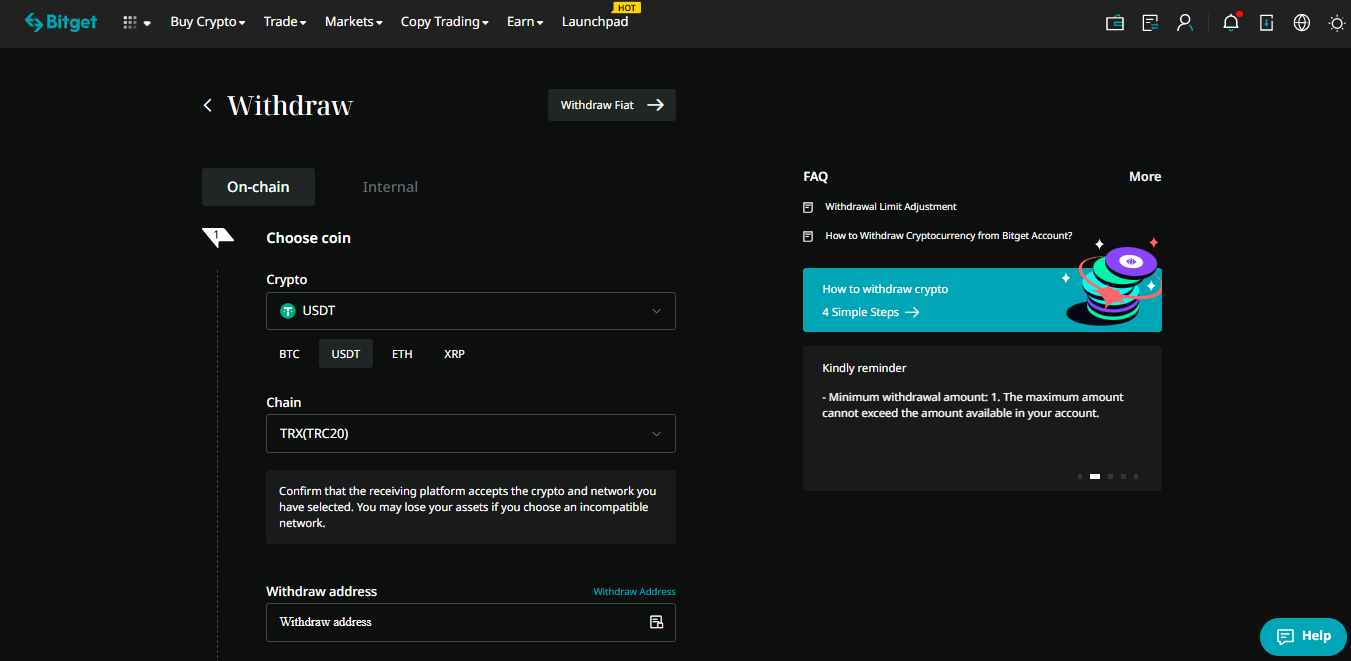 Select the Crypto you want to withdraw from the dropdown menu. You can also quickly pick from Bitcoin, Tether, Ethereum, and Ripple from the buttons below the menu.
Next, select the Blockchain Network of your coin. It is crucial to choose the correct chain, as failure to do so will result in the permanent loss of your assets. Lastly, copy/paste the Withdrawal Address of your receiving wallet or select one from your previous entries.
Internal Withdrawal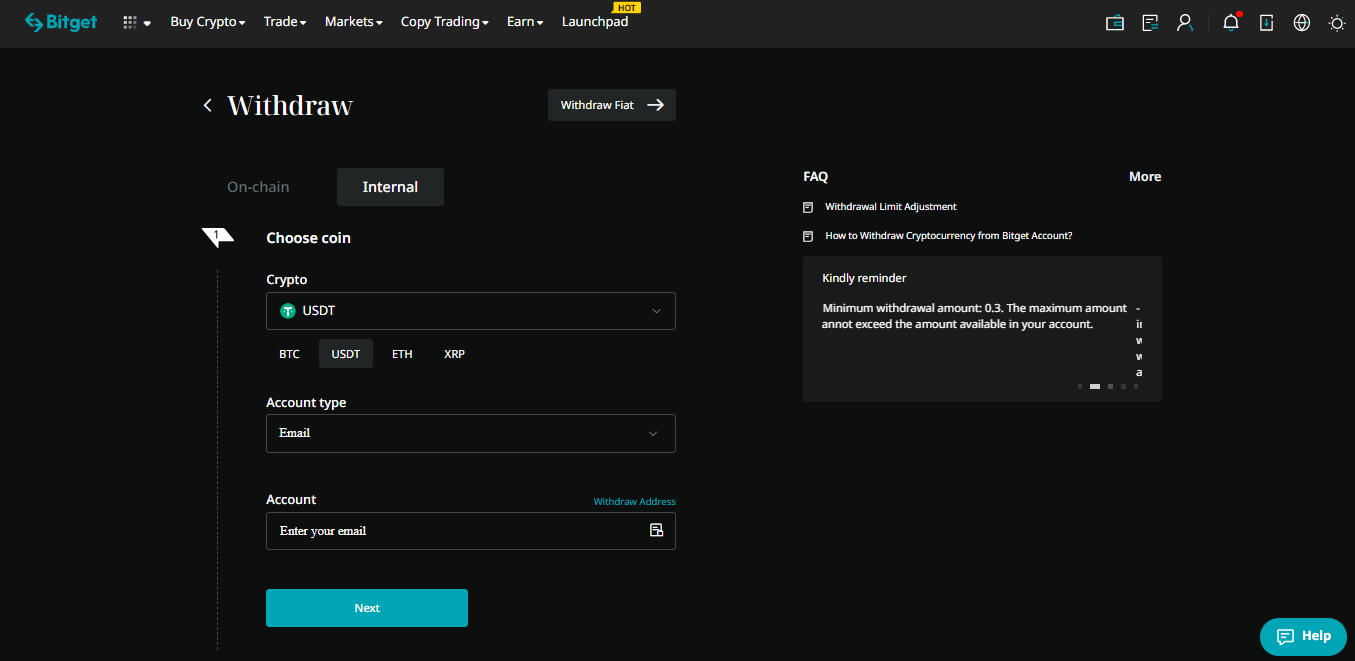 For internal withdrawal, select the Crypto you want to transfer and the Account Type you are sending it to. You can select the account via an email, phone number, or its BitGet UID. After choosing the type, enter the email/number/UID in the third field.
After filling all three boxes of either type, click the Next button and enter the amount you want to withdraw.
Step #4: Confirm, Verify & Check
Double-check all entered information (especially when withdrawing via the on-chain process) and click Confirm. Enter the verification codes you will receive via email, message, and the current Google Authenticator code. Click Submit to initiate the withdrawal process, which will take some time, depending on the network and traffic.

Moreover, you can check the status and success from the same page. Scroll down to Withdraw Record, where your most recent transactions will be displayed.
How to Withdraw Fiat from BitGet
So, now you've learned how to take out crypto from the BitGet account. But if you want to withdraw your funds in fiat to your local bank account, it is also possible. You just have to follow the few simple steps below:
Step #1: Go to the Bank Withdrawal Page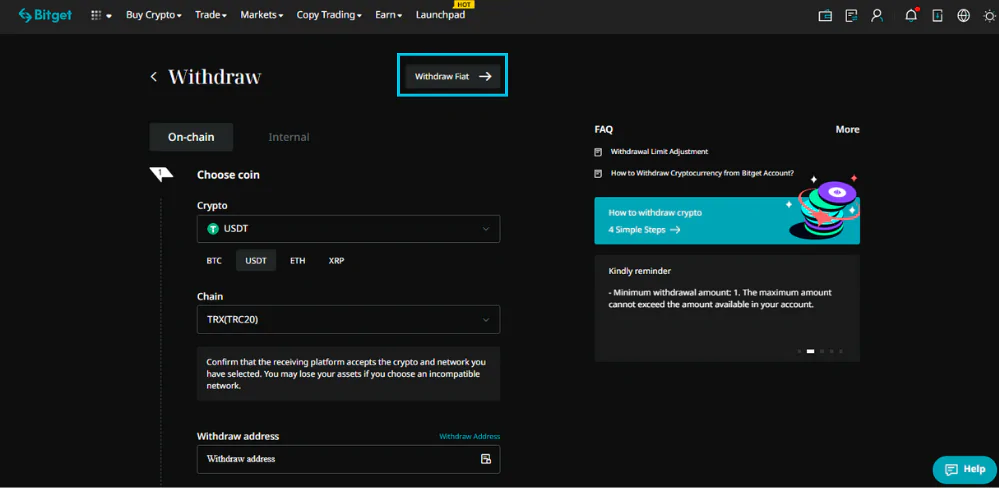 If you are on the crypto withdrawal page, you can directly head towards the fiat withdrawal by clicking on Withdraw Fiat at the top middle.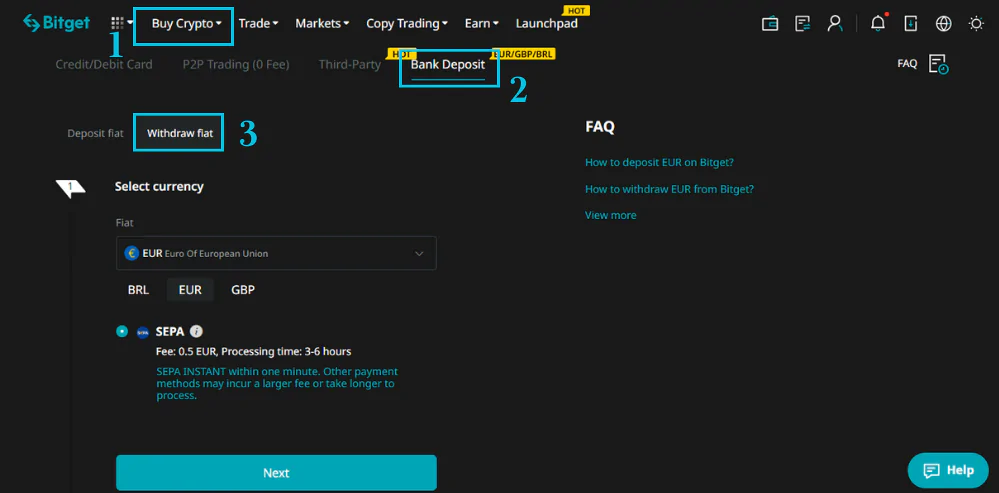 Otherwise, you can open the page from your home page by clicking Buy Crypto > Bank Deposit > Withdraw Fiat.
Step #2: Select Your Currency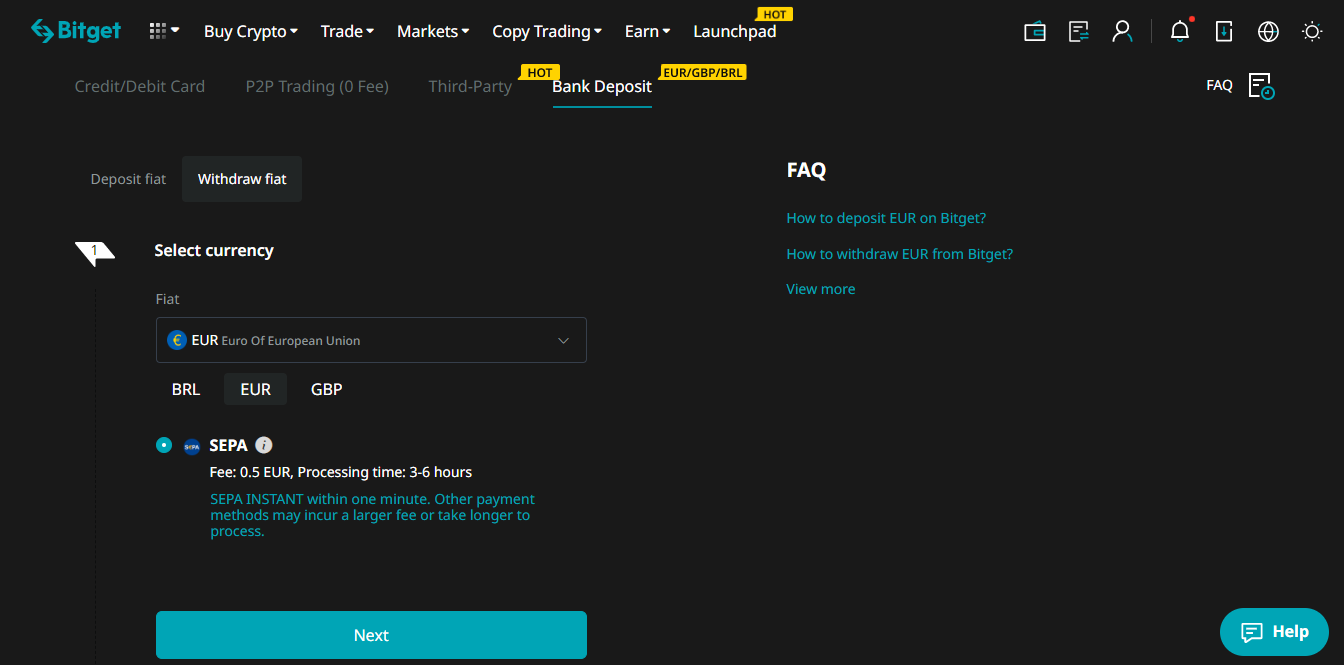 Now, select the currency you want to withdraw in. Currently, you can only choose from three available currencies:
European Euros: EUR withdrawal will be made through SEPA. The transaction will cost €0.5 and can take 3-6 hours. However, if you choose SEPA INSTANT, it will be completed in one minute.
British Pound Sterling: GBP transactions will be made through Faster Payments. The process will cost you £0.5 and (again) take about 3-6 hours.
Brazilian Real: BRL withdrawal will be made through PIX. Luckily, it will charge a 0% fee and only take about 10 minutes.
Once you choose your currency, click Next.
Step #3: Add Your Bank Account & Withdrawal Amount

Now select the bank account you want to deposit in. But if you are withdrawing for the first time, you must add your bank account first. For this purpose, click Add Bank Account.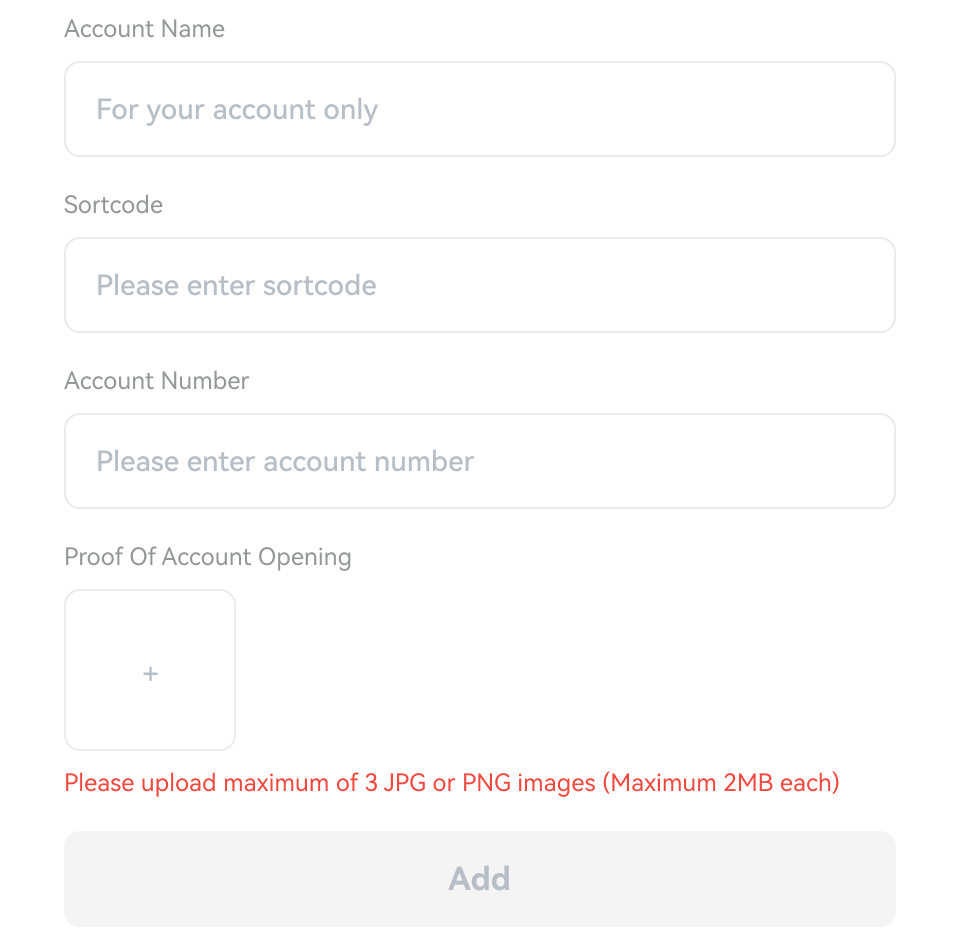 Fill in the fields with the correct information and provide photos as proof of account opening. After your bank is added to the platform, enter the amount you want to withdraw.
Step #4: Confirm, Verify & Check
Recheck your details and IBAN, then click Confirm and Verify. Enter the code you will receive in the email and the current code in your Google Authenticator app. Click Next, and you will receive a prompt of either successful, failed, or under review process. Check your order history from the Withdraw page to inquire about its status.
Summing Up
BitGet has made withdrawing crypto and fiat currencies quite convenient. You can take your funds out in merely four easy steps. Just go to the Withdraw page, select the crypto/fiat (and network if it's cryptocurrency), enter the depositing wallet/bank details, and proceed after confirming the amount.
However, if you don't have a BitGet account, what are you waiting for? Create an account now, start trading to earn juicy profits, and withdraw your earnings from the steps given above.
FAQs
What are Withdrawal Limits on BitGet?
According to BitGet's recent withdrawal adjustments, made on Jan 13, 2023, people without KYC verification can still withdraw assets. However, their daily withdrawal limit is 50,000 USD, while their monthly limit is 100,000 USD. But, those with KYC verified can withdraw up to 3,000,000 USD daily.
What is BitGet Withdrawal Fee?
BitGet withdrawal fees vary from currency to currency. The platform charges you differently for various crypto assets. Moreover, it also depends on the network. For example, the platform charges you 1 USDT on the TRC20 network, 0.29 on BEP20, 0.1 on Arbitrum One, and 3.0638816 on ERC20 while withdrawing Tether. Make sure to check their fees page before you withdraw crypto.