BitGet is among the leading crypto trading platforms, where millions of users daily perform $10 billion worth of trading on average. Due to its increasing popularity, many traders are deciding to create an account on the platform.
If you are among those traders who already have an account or plan to create one, your next step will be depositing crypto in your account to start trading. That's where the question arises, "how to deposit crypto on BitGet?"
Worry not, as here we will guide you on how to deposit cryptocurrencies and even purchase them directly using various means. You can also check out our detailed BitGet review to learn more about the platform before you start trading.
Now, let's delve into the guide!
How to Deposit Crypto on BitGet?
Depositing crypto on your BitGet account is quite convenient and straightforward. You can complete the process in 4-5 steps that will hardly take your 5-10 minutes. However, the transaction speed may depend on the network and your coin. Anyways, follow the steps below to complete the procedure without any error.
Step #1: Create an Account
If you haven't registered on the platform, go to the website and click on Sign Up. You can either create the account by entering your email address or phone number. After choosing the preferred method, enter a strong password and hit Create Account.
You will receive either a message or an email (based on your selected registration method) with a six-digit code. Enter the number on the pop-up screen, and that's it. You have created an account in two simple steps.
Step #2: Go to Your Wallet & Recharge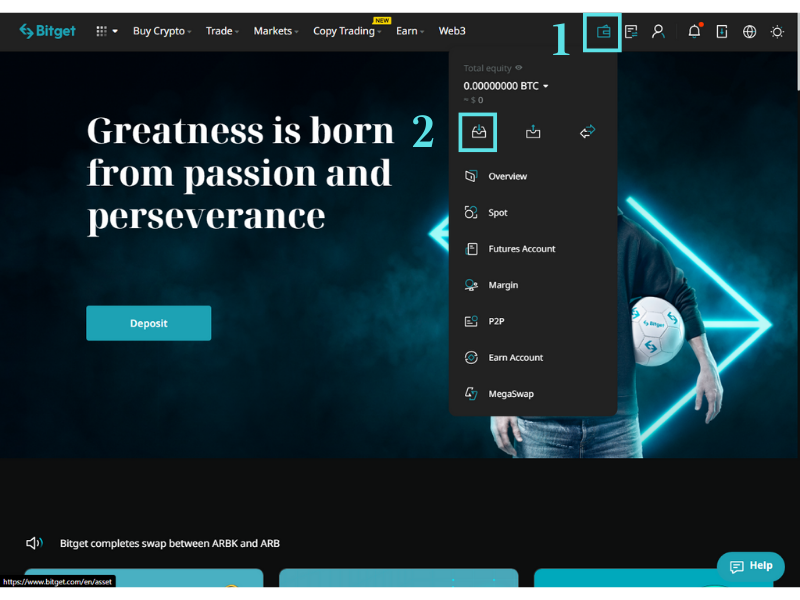 Once you've created the account, go to the Wallet/Assets in the top right corner, and click on the first Deposit icon under your balance. You can also click on the wallet icon for more detailed insight into your assets before clicking on deposit.
Step #3: Select the Correct Coin & Network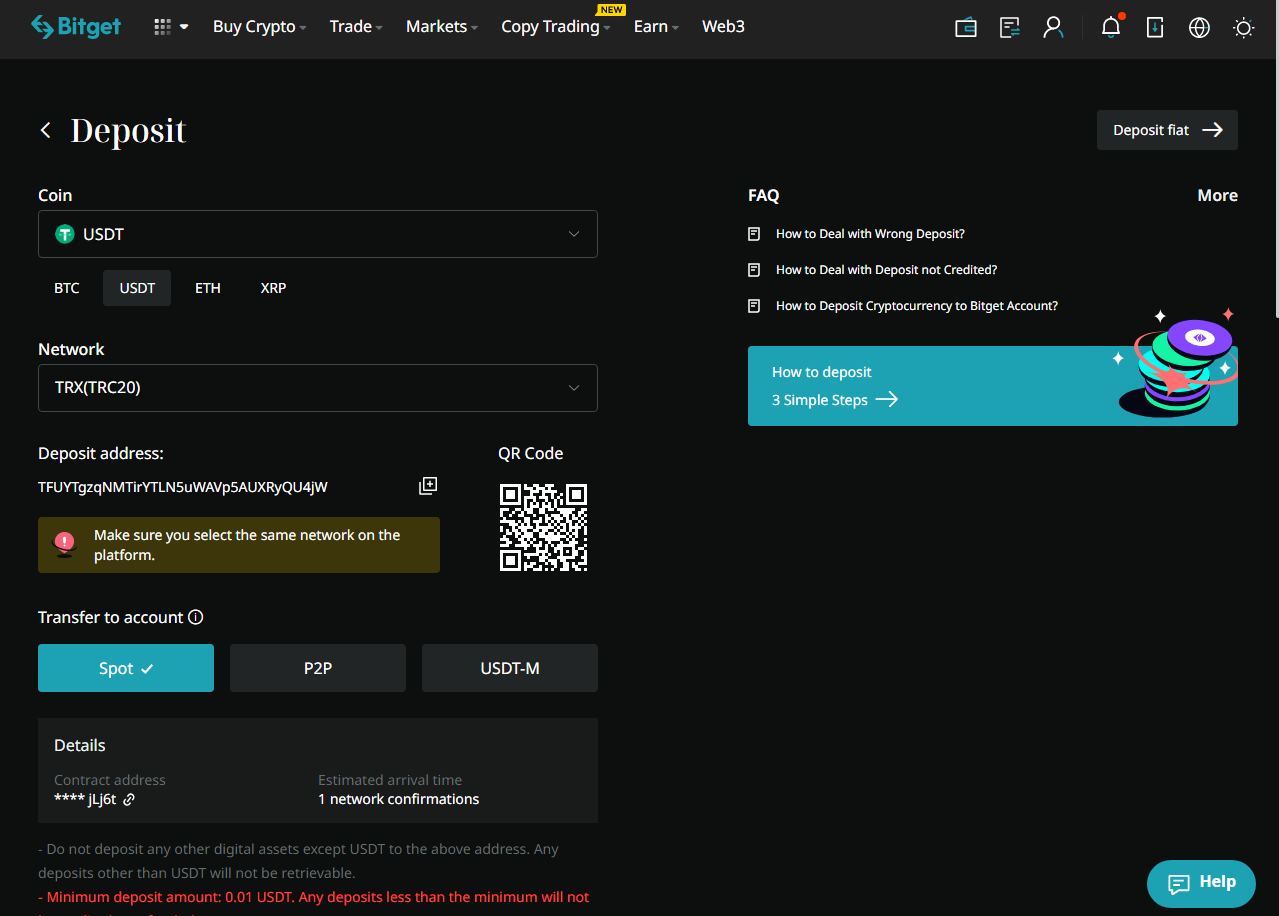 Now, select the coin you are going to deposit on the BitGet Wallet. You can either quickly select the popular options like Bitcoin, Ethereum, Tether, and Ripple, or choose one from the detailed dropdown list.
Next, choose your crypto coin's network. It is essential to carefully choose the right coin and network because if you set the wrong one mistakenly, all your deposited coins will be lost. So, double-check these two fields before proceeding.
Lastly, click on the account in which you wish to receive the crypto, which can be spot trading, USDT-Margined, or your peer-to-peer account.
Step #4: Copy the Address or Scan the QR Code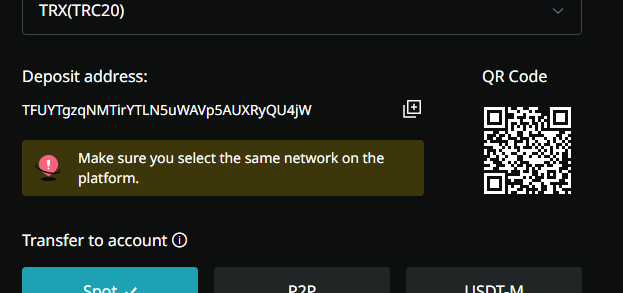 After you are satisfied with the selected fields, copy the Deposit Address and paste it on the address box of the platform from where you are withdrawing the crypto coins. You can also scan the QR code (if the other platform supports it) to reduce the chances of entering the wrong address.
Usually, the withdrawal procedure differs from platform to platform. However, they typically follow the steps mentioned below:
Log in to the other platform, and click on Wallet.
Select the Withdraw option.
Enter the crypto coin you want to transfer, its network, and the amount, and paste the address you copied from above.
Remember: You must select the same coin and network on both platforms; otherwise, you will lose them.
Step #5: Confirm & Check
Once you have set everything up correctly, click the Confirm button. Your cryptocurrencies will be transferred to your BitGet Wallet shortly, depending on the factors such as the network's liquidity, the coin's type, and the platform's transaction speed. To verify whether the transaction is successful, click on the Wallet icon again.
How to Buy Cryptocurrencies Directly from BitGet?
Besides depositing crypto from other platforms, you can easily buy them from BitGet. The platform offers you four methods to purchase crypto. However, they all require Know Your Customer verification. To verify for KYC:

Click on your Profile Icon at the top right, and select ID Verification.
Click on Verify Now. It will only require your ID card and the current photo.
Once you are verified, you can easily trade and buy crypto. Here are the four options that BitGet provides you to purchase cryptocurrencies.
1. Credit/Debit Card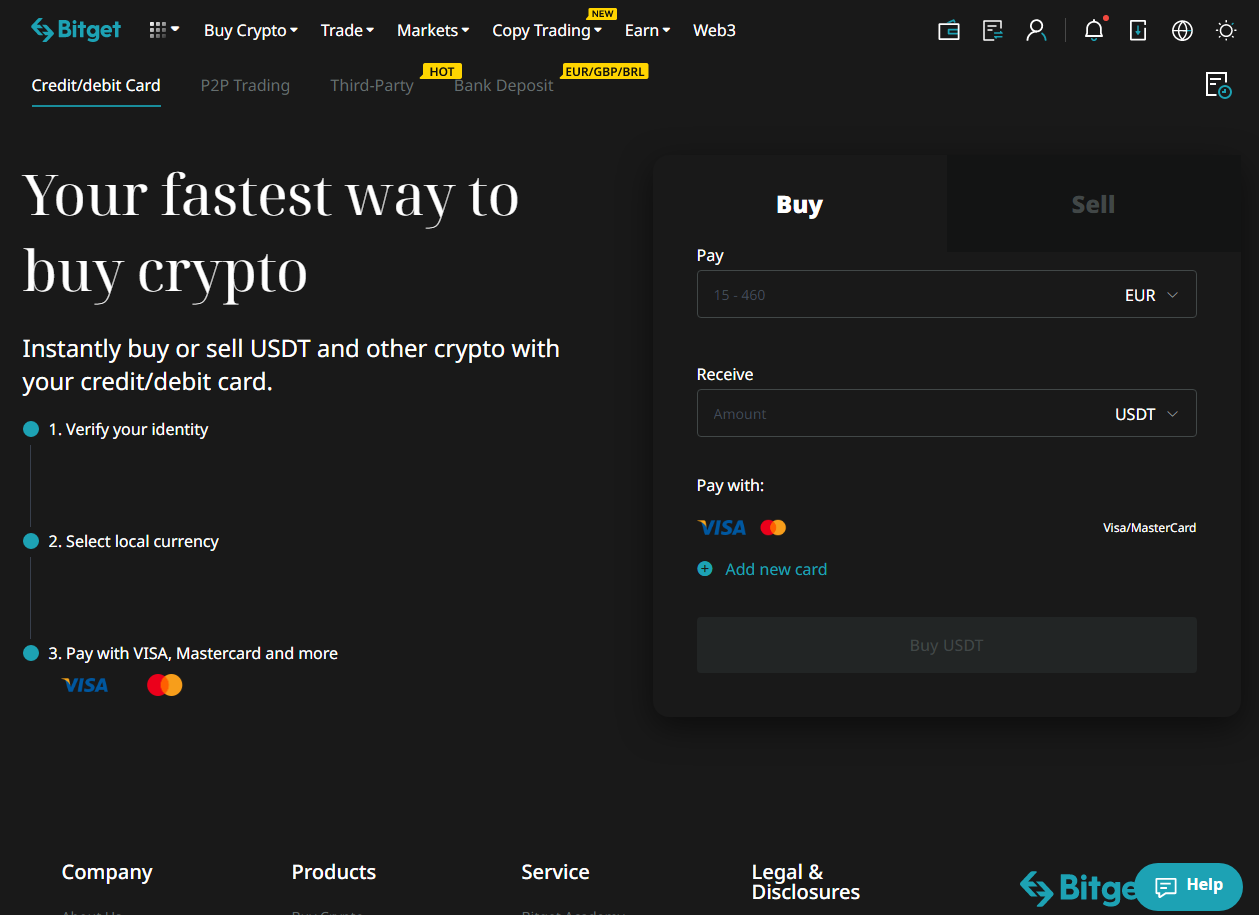 First, you can buy crypto with a credit or debit card. Just add your Visa or Mastercard, select the fiat currency you want to pay with, and enter the amount of crypto coin you want to buy.
Currently, you can only buy USDT and then exchange them with others, although more coins are coming soon. Also, selling crypto is not yet possible, but this option will be available soon.
2. P2P Trading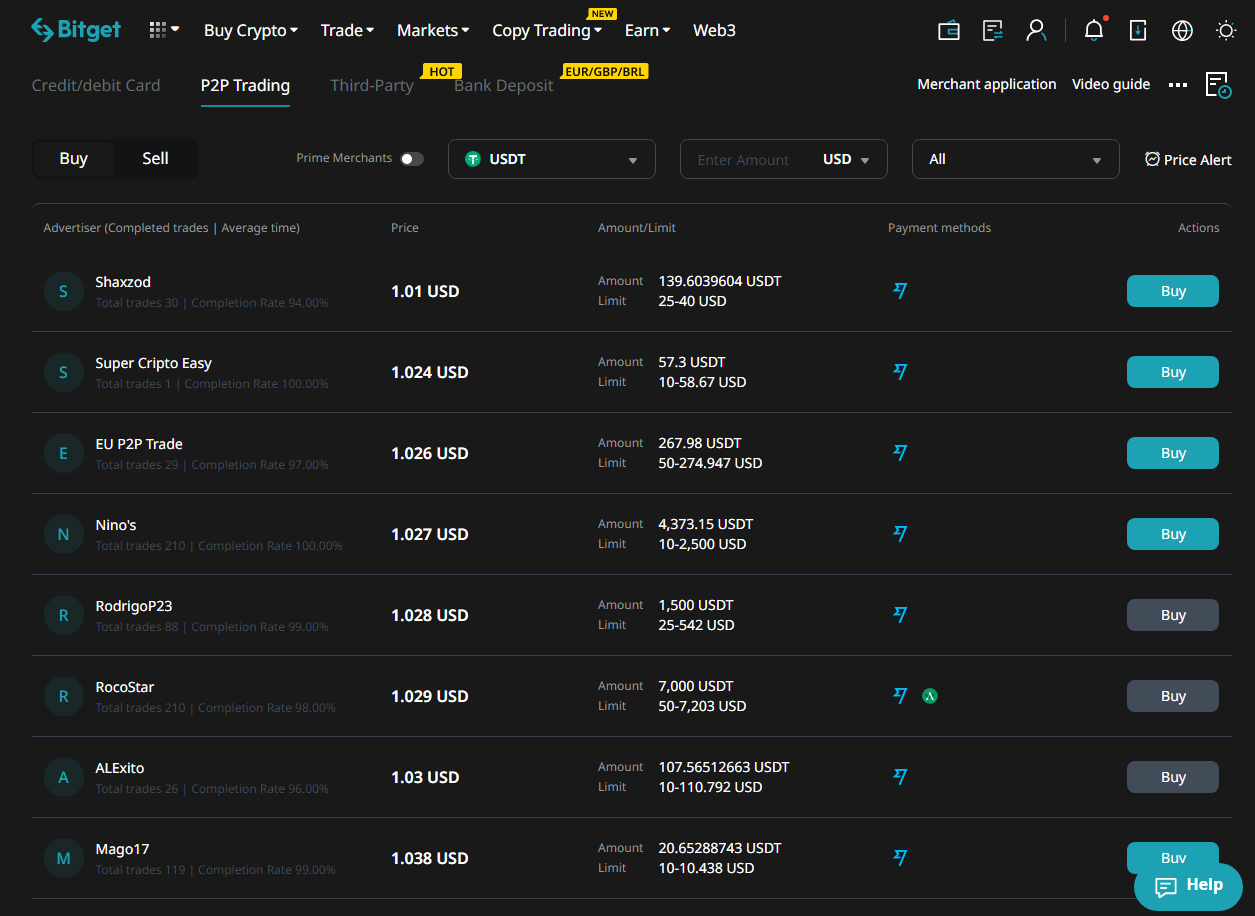 Another way is to purchase from other BitGet users via Peer-to-Peer trades. Different users offer trades via advertisement, where they set a maximum amount in USDT that they are willing to offer. Moreover, there's a maximum cap to purchase via USD to avoid someone buying all the tokens available. It creates a balance in the system.
3. Via Third-Party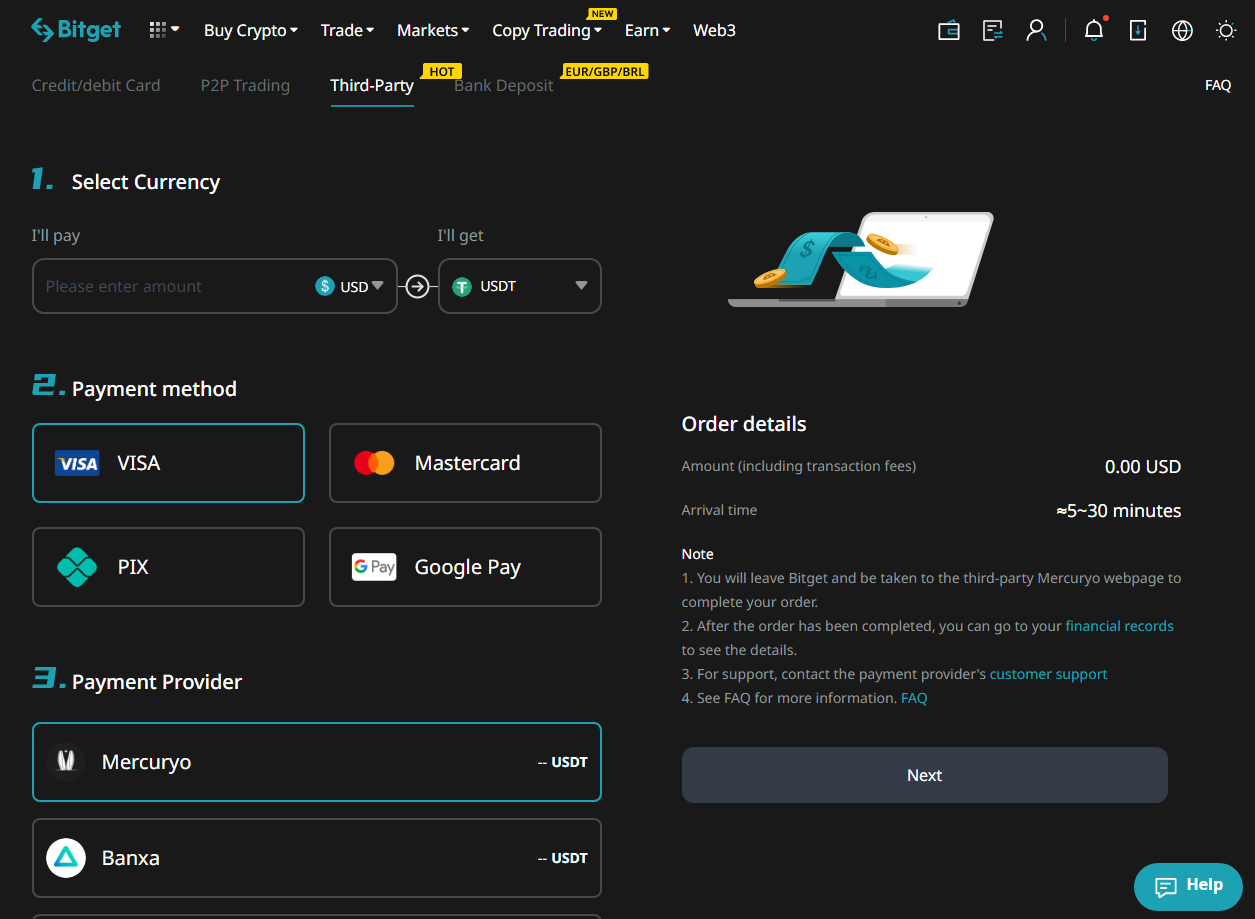 Next, you can purchase via third parties, which completes the transaction on your behalf. The method is also convenient as it takes (approx.) less than an hour. You only have to enter how much you'll spend in local currency and which coin you want to receive.
Select your payment method, and the third party (currently from Mercuryo, Banxa, or Simplex) will complete your order.
4. Direct Bank Deposit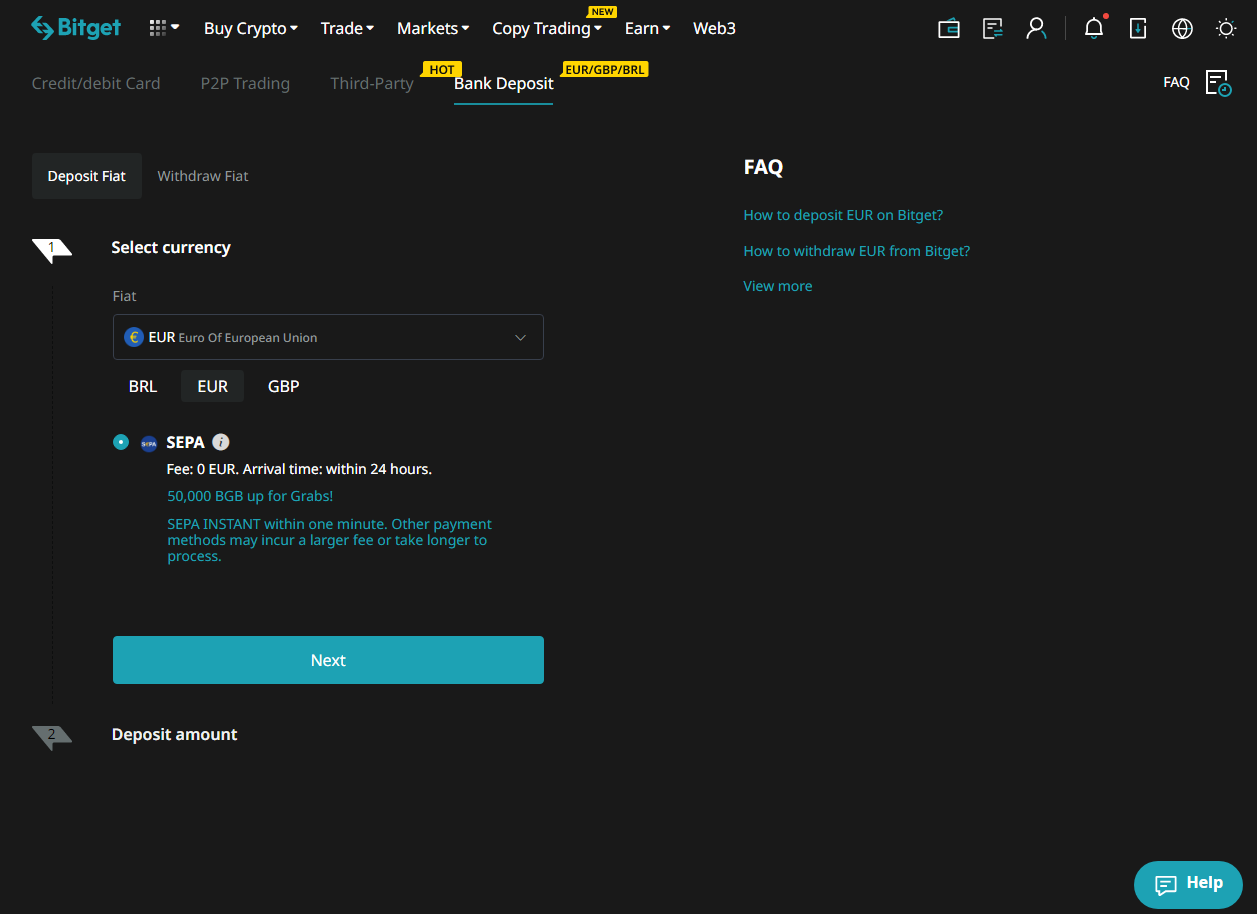 In addition, you can also deposit fiat currency into your account via direct bank transfers and then purchase crypto using the balance. Select either the Brazilian Real, Euro, or Pound, and proceed. BRL is available via PIX, EUR by SEPA, and GBP by Faster Payments.
If you are performing this operation for the first time, you must confirm your Certified Financial Planner (CFP) number before entering the amount you want to deposit.
You can then either scan a QR code from your bank application or enter the Payment Account number while sending money from the app. Once done, click the I Have Paid button twice to confirm the transaction. The funds will show up in your account within a few minutes.
Summing Up
BitGet is a popular, secure, and user-friendly crypto exchange that you can use for your trading. To deposit cryptocurrency into your BitGet wallet, just go to the wallet's deposit section, choose the depositing coin and its network, and copy the deposit address.
You can also scan the QR code on the platform's application from where you are depositing crypto. Afterward, enter the amount, confirm the transaction, and the crypto will appear in your BitGet Wallet in a few moments.
Also, you can buy cryptocurrencies directly from BitGet via Credit/Debit Cards, P2P trades, third parties, or direct bank transfers. So Sign Up on BitGet now and enter the world of fast-paced crypto.
FAQs
Is BitGet Legit?
Yes, BitGet is a legit and secure exchange to purchase and trade cryptocurrencies. Operating in more than 100 countries, the platform has 8 million plus registered users, which indicates its legitimacy. Moreover, many reputable brands are their partners, including Juventus, PGL Arlington, and Lionel Messi.
Can You Use BitGet Without KYC Verification?
No, you cannot use BitGet without KYC verification. Although you can navigate through the website and deposit funds in your account, you cannot buy or trade crypto coins if they are unverified.
What is the Trading Fee on BitGet?
BitGet doesn't charge any fee for deposits, but there is a 0.1% maker/taker fee for spot trading. For futures trading, the maker fee is lower at 0.02%, while the taker fee is at 0.06%. Besides, the platform charges different withdrawal fees for different cryptocurrencies.