BitGet is a popular trading exchange that offers an extensive range of options for trading, including spots, futures, margin, and copy trading, aided by AI strategies. Its user-friendly interface and straightforward procedures make trading highly convenient.
Perhaps you might be attracted to BitGet due to its popularity, simple procedure and diverse range of options, but you may not know how to trade on this platform. If you are looking to initiate your first trade but are confused about where to start, you've come to the right place.
This guide will take you through all the necessary steps for trading on BitGet, covering a variety of different trading opportunities. We will break down each process in detail to help you gain a clear understanding and meet your trading needs.
So, let's get started!
Create an Account & Verify
If you haven't created an account, Sign Up on BitGet by following the simple steps below.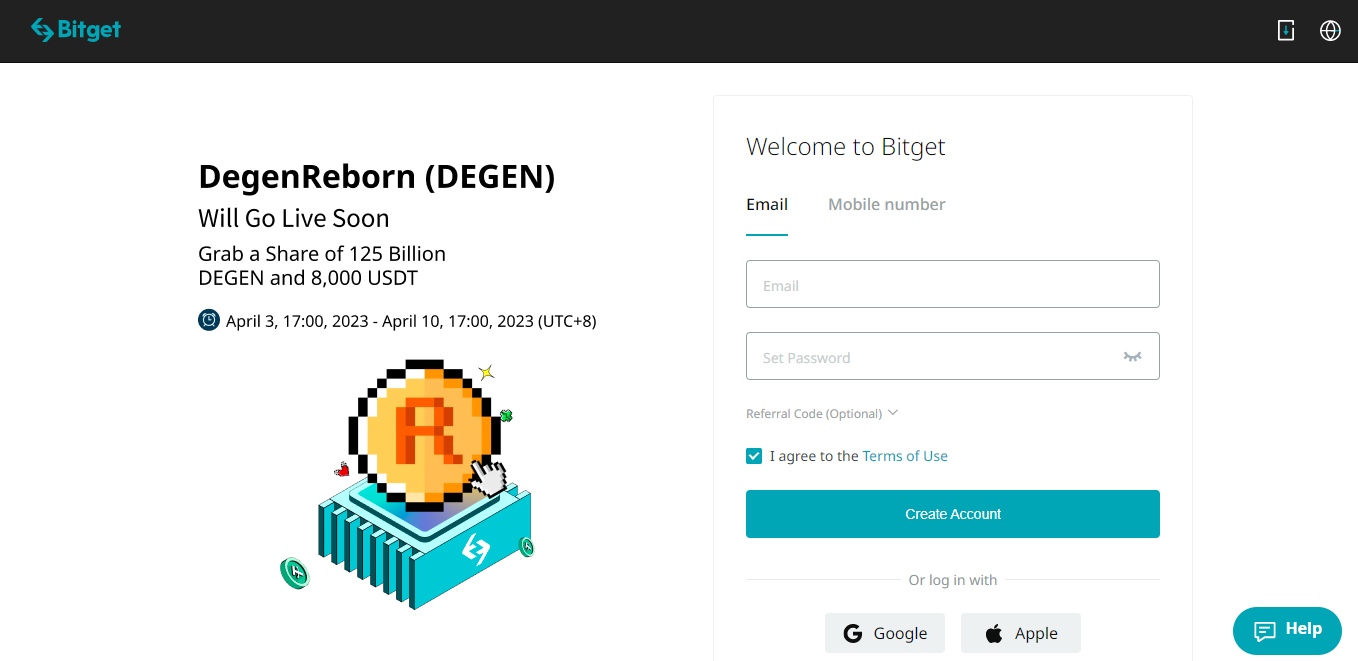 Go to the BitGet website, and click on Sign Up. You can either register through your email address or phone number.
Create a strong alpha-numeric password of 8-32 characters. It must have an uppercase letter and a special character.
Click on Create Account.
You will receive a message/email with a code to enter on the next pop-up screen. After submitting the code, your account will be created.
Next, you must verify the Know Your Customer (KYC) certification. Otherwise, you won't be able to trade on the platform.
For KYC verification, follow the below-described steps: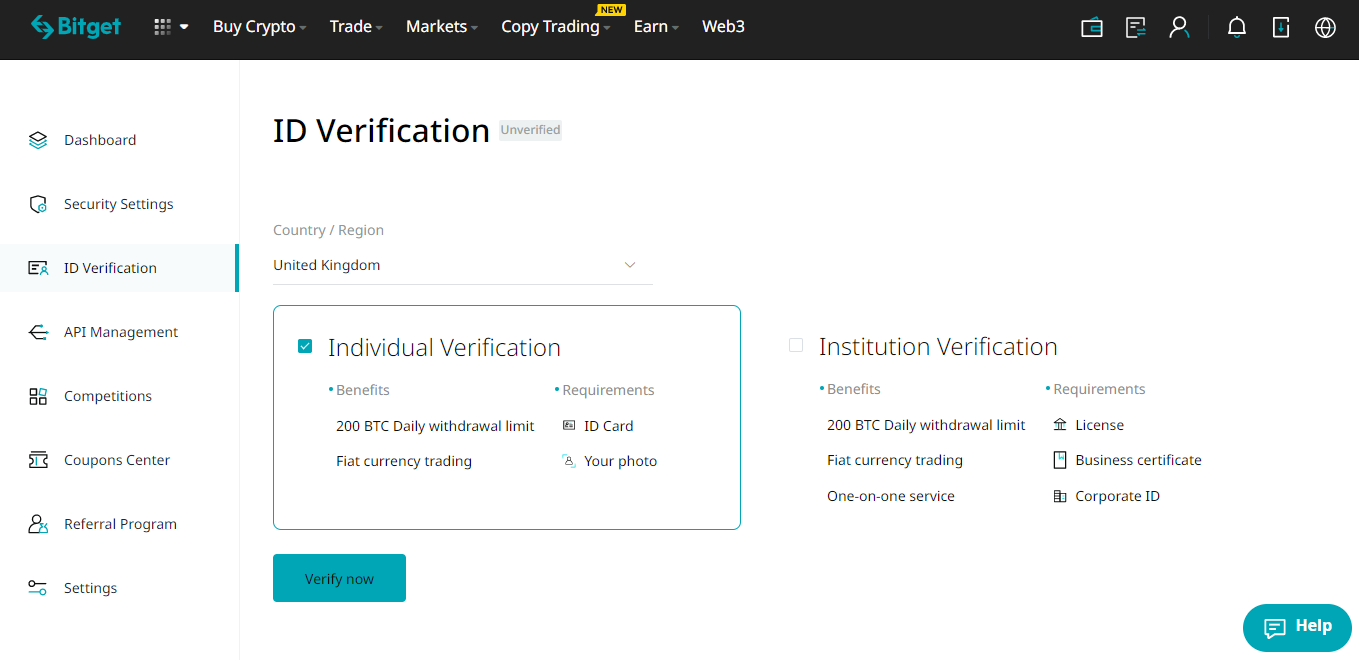 Log in to your account, and click on your Profile in the top right corner.
Next, click on ID Verification and select Verify Now.
Follow the instructions and provide clear scanned pictures of your ID Card and a current photo.
Within (approximately) an hour, your account will be verified, provided the documents are correct and the pictures are clear.
Once verified, you are free to trade spots, futures, crypto, and others on the platform. If you are skeptical about trading on this platform, you can always refer to our detailed BitGet review for better insight into the platform. It will help you decide how beneficial it will be to convert to BitGet.
How to do Spot Trading on BitGet?
Many people start their trading career through spot trading. You can trade spots on BitGet in 4 easy steps. Spots trading on BitGet allows you to buy USDT, USDC, BTC, and ETH in crypto assets while purchasing EUR, GBP, and BRL in fiat currencies. Follow the steps below to trade these currencies on the spot:
Step #1: Buy or Deposit Currencies
First, you will need to buy some assets in order to start trading. BitGet offers you numerous methods to purchase crypto or fiat currencies and deposit them to BitGet Wallet. Remember to deposit them in your spot trading account, as BitGet offers you three different options.
You can either deposit them from an external platform or purchase them via credit/debit cards, P2P transactions, third parties, or bank transfers. You can read our detailed guide on How to Deposit Crypto and fiat to your BitGet account for a better start.
Step #2: Head Towards Spot Trading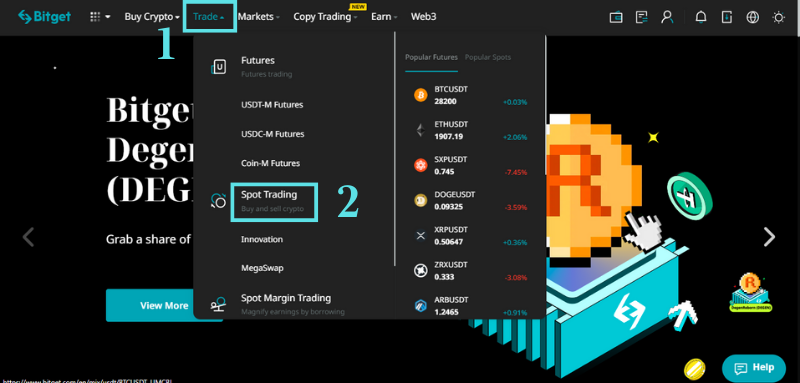 Once you have deposited the amount on your BitGet Wallet, it's time to start spot trading. Go to the home screen and click on the Trade option in the top menu. From the list, select Spot Trading to head towards the spot trading market.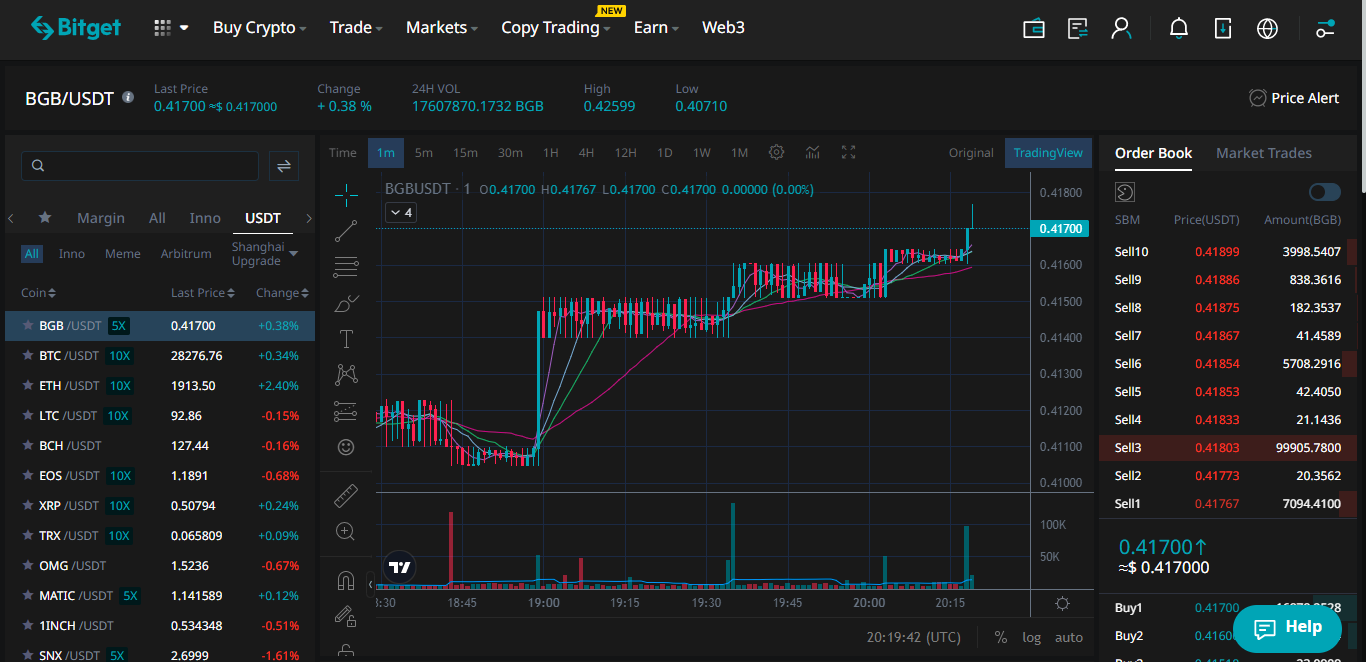 You will get to the spot trading page with three columns. On the left, you will have different currency pairs to select from. Their live and previous trends will be shown in the middle, and the order book/market trades will be visible in the right column. BitGet also provides valuable charting tools in the middle column to allow you to analyze spots further for better evaluation.
Step #3: Select a Pair & Fill in Details
Select a currency pair from the left column and analyze its trends using the charting tools in the middle section. These can also help you to predict their movements. In the left-hand column, you can understand the pitch and price of your bid/request for the currency.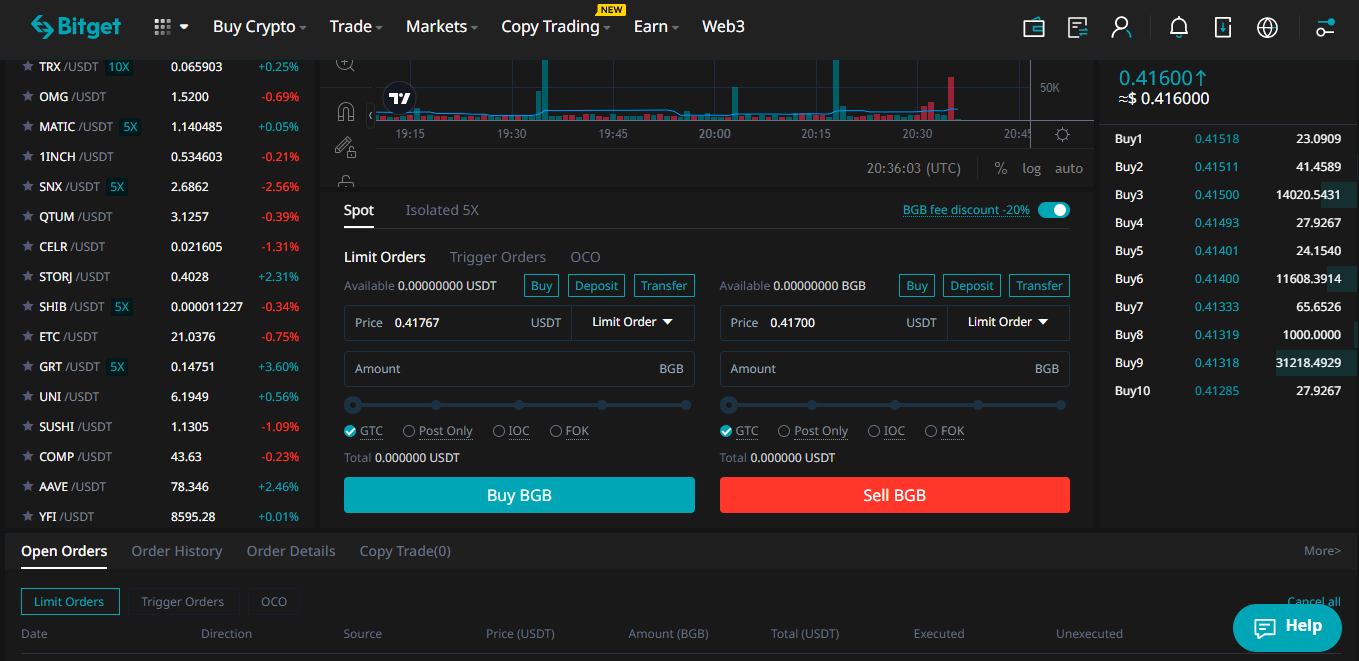 When satisfied, scroll down a little to set the market or limited order and the amount you want to ask or bid for.
Pro Tip: You can enjoy a 20% discount if you are trading in BitGet token (BGB).
Step #4: Confirm Order & Check
Click on Buy/Sell after confirming everything. The currency will be added/deducted from your account within seconds. To check the balance, click on Assets (Wallet icon) from the top right corner.
How to do Futures Trading on BitGet?
BitGet Futures trading gives you the advantage of three types of margined trading. Here, you have USDC, USDT, and Coin margined trading; each type follows the same procedure. However, ensure you have sufficient funds in your Futures account before your place an order.
You can redirect funds destination to the futures account while depositing or buying crypto. Moreover, you can also transfer them from one account to another within the platform (discussed in step 2). Once you have enough funds, follow the steps below:
Step #1: Select Your Future Trading Type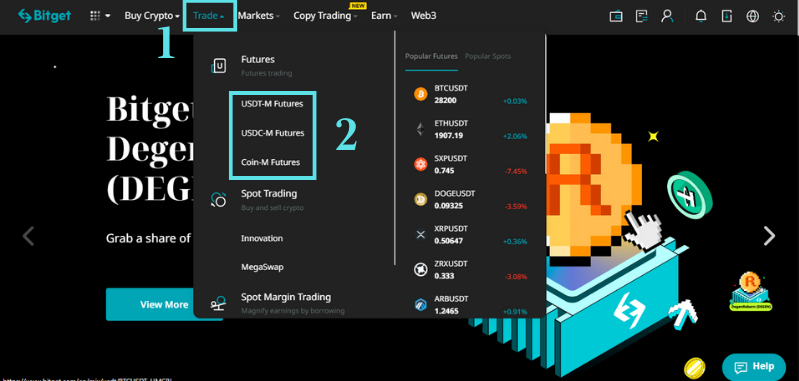 Log in to your account and hover over the Trade button on the top bar. Select your preferred Futures trading format from the dropdown list. You can either use USDC or USDT margined trading, where trades will be settled in USD Coin or Tether.
However, BitGet offers you unique Coin Margined trading. In this format, you can trade with a cryptocurrency even if you don't have that coin. For example, if you have BTC but want to trade with ETH, you can open a Coin-M Trade. Any profit/loss (P/L) will be automatically settled in ETH, saving you from the fee of coin conversion.
Step #2: Transfer Funds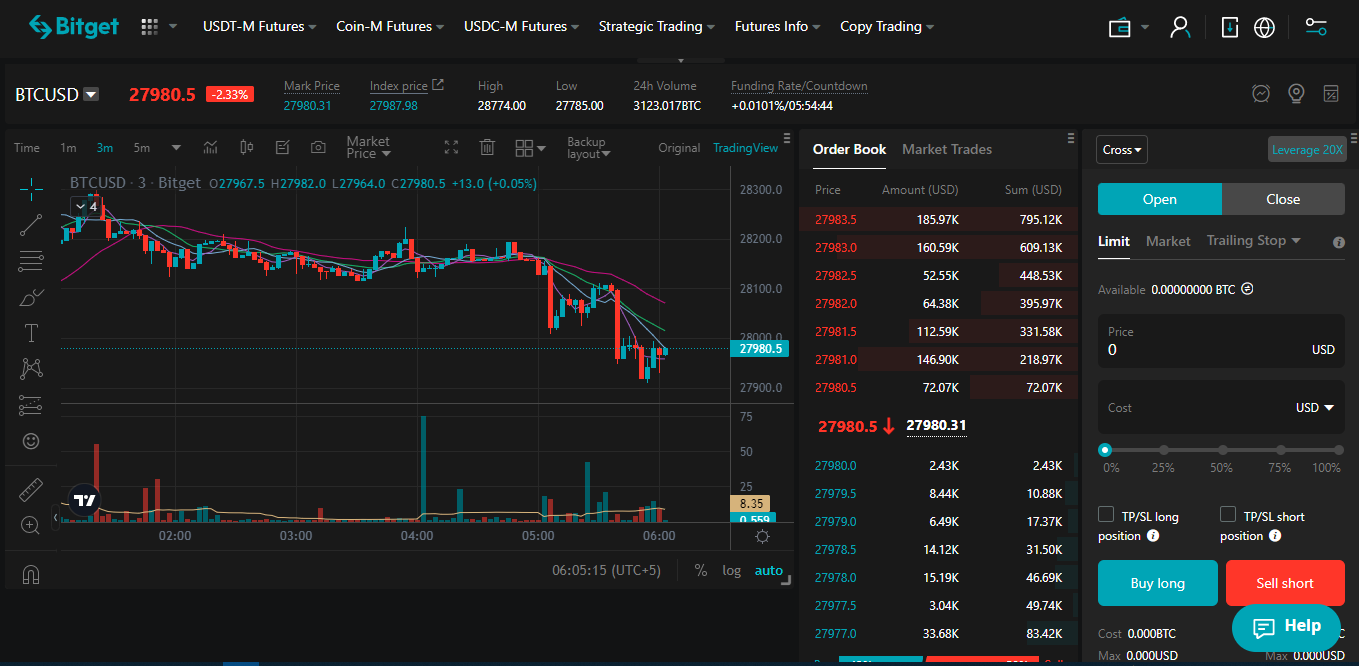 After selecting the futures trading type, you will be directed to a page with the charts as shown above. On the left, there will be a chart with current trends, while the order book will be visible in the middle column. On the right, you will have fields to place your order.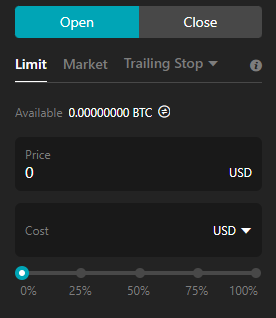 Your current balance for future trading will be shown next to the Available text.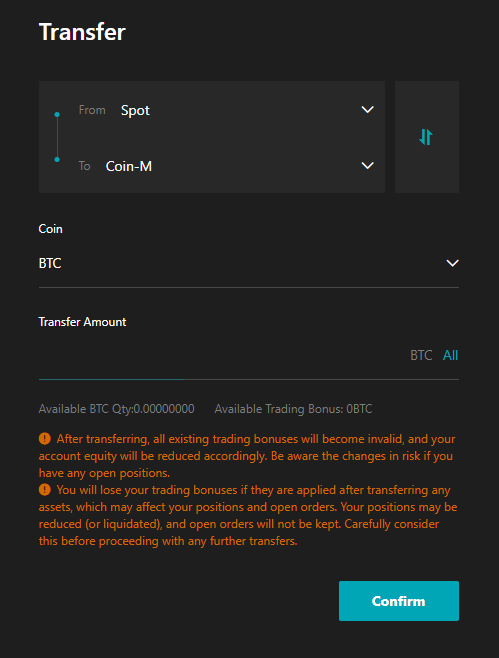 However, you need to transfer funds from another account if you don't have enough funds. Click on the transfer sign next to your Available Balance. Choose the account from where you want to transfer funds. Select the coin you want to transfer and its amount. Finally, hit Confirm.
Step #3: Fill in the Fields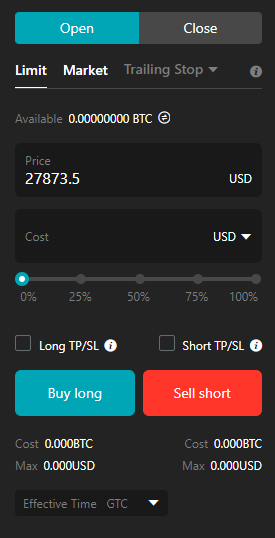 When you have enough funds, select the currency pair you wish to trade, margin mode, and leverage. Next, enter its price and amount, then choose the position direction (long or short).
Step #4: Confirm & Adjust

Once you are satisfied with all the details, click Buy/Sell to initiate the order. You can monitor a processing order via the Open Order section and a completed order from Positions. Moreover, you can adjust leverage according to the market condition (which may affect your margin).
How to Benefit from Strategy Trading on BitGet?
Similar to copy trading, BitGet strategy trading lets you use automated bots to implement effective strategies in your trading. These strategies are developed by experienced and veteran strategists, which users can use to enhance their trading skills.
However, unlike copy trading, where you manually place and execute orders, these bots automatically place the orders, set prices, and execute the process on your behalf.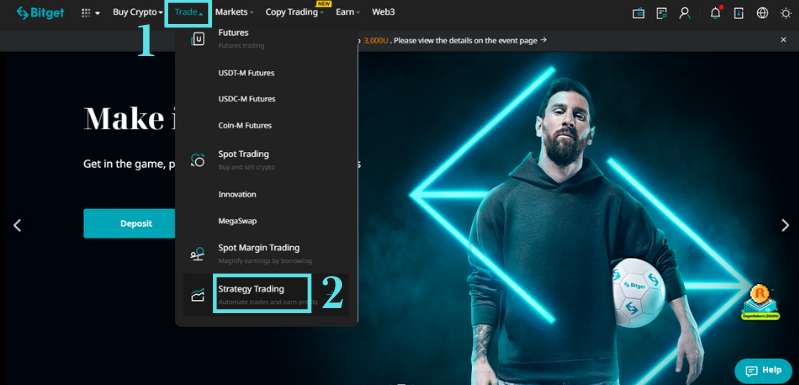 To start trading with AI-assisted strategies, log in to your account, and click Trade > Strategy Trading.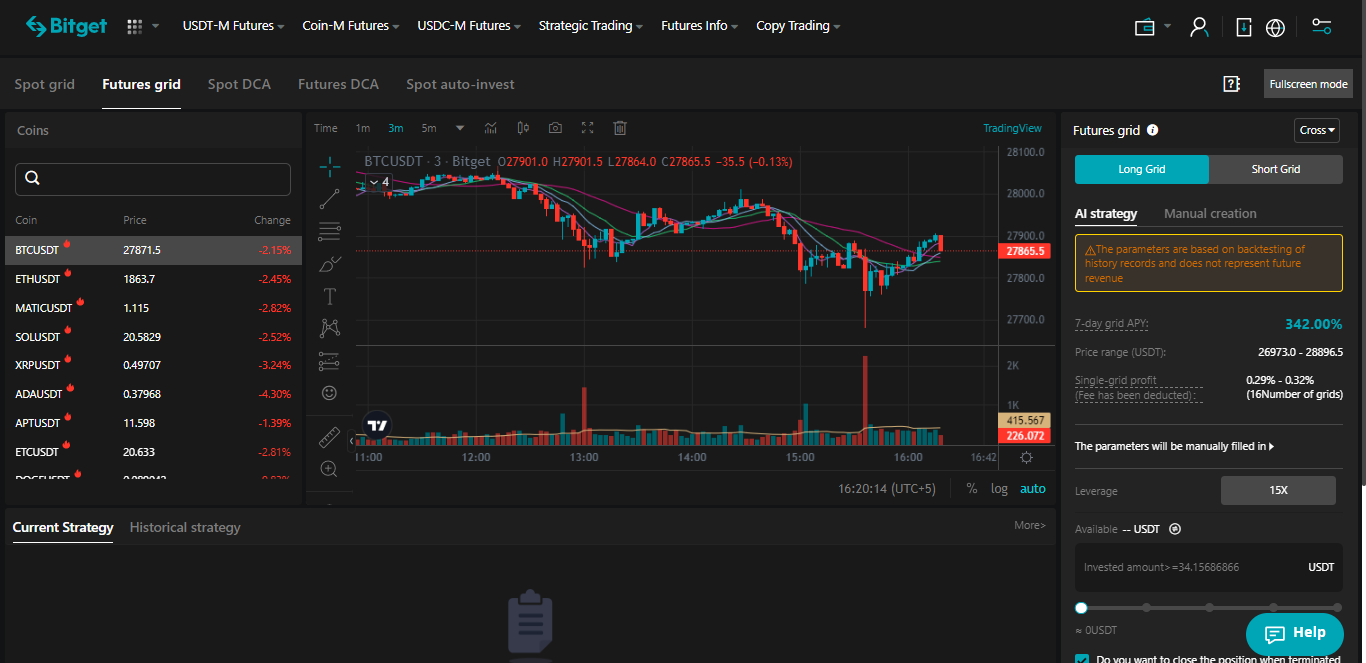 You can either perform Spot Grid or Future Grid trading. Select a pair from the left column, and analyze its trends and positions from the chart in the middle. Utilize different tools to further understand their movements, which will help you decide.
In the right section, you can let AI create your strategy and only set the invested USD or leverage (in case you've selected future grids). However, you can manually enter the price range, grid number, and invested USD to create a customized strategy.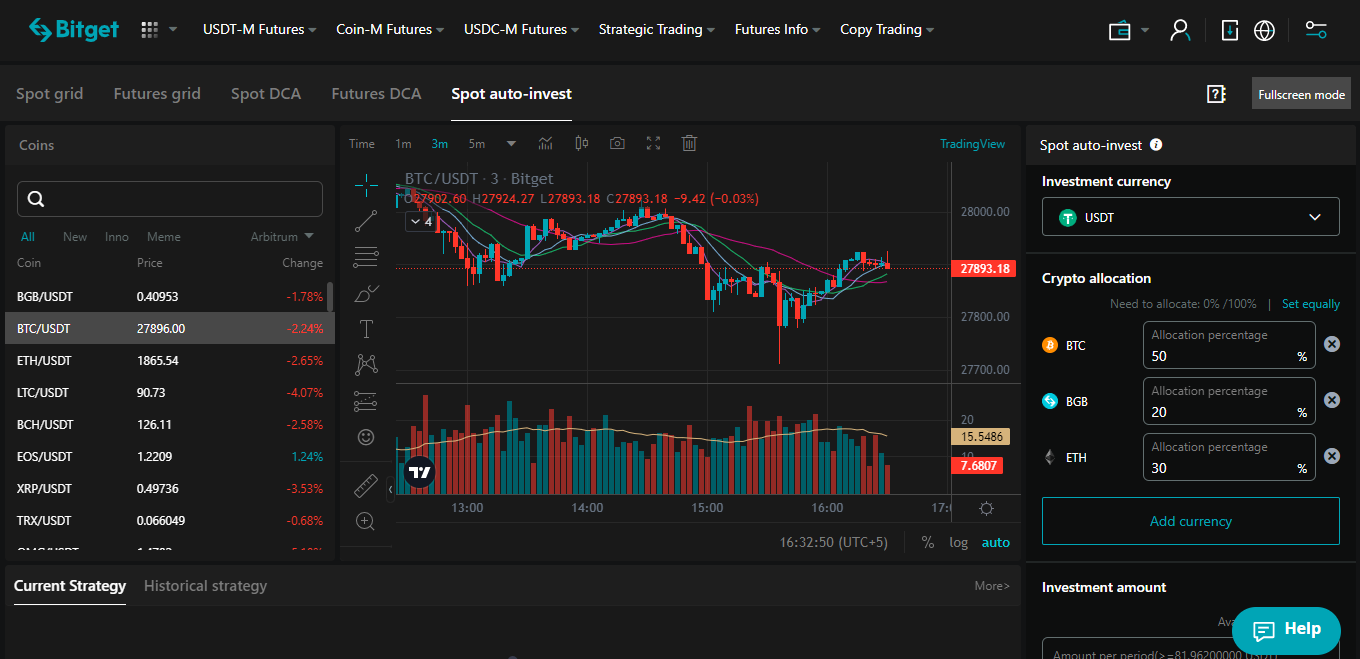 The Spot Auto Renewal section is favorable for long-term trading with enough funds. The bot automatically invests the dedicated amount of allocated cryptocurrencies periodically in the market. They will be invested equivalent to USDT according to the set percentages.
When you are satisfied with the strategy, hit Create an Order > Confirm to initiate it on your approved time (instantly, that day, or the next day).
How to Perform Copy Trading on BitGet?
If you are new to trading, you can start with BitGet Copy Trade. Like Futures Trading, it also offers multiple styles, which are the copy trading version of each style mentioned above. It means you can copy trade spots, futures, and strategies. By imitating the experts in the field, you can increase your success chances by many folds rather than suffering alone.
How to do Spot Copy Trading?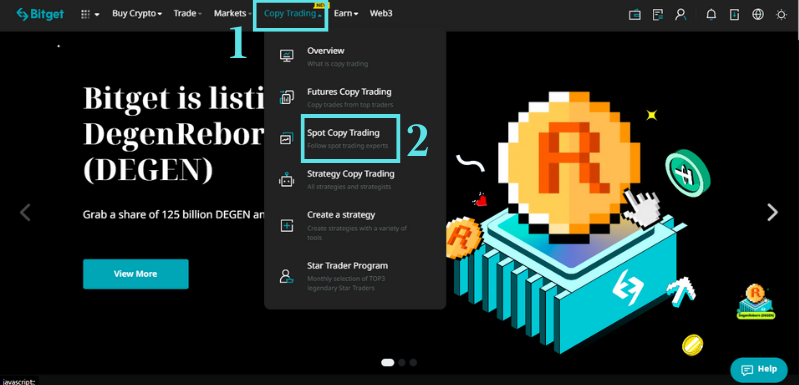 Log in to your account, click Copy Trading, then Spot Copy Trading.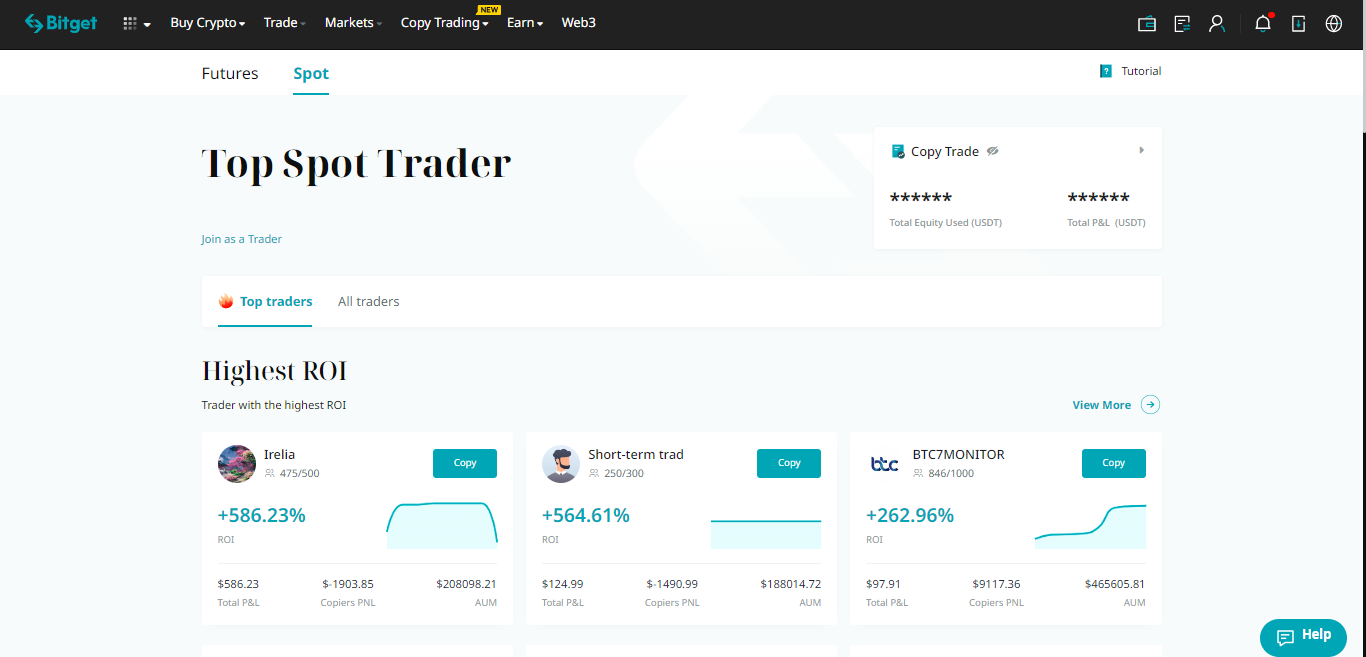 The page will show you the top traders in different categories, including with highest Return on Investment (ROI), Profit and Loss (PnL), and PnL of followers. Click on the trader's profile that piques your interest to learn more about their style before copying. If you find their pattern exciting and profitable, click Copy.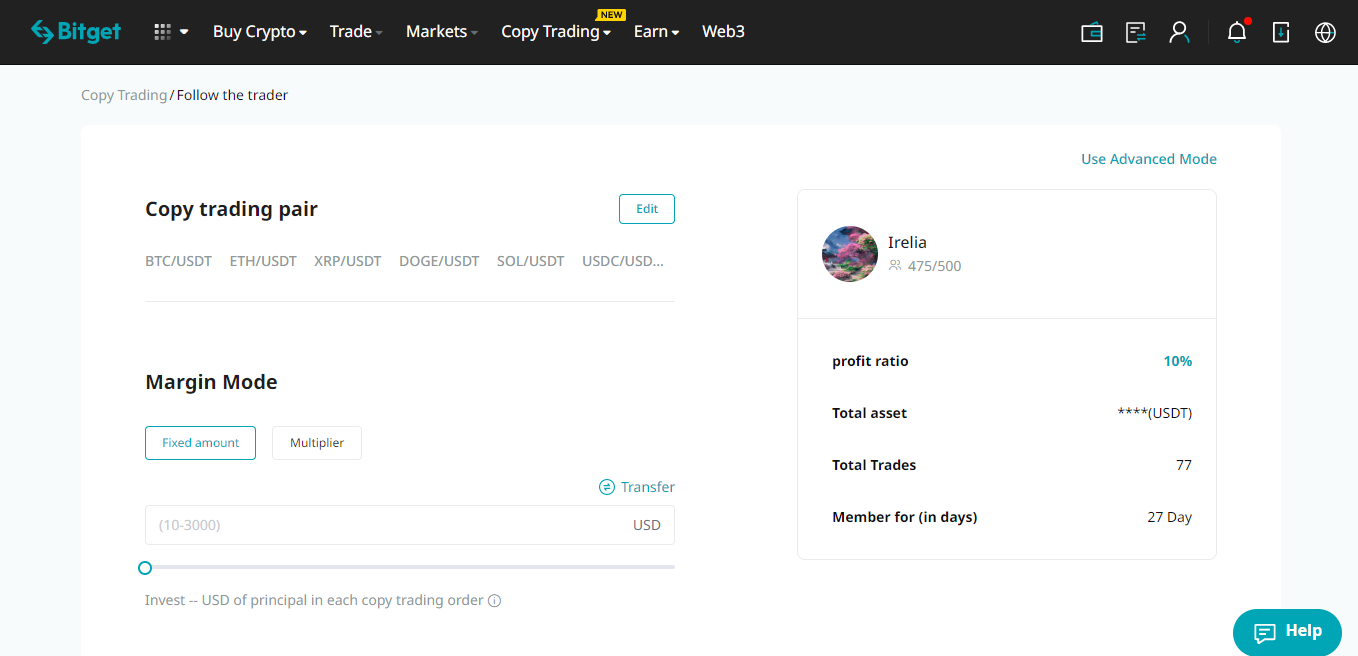 Now, you can adjust different metrics, like selecting the trading pair, margin mode, and its amount. You can also make risk management by setting it to
Stop copying if a loss falls below a certain value
Take profit when it reaches a specific percentage
Limit USD investment while copying
When satisfied, click Next > Confirm to start copying that trader.
How to do Futures Copy Trading?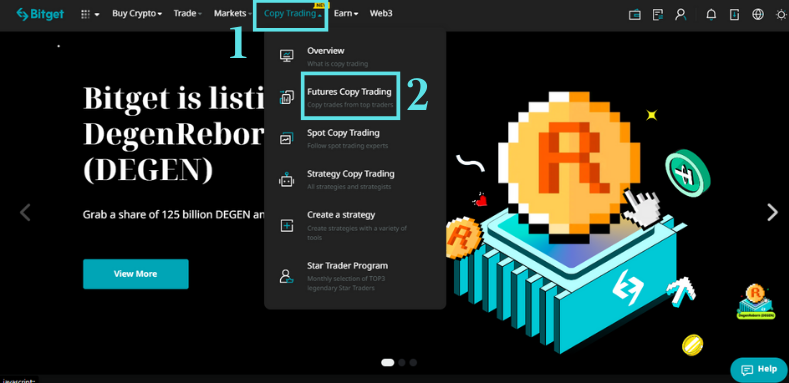 Log in to your account, click Copy Trading, then Futures Copy Trading.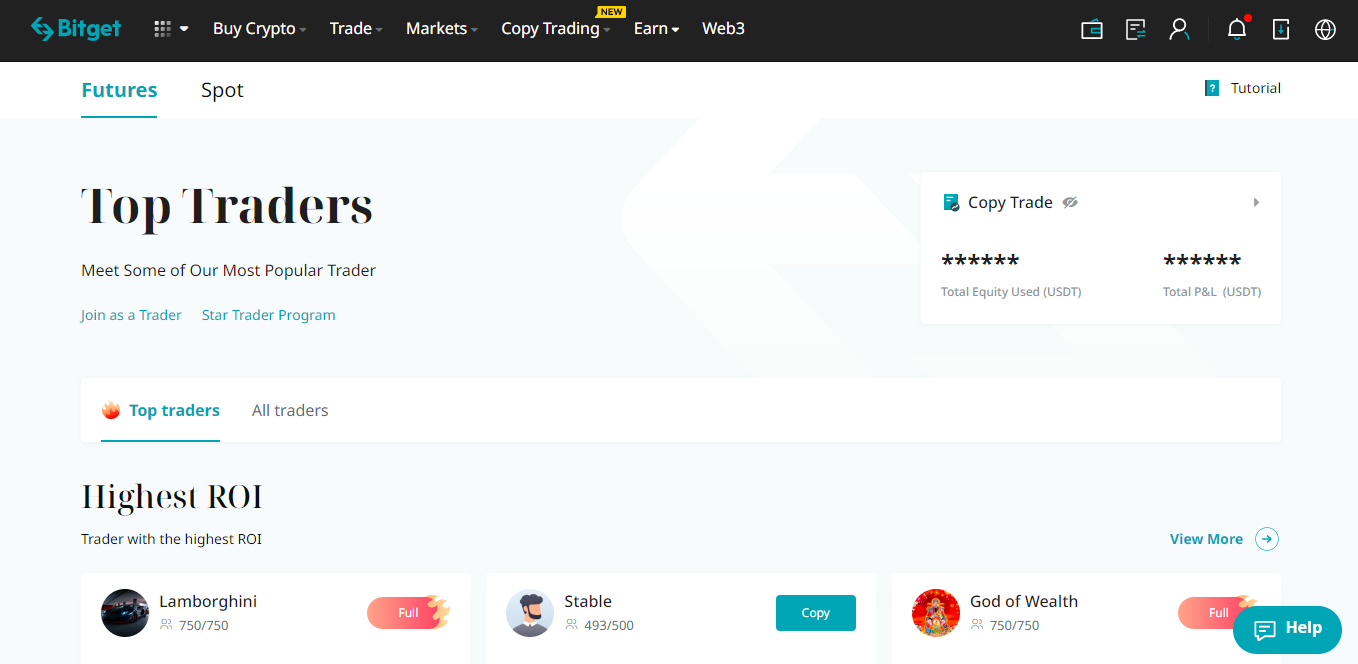 Again, select a trader that piques your interest and click Copy.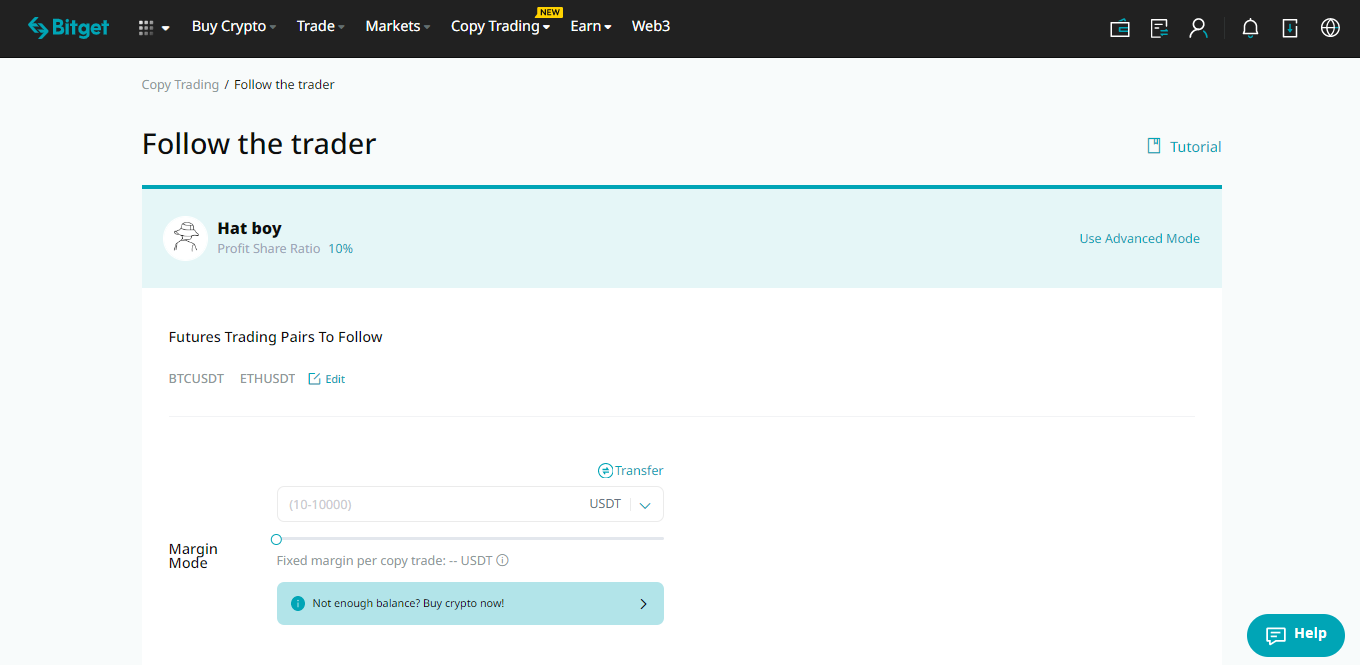 Fill in the details according to your requirements, and set risk management metrics. If you have an insufficient balance, you can transfer funds from a different account to here by clicking the Transfer icon above the margin's amount. Lastly, click Next > Confirm to start copying that trader.
How to do Strategy Copy Trading?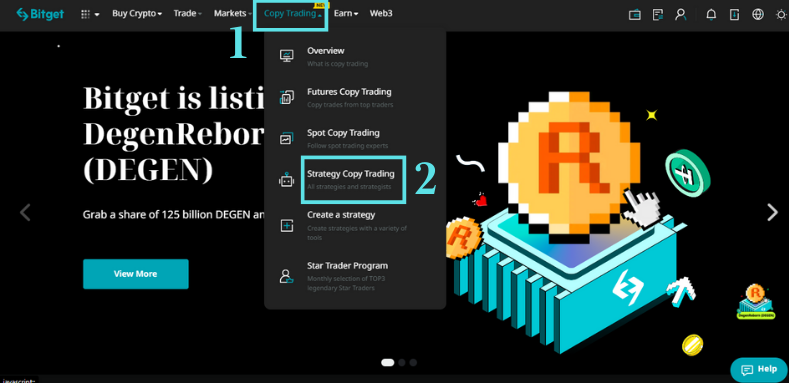 Log in to your account, click Copy Trading, and then select Strategy Copy Trading.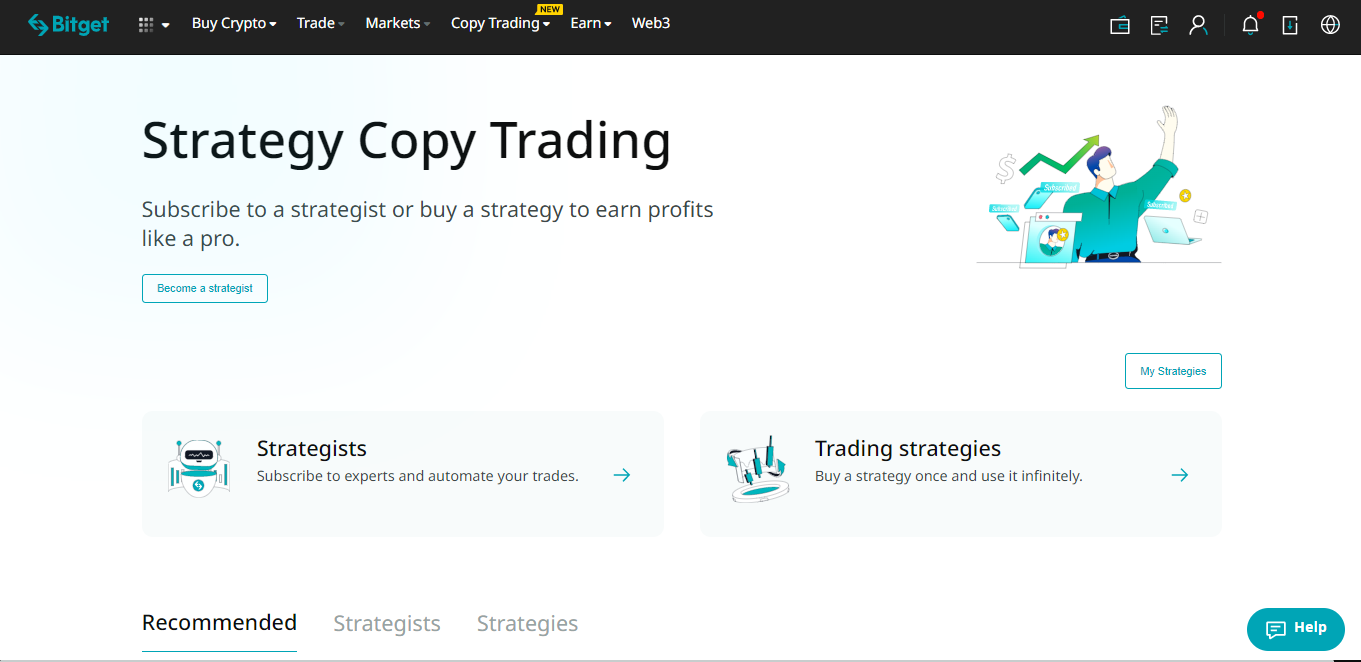 Here, you can follow a strategist by subscribing to their profile. In such a way, you can follow every new strategy they create. On the other hand, if you want to follow just one specific strategy to save money, you can purchase that individual one and follow it for a lifetime.
Click on the strategist or strategy to analyze them. Next, click on Pay/Subscribe to complete payment and start copying. While subscribing strategists, check the Auto Renewal button is enabled to renew your subscription every 30 days. Otherwise, you will have to subscribe to them manually every month.
How to Perform Spot Margined Trading on BitGet?
Although spot margined trading has a high-risk, high-reward potential since it increases capital by borrowing margins, BitGet offers you various tools to lower your risk ratio. The platform allows you to trade spot margins in 3 easy steps.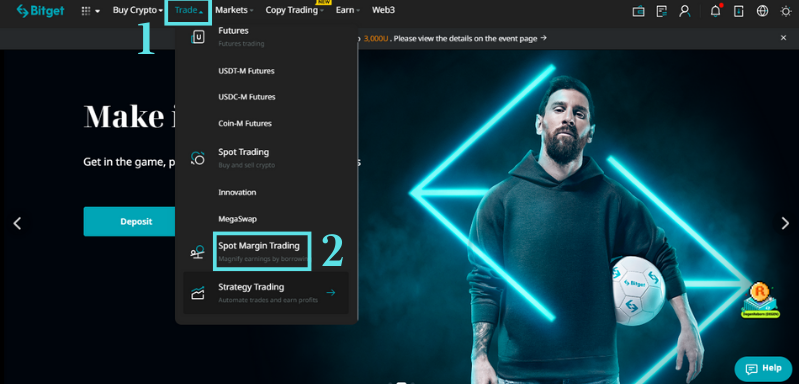 Log in to your account, click Trade, then select Spot Margin Trading.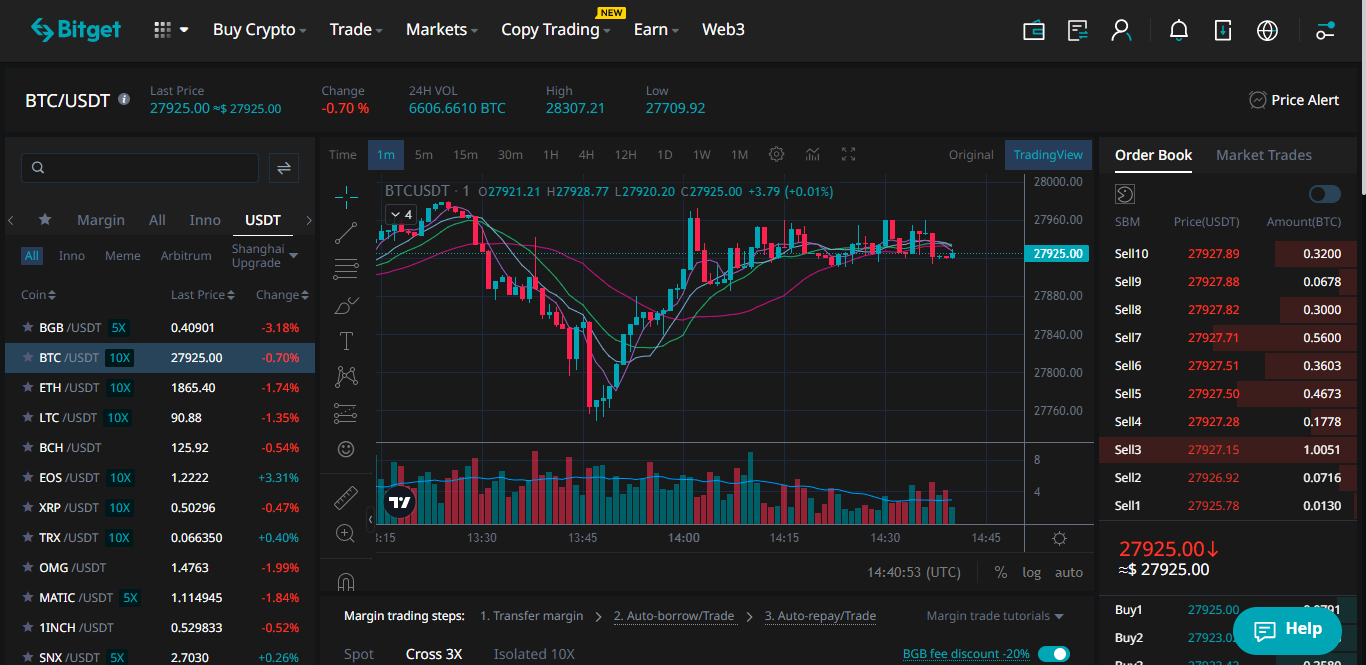 Select a currency pair from the left column. Analyze whether that pair is worth investing in by using the chart in the middle. You can use different tools to investigate trends further and make your decision accordingly. The column on the right will help you to estimate the price of the bid or request.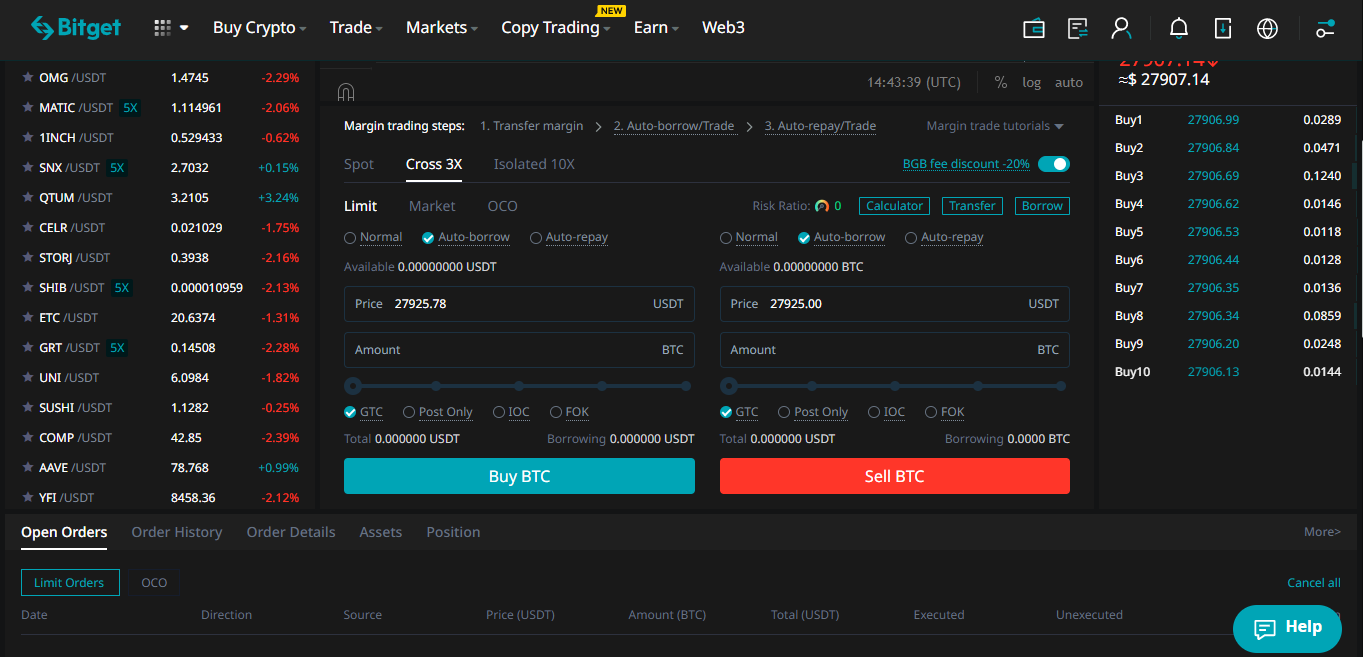 When you have selected a pair, scroll down to enter its price and amount. Once satisfied, click Buy/Sell to execute your order.
Final Note
BitGet has made trading extremely convenient due to its various offerings. You can perform spots, futures, and copy trading of both types. Furthermore, you can utilize the platform's automated bots or professional's designed strategies to make successful trades on your account. So, Sign Up for a BitGet account now and start your trading career to make profits.
FAQs
Can BitGet Copy Trading Make You Money?
Yes, you can make money from BitGet copy trading either as a trader or a follower. As a trader, you can get 8% of the dividend profit of your follower if they make money by using your tactics. While as a follower, you are copying an experienced trader's style and strategies, which has a high chance of generating a profit.
What is BitGet Trading Fee?
BitGet charges you a 0.1% maker/taker fee for spot trading. However, if you are trading in BitGet Token (BGB), you can enjoy a 20% discount, which lowers the fee to 0.08%. On the other hand, futures trading has much lower but different rates. The platform charges a 0.02% makers fee and a 0.06% takers fee.
What are Trading Limits on BitGet?
Typically, there isn't any significant trading limit on the BitGet platform. However, in futures trading, you can have a maximum leverage of 125x. Otherwise, enjoy trading in any format up to any scale.
Can You Trade on BitGet Without KYC?
No, you cannot trade on BitGet without KYC verification. Although depositing funds into your spot or futures trading account without verification is possible, you cannot execute any trades. So, ensure you verify your identity right after signing up.