Starting a career in crypto trading has become stressful for beginners as many great platforms have stuffed multiple trading options, overwhelming the newcomers. If you are also among those beginners and searching for a great platform, we have the answer.
BingX can be your best shot since it has been in crypto trading for several years and has sufficient features to give you an excellent headstart. Here, we have a complete review of BingX, discussing its many features, security measures, customer support, pros, and cons. So, read till the end to decide if it is better for you.
BingX Overview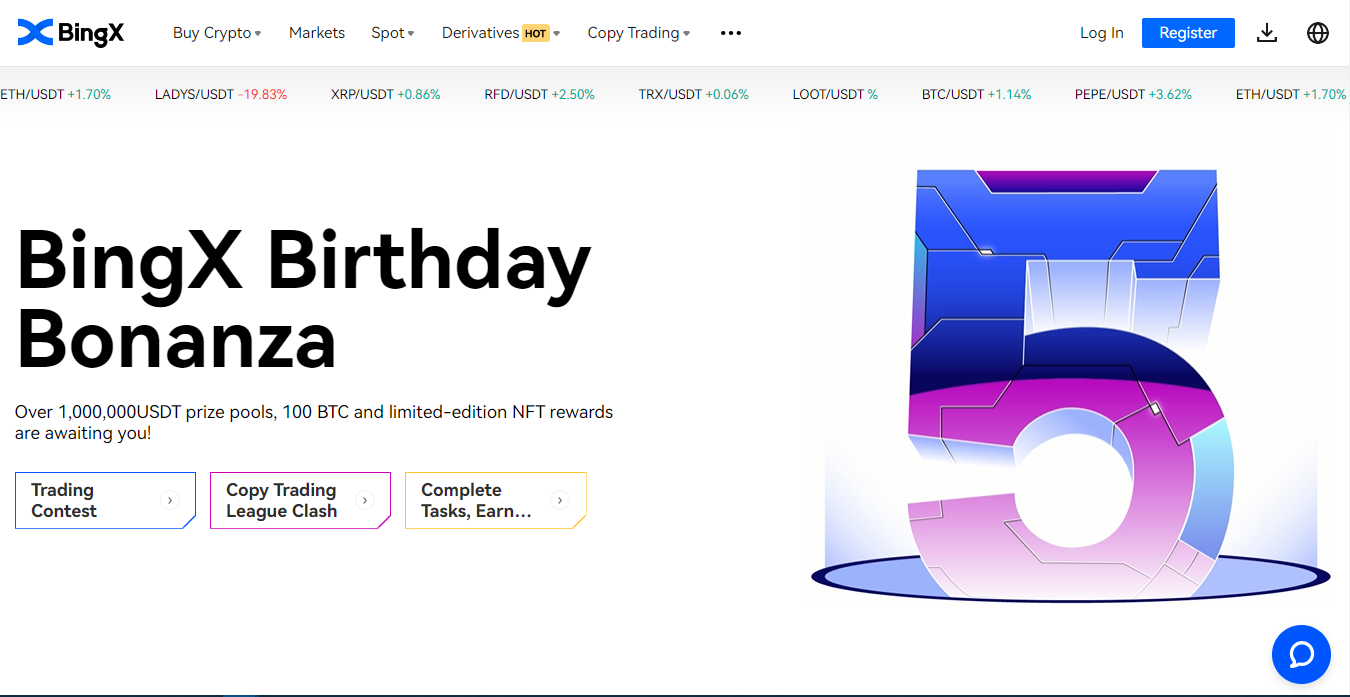 BingX is a crypto exchange and trading platform that provides various trading opportunities. It is also one of the largest exchanges, with more than 5 million registered users. It is also famous for its low trading fees and reliable trades. Many traders are fascinated by the security it provides, while some users like the simple and minimal user interface, which allows easy navigation.
BingX also received the "Best Exchange Broker" reward in 2021 from the leading platform, TradingView. It securely operates in more than 100 countries. Moreover, multiple authorities and legal bodies regulate its actions and operations. Briefly, BingX is a legit and secure exchange to buy, sell, trade, and convert crypto.
BingX Key Information

BingX Features
BingX is one of the newer exchanges, but the features already available are complete and quite valuable, making it a great choice for many beginners and expert traders. Below are different trading options you can explore, while also some other features here.
1. Spot Trading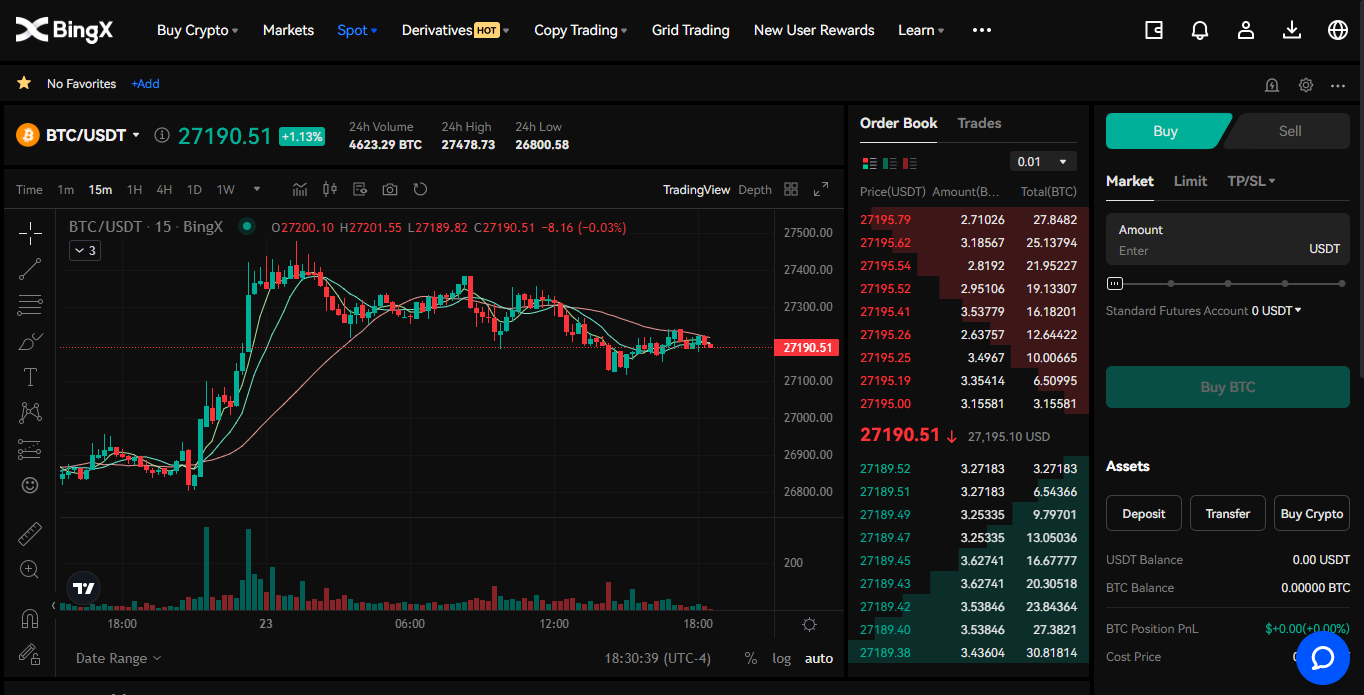 BingX provides a convenient spot trading experience from its friendly and straightforward interface and mechanism. You can easily buy or sell a spot on the trading page by using the advanced charts for each trading pair (provided by TradingView). BingX offers numerous crypto pairs, mostly paired with USDT as collateral. You can also set price alerts to get quick notifications when a certain asset hits a particular value.
On the left column, you have three tabs: Market, Limit, and TP/SL. In the Market section, you can simply enter the USDT amount you want to invest. The Limit section allows you to further set the price and amount of paired crypto coins to limit your investing power. The last tab is more suitable for experts, where they can set Take Profit and Stop Loss limits.
2. Futures Trading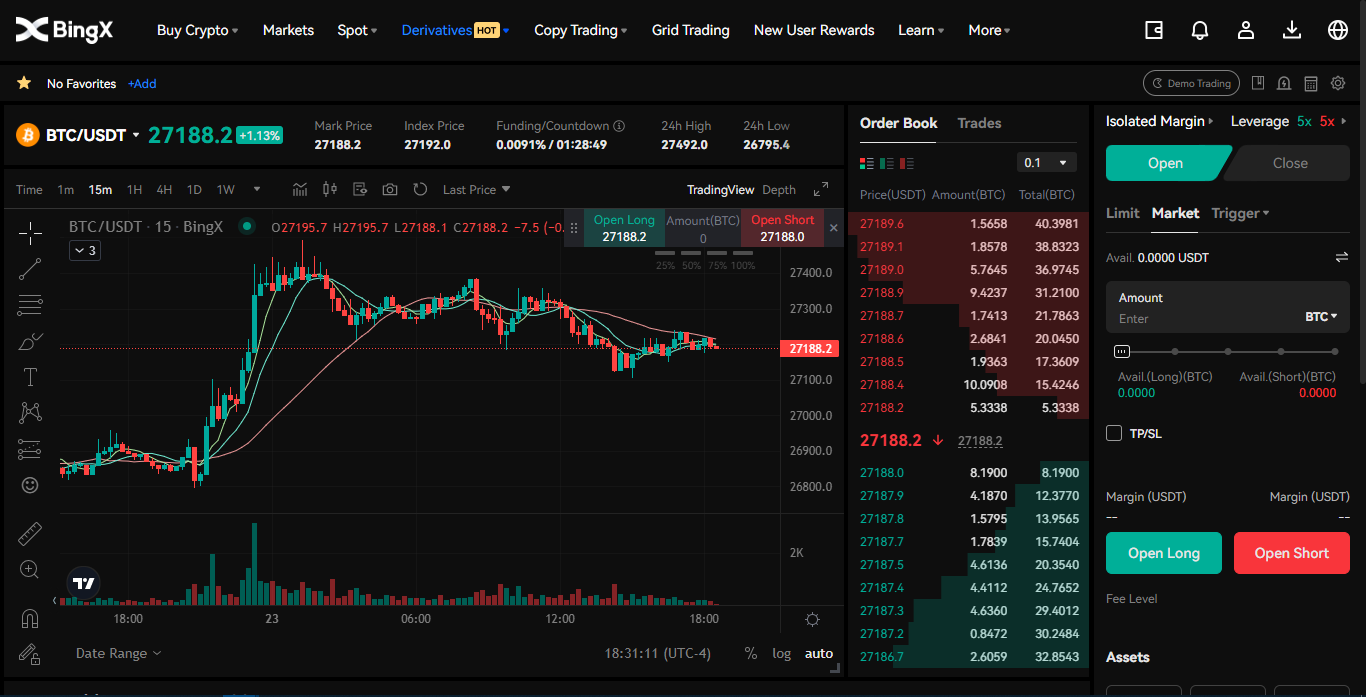 BingX offers two trading options. One is Standard Futures, suitable for common traders, while the other is Perpetual Futures, suitable for expert traders. The Standard Futures offers different trading options like crypto, stocks, forex, indices, commodities, and many more. Moreover, its predictive calculator provides estimations to analyze the profit or loss on a particular leverage. Remember, it's just an algorithmic estimation, not the actual values.
On the Perpetual Futures, you will have more customizations and metrics to set for better and more accurate position opening and closing. The best part about BingX Futures is that it allows leverage for up to 150x, higher than many crypto exchanges. Also, you can individually set the leverage for each long and short position.
3. Copy Trading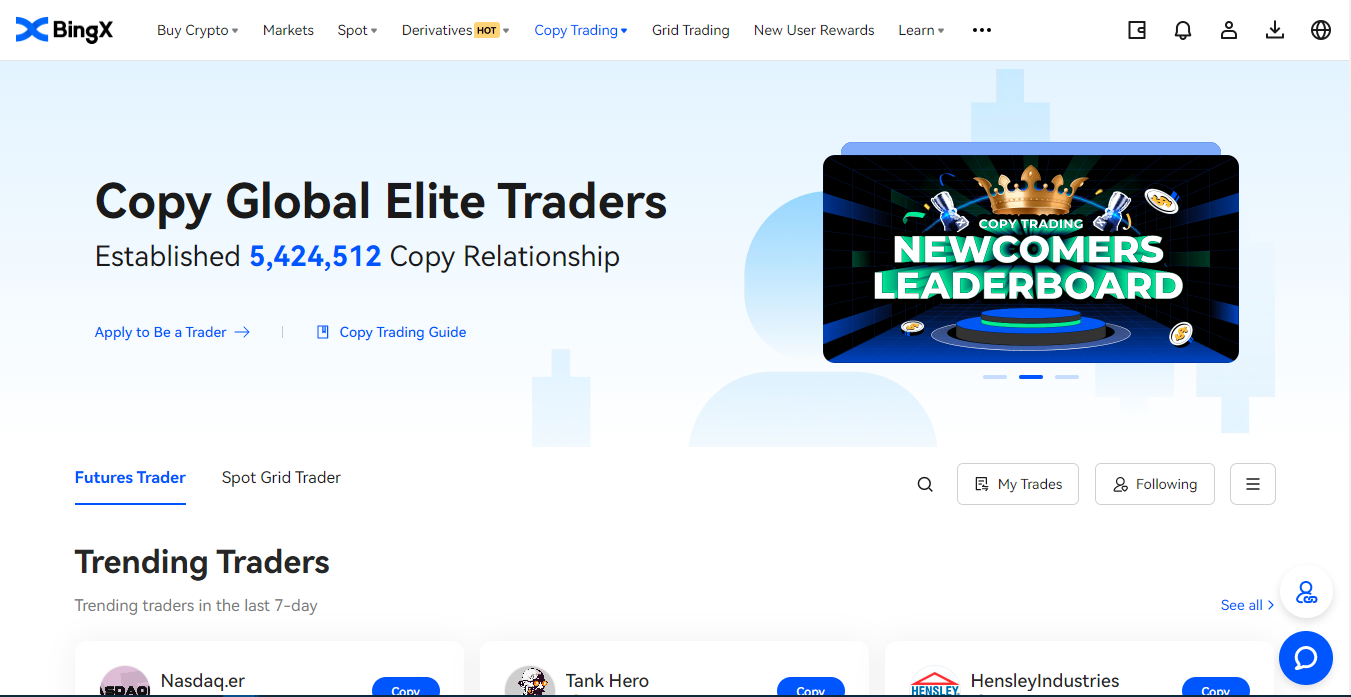 Copy Trading has been a great assistant for beginners since it allows them to follow an expert trader and learn different techniques while earning potential income. BingX allows copy trading for future and spot traders, allowing beginners to filter experts through various categories. They can select the professionals according to ROI, APY, conservative approach, rising stars, trending ones, and others.
On the other hand, you can get a handsome commission from your follower's profit as an expert trader. You can apply for the position if you have 110 UST in your balance, have been trading for over 30 days, and have a 40% win ratio in this duration. The platform shares up to 20% of the followers' profit with professional traders.
4. Grid Trading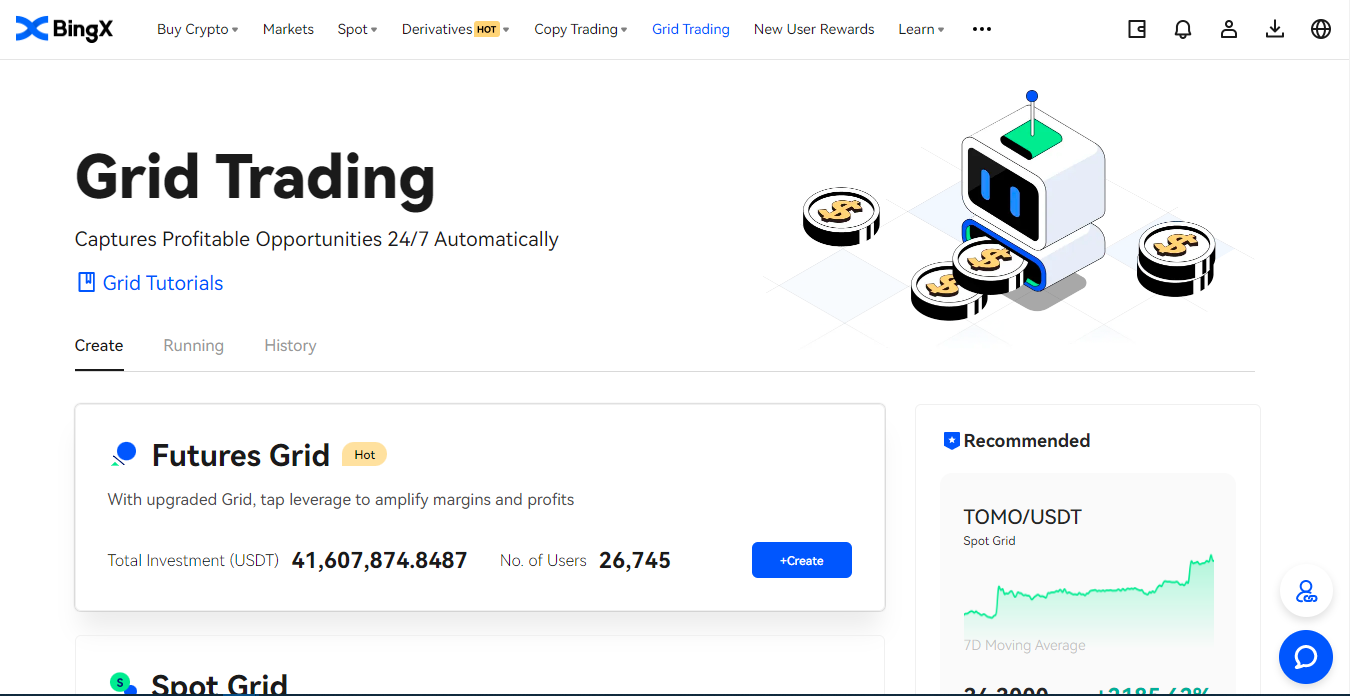 You can also use trading bots, known as grids, on the platform to automate your trading and earn profits while you are not actively using the platform. BingX has a large reservoir for its grid users in both spot and futures trading. Currently, its Futures grid has more than 27,000 users, with a total investment of $41.6 billion. In contrast, the Spot grid has over 160,000 users, investing $39.8 million.
There's also another particular Spot Infinity Grid, providing non-stop arbitrage and doesn't have any upper limit. Its users are only above 5,500, but they have already invested $1.6 million. Grid trading on BingX supports copy trading for spots but not for futures. However, both of their trading fees are the same as the actual trading formats.
5. Learning Center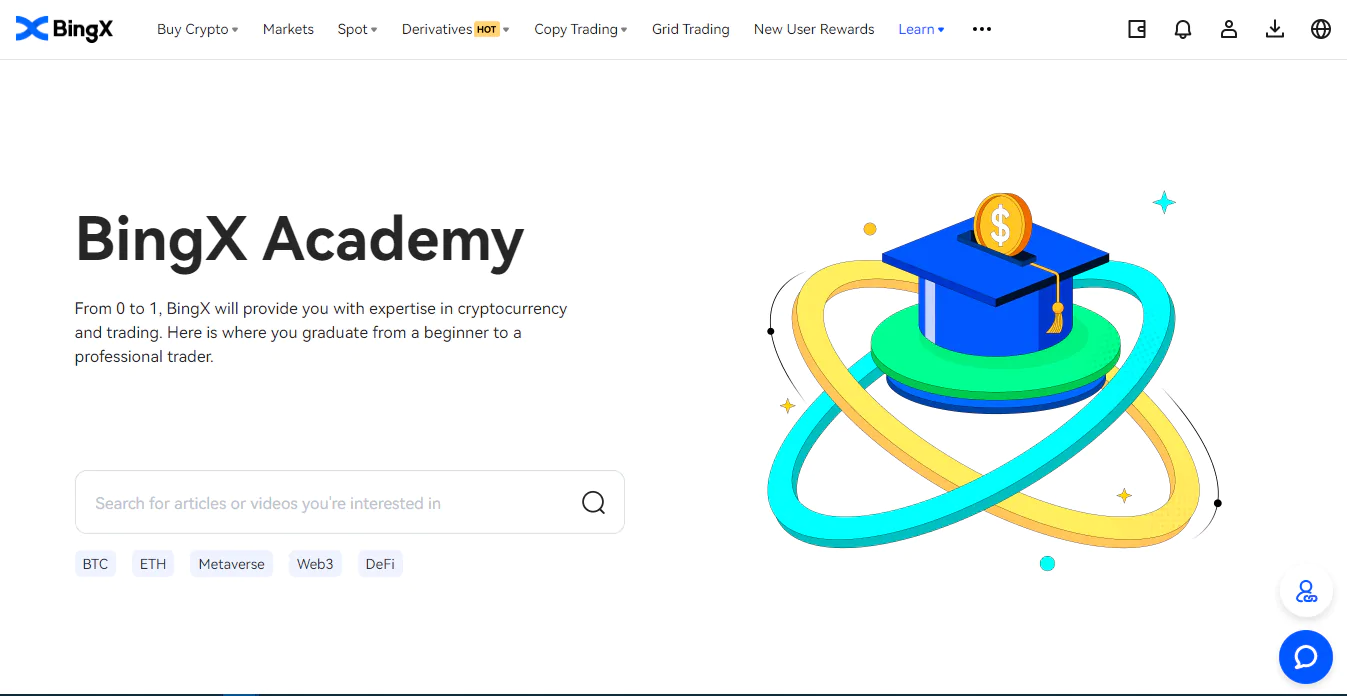 BingX also has a diversified learning center for its newcomers, regular users, and crypto beginners. The BingX Academy provides a complete platform to learn about the crypto world, its terms, and its methodologies. The Help Center has numerous articles, guides, and tutorials on various platform issues. It is a helpful section for beginners and old users facing certain complications.
One of its unique sections is BingX Glossary, an excellent area to learn about several words, terms, abbreviations, and jargon. The glossary doesn't only cover words and terms from the crypto world, but you will also find definitions from trading, finance, commerce, and other departments in alphabetical order. Lastly, BingX Blogs will update you about different news, events, promotions, insights, and announcements from the platform.
6. Crypto Coins
The exchange supports more than 500 crypto coins to trade, buy, sell, and convert. You can trade many normal, PoW, meme, and stablecoins. The most common examples include Bitcoin, Ethereum, Tether, Ripple, Cardano, DogeCoin, Polygon, Solana, Uniswap, Tron, etc. Although many other platforms offer even more crypto coins, these 500+ are enough for a normal user.
Reasons to Choose BingX
Apart from its various trading options and other features, the platform is also an excellent recommendation for many reasons. Here are a few aspects of why you should start your crypto trading at BingX.
Minimal & Friendly UI
The exchange has an elegant and simple user interface (UI), which is extremely convenient for navigation and usability. It is best for beginners and newcomers since they can find their relevant page in just one click. Moreover, it helps regular users jump to the right section from the top menu quickly. Plus, pleasing and minimal web designs with cool blue color codes are relaxing to the eyes.
New User Rewards
BingX offers various rewards and activities to its new users to help them get started with trading and, resultantly, gain more customers. In fact, it also has a dedicated section in the top menu bar for new users to quickly navigate to claim their rewards or understand the tasks to obtain them. Although the welcome rewards usually change according to the event or season, you can get 5125 USDT for sure by completing the basic tasks.
Profitable Affiliate Program
The platform also has a highly rewarding affiliate program that you can easily join. At the BingX affiliate program, you can earn up to 60% rebate, higher than many affiliate programs offered by other crypto marketplaces. After joining the program, you also get additional benefits as a member, including faster deposits and withdrawals, even lower trading fees, 1-to-1 customer support, bonuses up to 100,000 USDT, and much more.
Diverse Trading Instruments
Unlike many other crypto trading platforms, BingX doesn't only allow you to trade spots and futures. It also has different trading options to diversify your portfolio. You can trade stocks (Tesla, Apple, Amazon, Google), forex (AUD/EUR, AUD/USD, CAD/JPY, EUR/GBP), indices (S&P 500 Index, Australia 200, DAX, FTSE 100), and commodities (gold, silver, crude oil, natural gas).
BingX Limitations
Besides various benefits, it also has some limitations that set it back from its competitors by a huge margin. These don't make the platform a bad choice for what it already offers. Overall, it will be great if the developers and executives soon make these features available.
Lacks Staking
One of the major setbacks is staking unavailability. Although the platform supports numerous staking coins, like Ethereum, Cardano, Cosmos, Solana, Tezos, etc., it doesn't allow you to stake them on the platform.
The unavailability is also evident as the exchange doesn't have Launchpad or Launchpool, commonly seen on other platforms. So, you will require to consider another exchange if you want to stake cryptocurrencies and earn a passive income.
Lacks Fiat Currency Support
Another major setback is that it lacks fiat deposits and withdrawals. You can absolutely deposit several crypto coins, but it's a no for fiat currencies. You can purchase them through a third-party vendor to get fiat in your account. However, their fees are extremely high, so avoiding them becomes a better option.
Additionally, you cannot withdraw in fiat. So, until you are dealing in crypto coins, BingX is great. Otherwise, covert your on-platform fiat into cryptos to cash them out.
BingX Trading Fees
BingX is among the competitive platforms with low trading fees. However, unlike others, the exchange charges a variable maker/taker spot trading fee, depending upon the type of crypto coin. For instance, it will charge you mostly a 0.1% fee for most coins, but it gets to a 0.2% for ACS/USDT. On the other hand, some pairs like SHIB/USDT and BCH/USDT have maker fees of 0.05%.
So, ensure you check your crypto pair's maker/taker fee before spot trading. In contrast, futures trading charges 0.02% for makers and 0.05% for takers. But if you get into the VIP program, you can enjoy even lower Futures trading fees, which can become 0.0015% / 0.0350% (maker/taker) at max Level 5.
BingX Security & Regulations
The exchange is highly secure, practicing the highest security measures. That's why it has never been hacked since founded. Many countries' authorities regulate the platform, including FinCEN, MSB, and DCE. Moreover, it is also licensed in many major countries like Australia, America, Canada, and European Union. So, you can easily trade without worrying about legal issues.
Although BingX doesn't require KYC to deposit or trade crypto, those verifying their identity will go through the complete process. Additionally, it fulfills Anti-Money Laundering (AML) policies, discouraging illicit and malicious activities. As a user, you can also create multiple firewalls, like 2FA, different depositing and withdrawing passwords, device codes, and Anti-Pishing Codes.
BingX Customer Support
BingX customer support team is pretty responsive and usually answers within 10 minutes. At the bottom right corner, you can easily access their multiple help center quick links or connect with a live agent by typing your specific question. Otherwise, their detailed help center has well-crafted and in-depth guides for almost every issue a user may face. So you might not need to contact the live agent often.
Anyways, the exchange also has a diversified social media presence. You can reach them out via Facebook, Instagram, Twitter, Telegram, TikTok, Reddit, Discord, and many others. All the customer support channels are open 24/7, so you can submit your queries or complaints anytime.
Conclusion
BingX is a reputable, secure, and fantastic platform, excellent for beginners. Its minimal UI is pleasing, while the sufficient trading options don't overwhelm them. Plus, its well-equipped learning area is a treasure for early birds. Although it doesn't allow staking, fiat deposits, and withdrawals, the other options are enough for beginners to start their trading career.
FAQs
Is BingX Legit?
Yes, BingX is a legit exchange, operating since 2018. The platform has over five million users, trading almost $290 million worth of crypto daily. It represents the platform's people's trust and legitimacy, meaning you can choose it for your trades.
Is BingX Secure?
Yes, BingX is a secure platform with all the essential security measures. Multiple regulatory authorities of different countries monitor its activities in their states, while the platform itself complies with all legal policies. Plus, it has never been hacked. So you can trade without worries.
Does BingX Require KYC?
Luckily, BingX hasn't made KYC verification mandatory to operate on the platform. So, you can deposit and trade crypto without verifying your identity. However, withdrawing crypto requires verification.
Can You Use BingX in the USA?
Unfortunately, you cannot use BingX in the USA. Although FinCEN (a leading US licensing authority) regulates it, the exchange doesn't fully operate in America.