BingX has differentiated itself as a hub for purchasing and exchanging digital assets since its launch in 2018, with over 5 million users. The exchange offers copy and grid trading services to more than 100 countries.
Despite its great offerings, some situations may prompt users to disengage from their BingX accounts, be it a change in investment approach or a quest for a new beginning.
Nevertheless, this guide will walk you through the process of deleting your BingX account step by step, ensuring you know how to navigate the complexity of crypto account management easily.
In the end, to help you resume your trading journey without any delay, we will also suggest a better alternative to the BingX exchange. Let's begin exploring then!
What to Do Before Deleting Your BingX Account?
Withdraw Funds Securely: Prioritize a smooth exit from BingX by withdrawing all funds. Use the withdrawal section, follow prompts, and transfer securely.
Cancel Open Orders: Manage open orders before closing your BingX account. Navigate to the order book, cancel pending trades, ensuring a clean exit.
How to Delete Your BingX Account?
Ending your affiliation with your Pionex account is straightforward.
If you've chosen to say goodbye to your BingX account, adhere to these simple steps for a seamless closure process.
Note: This action is irreversible.
Step 1: Log into your BingX account
Visit BingX and log in using your credentials to access your account securely. Ensure you have the necessary information for verification.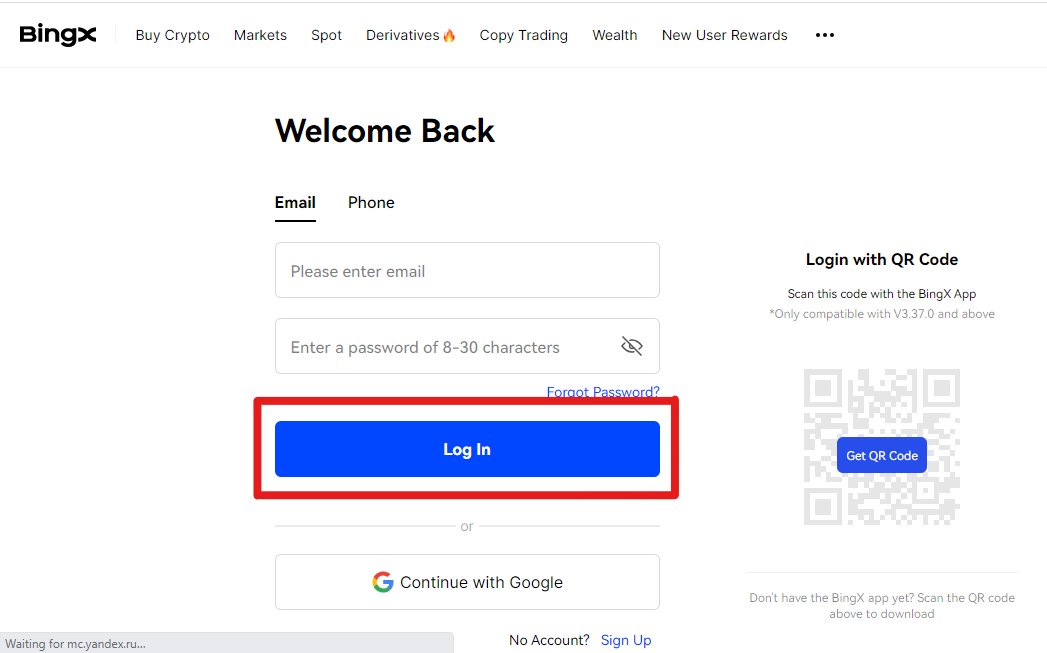 Step 2: Click on the "More" Option
Locate the "More" option on the app interface. It typically contains additional settings and options for account management.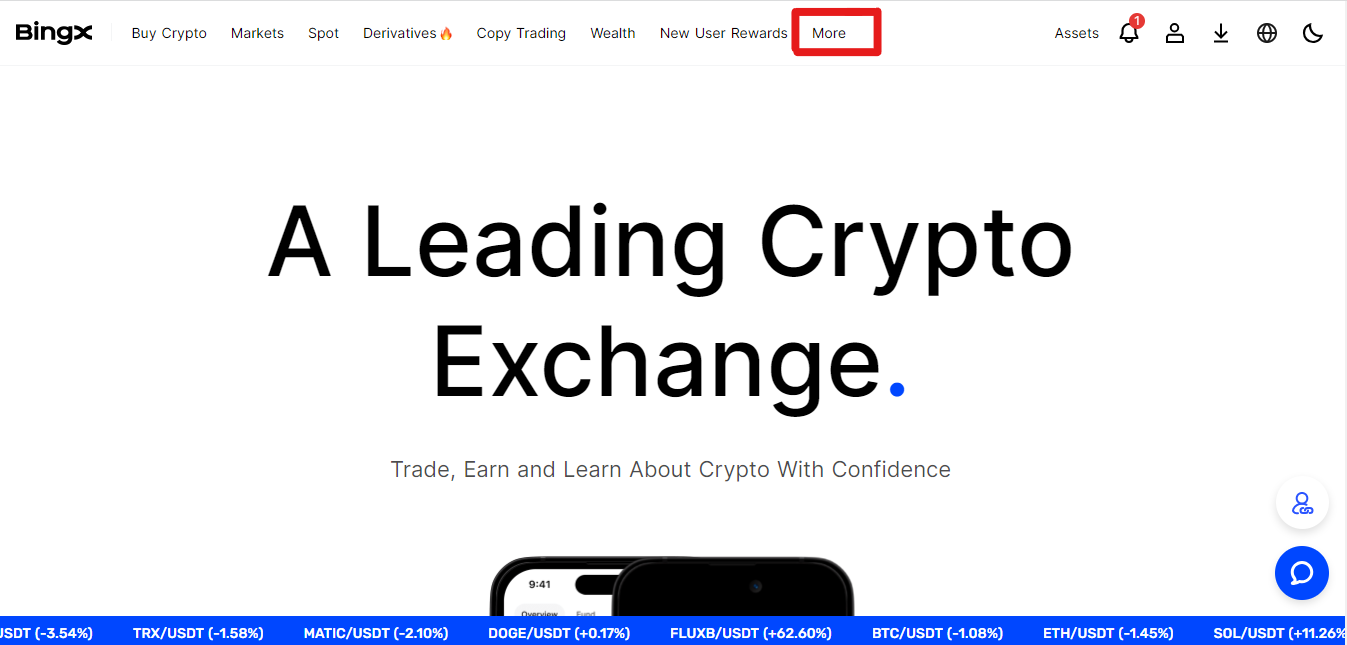 Step 3: Click on the Help Center Button
Find and select the "Help Center"on your desktop. This is where you'll get assistance and find answers to various queries.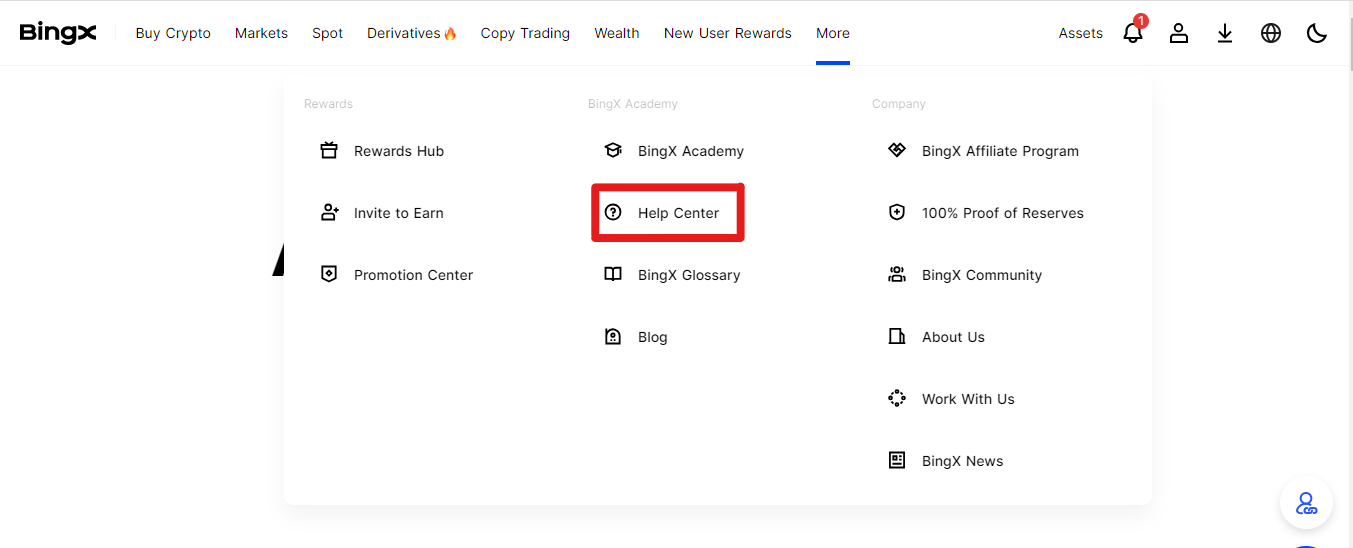 Step 4: Use the Search Bar
In the Help Center, use the search bar—input "How to lock account and delete account on BingX" to locate relevant information quickly.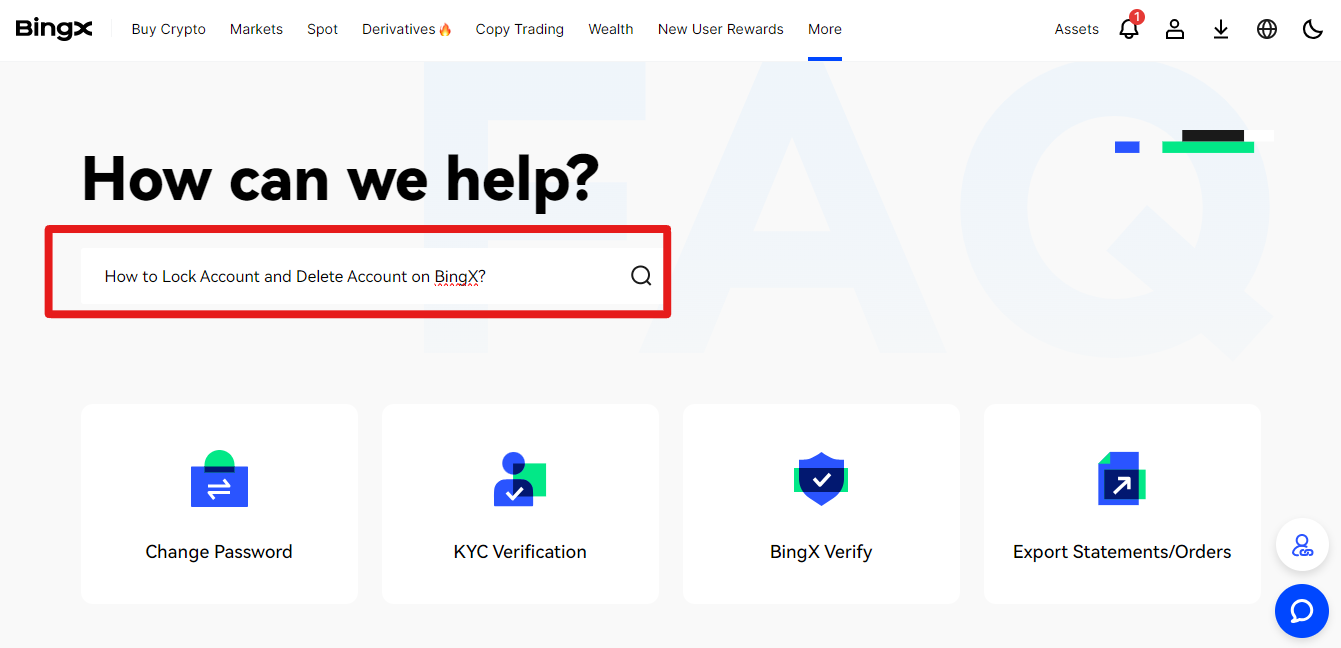 Step 5: Click on the Related Article
Among the search results, click on the first article addressing how to lock and delete your BingX account. This article will guide you through the process.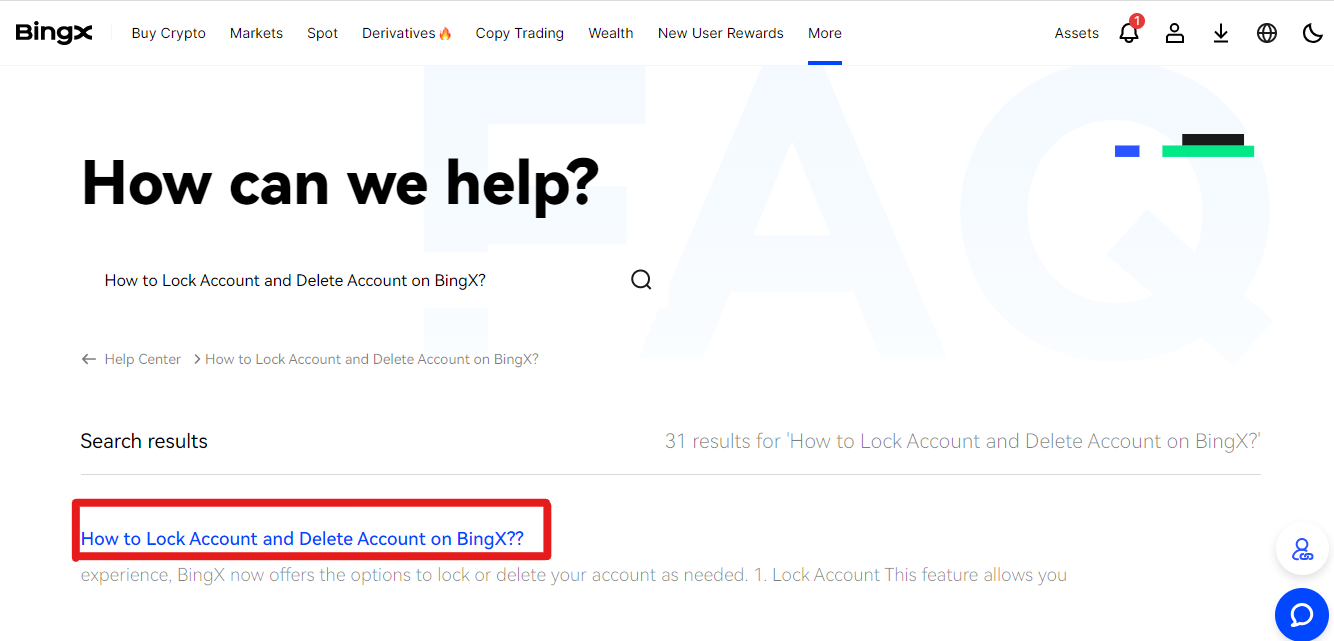 Step 6: Scroll Down to Delete Account
Within the chosen article, scroll down until you find the section related to deleting your account. This is the crucial step in the account deletion process.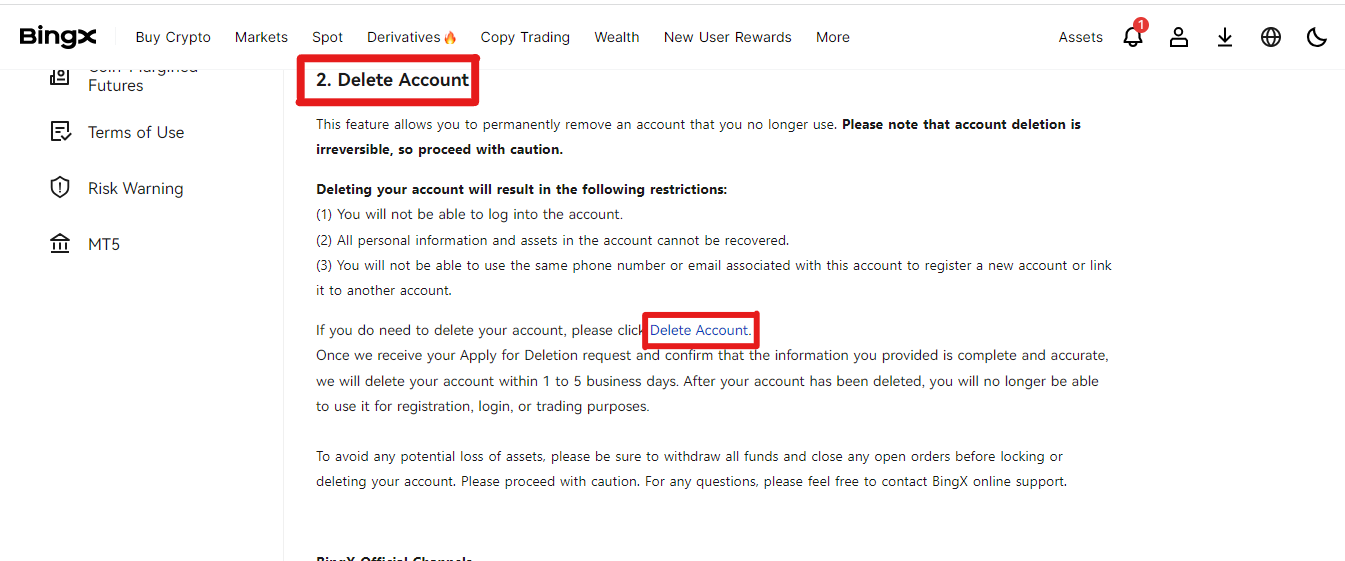 Step 7: Apply for Deletion
After finding the Delete Account section, follow the instructions to confirm your decision. Click on apply the "Deletion" 'option. This step ensures you are intentional about deleting your BingX account.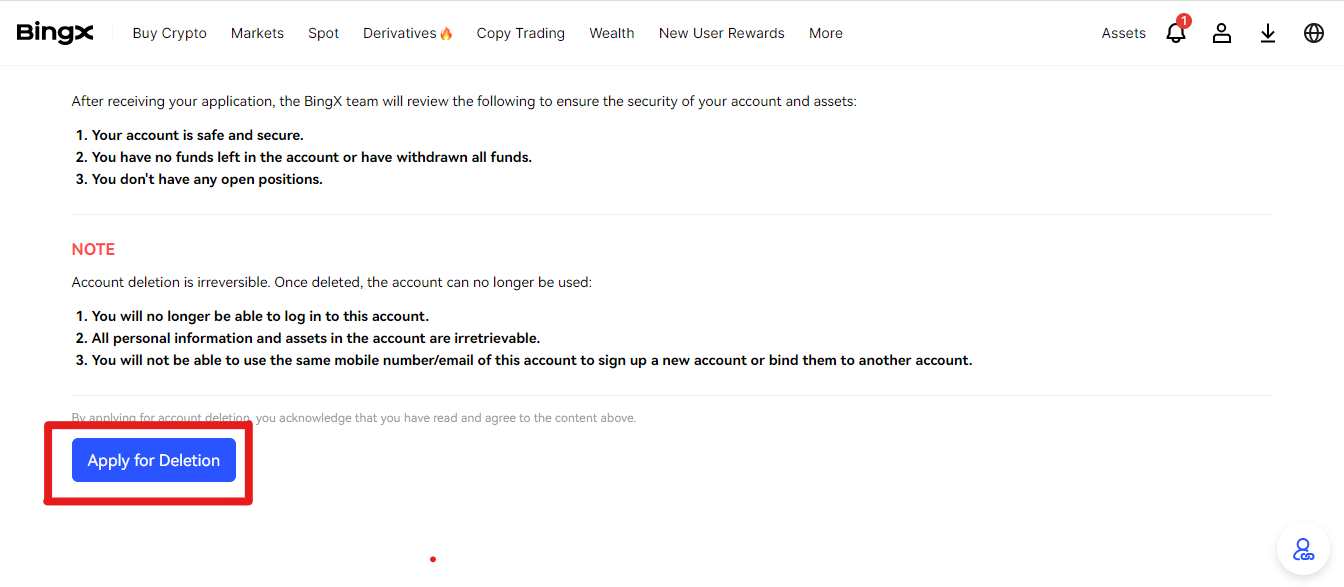 Step 8: Enter Verification Code
BingX will send a verification code to your registered email as an added security measure. Enter this code to validate your identity and proceed with the deletion process.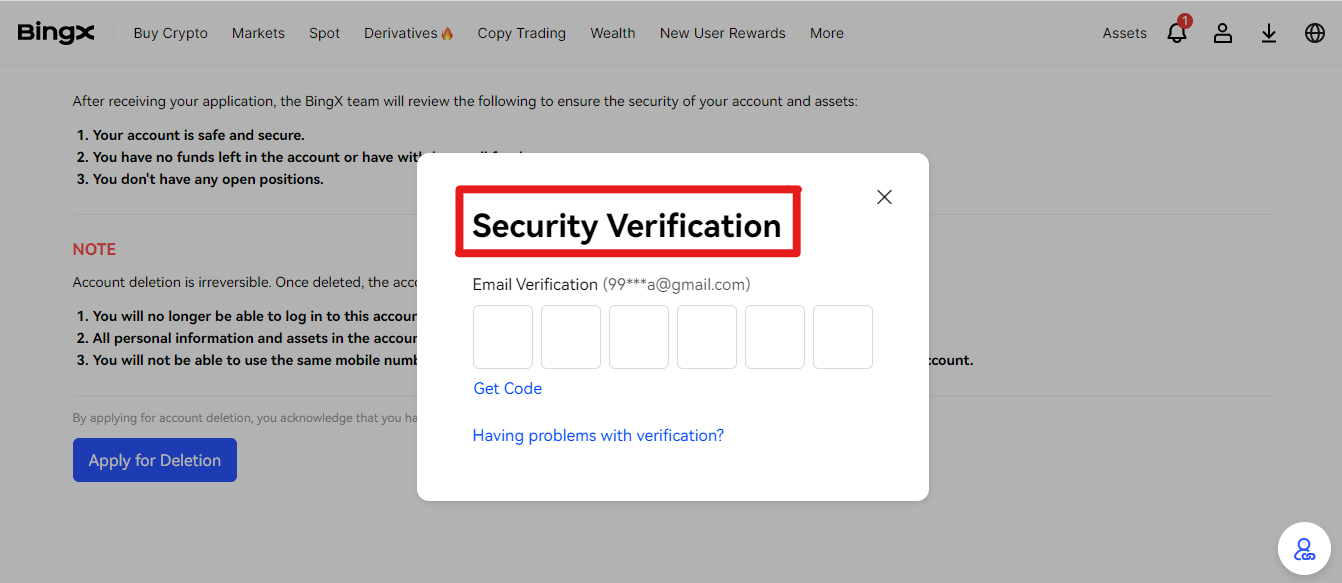 Step 9: Request Submitted
Once you've entered the verification code, your request for BingX account deletion will be submitted. After 24 hours it will be successfully fully deleted.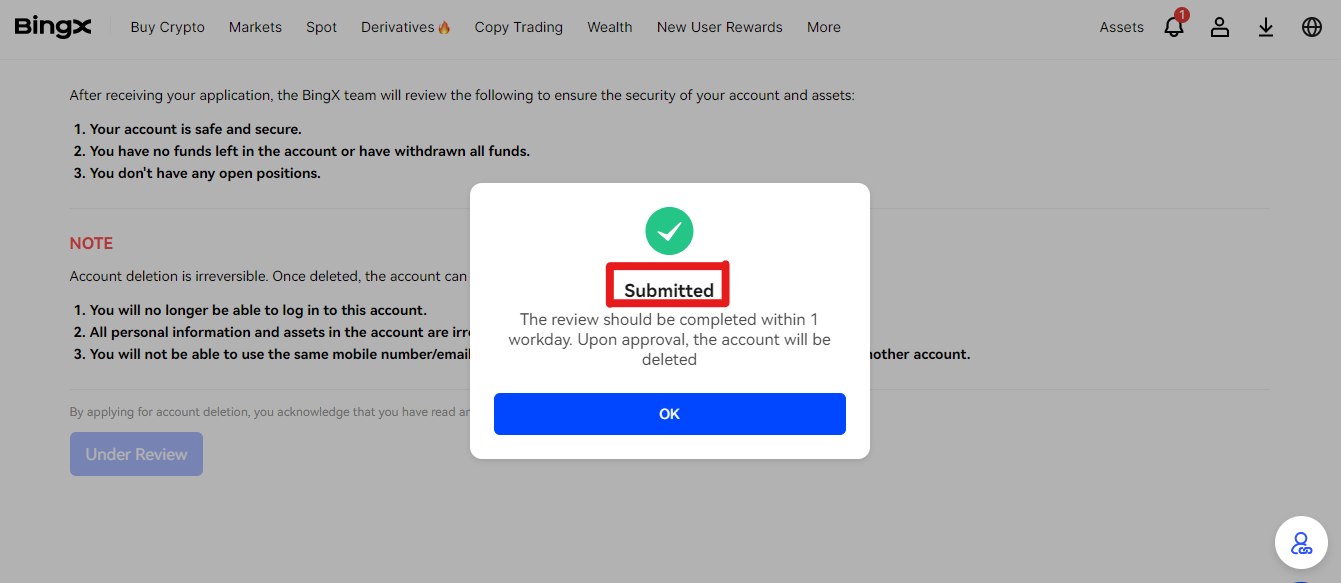 Best BingX Alternatives
For people pursuing an alternative to BingX, MEXC comes out as one of the prominent options. This exchange offers a revolutionary fee structure with 0% maker fees on both spot and futures markets.
With an extensive selection of 1,660 coins, it boasts the lowest futures fees in the market and the highest leverage of up to 200x, providing traders with unparalleled trading opportunities.
The platform also prioritizes user experience, featuring the fastest UI and an advanced Copy trading system. Users can also benefit from easy and cost-effective crypto deposits on the exchange via various methods, including credit cards, bank transfers, P2P, and MoonPay.
MEXC further incentivizes engagement with deposit and trading bonuses for trades reaching up to $20,000. Not to mention the seamless trading experience it provides through the MEXC mobile app and the web application.
If you want to learn more about the MEXC exchange, check out our comprehensive MEXC review.
Final Thoughts
Venturing on the journey of parting ways with your BingX account resembles an exciting crypto adventure. Following the provided steps ensures a secure closure, safeguarding assets and data.
Amid alternatives, MERC offers user-friendly simplicity, while Bybit provides advanced features for a tailored trading journey. Choose wisely based on your requirements.