MEXC Global is a cryptocurrency exchange and trading platform designed to facilitate the buying, selling, and trading of digital assets. The platform is user-friendly and provides traders with access to a wide range of digital assets including Bitcoin, Ethereum, Litecoin, Bitcoin Cash, Ripple, Tether, and more. It also features a state-of-the-art security system which ensures that all trades are safe and secure. Offering fast and secure transactions while offering the lowest fees in the market, it allows users to trade Bitcoin, Ethereum, and other digital assets with ease. This mexc exchange review, we go over features, give readers an insight into its user experience and most importantly answer the question: Is MEXC Global legit?
The only exchange with 0% maker fees on futures and spot markets!
Passive income with an advanced Copy trading network
Invest and trade crypto with low fees
Futures Maker/Taker Fees %
MEXC Global is an advanced crypto exchange offering users access to a wide range of digital assets with low fees and an intuitive user interface. Its state-of-the-art security system ensures that all trades are safe and secure while its additional features like leverage up to 200x, provide traders with even more opportunities for profit potential within the crypto market space. For crypto traders looking for a reliable exchange platform for buying, selling, or trading digital assets, MEXC is surely a good choice.
Trading on MEXC comes with various advantages that will keep any trader coming back:
24/7 Live customer support – Get help anytime you need from experienced customer service professionals who know their stuff about cryptocurrencies, allowing for efficient time management which is key in crypto markets;
High Leverage – Execute trades quickly through high leverage options available on MEXC ranging between 1-200x leverages depending on the type of asset traded;
Easily Scalable Interface – Responsive web UI specially designed for all desktop and mobile devices offers an intuitive experience while allowing access anywhere at your own pace, whether you're a novice or professional trader;
Comprehensive Security Protocols – With multi-level security protocols including advanced encryption algorithm data transfer process, keeps your details completely private while personal accounts are kept secured away from hackers via a 2FA authentication system;
Lowest Transaction Fees – The first and only derivatives exchange that offers 0% maker fees on the futures market.
Over 10 billion USD volume traded every day
Over 10 million users worldwide
Highly rated reviews across popular review sites
Fully compliant institutional-grade processing
Growing list of unrestricted countries use supported
Never hacked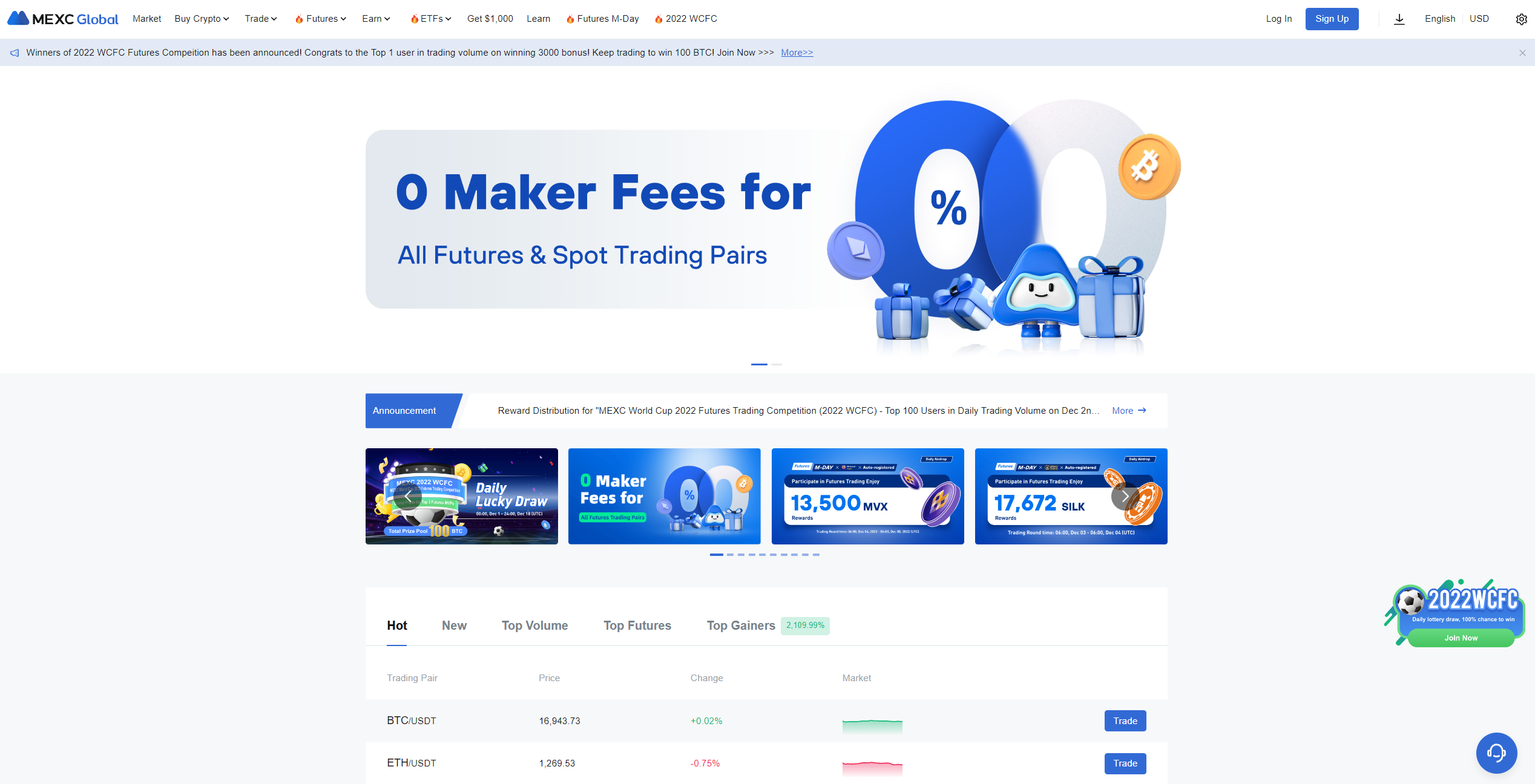 MEXC crypto exchange review
Let's start this mexc exchange review with some of the most important features. First of all it is important to make sure that any cryptocurrency exchange platform is secure and reliable. The user interface on MEXC Global exchange is designed with ease of use in mind which means it is easy to use while being very fast and responsive. The interface is uncluttered and easy to navigate so traders can quickly access all of the features they need without having to sift through unnecessary menus or tabs. Additionally, there are numerous tutorials available on the website which provide step-by-step instructions on how to use all of its features effectively.
Effectiveness is especially important when dealing with large sums of money, as one small mistake can have a major financial impact. MEXC is a top-tier exchange when it comes to liquidity and volume with over 10 billion USD traded each day. Fortunately, MEXC Global puts security as its top priority when it comes to its platform. They use advanced encryption technology to protect user data and account information from hackers. Additionally, MEXC Global also uses multi-signature authentication which requires two separate steps to access your account. This ensures that no unauthorized trades occur on your account.
One of the greatest features of MEXC is the futures market. With an incredibly good User Interface and fast response time, you can execute trades with ease. MEXCs perpetual futures market also has the lowest fees in the crypto market. With maker fees at 0%, the MEXC global exchange is the first major cryptocurrency trading platform to offer no-fee futures trading which is a very big deal. When trading with high leverage, the futures trading fees can really eat you up quickly without you even noticing it. On MEXC you can trade futures with up to 200x leverage on selected assets like BTC and ETH while benefiting from 0% maker trading fees and 0.02% taker trading fees.
As MEXC is a professional trading platform, it offers all required order types including market orders, limit orders, trailing stops, multiple take profits, and stop-loss orders with no expiration date or time limits. Also order types GTC (Good Till Cancel), IOC (Immediate Or Cancel), and FOK (Fill Or Kill). Finally, MEXC offers an isolated and cross-margin mode on the futures market which are great tools to utilize.
On top of that, you can hedge on MEXC which means you can go long and short at the same time. This can be very useful for professional traders. However, MEXC does not just offer a great perpetual futures market. Also, the spot market offers o% maker fee trading which means you can buy and sell cryptos without losing a single penny to fees.
Another great feature of the MEXC exchange is its market depth analysis tool. This tool allows traders to analyze the market in real-time and make informed decisions about their trades. The tool provides an overview of current market conditions and allows users to quickly identify potential buying opportunities or sell signals to maximize profits. Additionally, traders can use the tool to compare different currencies against each other to find the best deals available on the market.
Except of just having a great User Interface on their website, MEXC also has an amazing mobile application for iOS and Android. The app is easy to navigate and very fast and responsive which means you can easily buy cryptos where ever you are.
MEXC Global Security offers a comprehensive suite of security products that are designed to protect digital assets from malicious actors. These include enterprise-grade encryption, two-factor authentication, secure storage, and more. All of these features are designed to provide users with the highest level of protection for their digital assets. MEXC also has never been hacked.
In addition, the MEXC global exchange provides an excellent educational section that can educate you on all the different aspects related to cryptocurrency trading so that even if you are a newbie or expert in the Cryptocurrency market then it can help you learn more about cryptocurrencies in detail as well as understand the various terminologies used in this field. You will also find some interesting articles written by experts who share their knowledge and experience with us so that we can learn from them easily without having difficulty understanding anything specific about cryptocurrency trading or investing in cryptocurrencies!
The spot market is where you buy cryptos that you actually own. That means you can withdraw them, send them to other exchanges or store them in your personal wallet. This is great, especially for long-term investors and holders. MEXC has a wide range of different coins you can buy and invest in. With over 1500 trading pairs, MEXC is the second biggest exchange when it comes to offered coins and tokens. More trading pairs means more opportunities, however, that also means you have to be extra careful when investing in new projects as some projects might not be the greatest investments. Always do your research before investing in a new token. Also take note that some trading pairs are not liquid enough for proper trading. That means that you can move the price a lot with just very little volume.
Overall, you have all features you need for the spot market like an order book, trade history, limit, market, and stop-limit orders. You also have an option for margin trading on the spot market. With a 10x margin you can buy $10,000 worth of bitcoin while only having $1000 available, borrowing $9000. But please note that margin trading is a lot different from the futures market. When you buy cryptos on the spot market with margin, you usually have to pay interest on the borrowed amount and the trading fees are higher compared to the futures market. If you want to trade with leverage, we recommend you do that on the futures market as the fees are lower and the liquidity is higher. Also, you have more advanced features on the futures market compared to margin trading on the spot market.
Furthermore, MEXC offers a crypto ETF trading feature on their platform with leveraged tokens. When participating in ETF trading on MEXC, you will be charged a 0.001% management fee every 24 hours.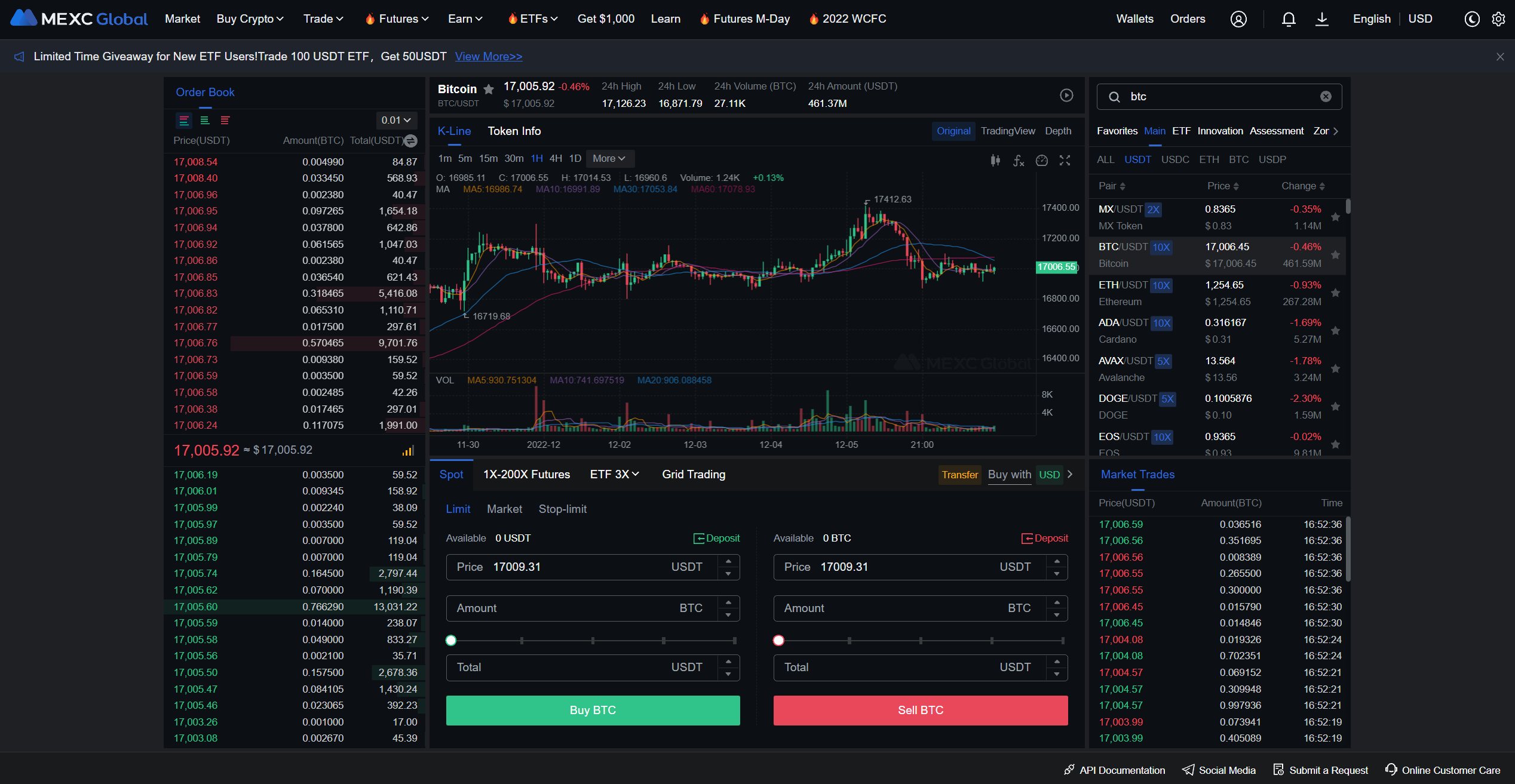 3. Futures Trading on MEXC (Derivates, Perpetual Futures, Leverage)
When trading the futures market, a responsive and user-friendly Interface (UI) is very important. MEXC has an incredibly high speed of order execution and can easily handle 1,500,000 (1.5 million) transactions per second, making it one of the fastest exchanges. The UI on MEXC is also overall very clean and easy to understand. There are also many guides that you can watch on youtube, explaining all the features of MEXCs futures dashboard.
Another great feature of MEXCs futures dashboard is the integrated chart by TradingView, the biggest charting software in the world. That means you can do your analysis inside of MEXC and mark key levels so you know exactly what is going on. You can add trendlines, fibonaccis, patterns, indicators, and more. MEXC even added the option to view charts in seconds instead of just 1 minute and higher. This is a great feature for high-frequency traders and scalp traders.
Being an advanced trader, everybody knows how important a futures market with high leverage is to accumulate gains and properly utilize what the market has to offer. MEXC is a professional exchange with all features of the perpetual derivatives market (futures) an advanced trader could ask for. Leverage trading enables traders to borrow funds from the exchange they are using to open new positions. The maximum leverage on MEXC is 200x on selected assets with high monthly trading volume and liquidity like Bitcoin (BTC) or Ethereum (ETH). However, using leverage can be a double-edged sword. You can quickly gain a lot of money but you can also quickly lose everything. We highly recommend you, to stick with lower leverage when you are a new trader. Higher leverage comes with higher risks when the price moves against your direction.
On the futures market of MEXC, you have the option to use USDT as collateral using the "USDT-M" mode (US Dollar Tether-Margin), but there is also a section for using coins as collateral under the "Coin-M" mode. That way you can use for example Bitcoins to open futures positions instead of having to hold USDT. It's also important to note that MEXC always ranks in the top 10 cryptocurrency exchanges by daily volume reaching even 10 billion USD in a bear market.
Especially when trading derivatives with high leverage, fees can quickly eat you up. That's why it's important to trade on an exchange with low fees. The fee structure on MEXC is very unique as they offer 0% fee trading on their futures market when using limit orders. In December 2022, MEXC introduced 0% maker fees which is a big reason to trade on MEXC. No other major exchange offers this feature and traders from all around the world make use of zero % fee trading on MEXC, which saves them a lot of money.
If you are looking for a reliable cryptocurrency futures trading platform with low fees, high volume, liquidity, and leverage, then MEXC is definitely a great option to go by.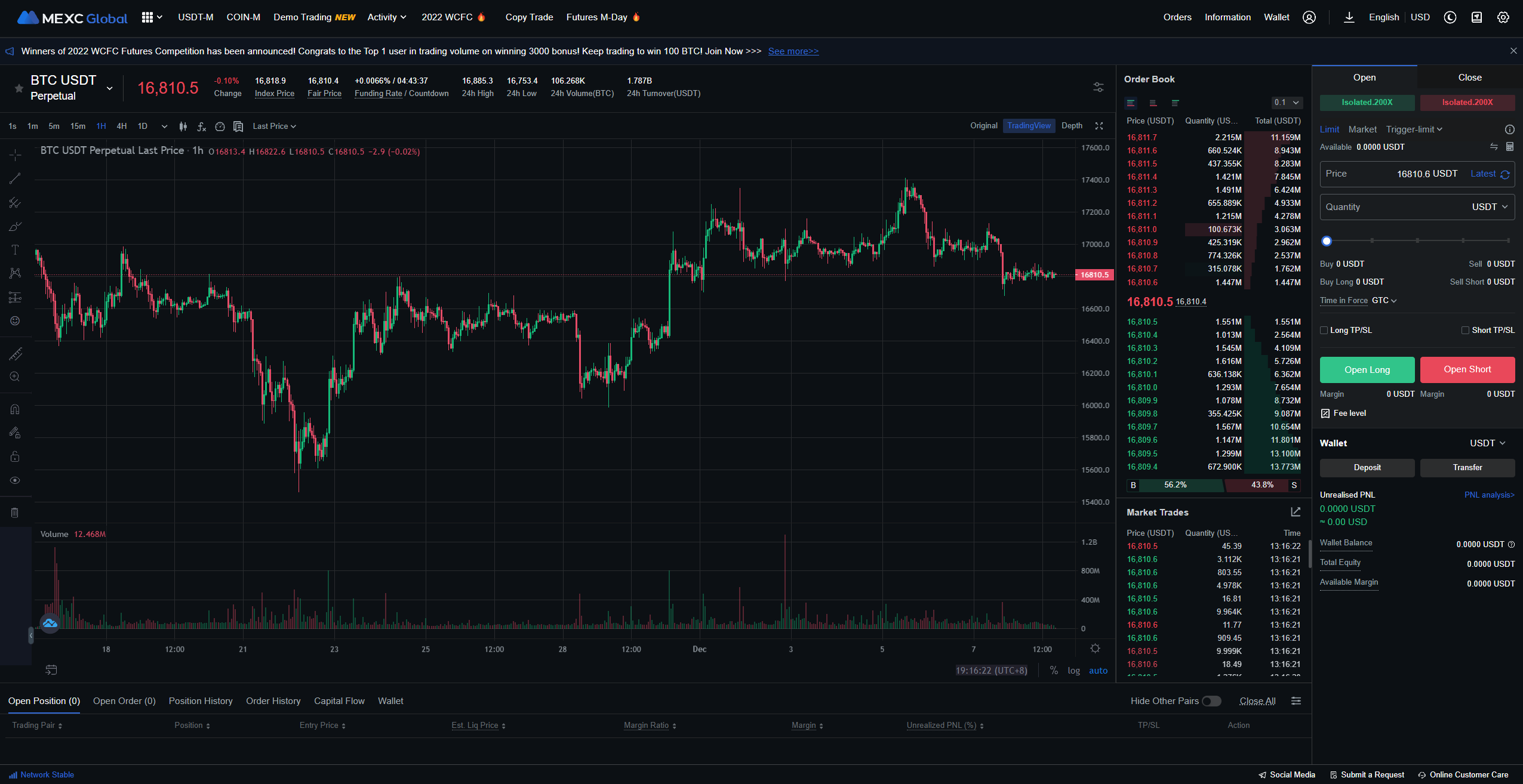 MEXC Global has a very competitive trading fee structure on both, the spot and the futures market.
On the spot market, the default fees are 0% maker and 0.1% taker fees. That means there is no spot trading fee for limit orders. That means you can buy cryptos on MEXCs spot market with limit orders without losing a single penny to fees. You can check MEXCs spot fees in the screenshot below.

On MEXCs futures market, the fees are also the lowest trading fees in the industry of major crypto exchanges. Starting at 0% maker and 0.02% taker fees, MEXC easily beats the competition as no other major exchange offers 0% fee trading on the futures market.
Depending on your trading monthly volume, you can reach a higher VIP and Pro rank which results in even lower taker fees. If you are an active trader, you can even lower your futures fees on MEXC to 0.014% taker while your maker fees will always remain at 0%. Below we attached the official futures fee spreadsheet of MEXC. Additionally you can reduce your trading fees up to 30% when signing up with a partner link such as this one: https://www.mexc.com/register?inviteCode=mexc-CryptoWR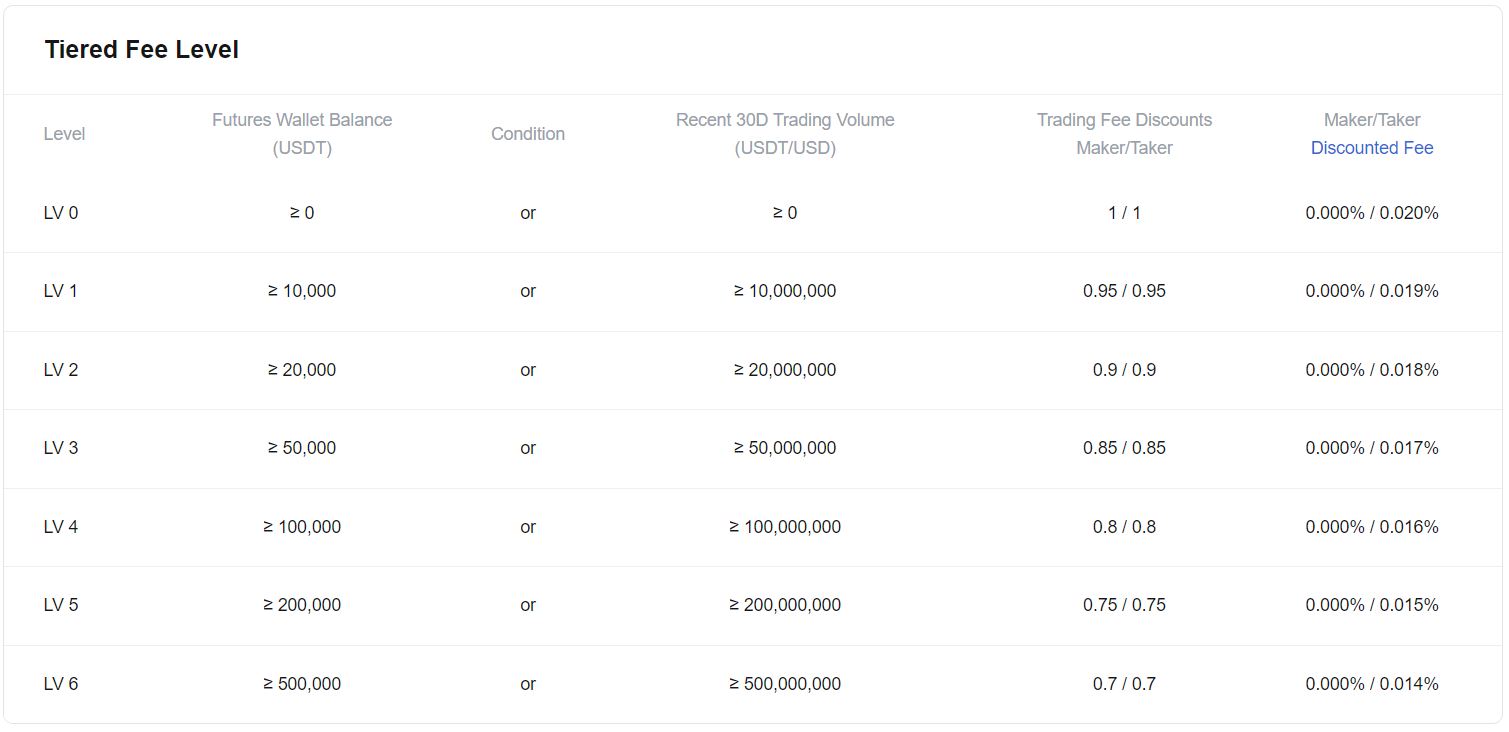 Just like on any other crypto exchange, there are withdrawal fees on MEXC. These vary depending on which cryptocurrency you want to withdraw and which network you choose. In order to pay low withdrawal fees, you can send USDT via the TRC20 on BEP 20 network, which both cost less than $1. Other crypto assets, such as Bitcoin and Ethereum, usually have higher withdrawal fees. It is best you compare the withdrawal fees yourself as it is different for each cryptocurrency and network.
5. Grid Bot Trading on MEXC
As an advanced crypto exchange, MEXCs Grid Bot trading is a fully automated trading system that allows users to take advantage of market volatility. This type of trading requires no manual intervention, and it can be used to strategically purchase and sell digital assets on the spot market. It is also an effective way to reduce your risk exposure and manage your portfolio for maximum gains. Let's take a look at what MEXC Grid Bot trading can do for you.
MEXC Grid Bot trading works by setting specific parameters in order to identify profitable entry points into the market. The bot will then automatically buy or sell digital assets when these conditions are met. This means that you don't have to manually monitor the markets, as the bot will execute trades on your behalf according to pre-defined rules. The bot also allows you to set up multiple grids with different parameters so that you can diversify your portfolio and reduce risk exposure while still maximizing profits.
There are several advantages to using a MEXC Grid Bot instead of manual trading. First, it eliminates the need for manual monitoring, which saves traders time and energy that can be better spent researching new strategies or relaxing after a busy day at work. Second, it provides more flexibility in terms of trade size since multiple grids can be created with different parameters for each one. Finally, it helps traders keep their emotions in check since all trades are executed automatically according to predetermined parameters instead of being based on feelings or hunches at the moment.
When it comes to security, MEXC Global takes the issue very seriously. The exchange uses advanced security measures to ensure that users' funds and data are kept safe.
The exchange has implemented a variety of security measures such as two-factor authentication, cold storage, and SSL encryption. These measures ensure that user data and funds are secure. The exchange also has a dedicated team of security experts who regularly monitor the system for any suspicious activity.
It is important to note that while MEXC does not require you to finalize your KYC, you still have the option to do so and also add other layers of security to your account including 2FA (2-factor authentication), email authentication, SMS authentication, and Anti-phishing code. For this, we also have a Step-By-Step guide at the bottom of the page on how to set up security settings.
On top of that, MEXC is an exchange that has never been hacked which is another reason that many cryptocurrency traders trust MEXC and see it as a secure cryptocurrency trading platform. Hacker attacks are not unusual in the crypto space. Many other major exchanges like Binance, Coinbase, or Bitfinex have been hacked before which resulted in customers losing their funds.
Special Events and Bonuses on MEXC
To attract and keep new customers, MEXC is regularly hosting events like trading competitions and offers bonuses for active traders. That reflects well in the number of active users and new users that are signing up to MEXC, surpassing 10 million in 2022.
1. Trading Competitions (World Cup Futures Competition)
During the 2022 football world cup, MEXC is hosting the WCFC (World Cup Futures Competition) with a prize pool of $2,000,000 for the top traders. With this event, MEXC is attracting amazing traders from all over the world. It is a lot of fun competing in tournaments and also a great way of showing off your skills and proving to everyone how good of a trader you are while having the chance to win real prizes.
Other hosting big competitions like the WCFC, MEXC regularly hosts smaller competitions everybody can be part of.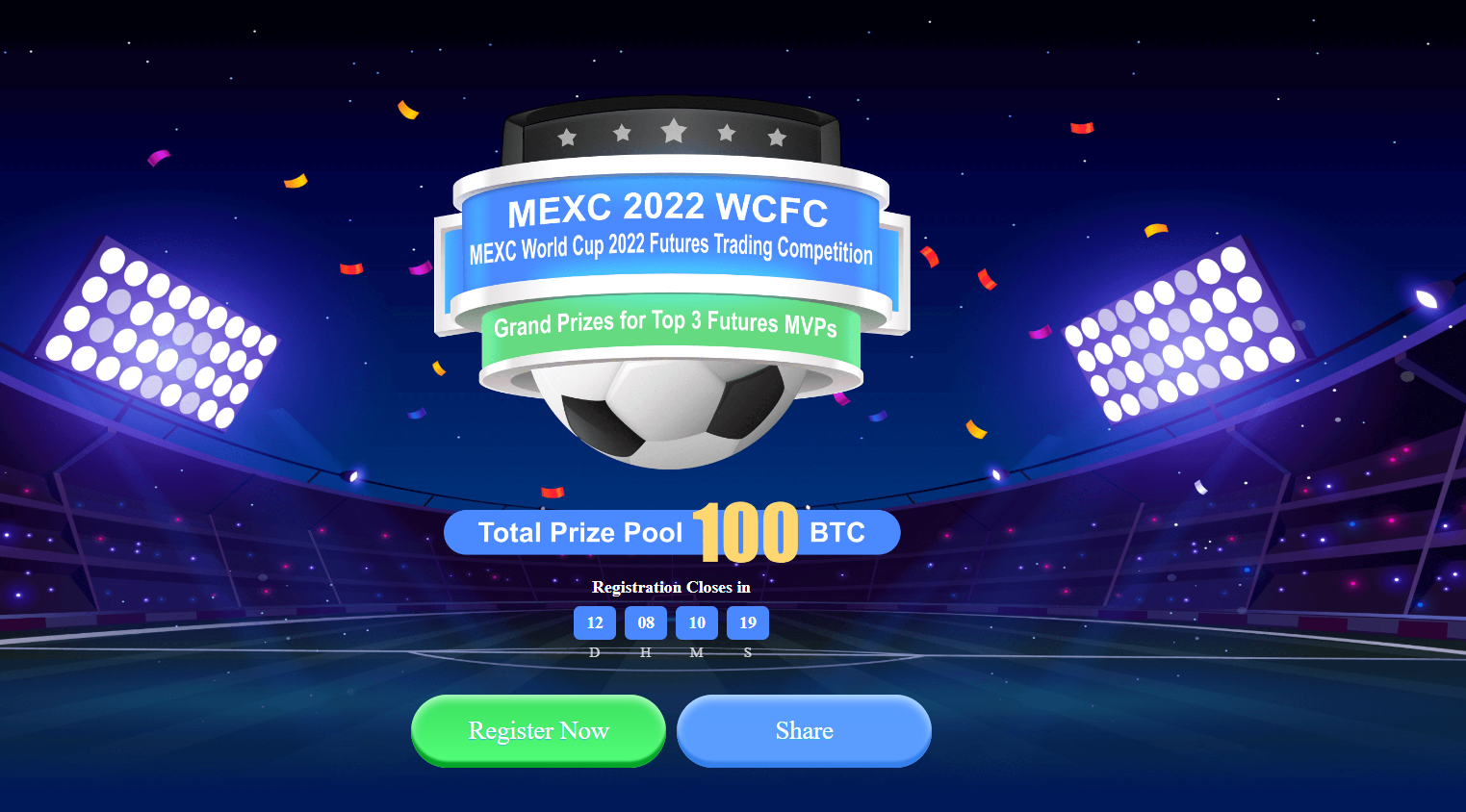 2. Trading and Deposit Bonuses
For new traders, MEXC has a bonus program. Based on your initial deposit and your trading volume you can get trading bonuses worth up to $9100. You can use this bonus in your future account, trade with it and all the profits are yours. This offer is for people that are serious about trading and to be eligible to receive bonuses, it requires a certain amount of $ deposited into your account and a certain amount of $ traded on the futures market.
However, you can not withdraw the bonuses. They are exclusively for trading in your futures account but of course, all the profits will be yours which you then can withdraw. Currently, the maximum bonus you can get on MEXC is worth $9100. You can check the requirements below.
Customer Support Experience
MEXC Global offers a comprehensive customer support service to help users resolve any issues they may have. The customer support team is available 24/7 to answer any questions or queries users may have. They can also be contacted via email, phone, or live chat.
The customer support team is knowledgeable and friendly, and they are always willing to help. The customer support team is also fast to respond to queries, which is great for those who need help quickly.
MEXC Exchange review – Conclusion
MEXC Global is a great crypto exchange for both experienced and beginner traders. The platform offers a range of features and tools to help traders make informed decisions. It also offers low trading fees, making it one of the most cost-effective exchanges in the market. The platform also offers a range of order types, as well as margin and futures trading options.
The platform also offers a range of security features, including two-factor authentication, cold storage, and secure data encryption. This Platform also offers a comprehensive customer support service to help users resolve any issues they may have. If you're looking for a reliable and secure platform to trade cryptocurrencies, then MEXC Global is a great option. Sign Up to the MEXC exchange here and take advantage of their great features and services.
If MEXC sounds like a good option to you, you can create your account by clicking here or by clicking the yellow button. We also have a Step-By-Step guide on how to get started and create your account on MEXC at the bottom of this page.
We hope that this MEXC exchange review helped you answering the question, if MEXC Global is a legit exchange or just another crypto scam! If you now feel comfortable giving MEXC a try, we have a full account set up guide below.
More than 1500 coins to trade
High liquidity and volume
Very user-friendly and responsive web UI and mobile app
Good customer support with 24/7 live chat
Trading competitions, bonuses, and fee discounts
Easy and cheap Crypto deposits with credit card, bank transfers, P2P, moonpay, and many more payment options
Deposit and trading bonuses up to $9100
No standalone desktop application (Only phone App and Website
Credit card payments only accepted in USD, EUR, and GBP
Relatively expensive card payments
Where is MEXC located?
MEXC was established in March 2018 and has its headquarters in Singapore.
Is MEXC safe?
Yes, MEXC Global takes security very seriously. The exchange uses advanced security measures such as two-factor authentication, cold storage, and SSL encryption to ensure that user data and funds are secure. MEXC also has never been hacked.
Does MEXC require KYC?
MEXC is known as a "Non-KYC" exchange. That means you do not have to perform KYC but you can still trade. Just note that some countries are restricted so you might have to use a VPN to access MEXC. However, we do not recommend to use VPNs in order to access certain platforms. It is better to find one that is not restricted in your location.
Does MEXC allow customers from the US?
Yes, MEXC does allow US customers on their site and we found MEXC to be one of the best crypto exchanges for US citizens without any restrictions.
Does MEXC allow customers from the UK?
Yes, MEXC does allow UK customers on their site and we found MEXC to be one of the best crypto exchanges for UK citizens without any restrictions.
What are the Fees on MEXC?
MEXC Spot fees start at 0% maker and 0.1% taker. Based on your trading volume and VIP level you can lower your fees to 0% completely.
On MEXCs futures market the fees are very competitive. With 0% maker and 0.06% taker fees, MEXC has the lowest futures fees in the market.
If I don't have cryptocurrencies yet, can I buy it from MEXC directly?
Yes. MEXCoffers you a "One-Click Buy" option to buy cryptocurrencies with FIAT. Supported payment gateways are Credit Cards, Google Pay, Bank Transfer, SEPA, Wise, Revolut, iDeal and more. MEXC also supports most FIAT currencies including, but not limited to, USD, EUR, GBP, AED, CHF, RUB, and more.
Alternatively, you can onramp FIAT via deposits and then buy the cryptos you desire on the spot market. Supported currencies for this are USD, EUR, GBP, RUB, ARS, BRL and TRY. The payment methods vary depending on your currency so we recommend you see what works for you here.
Does MEXC Global have a mobile app?
Yes, MEXC Global has a mobile app that allows traders to trade on the go. The app has a clean design and is easy to navigate while also being very fast and responsive.
Registration on MEXC Step-By-Step
1. Create your MEXC account with Email/Phone number
Registering on MEXC and creating an account on their trading platform is very easy and takes less than a minute. You can create your account here. To register on MEXC you can use either an Email or your mobile phone number. Simply add your mobile phone number or Email and choose a secure password. It is highly recommended to use a new password you didn't use anywhere else. After you put in your details, tick the box for the User Agreement and Privacy policy and then click on Sign Up.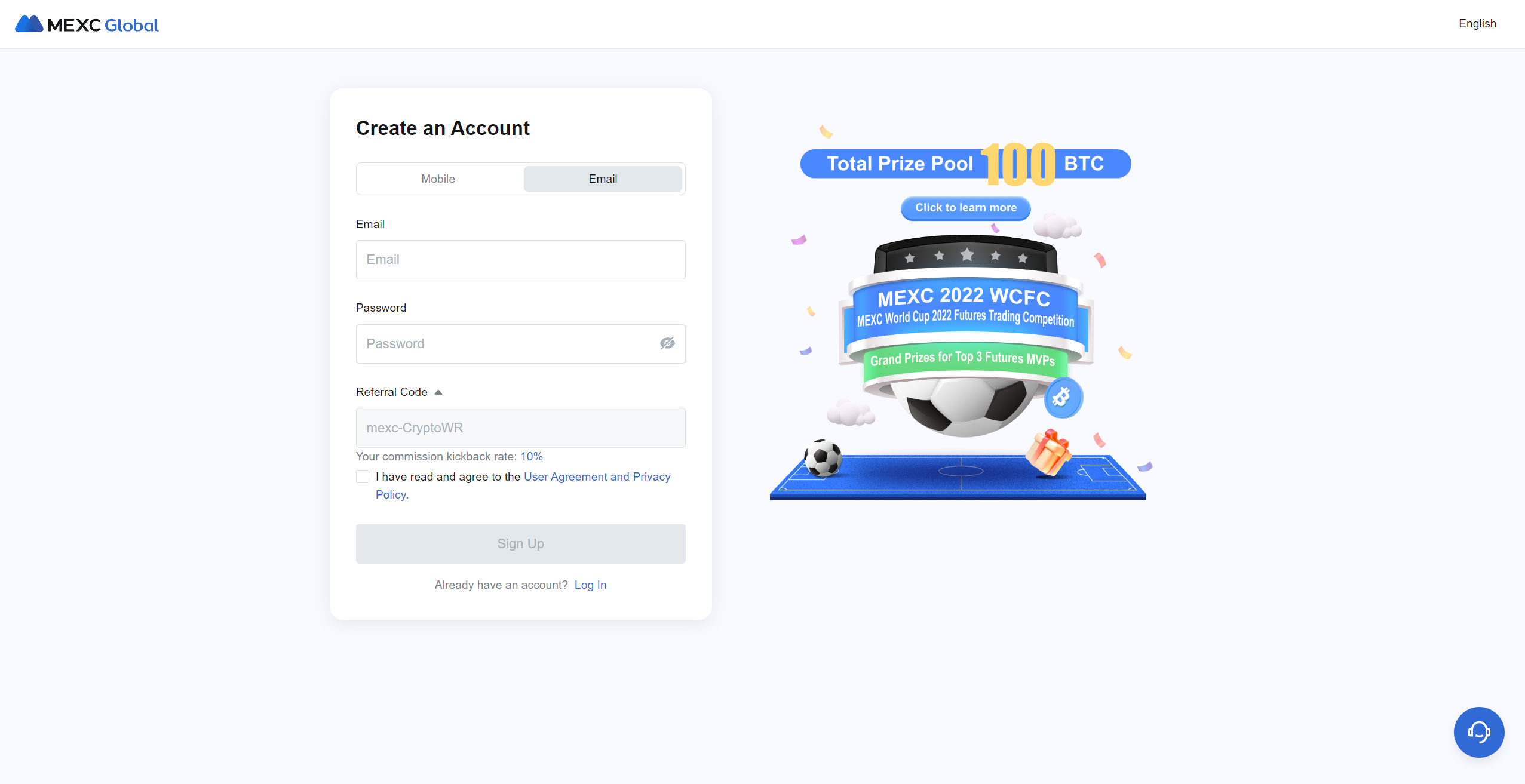 2. Verify your Email/Phone number
Registering on MEXC and creating an account on their trading platform is very easy and takes less than a minute. You can create your account here. To register on MEXC you can use either an Email or your mobile phone number. Simply add your mobile phone number or Email and choose a secure password. It is highly recommended to use a new password you didn't use anywhere else. After you put in your details, tick the box for the User Agreement and Privacy policy and then click on Sign Up.
3. Set up security layers on your MEXC account
Click on your profile in the top right corner or go to https://www.mexc.com/user when you are logged into your MEXC account.
Right after creating your account, the Account Risk Level will be marked as High. To change that, we need to go click on "Security Recommendations". In the next step, you should add Mobile or email verification (depending on what you used for creating your account), MEXC/Google Authenticator, and an Anti Phishing code. Google authenticator, and Mobile and Email verification will all be required for making withdrawals and they protect you from hacks. The anti-phishing code will be displayed in emails that MEXC sends to you. That way you know that the email is legit and not a phishing email trying to gain your data. I personally never click links from emails. When I get a notification in my emails, I just manually type mexc.com in my internet browser. That way I always know I am on the legitimate MEXC website.
First of all, it is important to note that you do not have to do the KYC identification (Know Your Customer). MEXC is known as a non-KYC exchange which means you can use it without identification if you want to. Many people in the crypto space want anonymity which is a reason to use a non-KYC exchange.
However, adding KYC is another layer of security and also lifts your withdrawal limits on MEXC. By default, non-KYC users on MEXC have a daily withdrawal limit of 20 BTC. That means you can withdraw around $400,000 on a daily basis. If you want to increase this daily limit, you need to finalize your KYC and you will get a 200 BTC withdrawal limit which is equal to $4,000,000.
5. Deposit Cryptos to MEXC
Please note that you do not have to do step 4 if you already have cryptos somewhere else and you don't want to do KYC. On MEXC you have two options for depositing cryptos. You can either send them from an external wallet or a different exchange where you already have your cryptos stored.
The second option is to buy Cryptos from MEXC directly via credit card or bank transfer. However, for the second you must do your KYC. Let's start with the first option which does not require KYC. Go to your wallet overview, or type https://www.mexc.com/assets into your browser. Click on the crypto you want to deposit and click on "Deposit".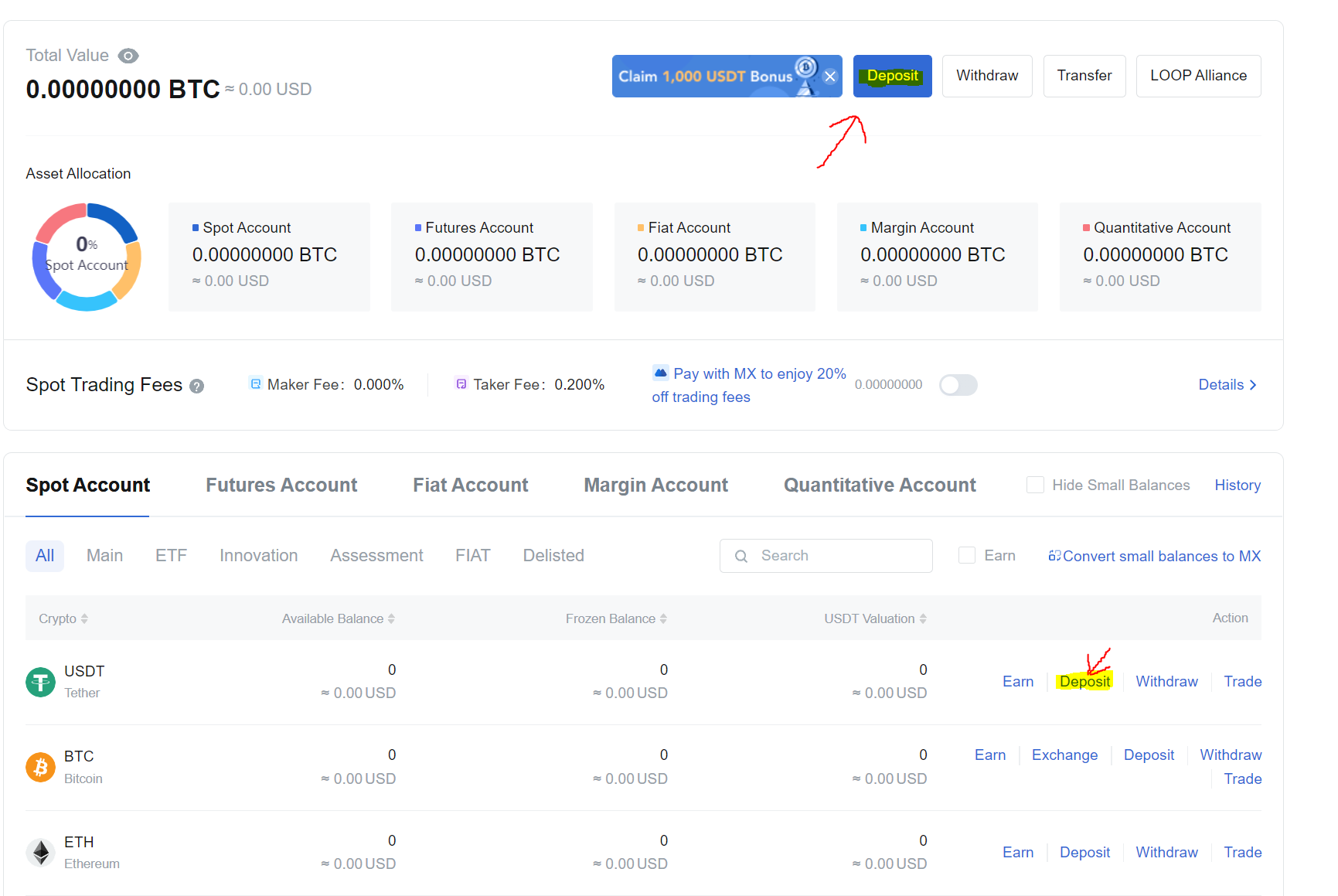 Next, we will select which cryptocurrency we want to use. I usually use USDT via the TRC20 network. You must select the right coin and the right network. Using a wrong network can result in a total loss of your funds. USDT with TRC20 is very fast and cheap with fees of $1 or less and every exchange supports USDT with TRC20. No matter which coin you use, always make sure to select the right network. After you made sure you selected the right token and the right network, click on "Generate Address".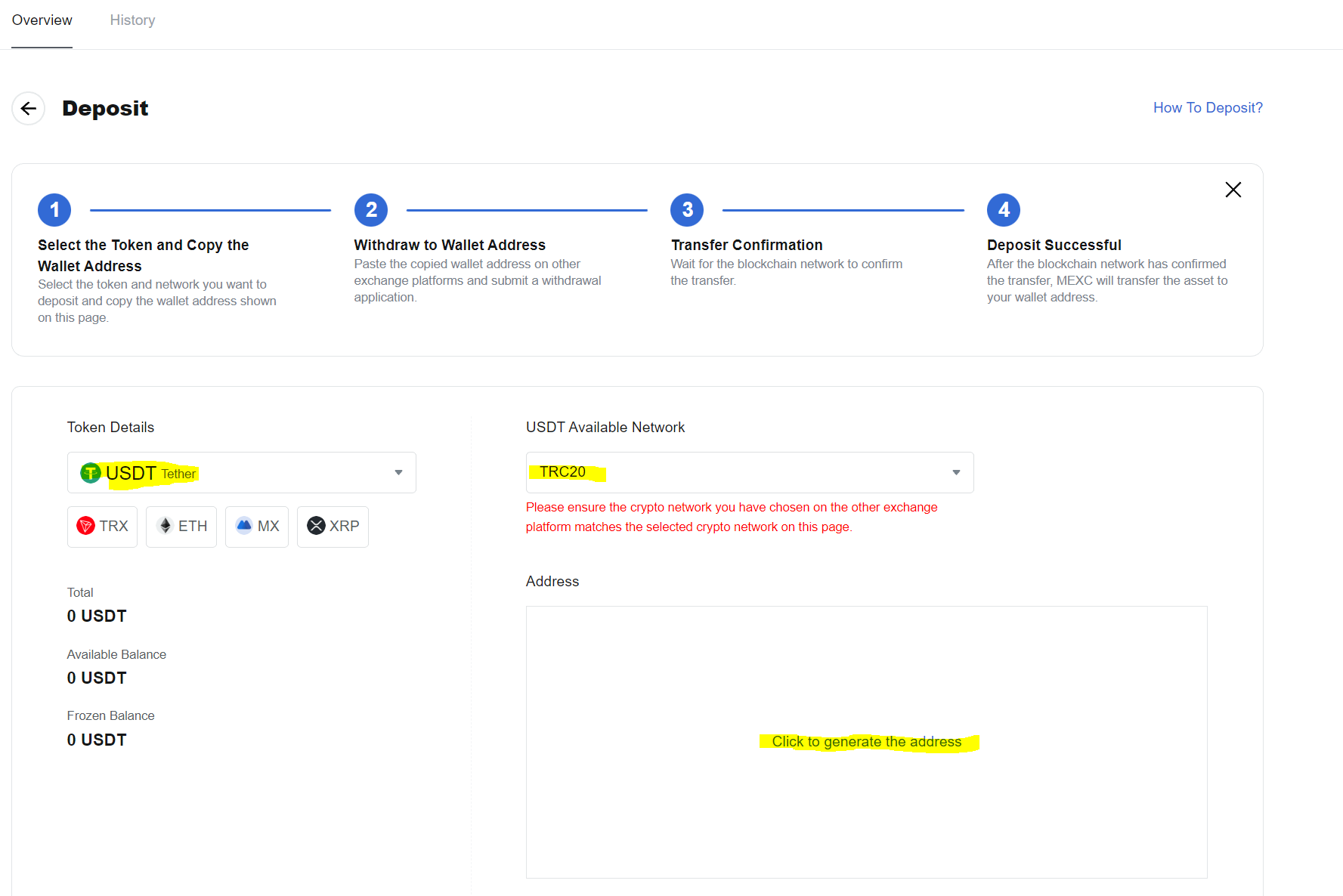 Great. Now we have generated our USDT TRC20 address. This is the address to which you have to send your USDT. Make sure to provide the correct address when sending your funds. Even when you copy/paste the address, we recommend you to double check if all details are correct.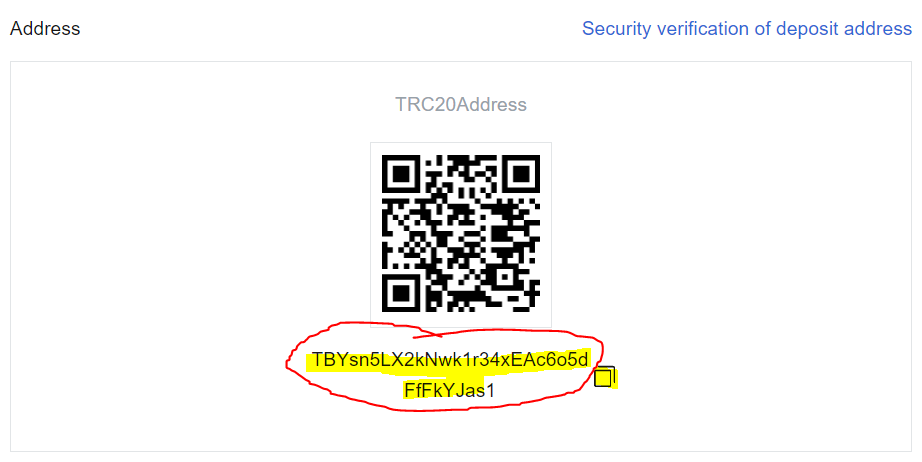 The second option to buy cryptos on MEXC is to buy them directly from MEXC. To do so, navigate to the top right corner and click on "BuyCrypto". There you can choose between Credit/Debit card, Bank transfer (SEPA/SWIFT), Quick Buy/Sell, and P2P. For cards, MEXC accepts EUR, GBP, and USD. For card or bank payments, you must finalize your KYC.
Other options without KYC are third-party payment providers like simplex, moonpay, or mercuryo which are integrated into MEXC directly. Here you can use over 40 different currencies to pay for your cryptos.