Copy trading is becoming more and more popular. Many traders try to make passive income by capitalizing on the skills of other traders that are better than themselves.
In 2023, copy trading is a well-established feature on all major crypto exchanges. Copy trading enables you to automatically follow other traders in the market without having to do technical analysis. You simply choose which trader you copy.
However, even copy trading has some risks with it. If the trader you follow loses money, you also lose money. If the trader you follow loses everything, you can also lose everything.
This guide will dive into MEXC's copy trading feature. You will learn step by step how to set everything up and how to choose the right traders that won't lose your money.
MEXC Global: A Comprehensive Trading Platform
First, let's cover why MEXC is such a great option for crypto trading.
Since its release, the Singapore-based cryptocurrency trading platform MEXC Global is one of the most secure exchanges, has never been hacked, and even provides full proof of reserves.
With low fees, high liquidity, and high trading volume, MEXC attracts users from all around the world, serving 170 countries and over 10 million users. MEXC is also available to users from the USA with their MSB license.
The trading interface on MEXC is very user-friendly and responsive to ensure smooth trading sessions.
Furthermore, with a 24/7 customer support service, MEXC offers you a great user experience.
Lastly, MEXC is a non-KYC exchange, which means you can stay anonymous, which is one of the core values of cryptocurrencies.
If you want to sign up for MEXC, you can do that here. We also have a full review of MEXC Global which you can read here.
Pros and Cons of Copy Trading on MEXC

Pros:
Fully automated
Passive income
Let better traders handle the job
Fully flexible
Lowest trading fees
Cons:
You are not in control
Copy traders can lose your money
You are not learning
Understanding Copy Trading on MEXC Global
Copy trading on MEXC is very straightforward. You can analyze available copy traders based on their past performance and then select who you want to follow. Copy traders have a cap of 1000 maximum followers, so as long as they have less than 1000 followers, you can follow the trader. Lastly, there is a profit share of up to 15%. That means when the trader you follow makes you a profit, he takes a maximum 15% cut of that.
When choosing a trader to follow, there are a few key factors you should look into. What is their total performance, and what is their recent performance? If you see someone with huge gains in the last couple of days or weeks, but his total performance is not good, it is a clear sign to stay away.
Every trader can have a lucky phase and hit a few home runs in a row. But more often than not, the end result is a total loss in funds (liquidation).
You want to find a consistent trader that has a good total ROI and a low 7-Day ROI. The key is consistency.
Remember that trading is a marathon, not a sprint. So make sure you find a trader that has a slow but steady account growth with only small drawdowns. Don't get fooled by high win rates or high ROIs in the last few days or weeks.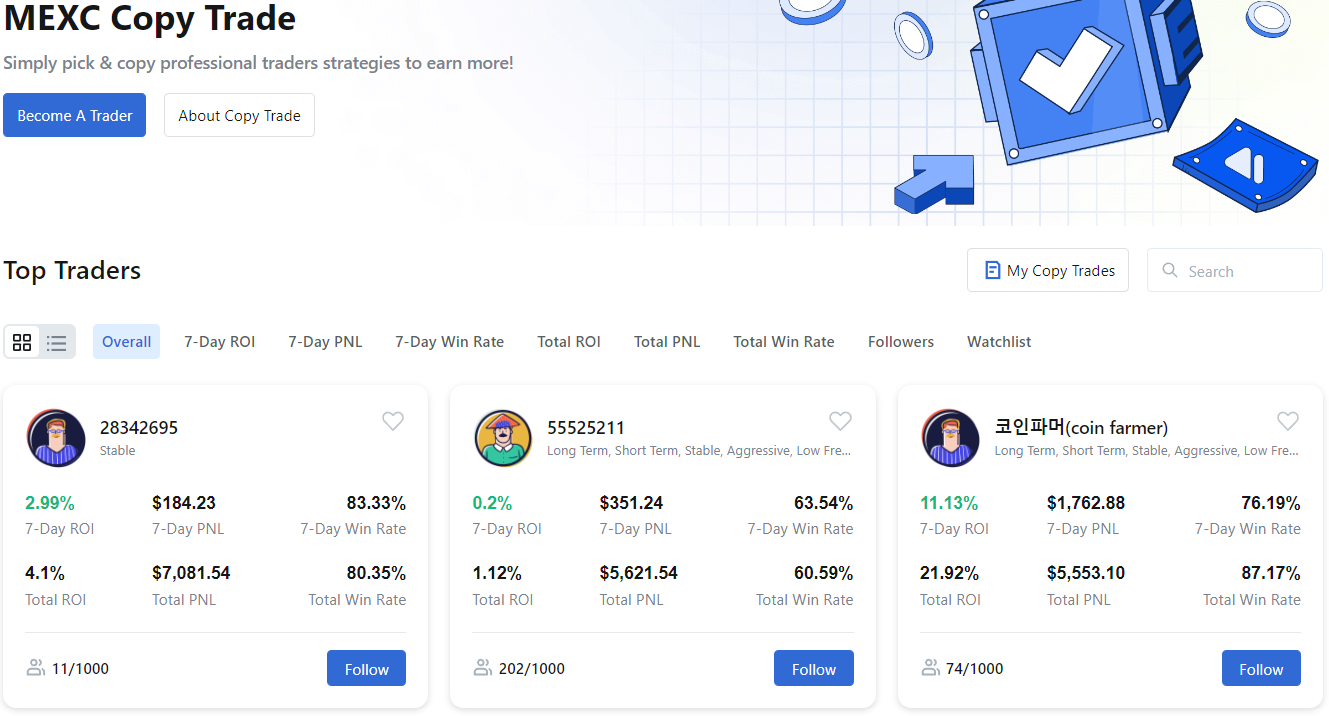 Set up Copy Trading on MEXC
Step 1: Create your MEXC account.
Step 2: Then you have to fund your spot wallet. Those will be available to use in the copy trading section. We also have a full guide on how to deposit cryptos to MEXC.
Step 3: Go to the "Futures" tab in the top left corner and select "Copy Trade"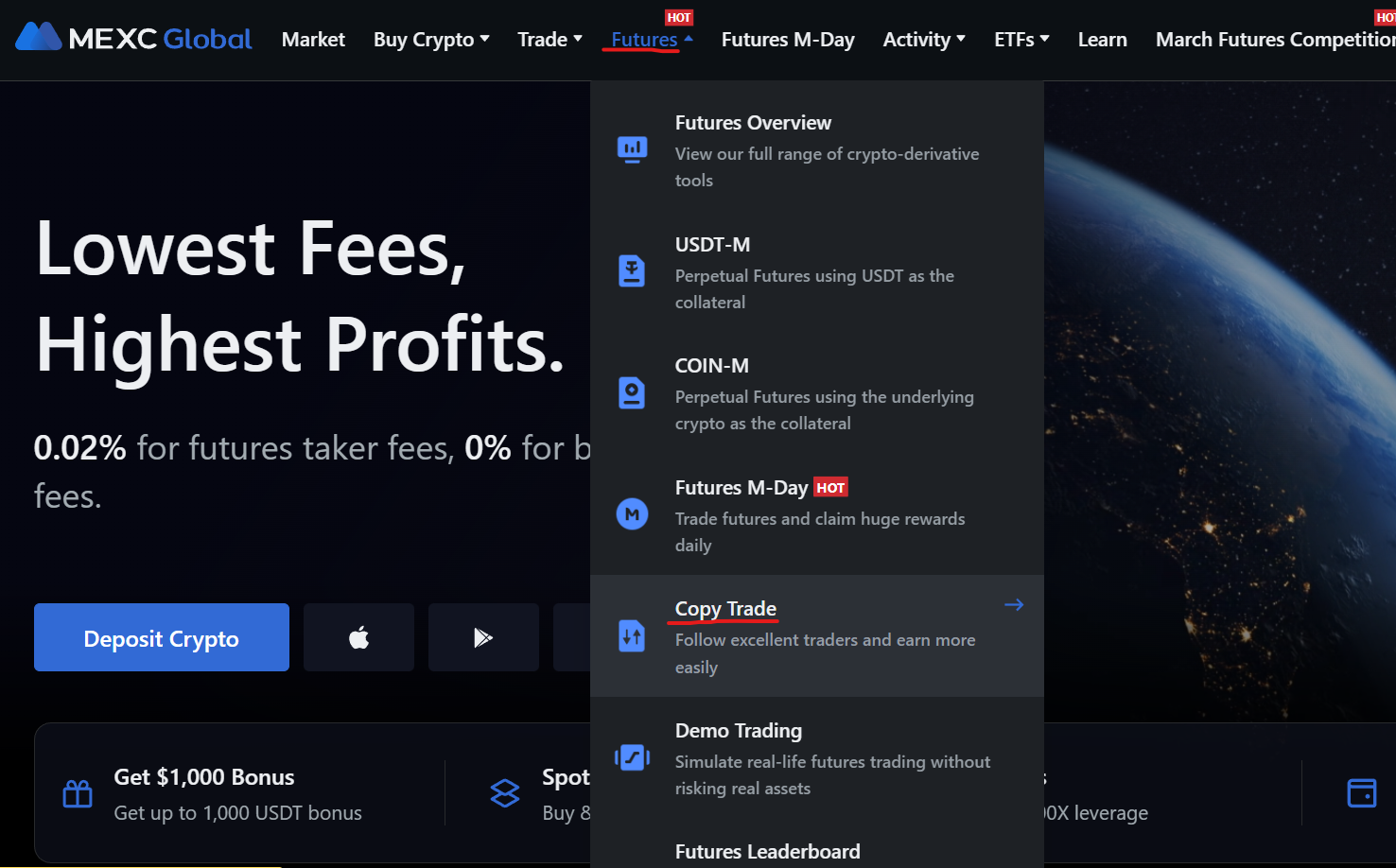 Step 4: Now we have a quick overview of all available copy traders that we can follow.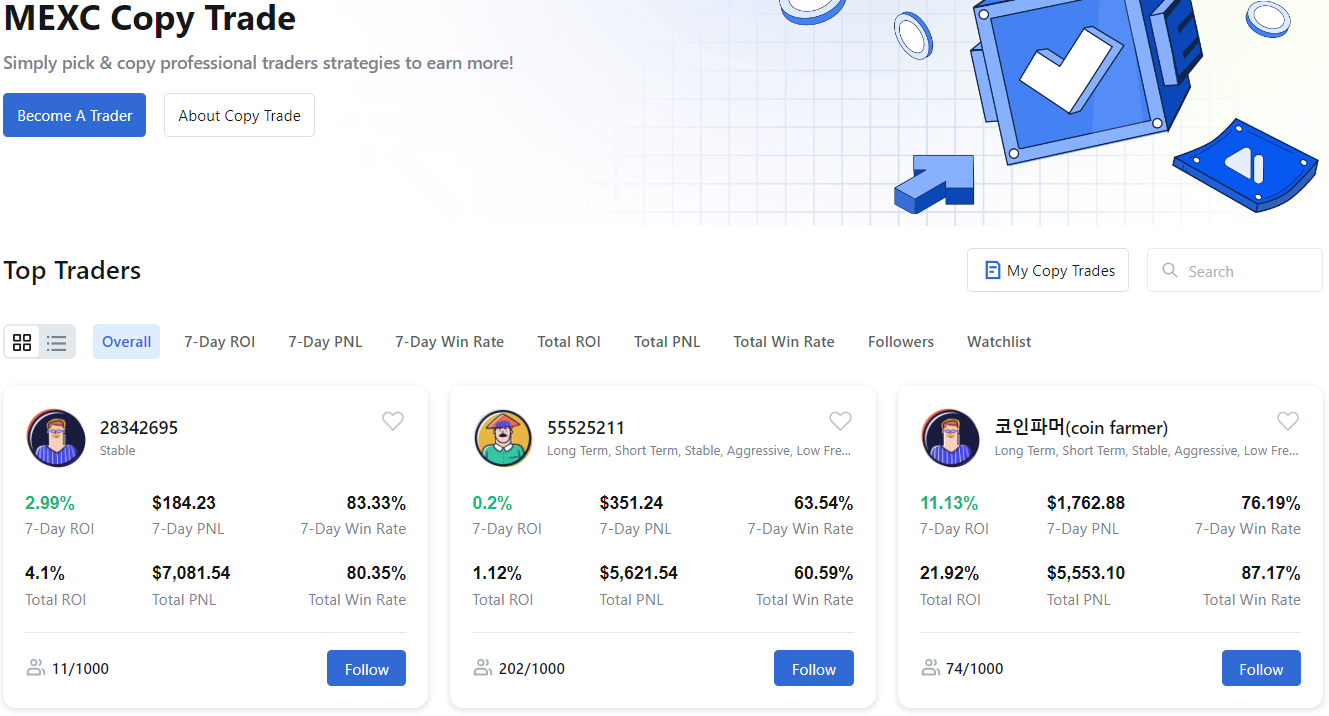 Step 5: The next step is the hardest part. We now must compare and analyze the available copy traders based on their past performance and choose the best option. We have different options for sorting.
We can sort by ROI, PNL, Followers, and Win Rate as well as 7-Days and Overall. We recommend staying away from the 7- Days option as it only gives you the most recent data.
As mentioned above, every trader can have a lucky phase. We are looking for consistent traders with a proven track record over a long period of time and minimum drawdown.
From what we have seen, one of the best indications for a good copy trader is a high follower count. If many people copy a trader, that means they are happy with the results, and they stick to the trader. But of course, you should still manually check the past performance.
Step 6: To analyze a copy trader's performance, click on their profile and go over their statistics. There you also have the option to view the trade history under "Lead Trade Stats."
The example below is an example of a bad choice. While he has 200 followers, you can see that his PNL ratio is only 1.2:1 in 600 trades. That means if you invested $100 into him, you would have $120 after 600 trades. You can also see that he has some big drawdowns in the "Total PNL" graph.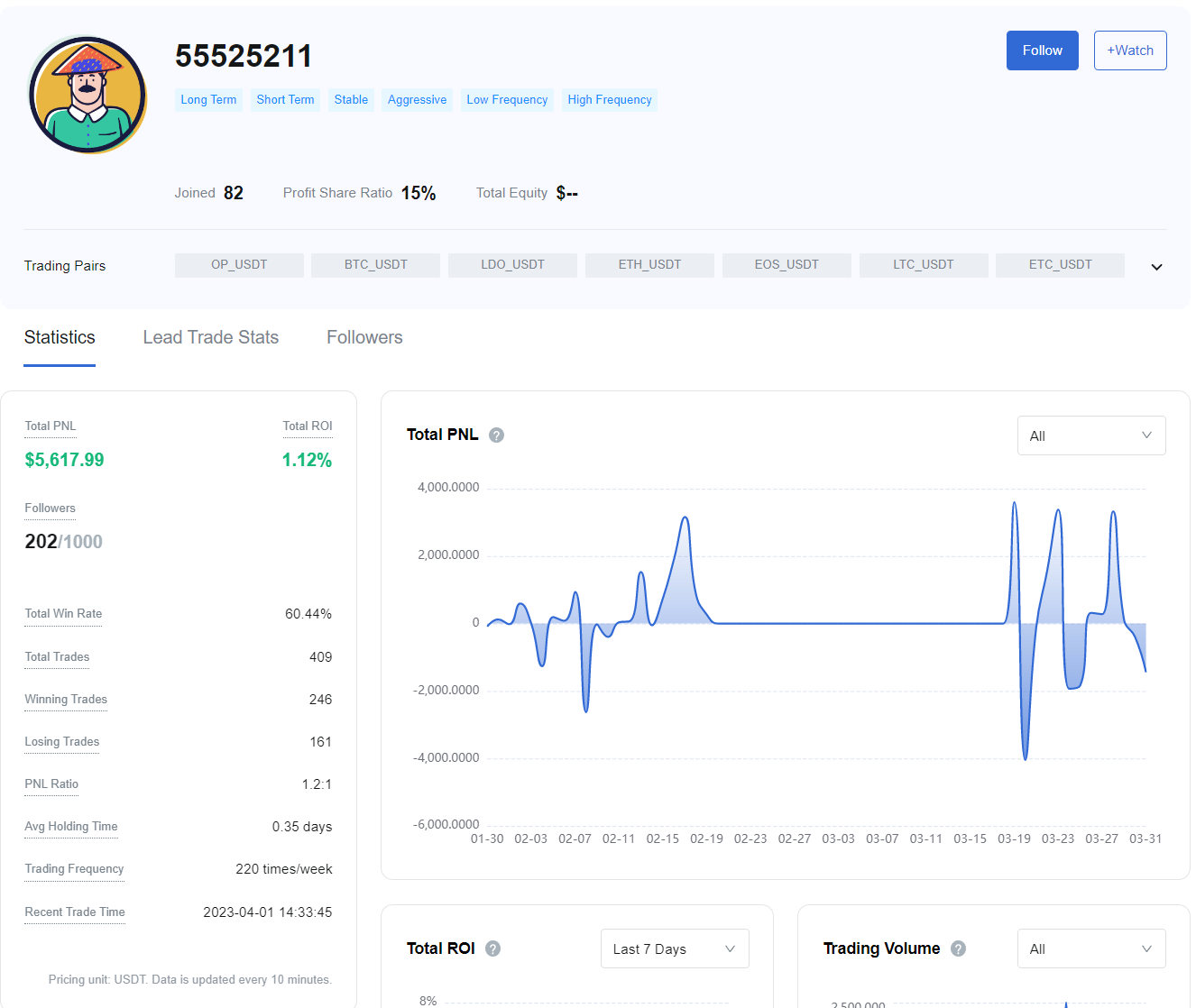 In the next example, we have a decent-looking trader with very consistent gains and hardly any drawdown. We can see that he has a high win rate of 87.21%, and his PNL ratio is 5.7:1. That means if you invested $100 in his copy trading from the start, you would have $570 by now. He also seems to be an active trader, however, he just started two weeks ago as of writing this article. I still will give him a shot and only invest a small sum of $50.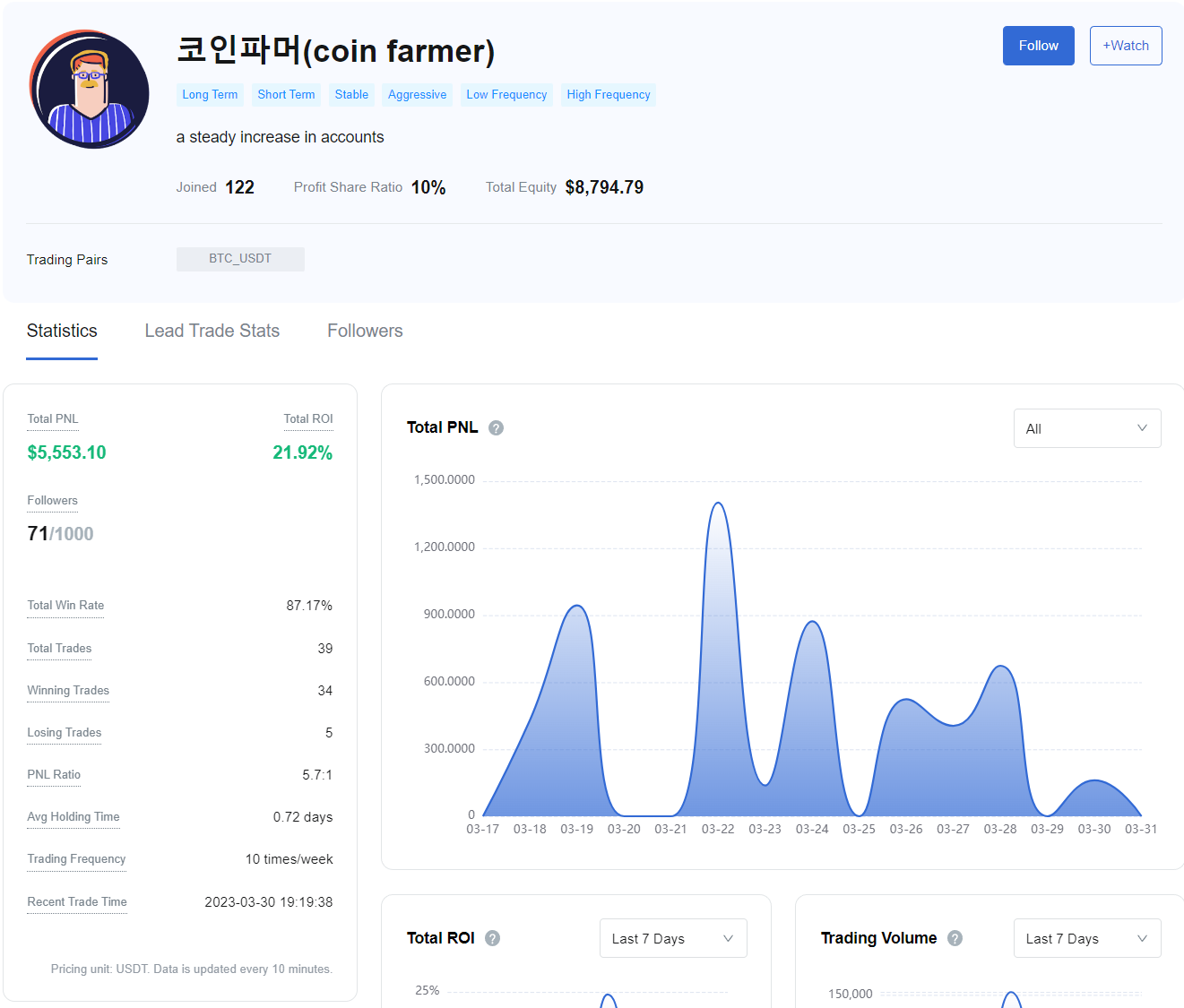 Step 7: Now that you have chosen a trader that you want to copy, it is time to start following him. Click on the "Follow" button in the top right corner to set everything up. First, I will select the amount I want to use. In this case, I use $49.61 to follow the trader. MEXC will use the funds from your spot account in USDT, so make sure you have USDT in your spot wallet.
Step 8: Make sure the "Auto Margin Addition" is unticked. We do not want to use it as it can lead to unnecessary losses. Next, we will select the "Copy Trade Mode". We will switch it from "Fixed Amount" to "Multiplier".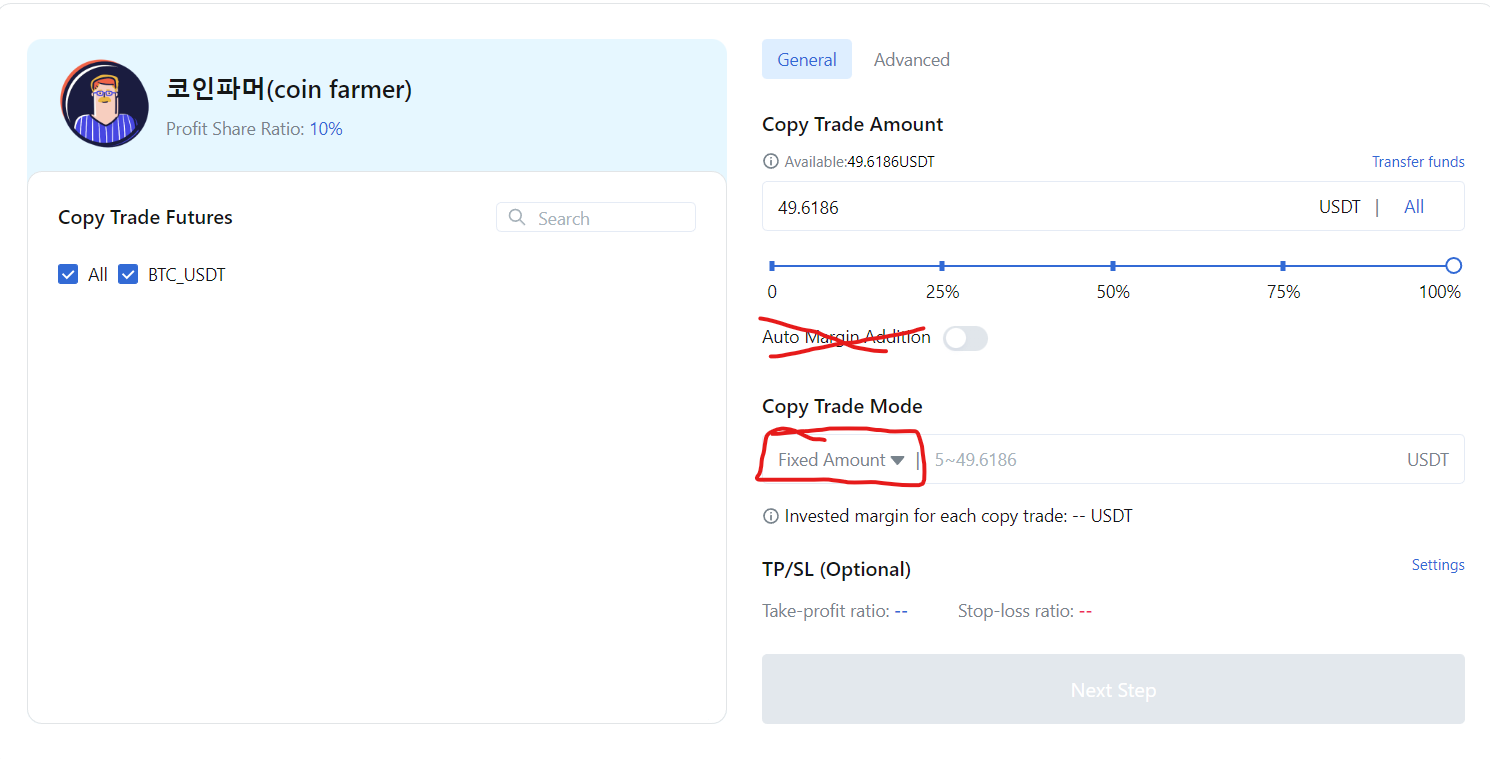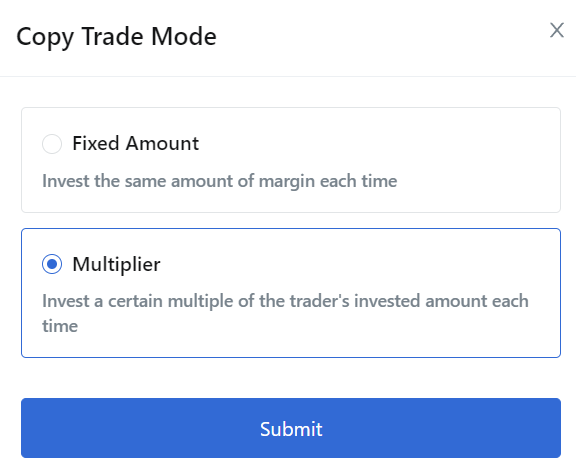 Step 9: Then we set the multiplier to 1. That means if the copy trader has an account balance of $100 and he opens a trade with $10, your account will open a position worth 10% of your account. This ensures accurate copying of the trader that you follow.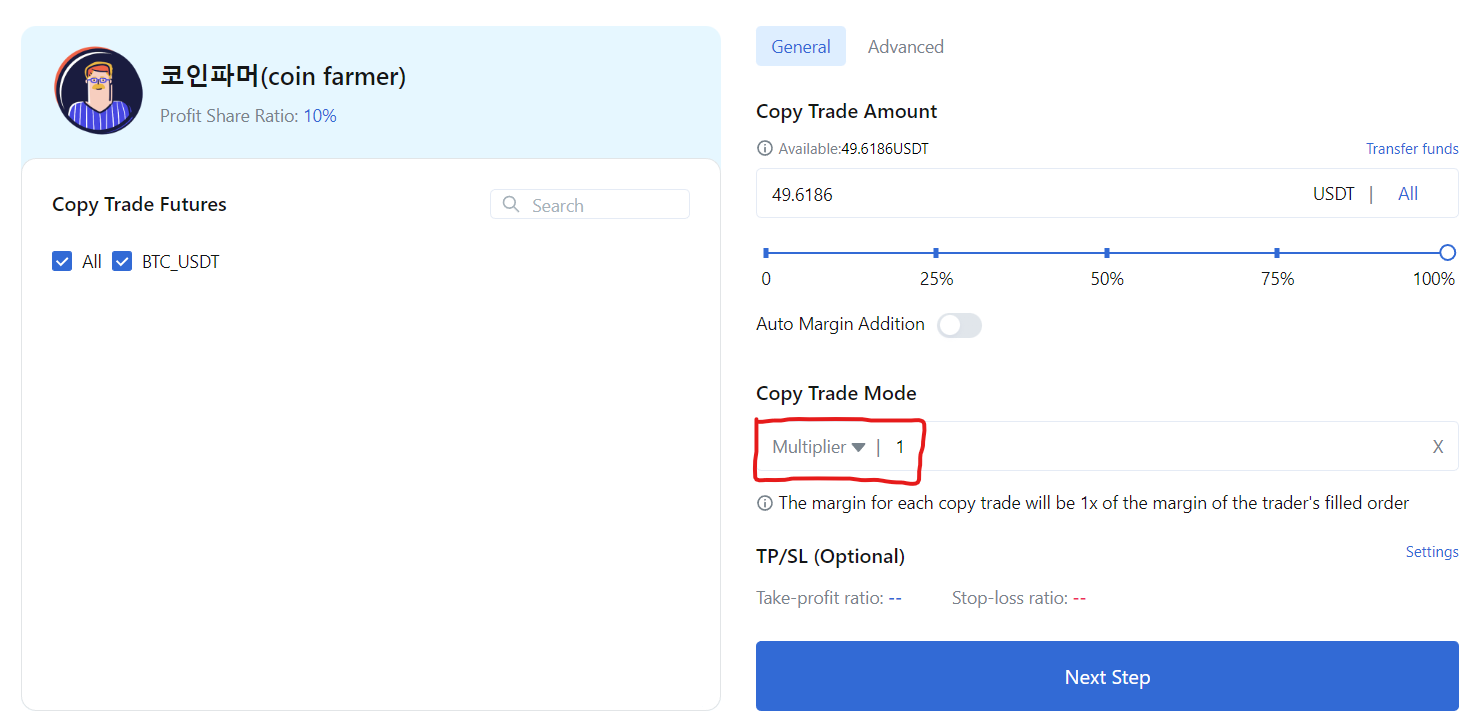 Step 10: We leave the TP/SL option empty as we want to fully follow the copy traders' exact plan.
Step 11: In the last step, we confirm all the data and submit everything.
The margin mode should be "Isolated Margin Mode"
"Auto Margin Addition" should be turned off
For the Copy Trader Mode we have "Multiplier: Invest 1x of the traders invested amount each time"
Leverage is set to "Follow trader"
TP/SL is empty, as we will also follow the trader here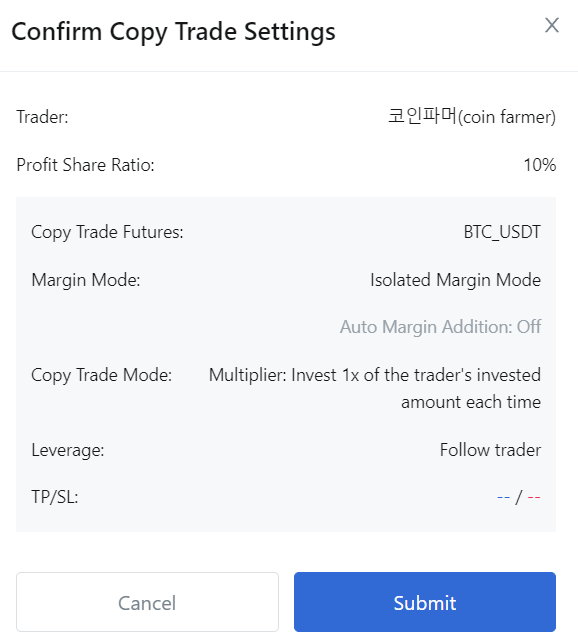 That's it; now you have successfully set up copy trading on MEXC Global!
But of course, there are still risks involved, and you should never invest more than you can afford to lose and definitely consider starting small. Trading is very risky, and over 90% of people lose money. Below we compiled a list of some very important things when it comes to copy trading.
MEXC Copy Trading Checklist
We have prepared a checklist to go over before following a trader.
How many followers does the trader have? A higher follower count can be a good indicator that many people are happy with the results of the copy trader.
What is the overall ROI compared to the 7-Day ROI? You should look for consistent gains. While some traders might have a very high 7-Day ROI, they might still be at a loss overall. Don't get fooled by the results of the last 7 days. Make sure to go over the full statistics of the trader you analyze.
What is the copy traders' PNL ratio? In the profile of each copy trader, you can see the Total PNL ratio. A ratio of 2:1 means for $100 invested, you now would have $200. Don't get fooled by high win rates. What really counts is the PNL ratio. The higher, the better.
What is the profit share? A lower profit share means more profits for you. However, some good traders might take a higher share. So you should find a balance between performance and profit share.
Does the trader have massive drawdowns? In the total PNL graph, look out for big spikes to the downside. This can indicate that the copied trader is bad at managing risk.
And lastly, check if the trader is still actively trading. Some traders might be inactive and have had no trades in the last weeks. Look for a consistent and active trader to follow.
Tips for Success in Copy Trading
Monitor Your Copy Trading Performance
Even though copy trading is considered a passive way to earn money, you should still check the performance of your copy trading account. The last thing you want to see is your copy trader blowing up your account over the span of a few weeks. If you notice that a copy trader is not performing well, it is best to just pull your money out and look out for a better opportunity. Sometimes finding the trader to copy can be hard, but it will be worth it in the end, as your goal is to find a reliable copy trader that ensures a slow but steady equity curve.
Diversify
Don't just rely on a single trader, and never put all of your money into copy trading. Try to find a few good traders on MEXC Global that you can copy trade with. If a trader does not perform well, look for the next one. But you should also diversify related to other investment opportunities such as staking or just simply buying and holding. Never rely on a single source of income. Diversifying will help you hedge and protect your capital.
Develop a Clear Plan
A crucial part of trading is also taking profits. Many people forget about that part. If you see that your copy trader grew your account by a lot, make sure to treat yourself and take some profits out. Past performance is never guaranteeing future performance.
Never invest more than you can afford to lose.
Trading is known to be a risky activity, and most people lose money in the market. Especially in the crypto space, the prices are very volatile. Always ask yourself the question: If I lose all the money I invested in copy trading, how will it affect me and my life? You should always be
aware that the worst-case scenario is a liquidation that can lead to a total loss of all of your funds.
Final Verdict
We hope that this step-by-step guide on how to set up copy trading on MEXC helped you understand the whole process and all the risks involved. Most importantly, you should always manage your risk. Also, in copy trading, it is crucial to do a lot of research before copying another trader. Thoroughly analyze the available traders on MEXC before investing any money into a copy trader. On top of that, consider starting small to see how well the copy trader does. Once you see consistent results you can consider scaling up your stake.
While copy trading seems like a good way to make passive money on the side, it is nothing you should rely on in the long run. The main goal is to become a profitable trader yourself.
MEXC Copy Trading FAQ
Is MEXC Copy Trading safe?
There is no such thing as safe trading. There are always risks involved. Always do a lot of research before following any trader, and never risk more than you can afford to lose.
What is Copy Trading on MEXC?
Copy trading enables you to automatically follow other traders. You just have to select a trader that you want to follow, and the rest will be fully automated.
Is MEXC Global legit?
Yes, MEXC Global is a legit cryptocurrency exchange. The platform has high security measurements, has never been hacked, and provides full proof of reserves.
Is MEXC Global legal in the USA?
Yes, MEXC Global is legal in the USA. MEXC has an MSB license and operates in over 170 countries, including the USA.
What are the fees on MEXC Global?
MEXC has some of the lowest fees in the whole crypto space. With 0% maker fees and 0.01% taker fees, MEXC Global beats their competition by a lot when it comes to a great trading environment. Holders of the MX token can reduce the fees by an additional 10%.