MX Token is the native token of the MEXC Global exchange. MEXC Global is one of the biggest centralized crypto exchanges in the world, serving over 10 million users and processing over $10 billion in daily trading volume.
Holders of MX token get access to great perks such as fee deduction, which results in higher trading profits, new token airdrops, project listing voting rights, and more.
On top of that, 40% of the profits generated through fees on MEXC Globals spot and ETF trading platform are burned through the MX token, which makes it deflationary and ensures steady growth over time. This makes MX a very attractive token to buy and hold, as the last thing you would look for in an investment is an inflationary system.
MX Token Tokenomics
MEXCs token, short form MX is built on the Ethereum chain and has a circulating supply of 100 million MX tokens.
The total supply was 1 billion tokens. However, by now, MEXC has decreased the supply by 550 million tokens as they are burning 40% of the profits generated on their spot and ETF trading market.
Below you will find the data about MX reserve distribution.
| MEXC Foundation Reserve | 100,000,00 MX Token |
| --- | --- |
| MEXC Labs | 150,000,000 MX Token |
| MEXC Strategic Partnership | 100,000,000 MX Token |
| Immediate Burn | 100,000,000 MX Token |
The benefits of holding MX token on MEXC
As mentioned, buying and holding MX on MEXC Global comes with many benefits. It can be great for trading, staking, airdrops, and early access to launchpad tokens.

20% fee deduction
Let's start off with the biggest perk for crypto traders. If you are actively trading the crypto market, you know how important low fees are. They can really eat up a big portion of your profits.
MEXC already has some of the lowest fees in the crypto space, with 0% maker and 0.02% taker fees on the futures market and 0% maker and 0.08% on the spot market.
By holding the MX token on your MEXC account, you can opt-in for a 20% additional fee discount on the spot market and an additional 10% fee discount on the MEXCs futures market.

Voting Rights on MEXC Global
By holding MX token, you even get the right to participate in governance votes. That way, you can have an impact in which direction MEXC as a crypto exchange is heading to.
Holding a deflationary token
FIAT currencies such as USD and EUR depreciate in value over time as they are inflationary. Some cryptocurrency tokens, on the other hand, have burning mechanisms, ensuring a deflation process by decreasing the supply.
MEXC Global is burning 40% of their spot and ETF trading profits generated through fees. As the crypto adoption as well as MEXCs trading platform, is rapidly growing, this mechanism can steadily burn more and more tokens over time, incentivizing investors to hold their tokens.
Most crypto projects retrace by over 90% during a bear market, some even over 99%. However, the MX token is performing incredibly well. Even during the current bear market, MX Token outperformed most cryptocurrencies. MX token only retraced 60% during the bear market and is now back to 33% away from its all-time high.
A real company with real revenue behind the token
While many crypto projects don't even have any revenue coming in and rely on their coin going up to make money, MX token is not just a random internet coin. It is the token of one of the biggest cryptocurrency trading platforms in the world, with over 10 million registered users and over $10 billion trading volume per day.
MEXC Kickstarter, Launchpad, and MX DeFi
The Kickstarter program offers listing voting rights to MX holders. When the listing takes place, MX holders get access to free airdrops. This is initiated by project teams trying to get their coins into the market. MX holders get the right to stake coins. By doing so, good projects get access to a major crypto exchange, while MX token holders get rewarded and benefit from airdrops and voting rights.
Furthermore, MX holders get early low-cost participation rights for tokens on MEXCs launchpad, which is a fundraising program for token presales. By having access to those token sales, you can often secure lower prices than on the regular listing day, where everybody gets access to the token on the spot market.
How to buy MX token

The best place to buy MX token is on MEXC. They have the highest volume and liquidity for the token, which is to be expected as it is their own native cryptocurrency. On top of that, MEXC has some of the lowest fees in the crypto space, which means that you can save money on transaction costs.
Step 1: Sign up on MEXC
Go to the official website of MEXC and create your account. All you need is either an email or a phone number and a strong password.
Step 2: Fund your account
After creating your account, you can proceed to deposit cryptos. If you have cryptos on other wallets or exchanges, you can simply deposit them into your MEXC account.
If you don't have any cryptocurrencies yet, you can buy them directly on MEXC in the "Buy Crypto" section. However, for this, you must finalize your KYC first.
Step 3: Buy MX token on MEXCs spot market
Head over to the "Trade" section and click on "Spot." In the searchbar, type in "MX" and click on MX/USDT". Now you can purchase the MX token on MEXC Global.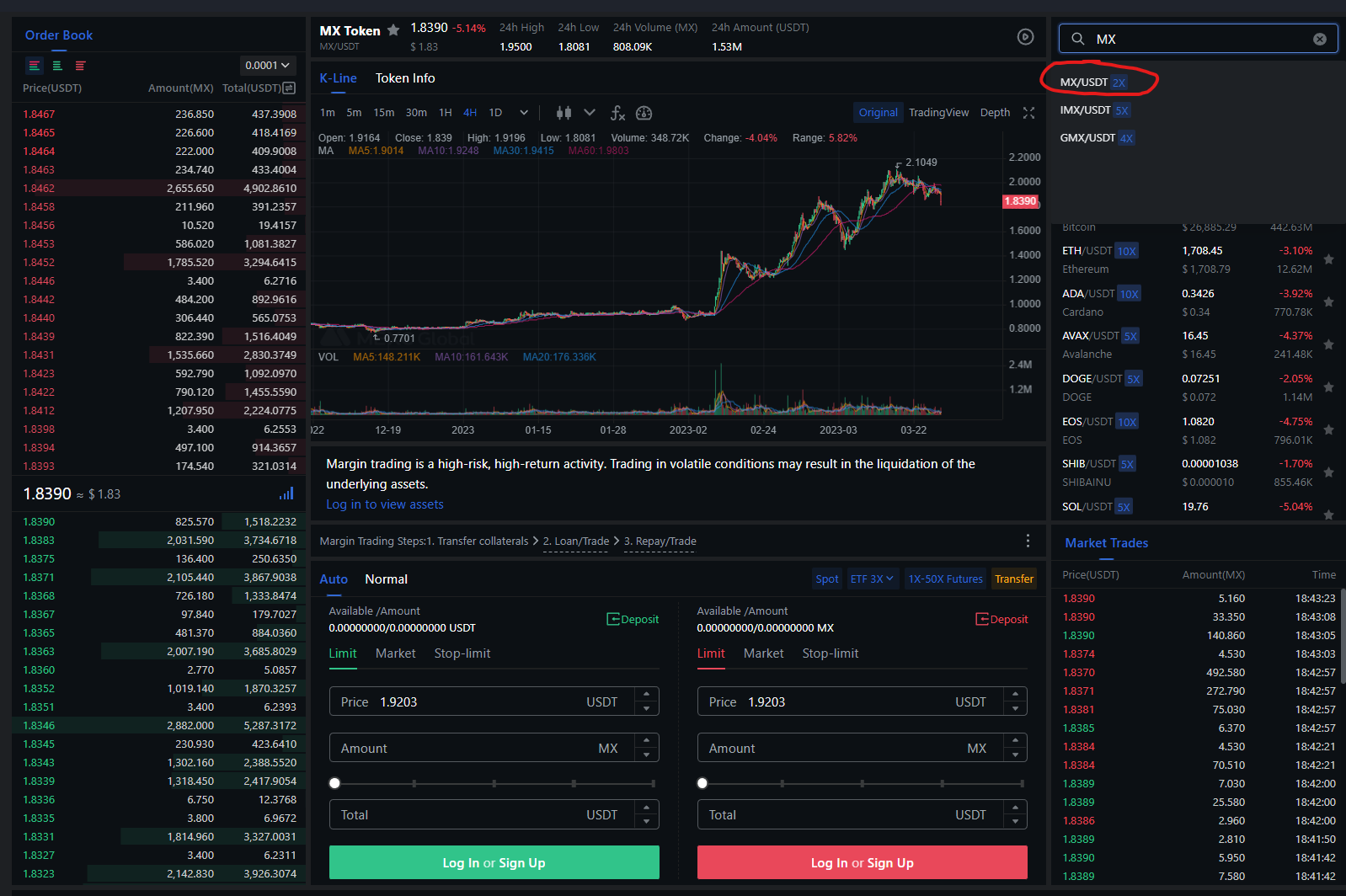 FAQ about MX token
What is MX token?
MX token is the native token of the crypto exchange MEXC Global.
What does MX token do?
MX token gives you access to features on MEXCs platform, such as trading fee discounts, voting rights, airdrops, and early access to token sales.
Is MX token worth buying?
MX token seems to be a good project to buy for the long term. It is backed by MEXC Global, one of the biggest crypto exchanges.
Is MX token safe?
Just like any cryptocurrency, the MX token is a risky investment. The crypto space is highly speculative, and no matter how good a project seems, you must be prepared to lose everything. Never invest more than you can afford to lose.