MEXC Affiliate Program Review
| | |
| --- | --- |
| Website: | MEXC |
| Year Launched: | 2018 |
| Users: | 10,000,000+ |
| Supported Countries: | 170 |
| Type: | Revenue Share |
| Commissions: | 50% - 70% |
| Conversion Rate: | High |
| Spot Fees: | 0% |
| Futures Fees: | 0% Maker / 0.01% Taker |
| Supported Cryptos: | 1600+ |
| KYC? | No, not required |
MEXC Affiliate Commissions
What we love most about the MEXC affiliate program are the high commissions. With a starting commission of 50%, MEXC has some of the highest base profit shares in the crypto industry. For sub-affiliates, MEXC pays 10% commissions. That means if one of your sub-affiliates earns $1000, you will receive $100.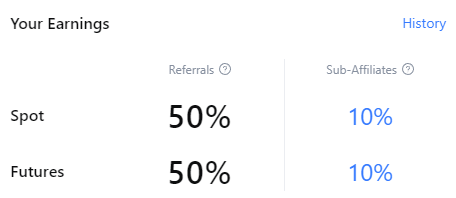 In order to increase your commissions to 70%, you must invite five valid first-time traders, and you must hold 2,000 MX tokens in your MEXC account. MX token is the native token of the MEXC crypto exchange. Valid first-time traders are traders who pay at least $5 in trading fees for the first time after you invite them.
Alternatively, you can purchase 20,000 MX tokens and unlock the 70% fee commission permanently.

MEXC Affiliate Program Features
The MEXC affiliate program has many functionalities for its partners.
Referral Codes and Links
First and foremost, you can create multiple affiliate links and referral codes. To make the links look better, you can use the MEXC link shortener. To keep everything organized, you can create multiple links and campaigns.

Referral Analysis
MEXC offers ways to analyze your referral data, such as referral commissions, sub-affiliate commissions, referral trading volume, deposit amount, and withdrawal amount. You can also sort by highest to lowest and lowest to highest in order to see your top referrals.
Additionally, you get insights into the futures trading data where current positions, orders, and order history are displayed.
Personal Affiliate Manager
The affiliate support on MEXC is excellent. The exchange has professional managers for their partners, whom you can contact for your specific needs. You can also request special events, competitions, or promotions if you have enough active referrals.
Exclusive Promotions and Events
As mentioned in the section above, MEXC can create custom promotions that are exclusively for you and your community. A great example of this is the exclusive $20,000 signup bonus, which can only be accessed through our referral link.
This is a great way to increase the conversion rate through incentives such as trading bonuses.

Aside from welcome bonuses, you can host exclusive trading competitions. However, this requires around 20 active traders or more. You can discuss all of these promotions and offers with your personal MEXC affiliate manager.
MEXC Affiliate Leaderboard
To make things more exciting and to motivate everybody to get the most out of the MEXC affiliate program, MEXC has integrated an affiliate leaderboard. The MEXC affiliate leaderboard shows you the performance of the top 100 affiliate partners on MEXC on a 15-day basis. Some of the top partners on MEXC make over $500,000 in profit each month. This just shows how much is possible when joining the MEXC partner program.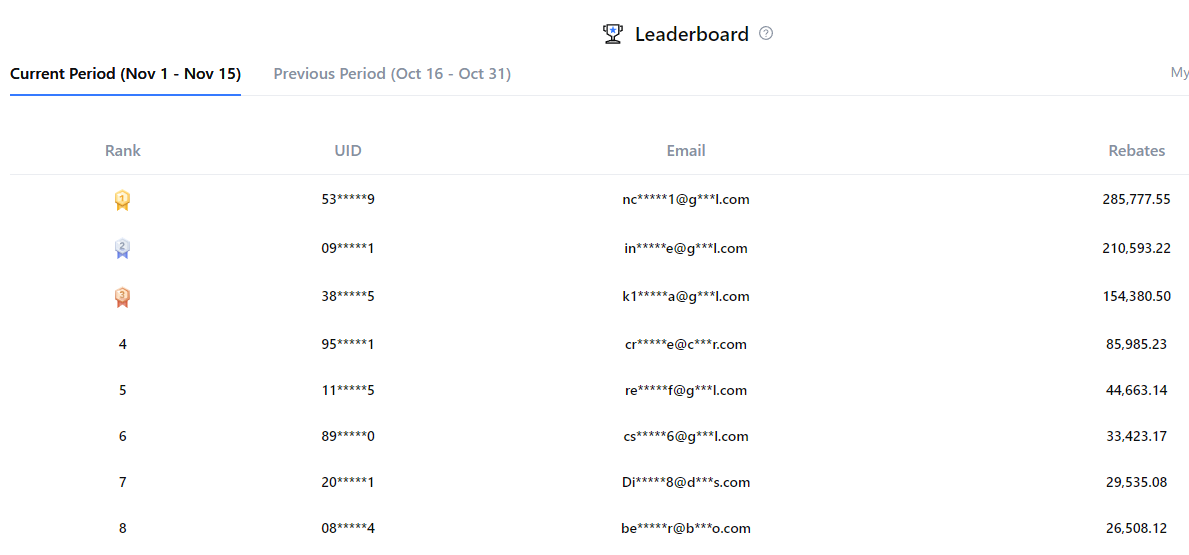 Who can join the MEXC affiliate program?
The MEXC affiliate program is reserved for people with an audience. As long as you have some people to share your affiliate link with, MEXC will accept your application.
Content Creator (e.g., YouTube, Twitter, Twitch, etc.)
Blog website
Educational platform (courses, coachings)
Software (e.g., indicators, analysis tools, tax tools, etc.)
Trading community (private groups, discord, telegram, etc.)
How to join the MEXC affiliate program
Joining the MEXC affiliate program is simple and straightforward. Note that you must first create an account on MEXC before you can join the affiliate program, as your affiliate program will be linked directly to your MEXC trading account.
Go to the MEXC affiliate application page
Type in your name, email, password, and country of residence
Fill out additional details like social media channels, websites, etc.
Add your MEXC UID. Your MEXC UID can be found in your regular MEXC trading account dashboard. It is an 8-digit number. Make sure that you provide the correct UID, as your MEXC account must be connected to your MEXC affiliate account in order to cash out your earnings.
Apply for the program and wait for a response!
Secret tip: Contact Chris, the MEXC affiliate manager, directly to be approved as quickly as possible.
MEXC Fees
As affiliates make their money from trading fees, this is a crucial point to consider. Overall, MEXC has very low fees. However, due to the low fees, MEXC attracts many day and scalp traders, which take hundreds of trades per day.
The spot fees on MEXC are 0%. We don't really consider this an issue, as the main trading happens on the futures market. That's where affiliates will make the most money.
For futures traders, MEXC charges 0% maker and 0.01% taker fees. It is important to note that over 80% of orders are taker orders. Therefore, you will profit from the 0.01% taker fee.
MEXC Overview
Launched in 2018, MEXC is a global non-KYC crypto exchange with over 15 million users. With a daily trading volume of $4+ billion, MEXC is one of the top 10 largest crypto exchanges.
Some key selling points of MEXC are the high number of supported cryptos (1650+) and its low fees. On the spot market, MEXC charges 0% trading fees, while futures traders enjoy 0% maker and 0.01% taker fees.
MEXC supports spot, futures, copy, and demo trading. Additionally, MEXC regularly hosts events and competitions with massive prize pools of up to $5,000,000.
As MEXC is a non-KYC crypto exchange, the conversion rate of people signing up and trading is fairly high. Everybody can access the exchange with a VPN.
Lastly, MEXC has an incredible affiliate program for influencers and KOLs.
Tips for promoting the MEXC affiliate program
Now that you know everything about the MEXC affiliate program, it is time to promote MEXC with your referral code or referral link.
Below, we will share the best ways to promote MEXC so you can get the most referrals.
Create Youtube Videos
Creating videos about cryptocurrencies on YouTube is one of the best ways to earn money with crypto affiliate programs. There are different categories you can tap into to promote your referral link.
Technical Analysis Videos: One of the most common ways to promote crypto exchanges is by making technical analysis videos on YouTube. This is perfect for everybody who has trading experience and knows how to analyze charts accurately. You can share your analysis and thoughts in 5-10 minute videos. You can also make in-depth analysis videos for up to 30 minutes. Throughout the video, you can mention that this coin can be traded on MEXC and that people can sign up with your link in the description.
Fundamental Analysis Videos: If you are well-educated about economics, news, politics, and more, you can make videos about the fundamental state of cryptocurrencies. You can explain the correlation between certain scenarios and how it can affect the crypto market in the long term.
Crypto Coin Reviews: If you know a lot about tokenomics and functionalities of cryptocurrencies, you can review new tokens where you think they could have a lot of potential. If this coin can be purchased on a crypto exchange, you can easily share your referral link so people can purchase the reviewed crypto with your link.
Guides/Tutorials: You can also share your knowledge about specific things in YouTube videos. For example, you could make tutorials on how to trade or how to use a specific platform.
Create a Crypto Website
Another popular way of promoting crypto exchanges is making websites (just like our website!).
Review Exchanges: One of the most logical ways to share referral links is by writing reviews about crypto exchanges. Try crafting the perfect review for an exchange by adding as much value to the article as possible.
Review Coins: This is similar to the crypto coin review section for YouTube. If you have a decent understanding of how tokens work, you can write reviews and put them on your website. Then, simply share a link where people can purchase the reviewed coin.
Guides: You can write guides and tutorials about crypto trading, exchanges, or coins.
Creat Tools
This is one of my favorites. However, this is reserved for tech-savvy crypto enthusiasts such as developers. You can create tools, indicators, and software aimed to assist people in crypto.
Develop Indicators: Every trader needs indicators. Most of the time, they are used on TradingView, the most popular chart analysis tool in the world. You can create indicators and give people access after they sign up for a crypto exchange using your referral link.
Develop Trading Bots: If you know how to code trading bots, you can directly integrate referral links into your project. This works by giving people who use your referral link free access to the trading bot. As the bot is trading automatically, you should be able to get decent commissions from the trades!
Education & Communities
The online education industry is growing larger and larger each year. Also, the crypto space experiences a rise in educational content such as courses or communities.
Courses: If you are experienced in the crypto world, you can create educational courses. One of the most popular types of courses is about technical analysis. In this course, you can cover which exchanges people should trade on and then insert your referral link.
Paid groups: Something that is very popular in crypto is paid groups. You can make trading signal groups or paid discord servers for exclusive communities.