Bitunix is a new crypto exchange that has picked the interest of many crypto enthusiasts.
To learn more about this relatively new exchange and see if it is right for you, keep reading our comprehensive Bitunix Review. This review provides everything you need to know about the exchange including its features, security,fees, withdrawal and deposit methods, etc.
Overview: What Is Bitunix
Bitunix is a crypto derivatives exchange founded in November 2021 in Hong Kong by Aaron Lee. Bitunix is a fast-growing exchange, being one of the top 30 on coin market cap, with a trade volume of $4.9 Billion.
The derivative exchange is a centralized crypto trading platform. They became a U.S. MSB registrant in late 2022. In addition, they received an SEC compliance license in the Philippines in 2023.
This year, Bitunix secured a $10 million fund from Dubai investors. The purpose of the fund is to help them establish a global market reach, with offices located in Dubai. Although the exchange is popular in Asia, Bitunix is expanding its reach to Africa, Latin America, etc. They currently employ about 200 staff members to work for them.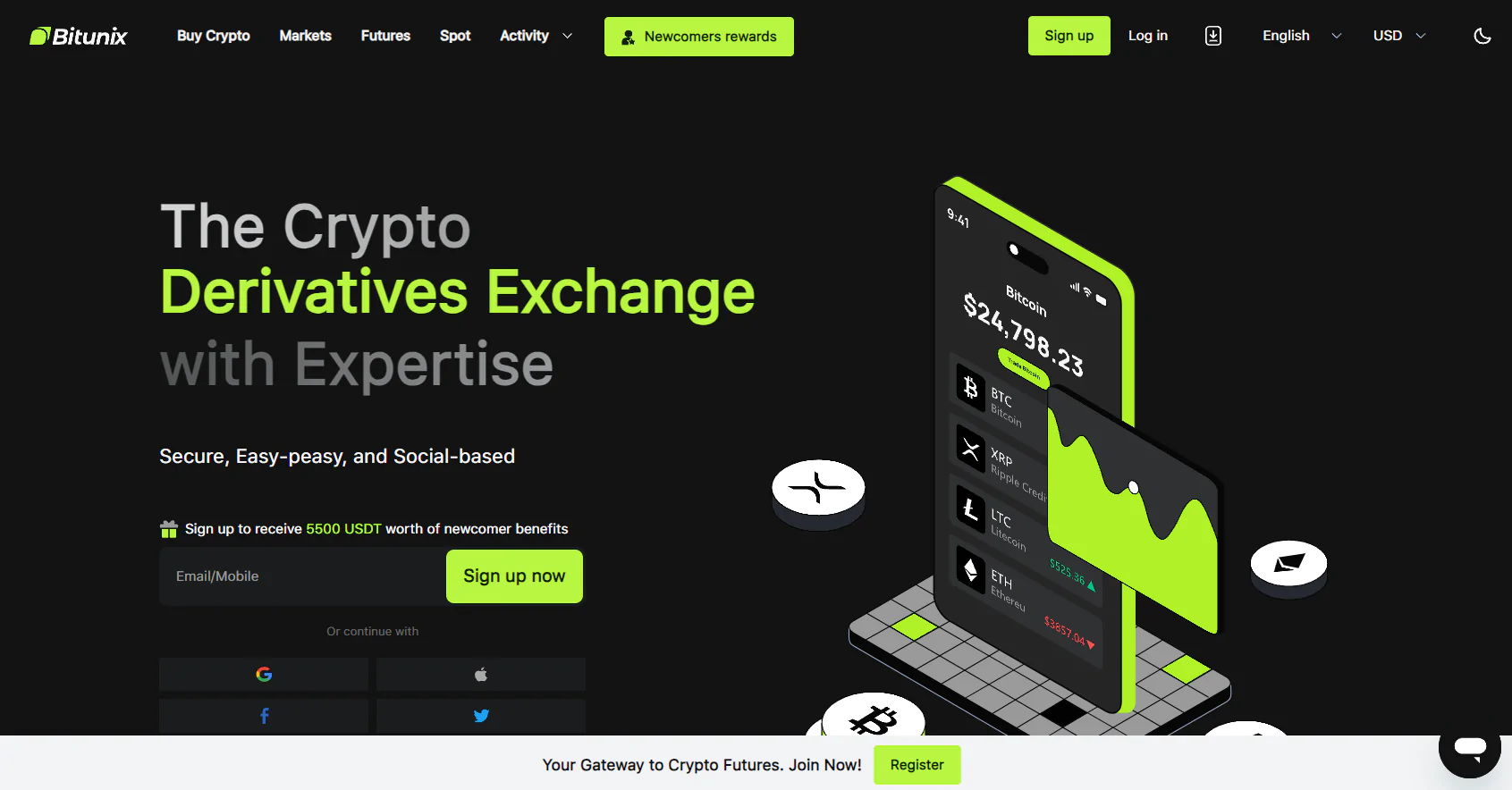 Bitunix: How Does It Work
Bitunix, although founded recently, has grown to be a reliable exchange. They deal primarily in spot and derivatives trading. Bitunix has over 150 cryptocurrencies for trading on the exchange. However, you must first create an account on the platform.
After registering your account on the platform, a minimum deposit of $10 is needed to start trading. Aside from spot and derivative trading, Bitunix also offers bonuses for new and existing users.
With Bitunix, you can trade on multiple platforms, including mobile devices and desktops. You can download their mobile app from either Google Play or App Store. Bitunix app has over 1000 downloads on the Google Play Store with a 4.7/5 star rating.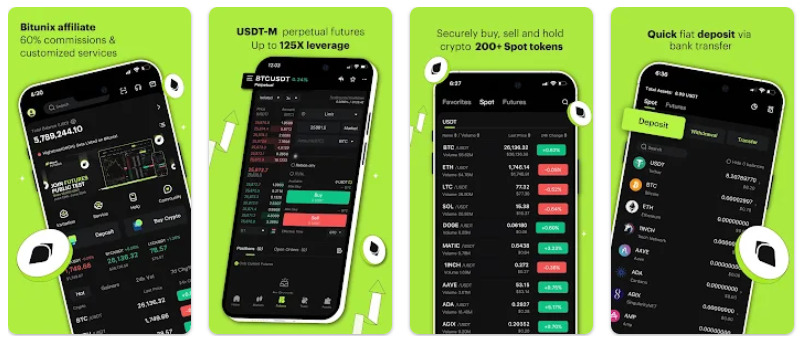 Bitunix has also established a robust security architecture to secure customer's funds. They integrate the KYC and two-factor authentication protocols to prevent unauthorized access to customer's accounts. In addition, they also conduct regular security audits and penetration testing.
Bitunix Pros
They offer opportunities for spot and derivatives trading.
They have robust security measures.
They are a U.S. MSB registrant and SEC compliance exchange.
They offer bonuses for new and existing users.
Affordable fee structure.
Bitunix Cons
They are a relatively new exchange.
They have no reviews on their app on Google Play Store
$10 minimum deposit.
Limited trading options.
Bitunix Sign Up and KYC
Understanding how to open a verified account on Bitunix is vital if you want a great start on the exchange. Interestingly, the process is pretty straightforward, whether you are using a web browser or a mobile application.
First, you will visit their website on your device and click on the signup button. This will take you to their registration portal. Here, you can either use your email address or phone number to sign up. In addition, you will choose a strong password and select the country you reside.
After this, they will send you a confirmation code. This will help Bitunix verify the authenticity of your account. At this point, you must have successfully created a verified account.
Once you have successfully opened your account, you must verify your account by undergoing the KYC process. You must do two verifications in this process: basic and advanced verification. You provide documents like a Government-issued ID card, proof of address, a picture of you holding your ID card, and a paper with Bitunix written on it. Your account will be verified once the exchange reviews the document you submitted.
Bitunix Products & Features
Bitunix is a go-to platform for trade spots and perpetual future contracts. The exchange has a mobile app on the Google Play store, IOS, and others, enabling users to buy, sell, and invest in various coins. In addition, you can also trade on their web version at any time of the day.
Supported Cryptocurrencies
Whether you are trading the spot or derivative market, Bitunix offers more than 150 cryptocurrencies. They have some of the most popular coins like ETH, BTC, SOL, DOGE, MATIC, PEPE, ARB, etc., on the exchange.
Trading Platform
Bitunix offers a user-friendly interface for trading. You can trade live on their mobile app or website 24/7. The Bitunix platform is quite responsive and reliable.
Bitunix mobile features a live market tracking function. This way, you can monitor in real-time daily price changes for popular cryptocurrencies. If you are interested in a set of coins, you can choose them as your favorite to get real-time market tracking of them.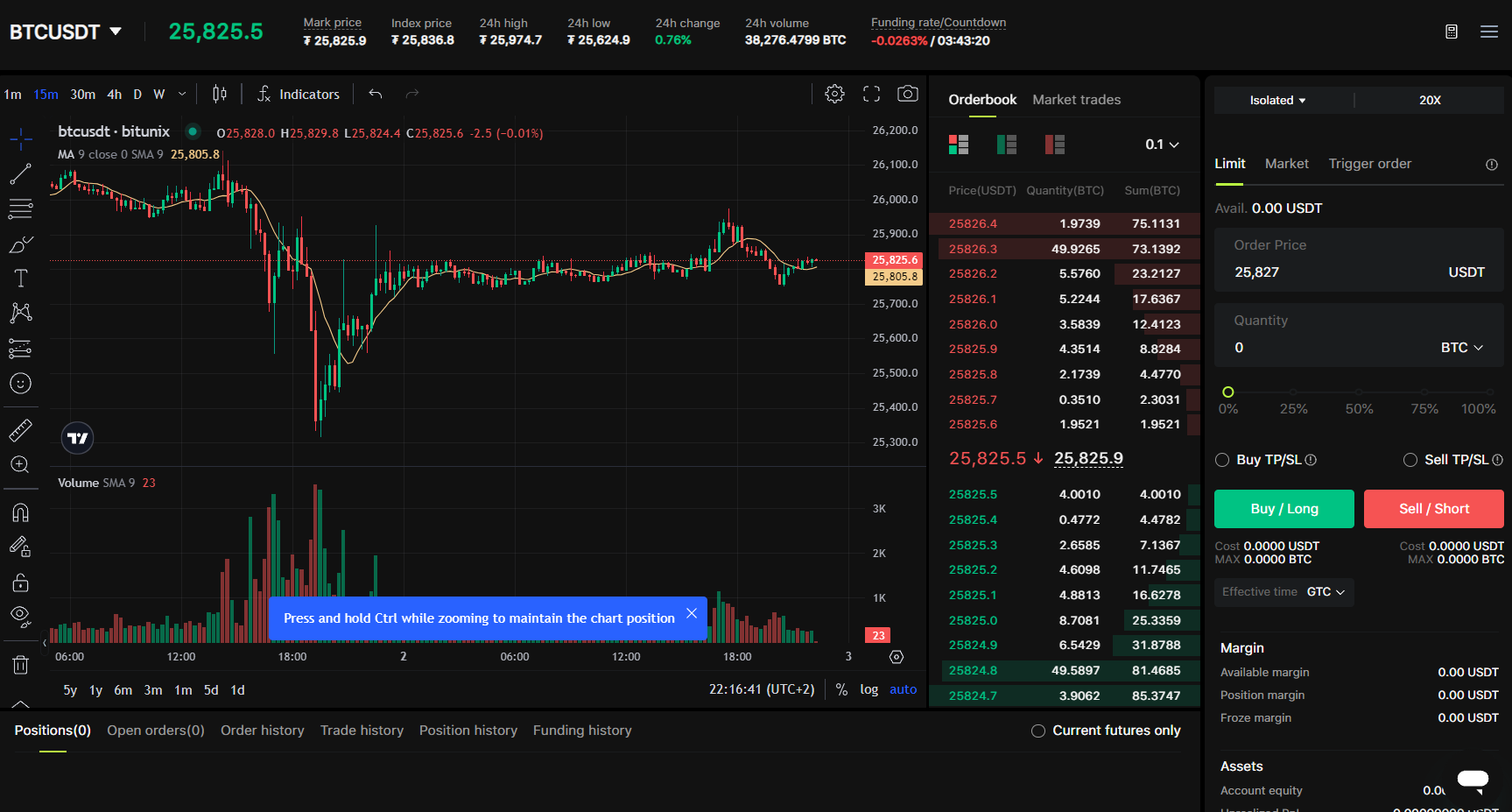 In addition, Bitunix offers a technical analysis tool for each of the coins on the exchange. This tool includes a K-line chart function that shows price trends at different time intervals. This way, you can determine the most appropriate time to trade on the exchange.
Bitunix Trading Features
There are two kinds of contracts you can trade on Bitunix, spots and derivatives. However, you need to make a minimum $10 deposit before you start trading.
Spot Trading on Bitunix
Spot trading, which is crypto-to-crypto trading, is available on Bitunix. There are over 300 spot trading pairs on Bitunix, including BTC, SOL, DOGE, ARB, etc. These tokens are listed on the left side of the trading portal.
However, before trading a spot on Bitunix, you must deposit USDT into your wallet. For as little as $10, you can begin your spot trading journey on the exchange.
When trading a spot on Bitunix, you can easily buy or sell cryptos on a well-designed platform. The spot trading platform also has a live chat and advanced indicators to help you trade properly.
Derivative Trading on Bitunix
USDT-margined perpetual futures are the only derivative trading product on Bitunix. To start trading futures on their exchange, you must transfer trading funds from your spot wallet to your future wallet.
After this, you should locate futures under the derivative category. When you click here, it will direct you to the future trading portal.
On the left side of this trading portal, search and select your trading pair. There are over 140 USDT- margined contract trading pairs on Bitunix. Next, you will choose the margin mode and leverage of your choice. They offer up to 100x leverage on their future trading pairs, and all of them support hedge mode.
Bitunix also offers limit orders, market orders, plan orders, take profit and stop loss orders. Furthermore, they offer both cross margin mode and isolated margin mode for optimal capital efficiency.
Bitunix Passive Income Products
Bitunix provides other avenues aside from trading, where you can earn passive income from them. One such is their referral bonus system.
The exchange creates a referral program to encourage existing members to invite new users to the platform. You can earn up to 40% bonus commission when you invite a new user to open an account.

As a new user on Bitunix, you can earn up to $5500 as a bonus. First, you can win $200 when you sign up on the exchange. Also, you can earn an additional $ 5,000 bonus as you make deposits on the exchange. New users can also earn up to $300 when they start trading.
Furthermore, you can also earn passively from Bitunix through their trading context. Here, the exchange gives you different trading tasks to complete. The more demanding a task is, the higher your reward.
One such task is simply depositing and completing future trading on the platform. The more you deposit and trade, the higher your rewards. Completing this task can earn up to a 1000 USDT trading bonus.
Another of such tasks is trading in teams. Here, you will invite your friends to trade with you as a team on Bitunix. The exchange rewards the top 5 teams with the highest trading volume with up to 1000 USDT reward. In addition, the top 5 individuals will get an extra 500 USDT trading bonus.
Bitunix Trading Fees
One thing Bitunix is known for is its affordable trading fee structure. This structure is distributed in a tiered system, where your trading fees decrease as your volume increases. In essence, to pay lower trading fees, you must have a higher trading volume
For instance, in spot trading, the higher fees you will pay are 0.08% as a maker fee and 0.10% as a taker fee. However, your fee could decrease to as low as 0.05% maker fee and 0.07% taker fee, once you achieve a trading volume of about 100 Million in 30 days.
Meanwhile, in Future trading, the highest you will pay is 0.02% as a maker fee and 0.06% as a taker fee. Overall, Bitunix has a fair and transparent fee system for new and experienced traders.
Bitunix Deposit Methods
To improve payment options and effect smooth transactions, Bitunix partners with Conify, a popular payment platform. They started this partnership around July 2023, with the primary purpose of easing the use of popular payment methods like Credit Cards, Apple Pay, and Bank Transfers.

You can deposit crypto assets from your other wallets to your Bitunix wallet. You will do this by using major blockchain networks like Tron, Omni, Ethereum, BSC, Solana, etc. Depending on the network you use, depositing on Bitunix can take up to 5 to 30 minutes. Depositing cryptos on Bitunix is free.
Furthermore, you can purchase cryptos on Bitunix with fiat currencies like TWD, AED, VND, JPY, and HKD. Interestingly, 50% of these fiat currencies are local Asian currencies.
Bitunix Withdrawal Methods
Withdrawing your crypto assets on Bitunix is also a straightforward process. In this process, you will also need to use major blockchain networks like Tron TRC20,Binance Coin BEP20, Solana SOL, etc.
However, withdrawing your crypto assets to other wallets is not free. For each withdrawal, you will pay a fee to cover the network cost of transferring your assets from Bitunix to another wallet.
The withdrawal rates fluctuate without any prior notice as they are based on the network capacity of each individual chain. This is mostly due to network congestion. In addition, the blockchain network you use determines your withdrawal rates.
On Bitunix, fiat withdrawals are unfortunately not supported.
Bitunix Security
Security is a vital consideration to choosing an exchange. Understanding how the security architecture of an exchange works will help you know how secure funds are.
Bitunix has made tangible investments in its security structure. So far, they have not experienced any hack on the exchange.
Although Bitunix's proof of reserves has not been seen in the public domain, the exchange claims that its reserve fund is greater than 1:1. In essence, the exchange has sufficient assets that match the customer's funds on the platform.
Bitunix also conducts regular security audits and penetration tests. This way, they identify and mitigate against weaknesses and vulnerabilities that could be exploited by potential hackers.
Bitunix also prioritizes ethical trading. They do this by complying with relevant financial regulations like anti-money laundering and counter-terrorism financing.
Furthermore, Bitunix ensures the security of customer funds by integrating the two-factor authentication system in their exchange. They do this by providing customers with an additional layer of accessing their accounts aside from the traditional use of passwords. This way, they help prevent unauthorized access to your account.
Bitunix Customer Support
There is so much to get from exchanges that provide quality customer support. Bitunix makes trading easier on their platform with the various support they offer customers.
They offer 24/7 multilingual customer support via live chat. That means you can easily communicate your concerns to the customer service representative in your preferred language, provided the language is available.
They also provide a help center on their platform. This help center gives you access to their announcement and tutorial portals, where you can find the latest Bitunix news and learn about cryptocurrency.
You can also find guides on trade spots and futures from the help center. To find out about their price structures, withdrawal, and deposit methods, you should also visit their help center.
The various trading indications and charts on the Bitunix trading portal make trading more convenient. The live market price tracking is also an added advantage for customers.
Final Thoughts
Since its inception in 2021, Bitunix has significantly grown in the cryptocurrency arena. Its wide range of cryptocurrencies, robust security structure, friendly user interface, affordable price, etc., make it a go-to place for spot and derivative traders. Sadly, the platform has limited features and products compared to other crypto exchanges. The exchange does not offer NFT trading, mining, staking, or Defi.
Frequently Asked Questions
Is Bitunix a centralized or decentralized exchange?
Bitunix is a centralized crypto exchange. This means, Bitunix manages the trading process, and security of the platform, and holds customers' funds.
Where is the headquarters of Bitunix located?
Bitunix's headquarters is located in Dubai, UAE. However, they have expanded to other areas outside Asia, like Latin America, Africa, Russia, etc.
What is the least amount you need to start trading on Bitunix?
You need a minimum of $10 to start trading on Bitunix.
Is Bitunix a secured exchange?
Bitunix is a relatively safe exchange. Some of the measures they have put in place to ensure the safety of customer funds include, KYC, two-factor authentication, regular auditing, etc.
What kind of trading is available on Bitunix?
You can trade spot and USDT perpetual futures on Bitunix.