Over the past few years, there has been a massive surge in crypto popularity, leading to the emergence of thousands of new coins and tokens in the market. As a result, numerous platforms have started supporting as many crypto coins as possible.
But which exchange supports the most? This question might have popped up in your mind out of curiosity, or you may want to significantly expand your crypto trading portfolio. The latter situation is understandable if you are a professional trader or expert crypto investor. But whatever the case is, you've come to the right place.

Here, we've listed the 6 top crypto exchanges with the most coins and trading pairs. Each platform is unique in its way and has exciting features. So, let's get into them!
Gate.io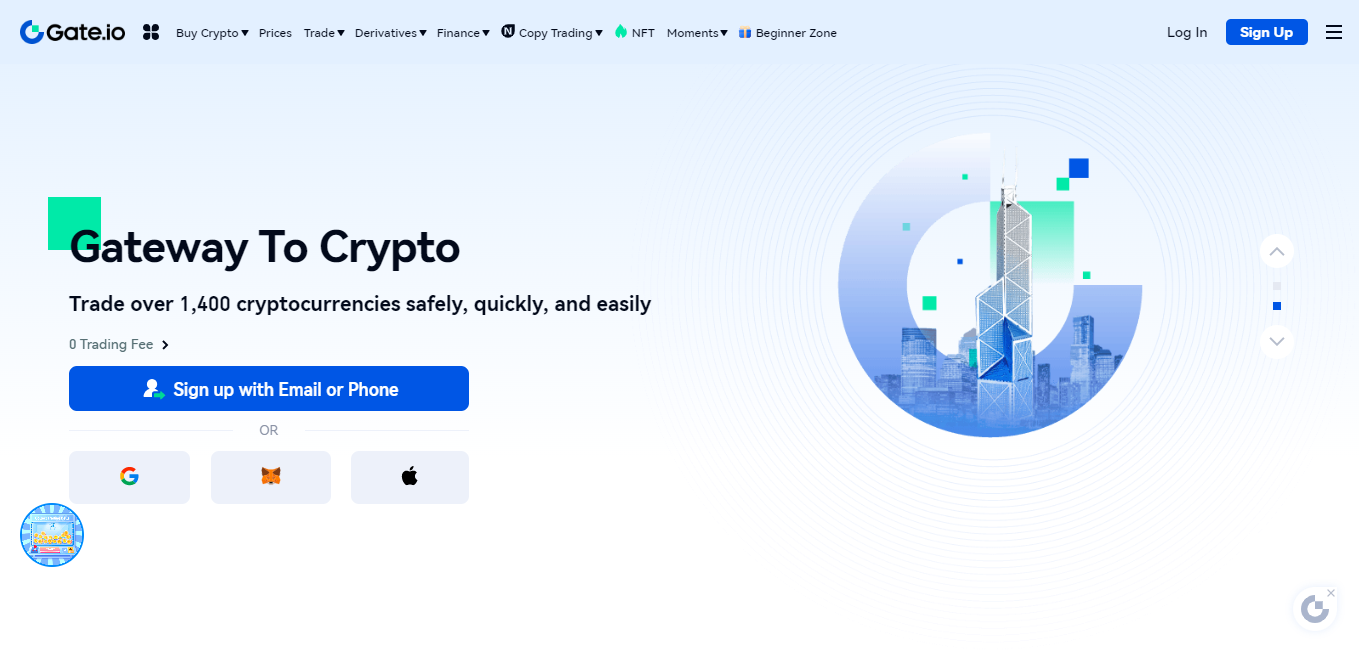 Founded in: April 2013
Crypto Coins: 1600+
Trading Pairs: 2800+
Market Value: $1.4+ Billion
Gate.io is among the largest crypto exchanges, which supports a huge number of crypto coins and trading pairs. Due to this vast availability, the platform currently has more than 12 million users from 220+ countries. On average, crypto assets worth around $4.8 billion are traded daily.
Features
Enormous Crypto Range
Many crypto exchanges usually support up to a few hundred crypto coins. But Gate.io is ahead of all, supporting nearly 1650 cryptocurrencies, which is astonishing. You can select anyone from the popular ones to lesser-known coins at low prices. That's why many experienced traders choose Gate.io to invest in rare crypto assets.
Vast Trading Options
The platform provides numerous trading and investing opportunities to start, expand, and polish your trading career. You have spot, margin, leverage, futures, options, and even copy trading. Alone in margin trading, you can perform 10x leverage trades or lend and borrow margin funds.
Security Measures
Gate.io also offers various security measures at the user's end to ensure they keep their account and assets safe. You can enable two-factor verification with Google Authenticator, login passwords, withdrawal passwords, blind IP logins, and Anti-Phishing codes. Also, the platform keeps its users' data safe in hot and cold wallets for protected backups.
Liquidity Mining
One of the amazing features of Gate.io is its liquidity mining, where the user can earn a passive income by contributing to the liquidity pool. The pool helps a crypto exchange to make faster and more effective transactions. Gate.io users can contribute to this pool and earn a commission from the transaction fees charged by the platform.
Pros
Extensive Range of Coins & Trading Pairs
Comparatively Lower Fees
Offers Various Security Measures
Great Trading Assistance
Cons
Lacks easy navigation
Doesn't support fiat withdrawals
MEXC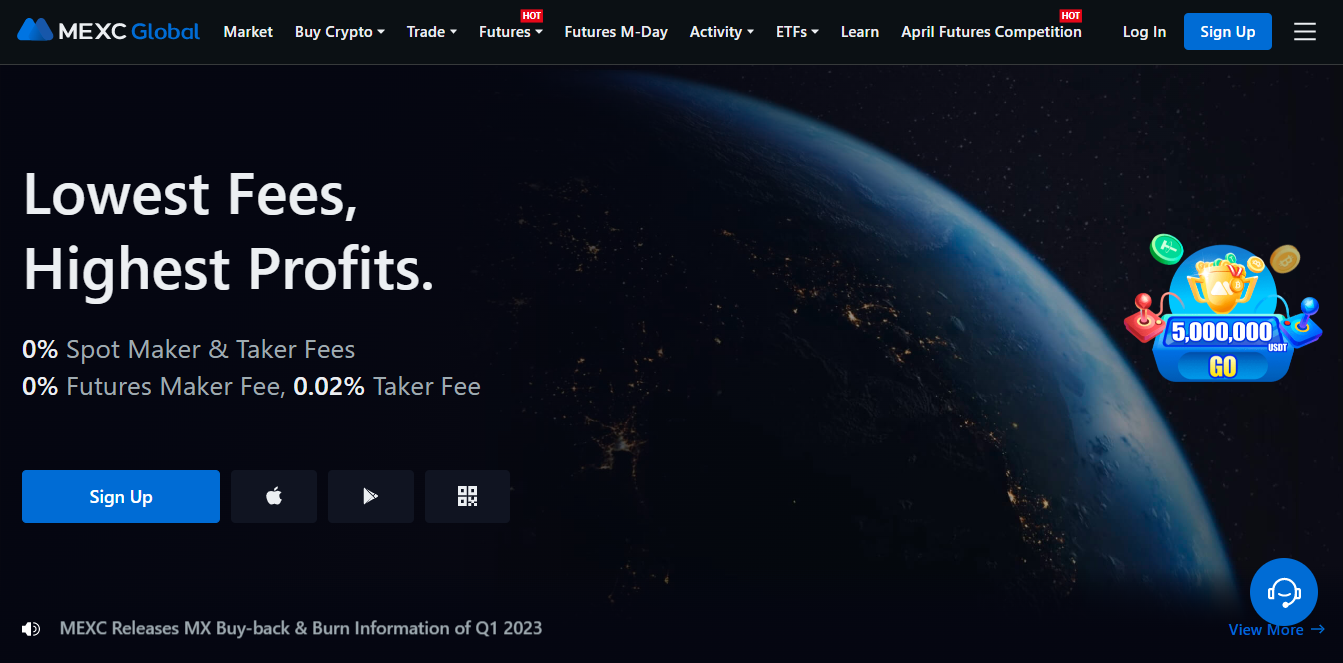 Founded in: April 2018
Crypto Coins: 1500+
Trading Pairs: 2200+
Market Value: $970+ Million
MEXC is another great crypto platform with many coins and trading pairs. The platform has over 10 million users, performing $700+ million worth of trades daily. It also has a reputable position among crypto traders, which made it the best Crypto Exchange Asia 2021 award winner at Crypto Expo Dubai.
Features
Easy Deposit
MEXC has made depositing crypto on the platform straightforward and convenient. You can deposit funds to your account without any minimum limitation. Moreover, the platform doesn't charge you any depositing fees. So, you can fill your MEXC wallet balance for free. However, you cannot deposit fiat directly, but the feature will be available soon.
Native Token Perks
MEXC has a native crypto token, namely MX Token. You can use MX to gain multiple benefits on the platform, like revenue reimbursements, supervision, voting, and asset appreciation. Moreover, the holder can also get up to 51% MX token rewards while mining or purchasing it on the platform.
MEXC Blog
Apart from the convenience of trading, MEXC is also an excellent exchange for beginners, as they can learn about crypto and trading via their MEXC blog. The website features numerous articles and guides to educate them about the platform's working and teach them different terms and processes within the industry.
Demo Trading
MEXC also features demo trading, where you get a demo account with virtual assets to trade. The account is highly beneficial for newcomers and inexperienced traders who can get familiar with the process, terms, and risks. It can also help experienced traders to experiment with their strategies without risking loss.
Pros
No Minimum Deposit Limit
Numerous Trading Options
Easy Navigation
Demo Account with Enough Virtual Balance
Cons
Doesn't support fiat withdrawals
Quick buy/sell has limited options
Binance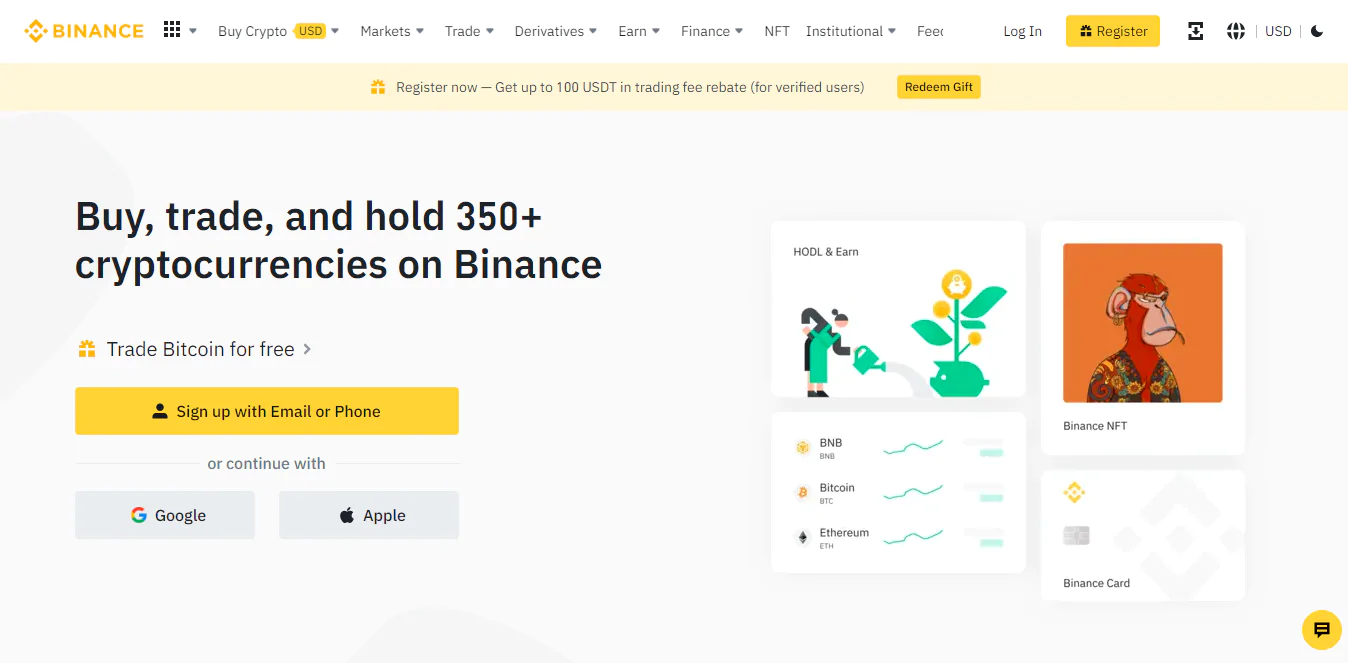 Founded in: July 2017
Crypto Coins: 350+
Trading Pairs: 1400+
Market Value: $72.6+ Billion
Binance is undoubtedly the largest and most popular crypto exchange platform, with 120+ million registered users. The platform experiences daily trades worth more than $38 billion, whereas 300 billion transactions solely happen in spot trading. Although Binance has the lowest crypto coins support on this list, you don't want to miss the most widely used platform due to its influence in the industry.
Features
Large Community
Since it's the world's leading crypto platform, it has a large community and usage. Becoming part of a platform with such a vast user base is highly beneficial as you can interact with many people and learn, work, communicate, and grow together.
High Leverage
Binance offers high leverage values on its futures and margin tradings. You can get up to 125x leverage on Binance Futures while 3x leverage on Margins. The values are comparatively high compared to other crypto platforms, which mostly offer from 100x to 120x leverage on futures.
Binance Earn
The platform provides multiple incentives to its users to earn significant rewards or passive income. You can use Binance Earn for simple earning, trading, staking, farming, or generating tokens and rewards.
One example is BNB Vault, where you stake Binance Coin (BNB) and get an annual percentage yield of 2.75% or above. Since BNB is the native token, you can utilize it for different perks afterwards.
Fiat Transfer & Withdrawals
Unlike numerous crypto exchanges, Binance allows you to transfer and withdraw fiat currencies to your bank accounts. The feature makes it so competitive for its rivals as many people shift toward Binance only to convert their crypto to fiat for easy withdrawals.
Pros
High Liquidity
Industry Leading Security Measures
Supports Multiple Payment Methods
Fiat Withdrawals & Transactions
Cons
Experience regulatory issues in some regions
Binance.US version, which has comparatively fewer features
KuCoin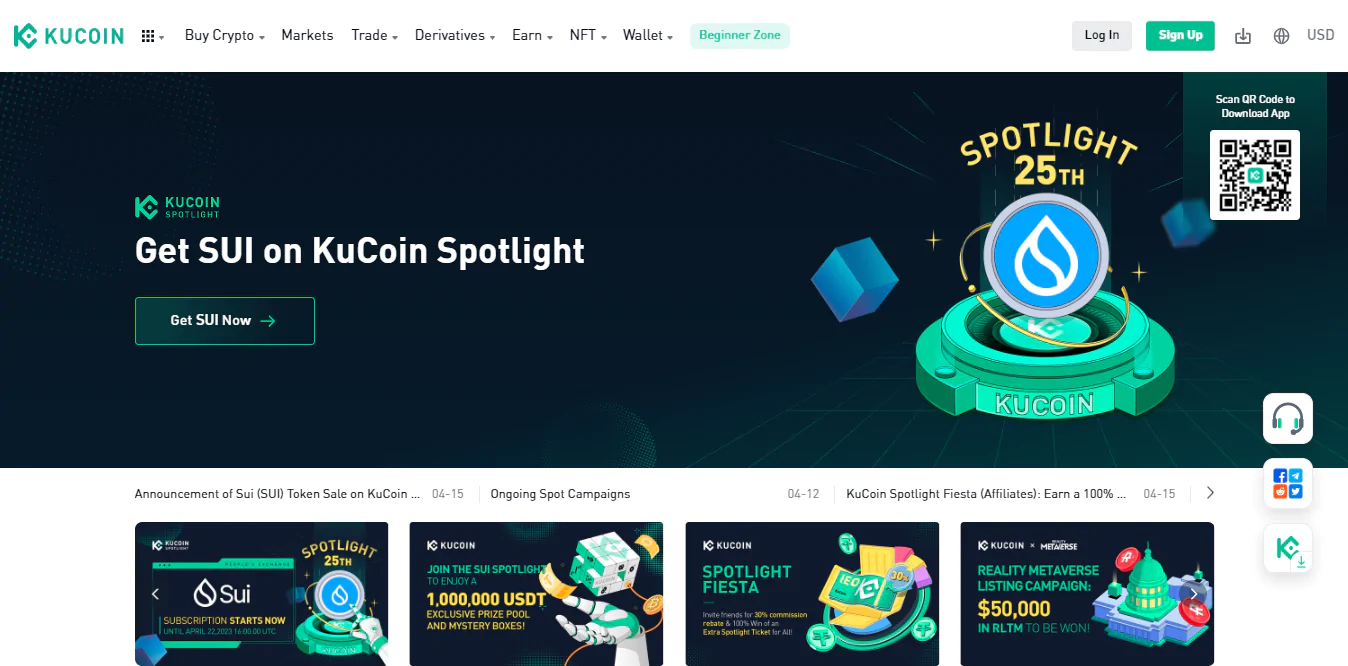 Founded in: September 2017
Crypto Coins: 750+
Trading Pairs: 1300+
Market Value: $3.4+ Billion
KuCoin is more famous for its low trading fees and high trade volume. The platform boasts trades worth nearly $1.9 billion from over 27 million global users. It operates and encourages ten principles to value its users (available on its website), which has built people's trust in the platform.
Features
Crypto Interests
KuCoin allows you to earn interest on your crypto assets in multiple ways. You either stake coins normally to earn an annual percentage rate (APR) as a bonus or lend them to others and charge interest to generate a passive income. The interest rates are also adjustable, but a lower value is recommended as people are more likely to lend from you.
Low Trading Fees
KuCoin is among the few crypto platforms that charge comparatively low fees for trading. Usually, the platform takes 0.1% of your spot trading amount, whereas if you trade using KuCoin Token (KCS), you will get a 20% discount. However, spot trading of much larger values can decrease the maker/taker fees to 0.005% and 0.02%.
High Liquidity
Since the platform is highly popular due to its low trading fees, you will find high liquidity while working on KuCoin. It means a significant amount of users are trading on the platform, so your transactions will complete faster.
KuCoin NFT
Besides being a crypto and trading exchange, KuCoin is also an NFT marketplace. It's also a reason why KuCoin has such a high user base because people interested in NFTs also buy, sell, trade, manage, and invest here. KuCoin further divides this section into subcategories, i.e., Wonderland, Windvane Marketplace, and Fractional NFTs.
Pros
Low Trading Fees
Earning by Crypto Interests
Large User Base
Dedicated NFT Marketplaces
Cons
Not available for US residents
Lacks fiat withdrawals
Bitrue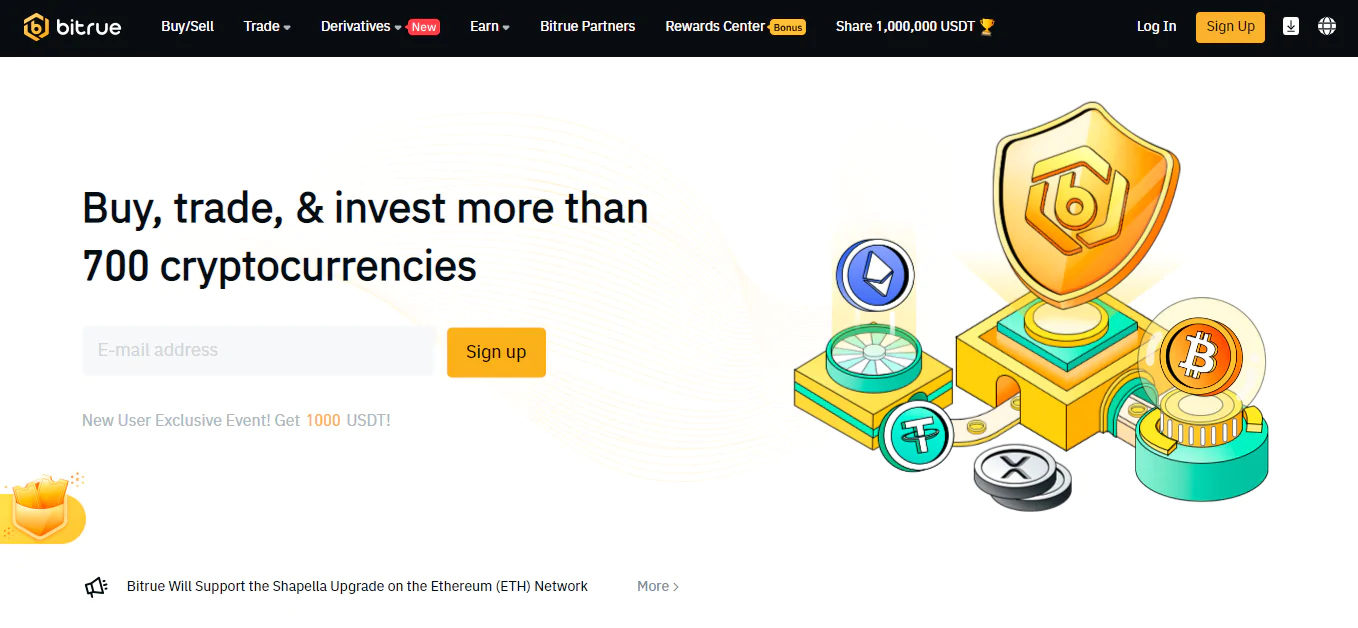 Founded in: July 2018
Crypto Coins: 550+
Trading Pairs: 1100+
Market Value: $1.2+ Billion
Lastly, Bitrue is a crypto exchange offering over 1000 trading pairs for futures, spots, and ETFs. It is one of the underrated platforms that may be less popular but experiences numerous daily trades. After just three years of its launch, more than 4.2 million users registered on the platform.
Features
Minimal Trading Fee
Although we've listed many low fees platforms, Bitrue has the lowest fees among all. The platform is primarily a Ripple-based exchange, so you can see many XRP-paired trades with 0.2% to 0.28% fees. However, trading pairs with more liquidity, like BTC, USDT, or ETH, have a fee of only 0.098% for purchase or selling.
Up to 100% APY
Bitrue also has high Annual Percentage Yields for staking coins. During staking stablecoins, you can earn from 10% to 15% APY, whereas farming coins will yield 50%. But if you convert to actual staking coins, you can get up to 10% APY for flexible staking. However, Bitrue offers up to 100% APY for fixed staking.
Diverse Payment Methods
Unlike some crypto exchanges, the platform lets you purchase crypto coins via fiat currency. You can use your credit/debit cards or Apple Pay. Moreover, you can make local bank, international wire, and ACH transfers. The process takes only a few minutes.
50% Referral Commission
Bitrue also runs an affiliate partner program, beneficial for both parties. The users who join the network using a referral link will get many rewards, while the inviter can also earn a high commission. If your referrals are below 10,000 USDT, you will get a 25% commission. But when they surpass 10,000 USDT, the commission will increase to 50%.
Pros
Up to 100% Fixed Staking APY
Competitively low Trading Fees
Ripple Trading Pairs Availability
50% Referral Commission
Cons
Low liquidity
Below-par customer care support
Wrapping Up
Crypto exchanges are increasing their supported coins and trading pairs regularly to match the market pace. However, some platforms are way ahead of others and offer a wide range. So, if you are looking forward to diversifying your portfolio, select the one exchange that excites you the most and starts trading.