Congratulations! You've earned profits through trading on the MEXC platform. Now, it's time to take out your earning, but that's where you're halted. Before starting withdrawal, you need to ensure that you've met the minimum withdrawal requirement and have enough balance, including the fee.
Don't worry if you're unsure of how to withdraw from MEXC to get your sweet earnings – this guide will help you out. We'll take you through the detailed withdrawal process and answer any important questions that you may have so that you can get your profit without any hassle.
So, without any further ado, let's get started!
Decide What You Want to Withdraw
The withdrawal process in MEXC is pretty convenient and straightforward. However, it has some limitations where you may have to seek help from an external platform. You can easily withdraw your crypto and other digital assets to a different wallet or exchange. But if you plan to withdraw fiat to your bank account, MEXC doesn't support it. We will show you how to send your cryptos from MEXC to an external wallet and how to withdraw your cryptos to your bank account from there.
So, if you have some currency, you want to cash out or withdraw some crypto coins in fiat form; you cannot directly withdraw them to your bank. Instead, you will have to transfer them to a different exchange that supports withdrawal to bank transfers and then cash them out. You can check out our detailed MEXC Global review to learn more about the platform.
Steps to Withdraw from MEXC
This unavailability of not withdrawing fiat currencies may annoy you a little but don't worry. We will guide you on how to withdraw currencies both ways. Follow the steps below to either transfer them to an external account or to your bank without hassle.
Step #1: Register to an External Wallet
First, you will have to register on an external wallet or exchange. If you are transferring funds to another platform, you may already have one. But you will require third-party assistance if you wish to cash out and have no other digital wallet. Here, we will explain the process with an example of Binance. Binance offers simple FIAT withdrawals to your bank account. You can register for Binance here.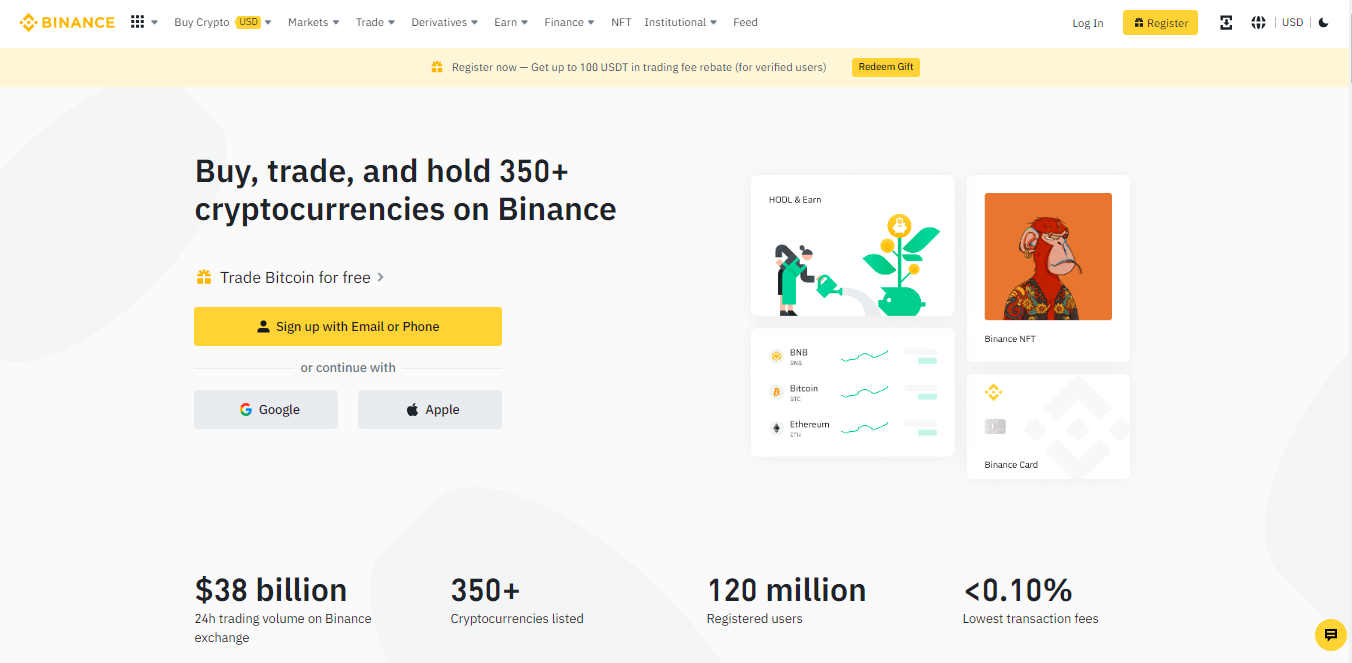 Go to Binance.com and click on the Register button.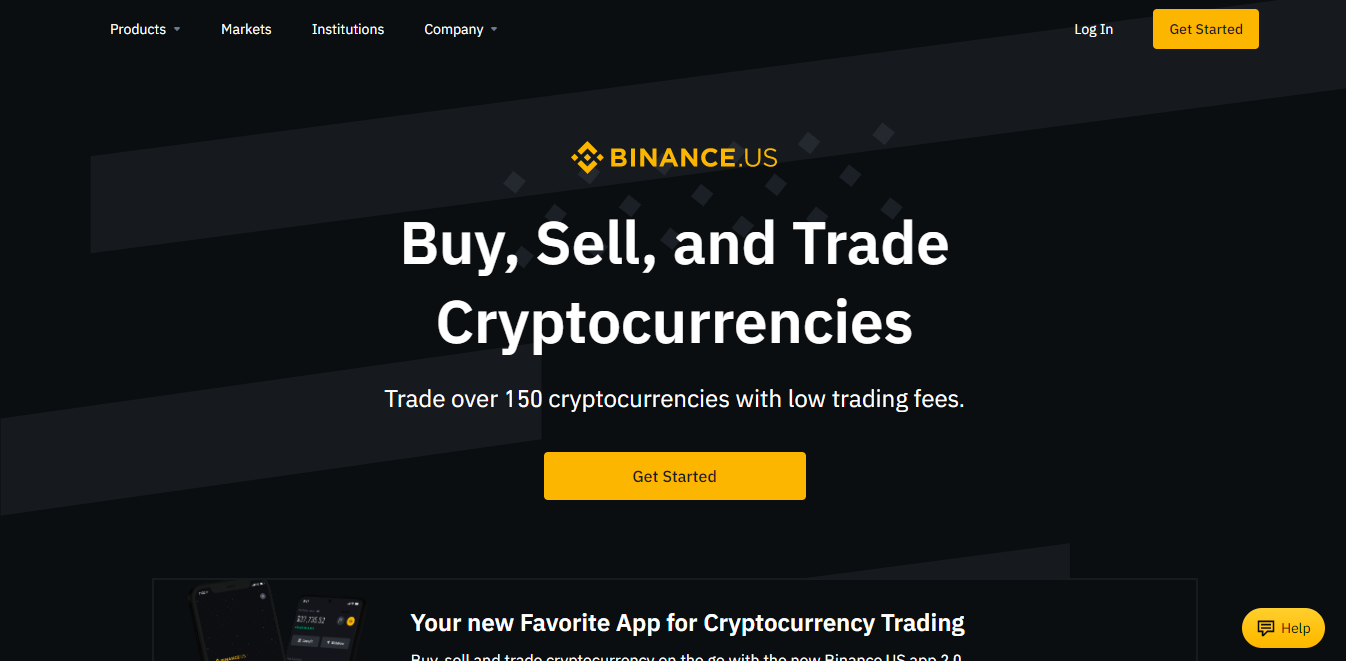 US residents will have to go to Binance.US and click the Get Started button.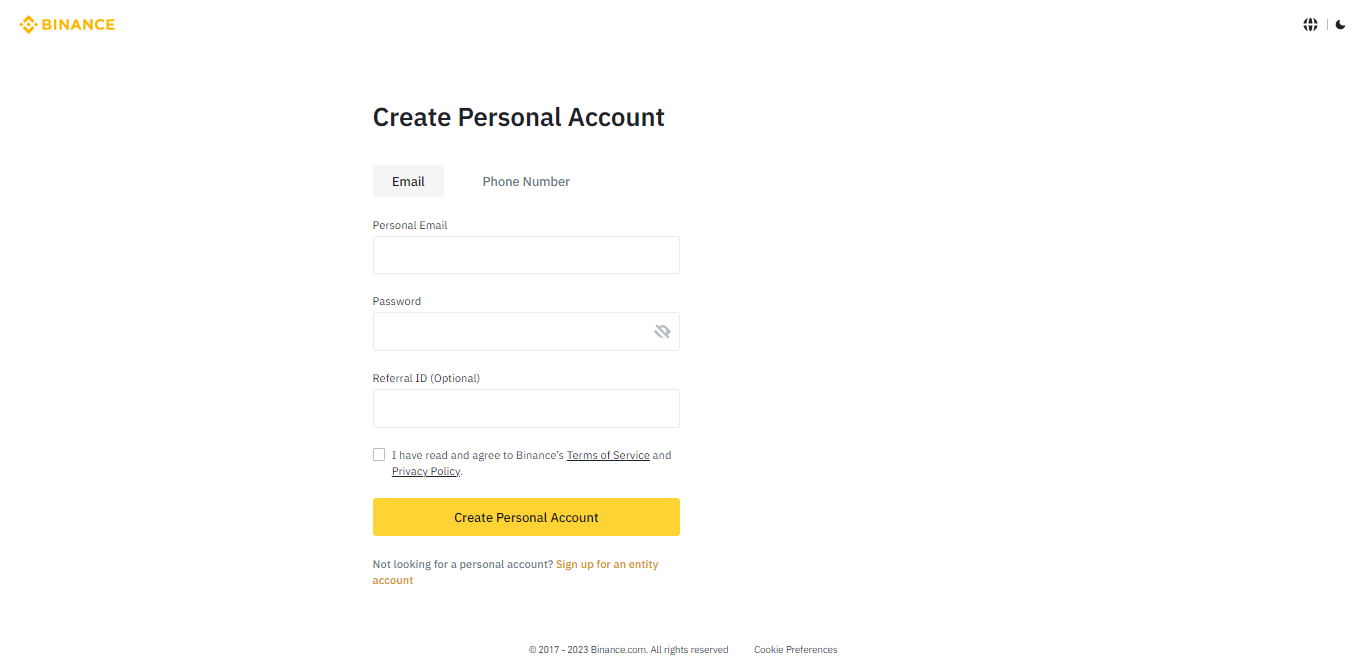 Irrespective of the domain, you will have the same sign-up procedure. Enter your email address or phone number and create a strong password. Next, checkmark the Terms & Conditions box, and click Create Account.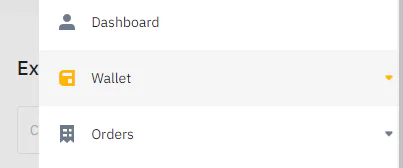 Enter the code received by email or message on the next screen, and your account will be created. You can access your Wallet by clicking your Profile in the top right corner.
Step #2: Go to Your MEXC Wallet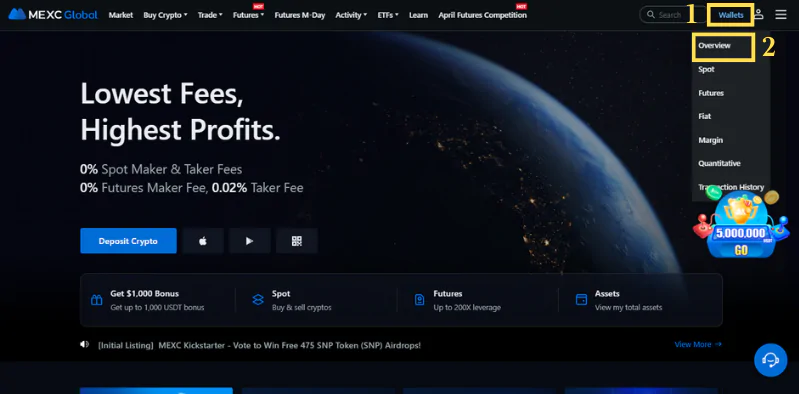 Now, log in to your MEXC account. Hover over the Wallets and click Overview.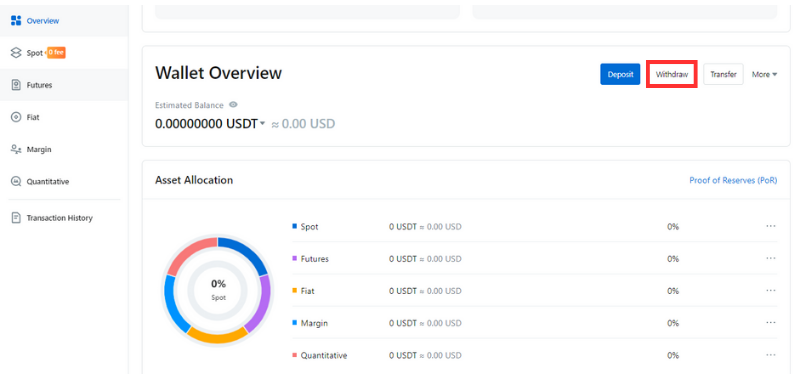 You will be directed to your Wallet dashboard. Click the Withdraw button between Deposit and Transfer in the Wallet Overview box.
Step #3: Fill in the Fields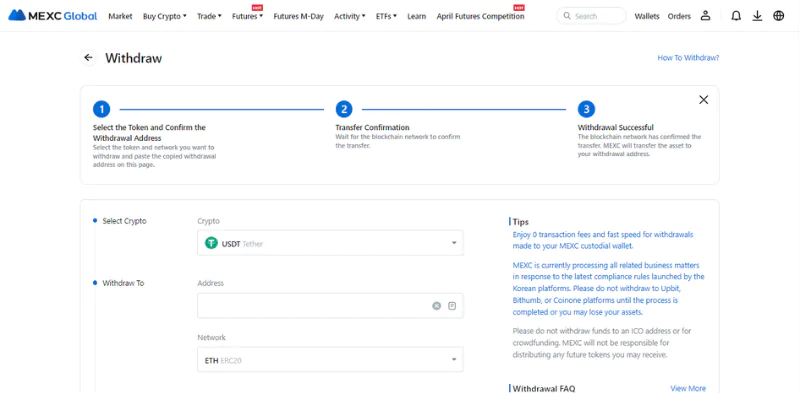 You will need to fill in three required fields. First, select the Crypto you want to withdraw and choose its Network. Now copy/paste the Deposit Address of the platform where you want to withdraw the funds. Once you've entered these details, a fourth field will appear, where you can enter the Withdrawal Amount.
Step #4: Confirm & Check
Double-check your deposit address to rule out any errors; otherwise, your funds will be lost. Once satisfied with the entered details, click the Submit button to confirm your transaction. Your funds will be transferred shortly.
To check the withdrawal status, go to your Wallet > Transaction History > Withdrawal. You can also check your previous withdrawal details by filtering them according to dates.
Step #5: Withdraw FIAT from Binance to Bank account (Optional)
If you are withdrawing only to a different platform, your work is done until step 4. But if you want to cash out your profit or funds from a bank account in fiat form, you will be required to follow a few more steps. Although we've taken Binance as an example here, the process is more or less similar for any platform.
Continuing with the example, here's how to withdraw your crypto as fiat currencies.
Log in to your Binance account.

Hover over the Trade and click Binance Convert.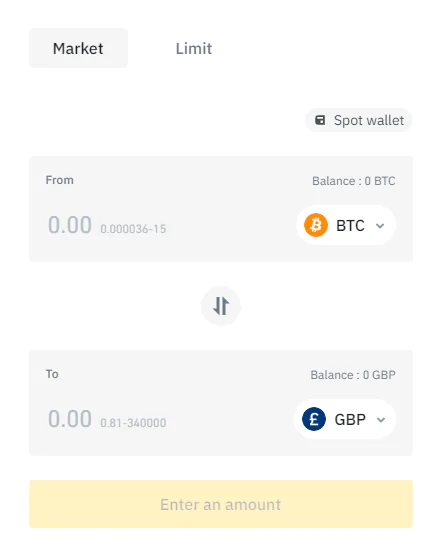 Enter the amount in any one of the fields. The box will be populated automatically. Next, hit the Convert button.

Now go to your home screen, click Wallet, and then Fiat and Spot.

Click on Withdraw from the top options.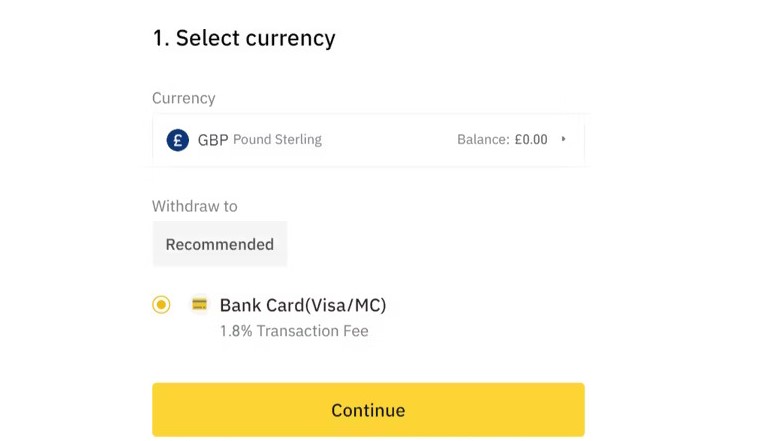 Select the currency you just converted and wish to withdraw in, and click Continue.
Next, you will only need to enter your Credit/Debit card details.
For additional security, Binance will send you two codes via message and email. Enter both codes in the next popup box and click Submit. Your amount will be delivered to your bank account after some bank processing time.
What is the Withdrawal Limit of MEXC?
The withdrawal limit on MEXC depends on your KYC verification level. Usually, they measure it in BTC, where you have a daily withdrawal limit. However, due to the recent downfall of the crypto coin after its all-time high, they have adjusted the daily limits according to the KYC level as follows:
| | |
| --- | --- |
| Primary KYC | 80 BTC |
| Advanced KYC | 200 BTC |
| Institutional KYC | 400 BTC |
What is MEXC Withdrawal Fee?
Usually, the withdrawal fee depends on the crypto coin you are withdrawing and which network you choose. MEXC charges you differently for different currencies. Withdrawal fees of famous coins are mentioned below:
| | |
| --- | --- |
| Crypto Coin | Withdrawal Fee |
| Bitcoin (BTC) | 0.0003 |
| Ethereum (ETH) | 0.0015 |
| Tether (USDT) | 0.5-1 |
| Binance Coin (BNB) | 0.0005 |
| Ripple (XRP) | 0.25 |
| Cardano (ADA) | 1 |
| Dogecoin (DOGE) | 5 |
Wrapping Up
Withdrawing crypto from MEXC is quite convenient and requires a simple process. Numerous users withdraw their profits every day. However, you will need a third-party involvement if you wish to cash out fiat or crypto in fiat form.
Just create an account in an external wallet. Log in to your MEXC account, go to Wallet, then Withdraw. Enter the details in the given fields and submit your request. To further take out the funds in your bank account, convert the crypto in the external exchange, and use their withdrawal procedure to cash out your money.
We hope the guide will help you with your problem. So, follow the step and cash out your recently made profit.
FAQs
Can You Withdraw from MEXC Without KYC?
Yes, you can withdraw from MEXC even if you don't have KYC verification. However, unverified users have a daily limit. The platform allows them to withdraw up to 5 BTC on unverified accounts, but if you've completed only the primary KYC, the withdrawal amount increases to approximately 50 BTC per day.
Can You Withdraw Fiat from MEXC?
MEXC does not support the withdrawal of fiat currencies, but the feature will be available on the platform soon. However, if you wish to withdraw your fiat currency or crypto in fiat form, you can follow the procedure given above in the fifth step.
What Are The Withdrawal Limits on MEXC?
If you have not done KYC, you can withdraw 20 BTC per day. With Primary KYC you can Withdraw 80 BTC per day. With advanced KYC you can withdraw 200 BTC per day and with Institutional KYC you can withdraw 400 BTC per day.