The Electrum Wallet is a non-custodial digital wallet. The wallet utilizes hot storage and can be paired with a cold storage hardware wallet for enhanced security. It was established in 2011.
Over the years, it has gained immense popularity as one of the earliest and most widely used Bitcoin wallets. Its widespread appeal is attributed to its user-friendly setup on various devices, seamless integration with major hardware wallets, and open-source nature.
As one of the original Bitcoin wallets, it offers users a reliable and well-established option. The Electrum crypto wallet might perfectly fit your cryptocurrency needs if you prioritize the best desktop experience and primarily deal with Bitcoin.
In today's article, we will talk about all you need to know about Electrum Wallet.
Pros and Cons
Pros
Easy setup across devices: Electrum is simple to set up on both a PC and a mobile device. Users can avoid the difficulties of setting up the wallet by following the installation wizard's step-by-step instructions. After installation, the wallet can be readily imported onto other devices using a 12-word seed phrase. Using this simple technique, you can rest easy knowing that your Electrum wallet will always be available and synced amongst all your devices.
Compatible with major hardware wallets: Electrum provides hot storage, vulnerable to hacking attempts. However, to enhance security, Electrum offers users the choice to transfer their Bitcoin to a hardware wallet, ensuring their coins are safely stored offline. Alternatively, users can download the wallet on an offline device to achieve a similar level of security.
Electrum is compatible with various powerful and well-known hardware wallets. Among these, it particularly recommends the Ledger Nano series of hardware wallets. Additionally, Electrum supports integration with other major hardware wallets like Trezor and Keepkey, giving users multiple options to safeguard their cryptocurrencies.
Personalized security: Users of Electrum have the choice of many security measures to protect their Bitcoin. These measures include multiple-signature, two-factor authentication, and normal security options. A multi-signature wallet offers the highest level of protection. In contrast, those who wish to keep their Bitcoin in a hardware wallet should choose a regular wallet. The two-factor authentication security option achieves a good mix of convenience and added security.
Beginner-friendly: Electrum makes sending or receiving bitcoins, creating invoices, encrypting communications, and accessing transaction history. It is the perfect option, particularly for novices exploring the world of Bitcoin, with its user-friendly and straightforward style.
Open source: The wallet's software is open and publicly available. Users can check over the code to find potential errors or vulnerabilities. Keeping it publicly accessible allows the Electrum core team to spot cracks and update the code accordingly.
Cons
Past security issues: Despite having a solid history of attempting safe Bitcoin storage, the wallet had a major incident in 2018. Hackers used sophisticated phishing to take advantage of a flaw in the Electrum client version 3.3.3 around that period, resulting in a substantial loss of about $750,000. This incident reminds the crypto community that security weaknesses may appear even when there has been a history of security, and it emphasizes the need to be always on guard against future security breaches.
Supports Bitcoin only: Electrum does not support any cryptocurrencies and is only intended for Bitcoin storage. But since the Electrum software is open-source, several forks of the wallet have emerged to support many other cryptocurrencies.
No customer support: Electrum does not provide direct customer assistance despite having a huge user base. Users must utilize the BitcoinTalk Forum or Electrum's social media platforms to submit questions or requests if they have any. While Electrum posts updates and announcements to its official Twitter account, it does not provide customer service for user inquiries.
Electrum Wallet Features
Electrum is a secure and encrypted wallet that lets users safeguard their Bitcoin with a password. It gives users complete control over their keys, enabling them to export and use them as necessary in other Bitcoin-compatible wallets.
There is no need to worry if you lose your device or it has any problem. Electrum provides a secret recovery phrase throughout the installation and setup phase to facilitate quick money recovery.
Additionally, Electrum offers a variety of security features, including multisig and cold storage. It is firewall-friendly and simply interacts with hardware wallets. Electrum is decentralized, and anybody can run their server using it, which gives it a big advantage by removing any potential single points of failure. As a result, while using the Electrum wallet, users get continuous service free from any possible downtimes.
Also, Electrum is open source. Thus, anybody can read and examine the source code. This feature allows people to examine the code for possible software flaws or vulnerabilities. More people looking through the system's architecture can help find any protections that can be vulnerable before hackers do. As a result, Electrum's architecture is updated often to guarantee that its security keeps pace with advancements.
Users do not need to download the complete Bitcoin blockchain since the wallet uses the Simple Payment Verification (SPV) technique to validate all transactions. This makes Electrum lightweight and makes BTC transfers swift and easy. Electrum supports the Lightning Network, making Bitcoin transactions quicker and more affordable for a better payment experience.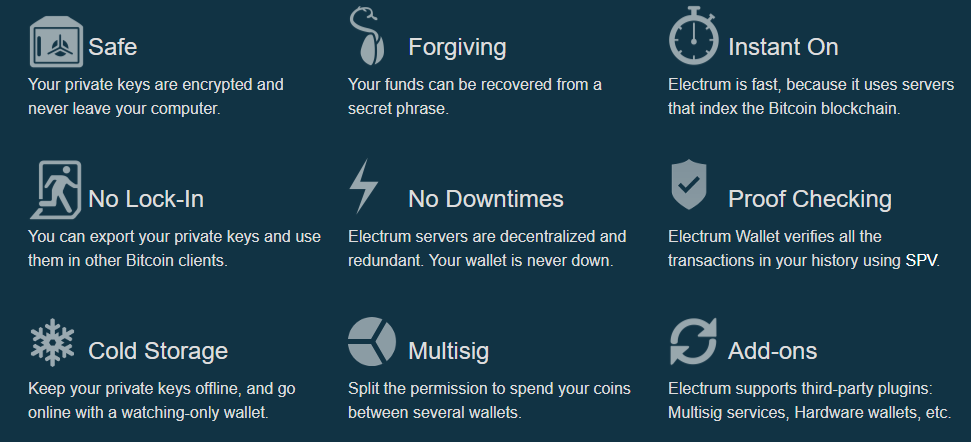 Electrum Wallet Security
Electrum wallet operates non-custodial, granting users complete control over safeguarding their private keys. While users are responsible for securing their keys, the wallet offers additional security features for added protection. For instance, users can choose between two-factor authentication (2FA) and multisig to fortify their defenses against potential hackers. Additionally, integrating the Electrum wallet with third-party hardware wallets enhances security.
The Electrum wallet employs two-factor authentication (2FA) to heighten security further, ensuring only authorized users can access their accounts. Both the web and mobile versions of the wallet require an encryption password. This feature incorporates an extra layer of protection for the user's data and funds.
Users do not need to complete the Know-Your-Customer (KYC) procedure when registering for the wallet. Therefore, they are not required to submit confidential information to establish an account.
Many independent developers have thoroughly examined Electrum since it is open source. With over 15,000 modifications to the wallet's software code, these developers have made major contributions.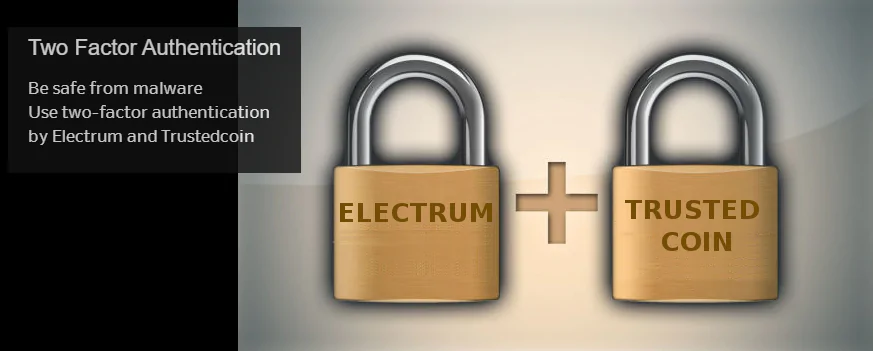 Electrum Wallet Lightning Network connection
Electrum provides Lightning Network transactions as an alternative to the conventional Bitcoin transaction process. Unlike completing the entire transaction on the Bitcoin network, the Lightning Network handles the opening and closing of payment channels on-network, while the remaining transaction occurs off-network. This innovative approach makes peer-to-peer (P2P) microtransactions faster and more cost-effective.
Electrum Wallet Multisig
Electrum offers multi-sig services for further wallet protection. You need two or more private keys or signatures to approve your transactions by setting up a multisig wallet. Enabling multi-sig for your Electrum wallet provides an additional degree of protection, much as multi-factor authentication.

Electrum Wallet Fees
The Electrum software wallet is available for free. Users can easily download the Electrum mobile wallet from the Play Store and the desktop wallet directly from the official website.
When using Electrum, transaction fees are determined by the size of each transaction and measured in satoshis per byte of data transferred. You can have some influence over the transaction fees you pay by using Electrum. You can tailor transactions to aim for a charge that meets your tastes. The corresponding amount in BTC is also calculated for each satoshi necessary for a transaction.
Electrum Wallet-Supported Coins
Despite the market's enormous selection of thousands of coins, this wallet only supports Bitcoin storage. Electrum has been entirely focused on Bitcoin throughout its life, resulting in a BTC wallet that is very safe and effective. Its characteristics include the capacity to accelerate transaction speeds and advanced Bitcoin storage capabilities.
Electrum Wallet Supported Devices
Electrum was first developed as an online wallet. Now, it is available as a mobile app. The mobile Electrum wallet app is free on Google Play for people. You can download the wallet for free right from the website, and it works with Linux, Windows, and Mac OS systems.
The wallet's setup is simple and quick, and the interaction with hardware wallets further simplifies its functioning while improving the user experience.
Electrum Wallet Customer Service
Although Electrum lacks a dedicated customer service team, it does feature a handy "help" area that enables users to connect with official websites, obtain frequent updates, and report errors.
Users can use Electrum's website for in-depth assistance, where they will discover a thorough support page with articles, papers, and tutorials to aid with system navigation. Additionally, Electrum's Twitter handle makes official announcements very accessible.
Moreover, if they have any questions, you can get help from the Electrum community on websites like the BitcoinTalk Forum, Twitter, and Reddit. Alternatively, you go to the Electrum GitHub website to report bugs or other technical difficulties.

Electrum Wallet FAQ
Who is Electrum Wallet Suitable for?
For those who are knowledgeable about cryptocurrency trading and are only interested in keeping Bitcoin, Electrum is a great option. It offers a desktop client without ancillary services like Bitcoin staking to appeal to a narrowly targeted target demographic.
The wallet's simple design enables experienced traders to trade Bitcoin effectively and affordably. Electrum may not be the best choice for people new to Bitcoin trading.
Is Electrum Wallet Safe?
Electrum has consistently improved its security mechanism to remain current despite being founded more than ten years ago. Since it is an open-source wallet, it benefits from the collective efforts of more than 300 developers.
Can I Use Electrum Wallet for Bulk Payments?
The Electrum wallet allows users to make bulk payments by creating a single transaction with multiple outputs.
Does Electrum Support Cold Storage?
Yes, the Electrum Wallet enables cold storage. Online hackers would find it very difficult to access your cash using cold storage since they would require physical access to your private key to take them. Electrum offers a seamless connection with several hardware wallets, another cold wallet, and the most secure method to store cryptocurrency.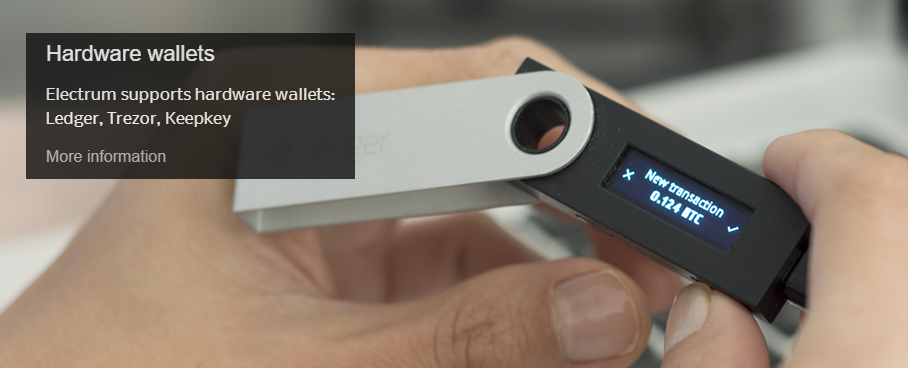 Is Electrum Wallet Prone to Hacking?
The Electrum wallet is less prone to hacking attempts due to its strict security mechanisms safeguarding the user's password.
Has Electrum Experienced Security Incidents?
Mustafa Al-Bassam, a postgraduate researcher at University College London, stated that in 2017, Electrum had a security vulnerability. Version 2.6 of Electrum was impacted by this problem, which first appeared in February 2016. Users' digital funds were in danger because of the issue, which made it possible for nefarious websites to take over their wallets. Therefore, hackers might route Bitcoin to their addresses even if the user had password-protected their private keys.
Conclusion
For experienced users looking for a simple desktop wallet for Bitcoin, Electrum Wallet is a great choice. It is a fantastic Bitcoin wallet for desktop users because of its many remarkable features, which include a simple setup procedure, support for hardware wallets, and an open-source software setup.
However, using Electrum might be difficult for newbies. Additionally, people who sometimes need help may run into issues due to its lack of proper customer service.