Ledger Stax Review
Anyone who owns any crypto or NFTs knows how important cryptocurrency wallets are. These wallets have been existing since the start of the industry. Crypto owners and enthusiasts can agree that these wallets have undergone several changes and improvements since crypto started.
There are different types of crypto and NFTs wallets. Hardware wallets are commonly used among crypto holders. There are many hardware wallets crypto users have to choose from. One wallet that stands out is Ledger Stax.
This wallet stands at the forefront of Ledger's esteemed family. It boasts of the same unparalleled security that its predecessors, the Nano X and the Nano S Plus, are renowned for. However, Ledger Stax goes beyond the realm of security. The launch of this wallet ushered in a new era of usability and accessibility. Ledger Stax opens the doors to a world where safeguarding your digital assets becomes a seamless and intuitive endeavor.
In this review, we will examine all the facts about Ledger Stax that will equip you with the knowledge to make an informed decision regarding the suitability of this product for your cryptocurrency storage needs.
Overview of Ledger Stax
Ledger is a prominent figure in the cryptocurrency world. Over the years, the company has quickly gained a well-deserved reputation for its exceptional hardware wallets. With just about eight years of expertise in the field, they have successfully sold more than five million gadgets in 200 nations. Their wallets hold 20% or more of the cryptocurrency assets traded globally.
The company recently unveiled its latest masterpiece hardware wallet, Ledger Stax. This innovative creation sets out to revolutionize the management of cryptocurrency holdings, streamlining the process for individuals and businesses.
The origin of this wallet makes it exceptional. Tony Fadell, an ex design engineer at Apple who played a huge role in designing the iPod, championed the design of the Ledger Stax. With Ledger Stax, Fadell sought to change how users store and protect their crypto assets.
If you opt-in for Ledger Stax, you can enjoy a wallet designed by the engineer behind Apple products. Also, you can use a wallet with a track record of successfully controlling a sizeable share of the worldwide cryptocurrency industry. If this is not enough to convince you, then the wallet's exceptional features will do.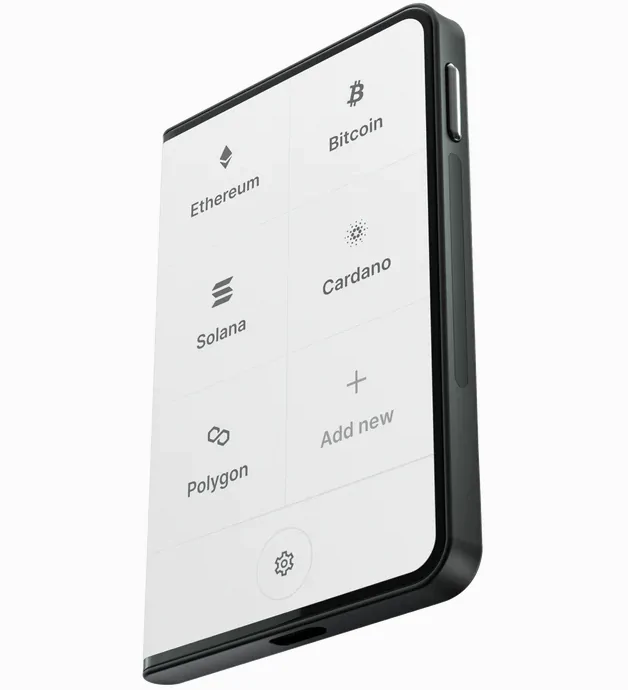 Features of Ledger Stax
The Ledger Stax distinguishes itself from previous Ledger hardware wallets through its unique features. These features include:
Sleek design
The Ledger Stax is more aesthetically pleasing and visually appealing than earlier Ledger hardware wallets. The device's design includes an e-ink display that wraps around the front and gently curls down the spine. The Ledger Stax delivers a wonderful user experience because of its small size, which fits nicely in the palm of your hand. The device's big 3.7-inch (672x400px) display allows for simple reading, smooth transaction execution, and easy access to a portfolio summary of your crypto assets.
Bluetooth Enabled
Its Bluetooth connectivity feature offers ease and security for handling cryptocurrency assets. This feature allows cord-free use with your Android or iOS mobile device. With no physical connections or cords required, this Bluetooth-enabled function enables hassle-free and smooth communication between the Ledger Stax and your mobile device.
Touchscreen
The Ledger Stax is the first Ledger device with a touchscreen, making it easier for users to explore and confirm transactions. The Trezor Model T is the only option with a touchscreen among hardware wallets. However, Ledger Stax is more than twice the Trezor Model T.
Personalized locked home screen
Ledger Stax lets users customize their devices. You can include a unique touch to your Ledger Stax by giving it a personalized name. Also, you can use a favorite NFT or picture as the lock screen backdrop. Ledger takes the Ledger Stax's customizability features even more awesome as its customizable lock screen feature stays active even after turning the device off.
Internal battery and Wireless Charging
The Ledger Stax has a strong internal 200mAh battery that guarantees prolonged use and equipment life. The battery powers the Ledger Stax for around 8 hours of nonstop operation after a single charge. In addition, the wallet's battery can hold its charge for weeks or months while not in use.
For more convenience, Ledger Stax adopts the Qi wireless charging feature, similar to the wireless charging technology used by Samsung and Apple. Its Qi wireless charging feature lets you charge the device without a physical charging wire.
Supported Tokens, Devices, and Coins
Through its Ledger Live app and native software, the Ledger Stax offers full token and currency management features and supports more than 500 different tokens and currencies. Also, users who connect their Ledger Stax with other wallet programs can also trade 5000 coins and tokens.
NFTs
Using Ledger Stax and Ledger Live, users can manage NFTs on blockchains like Polygon and Ethereum. Additionally, you can expand NFT management features to various other blockchains by combining your Ledger Stax with a third-party wallet. This helps you manage your NFTs easier across different blockchain ecosystems.
Compatible with Numerous Devices
The Ledger Stax excels in compatibility, integrating well with various operating systems. It supports many major operating systems and mobile devices, including macOS 12+, iOS 13+, Windows 10+, Ubuntu, and Android 9+.
Embedded magnets
The Ledger Stax stands out for its embedded magnets, which make it easy to connect to magnetic surfaces and store the device covertly while not in use. Ledger Stax's magnets can stack many devices together and simplify simple hiding.
Enables clear signing
Although transparent signing is a feature that can be found on all Ledger devices, the Ledger Stax stands out because of how important it is for strengthening security. When using smart contracts, a clear signature is extremely important for lowering exposure to hackers and phishing attempts. The Ledger Stax's transparent signature function lets you examine each transaction carefully. This degree of transparency gives you thorough details about the transactions you approve, allowing you to judge their authenticity more accurately.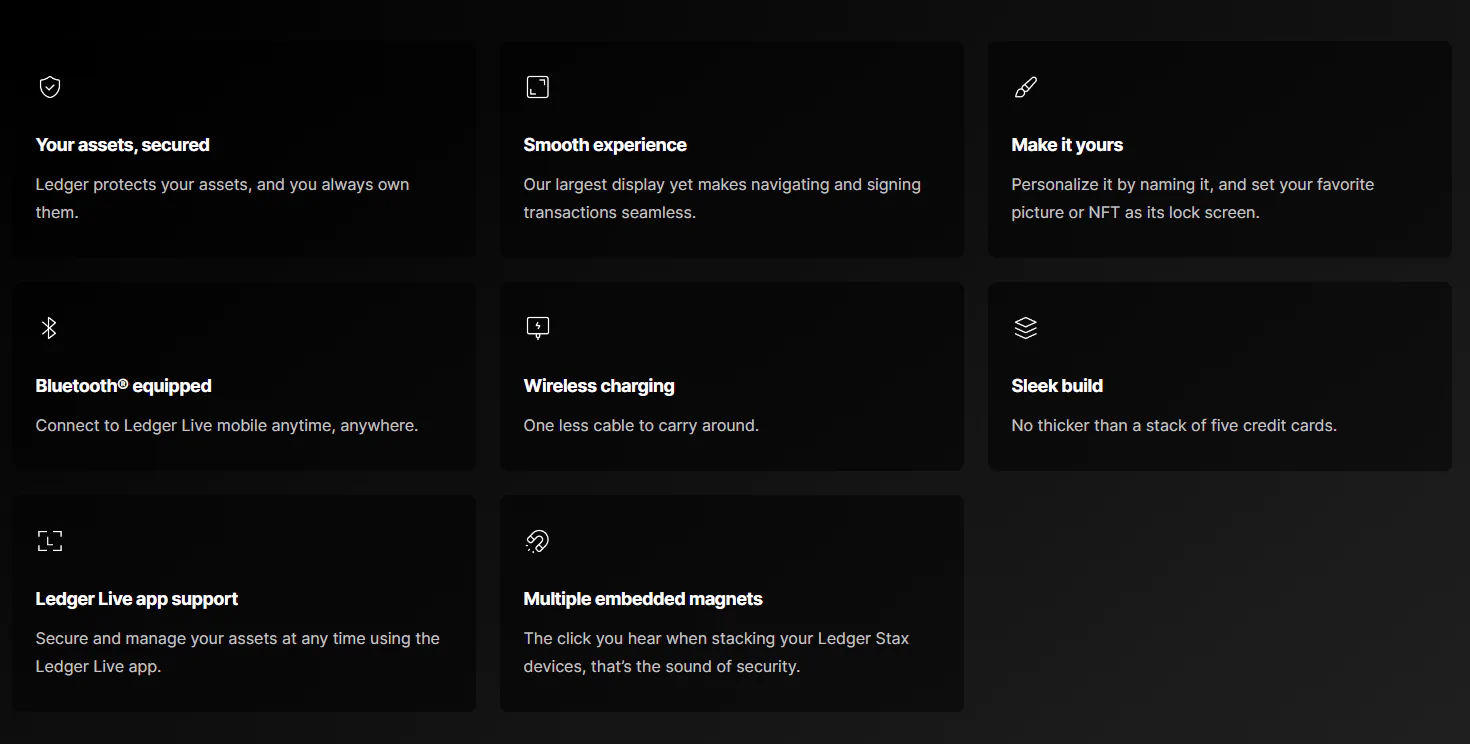 Pros
Multiple Account: The Ledger Stax includes a new and unique feature called multi-account. Multi-account enables users to manage many cryptocurrency accounts using a single device easily.
Impeccable Security: The Stax uses a secure chip to guarantee the security of private information and transactions. This secure chip provides a strong defense, protecting user data and boosting the general security of transactions made with the device.
Sleek and Easy-to-Use Design: The Ledger Stax has a sophisticated, sleek, aesthetically pleasing design. Its touchscreen and Bluetooth-enabled feature make it very handy and user-friendly for managing crypto assets worldwide. The Ledger Stax is a great option for new and seasoned investors seeking a safe and user-friendly cryptocurrency management solution.
Full Ledger Live Connectivity: Old Ledger users are familiar with Ledger Live. If you haven't used it before, Ledger Live is a specialized program designed to make managing and maintaining your crypto assets easier. It offers a complete platform for efficiently managing and safeguarding your digital assets and caters to all Ledger wallet users.
Cons
Costly: Ledger Stax stands as the highest-priced hardware wallet from Ledger as it goes for $279. This presents a barrier for individuals seeking a more budget-friendly option.
Limited staking: Currently, there are limitations on the number of cryptocurrencies you can stake directly through Ledger Live. This limits the options of crypto staked on Ledger Stax.
Setting Up a Ledger Stax Wallet
If you are thinking of getting a Ledger Stax wallet, follow these easy steps to keep your crypto assets.
Step 1: Install the Stax app on your PC after successfully getting the device.
Step 2: Connect your Ledger device to the computer and launch the Stax app.
Step 3: Subsequently, carefully follow the step-by-step instructions provided within the app. These instructions will expertly guide you through the process of creating a new Ledger account and incorporating the Stax wallet. You will need to create your account name and password throughout this process.
Step 4: After successfully completing all the necessary steps, you will be directed to your freshly established Stax wallet. This wallet will serve as your central hub for managing your cryptocurrency funds.
Now you can enjoy all the features the Ledger Stax wallet come with.
Final Verdict and Conclusion
Ledger Stax's impeccable features are more than enough to rope anyone in. This hardware wallet excels in terms of design, security, and functionality. All these make Ledger Stax stands out as one of the top choices in the market for securely managing your cryptocurrency assets. Even though it comes at a price, spending $279 on a hardware wallet might not entirely be a bad idea.