Using a trustable and secure crypto wallet is vital to protect your cryptocurrencies. While searching for such a wallet, you might have come to Trust Wallet. It seems to be quite functional, but can you really trust it?
Here is a full Trust Wallet review, which will help you to decide. We will go through its basic info, useful features, pros, and cons. You will also learn about a few alternatives if you want to try out other options.
Over 10 million users are actively using the wallet per month. So, it seems quite legitimate. But perhaps, you are doubtful about its usefulness according to YOUR needs. So, does it worth it? Let's find out!
What is Trust Wallet?
Trust Wallet is a digital wallet to store cryptocurrencies. It is open-source software that is one of the most used mobile digital wallets (available on Android and iOS, as well as a browser extension). You can not only hold, manage, receive, exchange, and sell cryptocurrencies but also trade other crypto assets like NFTs. And due to its built-in Decentralized Exchange (DEX), you can conveniently access Dapps without leaving the platform.
Trust Wallet: In a Glance

Highlights
First, Trust Wallet is available for free. You can download it from the Play Store or App Store or use it as a browser extension on your PC. Unlike other platforms, the software has not put any feature behind a paywall nor supports subscriptions. And since it has a simple, straightforward, and minimal user interface, it is a great choice for beginners.
Beginners can also find it extra convenient as the application is a non-custodial wallet. So, the users don't have to get into the hassle of Know Your Customer (KYC) confirmation. Although you will be responsible for protecting your keyphrases, it will grant you complete control over your account, assets, and data.
Another highlight of the wallet's non-custodial nature is its secrecy. Since the platform does not store any of its customer's information on its servers, that data is saved from breaches. So, no one can steal the keyphrases (unless they access the users' computers individually).
In a way, it lifts the responsibility from the company's shoulders, but they have other measures to provide the required security on the platform. Although cold storage on many wallets eases access and increases security, the user's information is under threat in case of a data breach. But that's not an issue in Trust Wallet. Moreover, the platform also performs regular audits with the help of Stateful (leading security providers).
Numerous Cryptocurrencies
The wallet supports up to 61 cryptocurrencies, primarily including popular ones like Bitcoin, Ethereum, Litecoin, Ripple, Dogecoin, Solana, TRON, and Polkadot. It also supports 10 stablecoins, including Tether, Binance USD, Dia, and Gemini. Apart from them, it also supports staking coins, i.e., Tezos, Callisto, Kava, Algorand, and Cosmos.
Moreover, the platform was only designed to support ERC20 and ERC223 tokens and blockchain initially. But today, you can work on 65 different blockchain networks, including TRC10, TRC20, and BEP2. So, the platform has become Blockchain agnostic (a platform that supports multiple blockchains).
One of the major highlights of Trust Wallet is its integration of price update charts. The app automatically and regularly updates the current cryptocurrencies' prices so that the traders can track them within the platform. The feature can help you to keep a keen eye on market fluctuations and make quick but informed decisions.
The feature distinguishes it from many other wallets as they only allow users to buy, store, and exchange their cryptocurrencies. Providing insightful charts feature becomes possible due to the wallet's collaboration with Binance, which unfolds versatility and usefulness.
To take account security to the next level, Trust Wallet has a backup phrase consisting of 12 words. This phrase is visible to you at the time of account creation. Note it down in a secure place (most preferably in written form), easily accessible when required. The phrase will help you to recover your lost or forgotten account in case of any mishap.
Apart from cryptocurrency exchanges, the platform also provides other crypto assets control. You can integrate Binance Blockchain or Ethereum Smart Chian decentralized applications through its built-in Decentralized Exchange (DEX). It eliminates the hassle of closing applications to purchase Smart Contracts. Many wallets lack this ease of usage.
Moreover, you can also buy, sell, and hold your non-fungible tokens (NFTs) in the wallet. The wallet lets you directly access NFT marketplaces, for example, OpenSea. These can either be BNB-based or ETH-based NFTs. Due to these integrations, Trust Wallet currently supports more than 4.5 million digital and crypto assets.
Pros
Unlike other crypto wallets, Trust Wallet only charges a 1% fee of the total on purchasing cryptocurrencies. It makes the platform comparatively much more affordable than others. But if you hold 100 $TWT (Trust Wallet native token) in your account, you can get an exemption from even this 1% transaction payment; regardless they are BEP2, BEP20, or SPL tokens.
You can purchase cryptos by directly paying through your card. The platform supports VISA and MasterCard credit and debit cards. You can even pay from PayPal or use your fiat money via bank transfers. It adds the convenience of quick payments without leaving the application. However, the minimum limit for any crypto purchase is $50.
Trust Wallet gives you two different options for trading crypto coins. One, you can swap your cryptocurrencies for another one instantly. But the swapping is only available on the same blockchain. To make inter-blockchain trading, the Exchange option will unfold more advanced operations. Binance DEX controls the exchange option.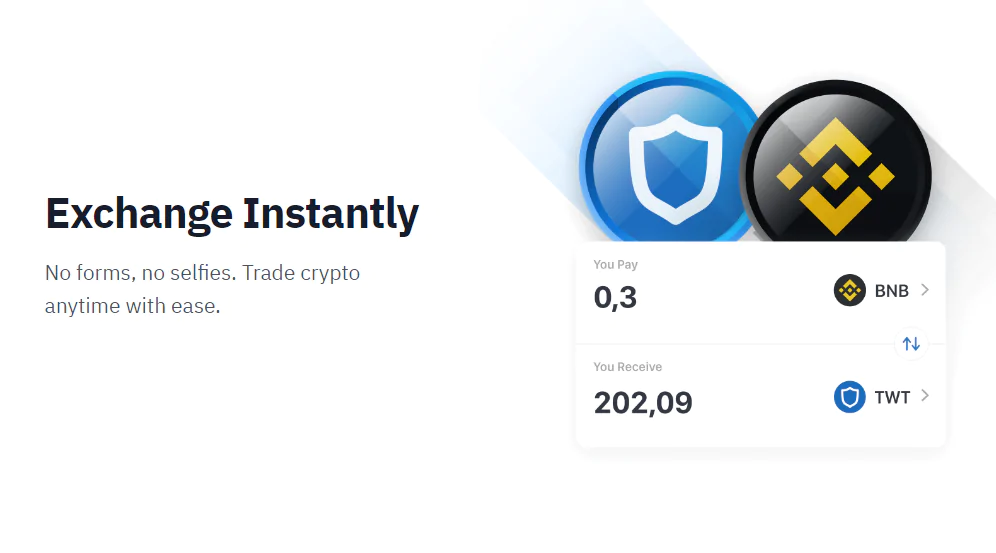 Although Trust Wallet is useful within its platform, it is also beneficial outside its territory, like social media. The company regularly organizes rewards and giveaways for its users and posts information on social media handles. Besides, you may like to follow their social media accounts if you love funny content, as they also post memes regularly.
Cons
Despite the platform's non-custodial nature lowering data breaches, their lack of hardware wallet integration is irritating. For instance, if you require access to your crypto assets but don't have any internet connection, your wallet is useless (until you get the internet). Here, an offline wallet integration helps a lot.
Another drawback is the limitation in customer care. You can only contact support via email address. In fact, the platform allows you to submit a ticket and wait for a reply. Although the team representative contacts back pretty soon, it is not as convenient as direct and immediate communication.
Is Trust Wallet Safe?
Yes, Trust Wallet is safe to use. Although the platform makes you responsible for protecting your keyphrases and vital information, it has different encryption and firewalls to secure your data on your devices. You can enable FaceID and TouchID entrance to increase security. Moreover, it is also an official Binance crypto wallet after its collaboration with Binance Network.
Another factor that indicates Trust Wallet is safe to use is its wide usage. Currently, the wallet holds more than 4.5 million digital assets of 25+ million users. It shows the amount of trust people have in it globally. So, it is safe to use if you want to store your cryptocurrencies.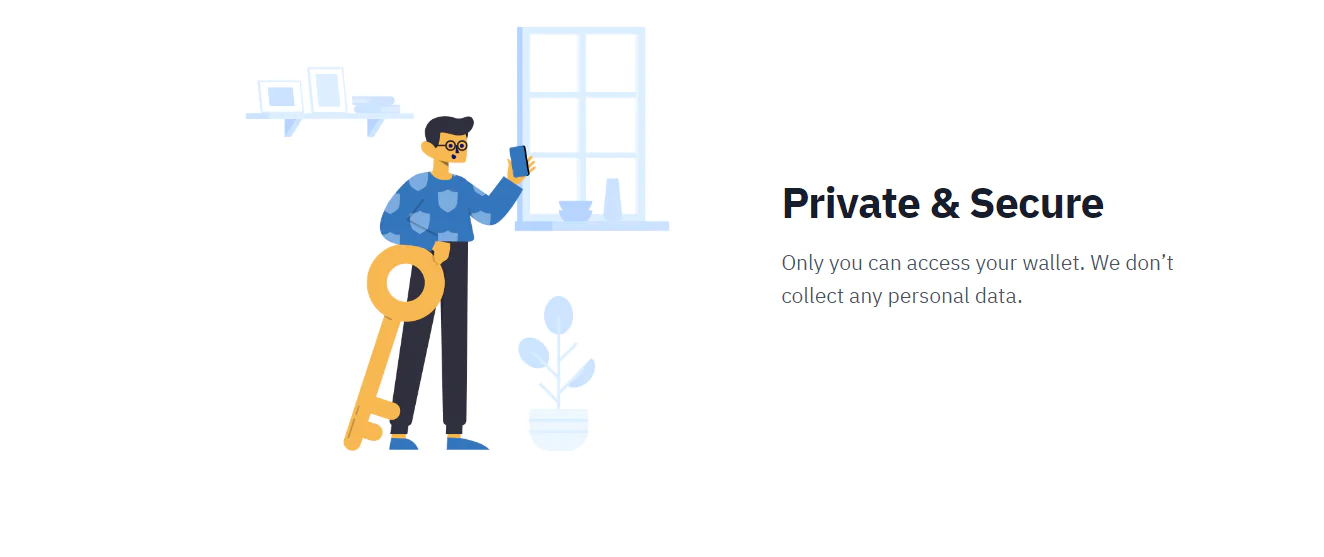 Trust Wallet Alternatives
Even though Trust Wallet is a great choice, you probably want to test other options. It is widely used due to its free nature and the control it gives users. However, many exciting crypto wallets that are no less valuable than the Trust are also operating.
Coinbase Wallet
Coinbase wallet is also a non-custodial crypto wallet with industrial-grade security and firewalls to protect the data it controls. Currently, it has more than 100 million active users. The wallet supports thousands of cryptocurrencies that are also available on the Coinbase exchange platform.
Unlike Trust Wallet, Coinbase Wallet has numerous methods through which customers can contact them (like email and live phone calls). It also supports a Ledger hardware wallet that increases security. However, its browser extension is only available for Chrome for PCs.
Metamask Wallet
Matamask is one of the best crypto wallets, but it only holds Ethereum (ETH) and all other Ethereum-based ERC20 tokens. But recently, the platform has also integrated wallet support for Binance Blockchain, so you can switch between ETH and BNB wallets.
What makes Metamask distinctive is that you can adjust gas fees (which only affects transaction speed). Moreover, it has cold storage and hardware wallet support, like Trezo and Ledger. So, if you mostly deal with Ethereum and Binance Blockchain, Metamask will be the right choice.
Atomic Wallet
Atomic Wallet has recently gained quite a significance being beginner-friendly. Apart from the basic features, you can buy, exchange, swap, stake, and convert over 500 cryptocurrencies. Although it doesn't support hardware wallets, you can use it on multiple platforms, including Android, iOS, Windows, MacOS, Ubuntu, and even Debian and Fedora.
Although the wallet is great for beginners, purchasing crypto from bank cards is relatively pricier. The process is assisted by a third party, Simplex, which charges a flat 2% fee. Also, the minimum amount you can purchase should worth $10.
Final Verdict
Trust Wallet is a great option if you require a secure crypto wallet. It is free, flexible, easy to use, non-custodial, and supports numerous cryptocurrencies. It has a low gas fee (even 0% if you hold 100 $TWT (native token). However, you won't get hardware wallet integration and may need to wait a while to contact the customer care team. Overall, millions of people use Trust Wallet, and it is safe if you want to use it too.