Over the past six years, Portugal has embraced cryptocurrencies with open arms. Thanks to a 2016 ruling by the Portuguese tax authority, cryptocurrencies like Bitcoin have found a comfortable home in the country.
Unlike traditional currencies, these digital assets are not considered legal tender in Portugal, making them exempt from taxation. So, how do you get started with cryptocurrencies in Portugal? Well, you've come to the right place!
Portuguese investors are turning to regulated cryptocurrency exchanges to buy, sell, or even stake digital assets. These platforms provide a safe and secure way to transfer your Euros (EUR) from your local bank account into digital currencies.
Top 5 Crypto Exchanges in Portugal Reviewed
This guide will walk you through the top 5 cryptocurrency exchanges approved by the Portuguese Securities Mafrket Commission, the country's primary regulatory authority for all things crypto.
So, whether you're a seasoned crypto investor or just dipping your toes into the crypto waters, keep reading to discover what each of these top exchanges offers. Let's explore the exciting world of cryptocurrency together.
1. Bybit
Ranked third among Portugal's cryptocurrency exchanges, Bybit offers 100+ digital assets, advanced trading tools, and various order types, including derivatives trading to a user base of over 10 million.
Known for its user-friendly interface, fast transactions, competitive fees, and free Euro deposits via bank transfer, Bybit stands out as a versatile exchange.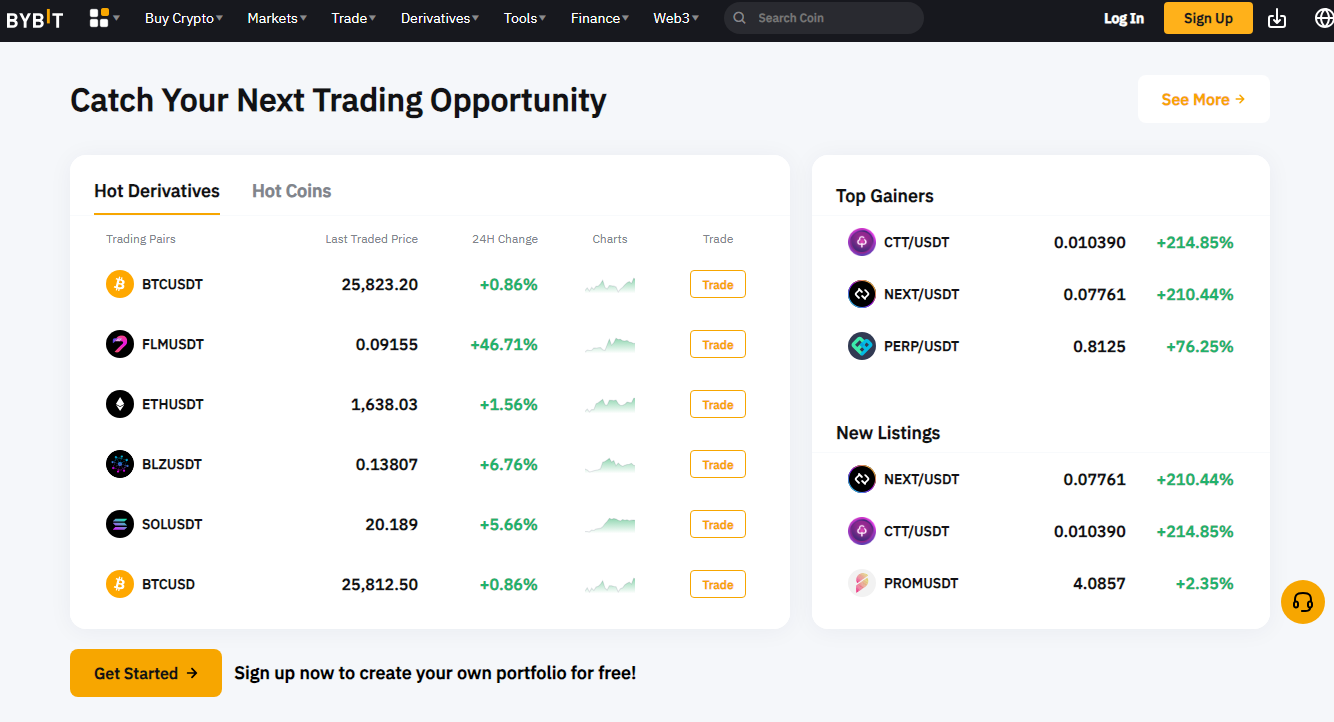 Bybit particularly shines in derivatives and futures trading, boasting substantial liquidity and an attractive leverage offering of up to 100x, allowing experienced traders to enhance their trading strategies significantly.
It also supports staking services and crypto loans, providing users with lending, borrowing, and earning opportunities.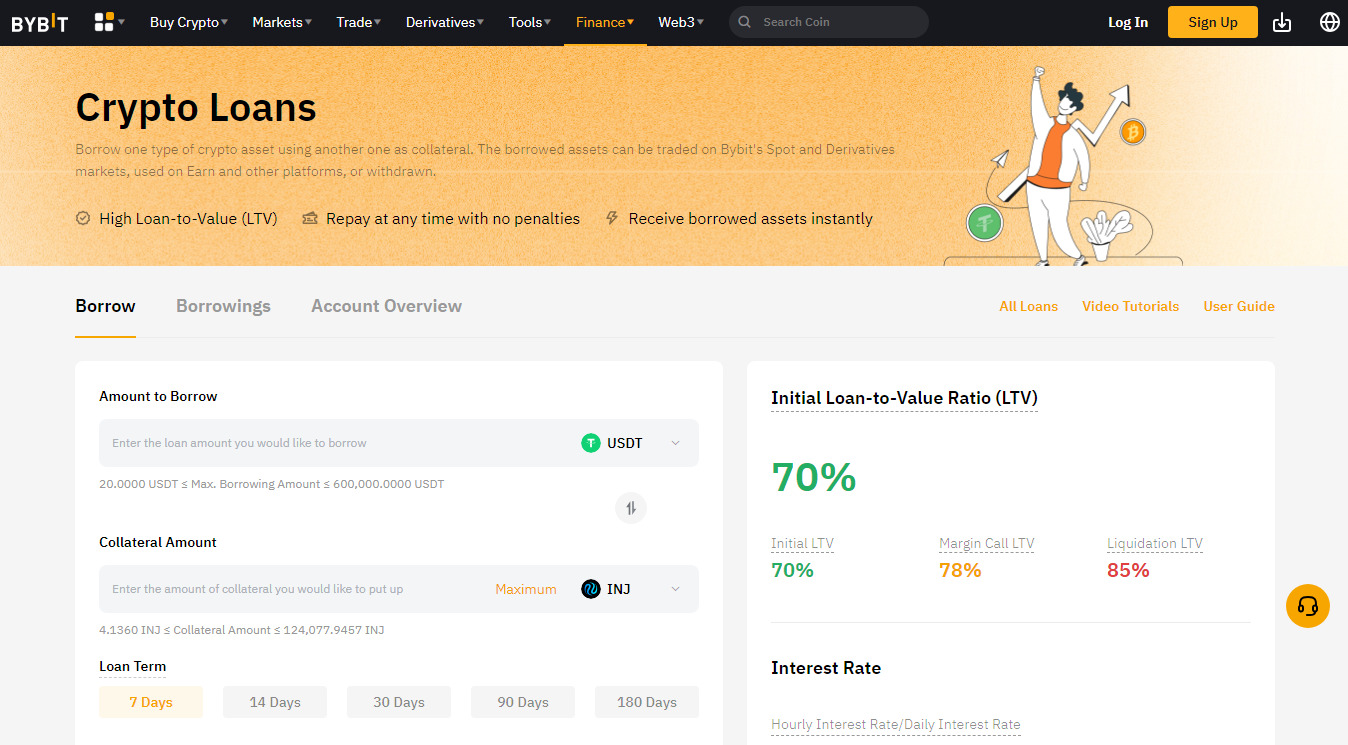 Bybit is renowned for its cutting-edge security measures, such as multi-signature cold wallet storage, two-factor authentication, and DDoS protection, ensuring a safe and secure environment for digital asset trading.
With a strong commitment to innovation and user satisfaction, Bybit has secured its place in Portugal's cryptocurrency landscape.
Spot Fees: 0.1% maker / 0.1% taker
Futures Fees: 0.02% maker / 0.055% taker
Supported Cryptos: 100+
Futures Contracts: 200+
EUR Payments: Yes, through bank transfer, SEPA, ZEN, and Advcash.
Customer Support: 24/7 live chat, email, and social media support.
Bonus: Upto $5,020 (Claim Now)
Bybit Pros and Cons
| 👍 Bybit Pros | 👎 Bybit Cons |
| --- | --- |
| ✅ Low trading fees | ❌ Extremely advanced (confusing for beginners) |
| ✅ High liquidity | ❌ Not available in the United States |
| ✅ Advanced trading options | |
| ✅ Copy trading | |
| ✅ Passive income products | |
| ✅ Full proof of reserves | |
2. OXX
OKX, a Seychelles-based cryptocurrency exchange and wallet platform, stands as one of the leading choices for crypto investors in Portugal.
Supporting over 350+ cryptocurrencies, OKX offers a comprehensive suite of trading options, making it a preferred destination for cryptocurrency enthusiasts.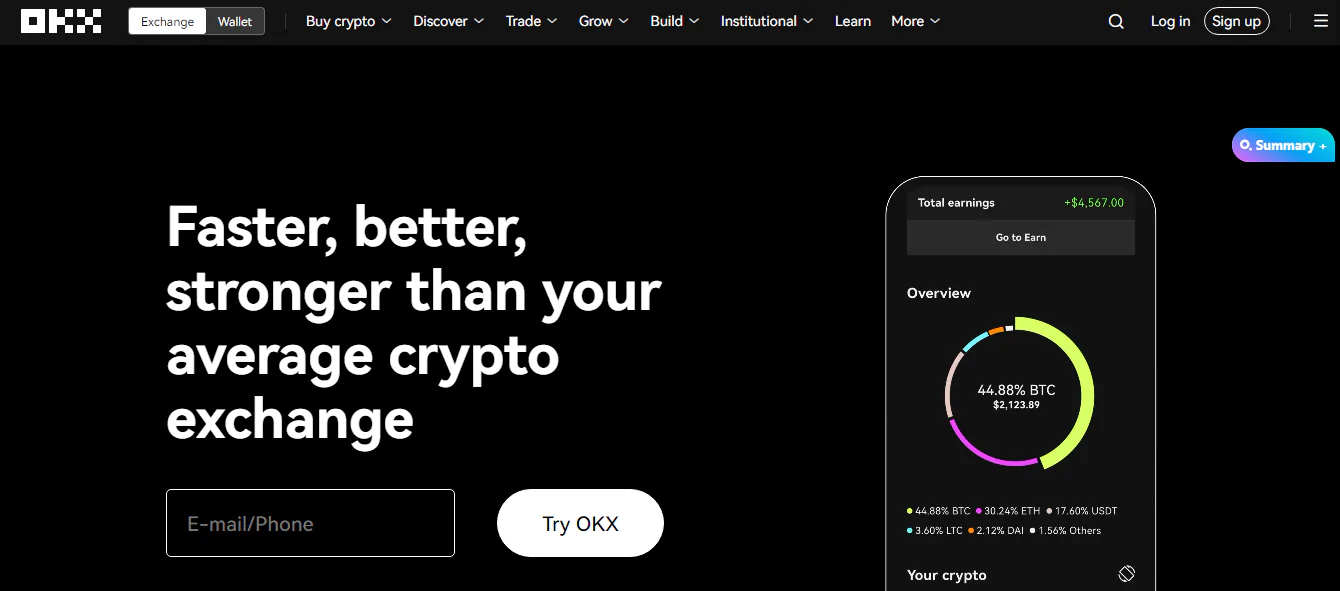 This exchange caters to various trading preferences, including spot and simple options and derivatives like margin, futures, perpetual swaps, and options. This makes OKX one of the most advanced crypto exchanges in Portugal
Moreover, OKX offers various supplementary features to enhance your trading experience.
These include block trading for larger transactions, trading bots for automation, and OKX Earn, a comprehensive suite covering savings, stablecoins, DeFi opportunities, staking, ETH 2.0, and much more.
You can also explore crypto loans and leverage the Jumpstart platform for exciting project launches.
Notably, OKX Wallet serves as a gateway to Web3, offering a crypto hot wallet, a decentralized exchange (DEX), an NFT marketplace, and decentralized applications (DApps).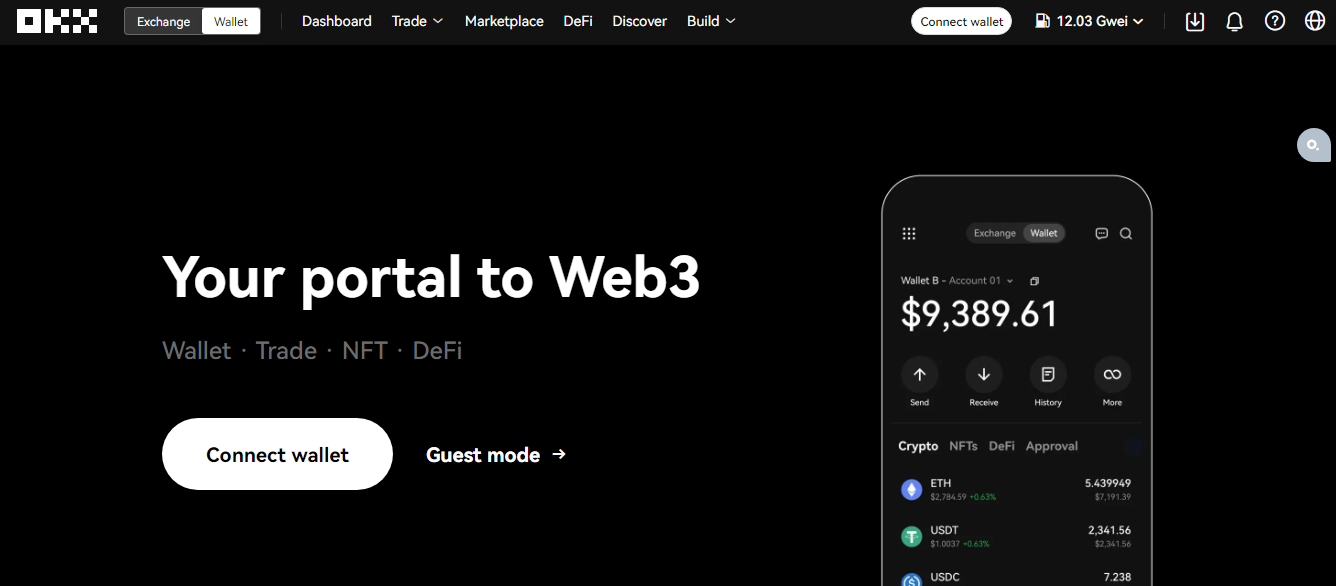 The wallet's flexibility shines through its compatibility with 30+ networks, embracing prominent blockchains such as Bitcoin, Ethereum, Solana, BNB Chain, Polygon, Fantom, Avalanche, and many others.
Furthermore, OKX boasts its native blockchain, OKX Chain, and a native token, OKB. These components empower builders and projects to deploy DApps, leveraging infrastructure such as OKX Oracle, among other resources.
Spot Fees: 0.08% maker / 0.1% taker
Futures Fees: 0.02% maker / 0.05% taker
Supported Cryptos: 350+
Futures Contracts: N/A
EUR Payments: Supporting through Revolut, Zen, SEPA Instant, AdvCash, Payeer, Wise, Paysera, Skrill, and more
Customer Support: 24/7 live chat support.
Bonus: Mystery Box of up to $10,000
Pros
Low trading fees, starting at 0.10%.
High-yield staking opportunities, potentially over 100% annually.
Easy cryptocurrency purchase via cards, bank accounts, or digital wallets.
Cons
Limited liquidity for specific currencies.
Mixed customer reviews, including reports of poor service and fund loss.
No Live support, only email support
3. Uphold
Located in the vibrant city of Porto, Uphold proudly stands as the premier cryptocurrency exchange in Portugal.
Offering a selection of over 250 digital currencies, Uphold offers Portuguese investors a secure and regulated platform for buying, selling, and staking their favorite cryptocurrencies.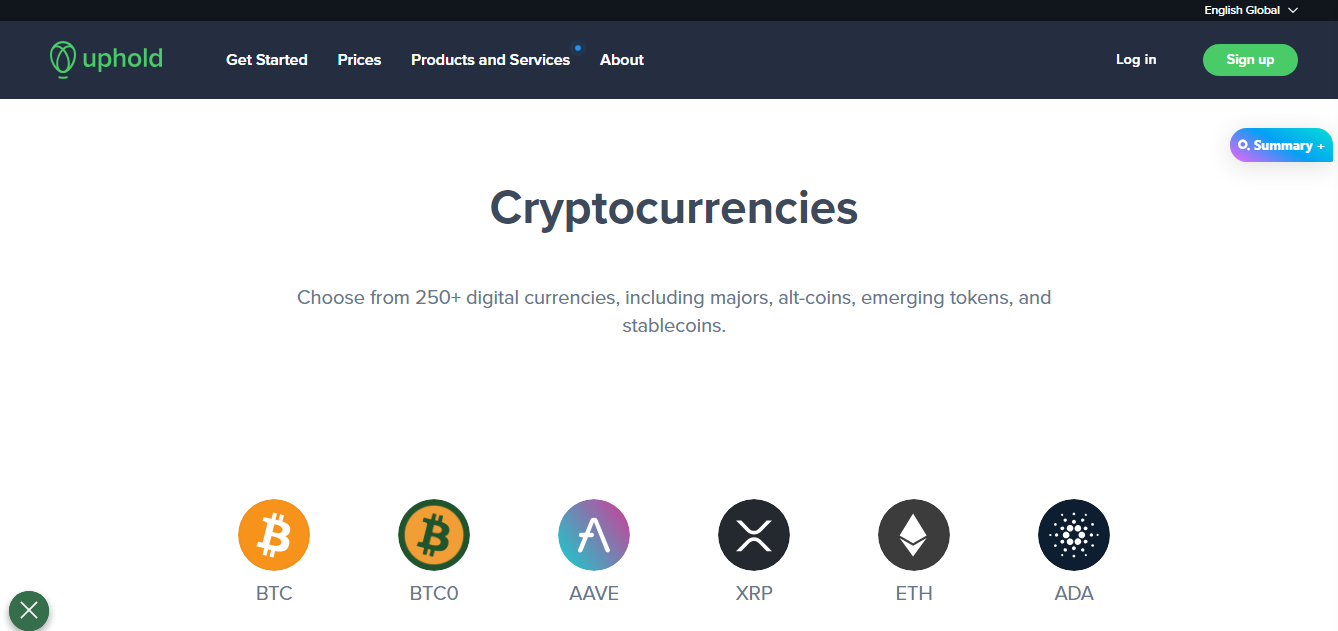 What truly sets Uphold apart is its comprehensive staking services, including popular assets like Ethereum and Solana, providing users with exciting growth opportunities.
In terms of fees, Uphold doesn't charge trading fees, only spreads per transaction. This includes a $1 fee for transactions under $100 between assets.
Uphold's dedication to security is unwavering, evident through its audited proof-of-reserves system. This cutting-edge feature allows Uphold to provide real-time data, showcasing their commitment to safeguarding customer funds.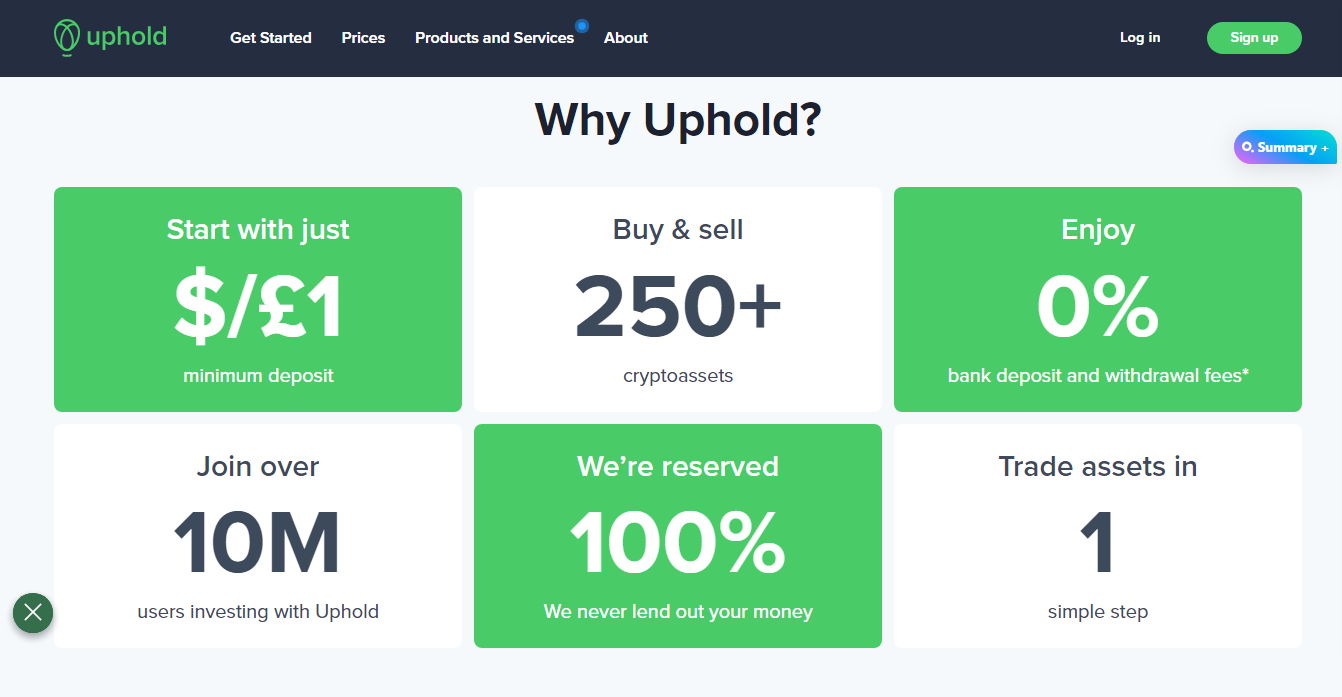 Their pledge to maintain a 1:1 collateralization ratio further solidifies their position as one of the country's most reliable and secure exchanges.
With Uphold, you can confidently trade and invest in digital assets, knowing that your assets are protected, and can access a wide range of exciting staking opportunities.
Ultimately, Uphold's transparency, extensive currency offerings, and top-notch security make it a trusted choice for cryptocurrency enthusiasts in Portugal.
Spot Fees: 1% – 1.99%
Futures Fees: N/A
Supported Cryptos: 250+
Futures Contracts: N/A
EUR Payments: Yes, with debit card, credit card, FPS/SEPA, Apple/Google Pay, and crypto network.
Customer Support: Supports contact through email and ticket forms.
Bonus: $20 BTC (Claim Now).
Uphold Pros & Cons
| 👍 Uphold Pros | 👎 Uphold Cons |
| --- | --- |
| ✅ Very beginner friendly | ❌ Lacks advanced features and liquidity |
| ✅ Great mobile app | ❌ No futures trading |
| ✅ Euro payments supported | ❌ High trading fees |
| ✅ Passive income products | |
4. Bitpanda
Bitpanda, a prominent cryptocurrency exchange, has earned recognition as the fourth-ranked exchange in Portugal. Originating from Vienna, Bitpanda is regulated by the Portugal Securities Market Commission.
With a wide array of over 3,000 tradable assets, Bitpanda provides an attractive platform for traders in Portugal.
This encompasses cryptocurrencies, ETFs, stocks, and reliable staking services, making it a comprehensive choice for the discerning Portuguese investor.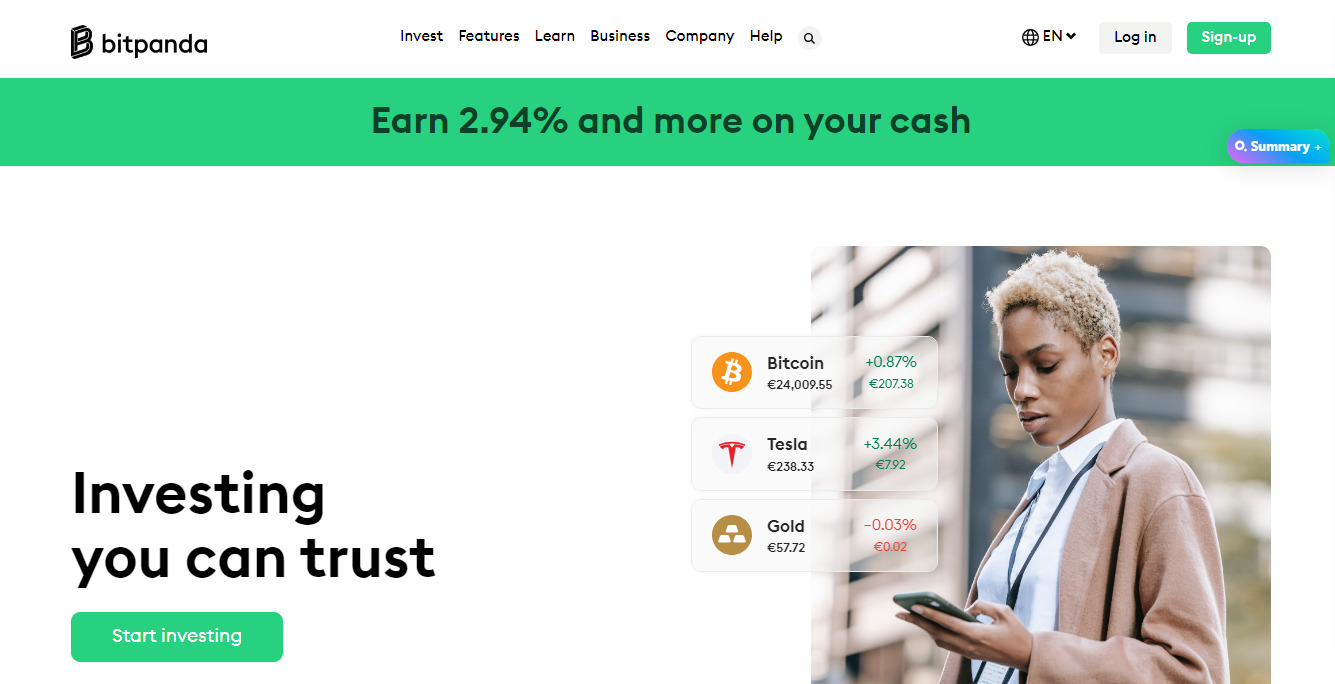 This fully compliant platform accepts Euro (EUR) deposits from all Portuguese banking institutions and supports various payment methods.
Beyond cryptocurrencies, Bitpanda offers around 100 additional assets, making it a top choice for Portuguese investors entering the world of digital assets.
Bitpanda's appeal extends to European investors as well. The platform simplifies diversification with three crypto index funds encompassing the top cryptos by market cap, streamlining portfolio management.
Bitpanda is also praised for its user-friendly interface, transparent fee structure, and comprehensive educational resources through the Bitpanda Academy.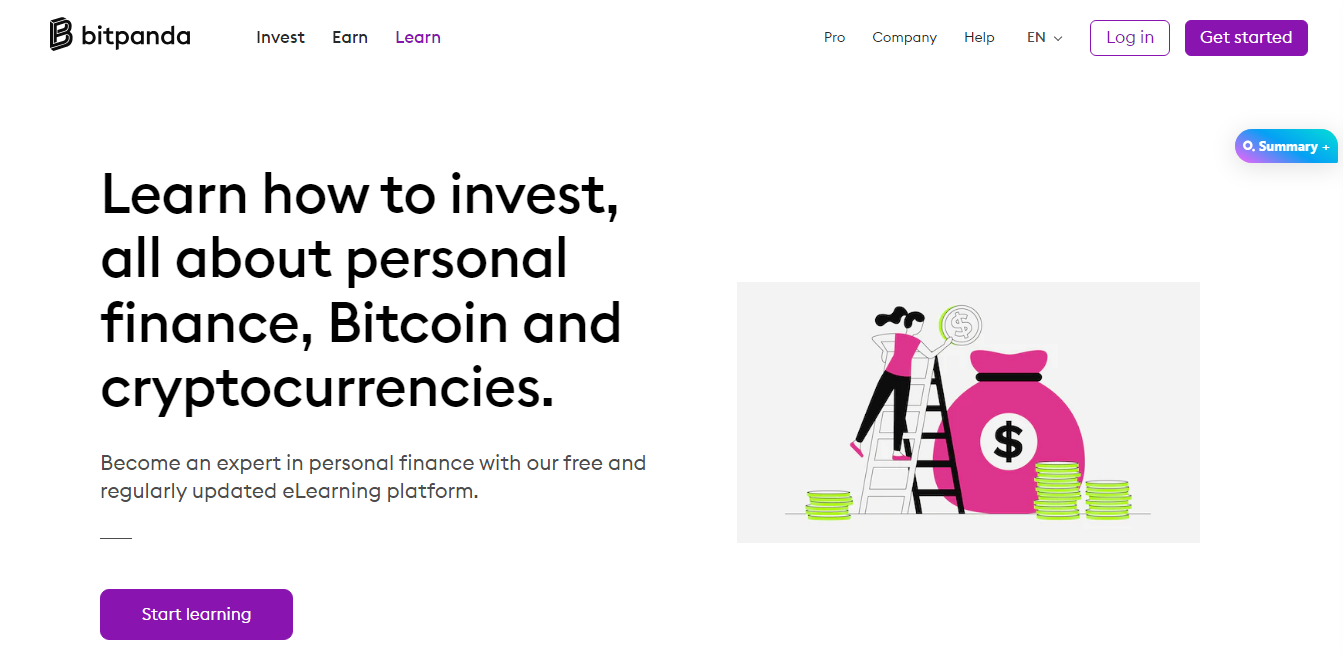 Additionally, residents in euro-adopting countries can leverage the Bitpanda Visa card for fee-free spending with rewards. However, investors should consider that cryptocurrency spending may not align with long-term, buy-and-hold strategies.
Spot Fees: 1.49% for buying and 1.29% for selling (overall trading fee)
Futures Fees: 1.49% for buying and 1.29% for selling (overall trading fee)
Supported Cryptos: 3,000+
Futures Contracts: N/A
EUR Payments: Debit card, credit card, and SEPA bank transfer
Customer Support: Offers HelpDesk (FAQs), Telegram, and Email support.
Bonus: EUR 10 Sign Up Bonus (Claim Now).
Bitpanda Pros and Cons
| 👍 Bitpanda Pros | 👎 Bitpanda Pros |
| --- | --- |
| ✅ Very beginner friendly | ❌ No futures |
| ✅ 300+ cryptos available | ❌ Low liquidity |
| ✅ Simple € on/off ramps | ❌ Lacks advanced features |
| ✅ Passive income products | ❌ No proof of reserves |
| ✅ TradFi + Crypto Assets | |
5. eToro
eToro, founded in Israel in 2007, has become a prominent international crypto exchange. While its offerings vary by country, the platform accommodates U.S. users with certain restrictions in place.
eToro offers 40+ global currency pairs to its 30M+ users. While this covers the basics for many beginners, advanced users seeking niche coins may find the selection somewhat limited.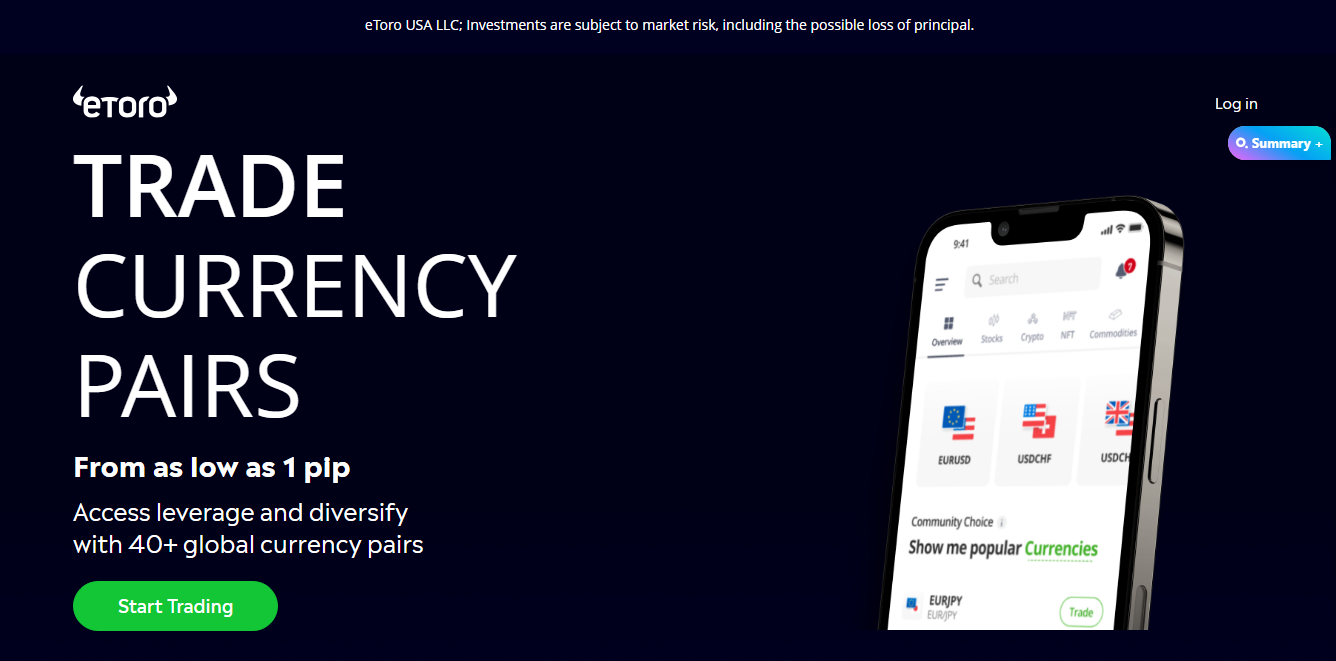 In terms of fees, eToro maintains transparency by explicitly listing its charges. With an unusual pricing model, users encounter a flat fee, essentially a bid-ask spread, of 1% for every crypto trade.
This fee dynamically updates as market prices change, impacting your returns, especially if you plan to move your coins to an external wallet.
To help users make the most of trading with eToro, the platform features advanced trading tools, including individual stop loss, price alerts, zero balance protection, pro charts, and more.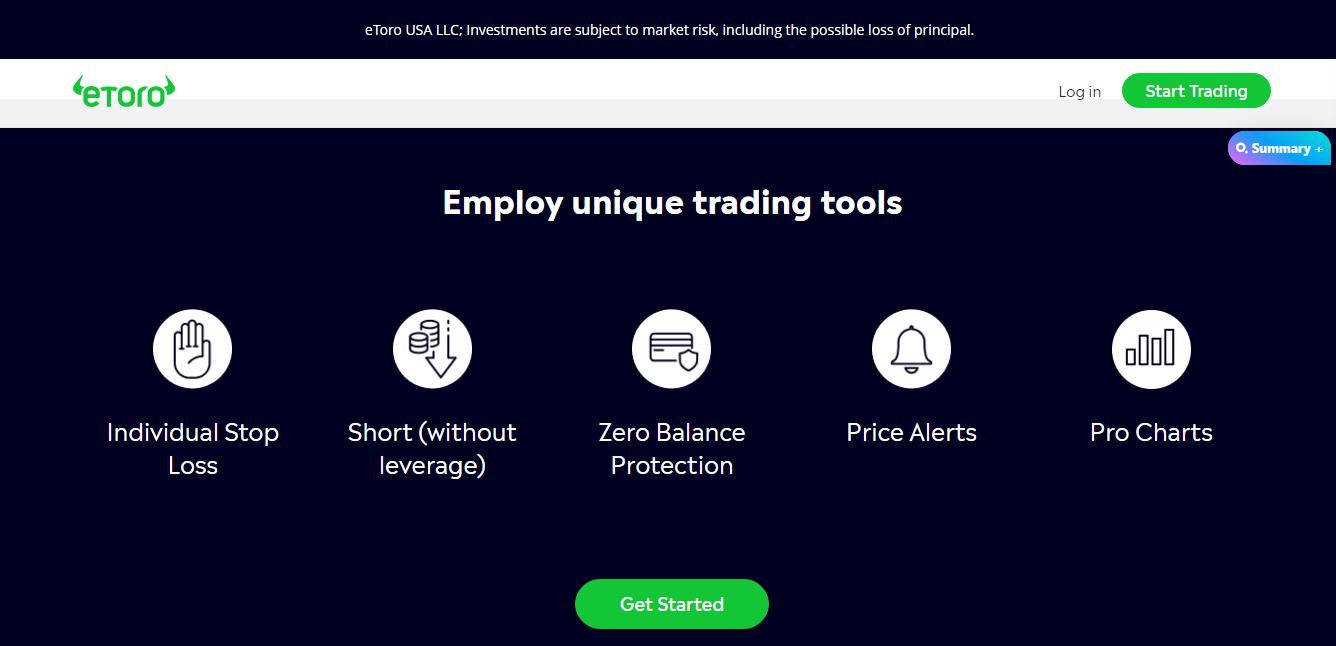 eToro prioritizes security, safeguarding cash assets in FDIC-insured bank accounts up to $250,000.
Adding to its security, its crypto storage methods feature offline and online solutions. This includes two-factor authentication and advanced monitoring tools. Importantly, no eToro staff member can transfer users' crypto from storage.
So you can rest assured that your crypto assets are secure and accessible by only you when trading with eToro.
Spot Fees: 1% buying and selling fees (general trading)
Futures Fees: 1% buying and selling fees (general trading)
Supported Cryptos: 92
Futures Contracts: N/A
EUR Payments: Bank Transfer, Credit/Debit Card, Trustly, Klarna, SOFORT, Skrill, Neteller, and PayPal.
Customer Support: Only supports help tickets and online chat.
Bonus: $10 bonus on a deposit of up to $100 (Claim Now).
eToro Pros & Cons
| 👍 eToro Pros | 👎 eToro Cons |
| --- | --- |
| ✅ Very beginner friendly | ❌ Lacks advanced features |
| ✅ Best Euro fiat support | ❌ Very high trading fees |
| ✅ 3000+ supported assets | ❌ Only 75 cryptos supported |
| ✅ Crypto + TradFi assets | |
Summing Up!
Our selection of top cryptocurrency exchanges in Portugal offers a range of options to suit various investor preferences. While OKX and Bybit offer advanced trading capabilities, Uphold and Bitpanda provide solid alternatives, and eToro offers unique features to add to the diversity.
So, whether you're a beginner or an experienced trader, there's a platform that caters to your specific needs. Just make sure to choose the exchange that aligns with your trading goals and embark on your cryptocurrency journey with confidence.