Cryptocurrency exchanges are the simplest way to start if you're eager to buy Bitcoin (BTC), Ethereum (ETH), and other cryptos.
Now, if you're located in New Zealand, the best way to invest in cryptocurrencies like Bitcoin is to use a New Zealand-based platform that follows the New Zealand Financial Markets Authority (FMA) regulations.
These authorized exchanges allow you to deposit New Zealand Dollars (NZD) and other currencies through local bank transfers, credit/debit cards, and more. What are the best exchanges in this regard?
To make your cryptocurrency journey in New Zealand easier, we've thoroughly reviewed the top 8 trading platforms in the country. These exchanges are known for their reliability and reputation, making them the best options for your crypto ventures.
Top 8 Crypto Exchanges In New Zealand
Bybit
Bybit, New Zealand's top crypto exchange, is known for reliability and trust from its 25+ million users, with over $10 billion daily trading volume.
Bybit adheres to international laws and regulations, supported by regular security audits and robust KYC/AML procedures.
This makes it a trustworthy and user-friendly platform for traders seeking leverage and advanced financial products in New Zealand.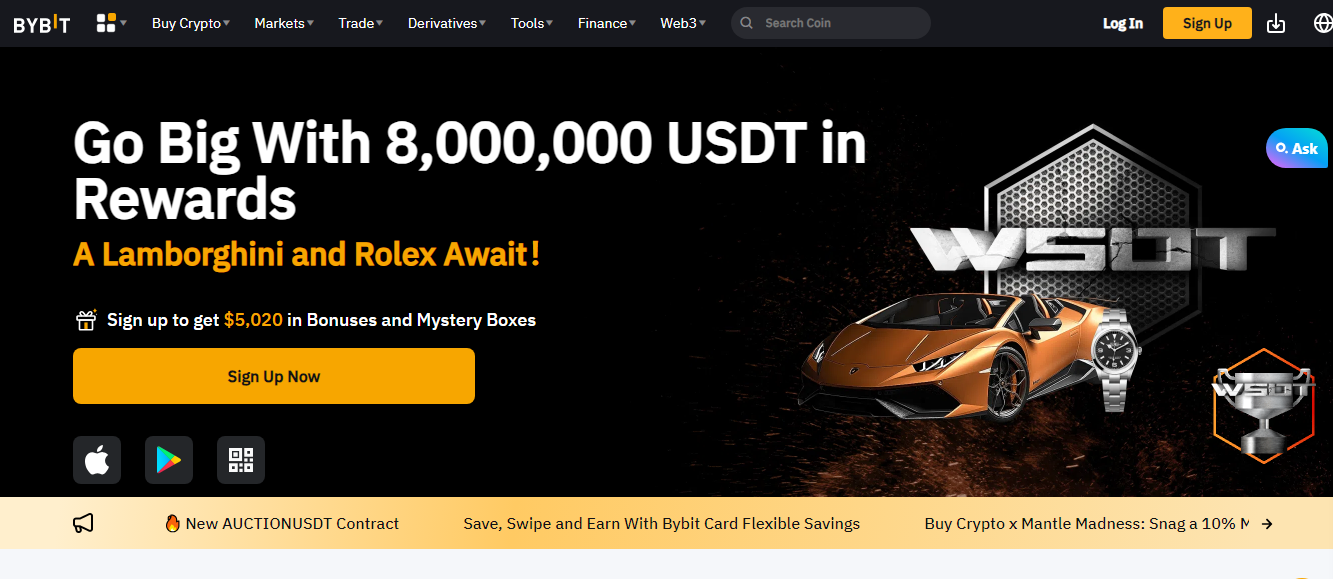 With deep liquidity and a rapid trade speed of 100,000 trades per second, it's a go-to platform for trading enthusiasts and beginners looking to buy and hold crypto hassle-free.
Purchasing crypto is a breeze on Bybit, where you can use Visa/Mastercard, Apple Pay, Google Pay, or bank transfer.
Plus, signing up through a referral link earns you a FREE $10 BTC when depositing $100 or more. Explore a diverse range of options with spot trading of 280+ coins and derivatives markets like USDT Perpetual contracts and Inverse Futures contracts.
Copy trading allows you to follow successful investors' trades, and fees are wallet-friendly at 0.1% for spot trading and 0.02% (maker), and 0.055% (taker) for derivatives.
For the adventurous, Bybit offers margin trading with up to 100x leverage, but it's essential to be aware of the risks involved.
Beginners should stick to other options to avoid potential pitfalls. The exchange also provides a testnet platform for risk-free practice, ensuring you gain confidence before diving into real trades.
With 24/7 Live Chat support and an insurance fund protecting traders, Bybit provides a robust platform for crypto enthusiasts in New Zealand.
Read our full Bybit review.
Pros
Low fees: 0.1% spot, 0.01% (maker), 0.06% (taker) derivatives.
Features spot, margin, futures, and options markets
Supports copy trading so you can learn from others' strategies
24/7 Live Chat support and insurance fund for added security
$10 FREE Bitcoin for sign up
Up to 100x leverage.
Advanced tools with great tech.
Risk-free test environment.
Educational resources are available.
Cons
Complex interface for beginners.
Limited NFT marketplace.
2. Independent Reserve
Undoubtedly, the Independent Reserve is the ultimate destination for institutional investors in New Zealand. With impeccable security, regulatory compliance, and tailor-made tools for pro traders, the crypto game is on lock!
Since its launch in 2013, Independent Reserve has earned its stripes as the most trusted exchange across APAC, and it's the number one pick for handling big orders in Bitcoin, Ethereum, and a trove of 30 other cryptocurrencies with NZD.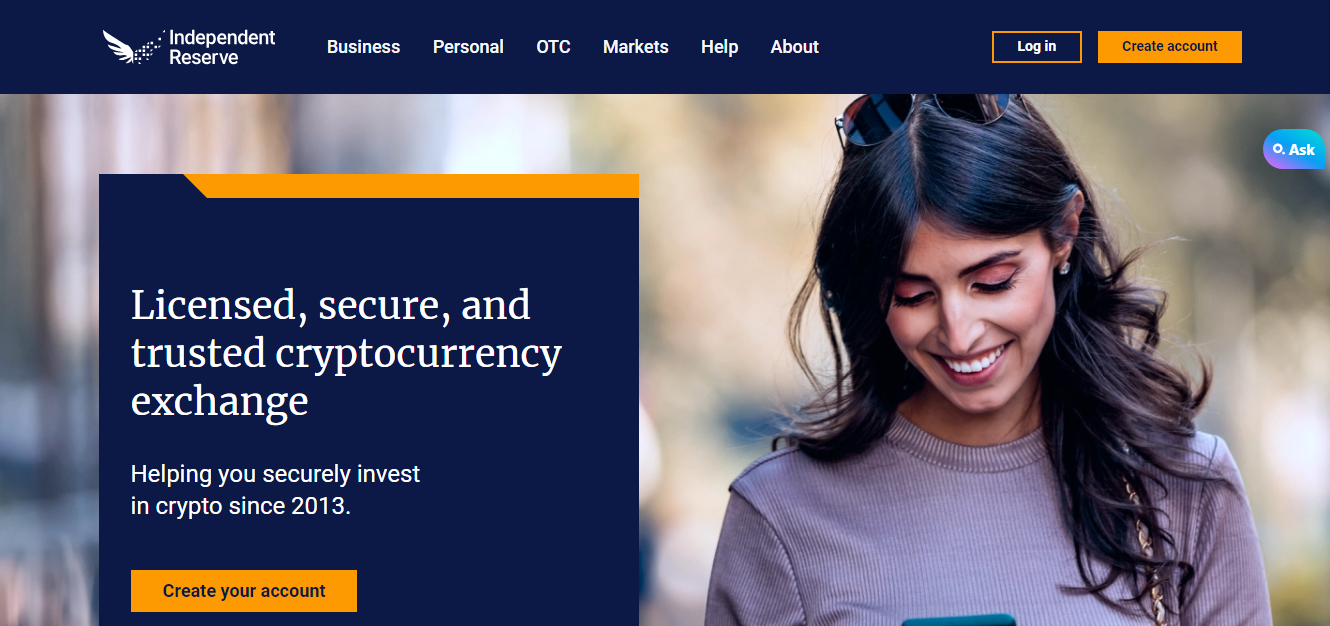 Independent Reserve is the fortress you can count on when it comes to safeguarding your digital assets. This platform not only abides by stringent regulations but also flaunts the coveted ISO27001 Standard Security Certificate. Rest easy; your assets are well protected!
Looking for standout features? You got it! While the trading fee might seem a tad higher at 0.5%, high-volume traders score sweet deals as they can slash fees based on their activity in the past 30 days. The more you trade, the more you save!
Security and rewards aside, Independent Reserve, offers a game-changing insurance feature, covering crypto up to an eye-popping $5 million. Trade with peace of mind, knowing your assets are safe and sound.
If you're a heavy hitter with substantial trades exceeding $100,000, Independent Reserve has got your back. Their top-notch OTC desk guarantees smooth and confidential trade execution and settlement services for trades ranging from $50,000 – $50 million.
Navigating tax season? No sweat! Independent Reserve has your back there, too, generating tax reports powered by KPMG for seamless financial management.
While Independent Reserve supports only 30 cryptocurrencies, they focus on the crème de la crème – the most popular and frequently traded coins. So if you're a serious investor seeking top-tier service, Independent Reserve is the place to be!
Pros
Built-in cryptocurrency wallet
Excellent security with the possibility of insurance
Can transact in USD, AUD, SGD, and NZD
It only takes a few minutes to register and begin trading
A 24-hour support desk is accessible for any concerns
Trading fees for high-volume traders are reduced
Cons
Charges fees for deposits of less than $1,000
Supports lesser coins than most competitors
There are no staking options
Deposits of less than NZD$5,000 are subject to a NZD$15 processing fee.
Withdrawals are subject to a NZD$20 charge.
3. OKX
OKX is a top cryptocurrency exchange known for its low fees and extensive range of trading pairs, rivaling Binance and Bybit. The best part is you don't need to go through complicated verification processes to use it, making it ideal for privacy-conscious traders.
While it's licensed and based in Seychelles, it's worth noting that an authoritative body like the Financial Conduct Authority doesn't officially regulate it, so investors should be cautious.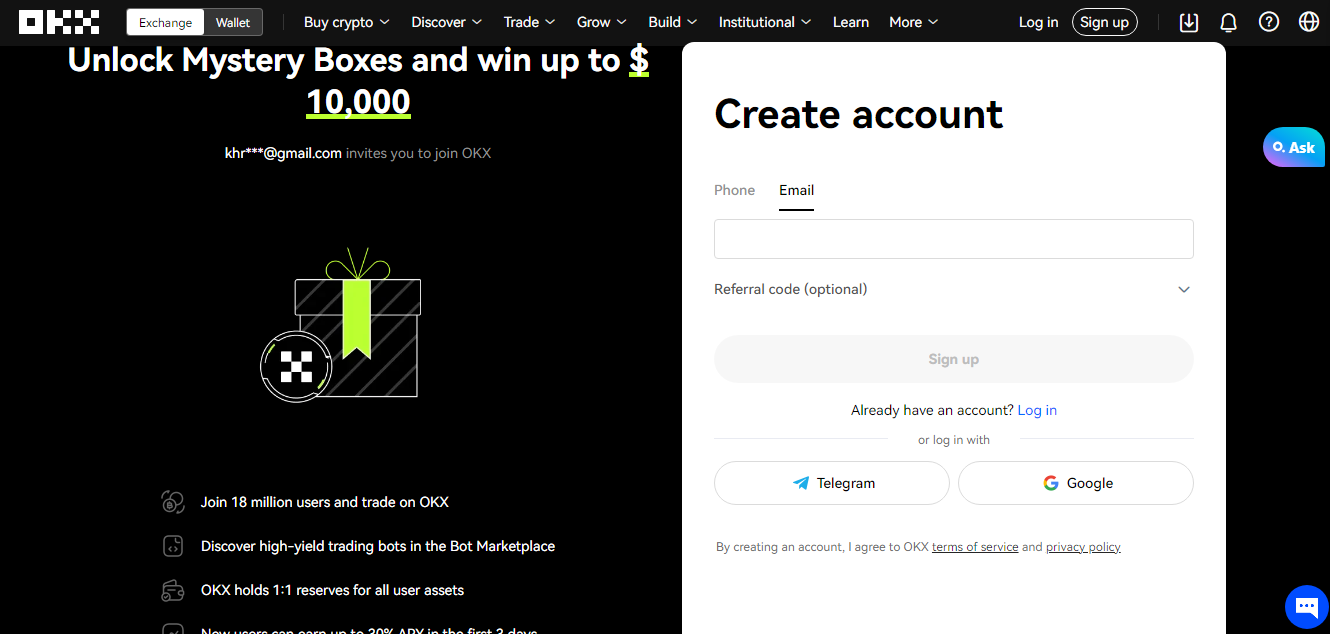 OKX offers options to buy crypto with NZD through P2P Express using Zen or Skrill and bank transfer and card payments through their partners, MoonPay and Coinify.
With over 20 million users worldwide, OKX is the second-largest cryptocurrency exchange available and is widely considered in New Zealand. It features a user-friendly interface and various features, from multiple order types to advanced trading tools and charts.
Plus, they accept various NZD payment methods, making it convenient for users in New Zealand. Security is a priority at OKX, with robust measures, including proof of reserves, ensuring your funds are held securely.
Trading fees are competitive, and you can trade confidently with their wide range of supported cryptocurrencies. Customer support is available 24/7, and managing your funds is easy with multiple deposit methods.
It's time to embrace the excitement and possibilities that await in this dynamic market with OKX.
Read our full OKX review.
Pros
Low trading fees with 0.08% (maker) and 0.1% (taker)
Supports convenient payment options, including local payment methods
Supports spot and derivatives markets
Extensive interest-generating products.
Most trades are at 0.10% or less.
Supports high-interest staking
Cons
Slow customer support, causing delays in addressing issues
Low liquidity for certain currencies
4. Binance
Next up in our list of best crypto exchanges in New Zealand for 2023 is Binance. Last year, the exchange set up a branch right here in NZ by registering with financial authorities like FSPR, BlockchainNZ, and FintechNZ. The exchange is also approved by the Ministry of Business, Innovation.
Bringing its features to the New Zealand crypto market, Binance is a top-notch platform with a massive selection of assets and cool features. For serious crypto traders, Binance is the place to be.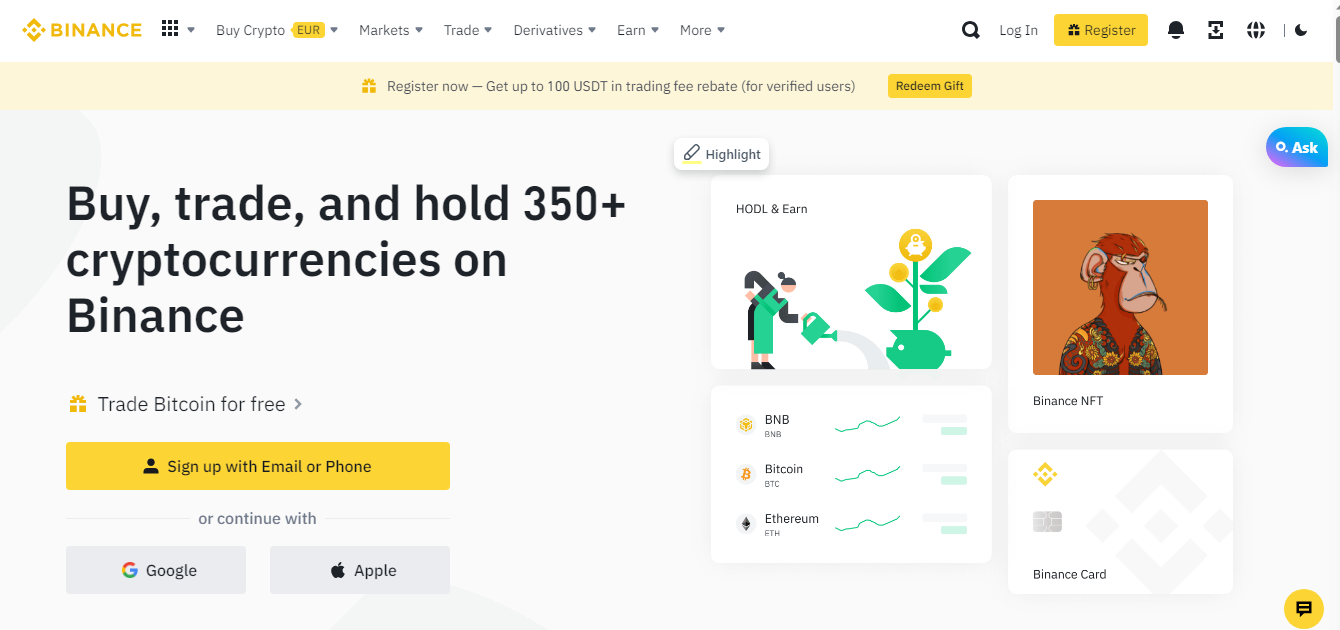 It's the world's largest crypto exchange, with super-low fees starting at just 0.1%. Plus, they've got staking, futures trading, and a P2P marketplace with 600+ coins. Now that's a crypto party!
And guess what? You can even lower fees further with their coin, BNB. That's more money in your pocket!
Busy bee? No worries! Binance is bot-friendly. These clever bots can trade for you, so you can relax or catch some Zs while your crypto game stays strong.
For New Zealanders, Binance supports payments with cards, Apple/Google Pay, and cash balances! Plus, you can trade directly with other Kiwis through their cool P2P Marketplace.
Buying crypto with Binance comes with perks. Their Binance Earn feature lets you store your assets securely and earn passive income. Earn generous yields through staking, mining pools, and interest-earning savings accounts. It's like making money while you sleep!
Regarding loopholes, the NZD deposit options on the exchange are still limited. At the same time, you get a super user-friendly, perfect for trading and keeping an eye on your crypto stash.
So, if you're ready for a thrilling crypto adventure, this is the time to hop on board with Binance.
Read our full Binance review.
Pros
Features Binance Lite, a simpler platform for newcomers.
Supports trading with over 600 cryptocurrencies
Competitive 0.1% trading fees with multiple discounts available.
Advanced trading tools for technical analysis and trading strategies
All-in-one platform with various crypto products
Ranked #1 for traffic, liquidity, and trading volumes
Cons
Costly withdrawals for some coins
Mixed reviews about the platform's customer service
Support availability varies during peak times
Vulnerable to hacking or security breaches
5. SwyftX
SwyftX, the brainchild of tech enthusiasts Alex Harper and Angus Goldman, started with a mission to bring financial freedom to everyone. And guess what? They've achieved it!
SwyftX stands tall as the coolest cryptocurrency exchange in New Zealand, with 600,000 users from both New Zealand and Australia. They also offer an incredible selection of 320+ digital assets to explore and trade.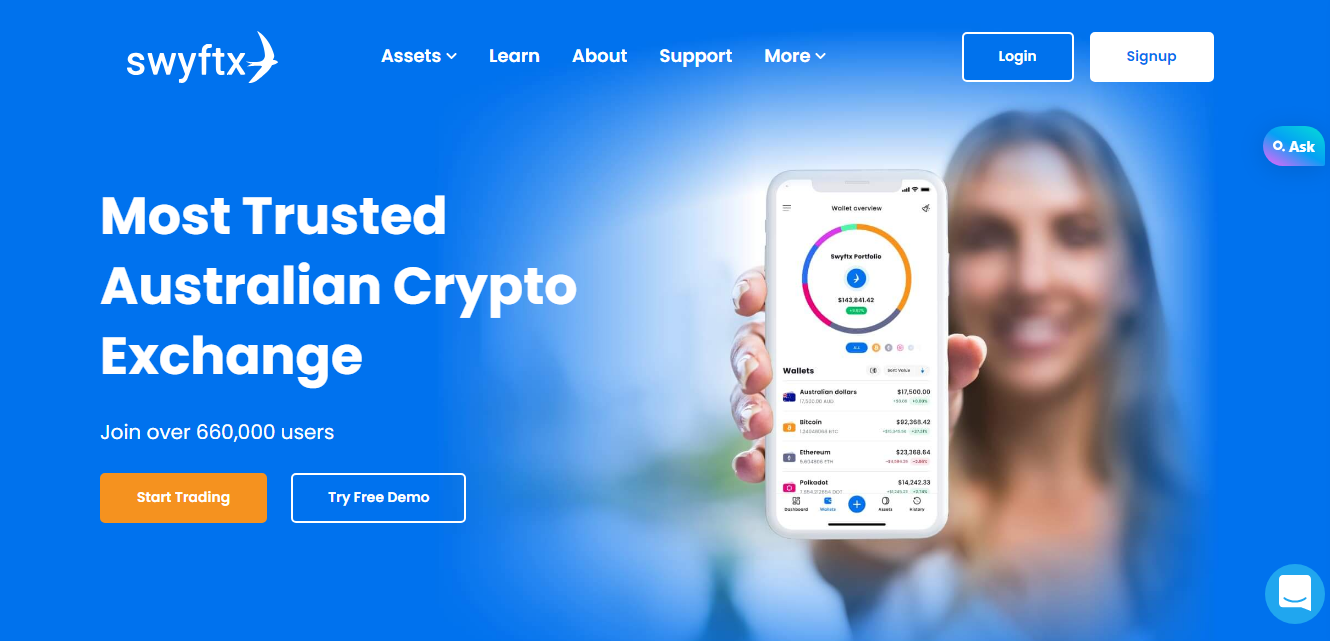 When it comes to user security, Swyftx doesn't mess around. Every transaction on their platform is as safe as can be, fully compliant with all the rules. No wonder they proudly won the prestigious 2022 Finder Award for Best Crypto Exchange in NZ!
Swyftx is all about making your crypto journey smooth sailing. They welcome new users with a delightful bonus of FREE $20 of BTC upon sign-up – talk about a warm welcome! Getting started is a breeze with their quick and easy sign-up process; no photo fuss is required.
Before you even deposit a dime, Swyftx showers you with a $20 FREE BTC to play around with. It gets even better for beginners – you can practice trading risk-free with their unique demo setting.
This exchange truly cares about its users, providing excellent customer support through an FAQ database, tutorials, and Live Chat assistance. It's a customer-focused platform that prides itself on simplicity and transparency.
While many gains come with choosing this exchange, SwyftX does lack in some places, including its flat fee of 0.6%, which is higher than most global exchange platforms. Then again, SwyftX does boast the lowest spreads in the New Zealand crypto market while giving access to large international trading volumes.
But that's not all! Swyftx has some nifty tools up its sleeve. Price Alert is a game-changer – it alerts you when a coin hits your target price, so you can make timely decisions like a pro.
Security? Check! Convenience? Check! Stellar support? Double-check! Swyftx has you covered 24/7 with top-tier security features, fully complying with the Financial Market Authority's (FMA) registration requirements.
Lastly, even though Swyftx lacks staking options, it remains a reliable and secure platform for cryptocurrency trading, bringing a lot more for both beginners and experienced traders.
Pros
Mobile app and web browser-friendly
Free demo trading account
Accessibility to educational tools via Swyftx Learn
Accepts credit and debit card deposits
Has a simple and easy-to-use platform interface
All customer money is retained in full reserve for assets at a 1:1 ratio.
Live Chat Support with real people is available 24/7
Supports over 320+ cryptocurrencies
Cons
Limited liquidity compared to certain global competitors
Slightly higher fees compared to some global alternatives
An NZD$10 processing fee for withdrawals
No access to derivatives trading
Absence of advanced trading markets
No longer supports staking crypto
6. Easy Crypto
Easy Crypto is a leading non-custodial exchange in New Zealand, offering a speedy, user-friendly, and secure way to buy and sell cryptocurrencies. Whether you're a beginner or an experienced trader, this platform is easily accessible.
The best part? Easy Crypto lets you purchase crypto with NZD and send it straight to your personal wallet, minimizing custody risks. Plus, their transparent pricing with no hidden fees empowers you to confidently make informed investment choices.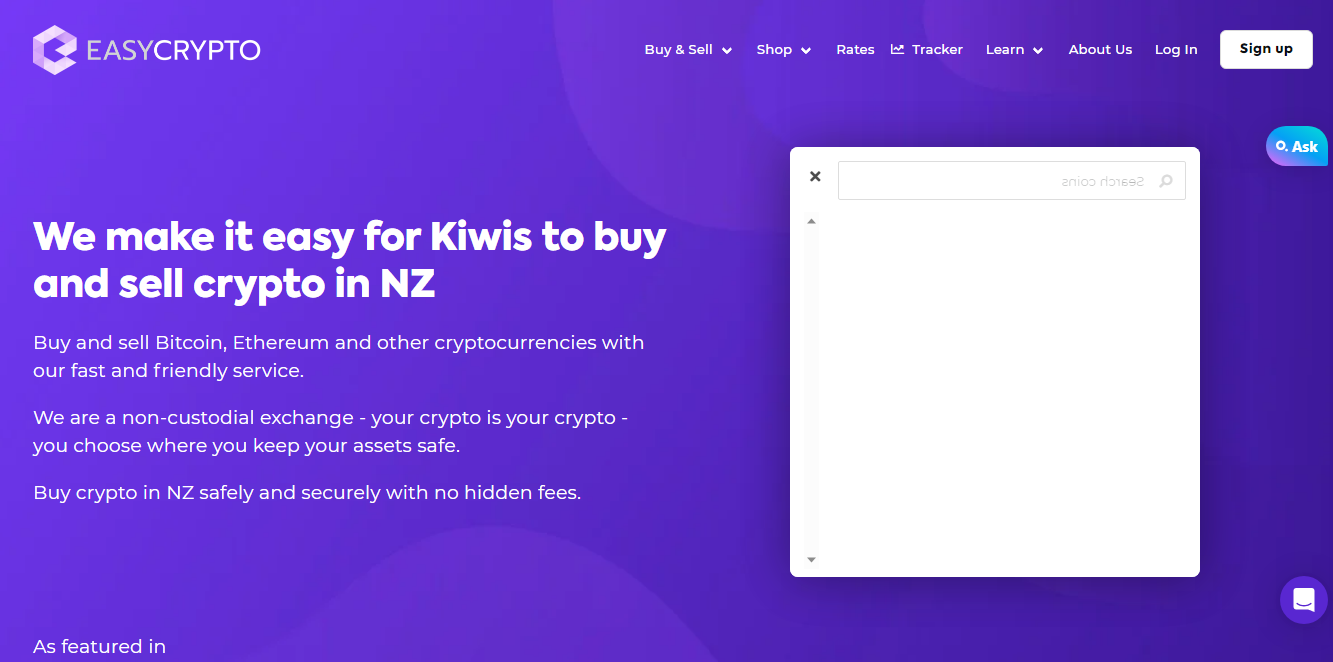 Based in Auckland, Easy Crypto proudly serves Kiwis with an exceptional crypto trading service. It's tailor-made for beginners and supports various NZD payment methods, ensuring a smooth entry into the crypto world.
However, it's essential to note that Easy Crypto may not suit everyone. It lacks advanced features like staking, lending, and liquidity farming, making it better suited for straightforward investments.
Also, remember that Easy Crypto's fees might be slightly higher than other exchanges. The spread and combined fee could have an impact on your overall performance.
Despite these drawbacks, Easy Crypto remains a solid and reliable choice if you're looking for a no-nonsense crypto trading experience in New Zealand.
Pros
Non-custodial exchange, no asset storage, lower insolvency risk
User-friendly interface with easy navigation and clean design
Wide selection of cryptocurrencies, including popular and obscure altcoins
Transparent pricing – fees included in the displayed price
The free instant payment method with Account2Account
Educational resources for crypto beginners
Option to request new cryptocurrencies to be added
Fractional purchases are allowed and accessible to all
Cons
Beginner-focused platform with no technical analysis and trading tools.
Does not support margin trading, staking, savings account, and derivatives
Lacks limit buy and stop loss function
Higher trading fees compared to competitors like Binance and Swyftx.
No official mobile app, accessible only through mobile browsers.
7. Uphold
Uphold may not have the largest selection of cryptocurrencies, but it shines as one of the exchanges that put regulation and security first. This makes it a compelling choice for investors who prioritize safeguarding their assets and personal information.
Uphold is diligently regulated by the FinCEN in the US and the Financial Conduct Authority in the UK, earning its reputation as a compliant and reliable platform.
Converting funds from a crypto wallet or using USD, GBP, or EUR to get NZD is a breeze on Uphold, even though there's a 0.95% fee.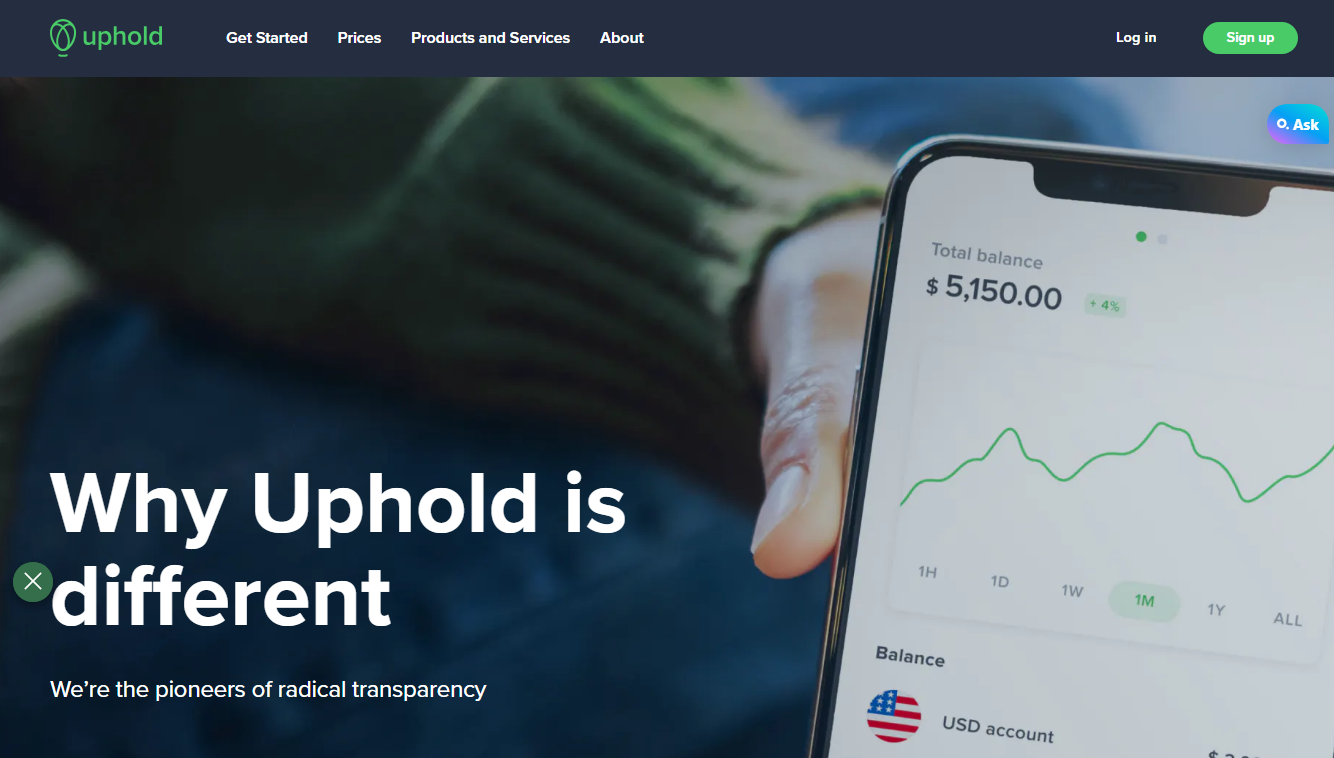 Moreover, the convenience makes Uphold a favorite among Bitcoin holders, especially since direct withdrawals to New Zealand bank accounts or crypto wallets aren't supported. What sets Uphold apart is its effortless simplicity.
Even if you're new to the game, navigating the platform's straightforward interface is a breeze. Just select your funding source, desired asset, and set up recurring transactions without a hitch.
And don't forget about Uphold's user-friendly staking program, where you can earn rewards on specific assets with flexible preparation and unstaking periods. However, like any platform, there's a trade-off. Despite its ease of use, Uphold's fees grab attention. What does this mean?
While spread-based fees are 1.5% for Europe, the UK, and the US, they rise to 1.8% for New Zealand and the rest of the world, making the platform somewhat less cost-effective, particularly for low liquidity pairs.
Overall, Uphold welcomes cryptocurrency newcomers in New Zealand seeking seamless transactions. Its adherence to regulation and user-friendliness ensure a safe and accessible experience.
Remember to weigh the limited NZD payment options and slightly higher fees, especially if you seek a broader range of assets and wallet-friendly choices. The decision is in your hands!
Pros
Supports 300+ cryptos
Instant, fee-free bank deposits
EU, US, UK, AU, and CA regulated
Trading across multiple asset classes
Offers staking rewards
Features educational content
Accepts payments with debit cards
Cons
Spread fees: 0.9 – 1.2%
Limited product range
High crypto withdrawal fee of $2.99
Security concerns Subpar mobile app
8. Coinbase
Coinbase, a highly regarded US crypto exchange, is perfect for beginners. Its user-friendly platform complies with UK's FCA regulations, offering peace of mind to investors.
In New Zealand, residents can easily buy, trade, and sell cryptocurrencies using bank transfers or cards, with a secure wallet for storage.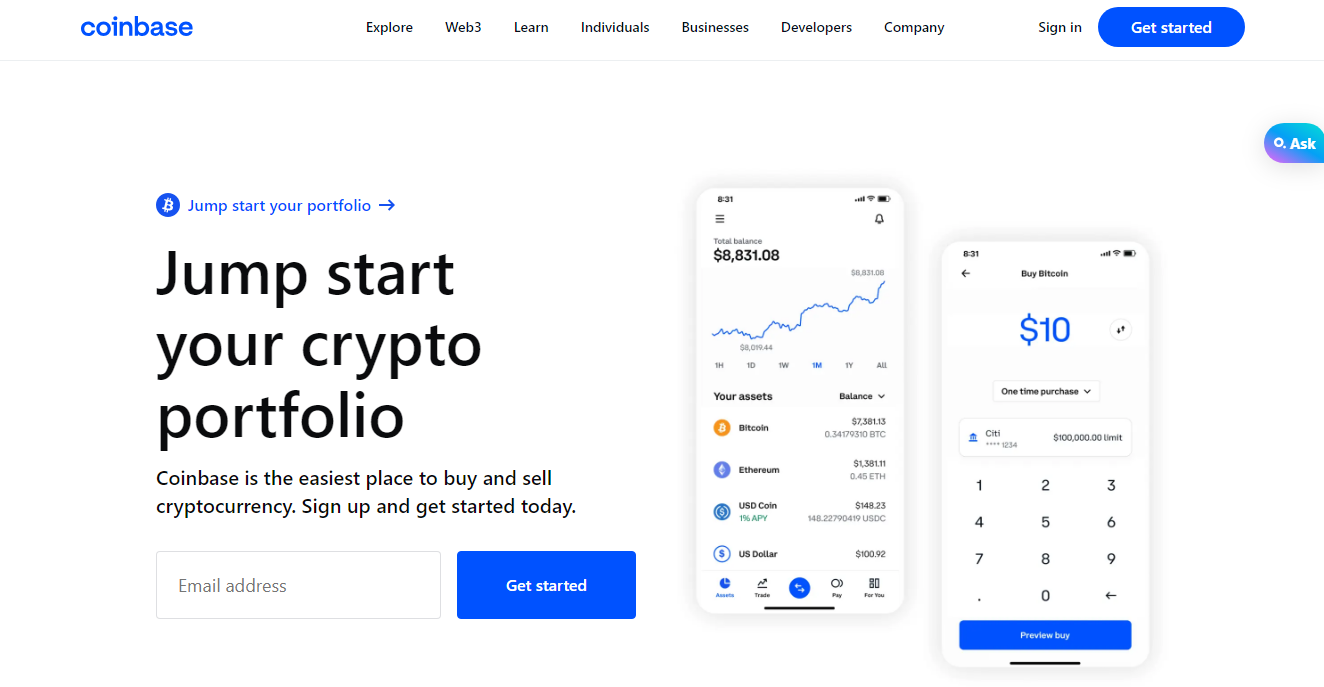 Coinbase stands out for its ease of use, ideal for buying popular coins like Bitcoin and Ethereum. The sign-up process is quick, and the intuitive online interface and top-notch mobile app make trading a breeze.
It supports 150 coins, and the Coinbase exchange offers access to 245 unique ones for advanced traders. Moreover, the learning section on Coinbase educates users about cryptocurrencies, with quizzes to earn free crypto.
Coinbase is best known for its strong security, with no reported hacks or fund losses due to criminal activity. However, Coinbase's fees, especially on the exchange, can be higher than alternatives like Binance.
Besides this downside, Coinbase stands strong as a respected exchange, attracting novice and experienced traders in NZ. Plus, its user-friendly design and robust security are added features that make it a reliable choice for crypto enthusiasts.
Also, read our Coinbase wallet review.
Pros
Beginner-centric platform designed for ease of use.
Extensive customer support options
Offers debit cards, NFT marketplace, advanced trading, and educational resources.
Live chat, ticketing, and phone support for quick assistance.
150 different coins supported
Covers crime insurance
98% of assets are kept in cold storage for enhanced security.
Cons
Higher trading fees than most alternative platforms
Does not features advanced trading tools
How To Select a Crypto Exchange in New Zealand
When choosing a crypto exchange in New Zealand, consider the following factors:
Fees
Some factors can affect how much you'll spend on each platform, from depositing to trading and withdrawing funds. Consider your preferred payment method, the currencies you plan to use, and any potential discounts you might be eligible for.
Remember that credit card purchases typically come with higher fees than bank transfers. So, be savvy and calculate the costs to make the most out of your crypto journey!
Customer Support
Customer support is a vital aspect sometimes forgotten when comparing crypto exchanges. Think about it: what happens if you encounter any issues with a transaction or your account? That's where reliable customer support comes to the rescue!
So, consider the following questions: Does the platform offer email, phone, or live chat support? Are they available round the clock or only during specific hours? How fast do they respond to your inquiries?
And lastly, is the support team fluent in a language you're comfortable speaking? Ensuring solid customer support can make your crypto journey smoother and more hassle-free!
User Interface
Buying and selling crypto should be simple and safe. If you're new to crypto and prefer an easy-to-understand experience, look for an exchange that emphasizes user-friendliness. It should offer a clean display of assets and markets, provide a free personal wallet, and offer educational guides.
Furthermore, look for features like recurring buys and user-friendly mobile apps. Avoid exchanges with too many complex trading features, as they can complicate the process for beginners. Keep it straightforward and enjoyable!
Security
Ensuring the security of your crypto platform is vital. Hence, ensure you only consider exchanges offering security features like 2FA, cold storage for funds, and an "https" web address.
A good crypto exchange platform must also have a reliable KYC policy, biometric face recognition, and multi-layered security. Consider a cold, hardware wallet for added protection if holding significant crypto. This will help you keep your assets safe at all times.
Supported Cryptocurrencies
The crypto market offers more than just Bitcoin now. Ethereum, Litecoin, Ripple, and numerous altcoins are gaining popularity. While some altcoins are risky, there are innovative options worth considering.
In this regard, it is always better to consider exchanges with a broad selection of coins beyond Bitcoin and Ethereum – so you can better diversify your crypto portfolio.
Spread and Liquidity
Lastly, watch out for spreads – the hidden fees in cryptocurrency trading. Spreads are the difference between buy and sell prices on exchanges. This means that smaller spreads mean lower fees and losses.
Along with spreads, liquidity matters too. After all, higher trading volume makes transactions faster and more stable. So you must look for exchanges with 'locked-in trades' or 'guaranteed pricing' for better liquidity.
Summing Up
These NZ cryptocurrency exchanges offer trustworthy services with various assets, deposit methods, safety features, fees, and customer support. While Swyftx stands out as our top pick in this comprehensive list of the best crypto exchanges 2023 in New Zealand, the best exchange for you comes down to your needs.
FAQs
Is cryptocurrency legal in New Zealand?
Yes, you can legally buy, sell, and trade cryptocurrency in New Zealand. However, it's important to note that cryptocurrencies are not considered legal tender or financial products and are not regulated in the country.
Can you trade crypto in New Zealand?
Yes, you can. Several exchanges are accessible to New Zealand residents for crypto trading. Binance is a popular choice with 300+ coins, a local office, and low fees (0%-0.1%)
What is the best way to buy crypto in New Zealand?
The best way to buy crypto in New Zealand is by opting for secure and reliable crypto exchanges. You can refer to this guide to explore the best crypto exchanges in New Zealand.