Due to its large touch screen and strong security features, the Trezor Model T stands out as one of the best crypto hardware wallets on the market. The Trezor Model T is a non-custodial hardware wallet with cold storage to protect digital assets. It enables users to carry out numerous cryptocurrency activities. These activities include sending, receiving, purchasing, and selling, all via the user-friendly Trezor Suite software by connecting to PCs and mobile devices through a USB connection.
The Trezor One hardware wallet, which was the first of its kind, was created by SatoshiLabs in 2014 and served as the basis for this amazing series. Trezor was first conceptualized in 2011 during a Bitcoin conference in Prague. The TREZOR Model T was introduced in 2018. It built on the popularity of its predecessor and is a substantial improvement over the Trezor One.
The Trezor Model T is distinguished by its vivid color touchscreen, which takes the place of the Trezor One's physical and relatively awkward buttons. The device's navigation is amazingly easy because of the bigger and better 240×240 pixel display. The device's overall performance and adaptability are improved with a micro USB-C connector, an SD card slot, and a next-generation ARM Cortex-M4 CPU.
In this article, we will examine all you need to know about the Trezor Model T wallet.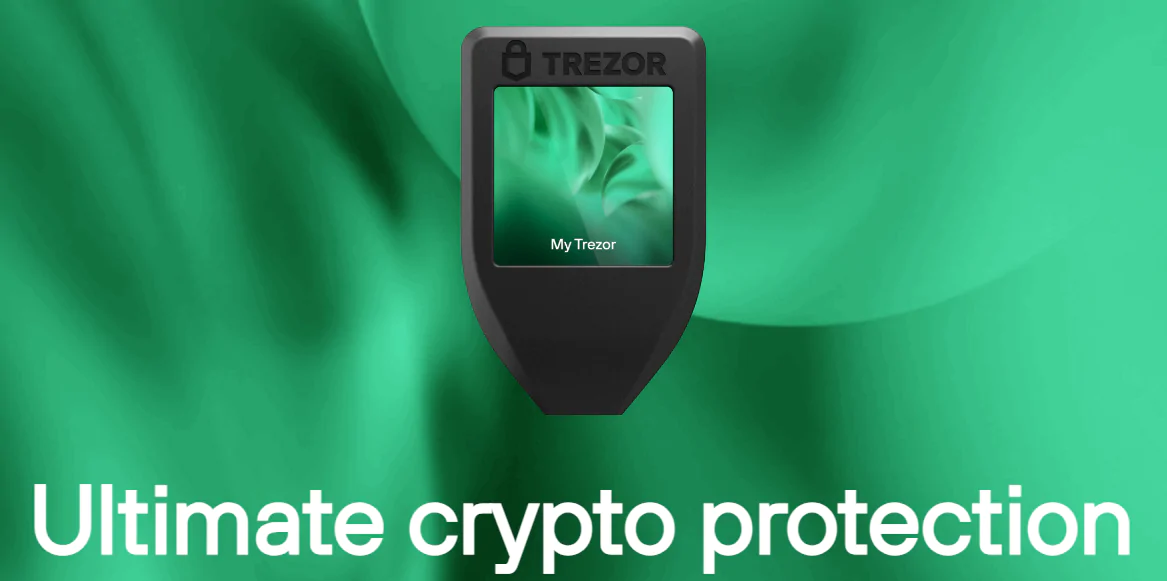 Trezor Model T Pros and Cons
Pros of Trezor Model T
User-friendly: The Trezor Model T is a user-friendly hardware wallet with several features. Its sizable color touchscreen display offers a smooth and simple user interface. The gadget provides additional security through PIN and passphrase security methods and isolates private keys to secure their security.
Compatible on Devices: It is easy for users to access and manage their cryptocurrencies since the wallet is compatible across various platforms, including web browsers, desktop operating systems, and Android smartphones.
Supports thousands of cryptos: More than a thousand distinct currencies and tokens may be stored on the Trezor Model T, which has significant cryptocurrency compatibility. Users can safely store and manage various digital files in one location because of its wide compatibility.
Supports Direct Buying of Crypto with Money: The Trezor Model T goes beyond simple cryptocurrency storage by allowing users to buy digital assets with fiat money straight from the wallet. Additionally, the wallet supports in-wallet exchanges, enabling users to switch between several cryptocurrencies without depending on third-party exchanges easily.
Cons of Trezor Model T
No iOS Support: iOS users cannot use the wallet's functionality on their mobile devices because of the Trezor Model T's lack of compatibility with iOS smartphones.
Higher Cost: The Trezor Model T could be more costly than some other hardware wallets on the market, which might be a consideration for crypto users concerned about costs.
Limited Cryptocurrency Purchases with Fiat: Although the wallet enables users to buy certain cryptocurrencies using fiat money, it does not offer a large selection of coins for these kinds of transactions. This could prevent users from buying certain coins straight from the wallet.
Importance of Recovery Phrase: The Trezor Model T uses a 24-word recovery phrase, similar to most hardware wallets, to allow users to retrieve their money again if their device is lost or destroyed. Users risk losing access to their assets forever if they misplace both the device and the recovery phrase.

Trezor Model T Features
With its large, full-color touchscreen display, the Trezor Model T stands out. The touchscreen is often cited as a key selling feature for the Trezor Model T since it makes inputting PIN codes and looking through cryptocurrency addresses much easier.
Even though the Trezor Model T costs more than the competition, it provides an equivalent degree of protection. The additional functionality it offers users, however, is what makes it stand out. The Trezor Model T enables direct fiat money purchases of well-known cryptocurrencies like Bitcoin, Ethereum, and Ripple using its Trezor Wallet software. Additionally, users may swap cryptocurrencies inside the wallet app, greatly enhancing their financial flexibility.
Trezor Model T Security
The Model T's 168 Mhz ARM Cortex-M4 embedded-arm CPU is the brains behind its security. Trezor's hardware wallets provide more than crypto exchange and private key storage. Users can safely send and receive encrypted communications thanks to the Sign & Verify function. Additionally, users can save login information with the same degree of protection as their crypto holdings by using the Password Manager tool.
Trezor's strategy is notable for its dedication to open-source technology. This covers both the software and the actual hardware. Trezor has an open-source mentality and invites everyone to thoroughly study and test the code to find and fix any possible flaws or vulnerabilities. This open strategy encourages a group-driven initiative to improve the security and dependability of Trezor's hardware wallets.
Czech Republic is home to the production of Trezor device. Trezor uses a mix of its reliable supplier network and depends on Amazon for product delivery to guarantee safe worldwide distribution.
The Trezor Model T is protected against supply chain threats by being kept in a distinctive, tamper-evident container and wearing a holographic label.
Crypto exchange Kraken found a flaw in the earlier Trezor Model One hardware wallet in October 2019. Anyone with physical access, the right equipment, and understanding can benefit from the gadget. To address this problem and improve security, Trezor acted quickly and made crucial changes to later releases of their hardware wallets.
Also, users can use the Shamir Backup system to increase the security of the assets controlled on the Trezor Model T. This mechanism divides the recovery phrase into up to 16 separate shares, allowing users to distribute and keep these shares in various safe places. Using this strategy, customers add an additional layer of security, ensuring that the recovery phrase and the assets are still safe even if one location is hacked.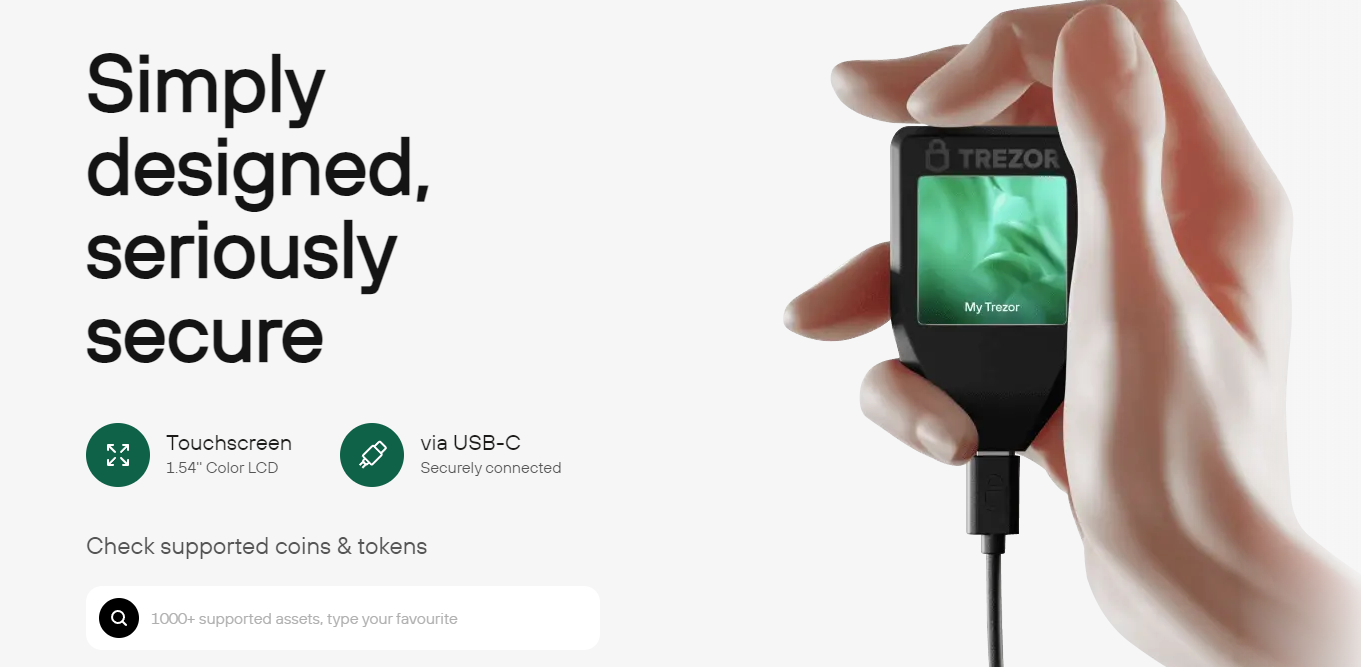 Trezor Model T Customer Service and Support
Given that hardware wallets strongly emphasize individual responsibility for securely maintaining one's crypto holdings, Trezor's extensive FAQ and self-help pages are important tools.
Users can get plenty of advice on utilizing their hardware wallet at the Trezor support center. It has numerous informational materials, including frequently asked questions, how-to articles, tutorials, and instructional blogs. But one crucial component of having a hardware wallet must be emphasized: the recovery phrase.
If you lose your device or if it is damaged, only the user is aware of the recovery phrase, which is the only way to restore access to the wallet. Without this recovery phrase, not even Trezor's support staff can help recoup the cash. Users must thus take the greatest precautions to protect this important information.
Although the Trezor support staff may be contacted by email via their website or the Trezor Suite when the device is attached, they must remember that their response times might not be quick. The support staff may be contacted if users need technical assistance and are prepared to wait. A faster method of getting answers to particular concerns is to ask the Trezor community for assistance on websites like Reddit.
Trezor Model T Supported Operating Systems
The Trezor Model T hardware cryptocurrency wallet is compatible with Chrome and Firefox browsers and the desktop operating systems Windows, macOS, and Linux. Additionally, it provides mobile compatibility for Android phones (through USB-C), although iOS is not yet supported.

Trezor Model T – Is It Safe To Use?
The wallet serves as a hardware wallet and keeps your cryptocurrency's private keys in cold storage. Since cold storage is not linked to the internet, it is safe against cyberattacks.
The PIN number you enter while configuring a Trezor Model T may have up to nine digits. The gadget automatically washes after 16 unsuccessful tries to access the wallet, which involves inputting the PIN code. It is almost impossible for someone to use your Trezor wallet is very nil, provided you safeguard your PIN number.
The Trezor Model T is used to input any data that is entered into it. This implies you would be secure even if you linked it to a computer that had a keylogger installed.
Trezor Model T Price
The Trezor Model T is priced at $169.99 for a single device, positioning it in the higher price range compared to some other hardware wallets available on the market.
Trezor also offers the "Trezor Ultimate Pack" bundle, which includes a Trezor T, a Trezor One, and a Cryptosteel capsule, priced at $274. Reviews of the Trezor Model T often point out its relatively high price compared to other options.
Whether the Trezor Model T is worth the money depends on individual preferences and needs, as it offers unique features like a large color touchscreen, direct cryptocurrency purchases within the wallet, and the added security of the Shamir Backup system.
Users seeking a reputable and secure hardware wallet with advanced features might find the Trezor Model T justifies its higher price, while those looking for a more budget-friendly option may consider exploring other alternatives on the market.
Trezor Model T FAQ
Can Trezor Model T be hacked?
Trezor Model T is a very secure hardware wallet since it has never been compromised. The Model T does not have any vulnerabilities, in contrast to other earlier Trezor models that were discovered to have them. This does not, however, imply that someone can hack your gadget without having it in their hands. Your money is secure as long as you have access to your Trezor wallet.
Is Trezor Model T more secure?
The Trezor Model T provides better security features than past Trezor hardware wallet iterations. The Shamir Backup is one noteworthy feature that enables users to increase the security of their seed phrase by providing an extra layer of security. The Trezor Model T is now even more secure than its predecessors this innovation.
Can I store a lot of cryptocurrency on a Trezor Model T?
On your Model T, you can save the private keys for up to 14 distinct blockchains and 1,456+ cryptocurrencies and tokens.
When was the Trezor Model T released?
The Trezor Model T hit the market on February 26, 2018.
Why does the Trezor Model T cost so much?
One of the few hardware wallets on the market featuring a touch screen and distinctive security features like Shamir Backup, the Model T is Trezor's flagship model. Even if the initial out-of-pocket cost is high, it is the kind of investment generally seen as desirable if you want to store substantial sums of cryptocurrency.
Where can I get a Trezor Model T?
The Trezor website should be used to make direct purchases of any Trezor hardware wallets, including the Trezor Model T. It is essential to avoid purchasing cryptocurrency wallets used or from secondary websites since this may result in money being stolen.
It is important to confirm that the business is included on the official and often updated list of approved resellers kept by Trezor when considering purchasing from an authorized reseller.
It is crucial to use care and adhere to security precautions when purchasing. Do not buy a Trezor Model T from anybody other than an approved Trezor-verified reseller. Additionally, to eliminate any security issues and guarantee the integrity of your digital assets protection, it is strongly advised to avoid buying a used or previously owned hardware wallet.
Is Trezor Model T Waterproof?
There is no waterproof feature on the Trezor Model T. You may still access your money and restore your wallet if the gadget is damaged by water and stops working by setting up a new device with your recovery seed.
What happens if Trezor goes out of business?
There is no waterproof feature on the Trezor Model T. You may still access your money and restore your wallet if the gadget is damaged by water and stops working by setting up a new device with your recovery seed.

Conclusion
The Trezor Model T hardware wallet is more robust than its previous model. It serves as an excellent and secure cryptocurrency wallet on the market if price is not a deciding issue for you.
In comparison to many other hardware wallets, it can hold more cryptocurrencies. The scales are certainly stacked in favor of the Trezor Model T, given the device's simplicity of use, open-source design, and extensive support choices. It is a top choice for those looking for a safe and simple hardware wallet to manage and protect their cryptocurrency holdings due to its comprehensive bundle.