Trezor One Review
The Trezor One provides top-notch security for the cost-effective storage of your digital assets. It remains one of the best hardware wallets. Many people love it for its low price. This device safely stores Your private keys offline, which keeps them physically apart from your computer. The Trezor One allows users to save their private keys offline and easily retrieve them using a recovery seed phrase with only two presses on its pad.
In today's article, we will be reviewing Trezor One. So if you have been wanting to use this wallet, then you should not miss out on all the info we will be sharing of this wallet. Read our full Trezor One wallet review to find out if it's right for you.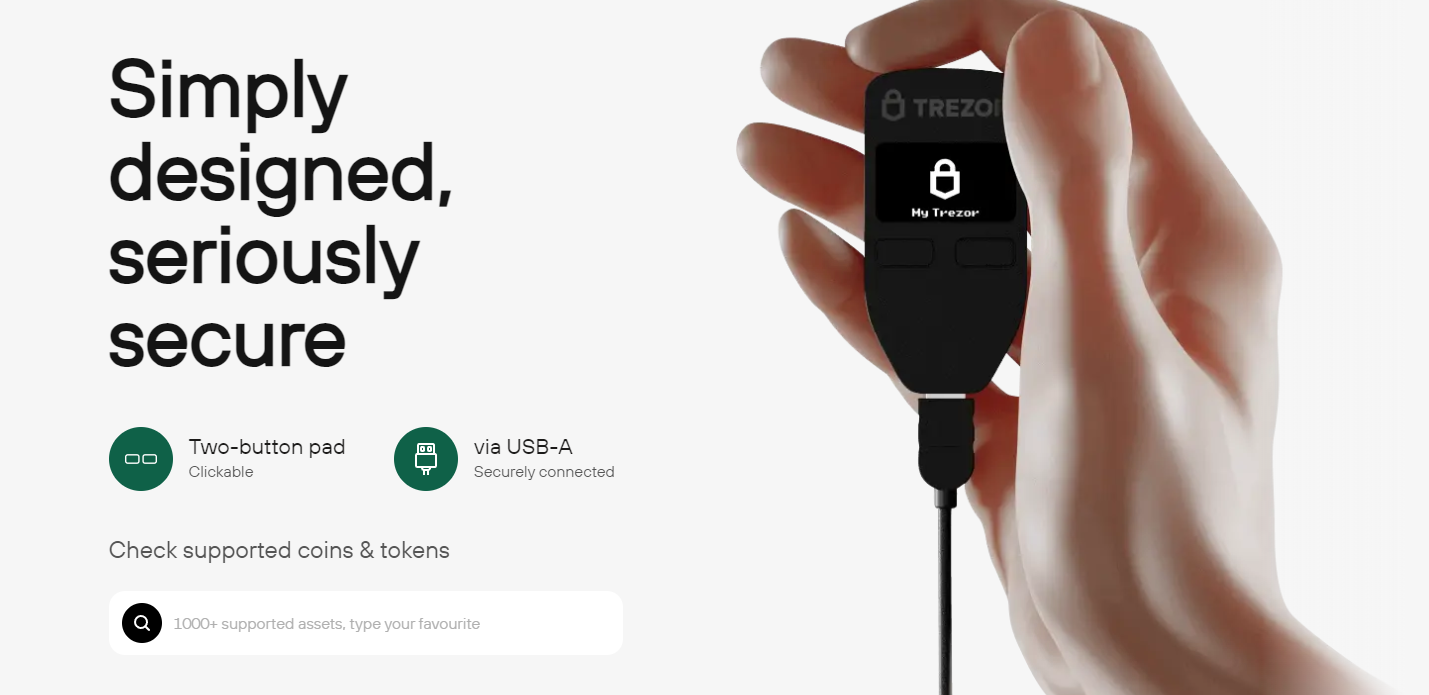 Features of Trezor One
Supported Operating Systems
The Trezor One hardware wallet is compatible with various desktop operating systems such as Windows, macOS, and Linux. It also provides browser extensions for Firefox and Chrome. Additionally, it offers mobile support for Android devices. However, it's important to note that no support is currently available for iOS devices.
Cryptocurrency Supported
In terms of cryptocurrency support, the Trezor Model One wallet works well with over 1300 cryptocurrencies, including all ERC-20 tokens. Some of the coins and tokens it supports include Bitcoin, Ethereum, USD Coin, Polygon, Litecoin, Avalanche, Polkadot, Dogecoin, Binance Coin, ZCash, Optimism, Tether, XRP, Solana, Shiba Inu, etc.
Security
The Trezor Model One hardware wallet incorporates multiple security features to ensure the secure storage of users' crypto assets, minimizing the risk of potential attacks. It meets the necessary reliability, quality, and environmental standards as it is certified by RoHS and CE.
When it comes to packaging, the Trezor Model One is wrapped in a thin plastic foil and sealed with two silver seals. The package is further secured with strong glue, making it impossible to open without tearing it apart. This packaging method lets users easily identify whether the wallet device has been tampered with.
OLED Screen
Furthermore, the Trezor Model One wallet comes with an OLED screen that provides sufficient space to display transaction details, simple images, transaction confirmation requests, and warnings. This screen allows users to carefully review all data and transaction information before giving their approval, ensuring they have full visibility and control over their actions.
Open Source and Strong Community
One of the standout features of the Trezor One hardware wallet is its strong community and open-source support. The Trezor community consists of active and engaged users who contribute to the growth and improvement of the wallet's features and functionality. This community-driven approach fosters collaboration, knowledge sharing, and the exchange of ideas among Trezor users.
Moreover, the firmware of the Trezor One is open-source, which means that the underlying code is publicly available for scrutiny and review by the community. This transparency ensures that security vulnerabilities can be identified and addressed promptly, enhancing the overall robustness of the wallet.
NFTs Enabled
The Trezor One hardware wallet supports NFTs. However, this is only by connecting your Trezor to third-party software wallets that allow users to store and manage NFTs like MetaMask. You cannot manage your NFTs on the Trezor Suite.
This has raised safety concerns in the past. However, the makers emphasize that this is still safe as long as the user correctly sets up the third-party wallet to communicate directly with the Trezor hardware wallet so that the recovery seed remains offline continuously.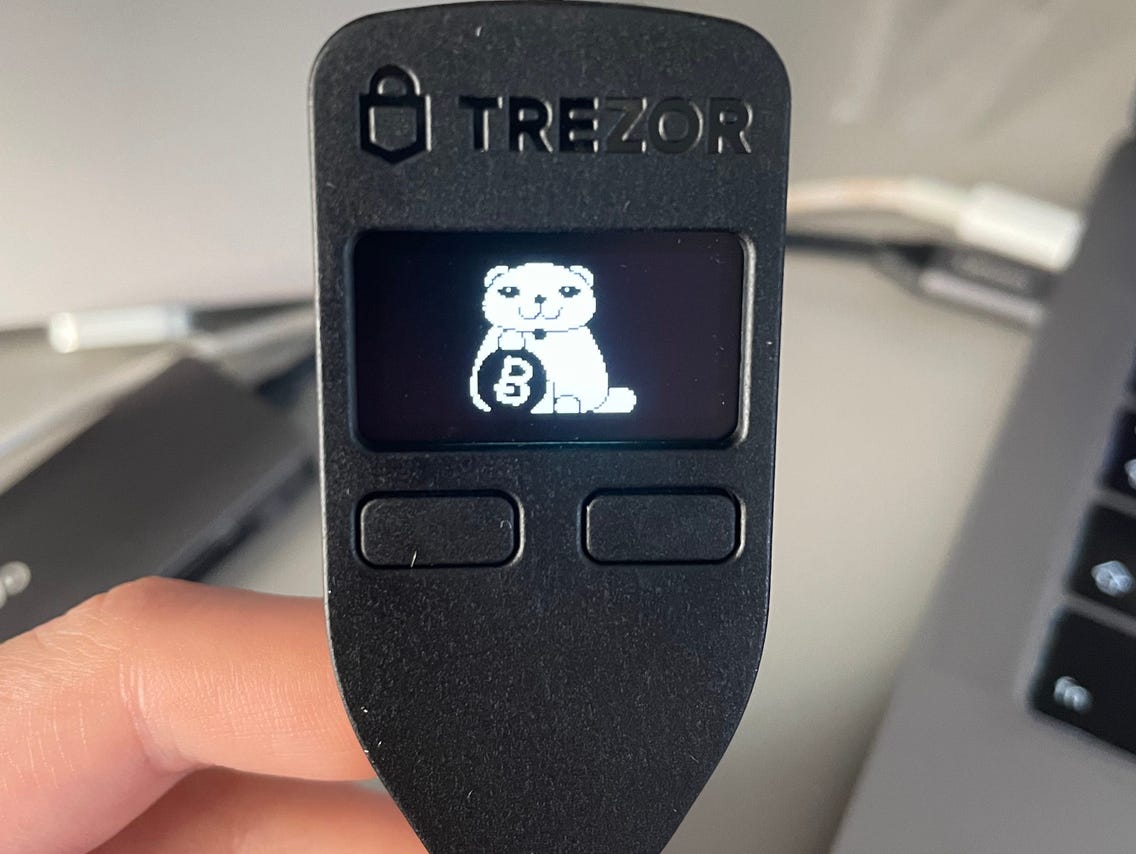 Trezor One Pros & Cons
Pros
Offline storage
Trezor One stores your coins completely offline, shielding them from potential hackers. This cold storage approach is significantly safer than hot storage methods, as it renders internet access to your coins impossible. This level of security ensures that your cryptocurrencies are maximally protected when entrusted to the care of a Trezor device. Compared to typical software wallets, the Trezor One provides a much higher level of safety for your coins.
The Trezor One employs limited USB access as a precautionary measure to enhance security when interacting with other devices. When connected to another device, the Trezor One grants only the necessary permission to send and receive cryptocurrency transactions. This means your coins remain safeguarded even if the device it connects to is infected with malware. With this wallet, you can enjoy robust security for your coins, and even in the event of losing the device itself, your coins will remain protected.
Top-notch security
Trezor surpasses other hardware cryptocurrency wallets by significantly elevating the level of security provided. It incorporates various features, including offline private keys and Trusted Display technology, to enhance the overall protection of your digital assets.
One notable advantage of Trezor is its extensive support for cryptocurrencies. While other wallets typically support mainstream digital currencies and occasionally include a few less popular ones, Trezor outshines the competition helping you safely store over 1,800 cryptocurrencies.
Recovery seed
Trezor offers an essential fail-safe solution to deal with the potential for lost or damaged hardware wallets. You are given a recovery seed—a special string of words—when configuring your Trezor device. In the unfortunate case that you misplace your Trezor One, you may use this recovery seed to get back into your coins. You can recover your crypto holdings and make sure that your valuables are not lost forever by completing the correct recovery procedure and utilizing the given seed.
Exchange currencies in the wallet
The Trezor One offers a convenient feature that enables users to exchange their coins directly within the Trezor app. This means that users can diversify their cryptocurrency portfolios while still benefiting from the security of cold storage provided by Trezor. This integration of an exchange within the wallet allows users, including beginners, to make trades without the need to disclose their personal information to external exchanges or go through the hassle of transferring funds between multiple wallets. It provides a seamless and secure experience for users who wish to manage their investments and explore different cryptocurrencies within a single platform.
Portable
The Trezor One is a compact device that can conveniently fit in the palm of your hand. While its lightweight construction may not give the impression of exceptional durability, it guarantees portability regardless of how you choose to carry it.
The smaller model of the Trezor One measures just 60mm x 30mm x 6mm (2.4in x 1.2in x 0.2in) in size and weighs a mere 12g (0.42oz). Its compact dimensions and lightweight design make it highly portable, allowing you to easily carry it with you wherever you go. The Trezor One features an OLED display with a resolution of 128×64 pixels. While the text on the screen may appear slightly fuzzy, it remains easily readable.
Cons
Does not Work with iOS
Unfortunately, Trezor's devices do not currently support Apple's iOS operating system. This means that users who rely on iOS devices, such as iPhones and iPads, are unable to establish a mobile connection with the Trezor One. However, it's important to note that these users can still connect to the Trezor One using desktop devices that run on Windows, Mac OSX, or Linux. While iOS support is not available at the moment, Trezor ensures compatibility with a range of other operating systems to cater to a broader user base.
Withdrawal Issues
Trezor wallets primarily focus on providing robust security and, as a result, do not natively support direct withdrawals of assets to bank accounts. While certain exchanges do offer such functionality, it is important to note that Trezor's core strength lies in ensuring the safety of your crypto assets. To convert your cryptocurrency into fiat currency ("cash-out"), you would typically need to transfer your crypto from the Trezor wallet to an exchange that supports bank withdrawals. Once on the exchange, you can then trade your cryptocurrency for fiat currency. It's worth considering that this process may involve additional steps and fees compared to wallets or platforms specifically designed for seamless fiat withdrawal.
Conclusion
The Trezor One hardware wallet distinguishes itself as an affordable choice for crypto investors who prioritize offline security for their digital assets. It has several features that make using it very easy.
The Trezor One is used in combination with the Trezor Suite software to manage a wide range of over 1,000 supported digital assets. Users can easily purchase, sell, and exchange digital assets with the Trezor Suite app while leveraging the security capabilities of the Trezor One device. Trezor One also supports NFT transactions by allowing the user to connect their Trezor Model One wallet to a third-party software wallet like MetaMask that permits NFT transactions on Ethereum.
By now, you should be able to decide if the wallet is the right fit for you.