A hardware wallet comes in various forms and provides the best compromise between security and usability. Although it has a higher price tag than the others, the NGRAVE ZERO, introduced in 2020, stands out as a premium option in this category. However, it makes one wonder whether it really outperforms its rivals.
This touchscreen gadget offers the highest level of protection by using QR codes for offline communication. Despite its hefty price tag of $400 USD, the NGRAVE system is purposefully designed to provide a safe haven for all your digital valuables.
In this article, we will touch more light on NGRAVE ZERO Wallet.
How Does an NGRAVE ZERO wallet work?
The NGRAVE ZERO wallet offers strong security features to protect your digital assets from remote access. Connecting the wallet on the NGRAVE LIQUID mobile app is facilitated rather than the assets being directly stored. The ZERO helps to authenticate and verify those transactions conducted via the app when transactions are initiated.
This configuration provides an extra layer of security. Even if someone obtains access to your NGRAVE wallet, they can only confirm transactions—they cannot start new ones without your phone. You must start the transaction on the LIQUID app, which creates a QR code, to transmit money from your NGRAVE ZERO wallet.
You scan the QR code with the NGRAVE wallet camera and then enter your fingerprint or PIN to access the wallet. You carefully cross-check the information presented on the screen with that in the app before completing the ZERO transaction to ensure the amount and destination address line up. The assets will not leave your wallet unless you confirm the transaction once it has been validated.
The NGRAVE ZERO's air-gapped design prevents unauthorized parties from accessing its software. However, the possible weak spot is the mobile app. If the app is compromised, someone can introduce malware to change the destination address without your awareness. For enhanced protection, it is essential to carefully check the destination address before sending your assets.
When you first activate your Zero Wallet, you have to scan a QR code on Ngrave's website. This will confirm that the device was sealed and unaltered before sending it to you. Of course, various businesses approach proving that your device is secure in different ways. For instance, the Shift CryptoSecurity company that created BitBox02 sends its goods in vacuum-sealed containers to guard against supply-chain and delivery assaults.
The Ngrave team adopted 64 characters hexadecimal equivalent to increasing security instead of creating the 12, 18, or 24-word recovery seed phrase, like with other hardware wallets now on the market. This system is now considered the most secure one on the market for the sector.
The gadget will instantly destroy its keys if it notices someone attempting to access the hardware.

Features
The NGRAVE ZERO boasts a high-end mobile device appearance, featuring a sleek black shell and a vibrant color touch screen. This touch screen is a unique feature not found in even the latest wallets from industry giants like Ledger and Trezor, making the hardware wallet more appealing to investors who may not be well-versed in cryptocurrencies.
The NGRAVE ZERO stands out with its additional features. These features include a fingerprint sensor and a built-in light sensor, which sets it apart from other existing devices. Moreover, it boasts tamperproof, dustproof, and waterproof qualities, further enhancing its aura of invincibility.
The NGRAVE ZERO is the world's first hardware wallet to receive EAL7 certification. EAL7 certification is the highest security accreditation in the blockchain and financial industry. This esteemed certification solidifies its position as a top-notch security solution. In contrast, other devices like Trezor and Keepkey faced security vulnerabilities when hackers managed to breach them and extract information using sophisticated tools based on electrical impulses. However, NGRAVE took a proactive approach in designing the ZERO to be impenetrable, addressing these concerns and ensuring unparalleled security.
Also, a USB-C connector comes with the NGRAVE ZERO wallet. It charges the device and sends firmware updates, both crucial operations. All firmware upgrades go through verification in a separate, segregated partition that stays completely separated from the device's operating system to provide the highest level of security throughout firmware updates. This isolation effectively stops attacks that may try to take advantage of USB-C port vulnerabilities. Furthermore, to further strengthen the device's security measures, firmware upgrades take place in a part of the operating system that is separate from the security components of the device.
With almost 5″ by 2.7″ dimensions, the NGRAVE ZERO offers a comfortable grip and easy manipulation with just one hand, in contrast to smaller and potentially more challenging-to-handle hardware wallets. While it comes with a rear camera, it serves the specific purpose of scanning QR codes and is not intended for general photography.
Integrity verification is included in the ARM®TrustZone® module of the NGRAVE ZERO. This integrity validator often analyzes the software when the device is booting up to find any unwelcome or unauthorized processes already performing. This feature introduces an extra layer of security to the user's digital assets by carefully evaluating the legitimacy and integrity of the active processes to ensure no bad actors can access the device without authorization.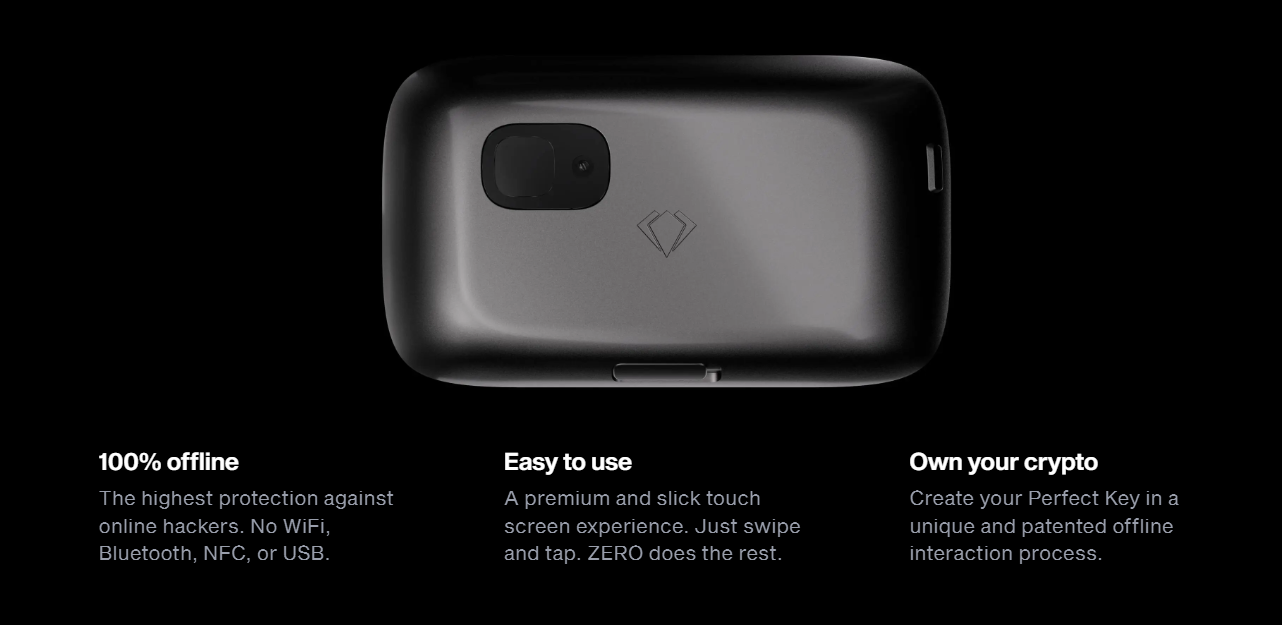 Pros and Cons
Pros
Randomization of Private Keys during setup provides an extra layer of security.
The revolutionary Graphine technology allows for private key backup without relying on a third party, enhancing trust and control.
Achieving the highest security rating of EAL7, along with ROHS and CE certifications, assures users of its robust security standards.
Its user-friendly design lets it be happy for beginners to use effectively.
Immunity to online threats like viruses, hackers, and phishing sites safeguards digital assets effectively.
Cons
The higher price point (€398 or $413) compared to competing models from established brands like Ledger and Trezor may deter some potential users.
Asset support and DApp integrations are still a work in progress, which might limit its appeal to users requiring extensive asset compatibility.
Compared to newer competitors, the NGRAVE ZERO may not be significantly more secure, leading some users to question its premium pricing, suggesting that it is more focused on design and physical functionality.
Security
The NGRAVE ZERO is a very secure hardware wallet. It uses air-gapped technology to prevent remote penetration, and its tamperproof construction adds another degree of security, rendering it virtually unavailable to bad actors even if physical access is somehow gained.
The NGRAVE ZERO's main goal is to provide the highest level of protection for cryptocurrency in an offline setting. This is accomplished by the use of numerous levels of security, and it has the highest security certification, EAL7. There are seven levels in the Evaluation Assurance Level (EAL) system, with EAL7 being the highest level. This level indicates that the Formally Verified Design and Testing process has successfully satisfied the security functional criteria. In situations with exceptionally high risk and when the value of the assets warrants the greater expenditures involved, EAL7 is especially pertinent for application. The NGRAVE wallet's EAL7-compliant software provides a high level of security. However, the exact differentiating factors from other hardware wallets are not explicitly stated.
For further security, the NGRAVE ZERO features an optional biometric fingerprint scanning potential that users may activate to access the device and validate transactions securely. PIN authentication is another security feature that protects both the device and the companion app. The ZERO's integrated light sensor, which creates the "NGRAVE Perfect Key," a highly secure private key, is one of its distinctive and amazing features.

Blockchain Supported
Currently, NGRAVE supports a variety of well-known blockchain networks, including Bitcoin, Ethereum, Polygon, Solana, and others. It also enables storage for more than 1500 ERC-20 tokens, making it an all-inclusive solution for handling different digital assets. An important advancement is that the NGRAVE system allows ZERO users to save their preferred Ethereum-based NFTs offline safely. Users can use the LIQUID app to store, examine, and trade their collectibles straight from the NGRAVE system. Additionally, NGRAVE is working hard to include support for Solana-based NFTs, which is anticipated to be ready next year. A BTC multi-sig capability is also being developed by NGRAVE, enabling co-signers to start transactions using the ZERO device.
Price
Ngrave's hardware wallets come at a relatively higher price than other market options. The standalone NGRAVE ZERO is priced at 398 EUR / 418 USD, and the combo with Graphene plates costs 498 EUR / 523 USD.
However, it is worth noting that the NGRAVE ZERO may not necessarily be three times more secure than its newer competitors. Instead, its higher price seems attributed to its design and physical functionality, which may appeal to users seeking premium features.
Bigger players in the market, like Trezor or Ledger, offer hardware wallets priced from 70 USD to 185 USD. If budget is a concern, these alternatives may be worth considering.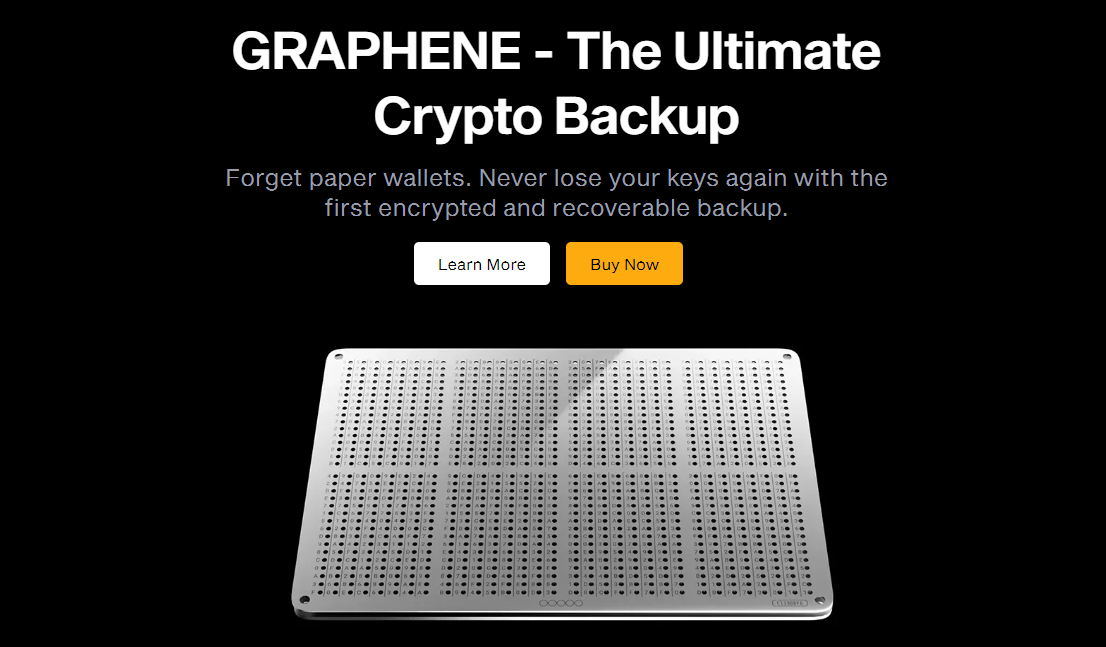 Conclusion
NGRAVE is proud of the ZERO's strong security features, including air-gapping, an EAL7 grade, and PIN+fingerprint access. It is debatable, nevertheless, whether these improvements are worth the much greater cost compared to competing hardware wallets.
Although the NGRAVE ZERO unquestionably delivers top-notch security measures, prospective purchasers may compare the cost to the number of supported cryptocurrencies and NFTs.
Given its limited compatibility with cryptocurrencies and NFTs, the NGRAVE ZERO's high pricing may be difficult for some customers to justify. Nonetheless, NGRAVE is constantly trying to provide compatibility for others like Polygon.
Overall, the NGRAVE ZERO offers cutting-edge security features and design. Still, its premium price and ongoing improvements in competitor models might challenge its market position as more budget-friendly options emerge in the crypto hardware wallet industry.